Thinking about planning the trip of a lifetime to Iceland in August?

This late summer month is an incredible time to visit the land of fire and ice.
But before you start packing your bags – let's cover everything you need to know to plan the perfect August Iceland trip. Consider this your essential guide.
From packing to weather to things to do, I've got you covered!

Table Of Contents:
Let's dive into the wonders of Iceland in August!
Is August A Good Time To Visit Iceland?
If you're thinking about whether or not you should visit Iceland in August, the answer is a resounding YES.
Here are some of the biggest pros of planning an August trip to Iceland.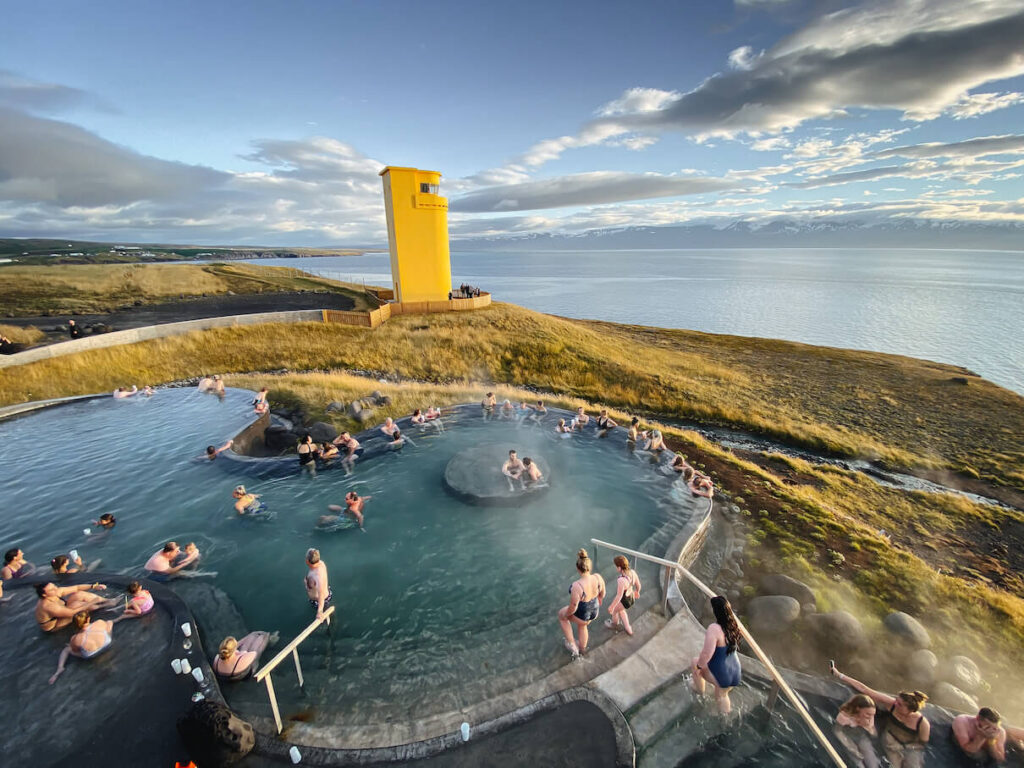 Pros
ALL areas are fair game once again! You are free to travel about the whole country: Reykjavik, Golden Circle, Ring Road, Snæfellsnes Peninsula, Westfjords, and the Highlands. This is such an amazing time to travel to Iceland, roam free, and explore ALL THE THINGS before things close down again in the fall.

You won't have to deal with crazy weather or bad road conditions. While the weather in Iceland is always kind of a guessing game, in August, you're usually on the safe side. Compared to the rest of the year, there's far more sun and (usually) less rain. And you don't have to worry about getting stuck in a snow or hailstorm. This also means that driving is a breeze!

Iceland's natural beauty is in full force. Sunny temperatures, lots of daylight, lush green pastures, and animals out to play – there's a lot to love about Iceland in August.
Cons
CROWDS & PRICES. Remember the downside of this is that everyone knows how amazing summer in Iceland is, so August is still peak tourist season. Places are busier, hotels are more booked up, and it's more expensive to rent things and take tours.

You might miss Iceland's favorite bird. Another thing to note about August is that puffins leave around the middle to the end of the month. A lot of people that are traveling to Iceland with the purpose of seeing the puffins, you'll want to come before that because one day they're just gone.
Overall, Iceland in August is a fantastic time to visit, as long as you don't mind sharing the beauty with other travelers!

Pssst. If you want to get off the beaten path, ditch the tourist traps, and discover well-kept secrets and hidden gems in Iceland…I wrote my Travel Guides for you!
Check out my shop filled with planning resources and maps for your trip!

Daylight Hours in Iceland in August
August in Iceland is a magical month, and it's kind of the sweet spot when it comes to daylight hours!
You still have long daylight hours, but the nights are starting to get a little darker.
You've got the best of both worlds – lots of time to explore during the day, but just enough darkness to still get some sleep.
At the beginning of August, you've got 18 hours of daylight, and by the end of the month, that number decreases to 16.
Weather in Iceland in August
Temperatures in Iceland in August
In August, Iceland is still in the midst of summer.
It's an absolutely beautiful time to visit, with pleasant temperatures, lush green landscapes, and abundant wildlife.
The weather is usually sunny, but it's still important to be prepared for anything – Icelandic weather can be unpredictable!

So pack your layers and a weatherproof shell to make sure you're ready for any weather conditions during your August visit to Iceland.
Temperatures in Iceland in August
When it comes to average temperatures in Iceland during August, you can expect temperatures ranging from 10 to 15 degrees Celsius (50 to 60 degrees Fahrenheit).
As you can see, while it's on the warmer side, it's still not HOT. So don't expect tropical weather or scorching heat!
Can You See The Northern Lights In Iceland In August?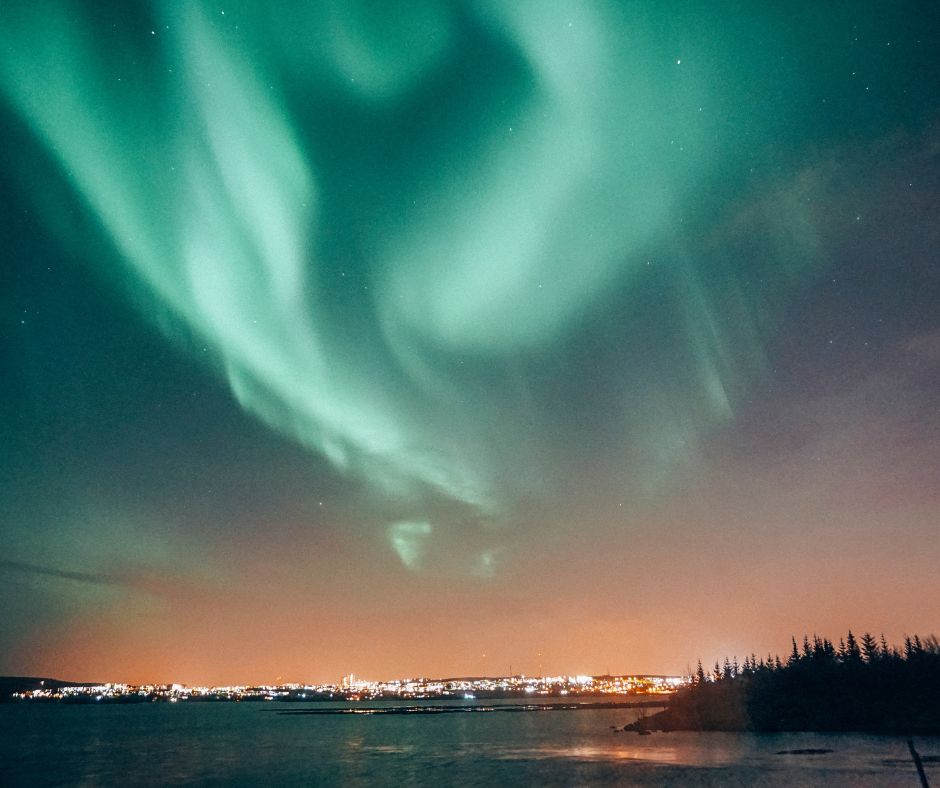 Yes! Depending on when you visit Iceland in August, it might be possible to spot the Northern Lights.
Towards the end of the month, the Northern Lights start coming back! It's never guaranteed that you're going to see them, but this is when it gets dark enough at night for the lights to start making an appearance.
For the best bet on seeing the Northern Lights in Iceland, September – March is the ideal time to visit.
Road Conditions
If you're planning a road trip to Iceland in August, you're in luck.
Driving in August is easy-peasy.
All of the roads are open, everyone is out enjoying the weather, and even the Highlands are accessible for travelers.
For the most part, you can rent a 2wd vehicle in August if you're sticking to the main roads. However, if you're planning on traveling into the Highlands, then you will need a 4wd vehicle.
For the ultimate Iceland experience, I recommend opting for a 4wd car. This will give you the option of seeing everything this beautiful country has to offer!
Take advantage of this beautiful time of year and get into some of the least traveled places in Iceland!
And I know…you might be thinking that renting a four-wheel drive can get expensive, but don't you worry, friends!
I have you covered because Blue Car Rental has offered to give my readers a special discount.
Exclusive offer for Iceland with a View readers, Blue Car Rental is offering 5% off your total rental price! The discount will automatically be applied at checkout when you use my VIP link above – no code needed!

What to Wear in Iceland in August
While the weather in August is certainly on the warmer side, the last thing you want is to come to Iceland unprepared. If you're wondering what to wear during your August trip to Iceland, here's a quick packing list for you!

August Iceland Packing List:
I have an entire post that shows you exactly what you should pack for a summer trip to Iceland!
Things to Do in Iceland in August
August in Iceland is SO much fun! There's a ton going on, from music festivals to cultural celebrations, pride, and more. This is also the perfect month for nature explorers.
Here are some festivals, events, and top things to see in Iceland in August!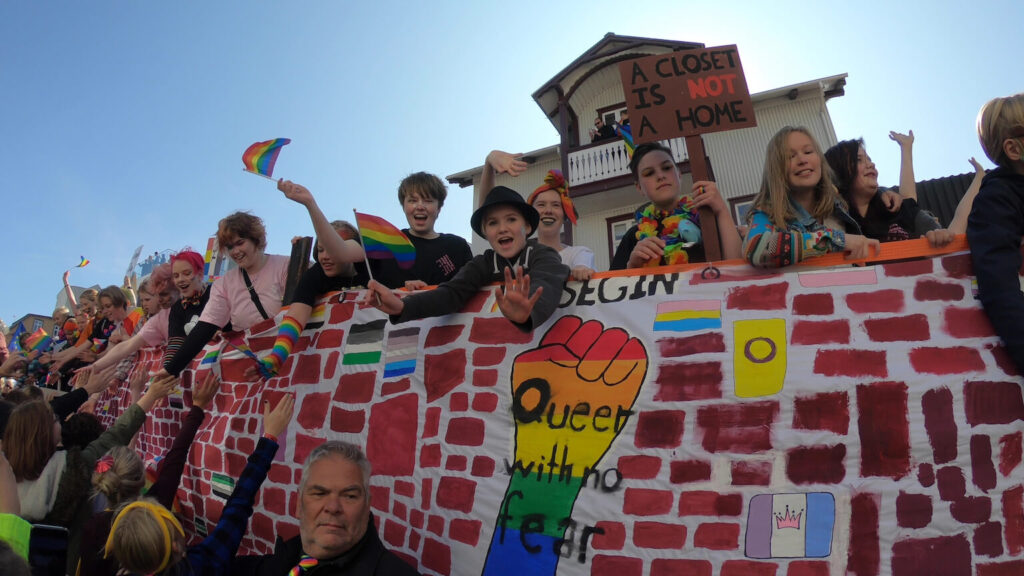 Iceland Festivals + Events
Þjóðhátíð – this is an outdoor music festival that takes place in the Westman Islands. It's one of the most anticipated weekends of the whole year for a lot of locals! So if the idea of hanging out in lopapeyasa with the locals, on an island off of the coast of Iceland, listening to outdoor concerts, and dancing around bonfires sounds fun to you…then you have to go to Þjóðhátíð.

Just know that you have to book tickets really far in advance, you can't just pop on in. Also, traveling along South Iceland at this time of year is usually really busy traffic-wise (because that's where all the locals are going!)

Menningarnótt – this is a culture festival that takes place in Reykjavik. You can find music, art, and other activities going on. This festival marks the end of summer for the locals, so it's a really fun time around the city, with tons of things to do!

Reykjavik Pride Festival – one of my all-time favorite events! Iceland has always been known for being a very LGBT-friendly country, but this weekend is extra special. There's a huge parade, glitter unicorns, and rainbows everywhere – it's so much fun! If you're in the city during Reykjavik Pride, then you are in for a treat!

Firework show at Jökulsárlón – yes, this event is just as magical as it sounds! All you have to do is pay a small entrance fee, which goes towards Iceland's search and rescue team. Get to experience some serious beauty and support a good cause at the same time? A total win-win.
What to See in Iceland
Take A Trip Into The Highlands: Take advantage of Iceland's F-Roads being open in the summer months and go explore one of the country's most majestic, rugged regions. From visiting hot springs in Landmannalaugar to trekking in Þórsmörk, there is SO much to do in this iconic Icelandic region. Rent a 4×4, pack your bags, and get ready to be in awe of everything the Highlands have to offer.
Take A Camping Trip: Imagine pitching a tent and waking up to some of Iceland's most breathtaking landscapes. Camping in Iceland is an adventure lover's dream. If a tent sounds a little too rugged for your liking, I can wholeheartedly vouch for the campervan company Happy Campers. Sign up for my email list and get a 10% discount exclusively for my Team Iceland Email Family 🙂
Snorkel Trip: Imagine snorkeling between tectonic plates in Silfra, Iceland's crystal-clear glacier water. I recommend this snorkeling tour by Troll Expeditions. It's a safe and easy activity with professional guides that offers a once-in-a-lifetime experience – and you even receive underwater GoPro photos. Trust me, you'll love exploring Iceland's underwater wonders in August!
August is a fantastic month to visit Iceland, but no matter what month you choose to visit, you'll be blown away by Iceland's beauty.
Check out our other month-by-month travel guides below:
Iceland in June
Iceland In July
Iceland In September
Iceland In October
OR take a peek at my post on the best times of the year to visit Iceland.
To make your arrival to Iceland seamless, make sure to request the Iceland Arrival Guide—a comprehensive resource that provides step-by-step guidance on navigating the airport, Duty-Free, and reaching Reykjavík effortlessly.
You'll start your trip off stress-free and ready for all of the magic that awaits you in the land of fire and ice!

Pin it for later!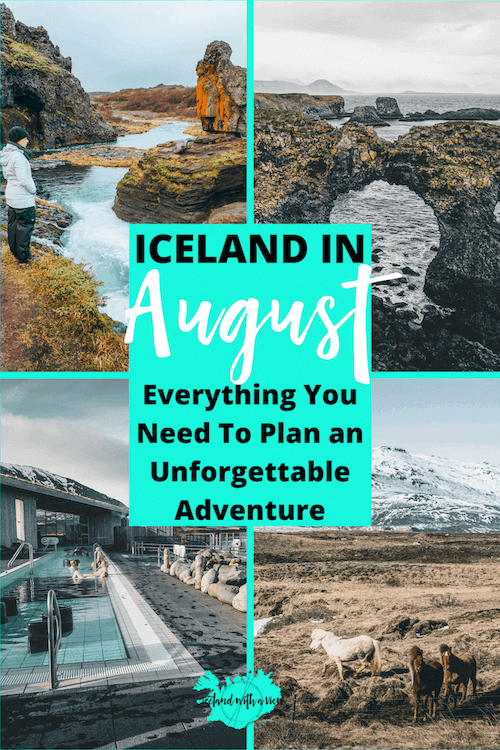 Get your FREE Summer/Autumn packing list!
Wondering what to pack for your Summer/Autumn trip in Iceland? Don't worry - I got you covered so you don't forget a thing!