Call me crazy, but the moment I laid eyes on an Icelandic lopapeysa, I became obsessed and knew I had to have one!
Now, hold on to your crampons – you're probably wondering, "What the heck is a lopapeysa?"
It may sound like a delicious local stew, but it's not.
Nonetheless, it will leave you feeling warm and ready to conquer the chilly Icelandic weather – like a Viking in wooly armor!
In a nutshell, lopapeysas are traditional Icelandic wool sweaters – with really cool patterns. They're not only beautiful and functional but also hold cultural importance.
Curious about what makes Icelandic lopapeysa so unique or where you can get your hands on your own? Well, stick around, I'll tell you everything you need to know!
Table of Contents
Lopapeysa Pronunciation
The name combines the word "Lopi," which means unspun wool, with "peysa," the Icelandic word for sweater.
If you're wondering, it's pronounced lo-pa-pey-sa or loh-pa-pay-sa.
It's also fondly known as 'Lopi,' but if you forget, just ask for the 'traditional Icelandic sweater.'
The Icelandic Lopapeysa: A Background
The Icelandic sweater, or Lopapeysa symbolizes a heritage that Icelanders are very proud of.
While knitting has always been an important part of Icelandic culture, these traditional Icelandic wool sweaters were actually designed in the 1950s to protect against Iceland's tough weather conditions.
Today, it stands as a symbol of resilience against the challenges of a harsh climate – and also highlights how crucial knitting is to the livelihood of the local community.
Unique Features of the Lopapeysa
The quintessential Icelandic sweater comes with a few nifty features. Take a look:
Sweaters Made from Icelandic Wool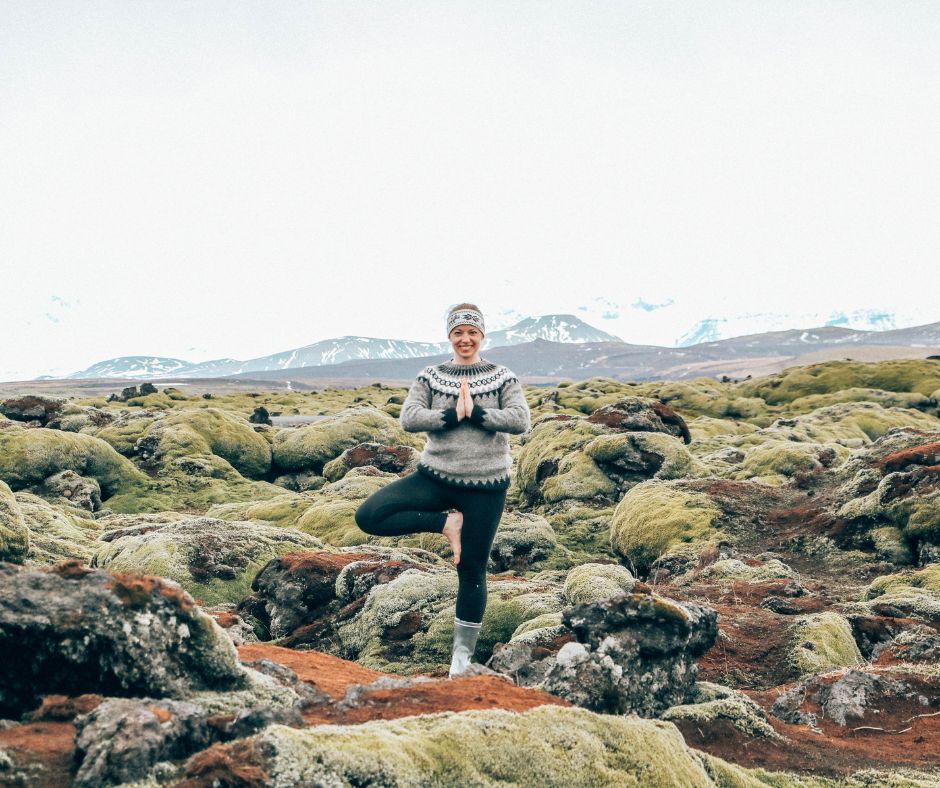 Everything about these lopapeysa sweaters is proudly Icelandic. The high-quality wool comes from Icelandic sheep and is produced using natural energy sources.
They treat the wool in a way that locks in heat – seriously, these sweaters are so warm. I wear mine all the time on chilly days.
Another bonus is that the wool naturally resists bacteria. Therefore, airing out the sweater is enough to keep it fresh and cut down on washing.
Less laundry is definitely a win in my books! 🙂
Water-resistant
To preserve its water-repellent properties, they lightly process the wool. This clever technique has evolved over time and the results are pretty amazing!
I can't tell you how many times I've been caught unexpectedly in the rain. Luckily, I just brushed off my Icelandic wool sweater and watched the drops bounce right off!
This is really helpful because many people prefer wearing their Icelandic lopapeysa without a raincoat. You can breathe easy knowing you won't be out exploring in a soggy sweater!

➡️ READ MORE: How To Stay Dry In Iceland (Best Rain Gear)
Beautiful Stitching and Styles
You can spot an Icelandic lopapeysa by the beautiful stitching and decorative patterns along the neckline. It's crafted with a seamless circular knit, and the part of the sweater that encircles the neck and shoulders features a pattern. These designs are inspired by the surrounding landscapes.
What's nice is that there are different styles available. You'll find them in crewneck and hooded options while some even come with zippers or buttons.
You'll usually find them in black, grey, and white, but I have seen brown ones made from dyed wool, therefore, you can find them in different color combinations as well.
Where and How to Buy a Lopapeysa in Iceland
The good news is that they're easy to find, and thanks to their growing popularity, you're not short on options for where to purchase your own.
Lopapeysa in Reykjavík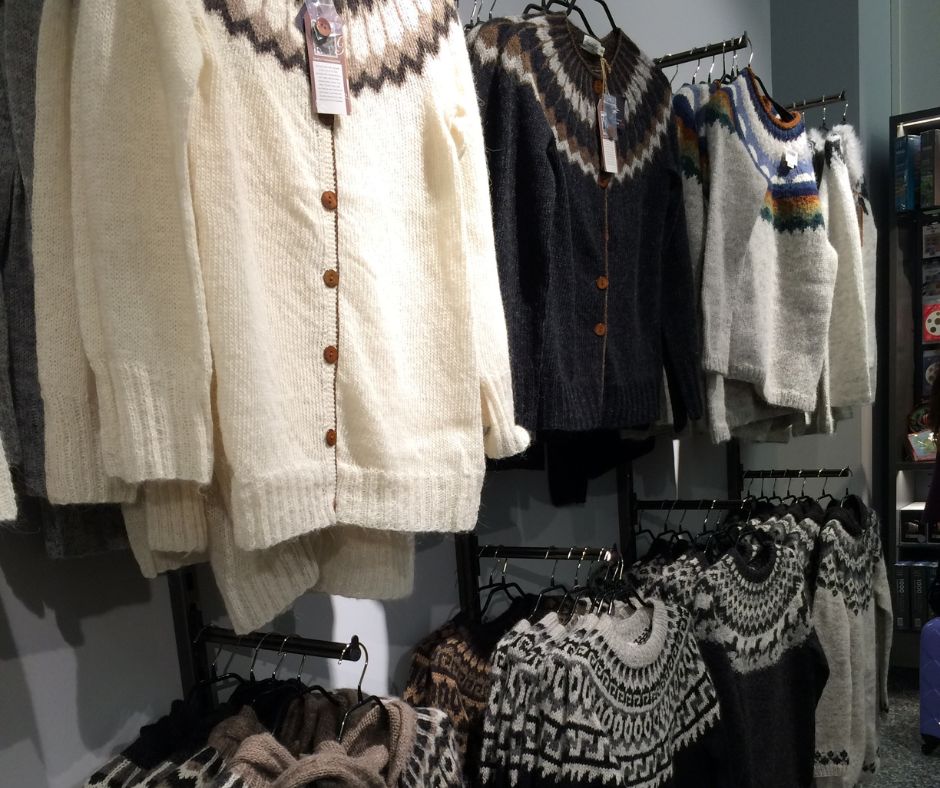 Hand Knitting Association of Iceland: If authenticity is what you're after, then this is hands down the best place to buy Icelandic sweaters. They're located in downtown Reykjavík and offer a huge selection.
Skilled artisans knit each sweater, and the association believes strongly in preserving this handicraft.
I guarantee you won't find any Made in China labels here!
If sweaters aren't your thing, then you'll find other quality woolen items from gloves to baby booties.
Seriously, you need to check them out.
Kolaportið Flea Market: This is another option for lopapeysa sweaters in Reykjavík. They are, however, only open on the weekends, so plan carefully. A lot of the farmers will set up shop and sell their authentic Icelandic wool sweaters here.
Naturally, the downside is that they don't offer an extensive selection of sizes and styles.
Thrift stores and Red Cross: While I can't guarantee you'll find lopapeysa here, if you do stumble upon one, you can expect to pay A LOT less for it. So, it's definitely worth a visit if you're in the area.
Elsewhere in Iceland
Gas Stations: Icelandic sweaters / lopapeysa are popular with locals and tourists alike, so expect to see them at the gas stations as well!
Popular attractions: There are pop-up shops at some waterfalls, again, selection is limited but keep your eyes peeled.
Custom Options: I absolutely LOVE my Icelandic lopapeysa, but it's custom-made by a friend of mine. The nice thing is that I was able to pick out the colors and design. Oh, and it fits like a glove!
Pro tip: If you're looking for an authentic lopapeysa, watch out for labels that read "designed in Iceland." That does not mean it's PRODUCED in Iceland, or with Icelandic wool.
Likewise, if there are seams connecting the shoulders and sleeves, it's not the real deal. Sneaky sneaky!
🔥Not in Iceland? You don't have to visit Iceland to get your very own authentic Icelandic wool sweater! Cozy up and Order A Lopapeysa from home.
There are a lot of beautiful styles to choose from. Head on over to My Amazon Store to find out what the fuss is about!
Icelandic Wool Sweaters: Lopapeysa Prices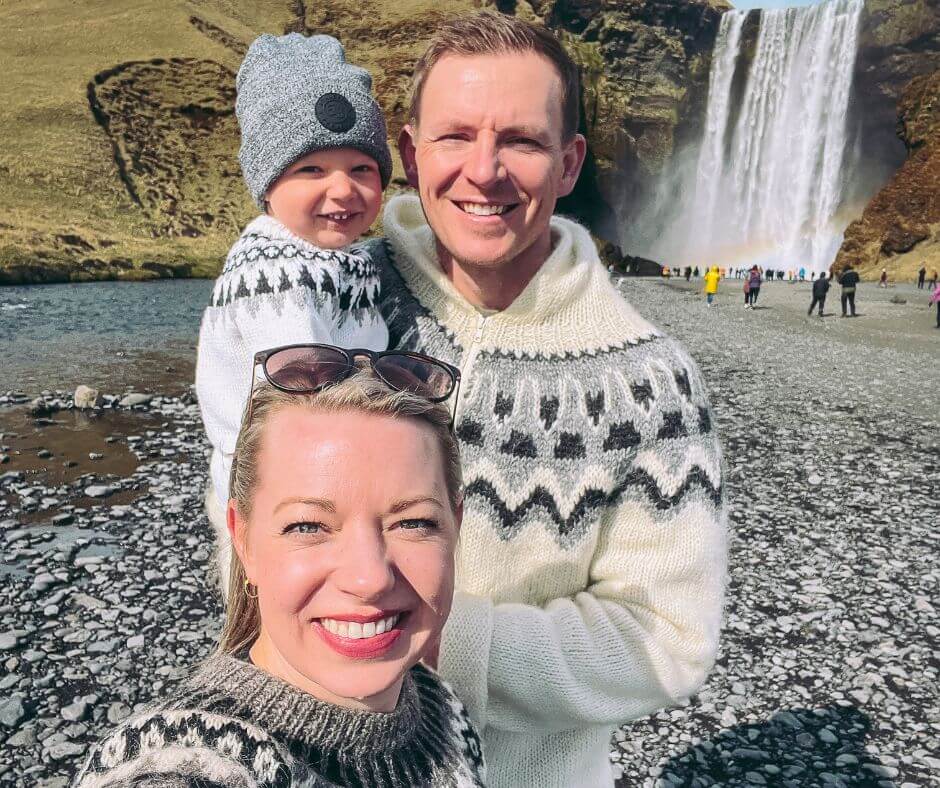 I'll be honest with you, these sweaters are not cheap.
Depending on the style and whether it's handmade or not, lopapeysa prices can range from $125 to $250 USD.
It's steep, but if you consider the workmanship, quality of the wool, and all the unique features, it's definitely worth the investment.
The Icelandic lopapeysa is the perfect memento to take home and remember your magical time in Iceland.
Keep in mind, though, it is an expensive item of clothing, so you'll need to factor it into your budget.
However, when you consider the fact that you're investing in something that'll last you for many years, it's absolutely worth it! My lopapeysa is by far the best sweater I own.
And remember – a cozy Icelandic sweater isn't the only thing you need for a successful winter trip to Iceland!

For those gearing up for a visit to the land of fire and ice, make sure you're ready for whatever the weather throws your way.
Dive into my FREE winter packing checklist to make sure you've got all your essentials covered!
Get your FREE Winter/Spring packing list!
Wondering what to pack for your Winter/Spring trip to Iceland? I've got you covered with this detailed packing list!
Happy Planning,

Pin it for Later! 👇🏾