August 5 – the eruption has STOPPED
Magma is no longer actively coming out of the crater. It is still possible to hike to the eruption site as long as you follow safety precautions (detailed below).
July 23 – the volcano trail closes at 6pm EVERY NIGHT
Due to wreckless behavior from tourists, the volcano hiking trail will close at 6pm (18:00) every night. Recently, around 60 tourists nearly got surrounded by lava because they ignored the warnings from the search and rescue team. Regardless of the local authorities and us on the internet trying to warn this kind of behavior…they have ruined it for everyone else.
July 17, 2023 – The volcano hike is OPEN
The volcano is located directly between the airport and Reykjavik city. Please read the statement from July 12th if you want to visit the volcano. If you are interested in seeing it for yourself, you can rent a car and hike to the viewing location (use my VIP link and automatically save money on your car rental. Reserve your rental by July 31st and get 10% off your total rental price!!!)

July 13, 2023 – The Hiking Trail/Eruption Site is CLOSED
Chief of Police in Reykjanes has announced that for security reasons the whole area around this eruption and the ones from 2021 and 2022 will be closed until further notice. Respect the closures!
Note: It is still possible to see the eruption from the air – Book a helicopter tour
July 12, 2023 – Visiting the Eruption Site
Icelandic authorities have announced that the hiking to the eruption site is now open.
The area is accessible from Suðurstrandarvegur (the parking lots from previous eruptions), but not from other roads or road trails.
The route is 20 kilometers (12 miles) round trip over rough terrain and is rated difficult. It could take 6-8 hours depending on your hiking pace, plus extra time at the site so it's EXTREMELY important to be prepared before even thinking of tackling this.
If you are planning to hike there, here are some things to keep in mind:
This area is extremely dangerous!
New fissures of lava could open without notice. Stay elevated and on marked paths only.
The molten lava is spreading rapidly – the eruption grew to over a kilometer within hours.
DO NOT WALK ON COOLED LAVA! What appears to be hardened lava could potentially have molten lava underneath making it unstable and extremely dangerous. People who do this will get the site closed down.
Bring sturdy hiking boots, wind/waterproof layers, and plenty of water, and food. I also recommend hiking poles.
A gas mask is needed – this eruption has higher levels of toxic gas than other eruptions and prolonged exposure could be toxic.
Do NOT bring children or animals
Use the parking lot for "Fagradalsfjall Parking P2" and pay the fee using the Parka App
Check Safe Travel Iceland for detailed safety information before heading off.
Here is a map provided by Safe Travel. *I've also updated my digital maps to include the parking lot, hiking trail, and all the major features of the area.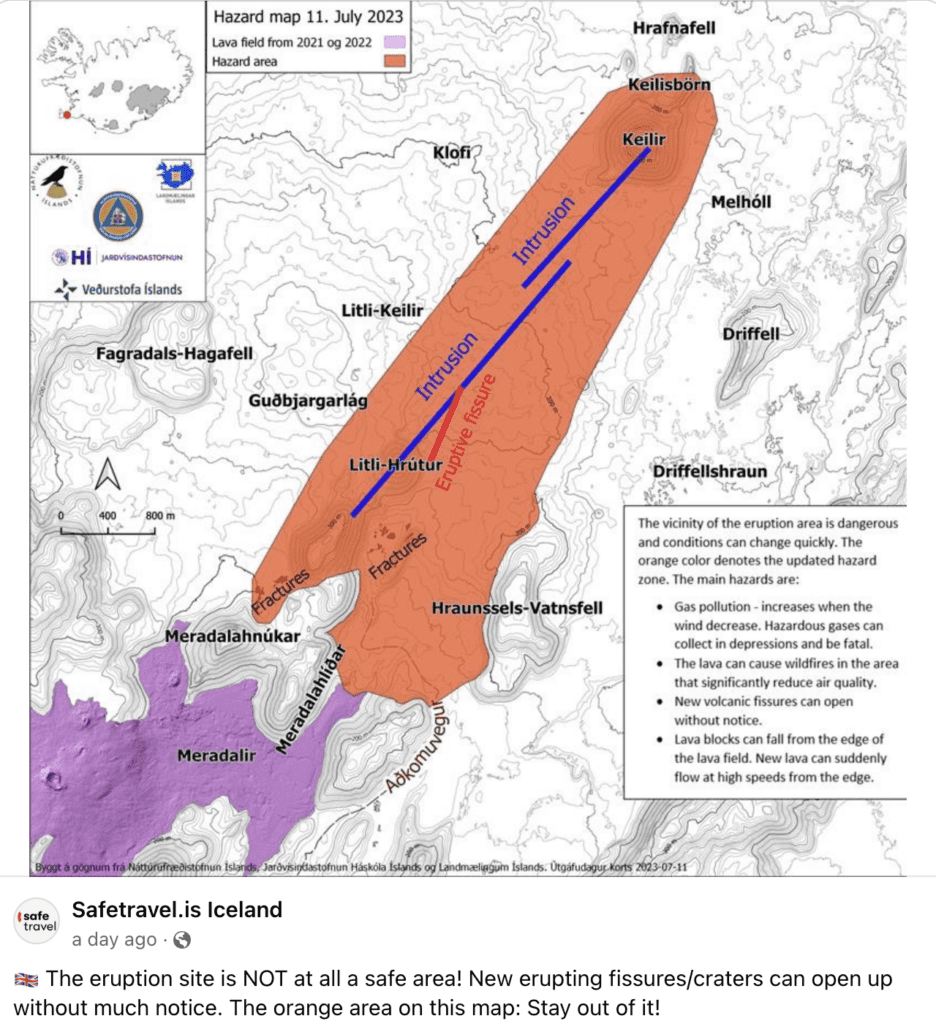 July 10, 2023 – Iceland volcano has ERUPTED! Watch the Livestream:
An eruption has started on the Reykjanes Peninsula on July 10th, 2023 around 4:30 PM near Keilir after a week of earthquakes, one of which was M5.2 yesterday evening.
This eruption is called "Litli Hrútur" after the hill that it is near.
The eruption site is about 30 kilometers (19 miles) southwest of Reykjavík and at this time homes and infrastructure are not in danger. There has also been no interruption to international or domestic flights.
Vísir, RÚV, and Mbl have all placed webcams at different perspectives where you can watch live – check back frequently as the activity will spread!
WARNING: The eruption site is CLOSED for visitors at the moment. If you are in Iceland and trying to get to the eruption site, it is not yet safe to hike as lava is spreading at a rapid pace and gas emissions are higher than before and deadly. Stay away until further notice or check SafeTravel.
July 8, 2023 – M4.5 earthquake update from Iceland
The Icelandic Met Office reported THOUSANDS of earthquakes have struck the peninsula over the past few days, with 20+ larger than a magnitude of 3.0. The return of constant rumbling has geologists and volcanologists watching the area closely, and an eruption could be imminent.
Volcanologist Þorvaldur Þórðarson said there are signs (including the shallow depth of the earthquakes) that a considerable amount of lava is pooling below the surface, with the estimated location of an eruption being just north of Meradalir, which last erupted from August 3 to August 22, 2022.
For those of you who aren't aware…the volcano is called Fagradalsfjall located on the Reykjanes peninsula, between Keflavík International Airport and Reykjavík. An ongoing fissure eruption that started in March 2021 after three weeks of earthquakes, and then again in August 2022.
NOTE: The main concern now is the tourists in the area around Fagradalsfjall, looking at the remnants of the last eruption. Approximately 200-500 people visit the site daily, so if you are currently in Iceland, stay away from the area!
A mini lesson on volcanoes
Iceland is nicknamed "the land of fire and ice" for a reason. It sits directly on a hot spot and on the divergent Mid-Atlantic Ridge, resulting in frequent volcanic activity. Volcanoes define the land, and their eruptions reveal gorgeous landscapes filled with lava fields, black sand beaches, peaks, and craters. The island has about 30 active volcanic systems, one of which was recently active.
Despite the threat of a pending eruption, Icelanders have come to not only accept but rely heavily on these volcanic systems in their daily lives. Geothermal energy brings hot water directly to homes and allows greenhouses to grow fresh fruits and vegetables year-round. The country is a major advocate of renewable energy, producing 30% of its electricity from geothermal stations. Swimming pools that drive the social culture are naturally heated with this hot water, and the tourism industry utilizes volcanoes for tours.
What to do during an earthquake
Because of its location on a plate boundary, earthquakes are a common occurrence in Iceland. Around 500 earthquakes are recorded in an average week, more if there's activity in the active volcanoes. Iceland experiences two main types of earthquakes: from the movement of magma at volcanic zones, or as the tectonic plates move and release tension. Most of these earthquakes are mere tremors less than magnitude 3 and not felt by humans. Occasionally a magnitude 4 or 5 will hit an active volcanic zone which can be felt around the area.
Because the plates are diverging, a magnitude 5.0 and above is significant. Bigger earthquakes are rare, and the largest ever recorded was a magnitude 7.1 which happened in 1784. Icelandic regulations require buildings to be able to withstand these earthquakes so damage to structures is not very common. The biggest risk of earthquakes is injury due to objects falling from walls or shelves.
The best thing to do during an earthquake is to remain calm and stay away from loose objects.
If inside:
Move away from things that may fall such as kitchen cabinets or things up on shelves
find an open doorway
hold onto the doorway (with one hand)
cover your head (with the other hand)
If outside:
Find an open space and avoid buildings and electric poles. Keep a safe distance from man-made structures that are as tall or taller than you.
Duck and cover your head if you cannot get to an open space.
Avoid falling rocks and gravel slides in mountainous areas.
Those who are driving should stop their vehicles in a safe place.
*Note: when the volcano erupts, the earthquakes stop!

What to do if there is an eruption
Potential dangers of volcanic eruptions include hot lava flow, poisonous gases, ash fall, lightning, and glacial flooding. Depending on the location and type of volcano any combination of these hazards is possible. Eruptions can happen at any time but are usually preceded by an earthquake or a series of earthquakes.
In the event of being present during the start of an eruption, the best practice is to leave your things and travel as far away from the source as quickly and calmly as possible.
With the location and geography of the area of the current potential eruption, there is no need to be concerned with ash fall or glacial flooding. The earthquakes are centralized near the previous eruption sites so as a visitor to Iceland, the main concern is toxic gas emission if you are close to the eruption site.
If you happen to be in Iceland when the volcano starts erupting and want to see it for yourself, here are your options:
​Take a guided tour – safe and informative
​Fly over in a helicopter – VERY expensive, but incredible
Hike to the volcano – for the adventurous

WARNING: it's CRITICAL that you properly prepare before the journey. The hike is longer than before and the weather conditions could change at an instant.
I hiked to the first eruption and I made a video explaining everything you need to know to plan a safe visit to the volcano: How to plan the hike, Parking info, Difference between the trails, Websites to check for conditions, What you need to wear, What to bring on the hike Read the post // watch the Vlog​
Other resources
Q+A from followers
Is the lava flow headed toward RD 1 or 427? I would not want to get stranded on travel.
The lava is nowhere near the roads, it's a 10km walk one way to get to the eruption site so at this time infrastructure is not in danger.
Any impact on the airport since it's so close in proximity?
There has also been no interruption to international or domestic flights.
You can't completely avoid the Reykjanes Peninsula since it's the location of Keflavik International Airport. But honestly, the Reykjanes Peninsula is an area of Iceland that people usually forget about as a sightseeing destination. Most people leave the airport and head to Reykjavík and beyond so they end up driving past all the sights. Most earthquakes are only felt close to the epicenter, so if you don't want to deal with the potential risks of earthquakes, just travel away from this area. Regardless of earthquakes or an eruption, it's still safe to land in Iceland and travel about. If there are any risks with air travel, your airline will make that decision and notify you as needed.
Do you recommend still coming whether the volcano has erupted or not? How concerned would you be about the earthquakes and our flight?
YES! 100%. Tourism was not and will not be affected by the eruption. In fact, you will probably get FOMO if your trip doesn't line up with the volcano eruption because it will be all over the news and social media and seeing this volcano up close is a once in a lifetime experience. The location of this particular volcano allows access up close and personal for locals and tourists alike.
Can you elaborate on what this may mean for summer (and beyond) travel?
Because of its incredibly accessible location (compared to other volcanos in Iceland) locals refer to this one as a "tourist volcano". I expect summer travel to explode if the volcano erupts. Photographers, volcanologists, geologists, and excited tourists will flock to Iceland to witness this remarkable phenomenon. Lastly, Iceland is large enough with plenty of other areas to explore. Most of the sights that tourists have mapped out are away from the eruption site anyway, so just steer clear of the Reykjanes peninsula and stick to Golden Circle, South, East, North, or West Iceland.
Exciting times to be in Iceland! Stay safe out there my friends!