Mention "Iceland," and most people instantly imagine kickin' back in the dreamy, milky azure waters of the iconic Blue Lagoon. But did you know there are actually a TON of Blue Lagoon alternatives that are just as sweet?
These lesser-known hot springs are just the place to chill out, beat the crowds, and experience a more authentic side of Iceland's pool culture.
From hidden forest retreats to bubbling mountain havens, these hot springs and pools offer something for everyone
Get ready to soak up some info on the top 10 Blue Lagoon alternatives.
Here we go!
Table of Contents
Why Opt for Blue Lagoon Alternatives?
In my opinion, the Blue Lagoon is absolutely worth seeing but it does come with certain drawbacks.
The Price: It's one of Iceland's most celebrated attractions, so it's no wonder that tickets are expensive. If you're on a tight budget, you may want to give it a skip.
The Crowds: If you'd rather soak in the natural beauty without 'soaking in' other semi-naked bodies in your personal space (Ew, people!) then I would opt for a quieter alternative.
Availability: Maybe you thought you could get tickets on the fly, and luck out. But as a general rule, due to its fame, tickets for this attraction tend to sell out fast.
Whether you choose to skip it or not, here are the best Blue Lagoon alternatives that will still deliver on that wow factor.
1. Laugarvatn Fontana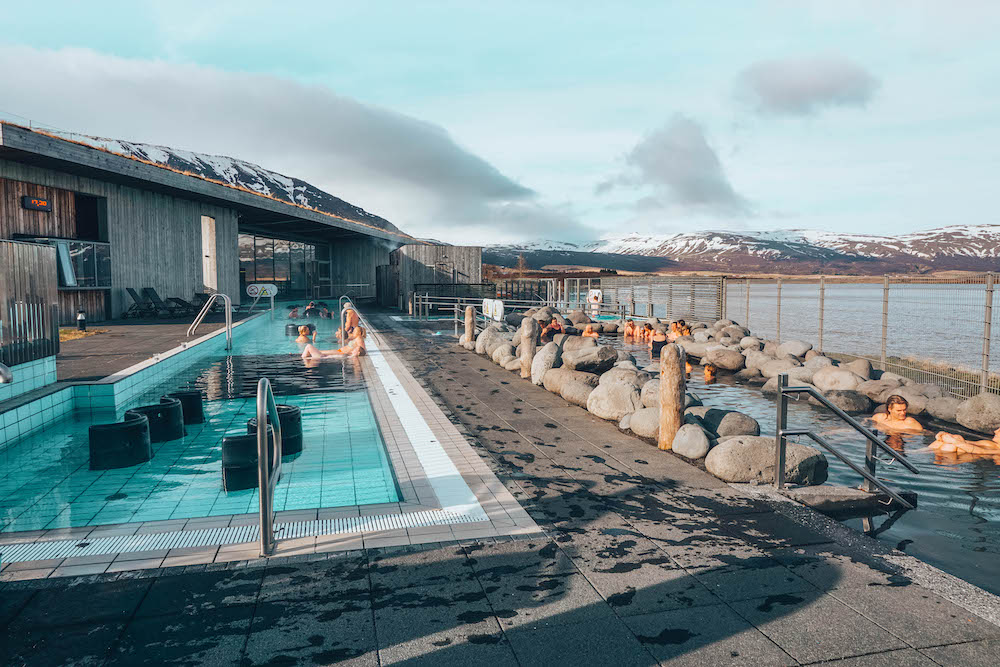 You can find the Laugarvatn Fontana geothermal baths smack-bang in the middle of the Golden Circle route, making it a super convenient stop.
It's made up of interconnected steam rooms and baths and the waters range from medium-hot to super-hot.
The mineral baths are next to a lake, and when you're done soaking in the heat, try taking a dip in the freezing waters. Sounds convincing, I know! 😂
But seriously, it's meant to be really good for lymphatic drainage and has many other health benefits, so it's 100% worth it.
Laugarvatn Fontana isn't quite as expensive as the Blue Lagoon and definitely not as crowded.
➡️Want to book a tour? Try: Laugarvatn Fontana General Admission
2. Sky Lagoon Iceland
Iceland's Sky Lagoon is a thermal spa conveniently located just outside Reykjavík.
You only need about 1-2 hours for it, so it's a great one to add to your itinerary because it's so darn close to the capital!
This is what sets the Sky Lagoon apart.👇
The 7-Step Ritual
They offer a 7-step ritual that takes you through alternating hot and cold experiences.
If you're a type-A kind of person who struggles to do nothing floating around in a lagoon, then you'll love this. You'll get a kick out of checking the steps off your list! 😅
Start by soaking in the lagoon, where you can swim up to the in-water bar. Then, brace yourself for a cold plunge followed by a sauna session with incredible views. From there, move on to the mist room, enjoy the salt scrub, and finally, wrap up the experience with a refreshing rinse and relax.
I never felt rushed moving from one step to the next. The lagoon offers plenty of space, and everyone works through the steps at their own pace, so it doesn't feel crowded.
If you're curious about the step-by-step process, I did a vlog about it here: Sky Lagoon Iceland | Reykjavik's newest spa!
Other Amenities
Once you've worked up an appetite, there's a restaurant bar or cafe serving coffee and snacks.
The facilities are really clean and if you have a Sky Pass you'll be able to access private changing facilities and private showers.
I highly recommend it.
➡️ Want to book a tour? Try: Sky Lagoon Sky Pass with Transfer
3. Gamla Laugin: The Secret Lagoon, Iceland
Sticker shock from Iceland's popular thermal pools? The Secret Lagoon presents an enticing and affordable escape.
It's a natural hot spring pool and one of the Blue Lagoon alternatives that is way less expensive.
Located in the village of Fludir, the Secret Lagoon in Iceland offers amazing scenery and is a great way to end your tour of the Golden Circle.
During the winter, you can enjoy the Northern Lights while soaking in a natural pool. Seriously, is this even real?!?
It goes without saying that it's quieter than the Blue Lagoon, but hey, it's got "secret" in its name, so that's hardly a surprise!
➡️ Want to book a tour? Try: The Luxury Golden Circle and Secret Lagoon
4. Mývatn Nature Baths: A Blue Lagoon Alternative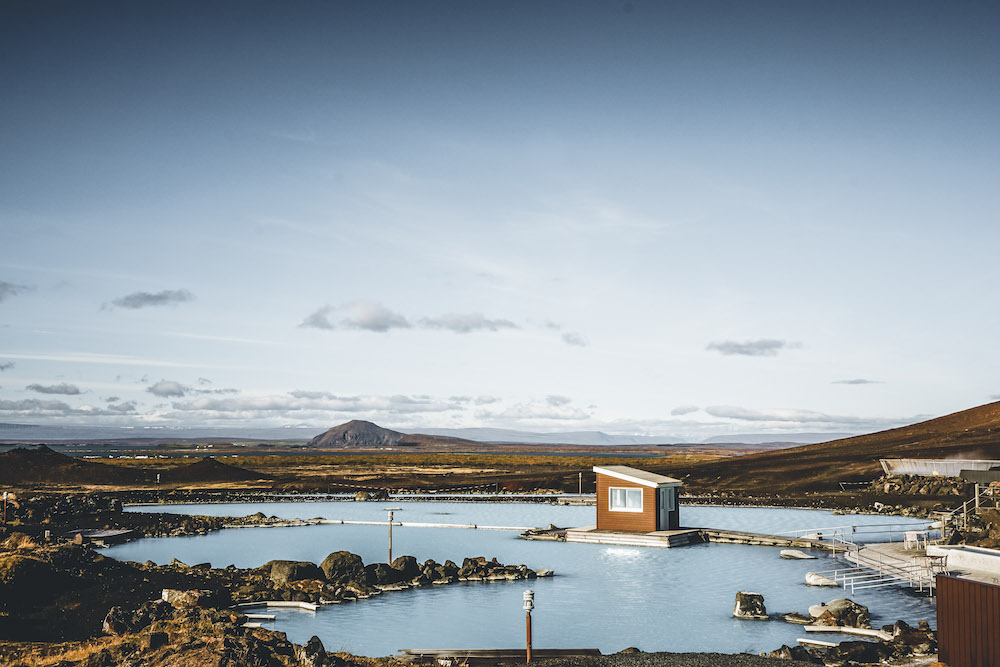 This hot spring spa in the north of Iceland is like the Blue Lagoon of the North – you know, same-same, but different. 😅
The waters are milky blue and the picturesque scenery is absolutely gorgeous. They also have a swim-up bar and you can enjoy a steam bath in the geothermal waters.
It's not touristy or as expensive as other places. All in all, Mývatn Nature Baths is one of the best Blue Lagoon alternatives.
➡️ Want to book a tour? Try: Private Lake Mývatn Day Tour & Godafoss Waterfall
5. Hofsos Pool
Located on the Trollaskagi Peninsula in North Iceland, Hofsos pool is a popular attraction – an infinity-like pool built into a cliff overlooking Skagafjörður.
Seriously – there's nothing like taking in swimming while taking in views of the fjord and mountains. You can even see the island of Drangey!
Hofsos Pool is a must-see if you're traveling up north.
6. Krauma Spa
Krauma Spa is similar to Laugarvatn Fontana and one of the Blue Lagoon alternatives located in West Iceland.
Powered by Europe's highest-flowing hot spring, Deildartunguhver, Krauma boasts 5 hot pools, a cold tub, and two steam rooms.
Their lounge area has a cozy fireplace, as well as a restaurant serving dishes made from fresh local ingredients! It's the ultimate relaxation station.
➡️ Want to book a tour? Try: Silver Circle & Krauma Spa – Private Eco Tour
7. Vök Baths
Vök Baths are located in East Iceland, near Lake Urriðavatn in the town of Egilsstaðir. What makes these baths so unique is that they float on the lake's surface. So, you are able to soak in the thermal waters while enjoying the lake and the spectacular views!
After your tranquil soak, head over to Vök Bistro where dishes are crafted from ingredients sourced directly from the region!
➡️ Want to book a tour? Try: Vök Baths – Admission
8. Hvammsvík 
Hvammsík is a hot spring about a 45-minute drive from Reykjavík where you can experience untouched nature, peace, and quiet away from the crowds.
If you're feeling adventurous, try the Glymur Waterfall hike and then treat yourself by relaxing in the hot spring afterward.
You can expect to find 8 hot tubs and a swim-up bar. If you're brave, there's the ocean swim – but be warned, it's COLD!
I recommend soaking in the hot tub with the highest temperature first and then taking an ocean dip. After the dip, you can heat up in the steam room and then enjoy a warm dish at their bistro and cafe.
You've got to try it. Hey, when in Hvammsík…
➡️Want to book a tour? Try: Private Golden Circle Tour and Hvammsík Baths
9. Forest Lagoon 
The Forest Lagoon is on my list of the top places I still want to visit because everything about it speaks to my soul.
This geothermal spa can be found in Vaðlaskógur forest, about a 4-hour drive from Reykjavík.
You can opt to relax here after a hike in the Eyja Fjord. Can you imagine enjoying the hot tub with a view of the snowy forest? Magical!
There are 2 pools between 37-40 degrees celsius (98-104 degrees Fahrenheit) and 2 swim-up bars. They also have a cold pool if you're up for it.
There's a cozy restaurant with a roaring fireplace with views of the Fjord. I can picture it already. 😍
➡️Want to book a tour? Try: Forest Lagoon – Admission
10. Geosea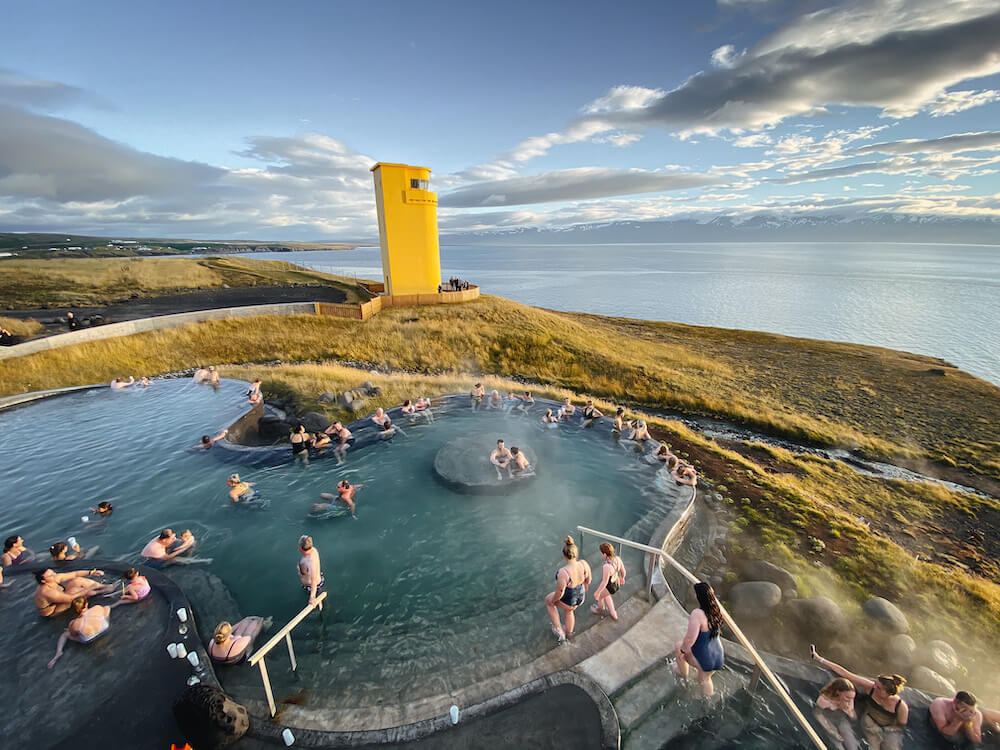 Geosea is situated North in the town of Húsavík, about an hour off the Ring Road. It's far less crowded than the Blue Lagoon and the facilities are modern with dining options.
The panoramic views of the mountains and surrounding landscapes are unbeatable!
Geosea is without a doubt a favorite when traveling up North.
➡️ Want to book a tour? Try: Northern Lights & GeoSea Geothermal Baths Tour (From Akureyri)
I can't wait for you to experience the magic that is Iceland's pool culture! ✨

These 10 blue lagoon alternatives offer an intimate and authentic experience away from the usual tourist traps.
Whether you add one to your itinerary (or all ten 🤣) you'll be in for a treat.
Want to navigate all these stunning spots with ease?

Grab one of my Iceland Travel Guides & Maps and get everything you need to craft the perfect Iceland itinerary.

From secret hot springs to hiking trails and can't-miss hidden gems, this PDF guidebook and digital map with over 500 pinned locations will transform your trip to Iceland!
It's time to explore Iceland like a local. 😎

Oh, and I've even put together a Spotify playlist you can rock on your journey because every trip needs a theme song, am I right?!
Happy exploring!

Pin it for Later! 👇🏾