If you've never been to Reykjadalur Hot Springs then picture this:
Mountains ahead of you, the ocean at your back, streams to the side, and a dip in a hot spring with breathtaking views to top it off. Plus a few extra sights to enjoy along the way.
What more could you ask for in a hike?
Located in the Reykjadalur Valley, this hot spring is a stone's throw away from Reykjavík, making it the perfect day trip.
Iceland is abundant in waterfalls, hiking trails, and hot springs. So, why not combine them all for the ultimate day of relaxation and adventure? 💁‍♀️
Discover all the details you need to plan an unforgettable outing to Reykjadalur Hot Springs.
From what to expect when you get there, accessibility, hiking information, and sights you'll see on the trail, you'll find it all right here in this guide!
Table Of Contents
Let's go!
Directions: Reykjavík to Reykjadalur Hot Springs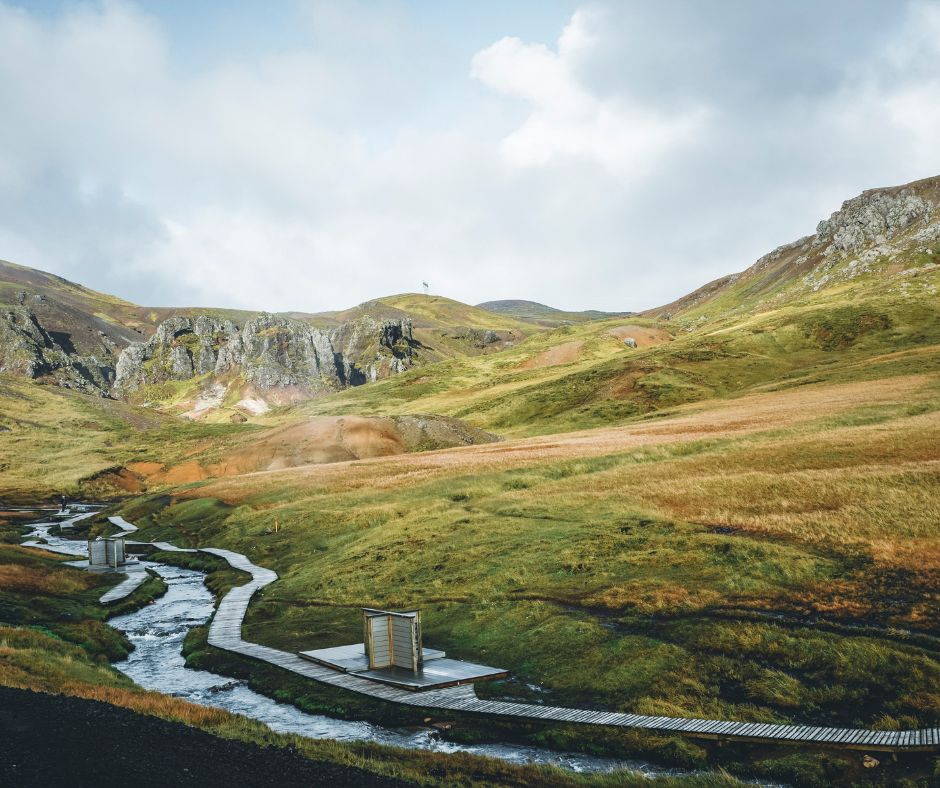 Reykjadalur hot springs is only a 40-minute drive from Reykjavík and conveniently en route to other popular stops.
If you're touring Iceland, you'll likely be exploring the Golden Circle or heading to South Iceland's main attractions.
The best part? You'll drive past the hot springs on the way!
Starting from Reykjavík, head South on Route 1.
After about 40 minutes you'll reach a charming town called Hvergerði where you'll turn left onto the town's main street.
This is a geothermal region and it's known for its hot springs, earthquakes, flowers and greenhouses.
Drive straight through the town until you reach a gravel road that leads you towards Reykjadalur.
And there you have it!
Reykjadalur Parking & Restrooms
Once you get to Reykjadalur, you'll find a parking lot at the base of the trail with toilets and cafes.
The parking area is camera-enforced, which means they take a photo of your license plate, and the timer starts!
After hiking, head to the payment area where everything is done electronically.
The system will tell you how long you've been there and work out how much you'll need to pay.
Important Note: Cash is not accepted, so it's a good idea to download the EasyPark app (I recommend doing this even before arriving in Iceland). They also have card machines and accept credit cards.
You'll find a wooden path along the springs with wooden structures that act as dividers.
These don't offer much privacy, so you'll need to make peace with getting naked in the wilderness – with people around.
Luckily nobody here is phased by showing a little skin. All hey, if you're really that shy, at least there are toilets on site! 😅
Reykjadalur Parking Fee: 250 ISK/hour
Restrooms: Yes
Reykjadalur hot springs price: Free
Reykjadalur Hot Springs Hike
You won't need advanced hiking experience to tackle this hike but bear in mind that it does get moderately difficult in some spots.
There's a bridge that you cross over the river to access the start of the trail and the hike will take you a solid hour. But it's so worth it!
Thankfully the trail is marked with signs, which makes it easy to navigate.
Other than being rewarded with a heavenly dip in this Icelandic thermal river after the hike, it's nice to know that you'll see a few interesting things along the way.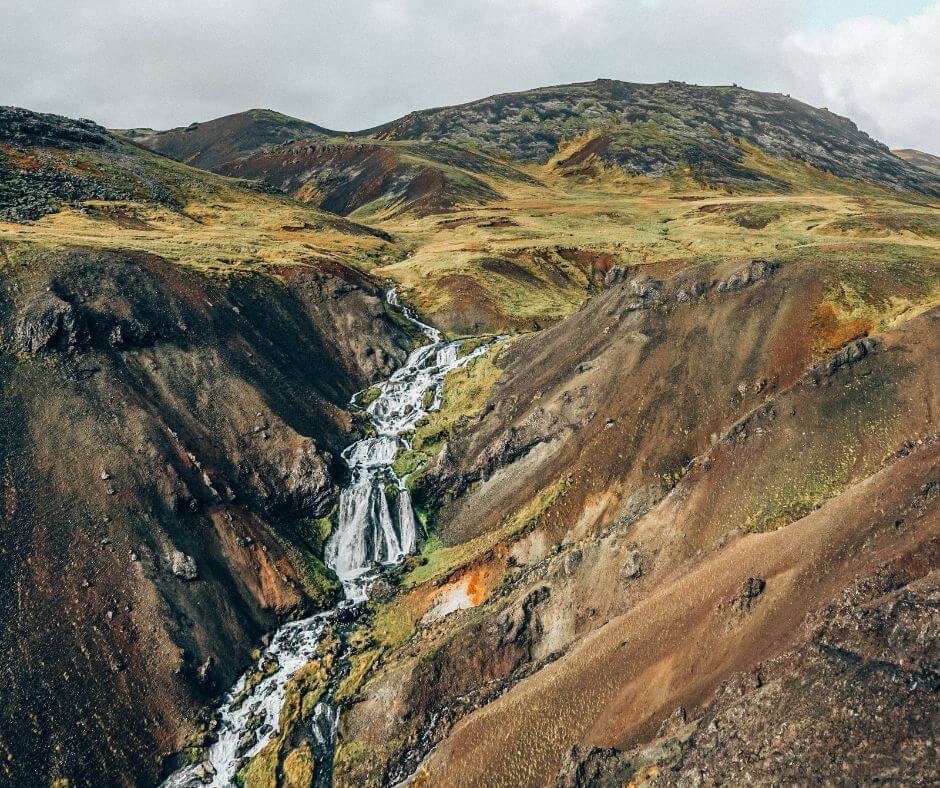 Djúpagilsfoss Waterfall: This is always an extra perk for me when going on hikes. The Djúpagilsfoss waterfall is visible from the trail. It can be pretty scary because it's located in a deep gorge. That's where the name originates meaning Deep Gorge Waterfall. Personally, I think it's short for gorge-ous! 😜
👉 If you're like me and lover of all things waterfall-related then you'll want to check out the post I did on the Top 10 Waterfalls in Iceland.
Photo opportunity: Along the way, you'll see a spot with bright turquoise water against the contrasting color of the landscapes. It's a great spot to take photos.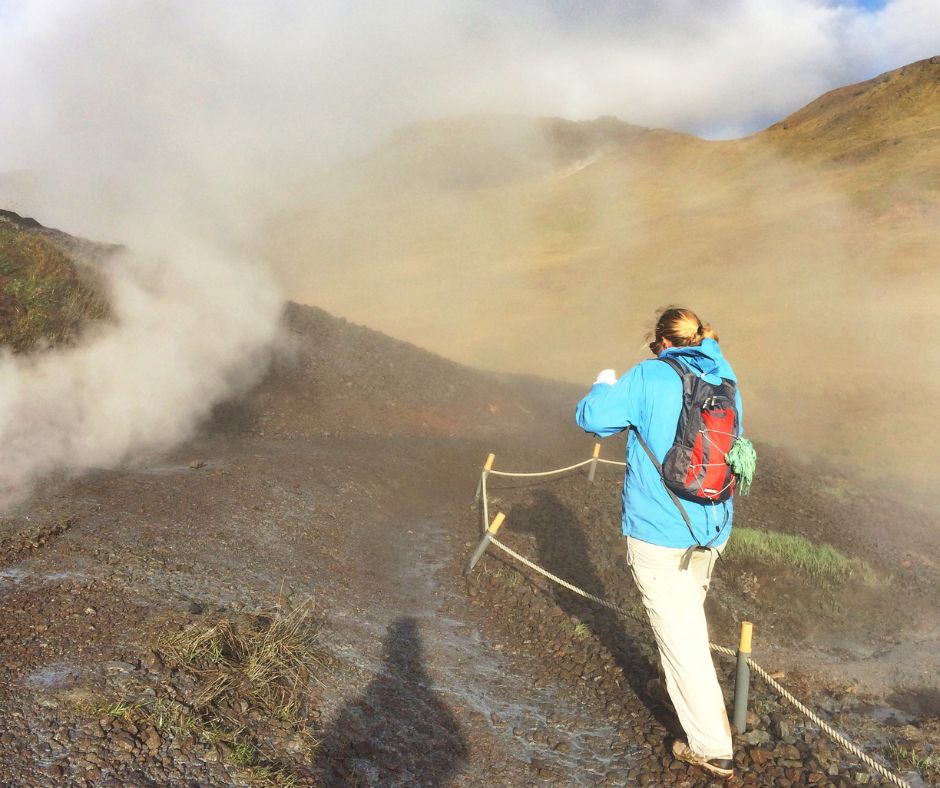 "Steam valley:" Reykjadalur literally means "steam valley" and you'll understand why when you get there. Steam is released from the ground giving off a sulfur smell. You'll see these pockets of steam being released throughout the trail.
Natural hot spring & mountains: The thermal river is nestled between the mountains and the views are absolutely stunning!
✅Pro Tip: The further up the stream you go, the warmer the water becomes. 😉
Essential Gear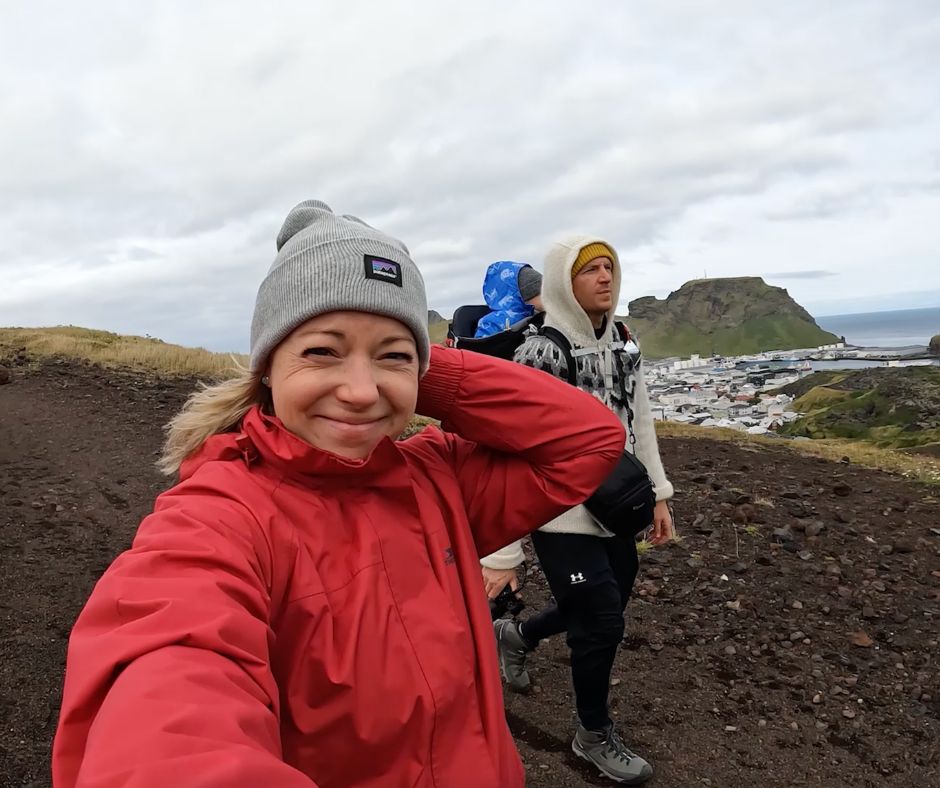 As with any hike, you need to be prepared with the correct gear so that you can make the most out of your experience.
What to pack:
The weather in Iceland changes faster by the minute, so come prepared with rain gear!
Good hiking boots
Swimsuit and towel
Daypack with a plastic bag (for the wet swimsuit)
Camera
I'm all about packing snacks. Trust me, the hike can be tiring, but a good snack can go a long way to keep you from getting hangry!
Reykjadalur Hot Springs In The Winter
❌ While this is a year-round attraction, I personally wouldn't tackle the Reykjadalur hot springs hike in the winter.
Some of the pathways are narrow and steep and can be challenging – even in the summer months.
In winter they're covered in snow and can get slippery. Plus, you may also find that access is limited in April and May.
Other Hot Springs & Hikes in Iceland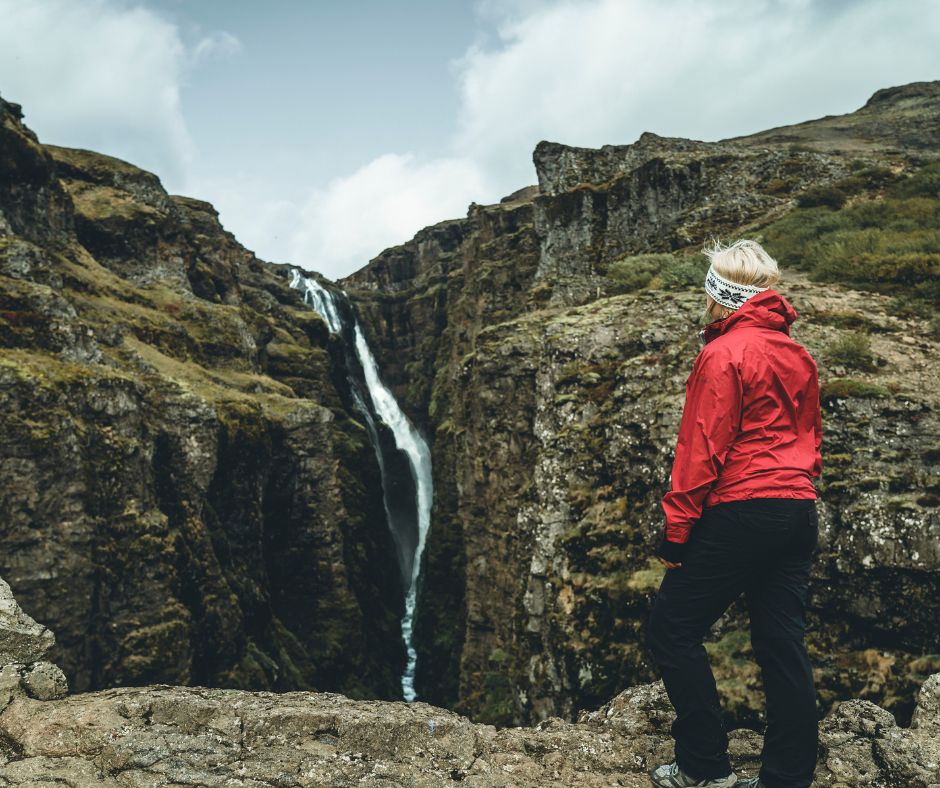 On the hunt for more waterfalls, hot springs, and epic hikes? Well, you're in for a treat!
Dive into the following posts below for a dose of inspiration ⬇️
First things first, Glymur Waterfall is like the Taylor Swift of must-see attractions, definitely pencil this one in the top to-do list.
A trip to Iceland isn't complete without a dip in the iconic Blue Lagoon – it's basically a right of passage!
But, if you'd rather avoid the crowds I've also got the insider scoop on Top 10 Blue Lagoon Alternatives.
➡️ Fed up with confusing Google searches for Iceland trip planning?
If you want never-talked-about locations, family travel tips, weather info, practical tips on budgeting, packing and more…check out my Iceland Travel Guides + Maps.
They offer the best insights in one convenient resource.
Discover maps pinpointing top-rated hikes and waterfalls, along with practical, experience-backed information that you really need…and so much more!

Ready to visit Reykjadalur Hot Springs?
Grab your camera and hiking boots and let's go!
Happy Planning!

Pin it for later! 👇🏾