I probably got waaaaay too excited about the first snowfall in Iceland.
Yesterday morning we woke up to a beautiful white blanket covering the ground and I was like a five year old on Christmas morning. One might think that I have never seen snow, but this is NOT the case. I grew up in Northern Wisconsin where the winters are long and cooooold. I'm talking two feet snow dumps and -30 F degree temps. I've definitely seen my fair share of snow before.
Still, there is something magical about that first snowfall.However, the last two years we were living in Texas, aka I basically hadn't seen snow in two years. I even completely missed snow the first year we lived there because we didn't go home for Christmas. The next year, we were home for a full week over the holidays and I was acting like that crazy person again that had never seen snow. I was outside helping my dad shovel and going for long walks through the woods to get my fill of snow. Little did I know I would be moving to the land of fire and ice the following year where winters are even longer and darker!
When we were in Iceland last year, we decided we for sure wanted to come back for two different trips: 1) to see Landmannalaugar, the interior of the country which is insanely beautiful and at the top of my Iceland bucket list, and 2) to see everything covered in snow. Like, how beautiful would waterfalls, canyons, and black sand beaches look covered in snow and ice?! Or the northern lights in full force against a snowy mountain? I think my heart would explode.
So naturally on the first day of snowfall, I decided a day of exploring was in store.
We are still very nervous about being too adventurous with our tiny car that we are renting, but we are in the process of buying a 4×4 which will allow us to basically drive anywhere in Iceland – this is going to be amazing. I don't know who is more excited about this vehicle – Bobby who gets to drive it around like a monster truck, or me who gets to finally see all of the off-the-beaten-path places in Iceland! Anyway, I decide I'm not going to let a tiny car get in my way of seeing Iceland with this fresh snow, so we opt for a drive not too far from the city.
Krýsuvík is a geothermal area in the Reykjanes peninsula just south of Reykjavik. It is home to one of the most dynamic landscapes in Iceland – red, green and yellow colored rock with volcanic boiling hot springs. The drive to the area is just as great as the hot springs themselves!
The minute we turned left on Hwy 42 we were in the middle of a snowy lava field with white mountains in front of us. It was SO beautiful! It's amazing what a blanket of snow can do to the mountains…and it was lightly snowing, which made it even more magical.
As you drive further back, Lake Kleifarvatn appears. It is surrounded by black sand beaches and mountains. With fresh snow falling – it was such a beautiful sight to see. Even though it was snowing and blowing cold, I ran down to feel the water and walk along the beautiful black sand. Only in Iceland!
Just past the lake, turn right into Seltun which is the mudpot and hot spring area. There is a boardwalk which takes you back into the sulfury-smelling area overlooking the mudpots and vibrant colors.
So beautiful, right?!
There was a man teaching his 3 sons that the water is so hot they could boil eggs…and that's what they did!
Just down the road is a surprisingly find – amazing cliff formations at Reykjanestá! I'm telling you, no matter where we go, everything is beautiful.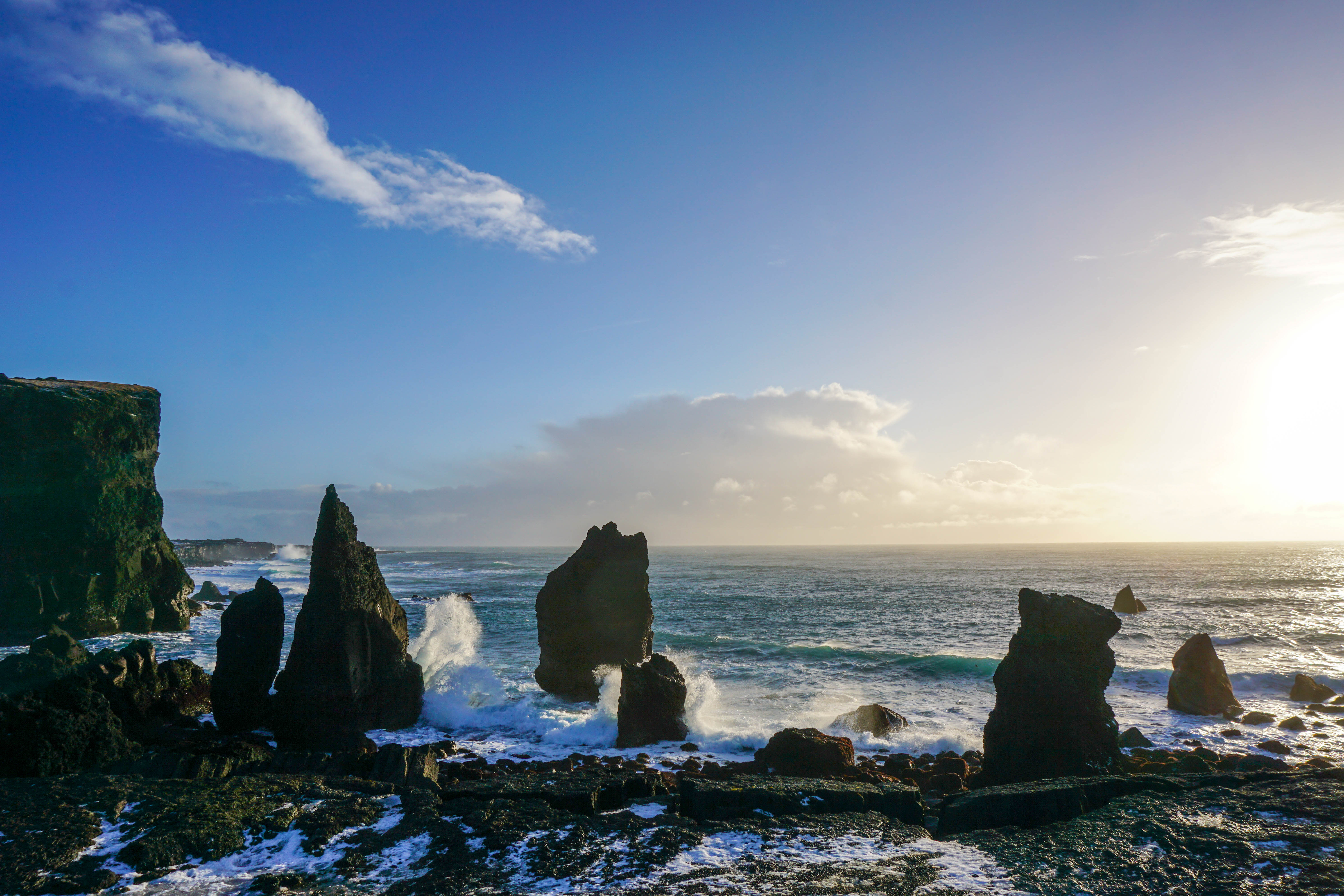 I was pretty happy with our snowy exploration day! I know the Icelanders are probably cursing the weather gods about this early snowfall, but I heard it's supposed to back up to 9°C this week, so it might melt anyway.
Hopefully we get a 4×4 soon so we can start some serious adventuring!
---
Question: Do you get excited about the first snowfall? What is your favorite snowy day activity?