Between the beautiful black sand beach and the biggest waterfalls in the country, traveling to the south coast of Iceland is a MUST on any traveler's Itinerary.
This area already gets a lot of hype, and for good reason. But did you know there are a ton of hidden gems in South Iceland just waiting to be discovered?
Inside this epic South Iceland itinerary, I'll be sharing it all. Highlights, hidden gems, and jaw-dropping natural attractions, these are the things you absolutely cannot miss when visiting the South Coast.
Table Of Contents:
Let's take a trip down to the South of Iceland, shall we?
Why Visit The South Coast of Iceland?
Let me tell you why you absolutely should visit the South Coast of Iceland.
First of all, it's super easy to reach from Reykjavik, making it accessible for everyone. You can reach it via the Ring Road that runs through and connects the entire island.
But what really sets it apart is the breathtaking landscapes you'll witness. Seriously, some of Iceland's most incredible natural wonders can be found here!
The best part is that there are so many incredible sights packed closely together, making it easy to create an unforgettable South Iceland itinerary.
That being said, with so much natural beauty to experience, you'll want to make sure you have at least a few days for your South Iceland trip. The South Coast spans about 300 km (or 200 miles) and there's a LOT to see. So give yourself lots of time to take it all in without feeling rushed!
South Coast Iceland Tour Vs. Driving It Yourself
Now you might be wondering…
Should I find a South Iceland tour…
Or drive it myself?
And personally, I'm always going to recommend renting a car in Iceland and going at your own pace!
Doing a road trip allows for more flexibility and fun.
You can eat at those local places – rather than at popular tourist traps.
You can extend your stay if you're loving one place, or shorten it if you'd rather move on.
AND you get to stop at all of those amazing hidden gems along the way…rather than just sticking to the main highlights.
So yeah…my advice is always going to be to rent a car and drive the South Coast yourself!
Now let's get into my all-time favorite Iceland South Coast driving route!!
South Iceland Itinerary Map
For your convenience, I've put all of these South Iceland attractions on a digital map!
To make the map interactive, simply click on the bracket in the right-hand corner.
I've even included some of the best places to eat along your South Coast route.
Seljalandsfoss Waterfall
The first stop on your South Iceland itinerary is Seljalandsfoss. As you're cruising down the Ring Road, you will be able to see Seljalandsfoss for miiiiles away. Seljalandsfoss sits at a large cliff and spans a whopping 60m. Seriously friends…this is one of Iceland's most majestic waterfalls!
Walking towards the almighty Seljalandsfoss Waterfall will be an incredible site in and of itself…
But in my opinion, it's not even the coolest view of Seljalandsfoss.
One of the most unique things about this waterfall is that you're actually able to walk BEHIND it and see it from a unique perspective!
So if walking behind one of the world's most impressive waterfalls is on your bucket list, you better go ahead and add Seljalandsfoss to your South Coast itinerary.
There are so many different vantage points to take in when visiting Seljalandsfoss, so make sure to take your time while exploring the area. Covering all of the angles will help you get the best photos of this beautiful waterfall.
Pro Tip: If you decide to do walk behind the Seljalandsfoss waterfall in the winter, it's best to use crampons on your shoes – the spray from the waterfall makes the path extremely slippery.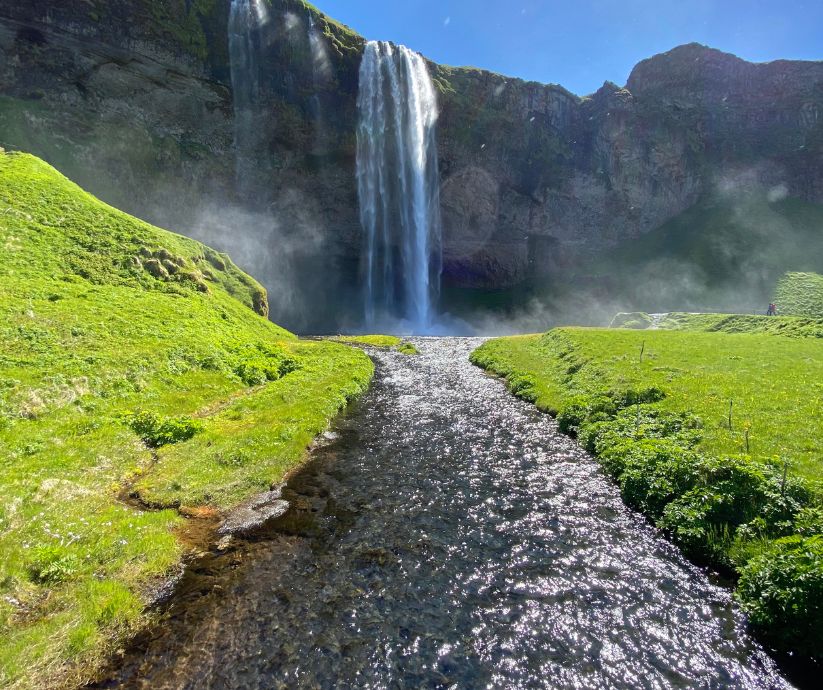 Skógafoss
As you continue your journey from Seljalandsfoss down the ring road, prepare for even more waterfall goodness.
The second step on your South Iceland itinerary is the Skógafoss waterfall – one of Iceland's most iconic falls. It will seriously take your breath away!
And it's not just any old waterfall—it's a legend in its own right. Rumor has it that the first Viking settler at Skógar hid a chest of shimmering gold coins in a cave behind the waterfall. Talk about hidden treasures!
Pro Tip: If you want to experience Skógafoss in its full beauty, be sure to climb the stairs that lead to the top for an awe-inspiring view!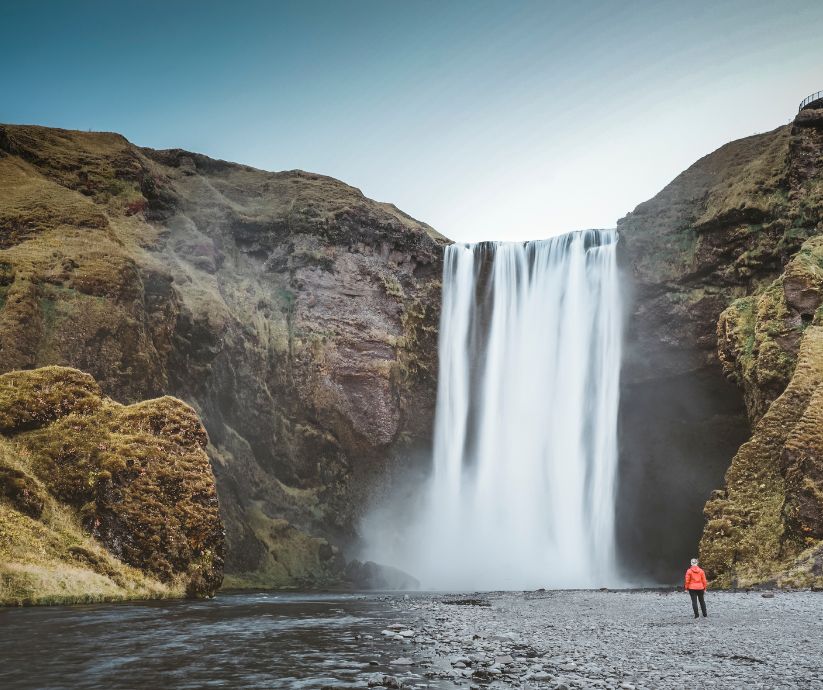 Dyrhólaey
Dyrhólaey is truly a unique sight. An arch-like promontory jutting out into the ocean…this spot is definitely a South Iceland must-see!
Dyrhólaey is actually divided into two parts.
If you go to the lower parking lot, you will have an incredible view of the Black Sand Beach and Reynisfjara.
And if you take the more treacherous path up to the top parking lot, you'll get the best view of the arch – and that iconic lighthouse as well!

Pro Tip: Dyrhólaey is also an amazing spot to see puffins in Iceland! Just note: if you go during nesting season, there's a chance the road may be closed.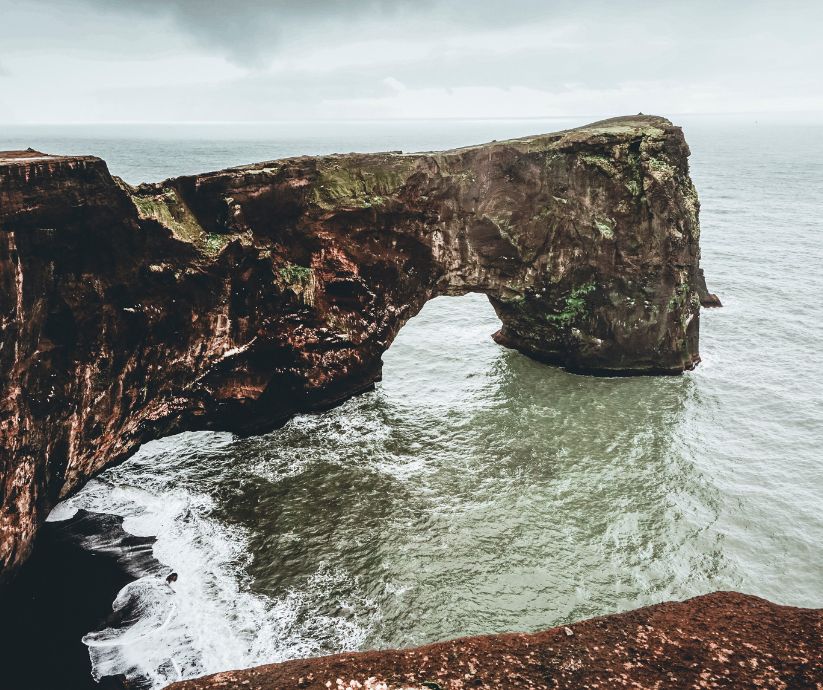 Reynisfjara Black Sand Beach
No trip to South Iceland would be complete without a visit to Reynisfjara, one of Iceland's most famous black-sand beaches, also home to the famous Hálsanefshellir cave.
Every year this awe-inspiring sight draws countless tourists, and it's easy to see why. As you stroll along the beach, you'll witness magnificent basalt stacks that rise from the ocean, creating a mesmerizing backdrop for that iconic black sand beach photo everyone wants to capture.
But I do want to mention, friends – while beautiful, Reynisfjara can also be dangerous if you're not careful.
The waves can be crazy high and the currents in the water are VERY strong.
So enjoy the black sand beauty without getting too close, and exercise precaution at all times.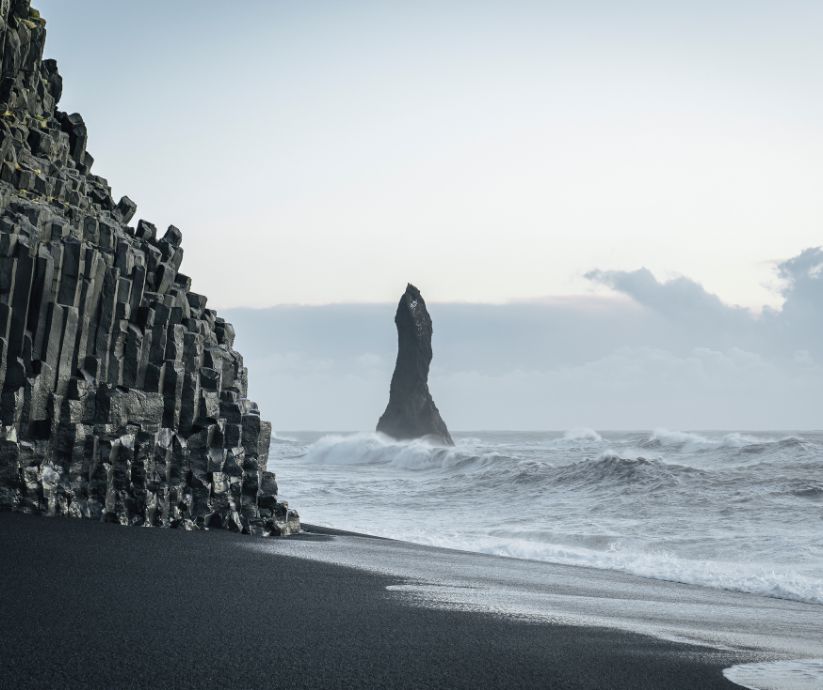 Vík
Many travelers choose to include a stay in a small, charming village named Vík as part of their South Iceland trip. It conveniently sits halfway between Reykjavik and the end of the south coast.
Because of its proximity to so many of Iceland's most famous natural wonders, Vík is a bustling area considering the size of the village!
Consider stopping here overnight to break up your Iceland south coast driving route.
Just look for the iconic white church with its charming red roof, overlooking a set of picturesque houses, and you'll know you've made it to Vík.
Pro Tip: Check out our Vík travel guide video for where to stay, what to eat, and things to do!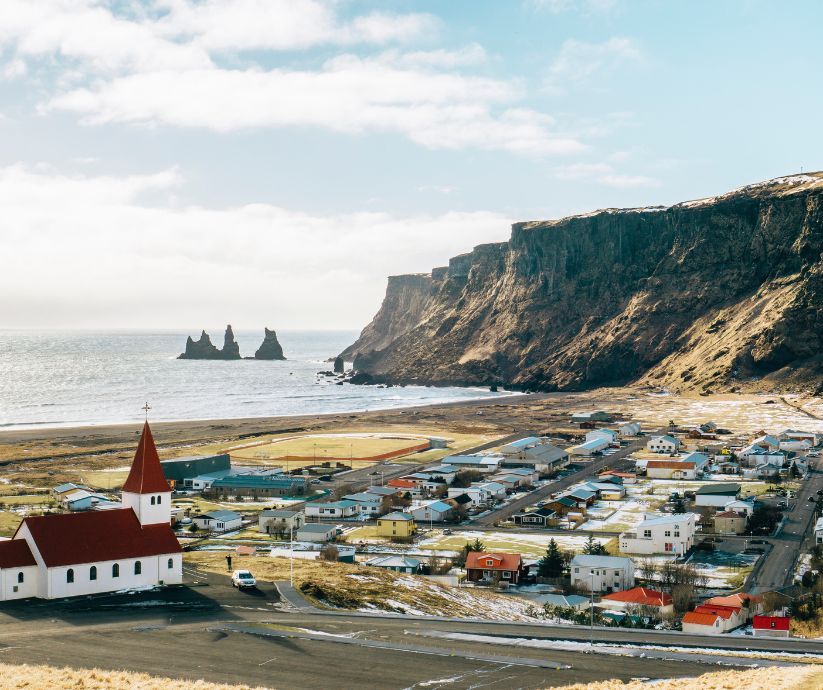 Skaftafell National Park
Now, let's move on to the next stop on our South Iceland adventure: Skaftafell National Park.
This expansive park offers a ton of activities and attractions to explore. However, one experience that shouldn't be missed is the hike to Svartifoss waterfall. This black-column waterfall actually inspired the architecture of the renowned Hallgrímskirkja Church in Reykjavik.
The hike itself is quite manageable, taking approximately 45 minutes each way, and the trail is relatively easy to navigate.
This is one of South Iceland's most gorgeous waterfalls, so don't leave the country without seeing it!

Pro Tip: Skaftafell National Park is also one of the most popular places for camping in Iceland if you feel like staying overnight.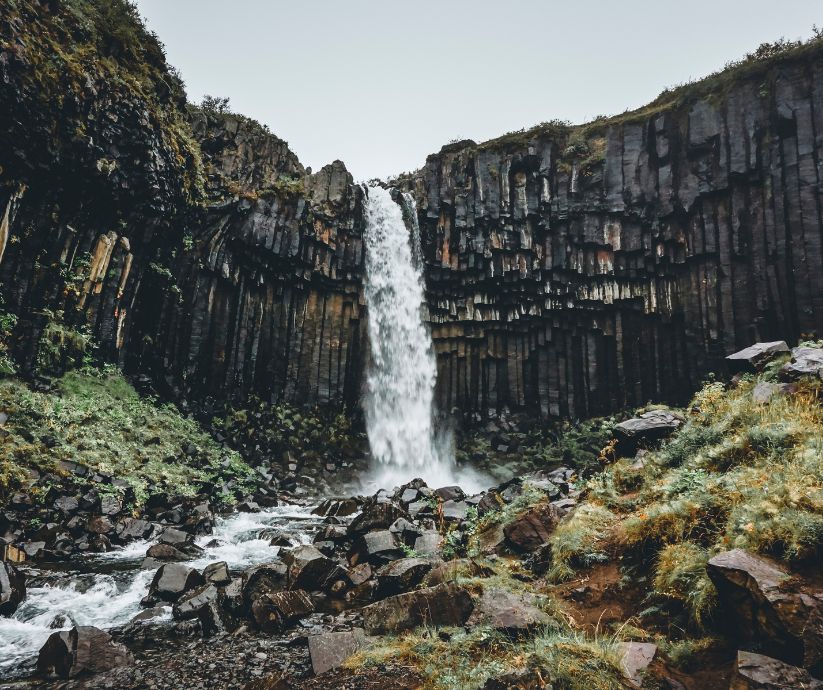 Jökulsárlón Glacier Lagoon
And finally – we've reached the grand finale: Jökulsárlón. This mesmerizing glacier lagoon located in South Iceland is an absolute must-visit. Believe me when I say that if you skip Jökulsárlón, you're missing out on one of the most breathtaking places in the world!
Personally, it's one of my all-time favorite destinations, regardless of the time of year. I just can't express enough how much I adore this place. It's a sight that leaves me awe-struck every single time.
Picture a peaceful lagoon that catches icebergs that fall off of the mighty Vatnajökull Glacier. These icebergs float across the water, showcasing a beautiful display of colors—bright blues, pure whites, and even subtle traces of black ash.
And as if that wasn't stunning enough, what happens next always blows my mind! As the current picks up, it begins to drag the icebergs into the ocean.
I always watch this dance completely mesmerized, gazing out at the floating icebergs being carried out into the sea.
It's a completely magical experience, friends!
Pro Tip: The best time to see the Jökulsárlón Glacier Lagoon at its finest is from May to October. During this period, more ice breaks off the glacier, creating a higher number of icebergs in the lagoon. As the year goes on, fewer icebergs can be seen as less ice breaks off the glacier.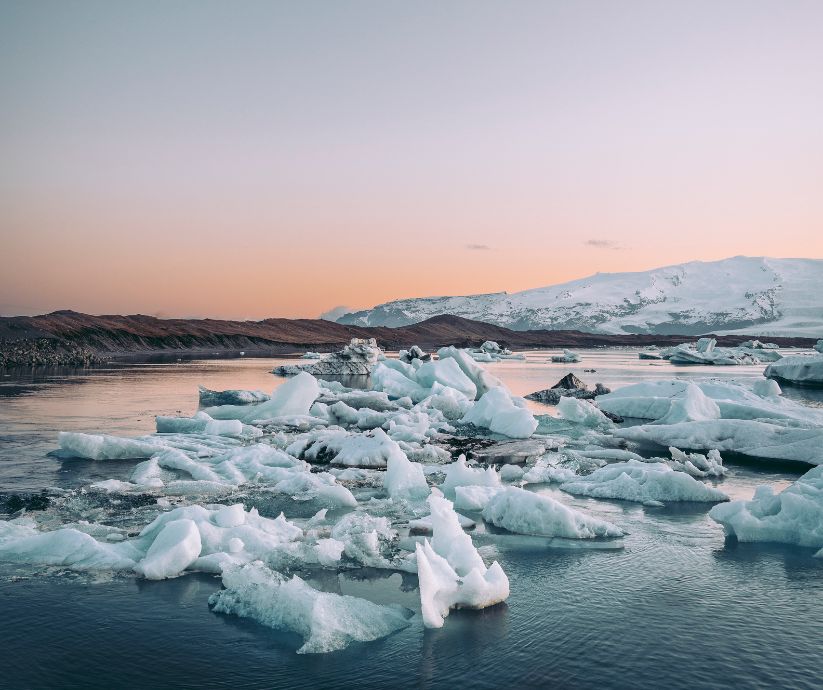 Don't forget: Diamond Beach
Just a quick stroll across the street, and you'll find yourself on a beach where icebergs wash up onto the black sand. This is an incredible sight, particularly during the colder months when more ice chunks remain on the shore.
This beach is known as Diamond Beach or Crystal Beach, and it's located just across from Jökulsárlón. So, you get to experience two breathtaking sights in one place. Trust me, you won't want to miss it. It's truly awe-inspiring!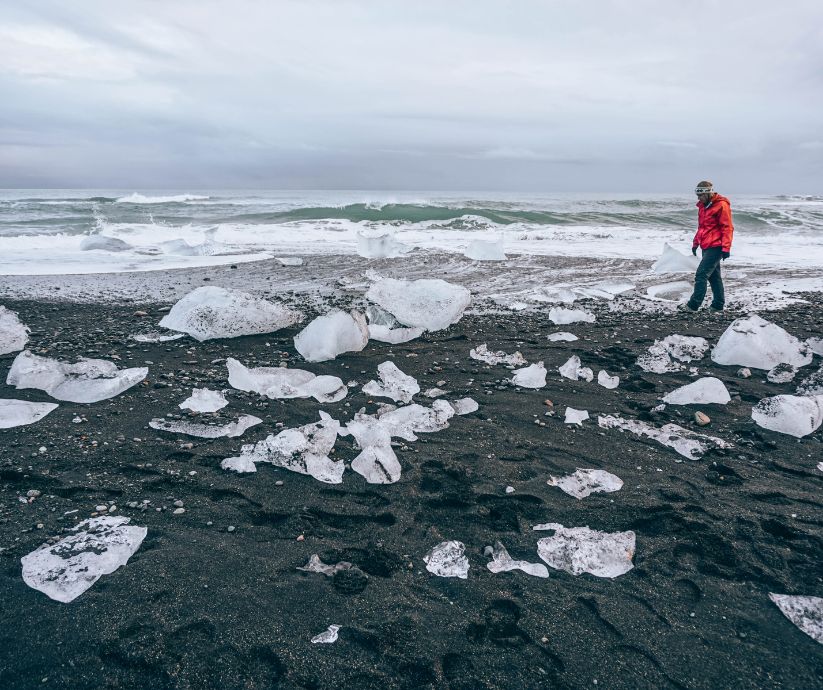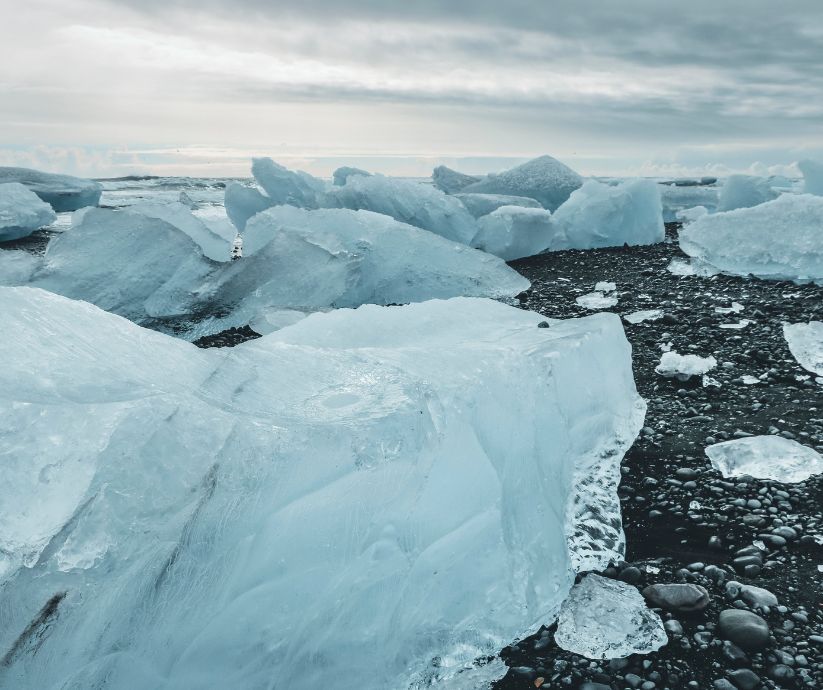 Pin it for later!