In my humble opinion…Iceland is a country that's meant to be explored by car. Renting a car in Iceland gives you the freedom to see the sights at your own pace, stop whenever you want to take in the stunning scenery, and create a truly unforgettable trip. In this post, we'll cover everything you need to know before renting a car in Iceland!
From car rental insurance, to whether or not you need 4WD in Iceland, to the different types of rental cars available…consider this your go-to guide.
This post is Part 1 of the Ultimate Iceland road trip planning series:
Part 1: Everything You Need to Know About Renting a Car in Iceland
Here are the main points you want to consider before purchasing a rental car for your Iceland road trip.
Let's get into it!
Do You Need A Car In Iceland?
First things first…do you really need a car in Iceland?
There are so many reasons why you'd want to rent a car in Iceland, but to me, the two most important ones are freedom and flexibility.
To me, there's nothing better than driving around Iceland on my own time, soaking up all of the gorgeous landscapes this country has to offer!
You can literally control every minute of your day.
You get to choose the restaurants you eat at, the viewpoints you choose to stop at, how long you stay at each attraction…
The list goes on and on.
Renting a car in Iceland allows you to see the country in a totally different way than when you go on an organized tour.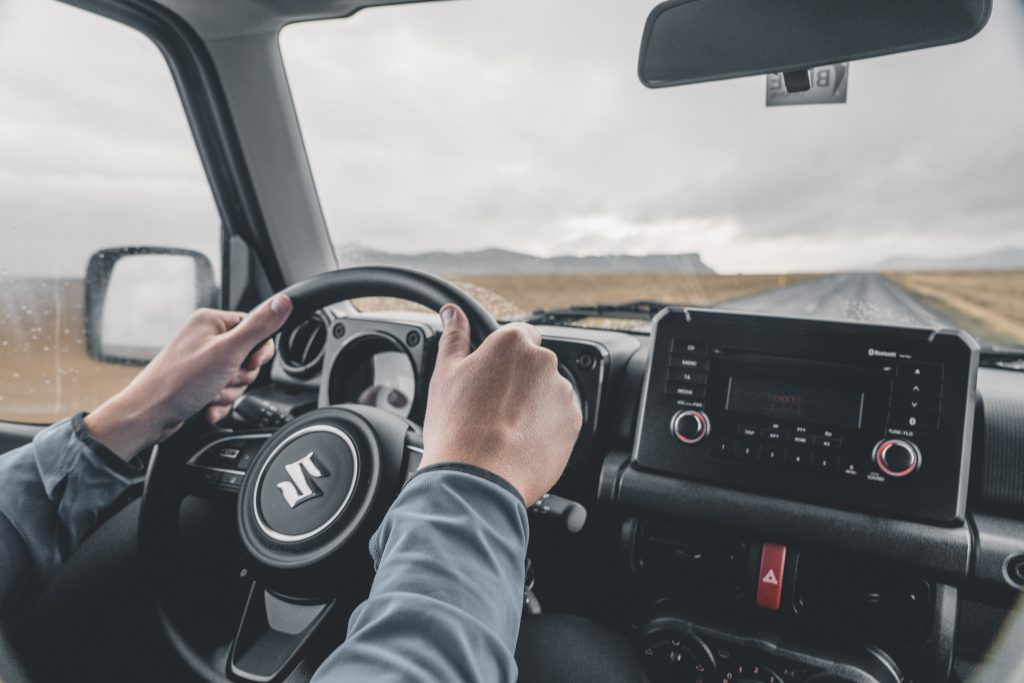 Can You Get Around Iceland Without A Car?
Iceland is one of those countries that makes it difficult to get around without a car.
The public transportation system in Iceland is basically non-existent.
And compared to other countries (especially in Europe), there are no trains and the bus system is very limited.
If you are just sticking around Reykjavik and doing a couple of excursions, you might be able to get away with not renting a car.
But if you want to see everything this incredible country has to offer…renting a car in Iceland is my #1 recommendation!
Do You Need A 4WD (aka 4×4) Rental In Iceland?
This is by far the most common question I get asked, and definitely something worth considering.
Whether you need to rent a 4WD in Iceland primarily depends on a) where you are planning to go and b) the season you are traveling in.
If you are just driving the Golden Circle, the Ring Road, or cruising around during summer, then no.
If you're visiting in the winter and/or you're not used to driving on icy roads, then yes. Roads in Iceland are not very well maintained, especially outside of Reykjavik. Not only that, but the wind in Iceland can be so strong, you might feel like it could blow you right off the road! The weight of the bigger vehicle will give you peace of mind when traveling.
If you are planning to drive on any F-roads (off the main roads, usually in the interior of Iceland), then you will definitely need a 4WD. All of the rental cars have a sticker on the dashboard that warns you against driving off-road. Not only can it be dangerous to you if you violate this rule, but it can also get you a hefty fine if the rental company finds any damage.
In a lot of cases, renting a 4WD in Iceland is going to be your best bet!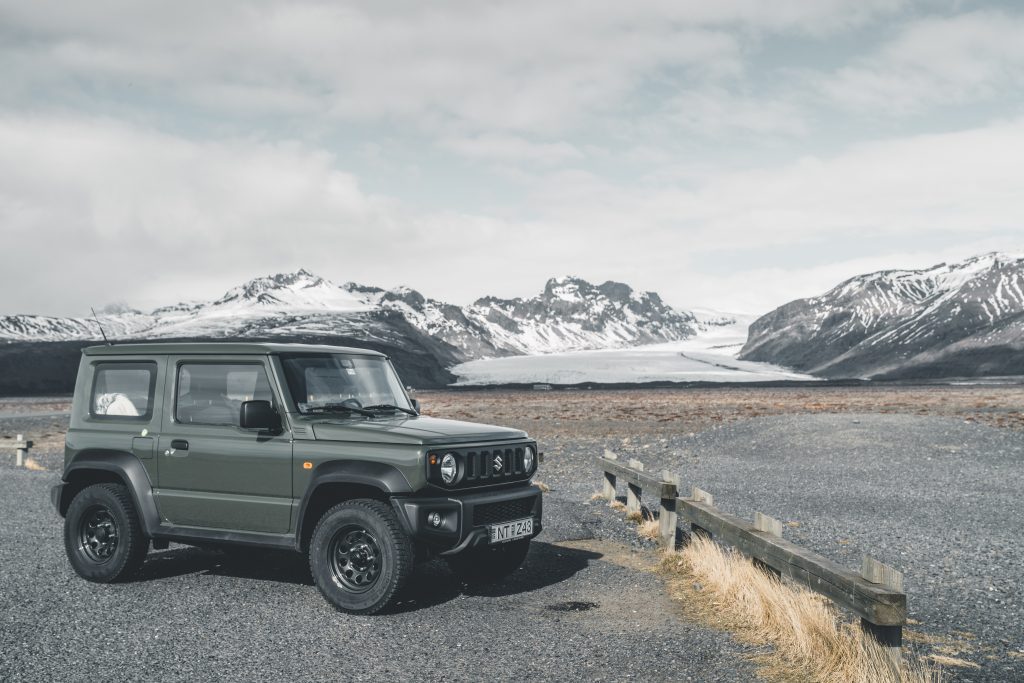 Should You Get A Rental Car With GPS Navigation…or Wi-Fi?
Next up, you'll want to consider whether you'll want to get extras in your rental car – like GPS navigation or in-car Wi-Fi.
In most cases, these add-on fees will be around $10/day.
Both of these extras can be great options for tourists driving around Iceland who want a little extra help getting around!
However, in my opinion, I would opt for a Wi-Fi device rather than GPS.
I've heard from many travelers who were disappointed with the GPS navigation system in their rental car – either it didn't have all the places they wanted to go listed, or it was just plain glitchy.
With a Wi-Fi device, you'll get a better bang for your buck. You can link up maps from your phone or iPad to navigate you, rather than relying on a GPS system that might not be up to date.
Plus, any device in your car can hook up to Wi-Fi!
BONUS! When you use my Google Map (included with my guides!) and you rent a Wi-Fi device, you will be equipped with the best navigation you would ever need!

Iceland Car Rental Insurance
Insurance for a rental car in Iceland is an absolute must!
The first thing that you need to know is that all vehicles are required to be insured.
For example, in other countries around the world, you can sometimes deny insurance coverage. That's not the case in Iceland.
All vehicles *must* have insurance. That said, most Icelandic rental car companies will include the most basic option, CDW or Collision Damage Waiver.
From there, you'll have the opportunity to add on other insurances for a lower deductible.
Some of these include:
Super CDW (An elevated version of the standard CDW insurance that will reduce your deductable. I recommend upgrading for this one, especially if you're traveling on the F-Roads)
Gravel insurance (This will protect you if you're driving on gravel roads and gravel cracks your windshield or causes vehicle damage!)
Sand and Ash Insurance (SAAP)
Theft insurance (Another option to protect against someone stealing your vehicle. However, I wouldn't worry about this since crime is almost non-existent in Iceland!)
Driving in Iceland can be treacherous, so make sure you protect yourself by getting the right car rental insurance!
Pssst… all of these insurance coverage options are included when you choose Blue Car Rental!
*Get my 5% discount automatically when you use the link above*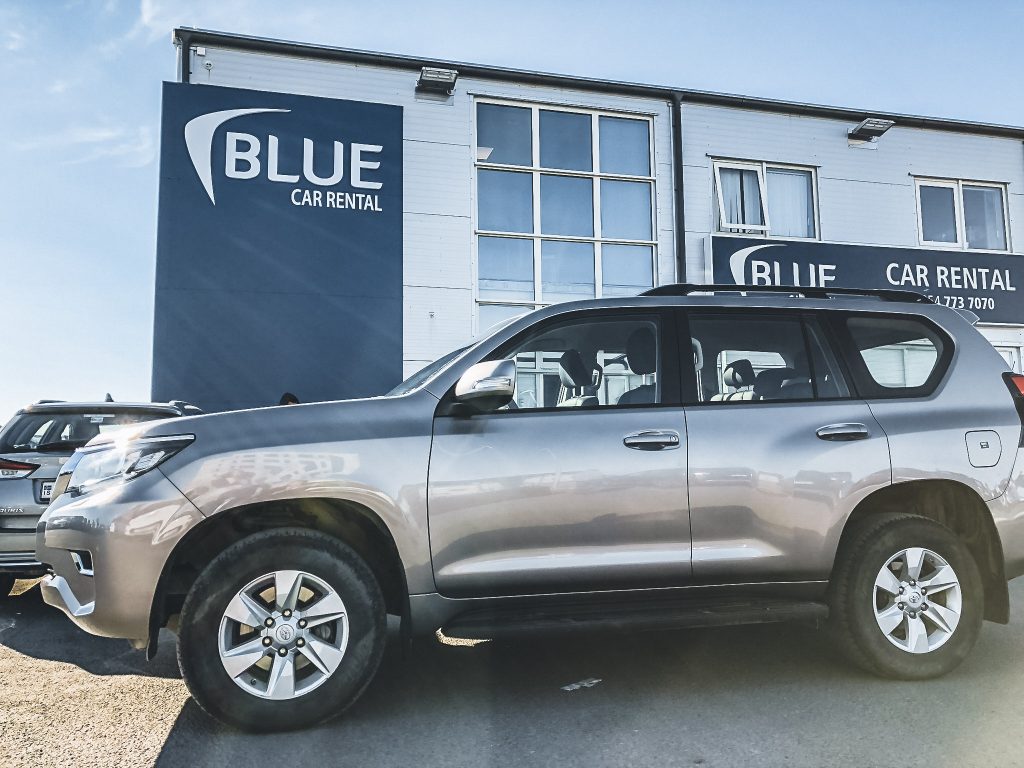 Iceland Gas Prices
It's important to remember that Iceland is a small island in the middle of the Atlantic…so fuel is expensive up here!
Don't forget to budget for gas costs, especially if you will be driving a lot. Iceland gas prices are ~$60 USD/day depending on your route.
You can expect fuel to be around $7-9* per gallon / $3-4* per liter (as of the posting of this blog*).
If you rent a diesel vehicle, it's cheaper per liter and gives you better fuel economy
Fill up literally wherever you can. Gas stations in Iceland are few and far between, and sometimes it's just one pump on the side of the road!
Fuel in Iceland isn't cheap, so be sure to budget for it!
Cars In Iceland: What types of Rentals Are Available In Iceland?
Let's talk cars in Iceland! What kinds of rentals are available to rent, and which one are going to be most suitable for your trip?
The two most common ways to travel Iceland are by car and SUV.
But one thing I love is that Iceland offers unique ways to travel around this country…so that you can truly get the most out of your vacation!
Renting A Car In Iceland
First things first, the most common option. renting a standard car in Iceland!
Renting a regular car with 2WD will be adequate for the main roads (Golden Circle, Ring Road, Reykjavik).
So if you're planning a quick trip to Iceland and sticking to the main tourist spots, this could be a great option for you.
Pro Tip: a regular car is not the best option for winter driving in Iceland! 🙅‍♀️
Renting A SUV In Iceland
If you're planning on driving on any of Iceland's F-Roads, renting an SUV with 4WD drive is a must.
F-Roads are the roads in the Highlands and mountains, and it's not legal to cross them with 2WD.
They can be extremely treacherous and require the right vehicle, so be sure to check your route and see if any F-Roads are on your journey.
Also, if you're planning on visiting Iceland in the winter, play it safe and opt for an SUV with 4WD.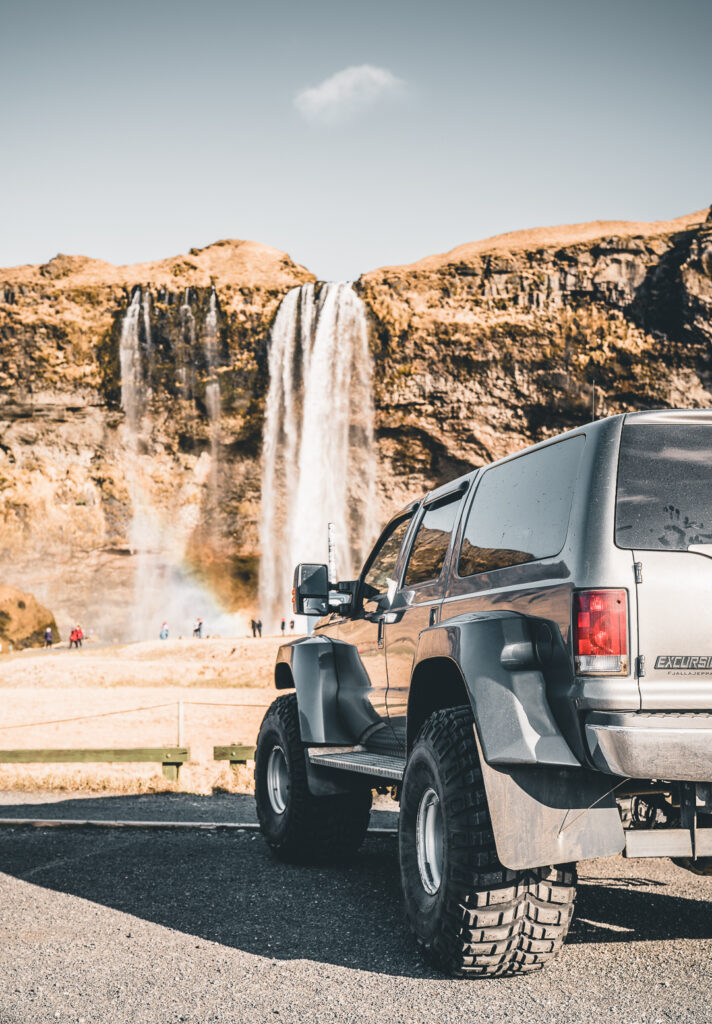 Renting A Big Rig In Iceland
These vehicles are serious heavy duty 4×4's that have been modified to handle anything that the Icelandic wilderness throws at you.
You will be able to get into the interior places of Iceland like Landmannalaugar and Thorsmork. If you want to drive through streams and take the F-roads head-on, this is the best Icelandic car rental option for you!
Renting A Camper Van In Iceland
Does having your vehicle and accommodation rolled into one sound good to you?
Do you want to be able to cook your own meals rather than spend money at expensive restaurants?
Then renting a camper van in Iceland is the best option for you!
Not only is this option your wheels and your bed, but it is also equipped for cooking as well!
For budget travelers and adventure lovers alike, renting a camper van for your Iceland trip is a great option.
The BEST Option For Iceland Camper Rental: Happy Campers!
The BEST Iceland campervan company that I have used and always highly recommend is Happy Campers.
They're a family-run business that's been operating in Iceland since 2009. They know Iceland camper van rentals inside-out – and I recommend them to anyone who wants to see the country in this unique way.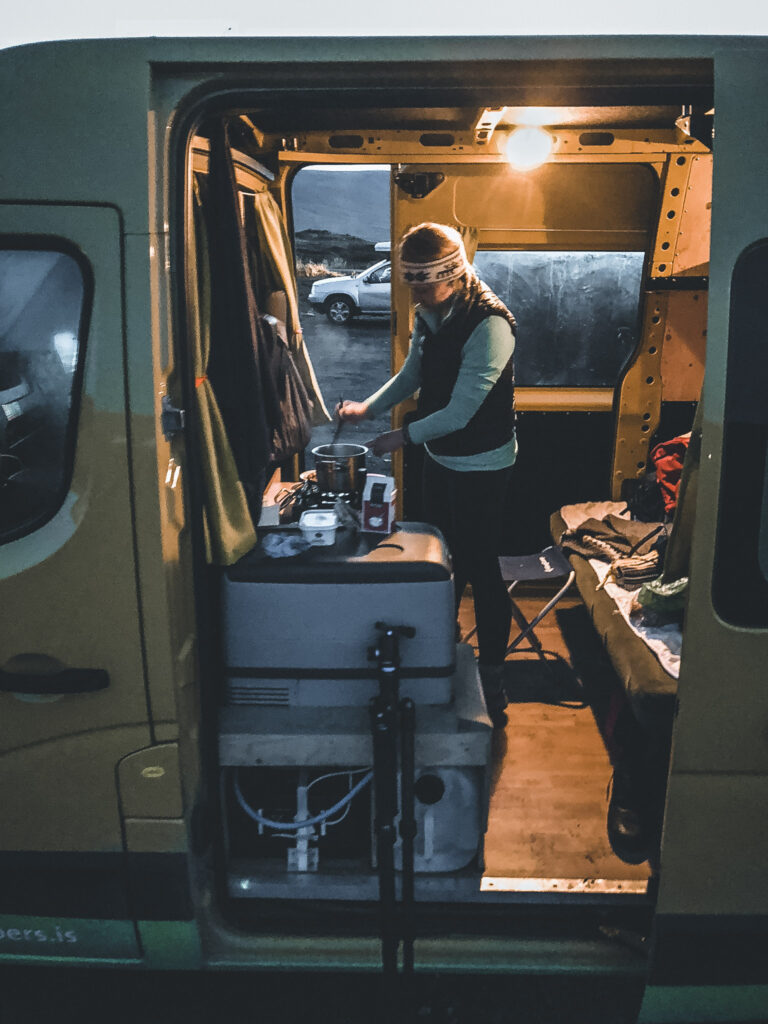 Choosing Your Iceland Car Rental Company
There are SO many options when it comes to car rental companies in Iceland, and the best choice depends entirely on your preferences and trip type.
There are big-name rentals and smaller companies, and each will have something good to offer.
Car Rental Reykjavik Airport
No matter who you choose, I would recommend getting pick-up for your car rental at the Iceland airport, at Keflavik airport. If you are thinking about getting transported into Reykjavik, a bus or taxi will cost you $20-$50 each way!
Most Iceland car rental companies will be on-site at the airport. But if your car rental isn't, make sure free pick-up is included!
What's the best car rental in Iceland option?
The rental car company I recommend is Blue Car Rental – they're a local business with great customer service and insurance already included in their prices. OH, and when you use this link, you get my VIP discount!
*5% off will automatically be applied at checkout when you use the link above!*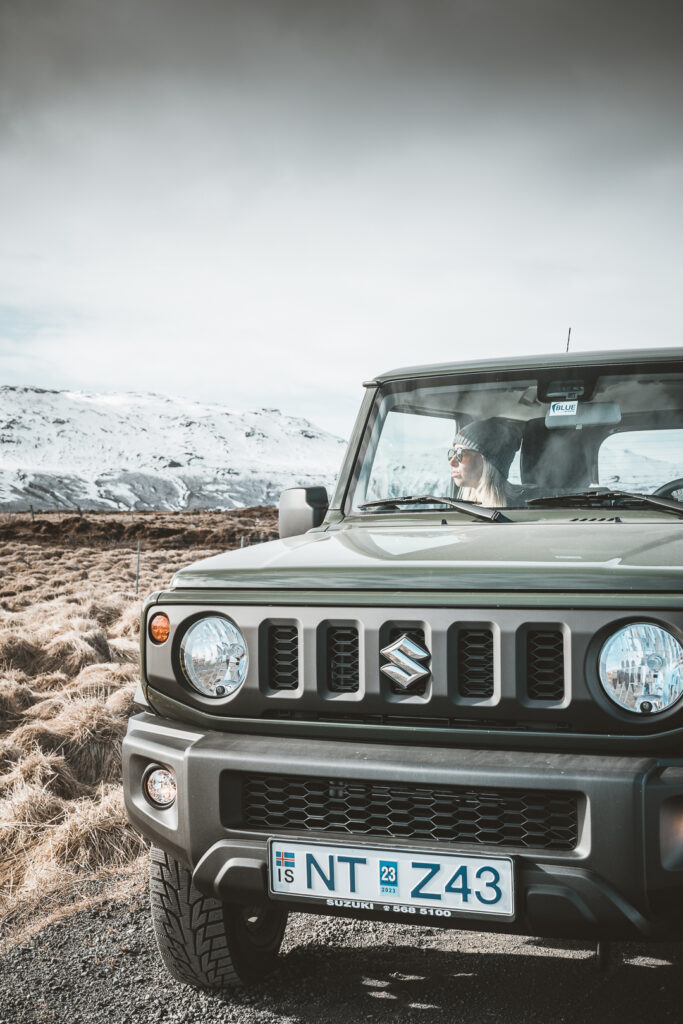 What else do you need to know about renting a car in Iceland?
The peak car rental season in Iceland is May-September. Outside of those months, rentals become cheaper. This can allow you significant savings, for looking for a budget car rental in Iceland…consider renting in the off-season!
In Iceland, we drive on the right side of the road, so my American travelers will have no problem with this.
An international driver's license is not required to drive or rent a vehicle in Iceland. You can simply use your license from your home country!
When you pick up your rental car – take lots and lots of photos in and around the car. Usually, the company will go outside with you and look through the vehicle and mark down all of the damages, but I recommend noting them yourself as well…just in case. Remember that when you return the car, they will be checking again for damages, so if you see anything suspicious, take a picture of it so you have something to refer back to later.
Always, always, always check the road conditions, especially if you are traveling in winter. I cannot stress this enough. The weather in Iceland is very unpredictable and road conditions can change rapidly. Be prepared, you don't want to take any chances.
There is a great app called 112 Iceland that can be used in an emergency to notify a response center.
In an emergency, call 112 (this is Iceland's equivalent of 911)
Remember that Iceland is incredibly beautiful, but safety comes first. Invest in a rental vehicle that is right for your itinerary, and most importantly keeps you safe!
So there you have it! Everything you need to know about renting a car in Iceland.
I can't wait for you to experience your epic Icelandic road trip. You're making the BEST choice as I truly believe renting a car is the #1 way to see this beautiful country.
And remember, you can get a sweet 5% when you choose Blue Car Rental.
They're my go-to recommendation because of their reliability, excellent customer service, and great value.
I've used them so many times and the experience is always a consistent 10/10.
Happy planning,

Pin it for later!