Eating can definitely be one of the most expensive parts of your trip to Iceland. Icelandic cuisine is traditionally prepared with fresh and local ingredients. However, a lot of things still have to be imported to this small island in the Northern Atlantic, which makes food expensive!
I have always been impressed by the quality of the restaurants in Iceland, and never disappointed in a dish. So, while there are plenty of restaurants in Reykjavik that are worth the splurge, sometimes food isn't where you want to spend your money when traveling.
Whether you are trying to make it through Iceland on a tight budget or looking for a few meals to save some money, there are definitely delicious options! Here are my picks for places I love that are easy on the wallet. 
This post is final part of the ultimate road trip planning series:
Bonus: 7 Budget-Friendly Restaurants in Reykjavik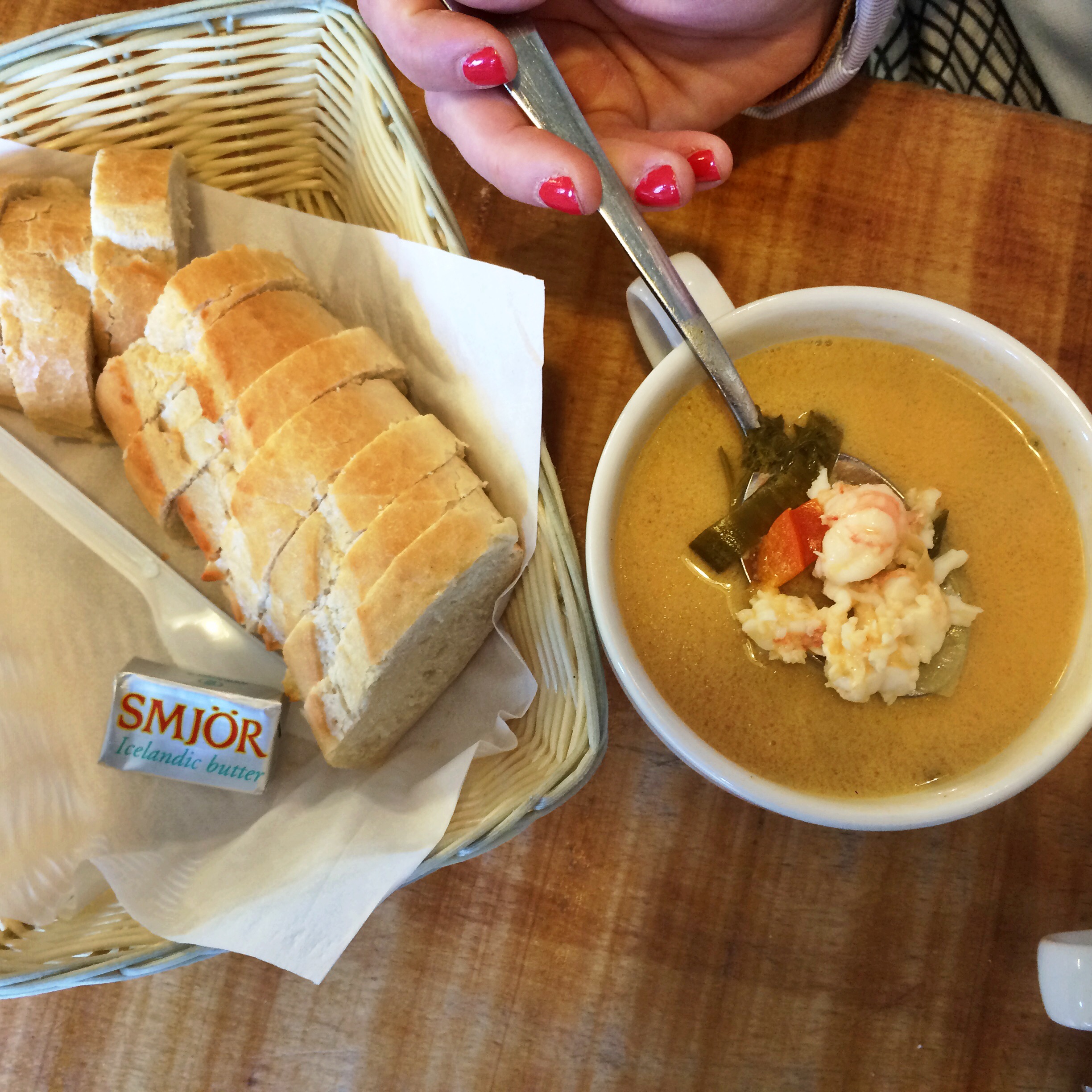 Kex Hostel
Kex is one of the most popular places to stay in Reykjavik and one of the coolest scenes as well.  This old biscuit factory turned into a hostel has a happening bar and delicious restaurant! I've stopped in here often for a quick bite to eat and never been disappointed.
I recommend the smoked lamb as an appetizer, dried fish (hardfiskur – an Icelandic classic!), roasted lamb, or burgers.
Price: $-$$

Open times: 12-23:00

Note: lunch menu until 17:00
Noodle Station
This place has simplicity and deliciousness down to a science. The Vietnamese inspired menu includes three options: beef, chicken or vegetarian with rice noodles in a deliciously flavored broth. You don't want to miss this place, the heaping bowl of goodness will warm your belly and your soul.
Price: $

Open times: 11-20:00
Fish and Chips Vagninn
Based on the classic dish and made using local Atlantic cod, deep fried to perfection. Served with a side of mushy peas and thick cut chips, this place is not only adorable but has one of the best recipes in the city!
There are also picnic tables to sit at and warm blankets so you can take in the atmosphere of the Old Harbor.
Price: $

Open times:

Mon-Sun: 11–21:00
Glo
Glo is my go-to place if I'm eating out. Everything from the menu to the decor is exactly what I look for in my food choices. Their food is all organic and prepared using minimal ingredients. The menu is simple with options for gluten-free, vegetarian, vegan, and raw.
I recommend the daily chicken entree, but I have heard great things about their flatbreads and wraps. They also have a full coffee bar. 
Price: $$

Open times: 11-21:00
Hradlestin
If you're looking for a full flavor spicy meal, this is the place to go!
I recommend the Chicken Thali which is a mixed plate option of two chicken dishes served with basmati rice and naan. I've also heard the Indian chicken pizza from the lunch menu is good.
Price: $$

Open times: M-Th 11-22:00, F 11-23:00, S/S 17-23:00
*Note: they have a Tuesday special that is always changing for a discounted option
Sægreifinn
As you're walking around the adorable Old Harbour, make sure to stop in for a cup of creamy lobster soup. Paired with a homemade roll and Icelandic butter, this is a mouthwatering combo that you can't miss. They also have a great selection of fresh sushi grade fish cuts that can be cooked in house or eaten raw.
Price: $

Open times: May 15 to August 31 11:30-23:00 //

September 1 to May 15 11:30-22:00
Bæjarins Beztu
This wouldn't be a proper Iceland recommendation list without mentioning the famous hot dog stand. Icelanders love their hot dogs, and Bæjarins Beztu is one of the most popular tourist stops in Reykjavik. In 2004, Bill Clinton stopped in for a hot dog, and his photo is still on the wall today!
Make sure to order one with "everything on it" which includes: raw onions, crispy fried onions, ketchup, special Icelandic hot dog mustard and remulade. 
Price: $

Open times: Sundays to Thursdays  10-3:00 //

Fridays to Saturdays  10–16:30
BONUS: REYKJAVIK MAP
Here is a handy map that I created for you to help navigate Reykjavik. All of the restaurants are relatively close to each other and I've also listed them in order for convenience.
To use this map interactively, just click the photo!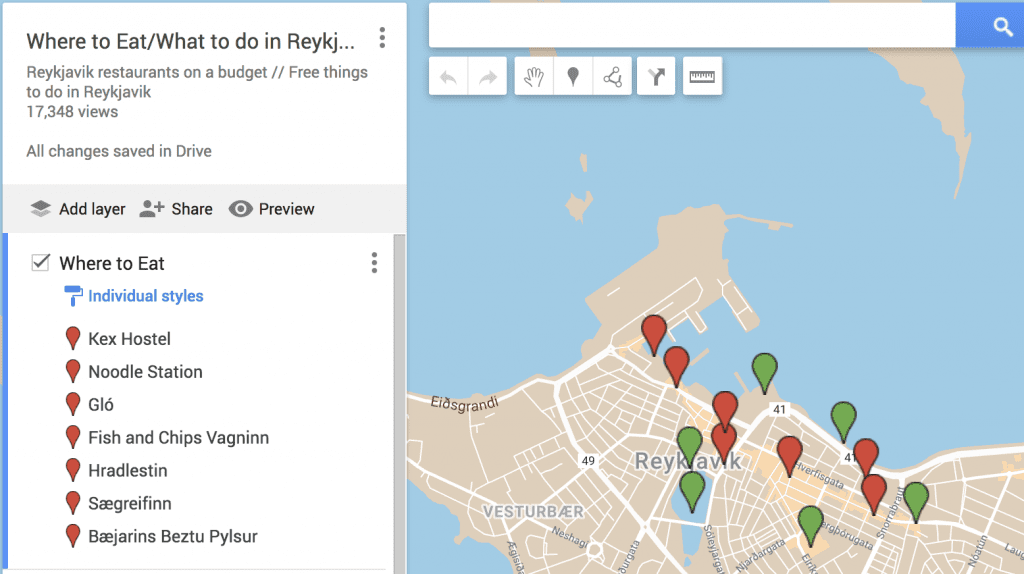 If you this information helpful, then you are going to LOVE my guidebooks + maps! These self drive guidebooks are packed with helpful tips to help you plan an amazing trip around Iceland.
Happy planning,

Pin it for later!