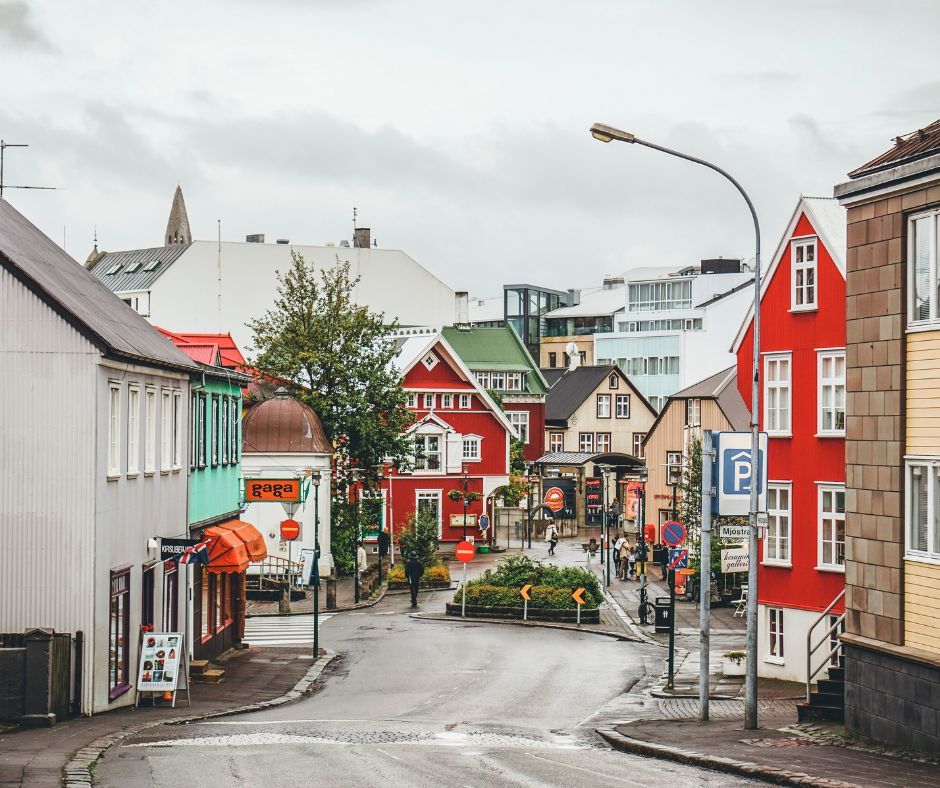 One of the best ways to experience a culture is through your stomach! Whether it's enjoying the unique flavors of Reykjavík's food scene or bonding over a local beer, you'll definitely feel connected to the heart and soul of Iceland.
As a self-proclaimed foodie and local who has lived here for over 8 years, I've taken it upon myself to get down in the trenches and test out Reykjavík's food options.
It's hard work, but somebody's gotta do it! 😜
I highly recommend having a list of go-to places on hand that you know offer great quality and fit your budget.
In this guide, I'll show you exactly where to eat in Reykjavík, as well as some of the hottest bars and nightclubs that the locals would rate two enthusiastic thumbs up!
Table Of Contents]
Reykjavík Food: Best Restaurants In Reykjavík
You can find excellent dining options for every budget, so if you're unsure of where to eat in Reykjavík, don't worry friend – I've got you covered!
Higher-end Restaurants
Fiskmarkadurinn: Also known as the Fish Market in English, this is one of the best restaurants in Reykjavík and the perfect place to celebrate your anniversary dinner.
There are so many delicious items on the menu but if I were to choose my last supper, it would have to be the Lamb. It's to die for!
Hours: Sun-Thurs: 17:30–22:00 // Fri-Sat: 17:30-22:30
Apotek: As the name suggests, this restaurant is located on the site of Iceland's oldest pharmacy. The interiors are beautiful and the menu contains a 7-course meal that's SO good! Their passion fruit mousse dessert is worth writing home about.
Hours: Mon-Thurs 11:30 – 23:00 // Fri:11:30 – 00:00 // Sat:12:00-00:00 // Sun:12:00 – 23:30.
Afternoon tea Mon-Sun: 14:30-17:00.
Dill: Fancy dining at Iceland's first Michelin-star restaurant? Dill's menu features unexpected flavor combinations and excellent wine pairings with a focus on local cuisine. DILL-icious!
As you'd expect, reservations are required.
Hours: Wed-Sat: 18:00-22:00
Mid-range Restaurants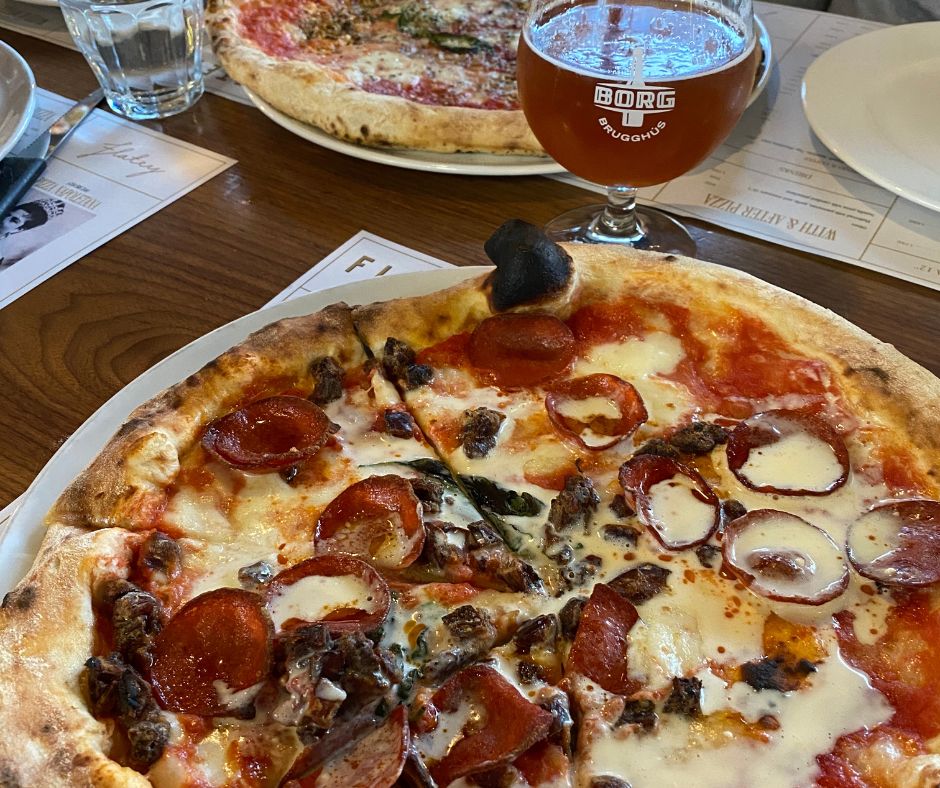 If you've decided to take the Goldilocks approach to dining (not too expensive, not too cheap, just right😜) this is for you.
Flatey pizza: Sometimes all you want is a really good pizza with a lot of interesting topping options. They even have a Nutella pizza for dessert!
Mon-Fri: 11:00-22:00 // Sat-Sun 12:30-22:00
Bryggjan Brugghús: Their menu is inspired by seasonal ingredients and you'll find lobster soup, steak, and side dishes that are so good, they should be featured as mains. Oh, and the creme brulee is worth every calorie.
Vegetarian, Vegan and Gluten free options are available.
Hours: 17:00-21:00 (22:00 on weekends)
Snaps: This French bistro will make you feel like you're in a cozy Parisian cafe. It's also one of my favorite spots for brunch.
Mon-Sun: 11:30-23:30
Best Affordable Restaurants In Reykjavík
In Reykjavík, food is EXPENSIVE! So if you'd rather spend your travel budget on sightseeing, you're in luck.
These are some of the best AND most affordable restaurants in Reykjavík:
Lemon: If you're health-conscious and looking for a cheap restaurant in Reykjavík, then Lemon is an excellent go-to option. You'll find smoothies, tasty toasted sandwiches and vegan-friendly options.
Open Hours: Mon-Sun: 11:00 – 21:00
Kex Hostel in Reykjavík
This trendy restaurant has a winning combination of good food, drinks and live music, making it an excellent place to meet people.
The menu features dishes from lamb and pizza to classic Icelandic dishes.
Bæjarins Beztu You can't leave Iceland without having visited a hot dog stand, and guess what? Bæjarins Beztu was once named the best hot dog stand in Europe!.
Not only are their hot dogs made with real meat, but you can choose a variety of toppings including special Icelandic hot dog mustard.
The location, price and extended hours are super convenient, especially when you need to grab a quick bite between sightseeing or after a night out.
Hours: Sun-Thurs 10-3:00 // Fri-Sat 10–16:30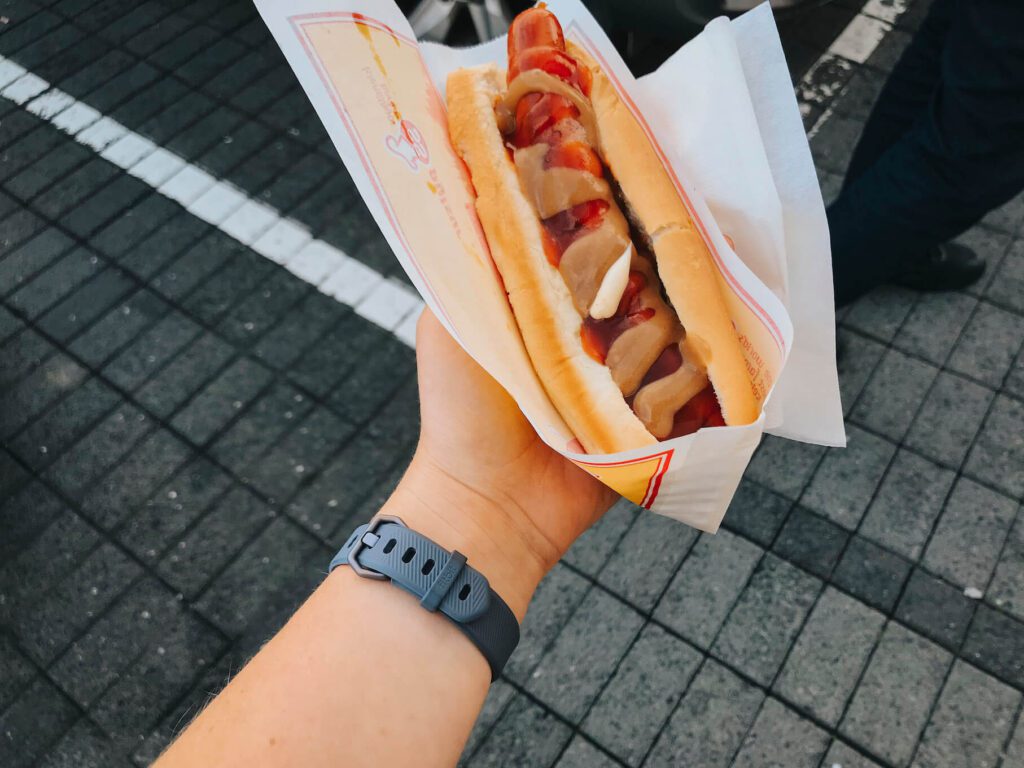 So you see, you can still experience authentic food in Reykjavík on a budget, without compromising on taste.
If you'd like to discover more of my favorite restaurants, without having to refinance your house, you'll want to check out 7 Budget Friendly Restaurants in Reykjavík
Traditional Icelandic Restaurants In Reykjavík
It's not Icelandic Cuisine if it doesn't feature lamb, dairy and fish, but some of the best restaurants in Reykjavík also offer a modern twist using traditional ingredients.
Kaffivagninn: If you're looking for a traditional Icelandic Restaurant In Reykjavík, why not try a restaurant that's been around since 1935? The prices are mid-range and portions are large – win-win!
They have an extensive menu and serve breakfast, lunch and dinner. Oh, and if you're a seafood fan, you'll want to try their fish stew – delicious!
Reykjavik Street Food: What a gem! This quirky fast-food restaurant focuses on noodle soups and Icelandic dishes proving that traditional food doesn't have to be expensive. If you're looking for where to eat cheap food in Reykjavík, look no further.
Mon-Sun: 11:00-22:00
Old Icelandic Restaurant: Locally sourced herbs and spices are used to showcase Icelandic ingredients. As with most of the cuisine here, seafood and meat dishes steal the show but, don't worry, there are also vegetarian options available.
Mon-Sun: 11:30-15:30 & 17:00-22:00
Reykjavík Vegetarian Restaurants
You'll be happy to know that there are quite a few vegetarian restaurants in Reykjavík.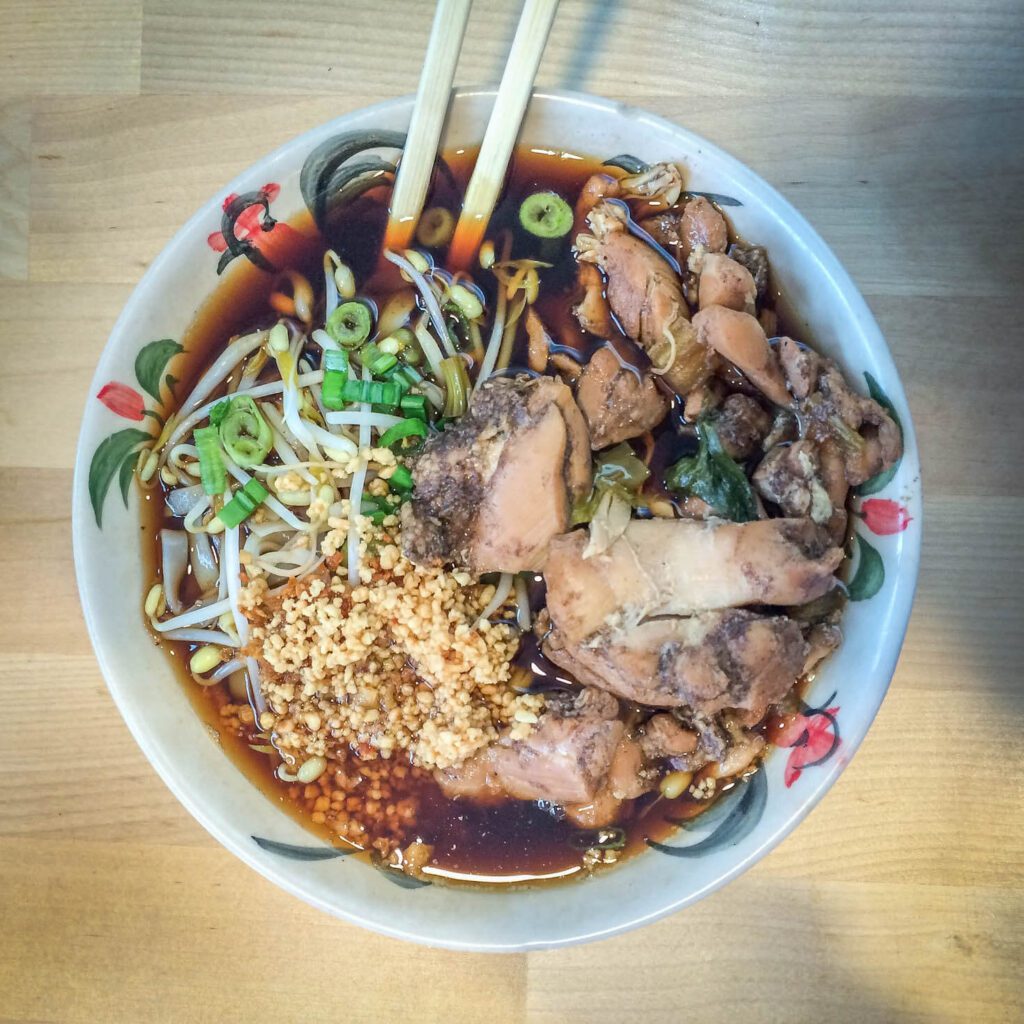 Noodle Station: If you love Vietnamese cuisine, and the craving hits, then the Noodle Station is the place to go. There are few things as satisfying as rice noodles in a warm broth packed with fresh ingredients on a rainy day. YUM!
Not only is the food tasty, but also very affordable, making it another popular spot for visitors and locals alike.
Hours: 11-20:00
Gló: I can't say enough good things about this place! It's possibly THE most popular health food restaurant in Iceland – and for good reason.
The food here is prepared with organic ingredients and the menu is simple. Oh, and the chef has also been voted the best raw food chef in the world. A must if you want to know where to eat in Reykjavík.
Grab a soup, health bowl or flatbread and since you've eaten so healthy, you can reward yourself with a coffee and dessert. TREAT-YO-SELF!
Hours: 11-21:00
Bonus: Don't knock getting a deliciously healthy meal at the grocery store. Bonus stocks a variety of vegetable wraps and salads, making it a quick and convenient lunch option.
Best Breakfast In Reykjavík
Bergsson Mathús: One of Reykjavík's favorite breakfast spots where you can find an affordable breakfast made with farm-fresh ingredients. Get your bacon and egg fix or opt for something lighter like a chia porridge at a reasonable price.
Hours: 07:00-22:00
Grái Kötturinn: The perfect place to indulge in an English breakfast! The bread and pancakes are also worth a try.
Hours: every day of the week from 08:00 -14:00
Cafe Loki: A family-owned restaurant that's proud of their Icelandic heritage and it translates to their food. One of the menu items features dried butter and fermented shark!
Hours: Mon-Sun 08:00:-22:00
Laundromat cafe: A great place to get a hot breakfast in Reykjavík. You can order Mexican eggs, an Acai bowl or their Elvis pancakes.
Hours: Mon – Tue 09:00-21:00 // Wed: 09:00-20:00 // Thur-Fri 09:00-22:00 // Sat 10:00-22:00 // Sun 10:00-18:00
Best Coffee Shop In Reykjavík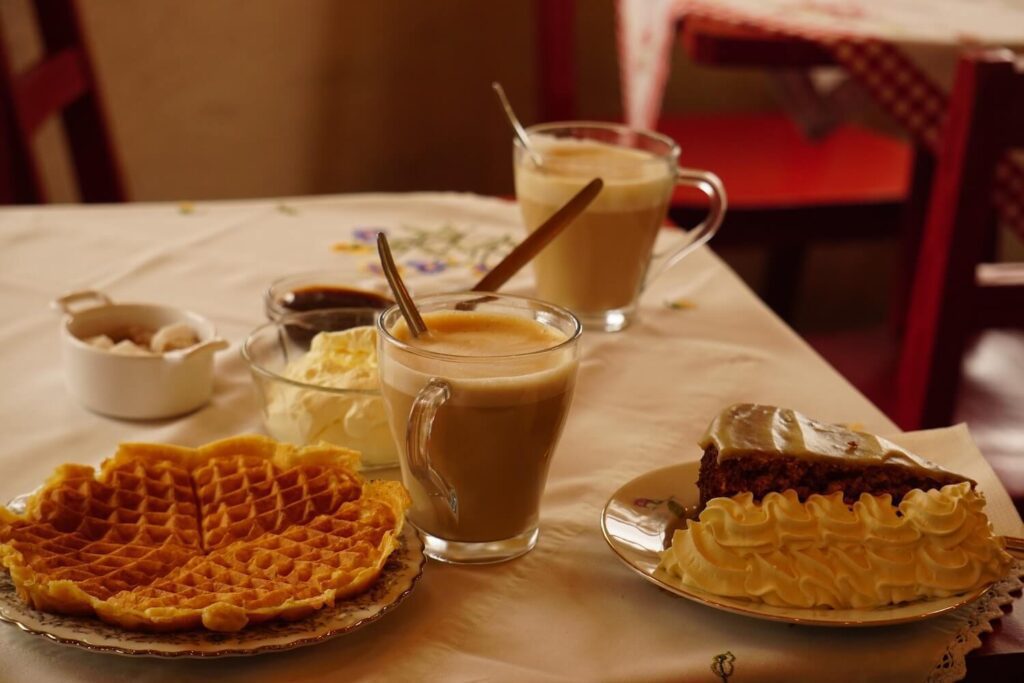 In Reykjavik, coffee is the lifeblood that runs through the city and you'll find an espresso maker in most establishments.
What I LOVE about the coffee shops here is that they're small and locally owned.
So, don't expect to order your usual venti-soy-milk-mocha-cookie-crumble-frappuccino with your name spelled wrong on the takeaway cup here!
Reykjavik Roasters
RR is hands-down the most well-known coffee shop in Reykjavík and a favorite amongst self-proclaimed coffee snobs, boasting three different brewing methods.
You'll find delicious bakery items and a coffee-inspired souvenir like a tote or t-shirt for your friends back home.
Hours: Mon-Sun: 08:00-17:00
Café Rosenberg
A cafe by day and a bar by night, offering the best of both worlds.🙂 If you're looking for a homely vibe where you can just relax with a book, or try a local beer, this is the place to be.
Hours: 10 – 21:00
If you're an indulgent coffeeholic, and need to know where to find the best coffee Reykjavik has to offer then, then Read More Here!
Top Bakeries In Reykjavík
You know what they say, "Love is an open door…to a really good bakery," and the bakeries in Reykjavík prove that baking is a delicious kind of sorcery. 🤣
Braud & Co.: As your glasses steam up looking at all the freshly baked goods, you'll find a wonderful selection of pastries, pizza and sourdough bread.
I absolutely love that Braud & Co. only focus on using high-quality and organic ingredients. It makes the food taste so much better!
Vegetarian and vegan-friendly options are available and considering the quality, it's good value for money.
You can opt for a slice of happy marriage cake or a vegan cinnamon roll – which I'm convinced jumped straight out of my dreams and into the store!
Hours: Mon-Sun 07:00-16:00
Mokka Kaffi: This lovely little coffee shop has a vintage feel and is the place to go if you want REALLY good waffles, hot chocolate and great coffee.
Hours: Mon-Sun 9:00-18:00
💡Pssst! If all this talk about food has left you feeling famished, then consider taking the Reykjavík food walk tour Tripadvisor has rated it the #1 tour in Iceland!
Important note: You can score a 10% discount on the tour if you use the CODE: ICEVIEW 🙌
Nightlife in Reykjavík: Bars & Nightclubs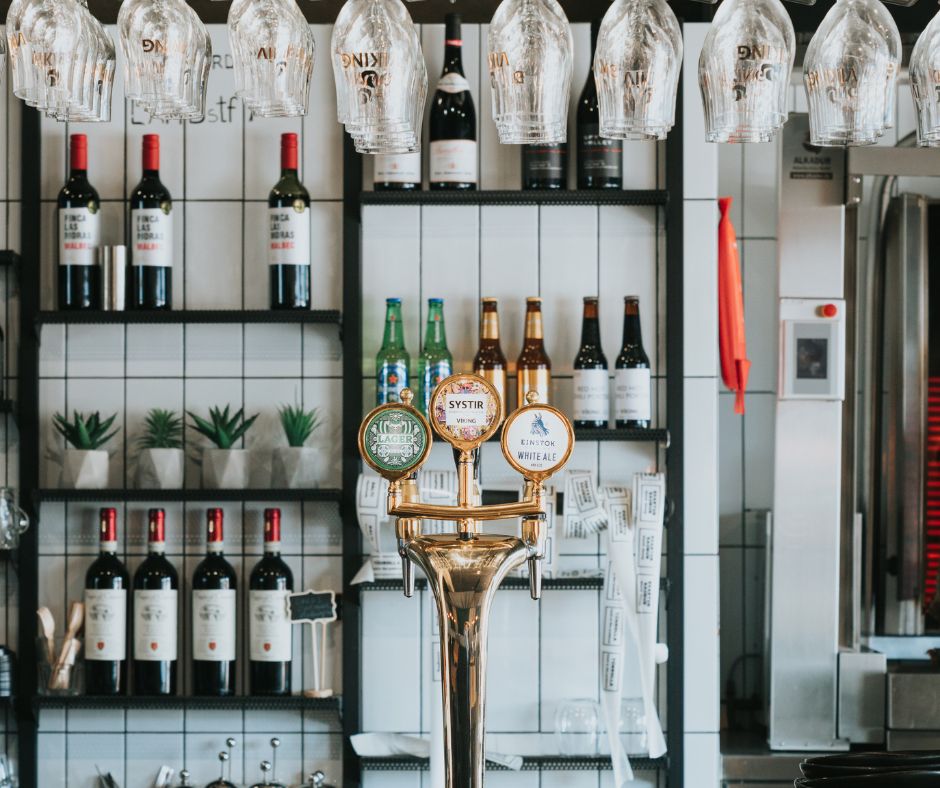 Icelanders enjoy a vibrant nightlife and love to party. Let's check out some of the best bars in Reykjavík.
Danish bar: With live music every night, the Danish bar is a fun place to let your hair down, whether you're 17 or 70.
The atmosphere is friendly and comfortable – not too loud – so you can actually have a conversation. It is, however, a favorite hang-out spot for the locals so it can get crowded.
If you're a beer drinker they offer an impressive selection of beers and other traditional drinks.
Opening Hours: Mon-Sun: 12:00 – 01:00
Happy hour every day from 16:00-19:00.
Pablo Discobar: Get the platform shoes and disco ball out because this is a popular one with tourists!
The vibe is retro 70's glam, so yeah, they're geared towards an older crowd, typically 30-40-year-olds.
You'll find great music and cocktails, and they even have a Karaoke room with a stage that can be rented out.
They often have themed events like Latin Dance or Hip Hop Night
Opening Hours: Mon: 17:00-01:00 // Fri-Sat: 17:00-03:00
Sólon Bistro and Bar: Ah, the Bruce Wayne of bars – an upscale restaurant by day and nightclub…well, by night.🙂
There's a variety of small course meals on offer and they boast a selection of quality wines and classic cocktails.
The nightclub is geared towards a younger crowd (teens – early 20s), things can get a little wild, so expect to hear the music pumping from blocks away.
Hours: Mon-Sun: 11:30-21:00
Pro Tip: If Iceland's alcohol prices have left you a little unhappy at happy hour, then I have a great money-saving hack for you!
Appy Hour is an app aimed at saving you money by offering great deals on alcohol in Reykjavik.
➡️ Read More: How to Save Money on Alcohol in Reykjavík
In short, the app lets you sort happy hours by price or location and provides bar details, discounts as well as maps on where to locate them.
It's a wonderful tool if you want to experience the nightlife in Reykjavík.
Iceland truly has something for everyone. Beautiful scenery, vibrant nightlife, and delicious cuisine make this the ultimate foodie experience.
Discover major attractions, accommodations, places to shop, Reykjavík food spots, and more with this easy-peasy interactive Reykjavík digital map.

Cheers to a unique culinary adventure! 🥂