So you're coming to the land of fire and ice, and you've researched everything from waterfalls to volcanos to glaciers…but have you got the lowdown on Iceland's grocery stores?

Yes, you got it right – grocery stores.
While I truly think that Iceland is one of the most stunning countries on our planet, it's no secret that it can be a little heavy on the pocketbook.
But rest assured, saving money in Iceland can be easy-peasy with a few expert recommendations.
Do you ever wish you had a set of eyes and ears on the ground? Someone who can give you insider info on the Iceland grocery stores and where the locals shop?
*clears throat*
Luckily, as a fellow travel enthusiast and American who's been living in Iceland for over 8 years, I can help.
I've prepared this nifty little guide on everything you need to know about SMART Iceland grocery shopping.
I'll show you when and where the locals shop, the items you can expect to find, and even valuable insights into Iceland grocery prices.
… And a few extra pro tips. 😉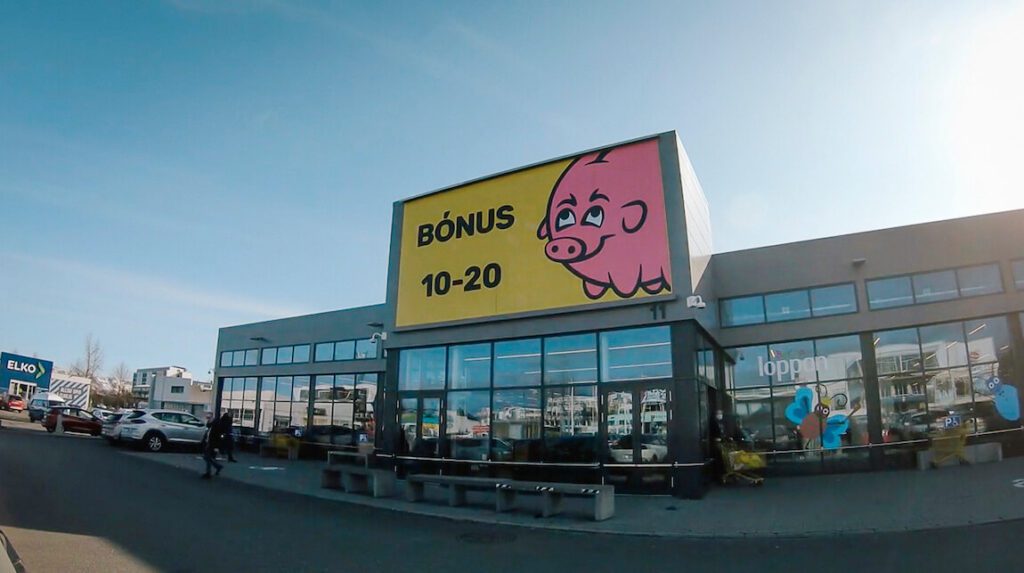 Table Of Contents
Why Shop At Grocery Stores In Iceland?
If you're looking to travel Iceland on a budget, hitting up a grocery store is the #1 way to stretch your dollars.

Eating out at expensive restaurants for breakfast, lunch, and dinner can quickly eat into your travel budget.
And while grocery shopping in Iceland can still be pricey (you are on an island, after all!) you can definitely find ways to save BIG on your grocery bill.
So if you're looking for ways to make your trip a little more budget-friendly, knowing where to go and what to buy can help you save some serious moolah!

Knowing the 411 on all of the grocery stores in Iceland will help you know what to expect, so you can budget, plan and prep like a pro. 💪
List Of Iceland Grocery Stores
Despite its size, there are many different Supermarkets in Iceland.
Your grocery store selection obviously depends on where you're located. You'll be able to find all of these supermarkets in Reykjavík, but your options will be a bit more limited in the countryside.
Let's get into my top picks!
Bónus Iceland
One of the most popular grocery stores in Reykjavík, Iceland is Bónus. It is generally the cheapest supermarket in Iceland and is commonly known as a "no-frills" supermarket chain.
If you plan to shop before sightseeing, don't let the operating hours throw you off track.
Iceland grocery stores may open later and close earlier than you're used to back home.
Bónus Iceland typically opens at 10 a.m. and closes between 6 and 8 p.m.
The good news is that Bónus stores are spread out across the country and located in many of the smaller towns where you'll likely be able to stock up on food and basic personal care items.
I've conveniently included all these times and exact locations for the grocery stores in Iceland on the maps I sell! Get over 500 pinned locations on a convenient digital map so you can navigate Iceland like a pro 💪

Krónan Supermarket Iceland
Another popular grocery store in Reykjavik and surrounding towns is Krónan supermarket in Iceland. They are a little more mid-range and slightly more expensive than Bónus.
Not only can you find all of the usual grocery and household products at Krónan, but this is also the place to go if you're looking for specialty items, or if you have dietary restrictions like being gluten-free.
You'll find delicious bakery items, deli meats, fresh produce, meats and dairy, canned goods, snacks, and beverages.
Larger Krónan stores may also have a pharmacy or cafe.
If you want to experience authentic Icelandic flavors, Krónan proudly showcases local Icelandic brands and products and they are well-known for supporting local suppliers, which I love!
They usually operate with extended hours, typically between 10 a.m. and 10 p.m. but times may differ depending on the time of year.
Costco Iceland
Even though there is only one Costco in Iceland, it's easily accessible and conveniently located between the airport and Reykjavik city center.
Most items in Iceland grocery stores are sold in smaller quantities. This makes the Costco in Iceland a popular option because they DO sell products in bulk. Their prices are competitive and they offer somewhat of a one-stop-shop.
And if you've ever wondered if you can use your international Costco membership card in Iceland, you're in luck! You can use the same Costco membership card you use back home for some serious savings. It's an awesome way to help you save money on your trip with exclusive discounts and access to their gas stations!
Costco Iceland gas prices are slightly cheaper, making it a popular option with the locals. Because of this, expect to wait in line when filling up with gas. To give you an idea fuel prices are currently 252 ISK per liter for benzene and 248 ISK per liter for diesel.
Costco stores are well-organized and easy to navigate. You'll find electronics, housewares, and a diverse range of fruits and vegetables, meats, and pantry items.
They stock a limited selection of produce, but they offer cheaper berries and dried fruit, as well as delicious bakery items and refrigerated fruits and vegetables.
Food in Iceland has fewer preservatives and "mystery ingredients" which means that fresh produce doesn't last as long.
You'll want to avoid buying too many fresh bulk items unless you plan on using them up fast.
Berries and dried fruit are cheaper here than in regular grocery stores. If you're traveling in a group and looking to buy meat in bulk, consider getting it here.
Important Note: Alcohol is NOT available to the general public at Costco Iceland, only for large resellers and bars.
If you've dreamed about watching the breathtaking landscapes with a fine glass of Merlot in hand, you'll want to stock up at duty-free because alcohol in Iceland is expensive.
Iceland Costco Food Court
If you're like me, and shopping makes you hungry, there is a delicious hot bar with ready-to-eat options like pizza, ice cream, and hotdogs.
You can expect to pay $2 for a hot dog and soda combo and $20 for a whole pizza. And I promise…The hotdogs are made with real meat here.Shocker!
Costco Iceland hours are typically from 10 a.m. to 9 p.m in the week and close between 6 p.m. AND 8:30 p.m. on the weekend.
Honorable Mention: N1 Gas Stations
If you need to refuel and stock up on supplies, Iceland also has a gas station called N1. Surprisingly, some of these N1 gas stations have full grocery stores. Making it incredibly convenient, especially when traveling around the countryside.
So don't be too worried if you forget to stock up in Reykjavík!
Things To Note About Grocery Stores in Iceland
There are a few differences between Iceland grocery stores and those in the U.S. that really stood out to me.
Limited Selection
Firstly, there's a limited selection of choices in terms of size and availability. Icelandic grocery stores are comparatively smaller because Iceland has a smaller population and is located on an isolated island.
This makes it harder to source products and results in fewer products and brand options on the shelves.
Secondly, certain items are not available consistently throughout the year, making goods like avocados difficult to find and if you do, they aren't the best quality because of long transportation times. I had to get used to eating brown avocados once I moved here 😩
Iceland Grocery Prices
The second major difference is Iceland's grocery prices. These also tend to be higher compared to other countries, including the United States.
This is mainly because of the smaller market size, those pesky import taxes, and a big emphasis on supporting locally sourced products.
But the good news?

These local products are oh-so-delicious and are of much higher quality than the ones back home. So, there is a silver lining! ✨
But as I mentioned earlier, fewer preservatives and pesticides mean that food goes bad faster and it's not strange that you'll need to make multiple grocery trips in the week.
It's always helpful to get an idea of what things cost, so below I've provided a breakdown of prices taken from Bónus:
Bread: About $2.50 per loaf.
Coffee: Approximately $8 per bag.
Tea: Around $4 per box.
Soda: A pack of 10 cans for about $8.
Sparkling water: 2-liter bottle priced at approximately $1-$1.50.
Milk: The largest quantity available is 1 liter, not gallon, and costs about $1.50.
Ground beef: Approximately $8.50 per package.
Frozen strawberries: A bag for about $4.
Canned tuna: Just over $2 per can.
Pasta sauce: About $2.50 for a jar.
Crackers: Approximately $1.50 per package.
Chips: Around $1.50 per bag.
Diapers: A package of 25 diapers costs around $15.
Though grocery bills in Iceland might hit your wallet a bit harder, you're paying for more than just products – you're investing in high-quality, locally-sourced goods. And as for the need to shop more often, see it as a chance to immerse yourself in the rhythm of Icelandic life!
Food Quantities
Products in Icelandic grocery stores often come in smaller quantities compared to other places.
For instance, yogurt, soda, and other items are sold individually rather than in multi-packs.
Don't expect to find milk sold per gallon. The largest size you'll find here is a liter and packaged in Tetra packs rather than plastic jugs.
There's also a difference in the type of packaging. Grapes are often sold in open paper bags instead of plastic containers.
Convenience
Opening hours in Icelandic grocery stores vary with some opening at 9 or 10 a.m in the morning and closing between 5 and 9 p.m. These times are even shorter in rural areas so it's important to consider this when planning your outings.
So for all you early risers looking to stock up early in the morning before exploring – you may need to change your plans!
Pro Tips For Grocery Shopping in Iceland On Your Trip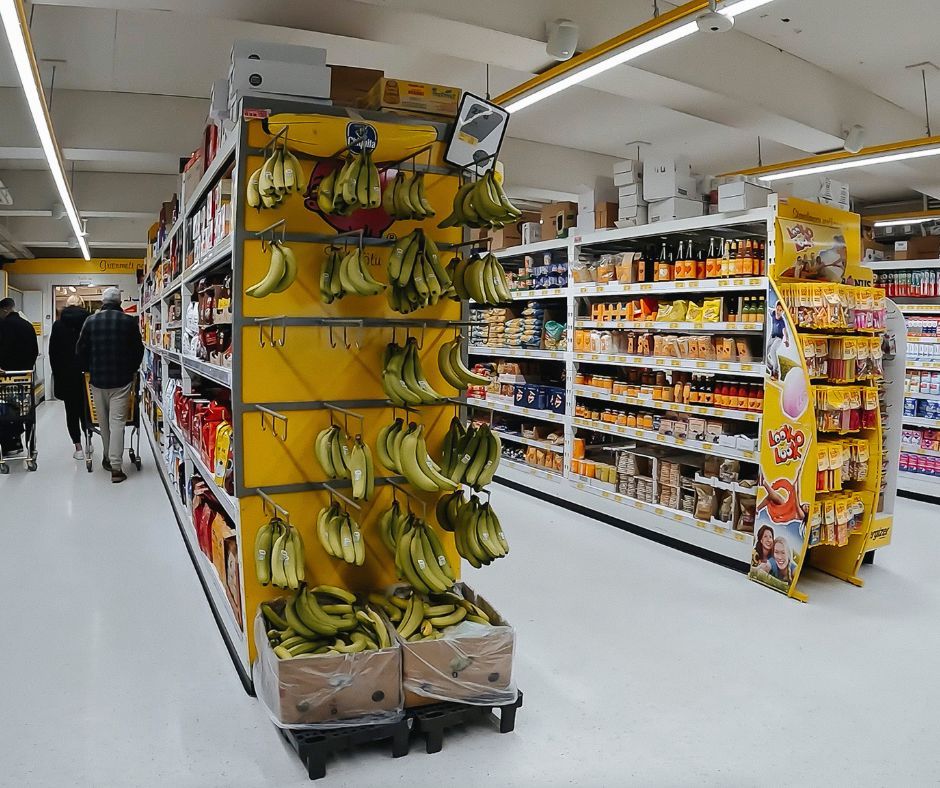 Here are a few tips to make the most of your supermarket experience while saving some pennies.
Bring a cooler My favorite is a soft-sided cooler because it's compact. You can fill it up and take it along on your Icelandic road trip so you never go hungry!
Buy frozen fruit & veggies instead of fresh ones to save money.
Stock up on snacks: My personal favorites are Skyr yogurt and popcorn for deliciousness AND affordability!
Shop for souvenirs: Icelandic grocery stores offer a variety of unique and delicious products, such as lava salt, birch smoke salt, and regular sea salt, which can make for interesting souvenirs.
Delight in Icelandic candy: Candy is popular in Icelandic grocery stores, with a variety of options including licorice candies and chocolate crunch bars.
Bring a reusable bag: You have to pay for bags or bring your own, but you can also buy a reusable bag as a souvenir.
So, step into the Icelandic grocery stores armed with your cooler and reusable bag, ready to dive into the treasure troves of local produce, unique souvenirs, and mouth-watering candy varieties! 😋
Grocery Stores in Iceland Map
Okay, so now you know that planning your grocery shopping is critical when budgeting for your trip.
You've discovered some useful insights about Iceland grocery stores and where the locals shop to save money.
But before you set off on your Icelandic journey, make sure you check out my Iceland Guidebook & Maps.
They're packed with money-saving tips, a digital map where I've included grocery store locations, opening times, AND I've even included a shopping list with Icelandic to English. (Trust me, it comes in SUPER handy).
They've got everything you need to make grocery shopping in Iceland a walk in the park!

Happy planning!

Pin it for later! 👇🏾