When people think of "budget-friendly" countries…Iceland isn't always top of mind! But despite being a pricey place, it's still possible to travel Iceland on a budget!
You just need to have a few handy hacks and insider tips up your sleeve 😉
And that's what I'm here for!
I'm Jeannie, your Iceland Trip Planning Expert and an American who's been living in Iceland for the past eight years.
Over the years, I've learned a thing or two about how to save your coins in the land of fire and ice.
If you're visiting Iceland on a budget, one of your biggest challenges is going to be food and drink.
Restaurant dinners and those post-adventure drinks can quickly burn a hole in your wallet.
So today, I'm giving you my six favorite ways that you can save money on your food and drink during a trip to Iceland. Let's get into it.
These are all tried and true ways to make your Iceland travel budget stretch a little further!
Iceland Food Prices
Before we get into the money-saving tips, let's do a breakdown of the cost of food in Iceland so you can get a rough idea of your Iceland food and drink budget.
Keep in mind, these prices are a rough estimate and subject to change.
Breakfast:
Simple breakfast (coffee/tea, bread with jam/butter): 800-1500 ISK ($6-12)
Full breakfast (coffee/tea, eggs, bacon/sausage, toast, etc.): 2000-3500 ISK ($16-28)
Lunch:
Soup and bread: 1000-2000 ISK ($8-16)
Sandwich or salad: 2000-3000 ISK ($16-24)
Pizza or burger: 2000-3500 ISK ($16-28)
Dinner:
Starter (soup or salad): 1500-2500 ISK ($12-20)
Main course (meat or fish with side dishes): 4000-8000 ISK ($32-64)
Fine dining (gourmet restaurants): 10,000+ ISK ($80+)
Sound pricey?

Don't worry, I'm going to give you six money-saving tips to slash Iceland food costs!
1. Cook Your Own Meals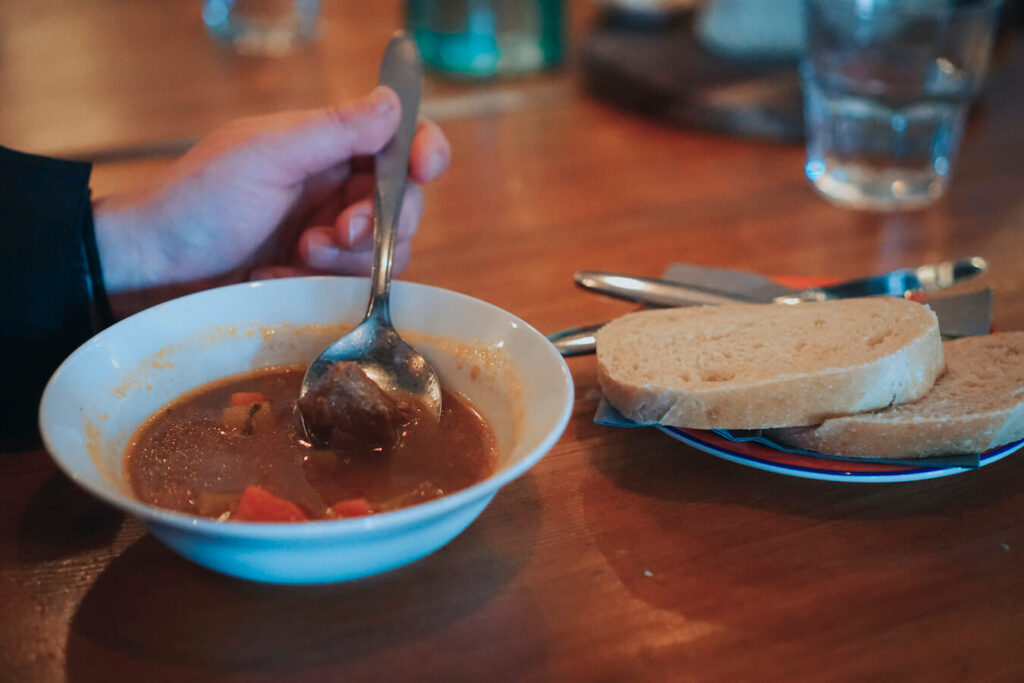 One way to save money is by cooking your own food.
Sure, it can be tempting to try out those fancy restaurants, but taking the time to plan and prep your own meals can easily save you thousands of dollars.
Not to mention, Icelandic grocery stores are filled to the brim with delicious produce, fresh seafood and lamb, and traditional treats and sweets.
You can have your own culinary adventure from the comfort of your hotel or Airbnb!

(Pro Tip: Make sure to look for accommodation with kitchens if you're opting for this option. You could also take your budgeting a step further and rent a campervan with a built-in kitchen!)
If you're not sure where to start, don't worry, I got you covered. Check out my grocery shopping video on my website where I take you through the entire store, showing you what's available and how much everything costs. You'll be surprised how much you can save by shopping smart!
If you want to save money still enjoying Iceland's food scene, you could try to cook half the time, and then hit up some of the best affordable restaurants in Reykjavík for the remainder of your stay!
2. Find an Accommodation With Breakfast Included
Do you know what's even better than eating a nutritious and delicious breakfast to load up for a day exploring Iceland?
Eating a nutritious, delicious, and FREE breakfast!
One of my best travel hacks for visiting Iceland on a budget is searching for accommodation on booking.com and filtering for hotels that include breakfast.
This is your best bet to save money on your morning meal for 2 reasons.
Breakfast in Iceland is relatively hard to find

And secondly, when you do find it, it's expensive!
This tip alone can save you hundreds of dollars, as breakfast in Iceland is easily $20/person.
So make sure to fill up at breakfast so you have lots of energy for your day of Icelandic adventures!
3. Delight In Icelandic Hot Dogs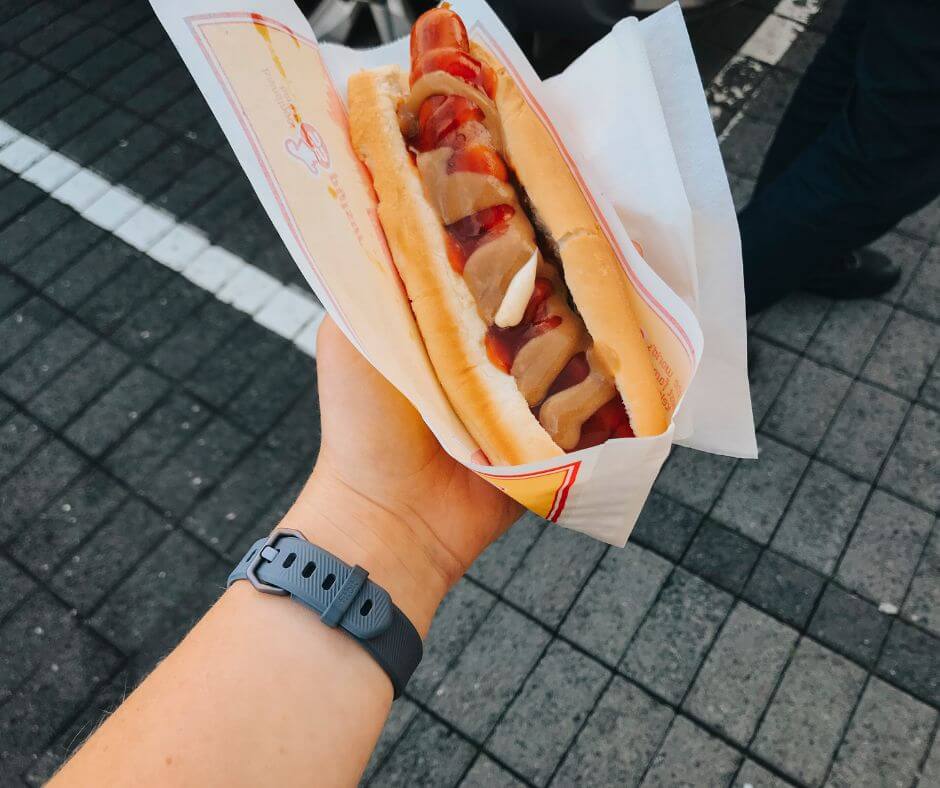 Now, I know some of you may cringe at the thought of eating a hot dog, but hear me out – Icelandic hot dogs are unlike any other hot dog you've ever tasted.
They're SO delicious and super affordable, too!
You can find them all over the country, including at gas stations and the famous stand in Reykjavík, Bæjarins Beztu Pylsur.
If you want to try them the Icelandic way, just order "eina með öllu" for all the toppings.
But if hot dogs aren't your thing, don't worry – I've got you covered with my guide to the best budget restaurants in Reykjavík.
4. Shop For Alcohol at Iceland Duty-Free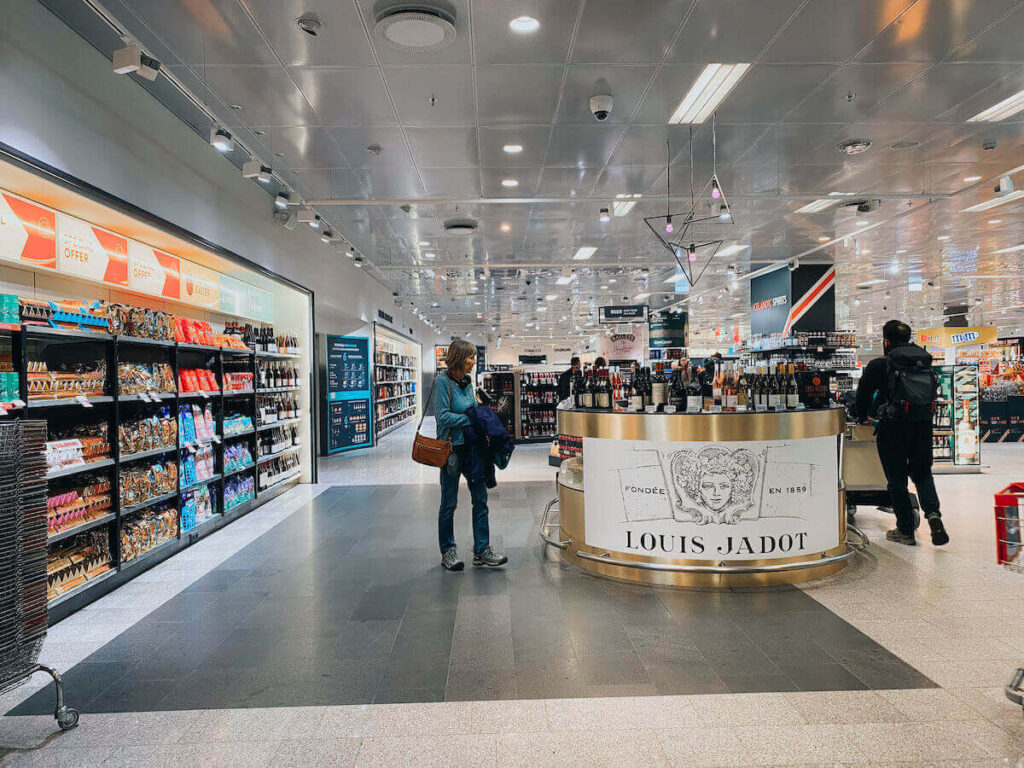 If you're someone who normally passes by the duty-free shop at the airport without much thought, PLEASE listen to this tip!

Nowhere is duty-free more important than in Iceland.
Here's why…
Iceland's Alcohol Prices.
Iceland's alcohol prices are high. Like, crazy high. In fact, the prices of alcohol in Iceland are 139% more expensive than the average price in the EU.
Here are a few examples:
A bottle of Reyka vodka – 7,200 ISK ($52.76)
A bottle of Olafsson Gin – 8,995 ($65.92)
The biggest reason for these sky-high prices is that Iceland taxes alcohol at a ridiculous rate.
So your solution?

Load up at duty-free!

This is by far the most economical way to drink in Iceland.
Iceland Duty-free Allowance
The maximum allowance per person is 6 units of alcohol and 1 carton of cigarettes or 250g of other tobacco.
You can use this Iceland duty-free calculator HERE to figure out your exact allowance depending on the type of alcohol you're buying.
5. Hit Up A Happy Hour in Reykjavík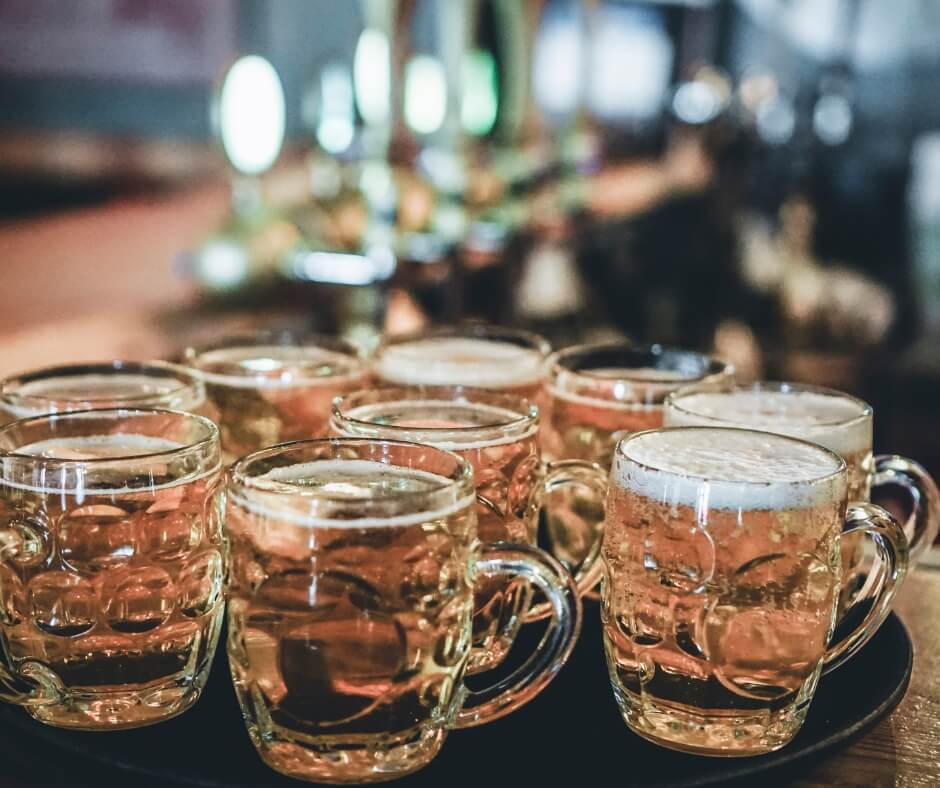 Looking to enjoy Reykjavík's vibrant nightlife without breaking the bank? You're in luck!
There are actually a TON of Happy Hour nights in Reykjavík – you just need to know how to find them.
My fave money-saving travel hack is to download the app, Appy Hour. There you can easily search for Happy Hours in Reykjavík and find out the time, what's included, and all of the important details.
So CHEERS to all the money you'll save with this tip, friend!
6. Drink The Iceland Tap Water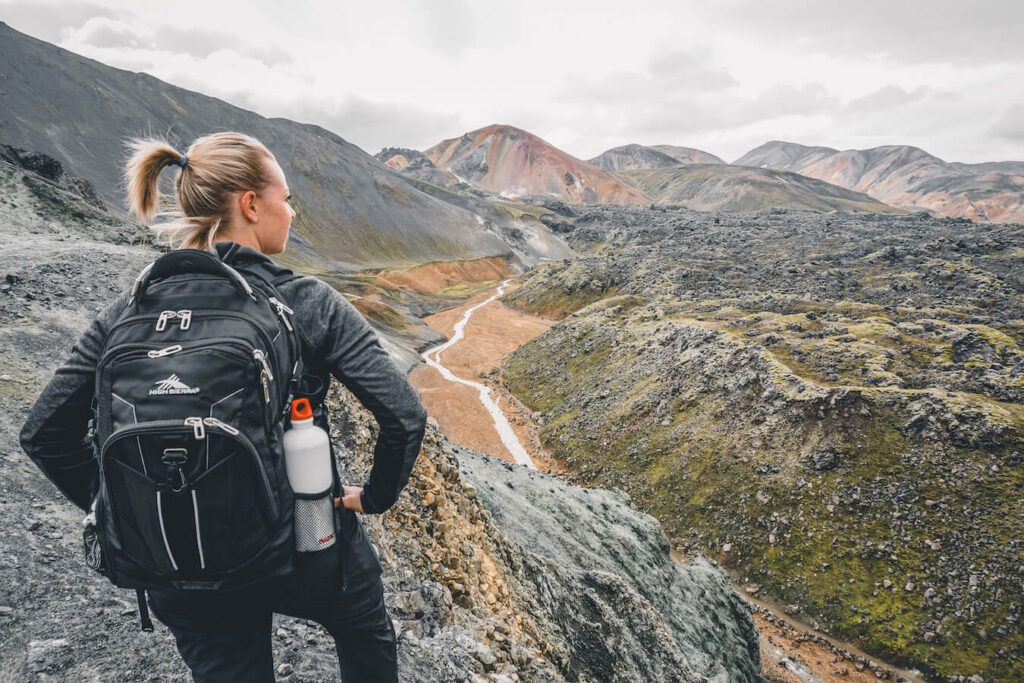 The last tip might seem small, but trust me…every little cost adds up when you're trying to travel Iceland on a budget!

DO not buy bottled water in Iceland.

Instead, drink it right from the tap! Or heck, drink it from a stream, even.

Drink it from wherever you'd like because Iceland's tap water is some of the freshest, most delicious water on the planet.
Not only will you be saving some major moolah, but you'll also be helping the planet, too. Win-win! 🥳
Seriously, friends – there's nothing better than Icelandic water that comes straight from a glacier.
So bring your reusable water bottle and fill it up wherever you go!
While traveling to Iceland on a budget may seem daunting, but with a few insider tips and tricks, it's absolutely achievable.
By following the six money-saving hacks that I've shared with you today, you'll be able to stretch your Iceland travel budget further…without sacrificing quality or experience.
From cooking your own meals to shopping duty-free and drinking delicious tap water, these tips will help you make the most of your Iceland adventure on a budget.
So pack your bags, download Appy Hour, and get ready for an unforgettable trip to the land of fire and ice!
And before you go…
There's even MORE insider information waiting for you in my Iceland Travel Guides and maps. These guides are packed with tips, tricks, and insider knowledge that will help you make the most of your time in Iceland, including many more money-saving hacks.
So if you're ready to explore Iceland like a savvy local, head over to my website and check out my Travel Guides. Trust me, they're the ultimate resource for any Iceland traveler looking to save money and have an unforgettable experience.
Check Out My Iceland Travel Guides And Maps HERE

Pin it for later!