Sometimes Iceland can be known for some pretty unappetizing foods – fermented shark, sheep head, ram testicles! But it's not all like that, I promise.
In fact, I think that Iceland has a unique cuisine all its own, and that is fresh, local food. You see, this tiny island in the Northern Atlantic either has to use what's already here, or pay a lot to import foods.
Yes, the rumors are true, it's expensive – but more than worth it to experience the food culture of this amazing country!
You guys are in luck because for years, I've been on the hunt to find the best restaurants throughout Iceland! And I'm happy to report that I've found some pretty delicious places.
So if you like the sound of fresh fish soup, grass-fed lamb, and geothermal-baked bread then you will be eating like a king in Iceland!
Friðheimar Farm
Friðheimar is a huge greenhouse that grows tomatoes and cucumbers. Their growing methods are completely sustainable and eco-friendly. This is the ultimate farm-to-table experience, I love the concept of this place!
*Even though Friðheimar isn't technically on the Ring Road proper, very few people travel around Iceland and don't drive the Golden Circle. So I decided it deserved a spot on this list!
Do not miss their most popular dish – all-you-can-eat tomato soup served with an assortment of homemade bread. This is not your average tomato soup, this is hands down the most delicious tomato soup I've ever tasted! Don't forget to add fresh basil from the plant on the table. The dessert menu, features – you guessed it – tomatoes! Tomato ice cream or cheesecake anyone?! 
Location: Road 35, Reykholt
Hours: 12-16 daily
Website: http://fridheimar.is/en
Reservations: +354 486 8894, essential to book ahead!
Pro tip: Try the Healthy Mary – a twist on the bloody mary – made with green tomato and gin. Sooooooo good!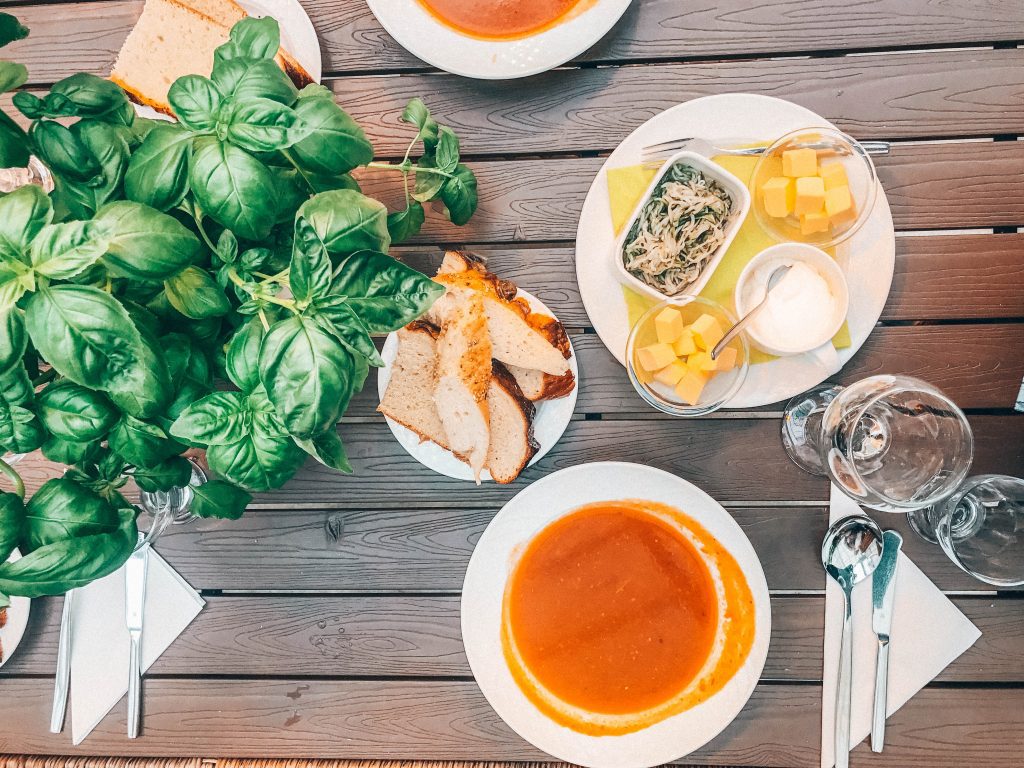 Suður-Vík
Most people who travel within Iceland will be headed towards the black sand beaches, so this restaurant is perfectly placed!
On top of the hill in Vík you will find an old aluminum house and the parking lot will likely be packed. That's because Suður-Vík is an amazing place for a meal after a full day of exploring.
They just expanded offering additional seating upstairs and great views toward Reynisfjara beach!
Location: Suðurvíkurvegur 1, Vík
Hours: 12-21
Website: https://www.facebook.com/Sudurvik
Reservations: +354 487 1515, gets VERY busy in peak season
Pro tip: I love their Thai dishes and pizzas!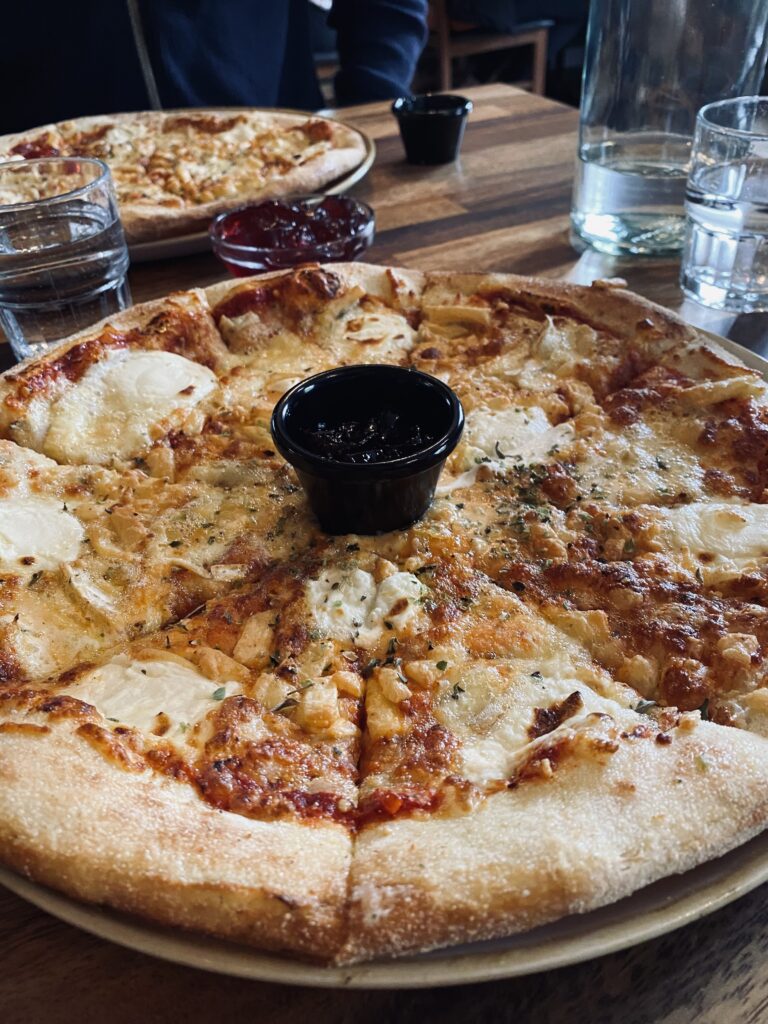 Systrakaffi
The food selection around Kirkjubæjarklaustur is a little slim, but Systrakaffi saves the day. Their menu covers the basics of burgers and pizzas, and stocked with a full bar.
Location: Klausturvegi 13, Kirkjubæjarklaustur
Hours: 12-21
Website: http://www.systrakaffi.is
Reservations: +354 487 4848
Pro tip: You have to try an Icelandic favorite – cheese pizza with jam. It's delicious, I promise!

Nielsen Restaurant
Nielsen is the oldest house in town in the heart of Egilsstaðir, East Iceland.
This is probably one of the cutest places I've ever been to! And I can't even THINK about the reindeer platter without salivating.
Bonus! There's a nice terrace to enjoy a meal outside in the summer.
Location: Tjarnarbraut 1, Egilsstaðir
Hours: 11:30-23:30 M-F | 13-23:30 S-S
Website: http://www.nielsenrestaurant.is
Reservations: +354 471 2626
Pro tip: Without a doubt, you have to try the Reindeer! East Iceland is the only place where reindeer can be found, so it's best to try it locally. They cover it in wild blueberry sauce and it is TO DIE FOR!
Vogafjós
Vogafjós is my definition of a perfect restaurant – a farm-to-table in North Iceland. Everything they serve is either directly from their farm or locally sourced around the Myvatn area.
Dining at Vogafjós isn't just a meal, it's an experience. You can enjoy the beautiful views of Lake Myvatn, or watch the cows being milked (at 7:30 and 17:30!)
Bonus! Need accommodation? They also a guesthouse!
Location: 11:30-21:30 M-F | 11:30-22 S-S
Hours: 10-21 | Winter hours vary
Website: http://www.vogafjos.is/en/restaurant
Reservations: +354 464 3800
Pro tip: You absolutely have to try the lamb shanks for the main entree. It's SO tender and delicious, and of course local! For dessert do NOT pass up the homemade Geysir bread ice cream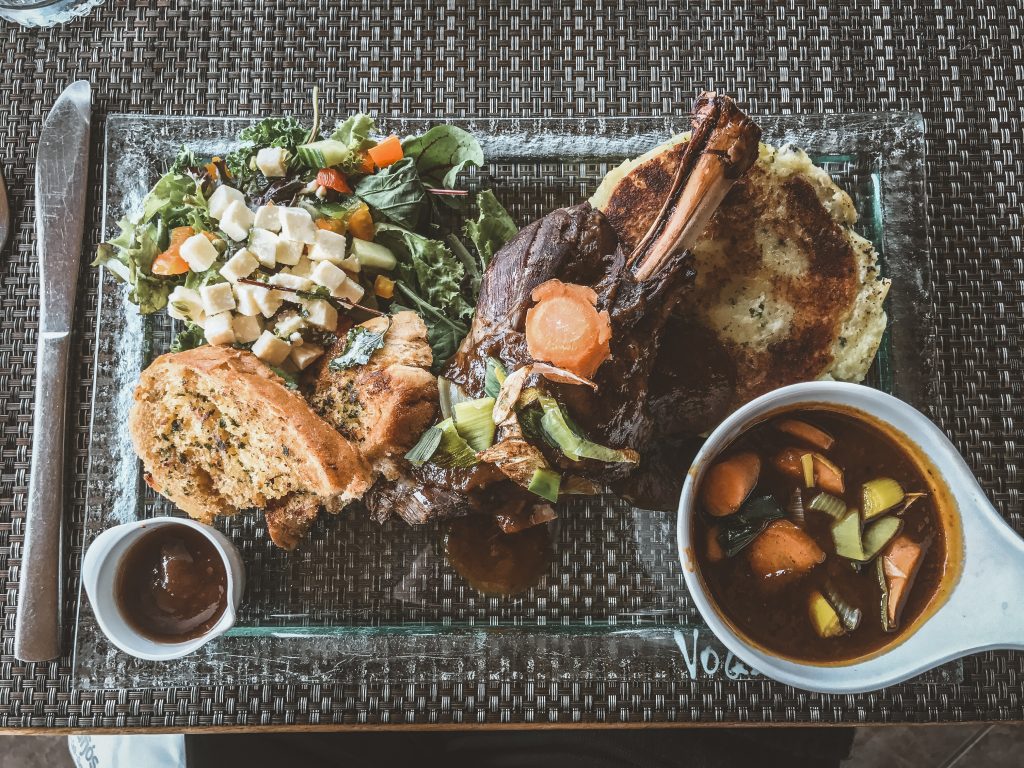 Bryggjan
If you are looking for a casual meal in a charming location, Bryggjan is your place.
Located right on the harbor in a historic building, the atmosphere is very cozy and relaxed. The service was fantastic.
Americans will feel right at home – with ribs, burgers, and pizza on the menu and 50's rock playing!
Coming through at lunch? There is a daily pizza buffet for a very reasonable price!
Location: Strandgata 49, Akureyri
Hours: 11:30-21:30 M-F | 11:30-22 S-S
Website: http://www.bryggjan.is
Reservations: +354 440 6600
Pro tip: Their fish dishes are delicious, I had the trout served on a bed of potatoes and fresh salad. 
Hlaðan Kaffihús
The drive from Akureyri to West Iceland (or Westfjords) can get a little slow, and it's nice to have a place to get out to stretch your legs.
Hlaðan kaffihús in Hvammstangi is a cute little cafe near the harbor. The inside is so cozy and full of vintage decor. You will find the usual coffee and cakes, and a few food items on the menu.
Bonus! Hvammstangi is a very common area to see seals!
Location: Brekkugata 2, Hvammstangi
Hours: 9-21
Website: on Facebook
Reservations: not needed, +354 451 1110
Pro tip: Their soups are homemade and fresh every day – delicious with bread and Icelandic butter!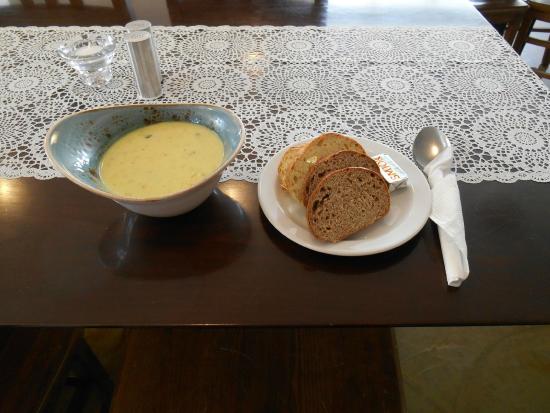 If you plan ahead, there are plenty of great options for eating in Iceland. I always feel good about the food quality, and without competition from big chains, the cozy atmosphere is always a memorable experience to add to the trip.
Happy eating!

Pin it for later!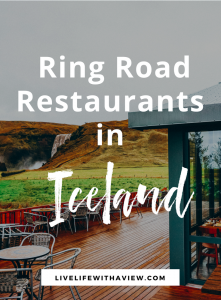 Some meals were complimentary in exchange for being part of this guide. No other compensation was received. As always, all opinions are my own!