Want to get off the beaten track and explore some less-traveled stops on Iceland's Golden Circle?
I'm your gal! 🙋‍♀️
If we haven't met, I'm Jeannie, your resident Iceland expert and American expat who's been living in Iceland since 2016.
I've done a ton of trips on the Golden Circle. And over the years, I've come to love not only the main tourist spots…but also the hidden gems.
These are the Iceland Golden Circle stops that a lot of travelers miss out on, but hold just as much magic as hotspots like Þingvellir, Geysir, and Gullfoss.
Escape the crowds and hang with the locals – and check out this list of places you should include if you are driving the Golden Circle in Iceland. For convenience, I have listed these places in geographical "circle" order and included a map at the bottom.
Happy exploring, Team Iceland!
What Is The Golden Circle In Iceland?
The Golden Circle is one of Iceland's most popular travel routes. The route connects three of Iceland's most famous tourist destinations – Þingvellir National Park, Geysir geothermal area, and Gullfoss waterfall.
How Long Is The Golden Circle?
The entire journey spans 230 kilometers (or 140 miles for my American friends!). Technically it can be done in a day if you're short on time, however, I recommend renting a car, taking your time, and spending a few days. That way, you not only catch the main highlights – but these Golden Circle hidden gems, too!
Pssst. Get even more tips and insider intel for your Iceland road trip in my South + West Travel Guide & Map!


6 Secret Iceland Golden Circle Stops – Beyond The Main Highlights
Ready to escape the crowds and experience Iceland's charming, untouched, beauty?
Add these stops to your Golden Circle itinerary!
Þórufoss
Sometimes, I stumble across places that are just an absolute WIN. Þórufoss is one of those places. This waterfall will be a slight detour off the regular Golden Circle route, but it is definitely worth the time to stop. Not to mention you will likely be the ONLY person there! Another bonus? This 18-meter-high waterfall was also used as a filming location for Game of Thrones!
Location: After about 15km on Route 36, turn left onto Route 48. Drive for about 5km and look for a small sign on the right for Þórufoss.
Hours: 24/7
Price: free!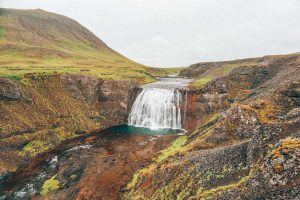 Laugarvatn Fontana
I know the Blue Lagoon gets all of the credit with tourists, but Laugarvatn Fontana is a fantastic alternative stop on the Golden Circle in Iceland. What makes this spa experience unique is that it's located next to a freezing cold lake, so really fun to go back and forth between hot and cold. Plus, the scenic view from the pool is worth the stop alone!
Location: Road 37 on the way to Geysir in the town of Laugarvatn
Hours: Open daily June-August 10:00 – 23:00 // 11:00 – 21:00 the rest of the year
Price: Adults 3800 ISK / $33 USD, free for children under 12
Website: http://www.fontana.is/en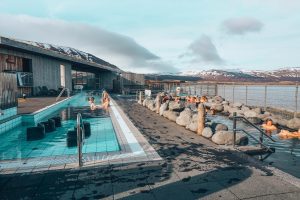 Efsti-dalur
If you love the sound of ice cream straight from the farm, then this Iceland Golden Circle stop is for you! This place is too adorable – it's a family-run farm turned into an ice cream parlor and restaurant.
The ice cream is just as delicious as it looks. My personal favorite is the salted caramel! I've also heard their burgers are amazing. There's also a Bed & Breakfast on the property if you need a place to stay!

Location: 801 Bláskógabyggð // On Route 37, after the split from 365, drive about 12km (you will pass Route 366 on the right). You will see a sign for the farm on the left side of the road.
Hours: May 16th – September 14th 11:00 – 22:00 Daily // September 15th – May 15th Sunday-Thursday: 11:30 – 20:00, Friday-Saturday: 11:30 – 21:00
Price: depends on how many scoops you get

Brúarfoss Waterfall
This waterfall is out-of-this-world beautiful and one of my all-time favorite Golden circle stops. The contrast of the bright blue water on the black lava is stunning! The only downside about this golden circle attraction is trying to find it!
NOTE: The "old" access for Bruarfoss has CLOSED. The directions take you through private property, where you will currently see No Trespassing signs. Please respect the locals and do not cross these boundaries.
NEW: As you're driving on 37, you will drive across a bridge just past Efstidalur farm. After the bridge, park in the small lot on your LEFT. Hike along the EAST bank of the river until you reach Bruarfoss (about 1.5 hours each way).
As of April 2023, there is now a paid parking lot you can use to reach Brúarfoss waterfall. This parking lot costs 750 ISK for a standard car or mini-van. From this lot, it takes just five minutes to reach the falls!
So if you're not in the mood to hike, this is a quick and easy way to see Iceland's bluest waterfall. For those who are up for an adventure – if you take the hike, you'll be able to see many lovely, smaller falls along the way 🙂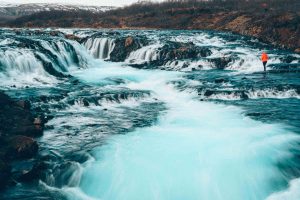 I don't know about you, but I can never see too many waterfalls! Faxi is one of the undiscovered treasures on the Golden Circle that most people drive right by. We were literally the only ones there. And even though it was pouring rain, it was still pretty to see!
Location: Road 35 between Geysir and the town of Reykholt (there is a small sign on the left when you are driving South pointing towards the falls)
Hours: 24/7
Price: free!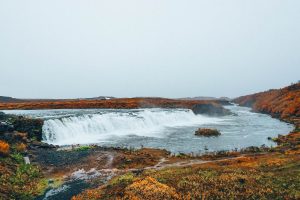 Friðheimar
Friðheimar is a huge greenhouse that grows tomatoes and cucumbers. Their growing methods are 100% sustainable and eco-friendly. This is the ultimate farm-to-table experience to try while driving the Golden Circle in Iceland! I seriously can't get enough of this place!
Do not miss their most popular dish – all-you-can-eat tomato soup served with an assortment of homemade bread. Trust me…this is not your average tomato soup. This is hands down the most delicious tomato soup I've ever tasted! Don't forget to add fresh basil from the plant on the table.
They also have a delicious-sounding dessert menu, featuring – you guessed it – tomatoes! For drinks, the Bloody Mary is a classic, but I prefer the Happy Mary – made with gin and green tomatoes. This Iceland Golden Circle stop is truly a culinary delight.
Location: Road 35 in Reykholt
Hours: 12:00 – 16:00 daily
Price: 2250 ISK/ $18 USD for all-you-can-eat amazingly delicious homemade soup and bread
Website: http://fridheimar.is/en
*Note: Reservations are REQUIRED! Call (354) 486 8894 or email fridheimar@fridheimar.is to reserve a table.
If you're looking for a natural geothermal pool in the raw Icelandic nature, then this stop on Iceland's Golden Circle is for you. Gamla Laugin is also known as the Secret Lagoon, and this pool is kept as natural as possible. The water temperature stays at a toasty 38 Celsius all year long. Changing facilities are also available on-site.
Location: Road 30 near the town of Flúðir
Hours: 12:00 – 20:00
Price: Adults 3000 ISK / $25 USD, children under 16 700 ISK / $5 // towel rental 700 ISK / $5 USD
Website: http://www.secretlagoon.is/
Kerið Crater
I think Kerið is one of the most unique things I have seen on the Golden Circle Route, or in all of Iceland for that matter! It's an old volcanic crater with crystal blue water! The best time to visit would be in summer or fall to see the beautiful colors around the crater. (We recently stopped in the winter and it looks completely different.)
Location: Road 35 between the towns of Reykholt and Selfoss. Look for a sign on the left.
Hours: 24/7
Price: 400 ISK / $3 USD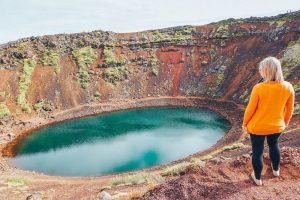 Iceland Golden Circle Stops Map
Ready to plan your Iceland Golden Circle itinerary?
This map has got you covered!
To use this Golden Circle map interactively, simply click the bracket in the top right corner of the map.
To use this map interactively, click the bracket in the top right corner of the map.
---

And if you're traveling South or West Iceland soon and want to take your planning to the next level…I've got something for you!

Discover the ultimate Iceland South + West Travel Guide!
With 186 pages of valuable content, including a digital map, planning worksheets, and bonus features like an Iceland Road Trip Spotify Playlist, this guidebook will save you endless hours of research and help you discover magical hidden gems while also providing practical information on toilets, pharmacies, grocery stores, and more. Don't waste time on unreliable sources – get everything you need in one resource and make the most of your Icelandic adventure!



Pin it for later!