Are you planning an Iceland family holiday?

I couldn't be more excited for you!

I absolutely LOVE taking my little guy on all of my Iceland adventures.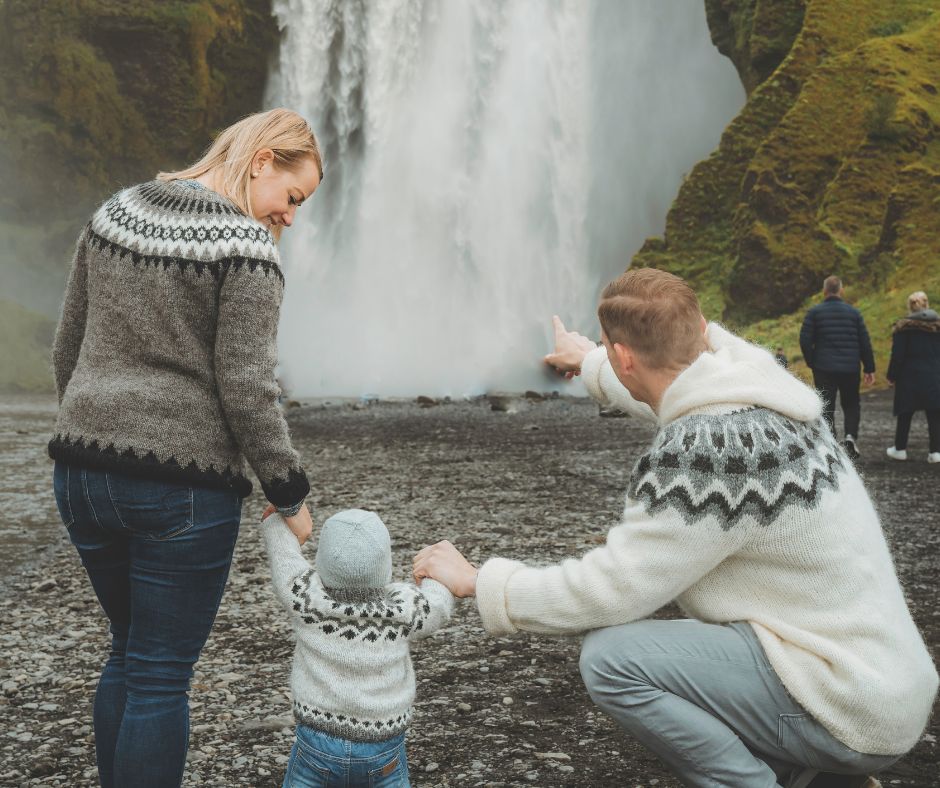 But despite the fun, traveling to Iceland with kids can be…well, a little tricky.
It's 100% worth it, believe me – but it definitely takes a little more planning than the average trip!
There's a lot to consider to make sure your Iceland family vacation goes off without a hitch.
And that's where I come in!

In this post, I've rounded up my best tips for how to make sure traveling to Iceland with kids is nothing but smooth sailing.
Okay let's be real… traveling with kids rarely goes *that* perfectly. You're bound to run into a hiccup or two, but with this Iceland family guide, you'll be as prepared as you can possibly be!
Plus, you'll get some places to add to your Iceland itinerary that your little ones are bound to love!
Are you ready to create some family memories that will last a lifetime?
Let's get into my ultimate guide to planning the best-ever Iceland family vacation!
Tip 1: Lower & Slower
My first tip is to lower your expectations and slow your itinerary. 🐢
I know that it can be very exciting, especially if you're going to Iceland, thinking about packing your itinerary and seeing all the things, and hitting the ground running.
But this is going to be really tough to do if you have children. They take longer to adjust to the time zone difference, the daylight hours, and the changes in environment and weather.
Traveling is exhausting for everyone, especially young kids. So creating a slower-paced itinerary will allow you to have a relaxed and flexible trip
Tip 2: Research Kid-Friendly Options In Iceland
Before you head out on your Iceland family adventure, make sure you research a lot of options for kid-friendly activities.
Involve your kids in the planning process if they're old enough. Whether it's playgrounds, a petting zoo, or a certain tour, they can be part of the fun and anticipate what's coming up on their adventure.
However, always remember that while it's good to have a plan, it's always best to be flexible. When kids get tired or hungry, the last thing that anyone wants to be doing is out on a road trip or stuck in a place that you don't want to be. So, make sure you have some space in your days for downtime which will allow everyone to be able to rest and recharge!
Make Family Memories Easy
I've marked playgrounds, pools, kid-friendly museums, and age limits for tours so that your WHOLE family can enjoy the trip!

Tip 3: Pay Attention To Opening Hours
Another tip is to be aware of the open hours and days. Iceland is notorious for having shorter open hours, and some places are completely closed on certain days. Research this before you travel to make sure you're well-prepared for each day. The last thing you want is for your kids to get all excited about an attraction – only to find out it's closed when you wanted to visit!
Also, keep in mind that kids usually get discounted or free admission at places like museums or certain tours, so check for that.
In my Iceland Travel Guides & Maps, I've noted all of the opening and closing hours, as well as admission fees for kids and adults!
Tip 4: Pack Wisely For Your Iceland Family Holiday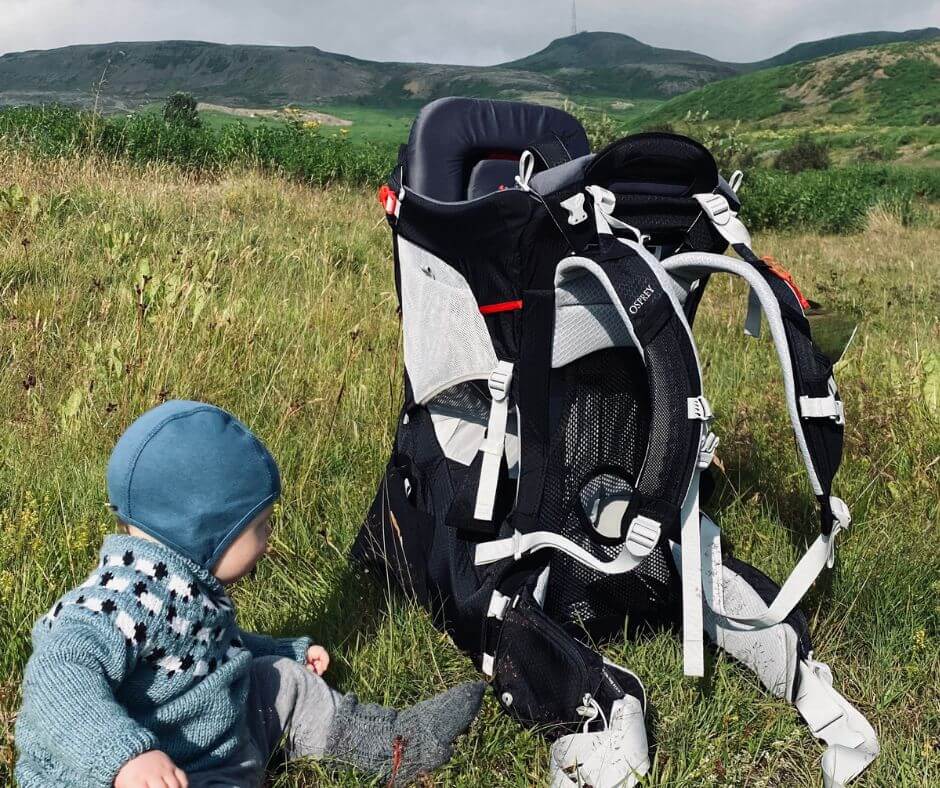 When it comes to traveling with kids, packing wisely can be a lifesaver. You'll want to make sure you have all the essentials on hand, like diapers, wipes, formula, and everything your little ones need.
Don't stress if you run out, though. You can always stock up on supplies at grocery stores along the way. Oh, and don't forget to pack clothing that will keep them warm and dry. Iceland can get chilly, so layer up!
If you want to shop my entire packing list for families, you can find out exactly what to pack for Iceland for your kids HERE.
Another pro tip?

Be sure to bring some familiar items from home that can make your kids feel comfortable during the trip. Think about packing their favorite books or toys – these will keep them entertained and give them the comfortable feeling of home while abroad.
And let's not forget about screen time! It can be a real lifesaver during downtime or those long car rides. Tablets with their favorite games or shows can keep the kiddos engaged and happy.
Oh, and how could I forget about SNACKS?
The last thing you want is a hangry toddler on your hands on an Icelandic road trip (trust me, I've been there and it's NOT pretty 😅).
Be sure to go grocery shopping and stock up on yummy goodies before any long car rides!
Tip 5: Consider Safety And Comfort When Traveling To Iceland With Kids
Now, let's talk about safety and comfort.
When it comes to sleeping arrangements, if you have younger kids, you might want to request a pack-and-play from your accommodation. Hotels in Iceland are usually pretty good about having these, and if you tell them in advance, they can even have it all set up for you when you arrive!
As for transportation, you've got a couple of different options.
You can bring a small travel stroller that folds up, which will be perfect for navigating areas like Reykjavík or Iceland's smaller towns. But keep in mind that not all locations are stroller-friendly especially the great outdoors.
My personal favorite for traveling around Iceland with kids is a backpack carrier. My little guy LOVES this! It's such a good way to take the whole family on site-seeing expeditions like hikes, waterfalls, glaciers, and more.
When it comes to car seats, it's important to remember that Iceland has different safety standards for car seats than the U.S. So leave yours at home and request one from your rental car company, instead!
Tip 6: Get The Kids Involved In Your Iceland Family Holiday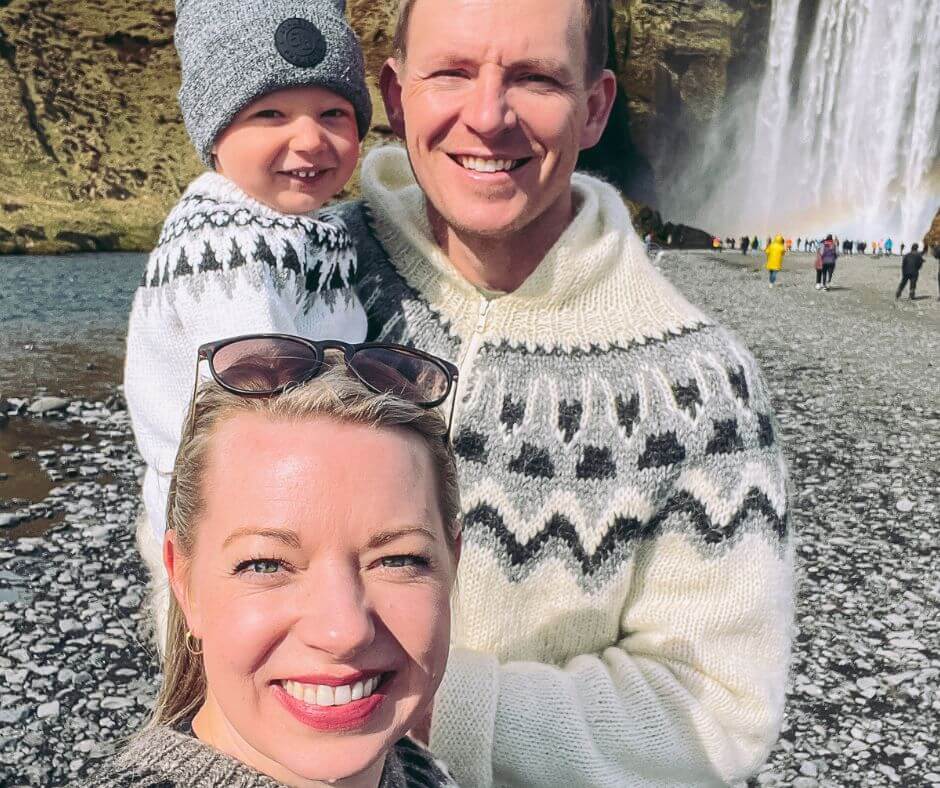 Let your kids be involved in the planning process, especially for older kids!

It might be fun for them to look at the sites that are available and say, "Oh, that waterfall looks cool," or, "Yes, I want to go on this hike," or, "Let's go to this pool"!
That way, they have something to look forward to on their trip rather than just being in the back seat and surprised. Of course, this depends on the age of your kids.
Remember that the pace of your travel will be different with kids, and it's okay if you can't do everything on your bucket list. You might have to slightly adjust your style of travel so that your Iceland family holiday is fun for everyone involved!
Finally, always have a plan B and be prepared for unexpected changes in weather or the kids' mood. Have backup options like indoor activities or museums.
Best Activities To Do In Iceland With Kids
I truly believe Iceland is a PREMIERE spot for a family vacation! There's nothing like seeing the wonder in your child's eyes as they get to witness this beautiful country for themselves.
If you're wondering what kind of things might be suitable for your Iceland family adventure, here are a few ideas to get you started.
Animal-oriented activities: Iceland provides an amazing opportunity for your kiddos to get up close and personal with some of their favorite creatures! From humpback whales to puffins, to seals, your little ones will be delighted to see these exotic animals in their natural environments. You could take a whale-watching tour or even a horseback riding tour for a memorable experience!
Nature-oriented activities: Nature is one of life's best teachers. And what better way to teach your kids about the world around them than by exploring some of Iceland's best natural wonders? From waterfalls to volcanos to black sand beaches and more, your kids will be fascinated by Iceland's other-worldly landscapes.
Swimming pools & hot springs: What do kids love more than splishing and splashing? The pool culture in Iceland is HUGE – nearly every village in the country has a pool. A lot of them even have things specifically for kids, like water slides, floaties, and kiddie-wading pools. Geothermal hot springs might be another way for the whole fam to relax together!
Museums: There are a lot of museums in Iceland. Kid-friendly favorites are Perlan, Whales of Iceland, Árbær, Settlement Center, and the LAVA Center. Note: a lot of museums will have free admission for children!
Reykjavík with kids: The vibrant capital city of Reykjavík has plenty to offer for families. Take a leisurely stroll along the colorful streets and visit the charming Tjörnin Lake, where your kids can feed the ducks and swans. Explore the city's numerous parks and playgrounds, or hop on a family-friendly bike tour to see the city's highlights. And be sure to indulge in Icelandic delicacies like hot dogs or ice cream for a tasty treat! 🌭
And this is just the beginning!
Be sure to check out all of my Travel Guides & Maps which include over 500 pinned locations ready for you to explore on your Iceland family holiday. I've specifically marked down the BEST activities for little ones, so the whole family can have a good time.

I can't wait for you to make family memories that last a lifetime.
Your Iceland family holiday awaits!

Pin it for later! 👇🏾