Ready to conquer Iceland's F-Roads? You're in the right place!

In this post, I'll dive into everything you need to know about Iceland's mountain and Highland roads, sharing insider insights, tips, and recommendations to help you navigate these rugged terrains like a pro.
Read on to learn more about:
Let's get into the complete guide to having a safe and successful road trip on the Iceland F-Roads.
What Are F-Roads In Iceland?
Wondering what the heck an F-road is anyway?

Let's break it down!

Simply put, Iceland's F-roads are the mountain or highland roads you need to take to reach the interior part of the country.
These roads are anything but your average road.
I'm talking muddy, extremely rocky, full of potholes, and incredibly steep.
In some cases, f-roads even require you to cross rivers!
Another caveat?

These roads are also not regularly maintained by the road administration, so don't expect them to be smooth, regularly plowed, or well-kept!
So yeah…Iceland's F-Roads are not exactly for the faint of heart. But they ARE for the adventurers. 😉
What Kind Of Car Do You Need For Driving On Iceland's F-Roads?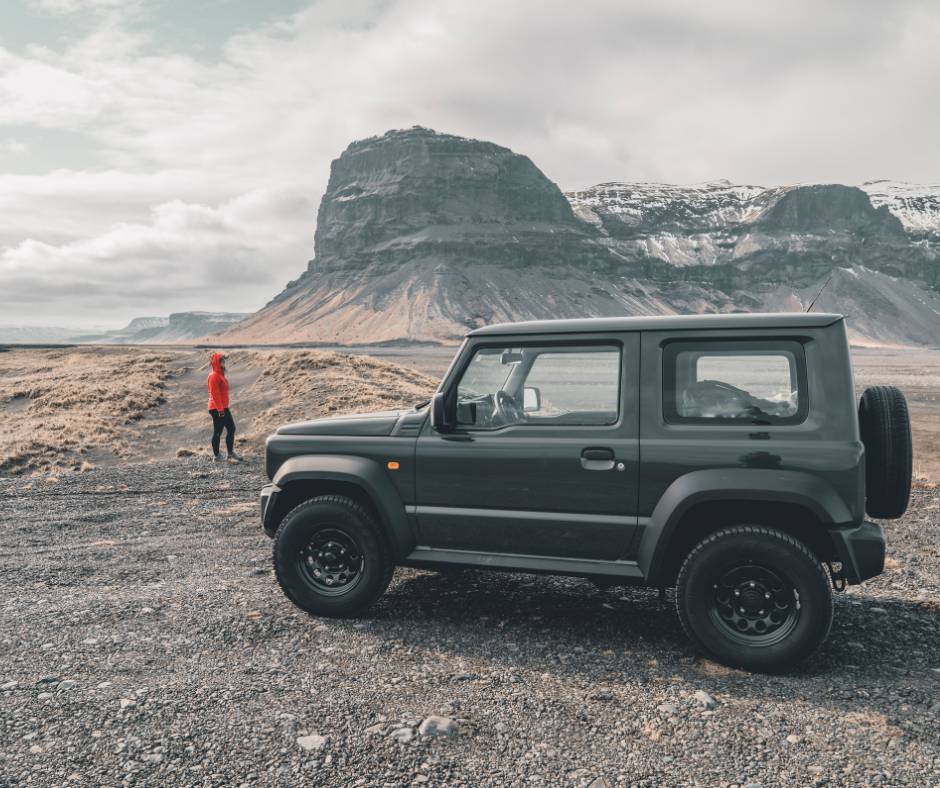 Given the challenging nature of these roads, a four-wheel drive vehicle is an absolute necessity.
It is neither safe nor legal to try to cross Iceland's F-roads with only a two-wheel drive vehicle.
Now, if you're planning on taking a trip into the Highlands that requires an F-road, read this next tip carefully.
Not all four-wheel drive vehicles are created equally.
Certain F-roads will require higher clearance on a vehicle.

So, for example, if you are planning on going into Thórsmörk, and you want to get to the other side of the Krossá River, which is extremely deep, then you will need an extra-specialized, modified vehicle.

Here's what I suggest.

Once you know your route, and you've picked out your car rental company, discuss your options with them.
They'll be able to tell you what kind of vehicle you need, and whether it needs to be modified or not.
Don't go the route of trying to take the cheapest rental car option available. For example, if you try to save a buck or two by renting a smaller 4×4, and you damage the underside of the vehicle, that is going to be very, very costly.
Why? Because none of the vehicle insurances in Iceland cover damage to the underside of a vehicle.
If you're traveling in the Highlands, be sure to ask your rental car company for the best vehicle for rough terrain.
And if you're ever confused, here's an easy way to know if your car is up for the challenge…
Just keep your eyes peeled for a sticker on the back of the dashboard.
The rental car companies all put a sticker on the dash that says, "This road is allowed on F-roads." If your car is not allowed, then it will say, "This car is not allowed on F-roads."
Easy-peasy!
You can also check out the Icelandic Road Association listing the roads that you will need a specific vehicle on.
When Are The F-Roads Open In Iceland?
Next up, you're probably wondering about Iceland's F-roads opening dates and closing dates.
The F-roads are only open during the summertime and completely closed off in other seasons.
Usually, the F-roads open up around mid-June and stay open until the end of August.
The biggest factor that affects when the F-roads open in Iceland is – you guessed it – the weather!
How early the snow melts, and then how early the snow starts in the fall as well, will have a big impact on opening and closing dates.
These dates are changing all the time.
If you want to know when the average open time is for the F-roads, or when they anticipate opening the year you're traveling, check out the roads.is site.
Where Are The F-Roads? An Iceland F-Roads Map
Most of Iceland's F-roads serve as a link between the well-traveled Ring Road (also known as Highway 1 or Þjóðvegur 1) and the scenic central Highlands region.
Check out this map by Roads.is for a visual on where the F-roads (also referred to as the mountain roads) are located. You can see them marked in red on this Iceland F-Roads map!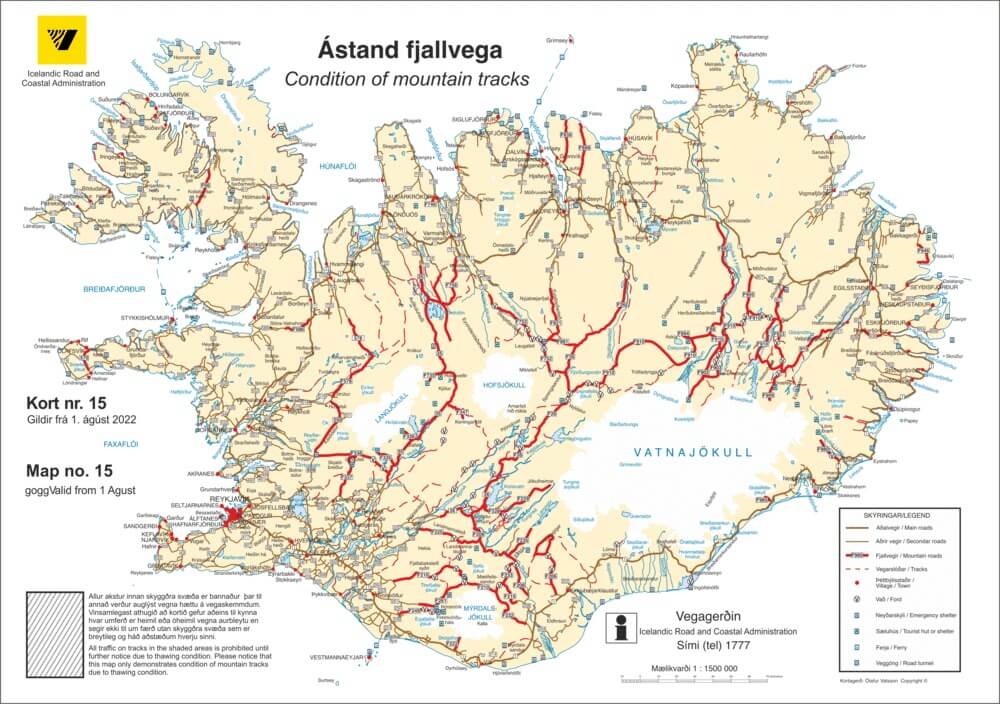 Is Driving On Iceland's F-Roads Worth It?
Now, you might be thinking…

These roads seem pretty crazy – is driving on Iceland's F-roads REALLY worth it?
And without a doubt, I can tell you:
Yes! Driving Iceland's F-Roads is 1000x worth it!

Here are three of the biggest reasons why.
Access Iceland's Remote Beauty
The F-roads allow you to access some of the most beautiful and breathtaking places in Iceland.
Places like the gorgeous Landmannalaugar or Thórsmörk both require F-roads to get there.
If you want to get off the beaten path, and see some of Iceland's most impressive natural wonders, it's definitely worth renting a vehicle with F-Road capabilities.
Take The Road Less Traveled
Another bonus about traversing Iceland's F-Roads?

Not everyone is willing to do it.
Which means…FEWER CROWDS!
If the idea of a peaceful, secluded vacation away from the hustle and bustle sounds like an absolute dream, then Iceland's F-roads are for you.

Pssst. If you're all about hidden gems…my Iceland Guidebooks & Maps were created for you! Get off the beaten path with secret waterfalls, lagoons, hikes, and MORE!

Ignite Your Adventurous Spirit
Who doesn't love an extra dose of adventure?
If you're an adrenaline junkie that's up for the challenge, Iceland's F-roads are calling your name.
Picture getting up early for a full day of adventure, packing up all your stuff and heading out into Iceland's wilderness!

There's a cool breeze, your favorite playlist on, and a sense of adventure in the air.
For all of the explorers out there, these Highland roads are not to be missed.
Tips For Safe Driving On The F-Roads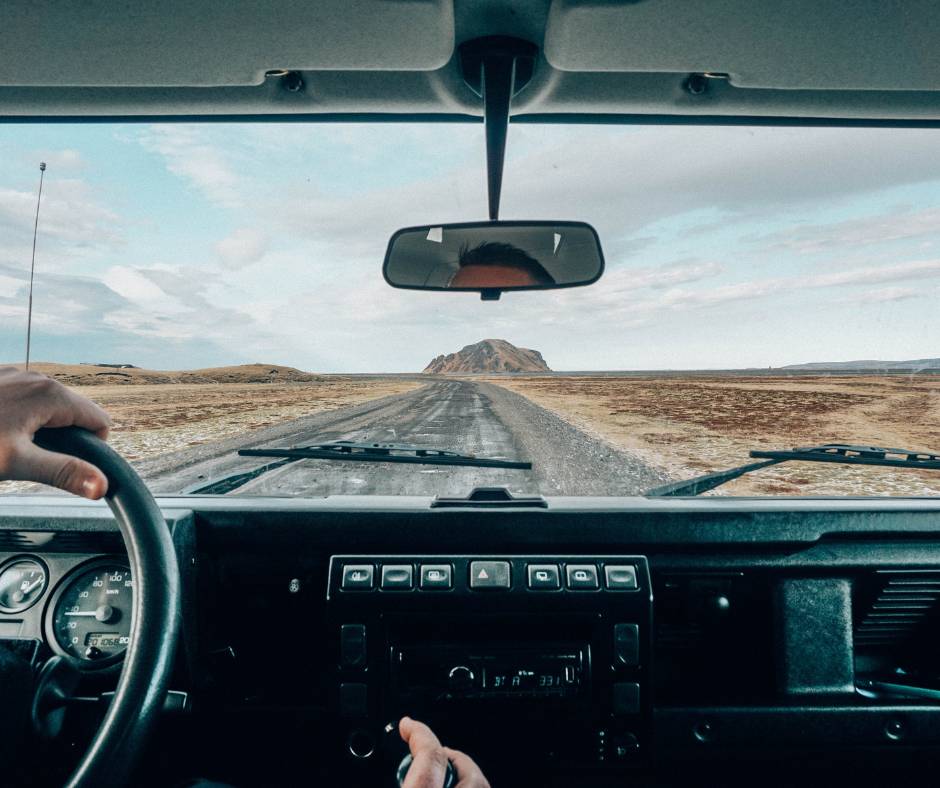 If you want to stay safe on Iceland's mountain roads, preparation is key.
Here are three tips to have a safe and successful road trip in the Highlands.
Check The Road Conditions
This tip is probably the most important, and that is to always check the road conditions when traveling in Iceland!

This is especially crucial when using the F-Roads, because again – they're not regularly maintained, and they're not always open.
The last thing you want to do is get started on your adventure and then have to turn back around, so always check the road conditions!

For up-to-date info, check out road.is.
Leave A Travel Plan
Next up is to leave a travel plan.
I recommend logging the route you're about to take that day into the website Safetravel.is.
In the rare event something goes wrong, authorities will know exactly what your travel plan was for the day.
Write Down Your Emergency Numbers
The last thing you need is to be stranded, having no idea who to call.
Before you head out on your road trip, be sure to write down the emergency number for your rental car company.
If your car breaks down or anything happens, you'll be able to give them a ring and get someone to come give you a hand!
You'll also want to take note that the emergency number in Iceland is 112, not 911.
Write down this number as well and be sure to dial 112 if you find yourself in any trouble.
Leave Bright And Early
The early bird catches the smoothest ride on Iceland's F-roads.

Because you might be crossing rivers, it pays to head out in the morning when the rivers are lower. Throughout the day, the glaciers melt and the water becomes higher, making the rivers more treacherous.
Go early to avoid the water getting too high and being unable to cross!
Fill Up & Pack Properly
Iceland gas stations aren't exactly abundant. In fact, they are few and far between.
So, when you're heading out onto the F-roads, you want to make sure that you have a full tank of fuel.
Trust me, you don't want to find yourself stranded in the middle of the Highlands without a clue of where the next fuel station might be.
Not only do you want to fill up your gas tank, but bring some grub to fill your belly, too!
There's not exactly a plethora of dining options in the Highlands, so my recommendation is to pack a cooler of snacks and goodies to keep your hunger at bay.
And the last thing?

It can get chilly in the Highlands!
You might feel toasty warm as you're leaving Reykjavik, but once you start heading to the interior, you could find yourself shivering.
So be sure to pack warm clothes so you stay cozy on your trip to the interior.
So there you have it – everything you need to know about navigating Iceland's F-Roads like a pro.
Want more tips and insider advice to have an unforgettable time in the Highlands?
Be sure to check out my Highlands Self Drive Ebook.
Get your hands on this ultimate travel guide, packed with insider tips and in-depth information from a local expert (hiiii, that's me! 🙋‍♀️).
From interactive maps to month-by-month planning checklists, this Travel Guide will help you navigate the rugged F-roads, river crossings, and awe-inspiring landscapes of the Highlands.

Pin it for later!