One thing is for certain: I LOVE coffee.
Another thing that is for certain: Iceland makes DELICIOUS coffee.
I think the secret is in the the brewing method.
The preferred brewing method is usually with an espresso machine, rather than drip coffee. Every establishment in Iceland has an espresso maker – hair salons, clinics, even car dealerships! It's AWESOME.
When paired with the fresh Icelandic milk or cream – YUM!
My favorite thing about coffee in Iceland is the lack of big commercial chains. That's right – no Starbucks. (celebration dance!) This gives the smaller businesses the chance to shine.
And shine they do! Cafés in Reykjavik are what coffee shop dreams are made of. Small, cozy, welcoming. Each one has something unique, but they all serve amazing coffee.
Can we take a moment to reflect on the fact that my FAVORITE coffee shop in Reykjavik was CLOSED after decades of business?! The space was bought out by an Asian fast food restaurant. I shed a tear every time I walk by it!
Okay, I'm back. Still sad though.
Coffee shops are awesome for obvious reasons: to get caffeinated, relax with a good book, look at all your beautiful pictures from your trip, and conveniently hook up to wifi.
Here are my five favorite places to grab a cup of coffee in Reykjavik.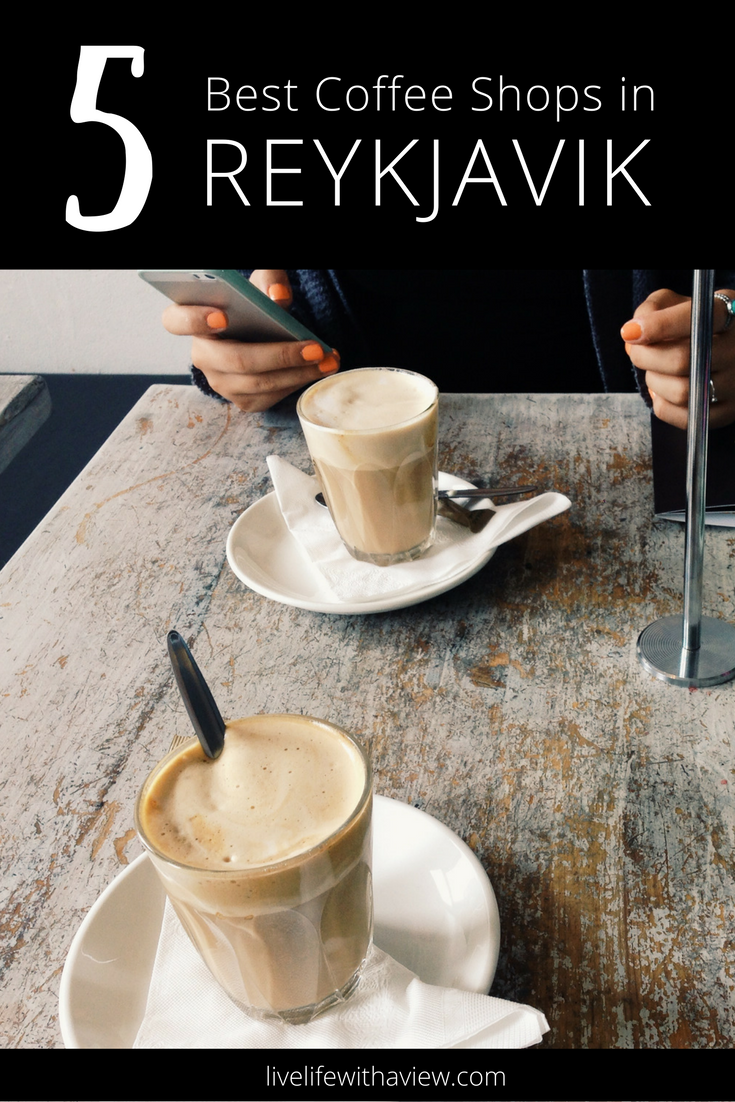 Café Haiti
As the name implies, owner Elda buys her beans right from her home country of Haiti. She then roasts and grinds the beans on site – making the most fresh and delicious coffee. She also serves soups and cakes if you're hungry!
Café Haiti is also known for their art exhibitions and live concerts. Talk about a FUN place! Nestled in the adorable old harbor, stop in here to warm up between sight seeing stops!
Stofan Café
This is where you go if you want a "cozy, hanging out in your own living room" feel. Plush couches and rustic wood decor, this is the perfect place to read a book or catch up with a friend. They also serve teas, cakes, and light snacks. At night this places turns into an equally cozy bar complete with local beers, wine, and spirits.
Read More: 7 Budget Restaurants in Reykjavik
Reykjavik Roasters
Reykjavik Roasters is commonly known as the most famous coffee shop in Reykjavik. The atmosphere is relaxed and cozy, filled with old tables and chairs. They roast their own beans directly from farms in Colombia and Nicaragua. What's unique about RR is they offer three different brewing methods as well as a full menu of espresso drinks – just ask the barista if you don't know what to order, they are always so friendly and helpful!
I also recommend their bakery items – recently I had a gluten free chocolate and peanut butter bar that was to DIE for!
Café Babalú
You literally can't miss this place on your walk towards Hallgrimskirkja – it's an orange building with a bright blue door! Inside is equally as quirky. But don't let any of that fool you – this place knows how to make coffee! I'm a big fan of their chai latte. They also serve crepes, soups, sandwiches, and cakes.
One of my favorite parts about this space is their outdoor patio. I don't know about you but I'm a sucker for eating or drinking outside. During the summer months this is the place to be!
Mokka Kaffi
This is the oldest espresso café in Iceland, opened in 1958! When you step into Mokka it's like you step back in time. The owners have preserved the decor to it's original art deco style. Other than coffee, make sure you also try their delicious homemade waffles! (Okay my mouth is watering writing this.)
Read more: 10 FREE and Awesome Things to do in Reykjavik
Decaf Coffee
I personally can't speak for decaf coffee, but if you are in need of the unleaded version, you will want to be on the lookout for Te og Kaffi and Kaffitár. These two cafes can be found in various locations around Reykjavik, and are more of a chain than the others.
No matter what café you choose, just make sure you do ONE thing and try the coffee in Iceland – I promise it won't let you down!
---
Question: What is your favorite coffee shop in Reykjavik?

 Pin it for later!