January in Iceland. If you are planning a January trip to Iceland, then get excited by friends because I am about to tell you all the helpful things that you're going to need to know to plan the best January trip ever to Iceland. Hello team Iceland, welcome back to my channel. My name is Jeannie and I am your tour guide for all things Iceland planning. Today I am starting a brand new series on my channel, I'm so excited about it. It is a by the month planning for your trip to Iceland, so if you have a June trip or a September trip coming up then don't worry, because I'm going to get to you and I'm going to tell you everything you just know about traveling during your month. Today we're talking about January and all the things, so let's get into it.
Daylight Hours in January
First up we have to talk about the daylight hours. Pay really close attention to this portion of each month you guys because the daylight hours will drastically impact the number of things that you can plan into each day. January is a unique month because we're just coming off of the winter solstice, so it's still one of the darkest times of the year. In the beginning of January, you're talking four hours of daylight, four hours, but towards the end of the month then we're up to seven hours. So, it's still a normal ish day, still very dark though, still very strange. In terms of weather, I think it's pretty obvious that it's winter. You can expect all the winter weather for sure. Of course the most common is snow, but along with that is wind as well. Iceland is particularly windy and snowy during January. However, there's also known to be rain during January because you know, you just never know. You always have to be prepared for all the weathers.
Packing for Iceland in January
If you need suggestions on exactly what to pack in your suitcase for your January trip, then make sure to watch the video about winter packing in Iceland. In terms of temperature, you're thinking between negative two to four degrees Celsius, AKA 28 to 39 degrees Fahrenheit. While it's not actually that cold, it still feels cold. Trust me, the wind, the dampness, everything is making it feel really cold. Now, my biggest tip for winter travel is to make sure that you pack crampons in your suitcase for January in Iceland. Like this is the most important thing that you can't in your suitcase for January. Crampons or yaktrax is an item that you put around the bottom of your boot or shoe. This makes it so much easier to walk around all the areas, including the sidewalks in Reykjavik and all the sites, especially the waterfalls. January is slippery, right? We can't risk falling or not being able to go and see a place because we don't have the proper gear. Make sure to invest in a pair.
MY FAVORITE CRAMPONS:
Yaktrax (basic protection)
Spikes (extra protection/what I use)
January Sightseeing in Iceland
Now, in terms of sightseeing and the places that are accessible and non-accessible during January. First off, yes, you can go to Reykjavik, the golden circle, South Iceland, the ring road, Snaefellsnes. Usually those areas are quite maintained, safe and accessible. Areas that are absolutely not accessible is anything in the highlands or the interior of the country. That means Thorsmork, Landmannalaugar and those areas are absolutely not accessible. Now, in terms of heading to the west here, it's in January, I would not recommend this unless you are a very, very experienced winter driver, or you've been to Iceland several times and you have a good handle on the road system, and the conditions, and everything like that.
The Westfjords get a lot more snow. The roads are not maintained as well, and then also sometimes the mountain passes are closed, making it impossible to get from place to place. I definitely don't recommend the Westfjords in January.
Driving During January in Iceland
Speaking of driving, driving in January in Iceland is very challenging and I would say quite difficult as well. I don't want to sugarcoat it for you. It is not going to be what you're used to, where you're coming from. I even grew up in the mid-west where the roads were crazy, but the road conditions in Iceland in January can get so intense. It's not like anything I've ever experienced, so I'm going to warn you ahead of time. You could have an experience that's completely fine, but I would rather prepare you for the worst.
The road conditions are changing all the time. They can be super slippery, they can have snow drifts, everything like that. I've already made a full video about winter driving in Iceland, so again, check that out if you haven't seen it already, but for this reason it is so important you guys to rent a four wheel drive during your January trip. I want everyone to be safe and have the best trip ever, so please, please take this into consideration. I think that a four wheel drive is the best way to drive anywhere in Iceland during January. Last devote driving is you can always check the website, road.is for the most updated weather conditions. I recommend doing this right away in the morning before you even head out throughout your day.
Exclusive offer for IWAV readers, Blue Car Rental is offering 5% off your total rental price! The discount will automatically be applied at checkout when you use my VIP link above – no code needed!

January Festivals and Activities in Iceland
The last thing that I wanted to talk about for January is the unique festivals and activities that are happening throughout this month. January 6th is what's known as Prettándinn. This is the official end of Christmas in Iceland. If you've heard my story of the Yule Lads, then you know that this is a very long holiday in Iceland. The 6th of January is when the finally Yule Lad leaves and returns back to their home in the highlands. This is another celebration throughout Iceland where you'll see bonfires and even fireworks. Another fun day to celebrate! The next thing is starting in mid-January, happening until mid-February is called Porrablot. This is a mid-winter celebration that dates back hundreds of years in Nordic history, but basically, today what it means is rotten food festival. During this time, you will see lots of fun rotten foods being sold and eaten in Iceland. By the way, if you haven't seen my video about the unique foods in Iceland, then make sure to watch that so you can see some things that I'm talking about, including sheep's head, Ram testicles. You know all those fun things.
In conclusion, January is an amazing time to travel to Iceland. Of course, you won't get the lush green lava fields, but January is special in its own way, and I actually love winter in Iceland, so I know you're going to have an amazing trip.
That's all for today, my friends, thank you so much for hanging out with me. If you found this information helpful subscribe to my YouTube channel for new Iceland planning videos every week.
Happy planning,

Pin it for later!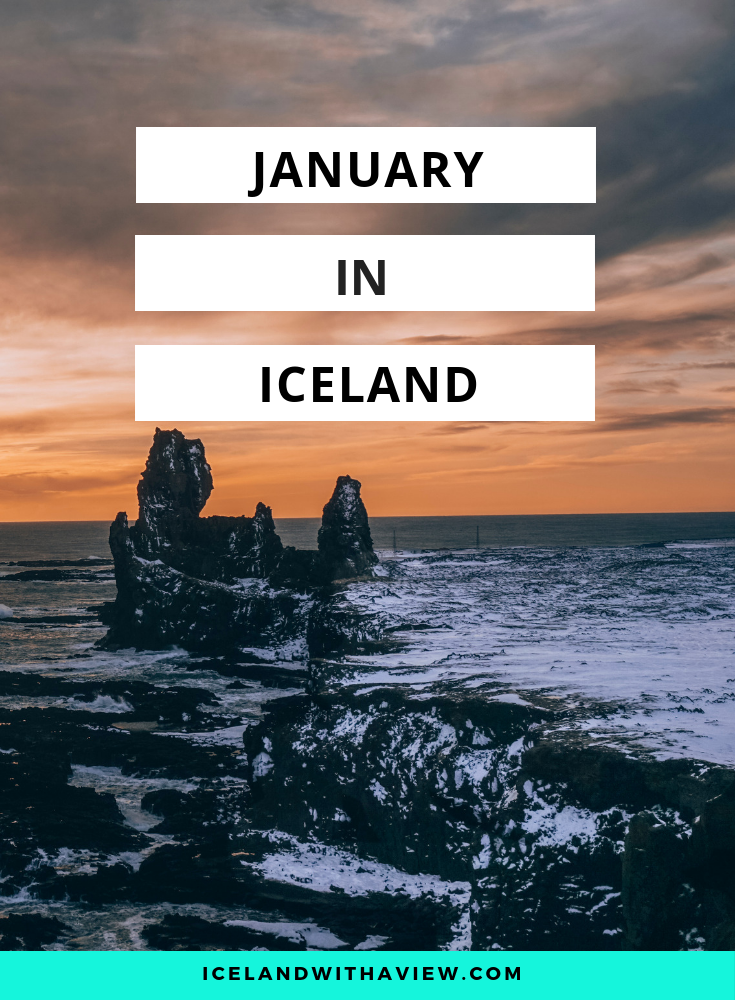 Get your FREE Winter/Spring packing list!
Wondering what to pack for your Winter/Spring trip to Iceland? I've got you covered with this detailed packing list!