One of Iceland's most beloved Christmas traditions is that of the Yule Lads.
It's like Iceland's version of Santa Claus, except there's no reindeer-drawn sleigh, red suit, or chimney – okay, so more like Santa's third cousins! 🤣
These 13 Yule Lads are brothers from a family of trolls who live in the highlands of Iceland.
They all have different characteristics that set them apart and they live with their mother Grýla, a witch. Oh, and they also have a raggedy cat named Jólakötturinn.
Sounds like a colorful family, but hey, who's to judge? I'm sure we all have a few *interesting* family members who come out of the woodwork during the holidays!
The Yule Lads travel long distances across the snowy Icelandic mountains to visit children, one at a time, in the 13 nights leading up to Christmas.
Instead of cookies and milk, Icelandic children will leave the lads' favorite snack out and place a shoe (no stockings here!) in their window to receive a small present.
You read that right – parents of these Icelandic children have to prepare THIRTEEN presents for their kids in the THIRTEEN days leading up to Christmas! Forget about any last-minute shopping with this tradition.
If they were good that year, they received a regular gift. If they were bad, they got a potato – As one does when you're bad! 😜
If I've piqued your interest and you'd like to know a little more about each one of the Yule Lads, their quirky traits and more, then let's get into it!
Table of Contents
Iceland Yule Lads
Holographic images of Iceland's Christmas Trolls are displayed around Reykjavík during the festive season. It's so much fun to take the kids out to hunt for them because some are surprisingly tricky to find! You can check out the video of us Yule Lad hunting below👇
Now, let me introduce you to each of them.
Stekkjastaur
(Sheep Shagger)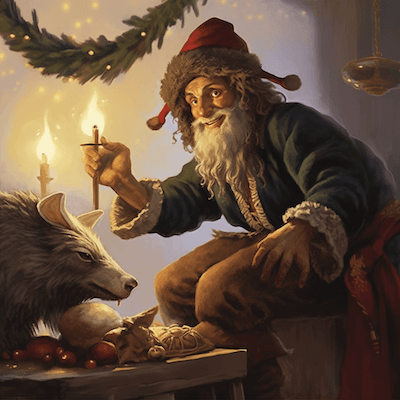 Arrives: December 12
He is the first to visit, and since he's the oldest, he has to leave several days before to make the long journey. His legs have become creaky and stiff in his old age – if you listen closely you could hear his knees creaking!
Favorite treats: Christmas cookies and milk
Personality: kind and clever, stubborn
Giljagaur
(Gully Gawk)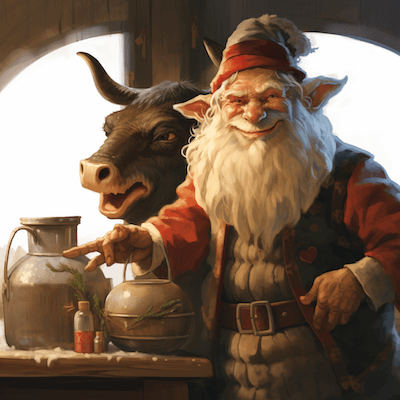 Arrives: December 13
As the biggest, tallest, and strongest of the brothers, Giljagaur isn't bothered by the weather or rough Icelandic terrain. He's a bit shy and likes to travel incognito. Taking care of the Christmas Cat is his responsibility, making sure that Jólakötturinn is well-fed so he doesn't get any ideas about snacking on children!
Favorite treats: Meat, sweets, milk
Personality: clumsy and not very bright, loves children and animals
Stúfur
(Stubby)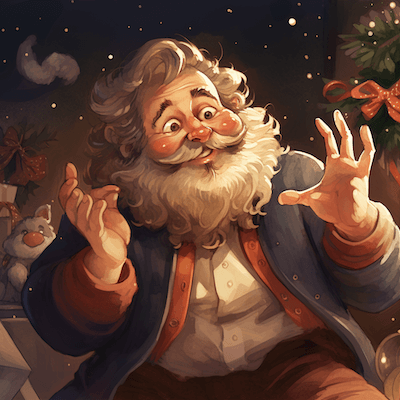 Arrives: December 14
He might be the smallest of the brothers, but he's got the most charm. When there's been heavy snowfall, he travels with a shovel in case he has to dig through snow drifts. It's important to leave a small chair next to the window to help him reach the shoes. This also gives him a chance to catch his breath before moving on.
Favorite treats: Skyr, biscuits, cheese, meat
Personality: big heart and bright personality
Pottasleikir
(Pot Scraper)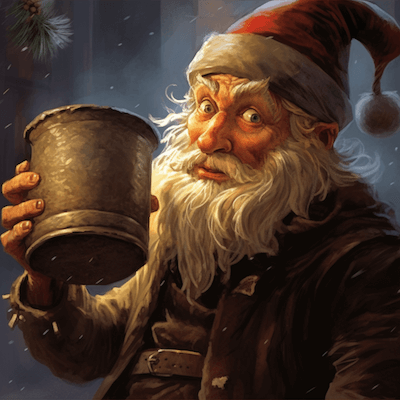 Arrives: December 15
It can't be easy growing up in a house with 13 brothers; staying fed can be tough! So, Pottasleiker learned to get to the pots and pans first to grab any tasty leftovers. He also can't resist an unwashed pot of soup while going from house to house!
Favorite treats: Cookies, milk, sweets
Personality: quick-witted and single-minded
Þvörusleikir
(Spoon Licker)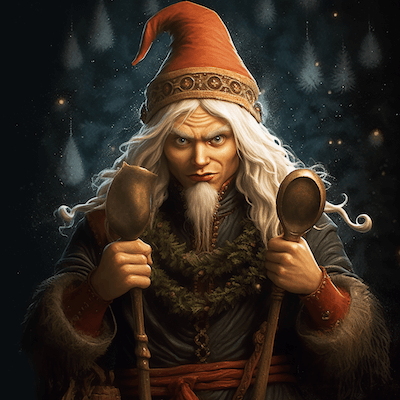 Arrives: December 16
Þvörusleikir used to suck on his thumb as a young boy. Grýla would scold him to stop, so he switched to sucking on wooden spoons instead. He especially likes spoons that have been covered in cake mix or chocolate sauce. Who doesn't, right?
Favorite treats: Vegetables, milk, spoons
Personality: dopey, kind, understanding
Askasleikir
(Bowl Licker)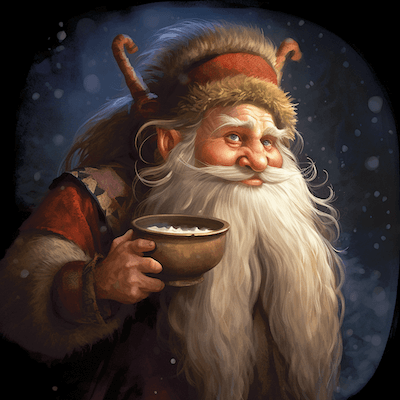 Arrives: December 17
Oh, how some nicknames stick! The Yule Lad Askasleiker got his name from his habit of licking out the food remains of an askur – a bowl used to keep food warm. He hides under beds, patiently waiting for someone to put down their askur. Alternatively, he'd happily accept a tub of skyr.
Favorite treats: skyr, cookies, milk
Personality: quiet, happy
Hurðaskellir
(Door Slammer)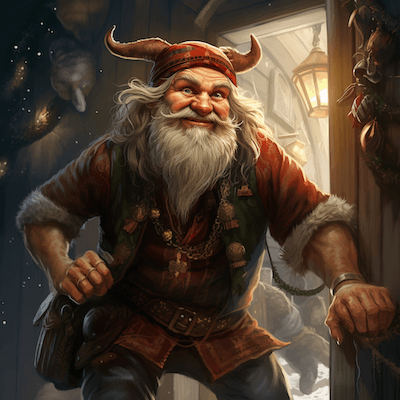 Arrives: December 18
If you love the sound of slamming doors, then you'll have something in common with this Yule Lad. Hurðaskellir especially loves slamming them when his mother isn't around to scold him! He doesn't mean to startle the young children; he just thinks it's all good fun. I must say, this little game would never catch on in my home!
Favorite treat: cheese, meat, milk
Personality: mischievous, silly
Skyrgámur
(Skyr Glutton)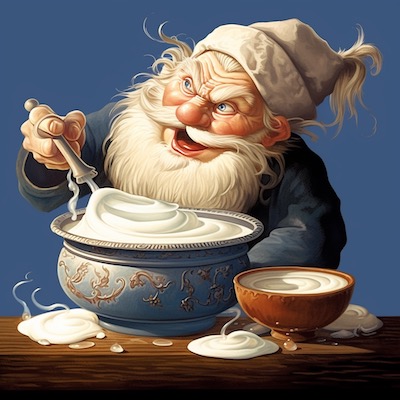 Arrives: December 19
Skyrgámur is old-fashioned and doesn't like change. He complains that things these days aren't as good as they used to be, especially the skyr. Not only that, he also loves to slide down mountains on his way into town!
Favorite treat: skyr, cheese, milk
Personality: confused – you never know what you'll get in your shoe!
Bjúgnakrækir
(Sausage Swiper)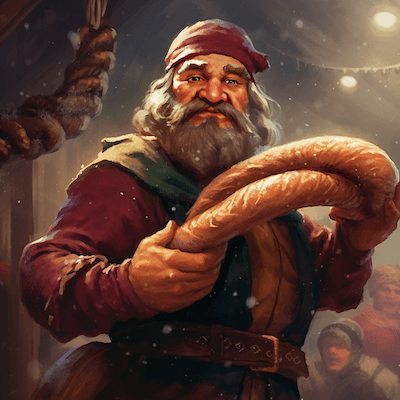 Arrives: December 20
Grýla would always make bjúga, or sausage, made of all fat and no meat. The brothers hated it, but Bjúgnakrækir would gladly eat this delicious food. He's famous for hiding in the rafters and snatching sausages that are being smoked.
Favorite treat: meat, cheese, cookies
Personality: light-hearted, joker
Gluggagægir
(Window Peeper)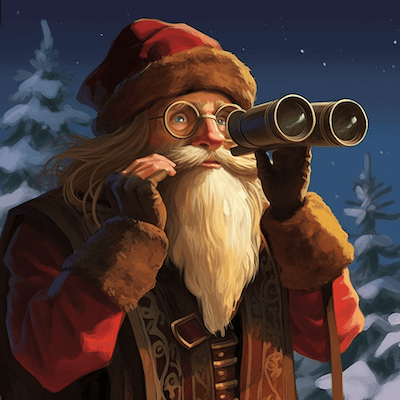 Arrives: December 21
Now, before I lose you on this one, hear me out. The cave that the brothers live in has grey stone walls lit with only a few candles, which can be rather dull. That's why, when Gluggagægir comes into town, he loves to peek into families' windows at the bright colors and patterns, he thinks they are so beautiful!
See, sweet. Not creepy 😅
Favorite treat: Pancakes, milk
Personality: art lover
Gáttaþefur
(Door Sniffer)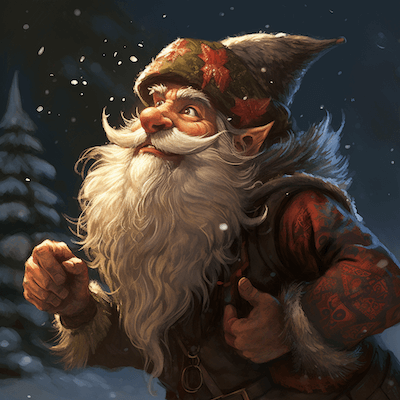 Arrives: December 22
This Yule Lad has an abnormally large nose and an excellent sense of smell. This allows him to locate scraps of food that have been dropped on the ground. He can't stand things that smell bad, so make sure rooms are tidy and dirty socks are in the laundry hamper before going to bed!
Favorite treats: cookies, laufabrauð, sweets
Personality: cheerful, good company
Ketkrókur
(Meat Hook)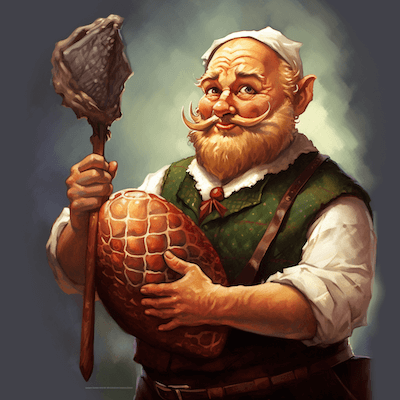 Arrives: December 23
When Ketkrókur was born he was the smallest child so Grýla fed him only meat to build him up. Now he has a great love for meat and refuses to eat vegetables. He uses a hook to steal all kinds of meat.
Favorite treats: meat, meat, meat!
Personality: big and noisy
Kertasníkir
(Candle Stealer)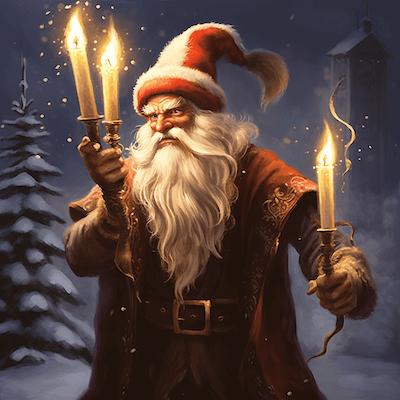 Arrives: December 24
In the old days, candles were made from tallow, which is rendered animal fat. They were an edible treat for someone who had just traveled hundreds of miles in the harsh winter landscape. Look for teeth marks on your candles, Kertasníkir sometimes likes to make sure he isn't missing out on any tallowy goodness.
Favorite treat: candles, meat, cookies
Personality: mischievous, friendly
I've been here for years and The Yule Lad's names are still difficult for me to pronounce! 🙈
Iceland's Witch, Grýla: The Mother Of The Yule Lads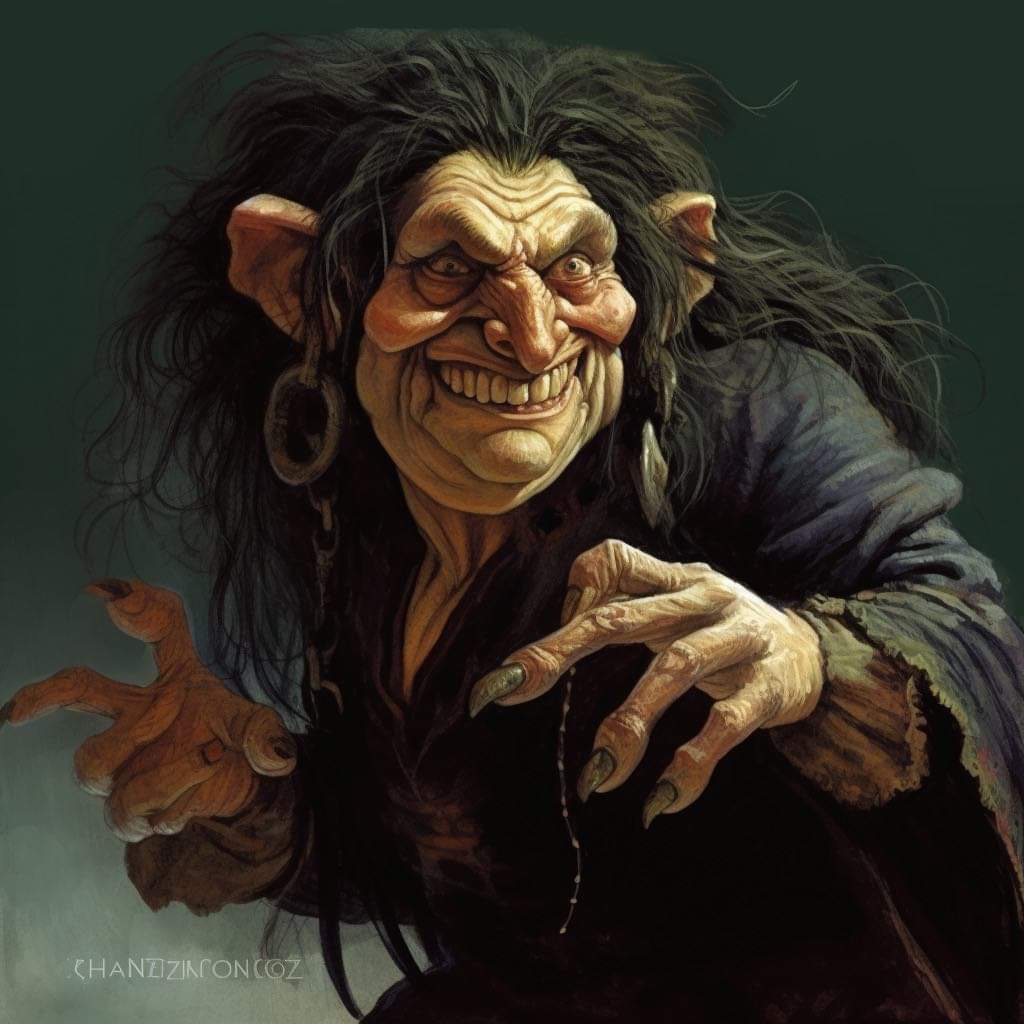 Apparently, all you need to do to get kids in Iceland to behave is tell them horrifying tales about being eaten by the giant witch, Grýla.
This character dates as far back as the 13th century in Norse mythology. Grýla, also known as Iceland's Christmas witch, comes down from the mountains in search of naughty children. As legend has it, she likes to eat humans (children especially) and boil them into soup.
Now, although the Icelandic Yule Lads look a bit frightening, it's really Grýla and Jólakötturinnthat you have to worry about!
Jólakötturinn: Yule Cat Iceland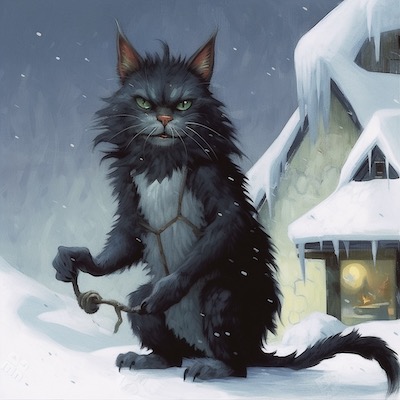 The Christmas Cat in Iceland is known as Jólakötturinn.
Old Icelandic folklore states that every Icelander must receive a new piece of clothing for Christmas or this giant Yule Cat will prowl the streets in search of unsuspecting souls and eat anyone who doesn't follow this rule.
Jólakötturinn,Grýla and the Yule Lads are such a foundational part of Icelandic Christmas culture.
💌 ✈️Are you ready to become a member of TEAM ICELAND?
Sign up for my FREE newsletter and stay updated on valuable tips, cultural insights and more! Don't miss out on the adventure and join now!
Whatever your Christmas tradition, I hope you have fun celebrating all the fun things to do this season.
I wish everyone a Gleðileg jól (Merry Christmas)!

Pin it for later! 👇🏾