There's no shortage of fun festivals and events in Iceland. If you're into music, dance, culture, art, or all of the above then you are in luck, I have a whole calendar of things for you!
In Iceland you can find these events year round. So if you're planning a trip to Iceland, take note of the events happening during the month you will be here. Some are in Reykjavik, but some are scattered around the country.
Looking for current dates and info for each event? Check this website for details.
FEBRUARY
Sonar
When: Mid February

Sonar is a music festival that combines music and lights into one big artistic performance. Tons of musicians local and international perform on multiple stages at the Harpa Concert Hall. This could be in the form of singing, dancing, or any performance art.
Last year the outside lights of Harpa were orchestrated in with the concerts inside. So really, outside or in, you get to see a performance!
Winter Lights Festival
When: First week in February
The winter lights festival is a celebration of winter and also the increasing daylight. Bright multi-colored lights are illuminated around the city including onto major landmarks, museums, and even in geothermal pools! Happening the first week in February, this event is perfect for both locals and tourists.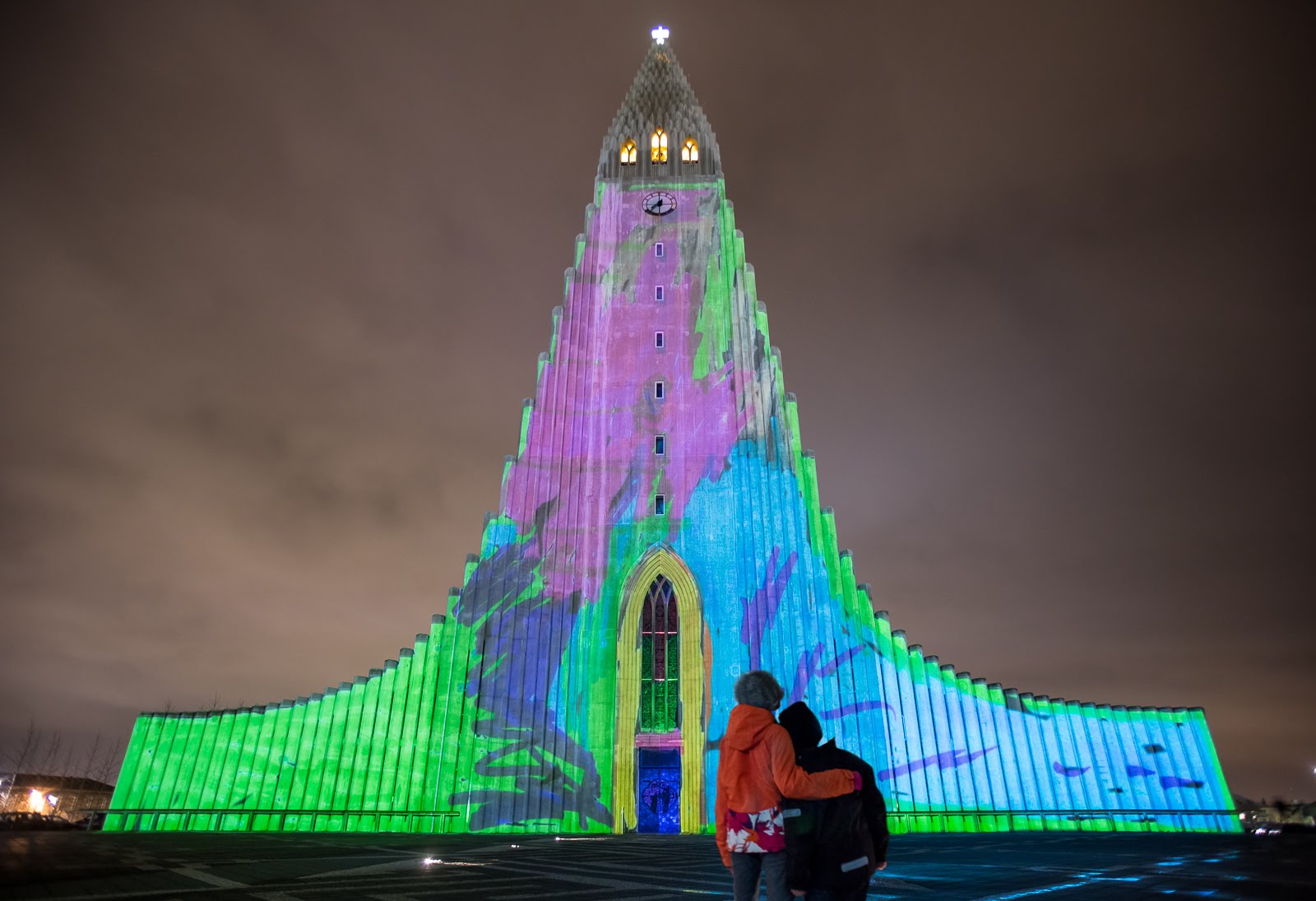 Source
MARCH
Food and Fun
When: First weekend in March
If you are a foodie, this is definitely the festival for you! Featuring world renowned chefs along with Reykjavik's best restaurants, these chefs compete to create a three-course meal using only Icelandic ingredients. It's like Top Chef – Iceland style!
At the end of the week, you can sample these creations at an event in the Harpa. Count me in, this sounds delicious!
DesignMarch
When: Last weekend in March
DesignMarch festival has a little bit of everything. Fashion, furniture, architecture, and food, the festival showcases the best of the local talent, as well as international names.
Events happen all over the city – this is such a fun way to get inspired to create!
APRIL
Aldrei Fór Ég Suður
When: Over Easter weekend
For those of you that want to be really ambitious and experience one of the most remote parts of Iceland, I invite you to a music festival in the Westfjords. Aldrei Fór Ég Suður translates to "I Never Went South" meaning they never left the Westfjords to move to Reykjavik. Featuring local talent, this is a weekend full of singing, dancing, and fun!
Read more: A Weekend in the Breathtaking Westfjords
MAY
Reykjavik Arts Festival
When: Mid May – Beginning of June
This unique festival is a must for art lovers alike.
Artists from all over the world come to perform contemporary and classical works in unconventional places throughout the city.
For example, last year the hype was a group of acrobats dancing on the side of a hotel building! Terrifying, but mesmerizing!
JUNE
Secret Solstice
When: Mid June
Secret Solstice is one of the biggest festivals in Iceland. Featuring big names and drawing massive crowds, this party in a field under the midnight sun is the event of the summer.
Even foreigners fly over just for this festival! The lineups are listed well in advance, and music is going on all weekend across multiple stages.
Last year we got to see Of Monsters and Men perform here, and it was incredible!
Fair warning: lots of young people drinking excessive amounts of cheap beer! And remember, this is the longest day of the year, so the sun doesn't set!
Iceland's National Day
When: June 17
National day celebrates Iceland's independence from Danish rule in 1944.
This day is filled with parades and fun festivities in all towns throughout Iceland. Energy is high and everyone is in good spirits – a fun day for everyone.
Also a great time for the kids, as the Icelandic Circus makes appearances all over town with characters, workshops and circus shows!
Wow Cyclathon
When: End of June
The Wow cyclathon is a relay bike race where team members take turns cycling around the Ring Road in less than 72 hours.
I put this one on here because last year we ran into massive issues traveling around Iceland during this event! Since the route is literally around the entire Ring Road, expect driving delays. The good news is you can check the live feed of their location to plan your travel.
JULY
Laugavegur Ultra Marathon
When: Mid July
You might have heard of the Laugavegur trek – one of the most popular hiking routes in Iceland. This 55km route usually takes hikers multiple days of backpacking and camping.
The Ultra Marathon, however, is done in an afternoon!
The multi-terrain course takes you through grass, sand, gravel, snow, and even streams! So this race definitely isn't for the faint of heart! But the good news is you get to see some of the most breathtaking scenery in the entire country!
Any race that goes through painted mountains, geothermal areas and glacial streams sounds awesome to me. If I was a runner I would do this in a heartbeat!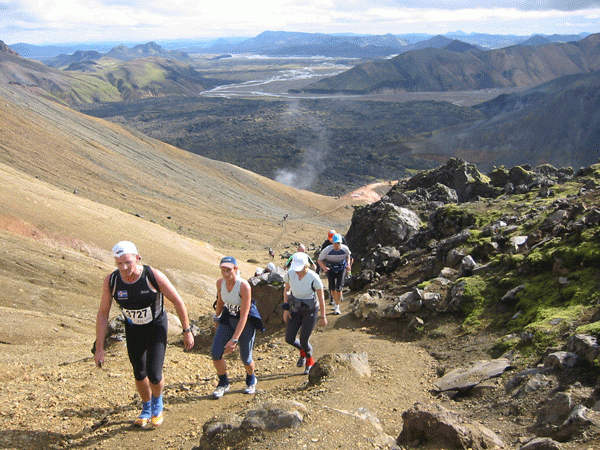 Source
Lunga
When: Mid-July
For those of you venturing in to the Eastfjords, Luga takes place in the adorable village of Seyðisfjörður.
This festival combines art and music – concerts, exhibits and events all happening around the town. The youth first started this festival but with only 20 participants the first year, has now become sold out in the past few years! If you are interested in this event, I would recommend securing your accommodation in advance!
This is one of my favorite towns in Iceland, incredible scenery in the fjords, I can imagine this festival being so fun to attend!
Bræðslan
When: End of July
Similar to Lunga, Bræðslan is a festival in a small village in the East. Held in an old herring factory, Bræðslan is known for folk, country, and indie-rock music. Tickets also sell out far in advance, but there are off-venue concerts happening throughout the town.
Suit for both locals and tourists, this sounds like a cozy weekend of fun! The Eastfjords are known for gorgeous scenery, I highly recommend this region of Iceland!
AUGUST
Þjóhátíð
When: First weekend in August
If listening to never ending outdoor concerts, hanging out in wool sweaters, drinking lots of beer, and camping on an Icelandic island sounds like fun to you, then mark this festival on your calendar!
For Icelanders, this is easily the most anticipated event of the year. Þjóhátíð takes place in the picturesque Westman Islands – an archipelago off the South coast of Iceland. During this time, the population on the tiny island quadruples. Because of the popularity of the event, ferry tickets and accommodation books out well in advance.
NOTE:
If you are traveling to Iceland around this time, do NOT plan on a trip to the Westman Islands (unless of course you ARE going for the festival!). Accommodation books up months in advance, and the mission of the entire island is partying.
Traffic in South Iceland on the Friday before the weekend will be out of control! Expect delays for traveling this way.
Gay Pride
When: Mid-August
Iceland is one of the most progressive countries in the world for LGBT rights, so it is only natural that a large celebration ensues for Gay Pride.
Reykjavik goes crazy during this time – a massive parade, glitter unicorns the size of cars, and rainbows painted everywhere! Thousands of people gather in the city center to show support for the gay community.
Just know that if you are in the city during this time, prepare for lots of fun and celebration!
Menningarnótt
When: Third weekend in August
Menningarnótt translates to "culture night" which is a festival to mark the end of summer.
Performances are held all around the city including music, art, and fun activities. People will even open their homes to the public to serve coffee and cakes. This is a fun time to just wander around the city and stop at anything that catches your eye.
In true Icelandic fashion, a big fireworks display is lit off at the end of the night!
Fireworks at Jökulsárlón
When: Mid-August
Umm helloooo need I say more?! Jökulsárlón Glacier Lagoon is one of the most unique attractions in Iceland, and also one of my favorite places. Add fireworks to this beauty?! I'm sold.
Note: While the Glacier Lagoon is typically free of charge, there is an entrance fee of 1000 ISK/$8 USD and free for ages 12 and younger. All proceeds go to the Hornafjorður Search and Rescue Team.
Read more: Jökulsárlón Glacier Lagoon – A Must See in South Iceland
NOVEMBER
Iceland Airwaves
When: First week in November
This week-long is becoming increasingly popular and is a must for music lovers. Between local and international musicians, there is something for everyone to listen to!
Rolling Stone magazine calling it "The hippest long weekend on the annual music-festival calendar."
Concert venues are set up throughout the city including shops, cafes, and of course Harpa. Tickets are required for admission, but there are also plenty of free off-venue performances. Nothing like live music while you're shopping on Laugavegur!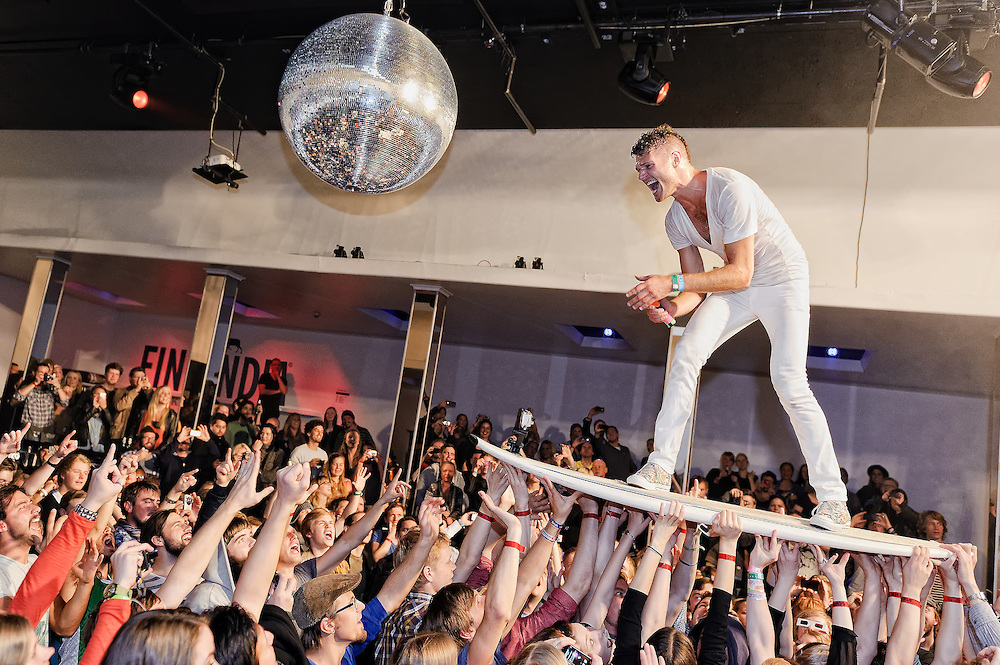 Source
DECEMBER
Christmas
Christmas is a magical time in Iceland. With the lack of Halloween and Thanksgiving, the focus is on Christmas months in advance. The city has lights up all over, there's markets and events going on everywhere, ice skating in the square, and free concerts at Harpa. It's just a cozy and festive time!
Read more: Christmas in Reykjavik
New Year's Eve
New Year's Eve in Reykjavik is a MUST to be experienced in your lifetime! I couldn't believe how magical this holiday was in Reykjavik! The whole entire city goes mad lighting off fireworks literally EVERYWHERE! Since it's not regulated by the government, anyone can light off fireworks. So I'm talking in the streets, off balconies, in backyards, you name it! This place is magical on NYE – add it to your bucket list!
Read more: New Year's Eve in Reykjavik
---
Question: Have you attended any of these festivals in Iceland? Want to add any of them to your travel itinerary?

Pin it for later!