Imagine yourself, after a long week of work, heading out of the city and retreating to a cabin in the middle of the mountains. Nothing to do but relax, be with family or friends, and enjoy the Icelandic wilderness. This, my friend, is the summerhouse.
Sounds like a perfect weekend escape, right?!
IT IS.
A summerhouse is the Midwest equivalent of a cabin. Sumarbústaðir or summerhouse translates to "summer dwelling." Contrary to the name, it's not only used in the summer. Icelanders visit their summerhouses year round.
And this weekend I was able to experience these summerhouses I had always been hearing about.
Before I get too far into this post I'm going to tell you a really sad story so that you don't have to find a way to tell me "uh Jeannie, your photos are looking awful."
This weekend my exploring partner (aka my husband) was out of town. My adventuring spirit wasn't about to just sit around…there's too much to see! So I grabbed my camera and the tripod and headed out. I was meeting up with a friend, but I knew there would be some good photo ops along the way.
Stop number one was absolutely beautiful, so I set up the tripod to get some great shots.
Now this is Iceland and I was in the middle of a large lava field, so I should have known better. But all of a sudden, a HUGE gust of wind came and blew the tripod over – the camera took a nose dive right onto the lens. Cue the pit in my stomach as I picked up the camera to see if I just got myself into a very expensive blonde moment. Camera still functioning, lens destroyed. Cue the crying.
I was determined to not let it get me down. Learn from my blonde mistakes and move on. Good thing the iPhone has a decent camera as a backup! Bad thing is now I have to wait a month to get a replacement lens.
So naturally I stopped for ice cream…which is basically the cure for a broken lens/anything ever. Not to mention this view wasn't a bad way to enjoy a delicious dark chocolate dipped cone.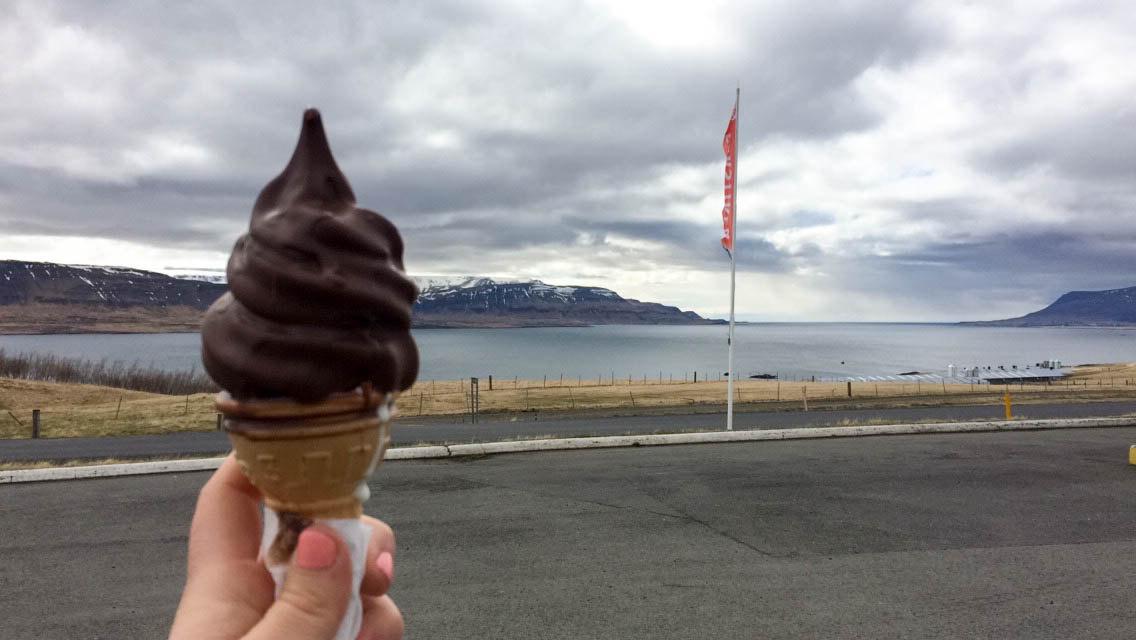 As I'm driving to my destination, I'm checking out my surroundings and taking in all of the beautiful nature that Iceland has to offer. The sea on my left, driving past waterfalls on my right, mountains straight ahead. No wonder Icelanders are always looking forward to heading to their summerhouses for the weekends, this is the place to be!
When you pull into the summerhouse area, you know you are in the right place because there's a BUNCH of adorable houses with bright colored roofs nestled into the base of the mountain.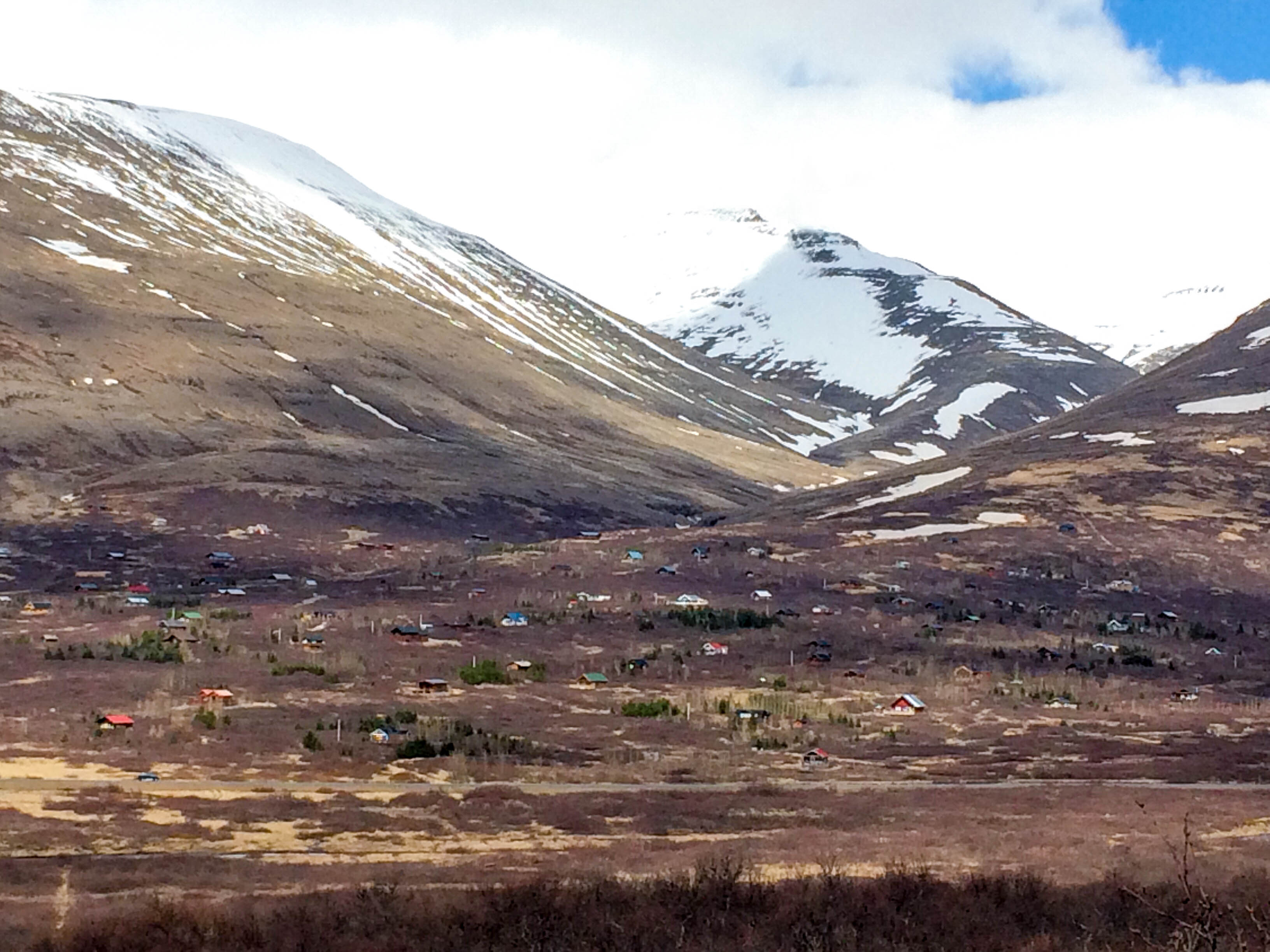 As I pull in the driveway, I literally shout with excitement. WHAT?! This is where we are hanging out?! This is like something straight out of a movie. I am not leaving.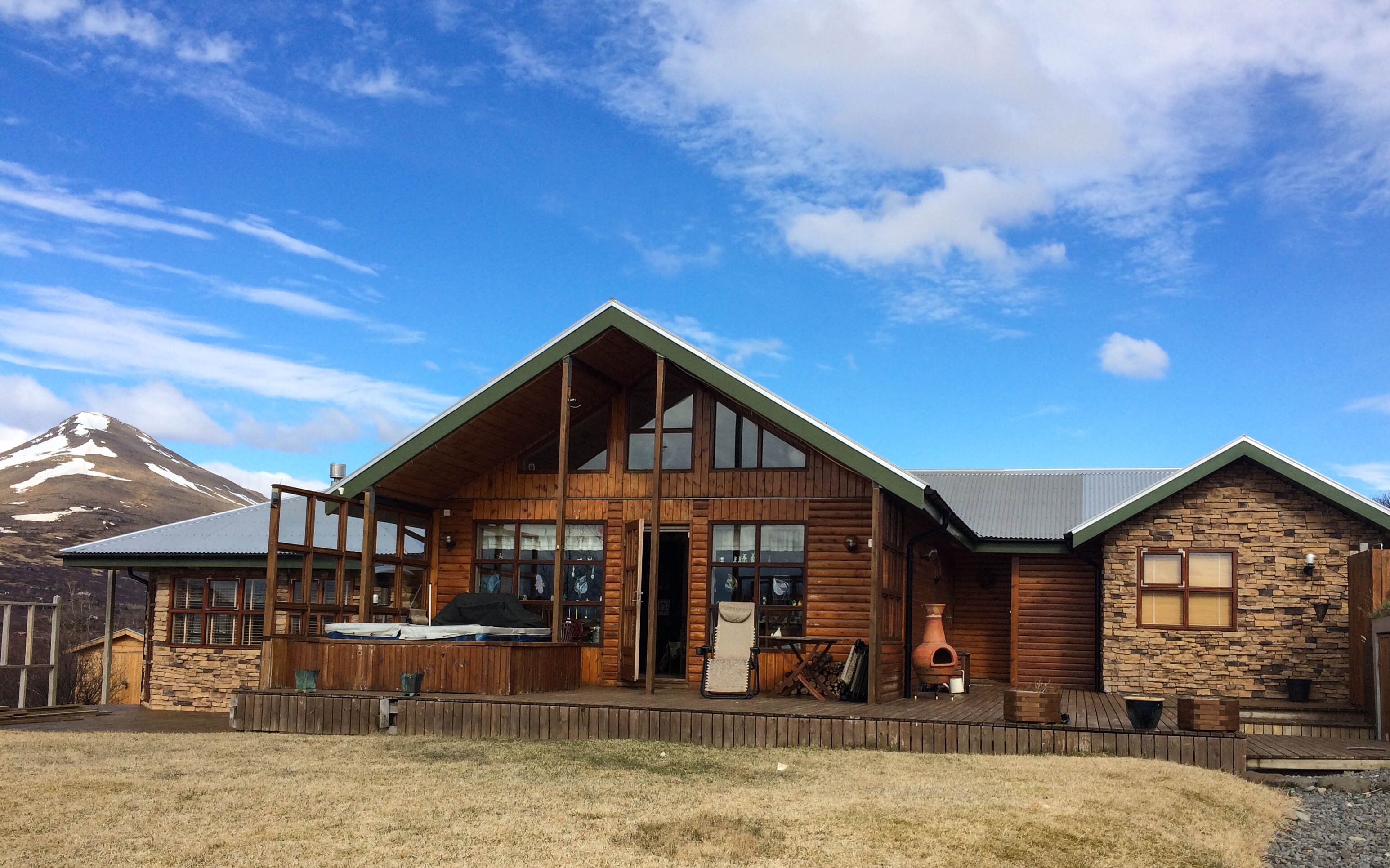 As I get the tour around the place, I notice a hot tub with a view straight to the mountains, a front porch with anti-gravity chairs, and a fireplace. Oh ok, don't mind me, I'll be right here.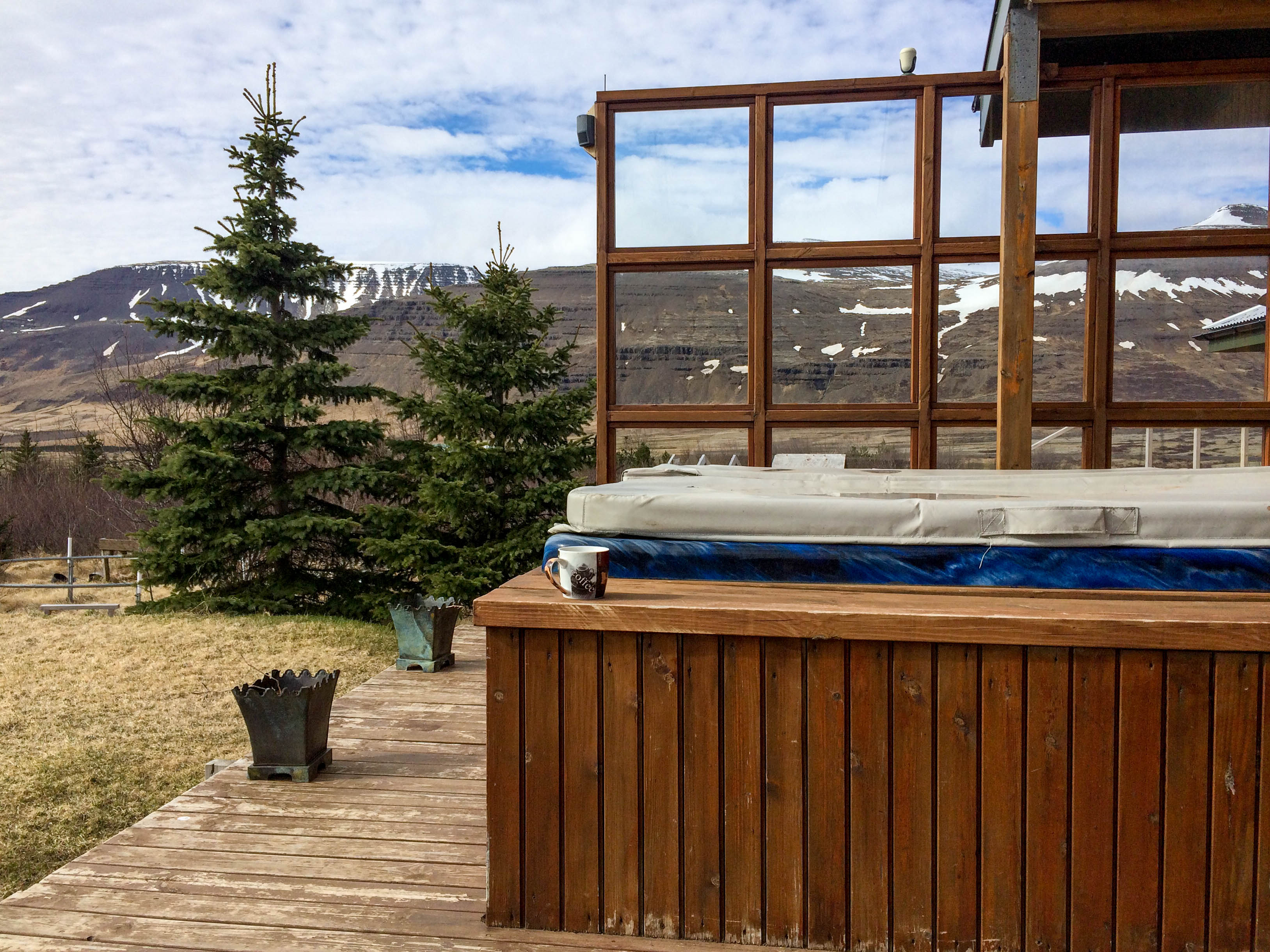 I guess the next question is how can I buy one of these places?! I would be there every single weekend.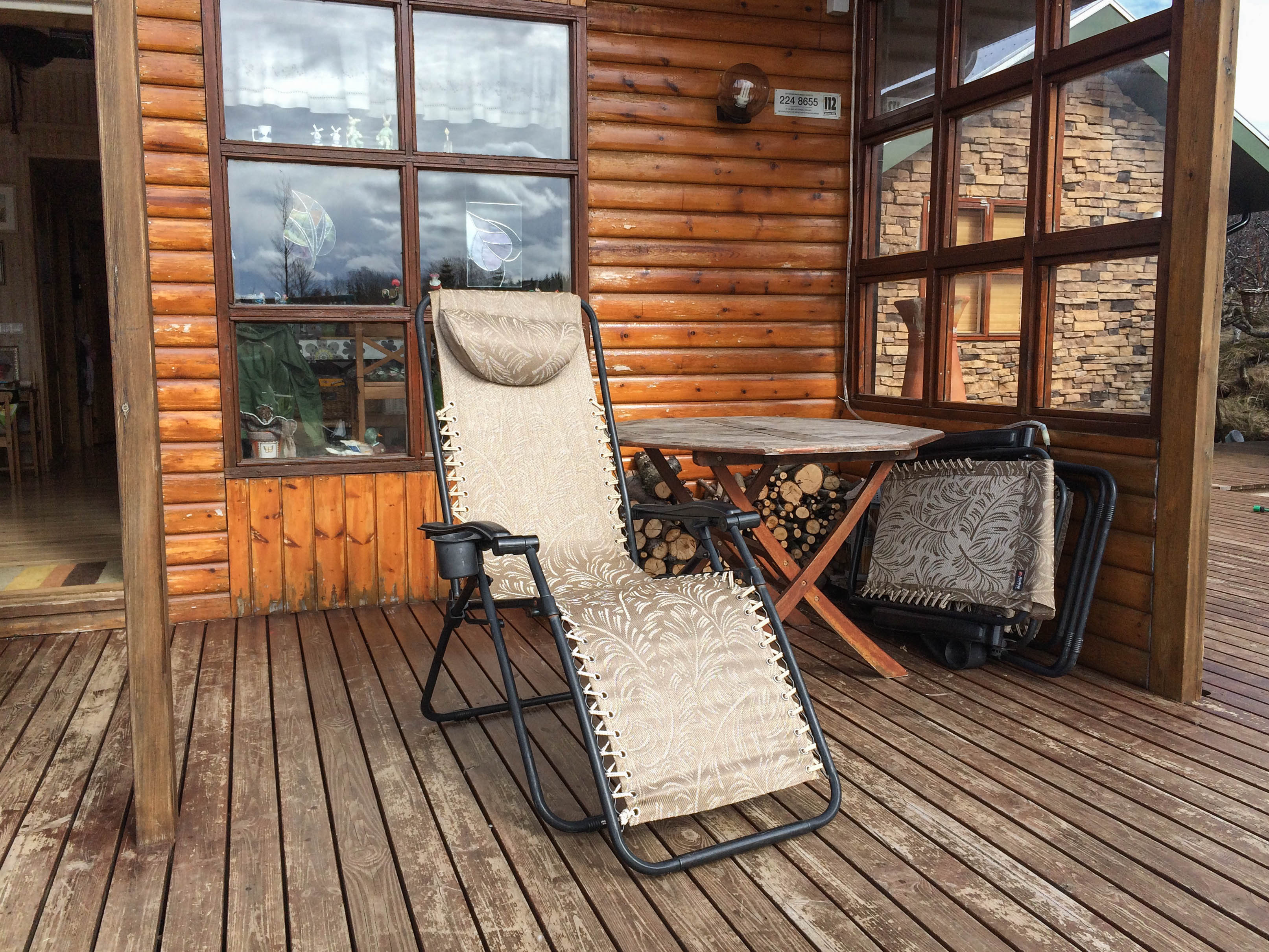 In Iceland the growing season is extremely short, so greenhouses are very common. Here they have planted apples, plums, herbs, and strawberries! Love it.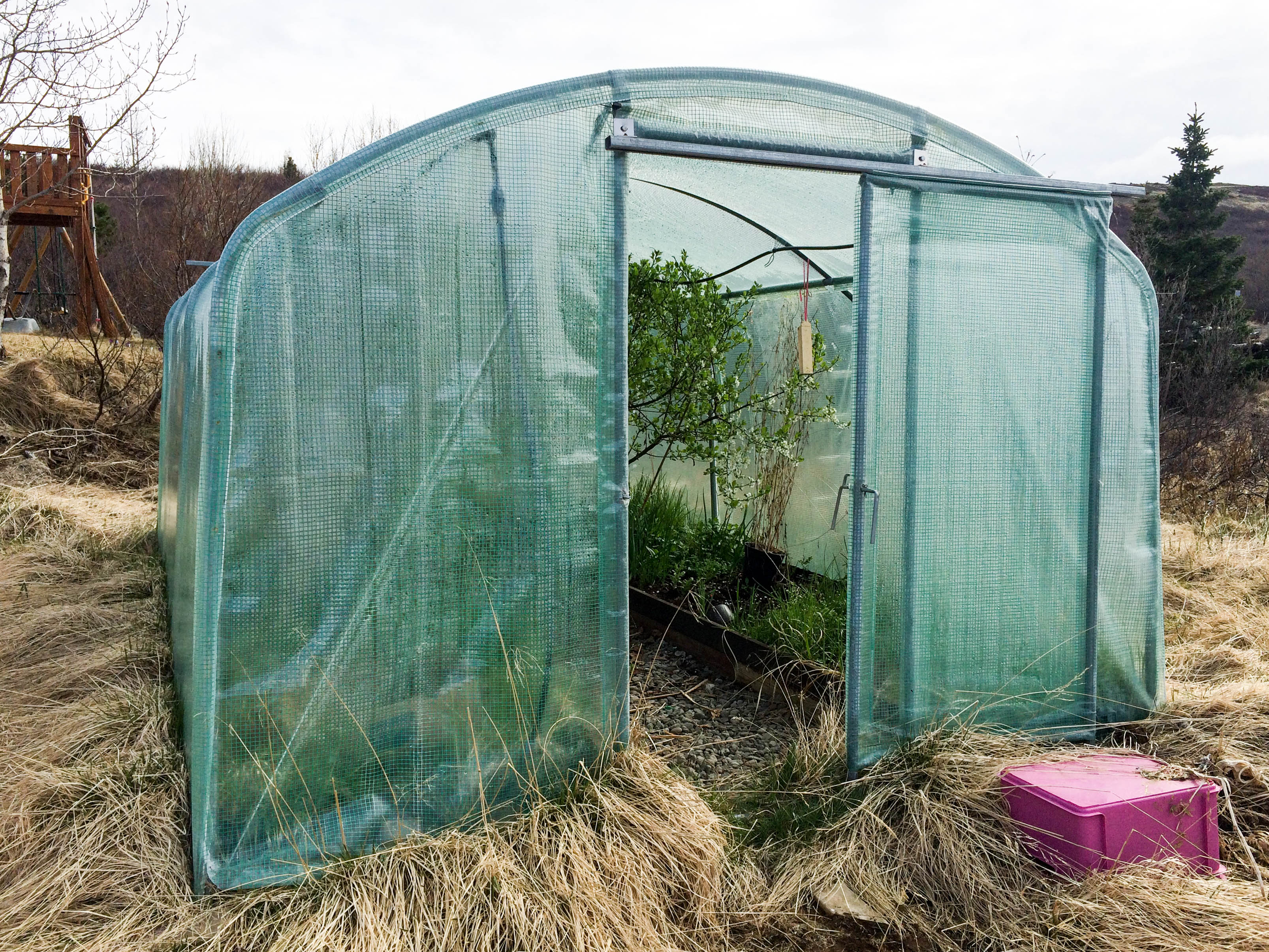 You know it's getting warmer in the Arctic when flowers start sprouting out of the ground. And the grass is starting to turn green! Hooray, spring!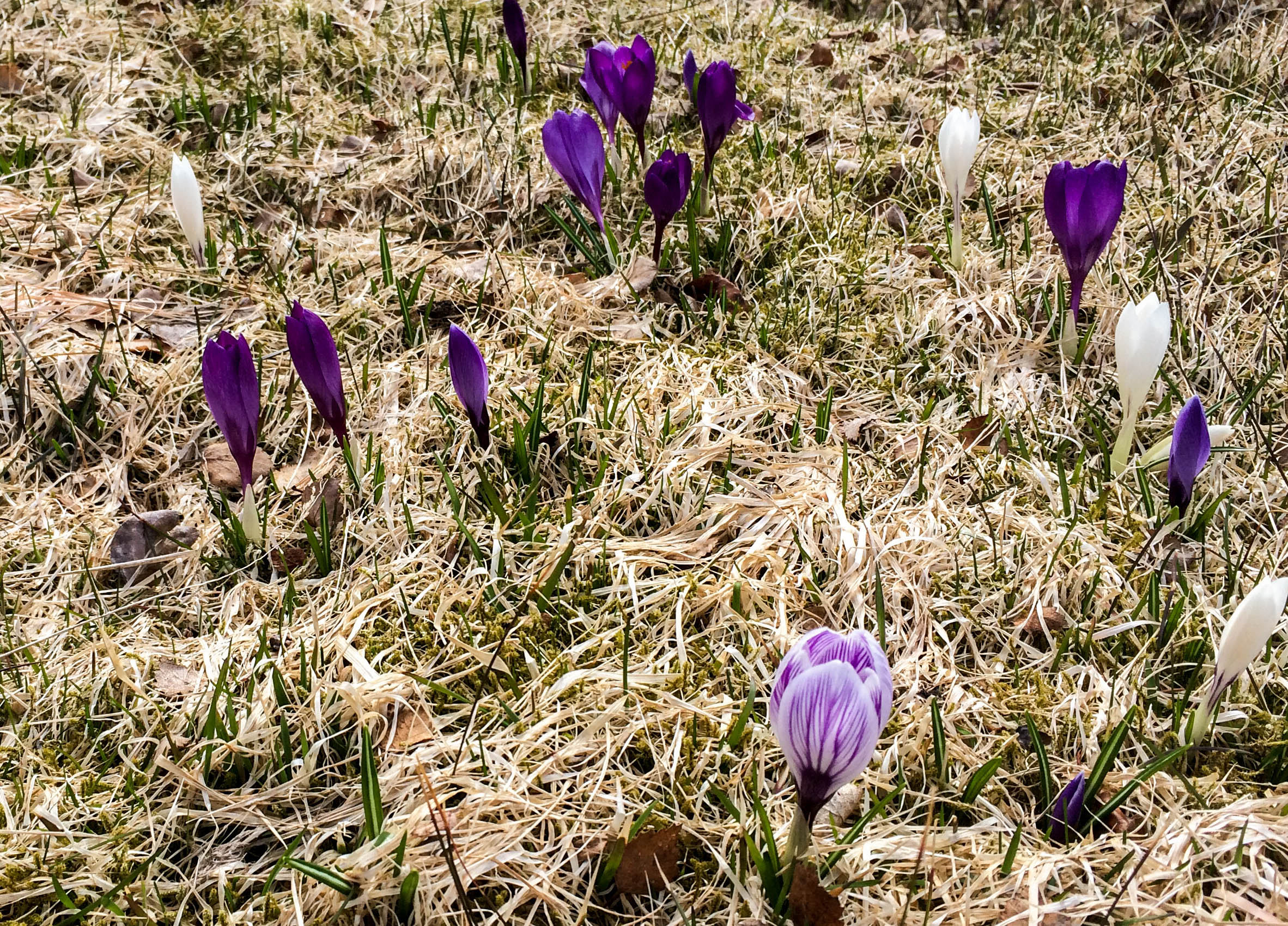 Some things that you can expect out of a weekend at a summer house:
complete relaxation
laughing with and enjoying the company of your family or good friends
soaking in the hot tub
eating and drinking
reading a book
having a fire
casual walks or hikes around the area discovering beautiful things
amazing views
Sounds incredible, I know. This is what a few hours of my weekend looked like: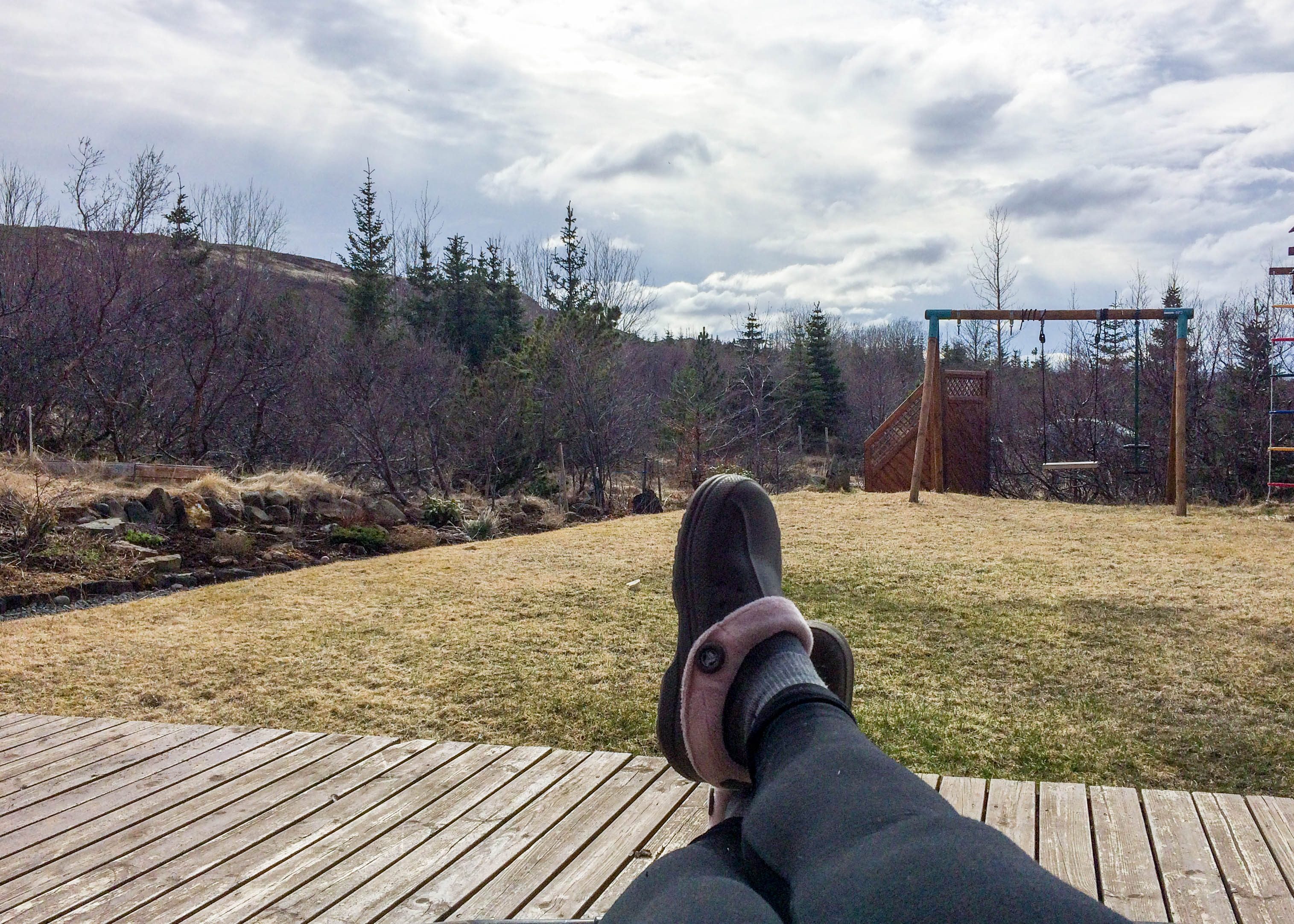 Even though the weather was chilly, there was NO wind, which makes it a perfect day in Iceland! It was a great day to be outside, the crisp mountain air was so refreshing.
After a delicious meal and some lounging time, we decide to take an evening stroll. Can we take a minute to look closely at the dog?! He's taking a walk in the fresh mountain air, tail bouncing in the wind. He is so happy.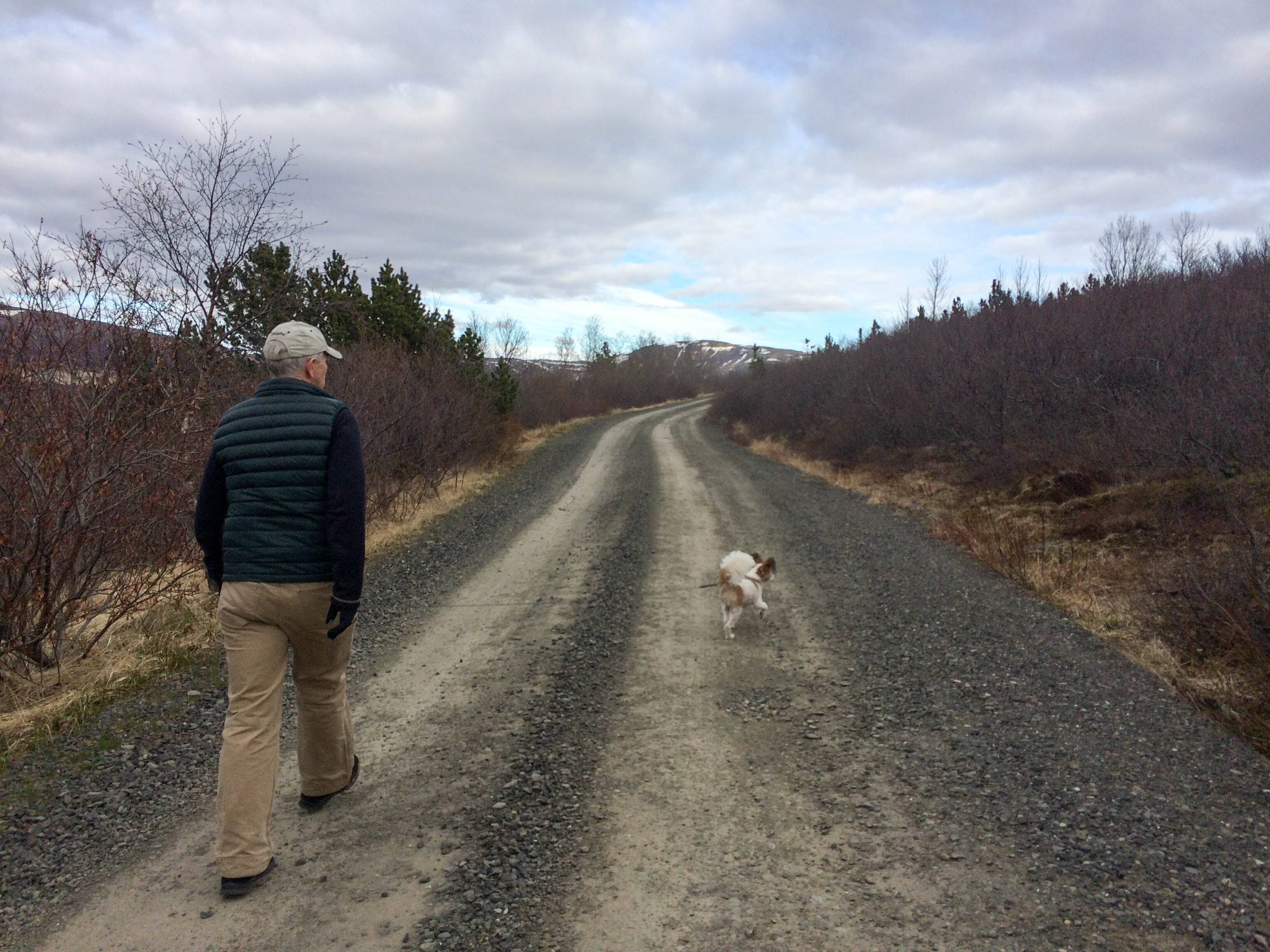 Doesn't every walk take you through a mossy lava field?! With the mountains surrounding us, I was in landscape heaven.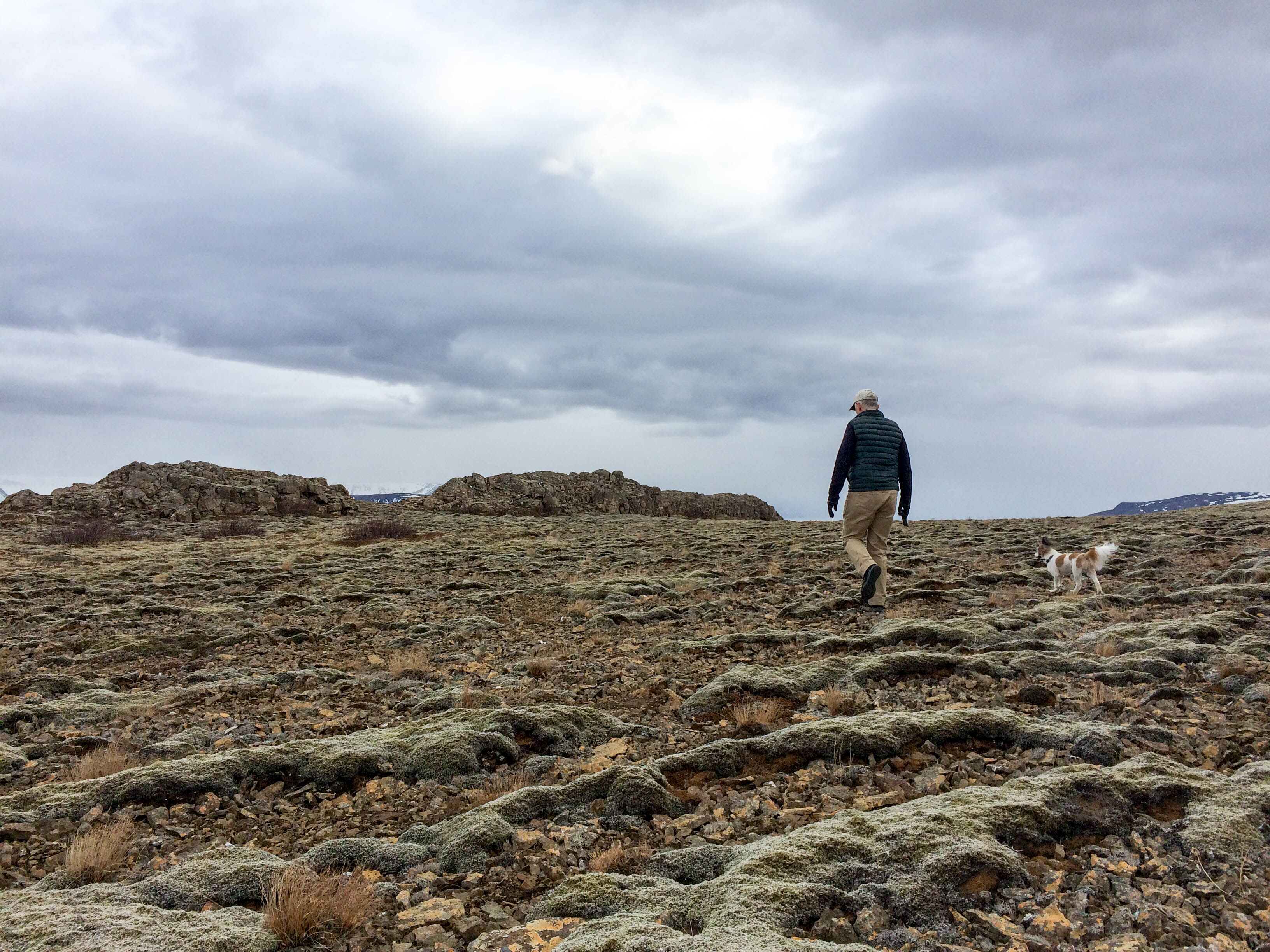 Of course no Iceland adventure would be complete without a waterfall or two! They may be small, but they are still beautiful. Anytime there are mountains and water, I am one happy girl!
Basically, Icelanders are doing it right. Relaxing weekends enjoying nature with family. What could be better? This weekend was the best.
Like the idea of the summerhouse and want to book one of your own? You can! A lot of places are family owned, but some people rent out their properties to guests. Check this website for summerhouse listings and availability. Rentals offered throughout Iceland.
---
Question:  What's your idea of a perfect weekend?

Pin it for later!