December is the best month of all, and Christmas is the best holiday of all! I absolutely LOVE this time of year – spirits are high, lights are bright, and holiday tunes are on repeat…what's not to love?!
Planning a trip during Christmas is definitely important to have things to do. Reykjavik is such a festive place to be for the holiday, so if you are headed this way then you are in for a treat!
Read on for some of the Icelandic traditions as well as the best things to do during the Christmas season in Reykjavik.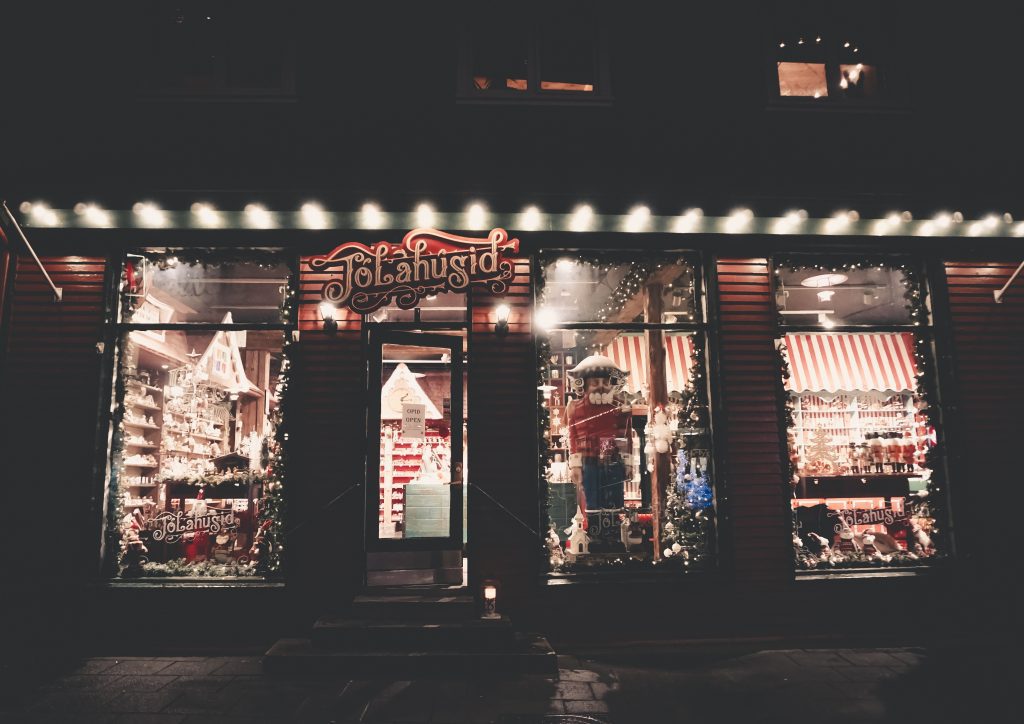 Pre-Christmas Festivities
Christmas is definitely the biggest holiday of the year in Iceland. It is common to start preparing at least a month in advance – I think I saw Christmas decorations at IKEA at the end of September! Since there is no Halloween or Thanksgiving, this is the norm and totally fine with me!
Preparations for Christmas include a lot of things:
Baking LOTS of cookies, finding the perfect holiday outfit and shopping for everyone's gift
Christmas lights EVERYWHERE! This really helps to brighten up the dark days, and I love how festive everything becomes.
Jólabókafloð (The Christmas Book Flood) – Stacks of new books will be lined up on tables everywhere – at the bookstores, department stores, even at the grocery stores! During this time, newly published books are released to the public, and books are one of the most common Christmas gifts.
Yule lads – Instead of the big fat man with a red suit and white beard, Iceland has 13 Santa Clauses. You can read all about the story of the Yule Lads!

You will see hologram projections of these Yule Lads all around downtown Reykjavik!
FOOD:

Hangikjöt + Laufabrauð

this is a traditional food of smoked lamb (hangikjöt) and a thin crisp bread (laufabrauð) that is eaten during Christmas. You can find them at grocery stores or at Christmas buffets (see below).

Malt & Appelsín

malted orange flavored drinks that you can find in the grocery store.

Apples & clementines

since fruit can't be grown in Iceland it used to be that these were only sent to the island during Christmas. While we can now get fruit year-round, clementines and apples are still very popular during Christmas.

Christmas buffets (Jólahlaðborð)

When I think of a traditional buffet I think of old soggy food that's made with poor quality ingredients. Christmas buffets in Iceland are WAY different – reindeer meatballs, raw whale, smoked salmon, lamb. The list of delicious food goes on and on! While these buffets are popular during Christmas, they are also very popular with the locals, so a reservation well in advance is required. If you are able to experience a Christmas buffet in Iceland, you are in for an amazing meal!
For a list of restaurants that host a Christmas Buffet click here.
WATCH: Christmas Buffet | Iceland Holiday Traditions

Important Dates
December 21
Winter Solstice – the darkest day of the year 
In Reykjavik, we get 4 hours of daylight, but some places in the North only see 2-3 hours!
Despite the short hours, this doesn't stop anyone from being out and about, and the soft light is absolutely beautiful this time of year!
December 23
This day is known as Þorláksmessa (Þórláks feast)

Fermented skate is the traditional dish to eat on this day, however, it is extremely pungent – you have been warned!

It is also the biggest shopping day of the year, and you will find many people out and about getting their last-minute gifts.
That evening around 6 pm the Peace walk takes place on Laugavegur – a time for friends and family to come together and stroll down the main street, saying hello to everyone they know. So adorable, right?!

December 24
Icelanders celebrate Christmas on this day. Immediate family will be together for dinner and gift opening.
Growing up my family always celebrated on the 24th as well, but people were always confused about why. I think this more of a Scandinavian thing to do – or I was an Icelander in a previous life!
December 25
Christmas day, Icelanders will travel to visit extended families. Most things will be closed on this day to observe the holiday.
December 24-27
A lot of things will either be closed or have limited hours from 24th-27th so just plan ahead!
What to do
Ice skating & Christmas market in Ingólfstorg Square
This is a fun atmosphere beautifully decorated with lots of lights and Christmas market next door!
$8 USD for skate rentals
Plastic seals for youngsters to push around who are learning to skate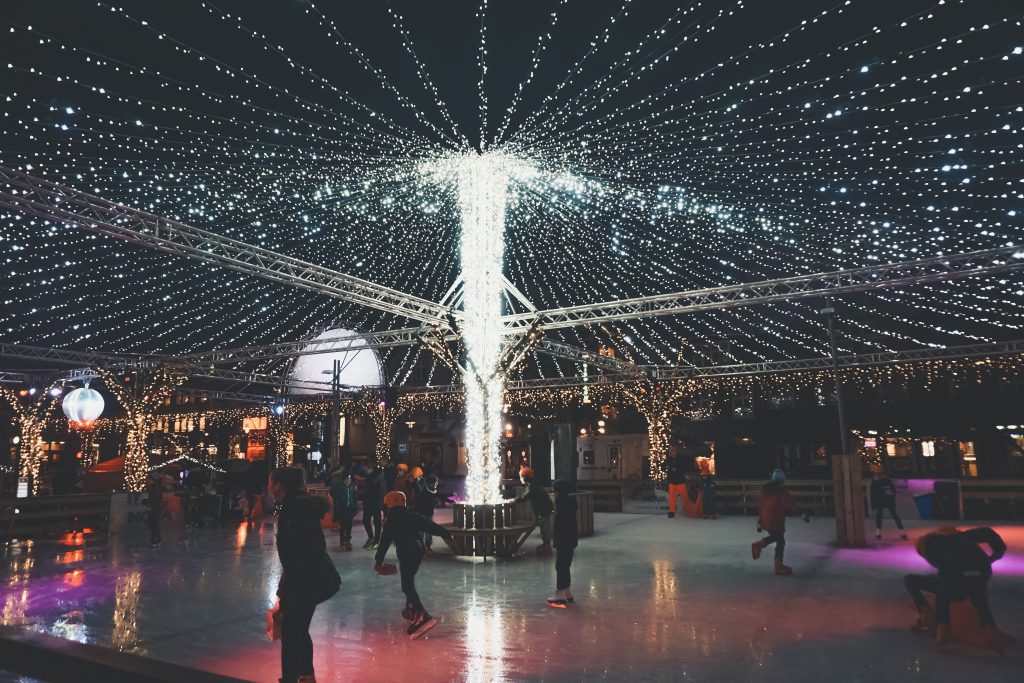 Laugardalur
Great place to take the kids! Here you will find a zoo, Christmas lights, and a merry-go-round.
Afterward, take a dip in the Laugardalslaug geothermal pool!
Botanic Garden
Right next door to Laugardalur, the botanic garden is a beautiful outdoor space with lots of trees. It will be decorated with lights.
Flóran Café is located here and open every weekend during 26 November – 18 December between 11:00-17:00
Harpa Concert Hall
Harpa is a place in Reykjavik that I recommend everyone visit anyway. During Christmas this glass building is decked out with decorations, lights, and trees, making it even cozier!
You can walk freely through Harpa, so just go on in, walk around, and listen to the music!
Christmas Concerts will be going on at Harpa every Saturday leading up to Christmas. All events are free!
Walk around Reykjavik
Laugavegur, the main street downtown, is always a great place to be, but this time of year there are lights strung around every tree, building, and light post.  
While you're there, be on the lookout for the yule lads – they will be projected on all the buildings!
Shopping on Laugavegur – The shops along this street range from gift shops to Icelandic design stores, thrift shops and art galleries, so you can be sure to find the perfect gift for whoever you are shopping for.

Yule Cat – this cat is part of the Yule Lad folklore and can be seen downtown at Lækjartorg. The 5-foot structure has over 6,000 LED lights!

Oslo Christmas Tree – Christmas doesn't officially start until the Christmas tree has been lit in Austurvöllur Square. The Oslo Christmas tree is a tradition that started in 1951 when the city of Oslo sends Reykjavik a Christmas tree to signify strong relations between the two countries.

Skólavörðustígur– the famous rainbow street that leads up to Hallgrímskirkja church is extra festive with large Christmas bells hanging across the street. 
Send a letter to Santa
The Little Christmas Shop (Litla Jólabúðin) is an adorable place to go for any Christmas decor. Right outside their shop is a big red mailbox. Here you can send a letter to the Icelandic Santa Claus – FUN!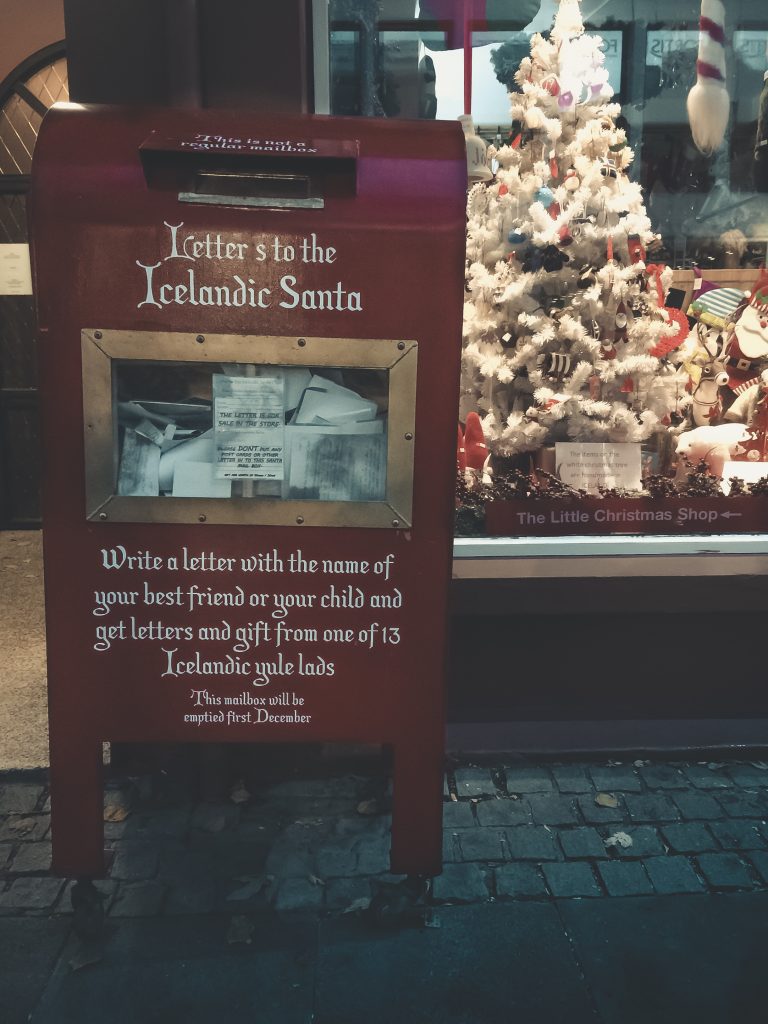 Árbær Open Air Museum
Árbær is a museum with old-time Icelandic homes, including turf houses!
Here you will find a Christmas program with songs, dancing, traditional foods, and the Yule Lads out and about.
Open Sundays:  4th, 11th and 18th of December from 13:00 – 17:00
Adults 2.000 ISK / $12 USD, free for children
Grab a coffee
If you need to warm up, head inside one of the many adorable coffee shops downtown. Teas, coffees, and treats to warm your body and your soul!
Christmas Markets around Reykjavik
Christmas Market in Hafnarfjordur 
Jólaþorpið in Hafnarfjörður is perfect way to get into the holiday spirit

Shop Icelandic design, enjoy coffee and cocoa, visit Santa and the Christmas Elves
Open every Saturday and Sunday from 13:00 – 18:00
**15-minute drive from downtown
 
Heidmork Christmas Village
Outdoor scene with live music, Christmas market, coffee/cocoa, and Christmas tree sales
Open weekends from 11:00 – 16:00
** 20-minute drive from downtown
Hjartatorgi
Nestled between the streets of Klapparstigur and Smiðjustígur in the heart of Reykjavik will be extra Christmassy filled with lights and tiny stalls set up 
There you will find a wide selection of vendors with small goods for sale, festive music playing, and various entertainment
I think Reykjavik is a magical place to be for Christmas. If you are joining us here in Iceland, I know you will have a wonderful time!
If you meet an Icelander while you're out enjoying the festivities, make sure to tell them Gleðileg Jól (Merry Christmas!)

Pin it for later!