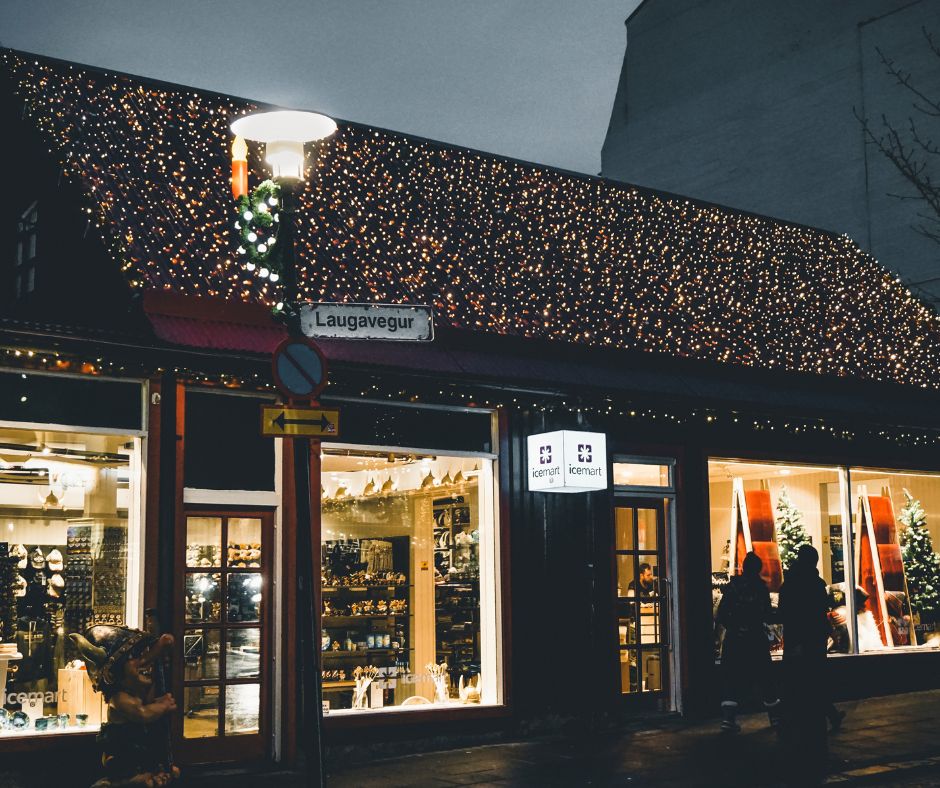 Christmas in Iceland is a big deal!
Spirits are high, the twinkling lights are out and holiday music is playing on repeat. Oh, and Iceland is covered in snow which makes it all the more festive and magical.
I absolutely LOVE this time of year!
If you're planning a trip here at this time, then you're in for a treat.
Pack your coziest sweater and Viking spirit. I'm taking you with me for an in-depth look at Christmas in Iceland from beloved traditions, markets, food, to the best things to do during the festive season.
Table of Contents
Icelandic Christmas Preparations
Christmas is the biggest holiday of the year in Iceland. Everyone gets a shiny new outfit and there are decorations inside and out. Here are a few ways that the locals gear up for the main event of the season:
Christmas lights: The darkness in December is broken up by the gorgeous Christmas lights brightening up the streets. Neighborhoods even coordinate themes for their displays!
Baking cookies: It's not the holidays without cookies, smákökur, to be exact. Families also get together to make Laufabrauð, a traditional flatbread.
Jólabókafloð (The Christmas Book Flood): In the lead-up to Christmas,newly published books are released to the public. In this Icelandic book tradition, locals get really excited for new books to hit the shelves and swap them as gifts.
Yule lads: Why settle for 1 Santa Claus when you can have 13? Intrigued? Stick around, I go a little more into this Icelandic Christmas tradition below.
Christmas outfit: If you prefer the traditional Christmas sweater, but haven't bought one yet, this is the perfect excuse. You may have seen lopapeysa, it's a traditional Icelandic wool sweater with beautiful designs. It looks festive and is super warm for the icy December weather – score!
Christmas Traditions in Iceland
From 13 mischievous Yule lads to fermented fish, Iceland's Christmas traditions are oftentimes quirky and as unique as the Northern Lights!
Yule Cat / Icelandic Christmas Cat
This tradition takes the lump of coal to a whole new level!
In the U.S., naughty children have to face not receiving gifts. But we're in Viking country, and here, the traditions are as extreme as the weather!
Iceland's Yule Cat truly is the stuff of nightmares!
Legend has it that a massive black cat emerges from his lair in the mountains on Christmas Eve, ready to feast on little children who don't have new clothes among their gifts under the tree.
If Iceland's Christmas Cat comes a-lurking, mom and dad, that's on you!
Icelandic Book Flood (Icelandic Book Tradition)
Iceland has a very strong reading culture. In WWll, paper wasn't rationed and it became popular to print and give books as gifts.
Bookstores, department stores, and even grocery stores will line up stacks of new books everywhere! This practice is known as Jólabókafloð (The Icelandic Christmas Book Flood).
Yule Lads (Iceland's Christmas Trolls)
The Yule Lads of Iceland are 13 troll brothers who live in the highlands and take turns visiting children the 13 days leading up to Christmas.
Each of them has unique personalities, quirks, and snacks they like.
Children will put a shoe out to receive a gift and if they've been bad, they'll get a potato – random, I know! 🙂
Parents, you'll need to think ahead to prep the gifts for this one.
If you want to find out more about these Iceland Christmas trolls I have a whole post about it here: Yule Lads of Iceland
Fermented Skate
Another Christmas tradition in Iceland is a family dinner showcasing fermented skate. I'm not gonna lie, it's pungent but the locals love it! This tradition takes place on the 23rd.
Icelandic Christmas Buffets
If the word buffet gives you horrible flashbacks of endless lines of soggy food that all looks a little grey, then I'm happy to announce that inIceland, everything is made with quality ingredients.
This is a holiday tradition that kicks off around mid-November because strangely, you can't really find buffets in Iceland throughout the rest of the year.
We really look forward to it, and it's yet another excuse to connect with family, friends, and co-workers over a delicious meal.
I can safely say that most Icelanders will attend at least one buffet during the season.
Here's a list of restaurants that host a Christmas Buffet for you.
Pro tip: If you plan on attending an Icelandic Christmas buffet, you'll have to make reservations well in advance.
Let's pack on those festive season pounds! Who's with me? 😂
Christmas Eve In Iceland
For Icelanders, Christmas officially starts on Christmas Eve on the 24th. Most families kick off their Christmas celebrations at 6 o' clock!
After a delicious dinner with family, it's time for presents, and – spoiler alert – you're probably getting a book.😉
The evening will be spent reading together and the social part of it is called Jólabókaflóð. This is one Icelandic Christmas Eve tradition I wish would catch on everywhere!
Families also attend a church service by candlelight to celebrate Jesus' birth.
Important Christmas Season Dates
Christmas in Iceland is busy, so here are a few important dates to mark on your calendar.
December 12th: The arrival of the first Yule Lad! There will be 12 more in the lead-up to Christmas.
December 21: This day marks the Winter Solstice. It's the darkest day of the year with some places only getting 2 hours of light.
December 23: You may not need to diarize this one, because you'll be reminded by it from the pungent aroma in the air! On this day, known as Þorláksmessa (Þórláks feast), fermented skate is eaten. This is also THE shopping day of the year – so stores will be busy.

That evening around 6 pm the Peace walk takes place on Laugavegur – a time for friends and family to come together and stroll down the main street, saying hello to everyone they know. So adorable, right?!
December 24: While the 24th of December is Christmas Eve for Americans, for Icelanders, it is Christmas Day. Their celebrations usually start at 6 p.m. It's marked by family dinners, gift exchanges, church, and festivities.
December 25: Christmas Day is very much a family day, so it's important to note that most places will be closed on this day.
December 24-27: A lot of places will be closed or have limited hours. Be sure to plan ahead and stock up on any supplies you may need.
Christmas Food in Iceland
Traditional foods are usually highlighted during the festive season and in Iceland, it's no different.
Hangikjöt + Laufabrauð: This is a traditional food of smoked lamb (hangikjöt) and a thin crisp bread (laufabrauð) that is eaten during Christmas. You can find them at grocery stores or at Christmas buffets.
Apples & clementines: Since fruit couldn't be grown in Iceland (the weather refused to play nice!) it used to be shipped in only for Christmas. While we can now get fruit year-round, clementines and apples are still very popular during Christmas.
Christmas buffet food (Jólahlaðborð): A great way to experience a culture is through their food and Icelandic Christmas food is out of this world!
I was lucky enough to experience such a buffet at the Viking Restaurant, I vlogged about it if you'd like to take a peak: Christmas Buffet | Iceland Holiday Traditions
You'll also get to sample different traditional dishes in one sitting. These could include reindeer meatballs, smoked salmon, lamb, and so much more.
Malt & Appelsín: These are malted orange-flavored drinks that you can find in the grocery store.
Christmas beers: 'tis the season, and what better way to get into the merry spirit of Christmas in Iceland than by sampling their local beers? The most popular brands are Tuborg, Víking, Jólagull. Check out the following videos to discover more: Icelandic Christmas Beers
Icelandic Christmas Cake
The dessert usually served during the holiday season is Jólakaka, or traditional Icelandic Christmas cake.
It's everything you'd expect to find in a cake: buttery, sweet and packed with flavor.
The recipe is pretty standard and spiced with cardamom, cinnamon and raisins. However, you'll come across regional variations, with some including layers of custard or jam – seriously yummy!
Locals typically serve it on Christmas Eve with coffee or cocoa.
Icelandic Christmas Dinner
Christmas dinner in Iceland is a family affair and features some of the traditional Icelandic dishes you'd expect like Lamb, ham, and ptarmigan (a local bird).
Laufabrauð, the traditional flatbread, is also served with smoked lamb on Christmas night.
Fun fact: The reason why the bread is flat is because they were trying to make it feed as many people as possible. For it to look nicer, they started carving pretty patterns into the bread.
The tools used to carve the patterns are specially made in North Iceland, and there are only a few people who know this craft, pretty cool!
Christmas Markets in Iceland / Reykjavík Christmas Markets
The Christmas markets in Reykjavík and the neighboring villages are absolutely worth checking out if you're in the area.
Christmas Market in Hafnarfjörður: Jólaþorpið (Christmas village) in Hafnarfjörður is the perfect way to get into the holiday spirit. It's a short drive from the capital and you can shop Icelandic designs, enjoy coffee and cocoa and visit Santa and his Elves.
Open every Saturday and Sunday for the 4 weekends leading up to Christmas from 13:00 – 18:00
Note: It's a 15-minute drive from downtown!
Heiðmörk Christmas Village: If you haven't bought a Christmas tree yet, you can pick one out at this outdoor market. You'll be able to enjoy live music and of course, you'll find coffee and cocoa.
Open weekends from 11:00 – 16:00
** 20-minute drive from downtown
Hjartatorgi: You can find this market in the heart of Reykjavik, between Klapparstigur and Smiðjustígur streets. It's extra Christmassy, with twinkling lights and stalls set up with a selection of goods for sale. Plus, there's entertainment and festive music playing. Christmas markets in Iceland are so much fun!
Things to do in Reykjavík During Christmas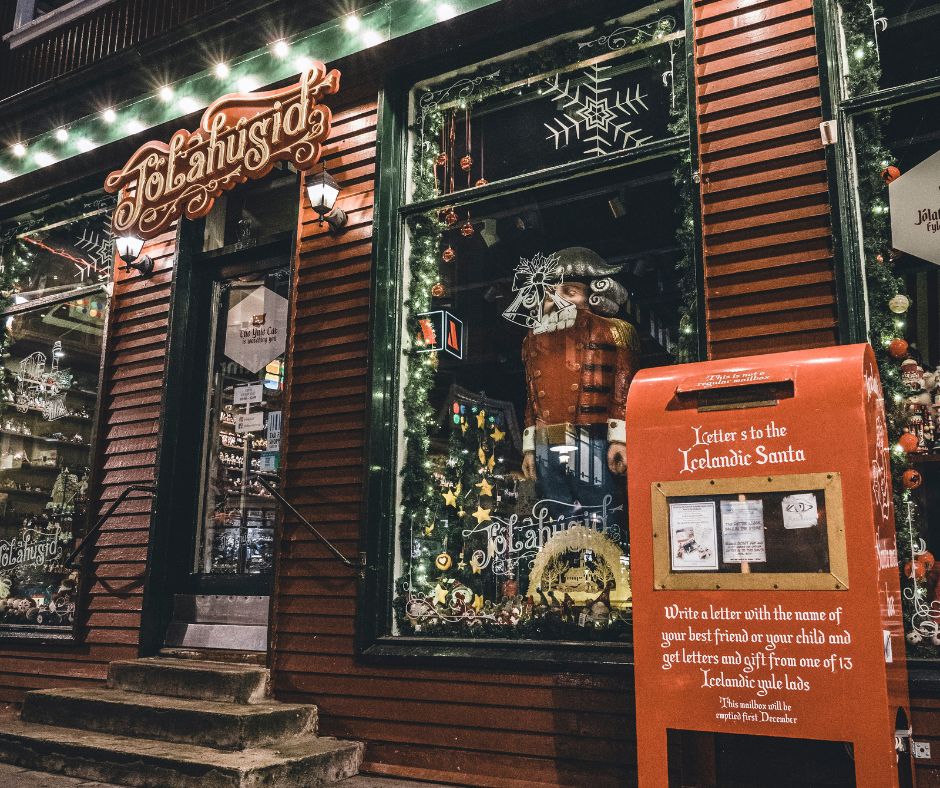 If you're spending Christmas in Iceland, there are a lot of fun things to experience around Reykjavík for the whole family.
Ice Skating and Christmas Markets
Every year Ingólfstorg Square in Reykjavík is transformed into a spectacular Christmas village with an ice skating rink.
I love that they have plastic seals for children who are learning to skate. The atmosphere is so much fun and it's beautifully decorated with lights everywhere. What's great is that there's a Christmas market right next door!
Pro Tip: You can rent a pair of skates for $8 USD
Laugardalur and Botanic Garden
Laugardalur has a zoo, Christmas lights, and a merry-go-round. All the trimmings to keep your kids happy.
Plus, the Botanic Garden is next to it. The garden is a beautiful outdoor space with lots of trees decorated with lights.
And when everyone's worn out, treat yourself to a dip in the Laugardalslaug geothermal pool!
Harpa Concert Hall
This should be on your to-do list any time of year but it's extra special during Christmas. They deck out the glass building with decorations, lights, and trees, making it even cozier.
There are concerts every Saturday leading up to Christmas and all the events are FREE!
Walk Around Reykjavík
If you're staying in Reykjavík, Christmas is everywhere you go. Immerse yourself in the festive spirit that fills the streets.
The Oslo Christmas tree Christmas in Iceland doesn't officially start until the Christmas tree has been lit in Austurvöllur Square. The Oslo Christmas tree is a tradition that started in 1951 when the city of Oslo in Norway sent Reykjavík a Christmas tree to signify strong relations between the two countries.
Laugavegur, the main downtown street, has lights strung around every tree, building, and light post. While you're there, be on the lookout for the Yule Lads – they will be projected on all the buildings!
The shops along this street range from gift shops to Icelandic design stores, thrift shops, and art galleries, so you can be sure to find the perfect gift for whoever you are shopping for.
Skólavörðustígur: During the festive season, this famous rainbow street looks extra festive with large Christmas bells hanging across the street. You'll buy unique handcrafted gifts along the street and don't forget to check out Hallgrímskirkja church at the top of the street.
Send a Letter to Santa
The Little Christmas Shop (Litla Jólabúðin) is an adorable place to go for any Christmas decor. Right outside their shop is a big red mailbox. Here you can send a letter to the Icelandic Santa Claus – the kids love this!
Árbær Open Air Museum
Árbær is a museum with old-time Icelandic homes, including turf houses! Here you will find a Christmas program with songs, dancing, traditional foods, and the Yule Lads out and about. I made a whole video about Árbær if you're curious!

* Open Sundays: 4th, 11th and 18th of December from 13:00 – 17:00
Adults 2.000 ISK / $12 USD, free for children
Grab a Coffee
Need warming up? Then head inside one of the many adorable coffee shops downtown. Teas, coffees, and treats to warm your body and your soul!
Here are my favorite cafés in Reykjavik.
➡️ If you're visiting the most magical place to experience Christmas (in my unbiased opinion, of course), then you need to check out my Travel Guides and Maps.

Discover insider tips on all the practical stuff no one tells you about, like where the grocery stores are or which hidden gems to explore.
The digital maps have over 500 pinned locations, it's a must if you plan on making the most of your trip!
Come and experience an Icelandic Christmas for yourself, I know you'll have a wonderful time!
Oh, and if you meet an Icelander while you're out enjoying the festivities, flash them your best smile and tell them Gleðileg Jól (Merry Christmas)!

Pin it for later! 👇🏾