You all asked for it – more information about Reykjavik – so here it is! One MASSIVE post about my favorite places, best eats and drinks, culture and history, and MORE!
Reykjavik is the Northernmost capital of the world and everyone's favorite city. The colorful wooden buildings, a lively arts scene, and a growing foodie culture, Reykjavik is full of gems. There's something for everyone in this wonderful city!
I've ranked each category below by 1st place, runner-up, and honorable mention.
*Pre-PS: there's a map at the end of this post to help you plan out your time in the city!*
This is a long one, you might want to get a nice beverage to keep you company!
Let's get to it! Happy Reykjavik exploring, friends!
Best View of the City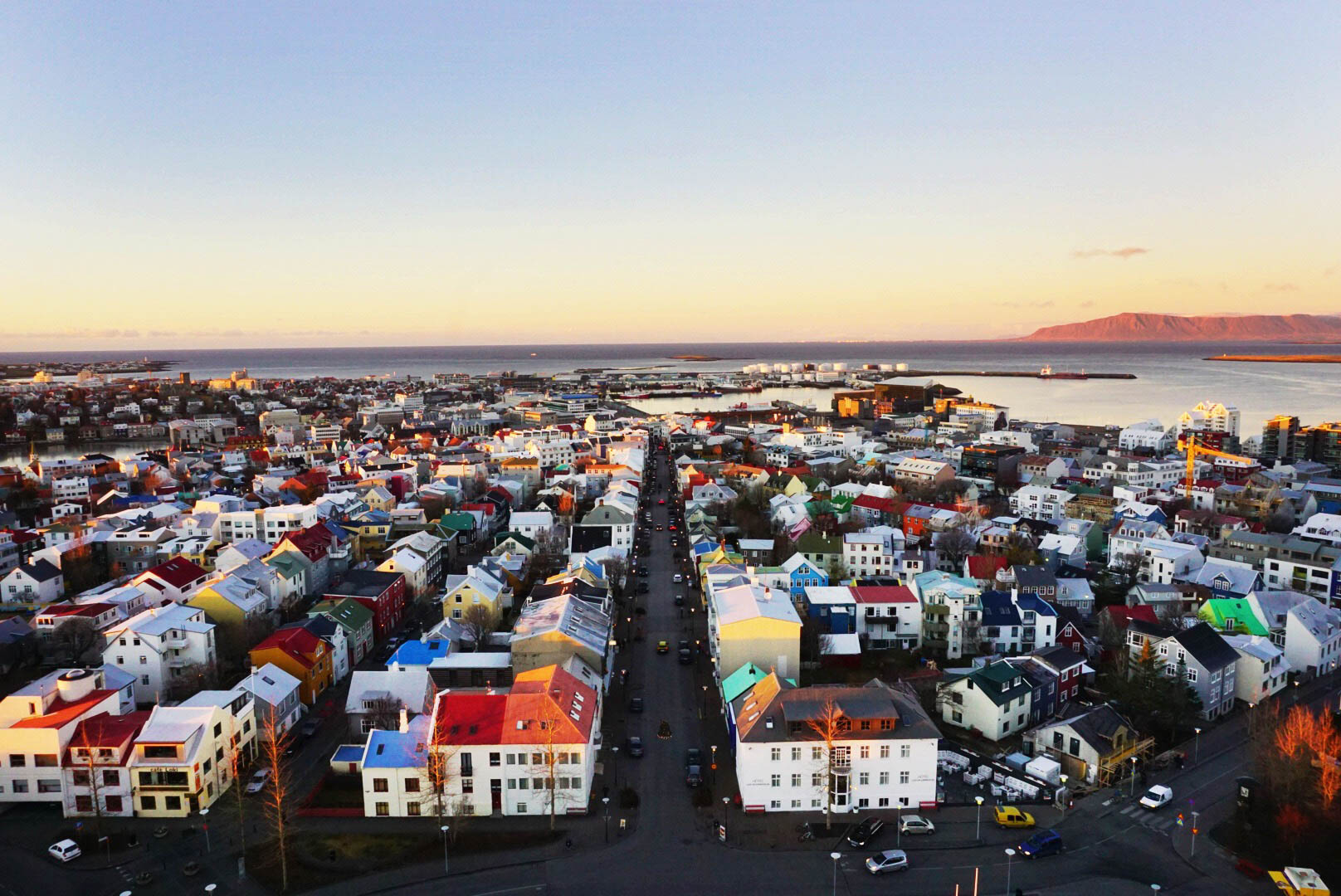 Hallgrimskirkja Tower
One of my favorite sights in the world is the view overlooking Reykjavik from Hallgrimskirkja. The multi-colored houses dotting the streets of the city, and a huge mountain range in the background, it's easy to see why this is the best view around!
Tower admission: 900 ISK ($7 USD)
Perlan
A close second is the view from the top of Perlan. While the aerial view is not as high, the colorful homes are just as stunning, and it's a better view of the city skyline.
*NOTE as of 2018 Perlan has opened up a beautiful exhibit called Wonders of Iceland – highly recommended.
Admission: 490 ISK or free with Wonders of Iceland exhibit!
Mt. Esja
This mountain is the iconic backdrop of the city. The hike will take you about an hour, and it's worth every minute for views over the city and sea!
Best Coffee Shop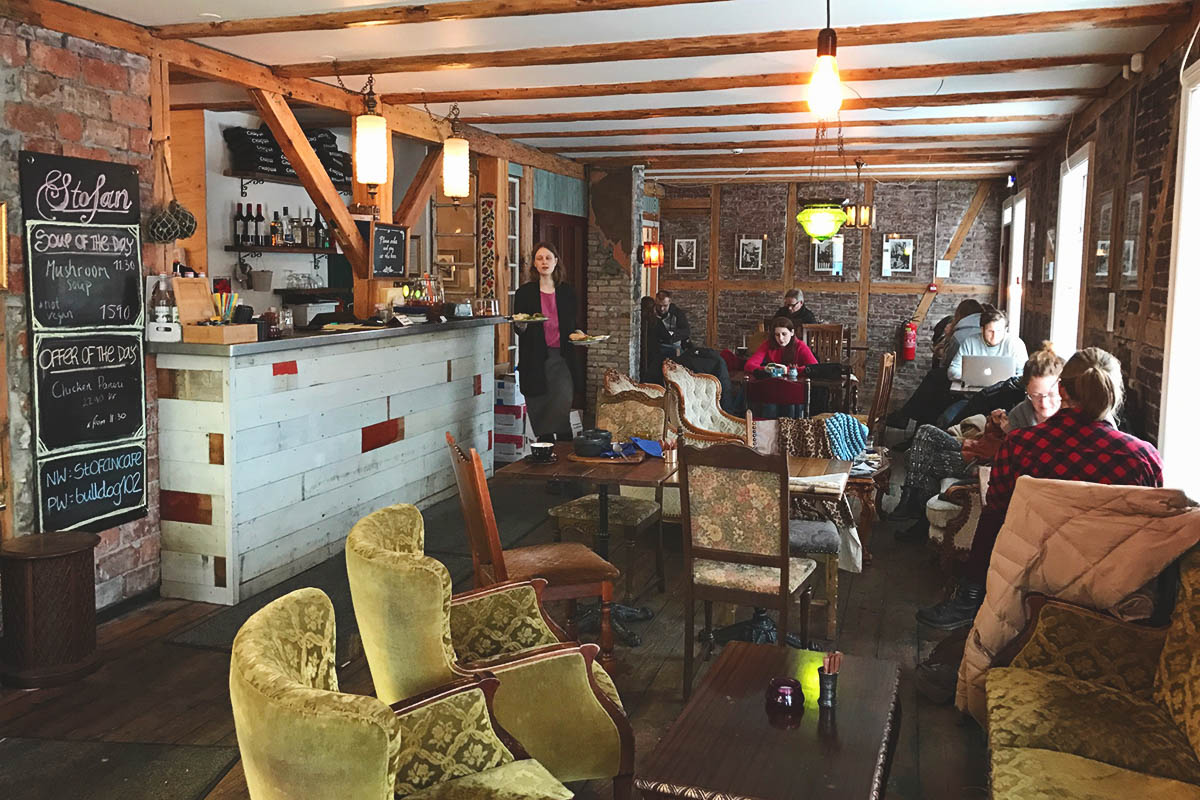 source
Stófan
This is where you go if you want a "cozy, hanging out in your own living room" feel. Plush couches and rustic wood decor, this is the perfect place to read a book or catch up with a friend. They also serve teas, cakes, and light snacks. At night this places turns into an equally cozy bar complete with local beers, wine, and spirits.
Hours: 10 – 21:00
Reykjavik Roasters
Reykjavik Roasters is commonly known as the most famous coffee shop in Reykjavik. The atmosphere is relaxed and cozy, filled with old tables and chairs. They roast their own beans directly from farms in Colombia and Nicaragua. What's unique about RR is they offer three different brewing methods as well as a full menu of espresso drinks – just ask the barista if you don't know what to order, they are always so friendly and helpful!
I also recommend their bakery items – recently I had a gluten free chocolate and peanut butter bar that was to DIE for!
Hours: 8 – 18:00 / S-S 9 – 17:00
Café Babalú
You literally can't miss this place on your walk towards Hallgrimskirkja – it's an orange building with a bright blue door! Inside is equally as quirky. But don't let any of that fool you – this place knows how to make coffee! I'm a big fan of their chai latte. They also serve crepes, soups, sandwiches, and cakes.
One of my favorite parts about this space is their outdoor patio. I don't know about you but I'm a sucker for eating or drinking outside. During the summer months this is the place to be!
Hours: 11 – 23:00
Best Ice Cream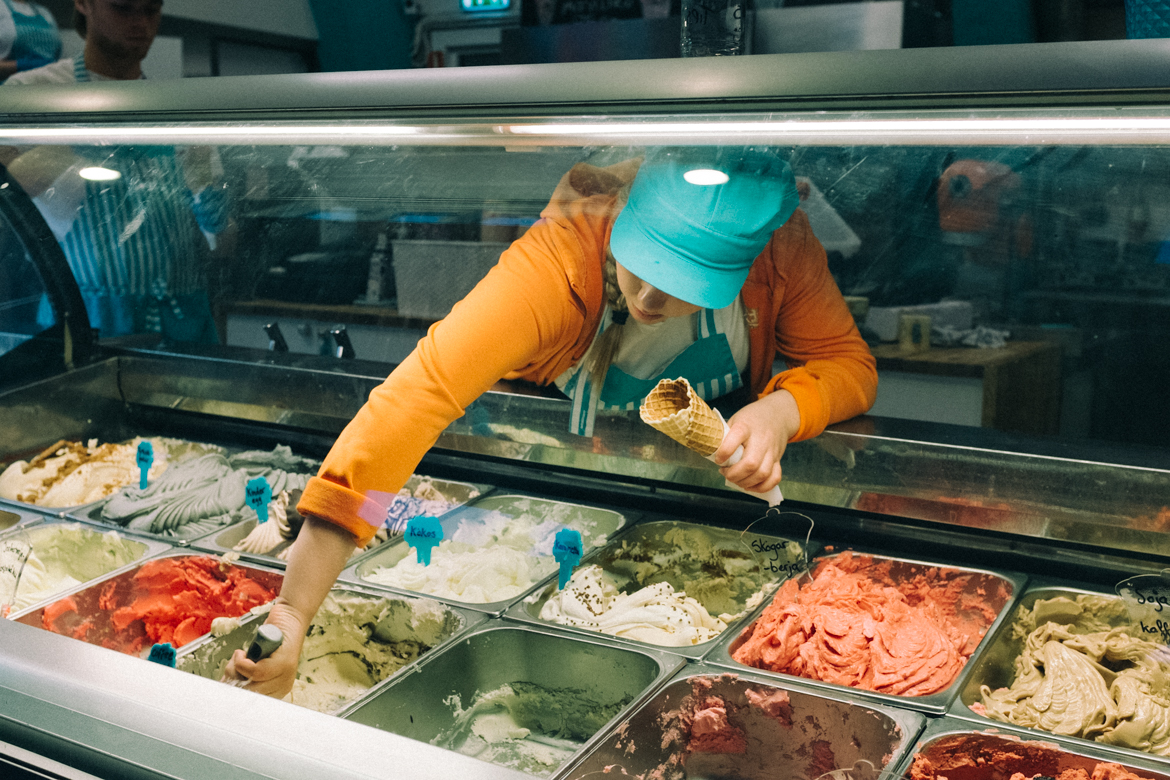 source
Valdís
I am obviously obsessed with ice cream, and Valdís delivers 100% when it comes to deliciousness. They have the basic flavors like salted caramel and chocolate, but also have amazingly bold choices such as licorice, Turkish pepper, and more! DO NOT leave this city without stopping here!
Hours: 12 – 23:00
Ísbúð Vesturbæjar
Another great option to fill your sweet tooth is Ísbúð. They have two types of ice cream – old and new to which you can add in SO MANY toppings and candies. I suggest 'the old one' (gamli ísinn) which is creamer, with your choice of fillings.
Hours: 12 – 23:30
Eldur and Is
Located at the corner of the two main streets in Reykjavik, I love this quaint little shop. While their flavor selection isn't as numerous, the ice cream is still delicious! Bonus points for atmosphere.
Hours: 8:30 – 23:00
Best Sightseeing in the City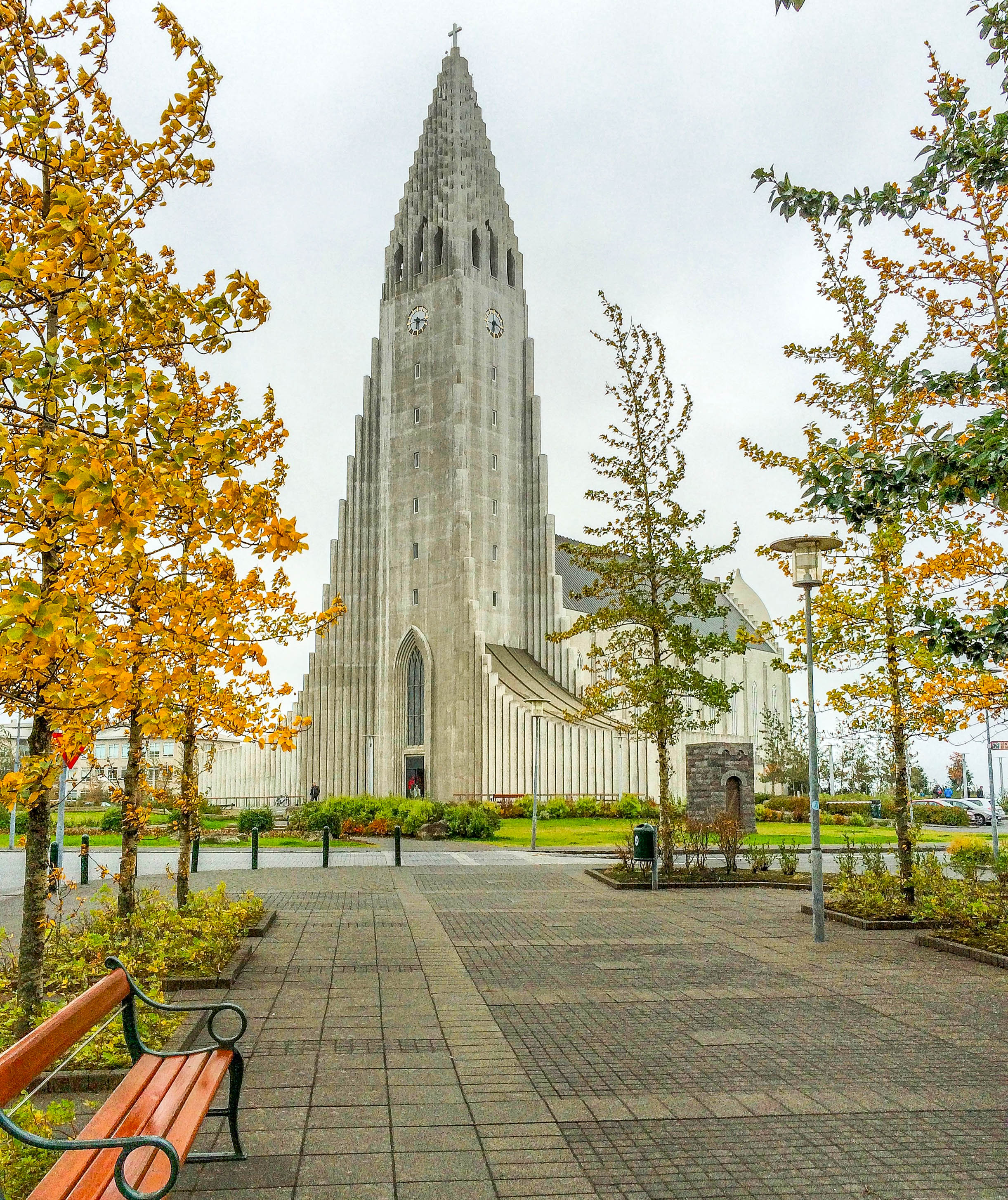 Hallgrimskirkja
The most iconic landmark of the Reykjavik skyline and top of every tourist's list is this stunning church. The columns around the church were inspired by Svartifoss black waterfall in South Iceland.
Sólfar
This Viking ship sculpture is a tribute to the sun and represents discovering uncharted territory, progress, and freedom. With Mt. Esjan across the sea, this is a photo op you don't want to miss!
Tjörnin
Tjörnin is a big pond in the middle of downtown Reykjavik. Besides being a cute area to walk around for fresh air, it's also fun for kids. Ducks and geese flock to the shore where people are always bringing pieces of bread for them to eat.
Best Place for Cocktails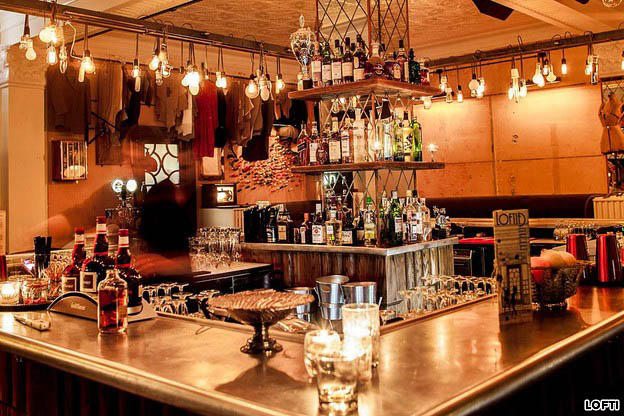 source
Loftið
Loftid is our favorite place to go to grab a cocktail and hang out. The bartenders really know what they're doing when it comes to mixing a delicious drink, and have a great selection Scotch whiskeys (my husband's favorite!) Major points for atmosphere here.
Happy Hour: 16 – 21:00
Slippbarinn
Located right next to the Old Harbor, this is a great scenic spot. I love hanging out at Slippbarinn for their drinks, but also their appetizer menu. The vibe is super trendy modern, with bright lighting and Scandinavian decor.
Happy Hour: 15 – 18:00
Sæta Svinið
Sæta Svinið is known for it's *unique* concoctions such as "Egg & Bacon" cocktail. What I love about this place is their great selection of music. Think 90's hits combined with Icelandic local artists. If you're feeling adventurous, you definitely need to check it out!
Happy Hour: 15 – 18:00
Best Place for Craft Beer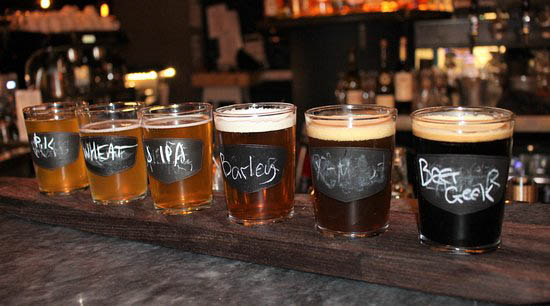 source
Bryggjan Brugghús
Although this place recently opened, it's always buzzing with locals in for happy hour or a delicious meal. They have a great selection of beer on tap. I recommend trying the flight to sample the delicious local brews!
Happy Hour: 16 – 19:00
Skúli
A great spot to go if you want to relax in a cozy atmosphere. They usually have about 15 beers on tap, focusing on the Borg brewery (which is one of my favorites!)
Happy Hour: 14 – 19:00
Micro Bar
Even though this place is a bit more modern – it's one of the oldest craft beer bars in Iceland. They have 10 beers on tap and a great selection of bottle beers from around the world.
Happy Hour: 17 – 19:00
Best Place for Nature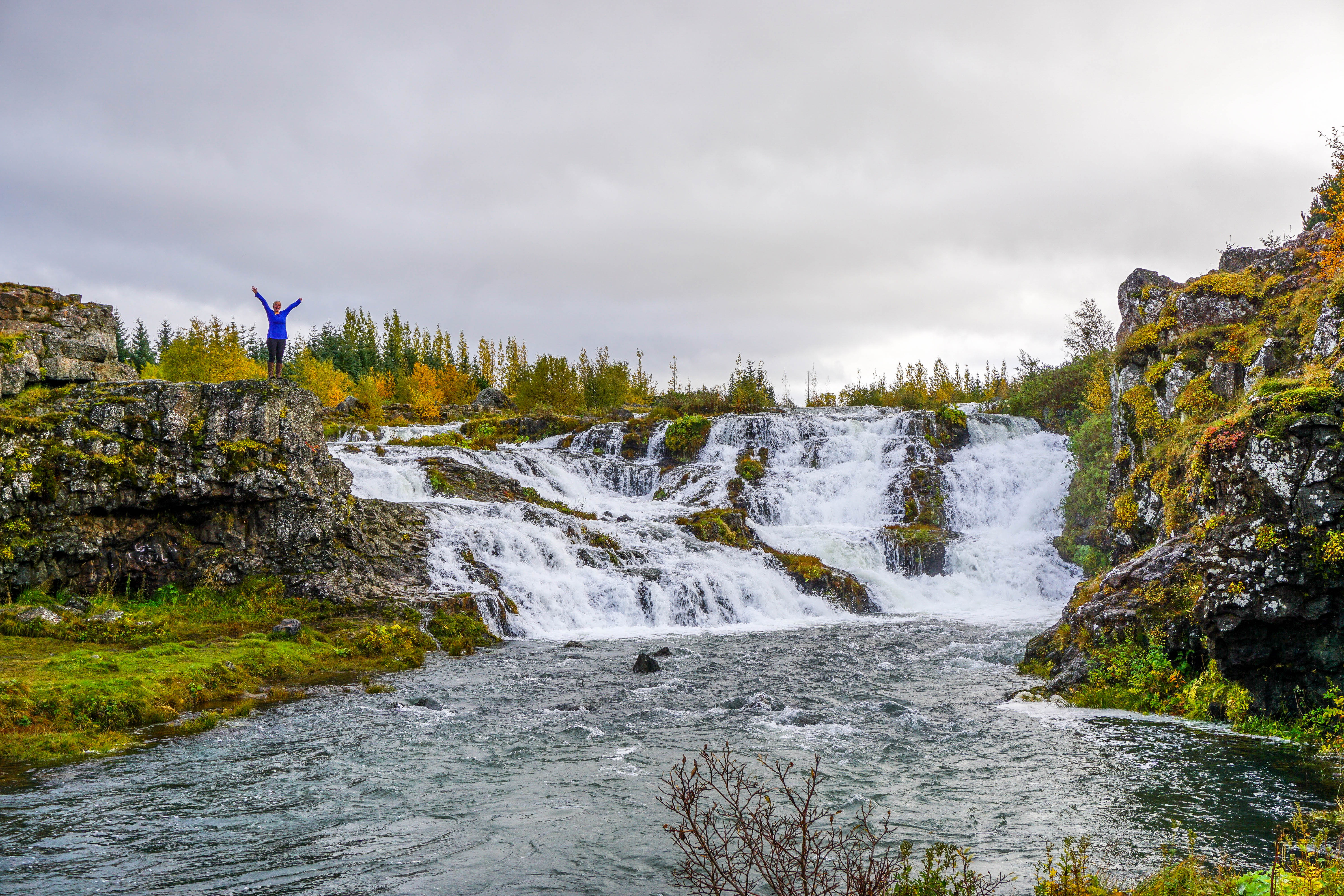 Elliðaárdalur
When I first visited Elliðaárdalur I honestly couldn't believe I was in the middle of Iceland's capital city! This huge nature reserve is a dream for a sunny afternoon stroll or bike ride.
Not to mention there are waterfalls at every turn which makes this walk one you don't want to miss (yes, waterfalls in the middle of the city – so amazing!)
Heiðmörk
Located further out of the city, Heiðmörk is one of my favorite places to go when I need a quick nature fix! There are a lot of walking trails, volcanic rock, and TREES! (something you don't see a lot of in Iceland).
Botanical Garden
In a country that has very few trees and flowers, the Reykjavik Botanical Garden is a refreshing getaway in the middle of the city! There's also a small cafe called Cafe Flora that is a great spot for a snack or coffee.
Best Day Trip from the City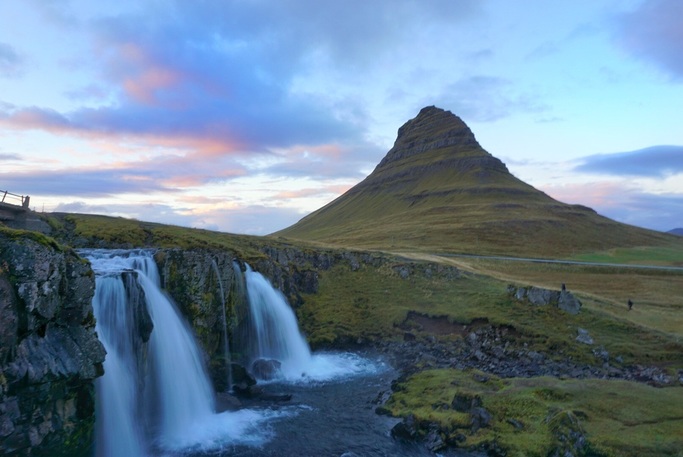 Snæfellsnes Peninsula
Often called "miniature Iceland", Snæfellsnes Peninsula is amazing because of its diversity of landscapes. I also love it because it seems fewer tourists make this a priority, so less busy than other areas of Iceland.
Read more: 10 Must See Places in West Iceland
Hvalfjörður
Only a short 40-minute drive from the city will bring you to the massive "whale fjord". Other than the fact that this is full of beautiful nature, it's home to one of my favorite hikes is at the end of the fjord!
Read more: 10 Reasons to Skip the Hvalfjordur Tunnel
Reykjanes Peninsula
I think the Reyjanes peninsula is underrated – especially if you're short on time! From geothermal mud pots to jagged cliffs, this is a great place to go to get away from the city.
Read more: The Reykjanes Peninsula – Exploring Krysuvik & Seltun
Best Art Gallery
Hafnarhúsið
In the heart of downtown, Hafnarhúsið often has three or more exhibitions running at any given time. There's also a great cafe and bookshop!
Hours: 10–17:00 / Thursdays 10–22:00
Einar Jónsson Museum
Don't visit Hallgrimskirkja without stopping by the sculpture garden right next door! This garden is the home and studio of Einar Jónsson – Iceland's first sculptor. The garden is full of bronze statues of his work.
Hours: 10 – 17:00
National Gallery of Iceland
Located right next to Tjörnin, this museum has a great collection of Icelandic paintings.
Hours: 11 – 17:00
Best Pool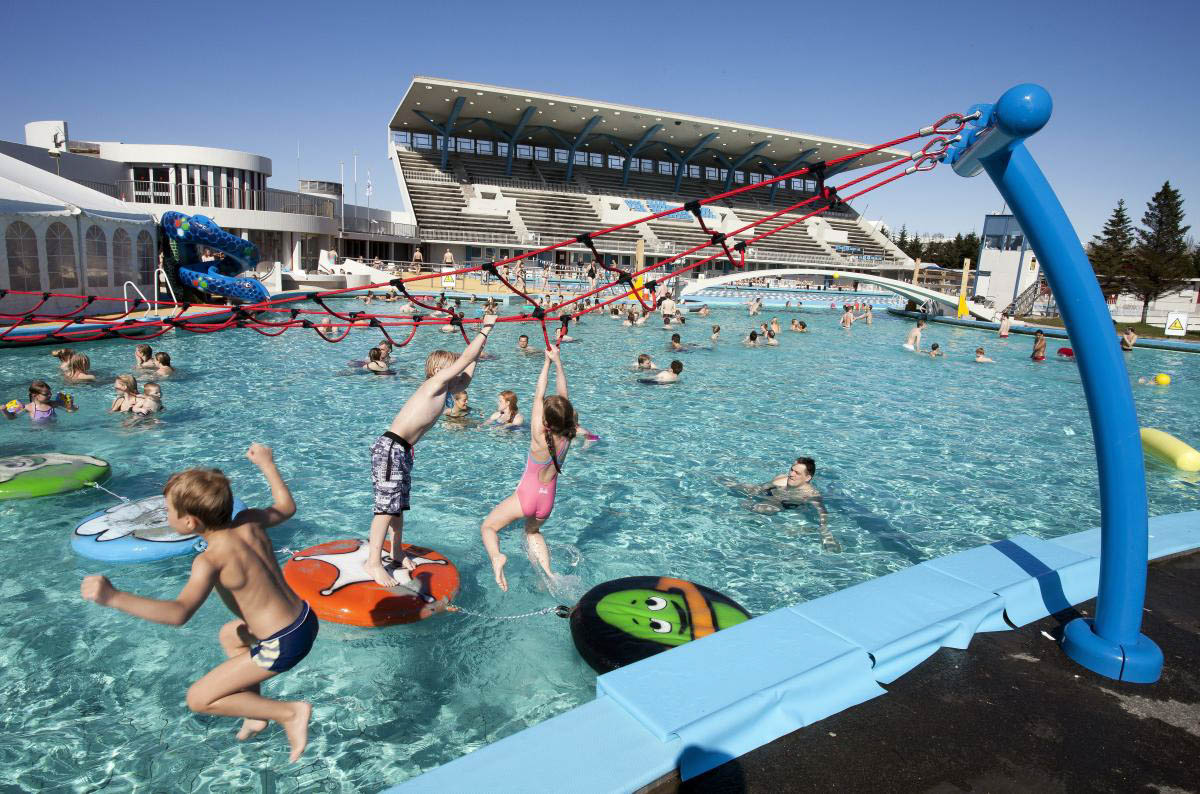 source
Laugardalslaug
This is especially great if you have kids – you could spend all day here!
Vesturbæjarlaug
Vesturbæjarlaug is a great all-round pool, including hot tubs, a steam bath, and a big communal hot pot. A great place for a sunny day – a classic Reykjavik weekend activity!
Nautholsvík
I love Nautholsvík because of the scenery – it's a pool next to a beach! A lot of people go between the hot tub into the ocean to get the blood pumping!
Best History Lessons
National Museum
If you're interested in learning all about Icelandic culture, Vikings, and the Sagas – this is the place for you!
Admission: 2000 ISK for adults, 1000 ISK for senior citizens, free for children under 18
Árbær Open Air Museum
A recreated old-time Icelandic village that gives you a sense of how Icelanders used to live. Think turf houses and vintage cars! The employees and tour guides dress in traditional Icelandic clothing and give tours all year round.
Admission: Adults – 1,600 ISK / Children & 67+ Free
City Walk Tour
While there are plenty of paid guided tours, City Walk is FREE! You learn a lot about the history of Reykjavik and get to walk through some of the most beautiful neighborhoods in the city. To top it off, Marteinn is a fantastic guide with tons of knowledge about Iceland and also has a great personality that makes it really fun and interesting!
*Make sure to reserve your space ahead of time!
Best Museum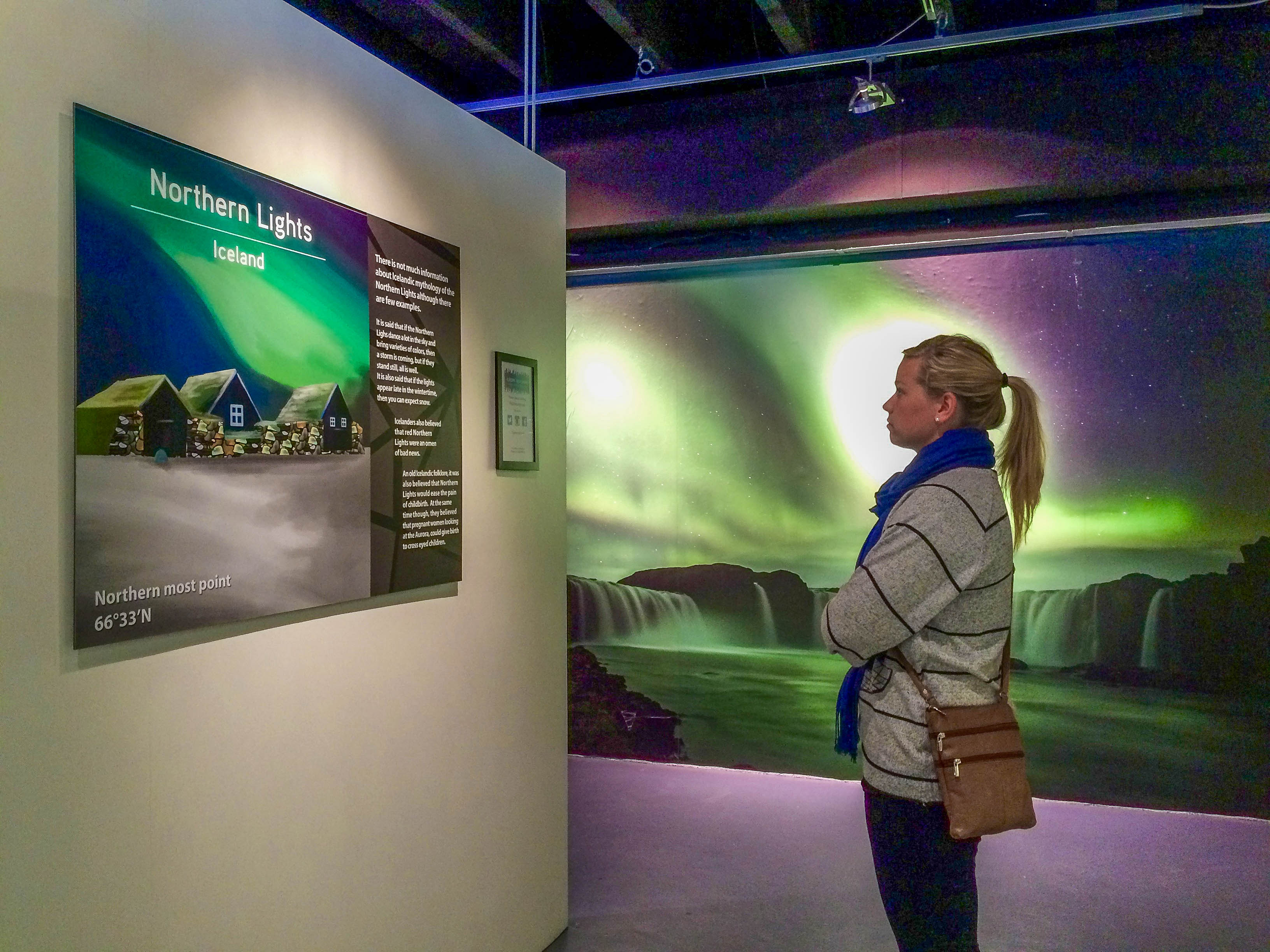 Aurora Reykjavik
If you're heading to Iceland in search of the Northern Lights, sometimes they can let you down. The good thing about Aurora Reykjavik is the lights are always in season! And I think it's fascinating learning all about these beauties!
Admission: 1600 ISK
Hours: 9 – 21:00
Whales of Iceland
Life size models of whales!
Admission: Adults 2,900 ISK / Children 7 – 15 years 1,500 ISK / Children under 7 free
Hours: 10 – 17:00
The Icelandic Phallological Museum
Aka The Penis Museum. Here you'll find over two hundred penises and from all of the land and sea mammals in Iceland. Whales, seals, walruses, polar bear and human!
Admission: 1500 ISK
Hours: 10 – 18:00
Best Place to Meet the Locals
Pools
The pools are a major part of the Icelandic culture. On weekends and holidays, the locals can be found at their local swimming hole, relaxing and socializing with one another!
Bars
This is an obvious one! *Note: Icleanders will usually not be out and about until late in the evening – like 12am!
Couchsurfing
A great way to meet locals and cheap accommodation!
Best for Live Music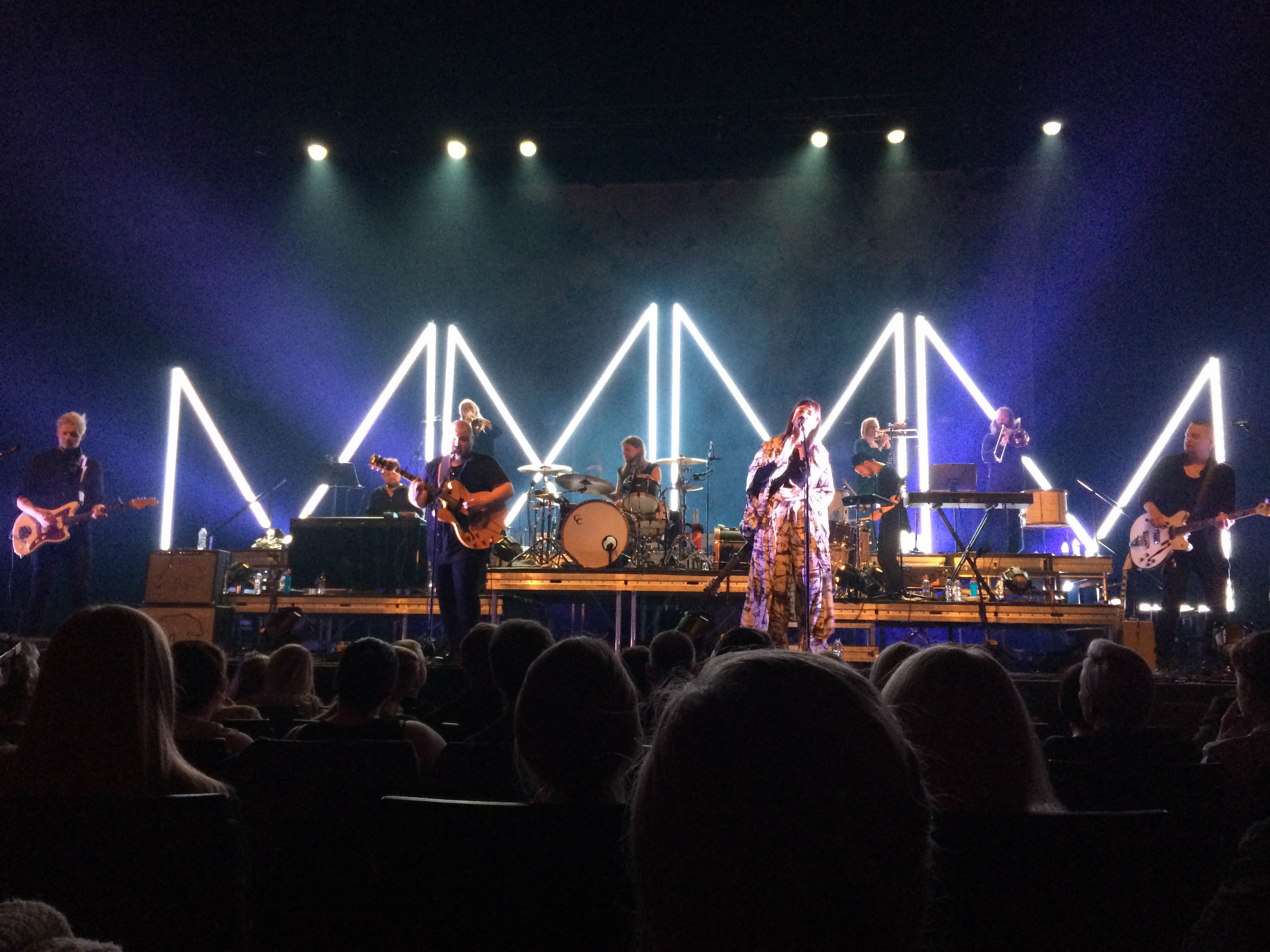 Harpa
The Harpa is a gorgeous glass building right along the ocean that hosts concerts and plays. We've seen Of Monsters and Men here and it was AMAZING!
*Note: There is no charge to walk around inside and marvel at the design!
Húrra
If you like indie music, you need to make an appearance at Hurra. Live music usually starts around 20-21:00.
Happy Hour: 18 – 21:00
Loft Hostel
Loft will host smaller name artists, but great music nonetheless! Also a good way to meet other travelers.
Read More: The Best Festivals & Music Events in Iceland
Best for Kids
Pools
The pools are a huge part of Icelandic culture. Adults and children alike love to meet at the swimming pools on the weekends for some family fun. Some pools have big slides or a play area, all very kid-friendly.
Zoo
What child doesn't like the zoo?! Just note that the Reykjavik zoo has Icelandic animals only – no lions or monkeys here! There's also a small train, fair activities, and playgrounds. The zoo is right in the middle of Laugardalur valley which has beautiful botanical gardens in the summer. It is also home to the biggest pools in Reykjavik. You could easily spend a day in this area!
Museums
Any of the above listed!
Best Breakfast Spot
View this post on Instagram
Braud + co.
If you want to try the famous "best cinnamon rolls in the country" then make sure to head to this colorful bakery – just around the corner from Hallgrimskirkja!
Hours: M – F 6:00-18:00 / S – S 6:00 – 17:00
Bergsson Mathús
One of the best menus with delicious food and reasonably priced!
Hours: 7 – 22:00
Grái Kötturinn
A quirky 50's style cafe serving traditional English style breakfast.
Hours: M – F 7:15 – 15:00 / S – S 8 – 15:00
Best Budget Lunch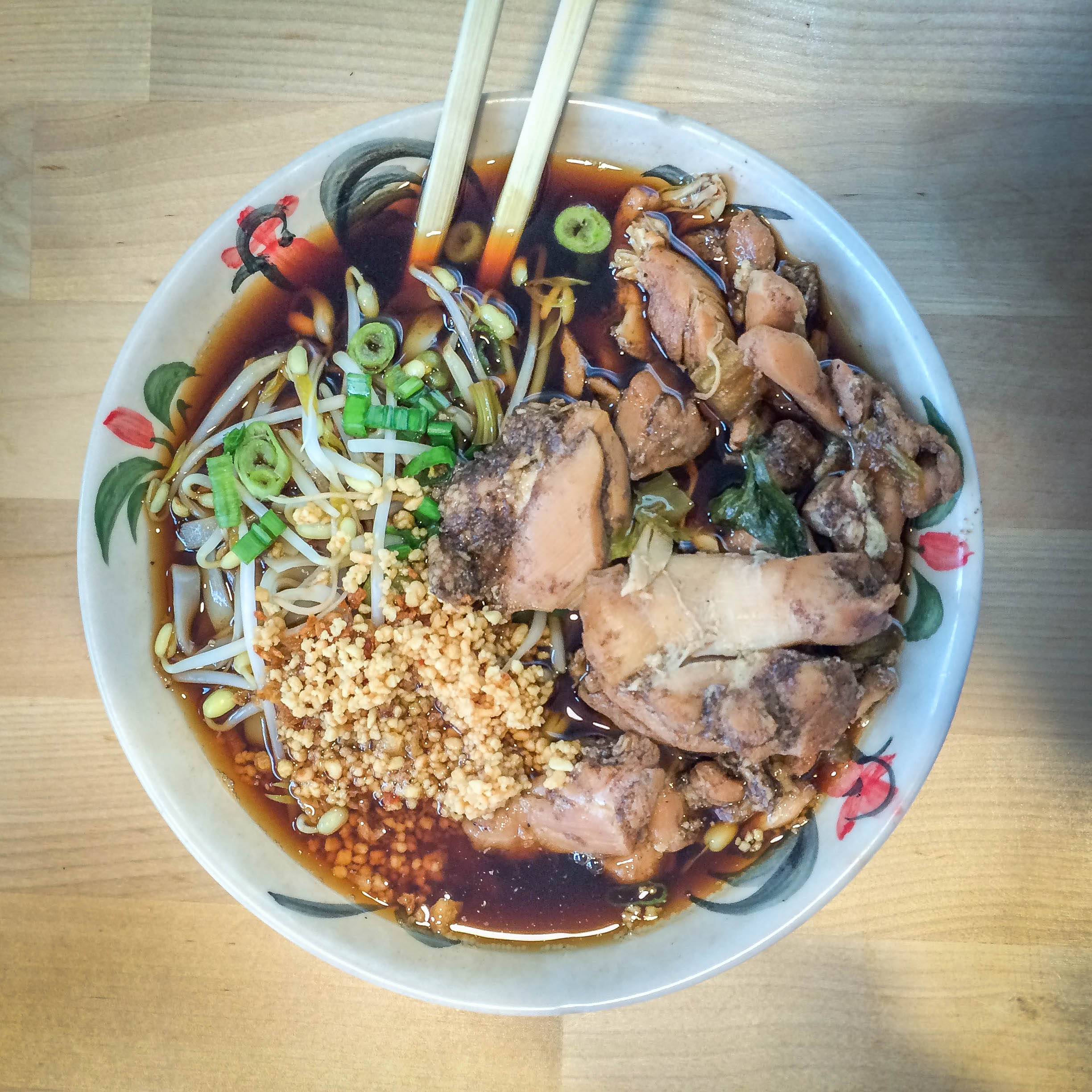 Noodle station
This place has simplicity and deliciousness down to a science. The Thai inspired menu includes three options: beef, chicken or vegetarian with rice noodles in a deliciously flavored broth. You don't want to miss this place, the heaping bowl of goodness will warm your belly and your soul.
Bæjarins Beztu
This wouldn't be a proper Iceland recommendation list without mentioning the famous hot dog stand. Icelanders love their hot dogs, and Bæjarins Beztu is one of the most popular tourist stops in Reykjavik. In 2004, Bill Clinton stopped in for a hot dog, and his photo is still on the wall today!
When you order, say "eina með öllu" (one with everything) to get the full experience with all the toppings – ketchup, sweet mustard, fried onion, raw onion, and remoulade.
Hours: Sunday – Thursday 10 – 1:00 / Friday – Saturday 10 – 4:30
Sægreifinn
As you're walking around the adorable Old Harbour, make sure to stop in for a cup of creamy lobster soup. Paired with a homemade roll and Icelandic butter, this is a mouthwatering combo that you can't miss. Sægreifinn means Sea Baron in Icelandic, and also has a selection of fresh sushi grade fish cuts that can be cooked in-house or eaten raw.
Hours: May 15 – August 31 11:30 – 23:00 / September 1 – May 15 11:30 – 22:00
Best Budget Meal

Hraðlestin
The tagline for this restaurant is "Indian Street Food" so right away you know it's going to be good! If you're looking for a full flavor spicy meal, this is the place to go!
I recommend the Chicken Thali which is a mixed plate option of two chicken dishes served with basmati rice and naan. I've also heard the Indian chicken pizza from the lunch menu is good.
*Note, they have a Tuesday special that is always changing for a discounted option!
Hours: M – Th 11 – 20:00 / F 11:00 – 11:00pm / S – S 17 – 23:00
Lemon
If toasted sandwiches and fresh pressed juices are your thing, you're going to want to stop into this place. Lemon is one of my go-to spots, and I always feel full yet healthy when I leave!
Hours: M – F 8 – 21:00 / S – S 10 – 21:00
Coocoos Nest
A tiny little gem that recently opened in Reykjavik. Decor is super charming and the food is delicious.
Hours: Tue – Sat 11 – 22:00 / Sun 11 – 16:00
Best for Vegetarian Options
Glo
Glo is my go-to place if I'm eating out. Everything from the menu to the decor is exactly what I look for in my food choices. Their food is all organic and prepared using minimal ingredients. The menu is simple with options for gluten-free, vegetarian, vegan, and raw.
I recommend the daily chicken entree, but I have heard great things about their flatbreads and wraps. You can also get a delicious bowl of soup with a free refill! They also have a full coffee and dessert bar.
Noodle Station
All the above mentioned goodness, minus the meat!
Hours: 11 – 22:00
Bonus
Yes, I'm recommending a grocery store! Conveniently located on the main street, and surprisingly has a great selection of veggie wraps and salads. My favorite: the hummus wrap with pomegranate seeds 🙂
Hours: 11 – 18:30
Best Dinner to Splurge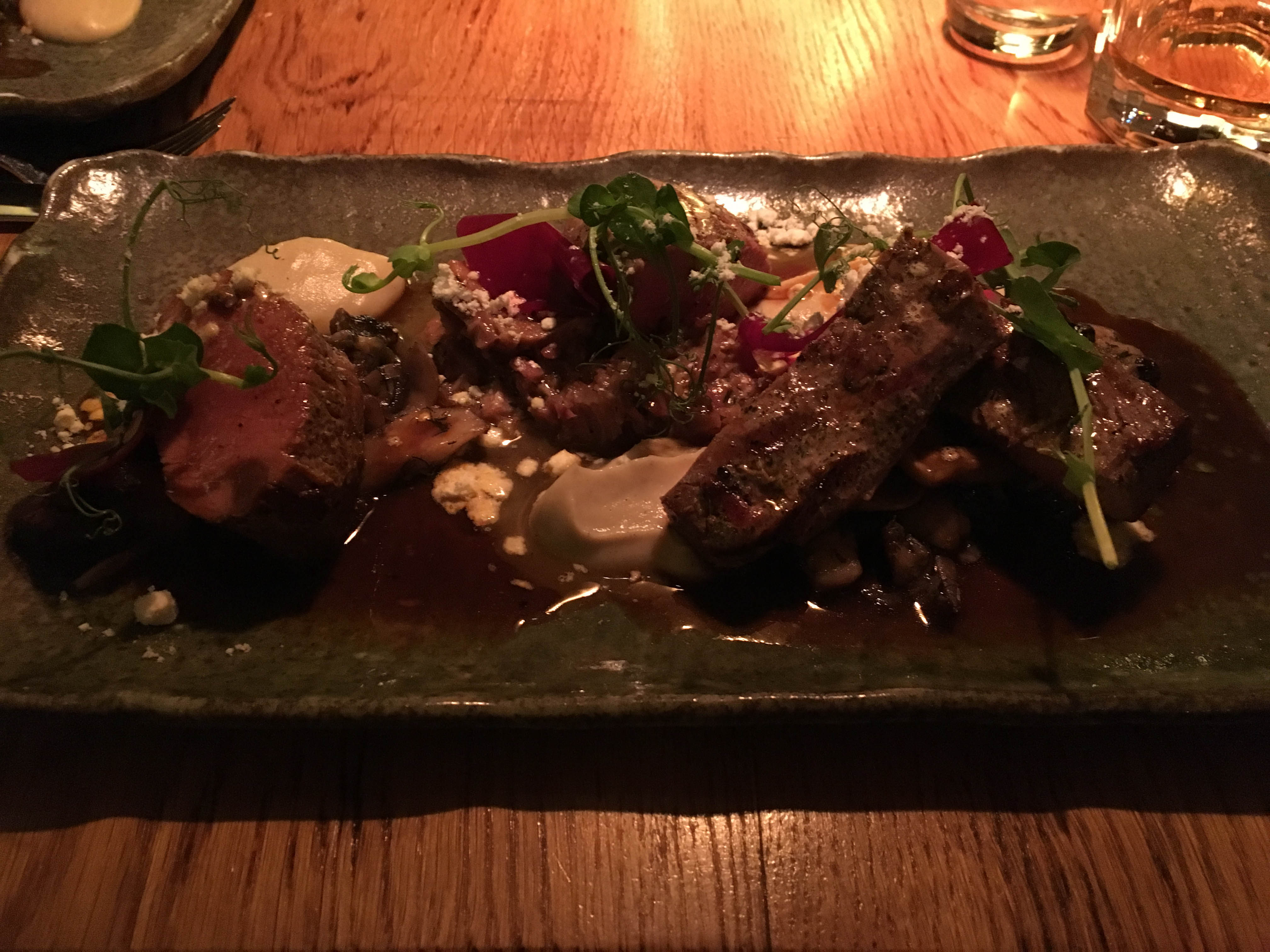 Fiskmarkaðurinn
Hands down my favorite meal in all of Iceland is the Lamb from Fish Market! My husband agrees. I know it's called FISH market, but trust me. Order the lamb.
Hours: 17:00
Geiri Smart
Newly opened in Fall 2016, this new restaurant is sure to be a favorite among locals and tourists alike. They use all local and fresh ingredients, and their flavor pairings are out of this world!
Hours: 18 – 00
Dill
First Icelandic restaurant to earn a Michelin star.
*NOTE: reservations are required!
Hours: Wednesday – Saturday 18 – 22:00
*To use this map interactively, click the box in the upper right hand corner!
---
Question: What favorites did you experience during your time in Reykjavik? I'd love to hear in the comments below!
Happy planning,

Pin it for later!