Are you wondering how to see the northern lights in Iceland on your trip? You've come to the right place!

For so many travelers, seeing Iceland's aurora is a total #BucketListMoment.
And I want to help you make it happen!

In this post, I'll give you the necessary knowledge and tips so that you can experience the magic of the northern lights in Iceland for yourself. From technical tips on how to see them, to when to go and where to go, you've got everything you need for the best viewing experience possible in this guide.

Table Of Contents
Get ready for a journey into Iceland's aurora! ✨
Understanding the Northern Lights
Let's dive into the world of the northern lights, and explore more about the science behind this magnificent natural phenomenon, as well as factors that affect viewing.
The Science Behind The Northern Lights
Alright, a quick science lesson on the Northern Lights – because who doesn't love a bit of science, am I right?
The mesmerizing northern nights start their journey from our life-giving star – the Sun. Our Sun periodically releases solar flares that head toward Earth as high-energy electrons. But our planet has its own defense mechanism – a geomagnetic field, acting as an invisible shield.
These solar flares hit the Earth's magnetic field and start wrapping around our planet's atmosphere. Then, they separate at the poles, creating these stunning lights in the process. That's why you can only see them from the extreme hemispheres.
And here's a fun tidbit for you – there's a Southern counterpart to the northern lights, known as Aurora Australis. These lights can be seen from places like Antarctica, Australia, and New Zealand. So, no matter which hemisphere you're in, you can catch a glimpse of these fantastic light shows. Pretty cool, huh?

Now, let's get into factors that affect viewing, so you can have the best chance possible at spotting these beauties!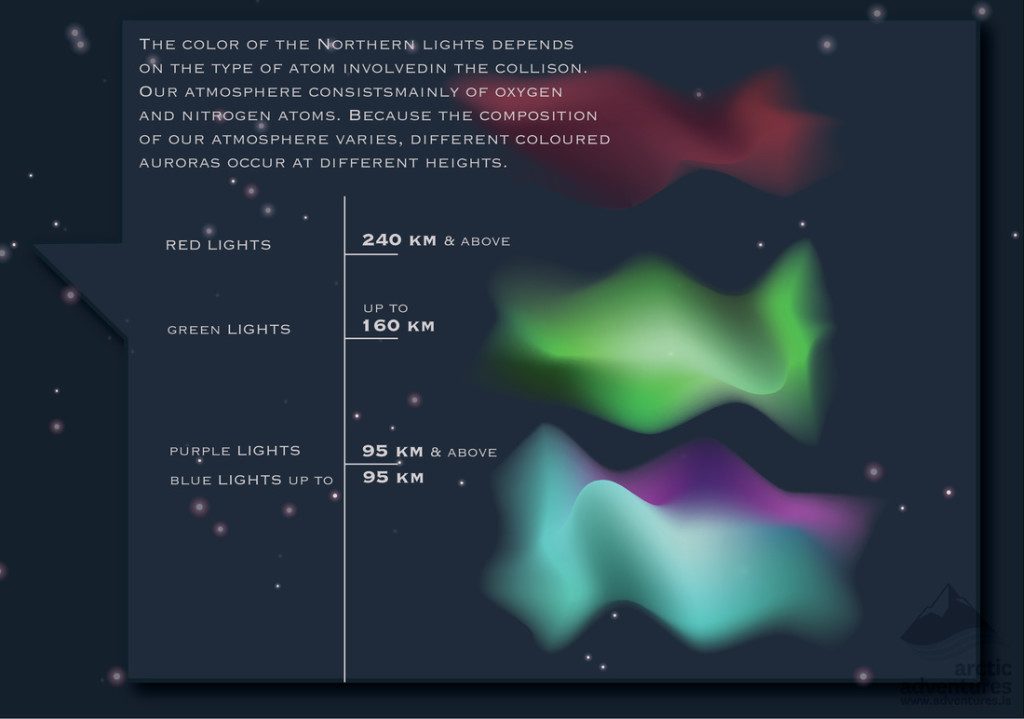 How To See The Northern Lights In Iceland: Factors That Affect Viewing
There are really two main factors that affect being able to see the northern lights.
Light Pollution
Avoid as much light pollution as possible. This means getting out of Reykjavík! Or any city you are in. The darker the area around you, the better. If you are in Reykjavík and don't have a car to drive away from the city, Grótta Lighthouse is a great place to view the northern lights not far from Reykjavík and is accessible by bus. I've put more info on my favorite viewing spots below!

Cloud Cover
Cloud cover is the most important factor. The sun could be throwing huge flares for days, but if the clouds are heavy in the sky, there's no chance you'll catch a glimpse of the northern lights… Make sure to check the cloud cover forecast for the evening. I've listed a few websites below!
And then of course, you also have to take into account whether it's the right time of the year…⬇️
When To Go: The Best Time To See Northern Lights In Iceland
So, let's chat about the aurora season in Iceland!
Iceland's northern lights season runs from the end of August until April, with the most intense colors in October and April. The tourist season in Iceland runs from May-August, and those are also the months with the most daylight!
Therefore, visiting Iceland in winter definitely has its advantages!
If seeing the aurora is on your must-do list, then the best time to visit Iceland for northern lights would probably be the winter months from November to February. These dark months will give you the most opportunity to see this mesmerizing light show.
Just remember, if you visit Iceland during this time, there will also be limited daylight for exploring. It all depends on your priorities! For more pros and cons of each time of the year, read this guide to Iceland's seasons.
Finding The Perfect Spot: The Best Places To See Northern Lights In Iceland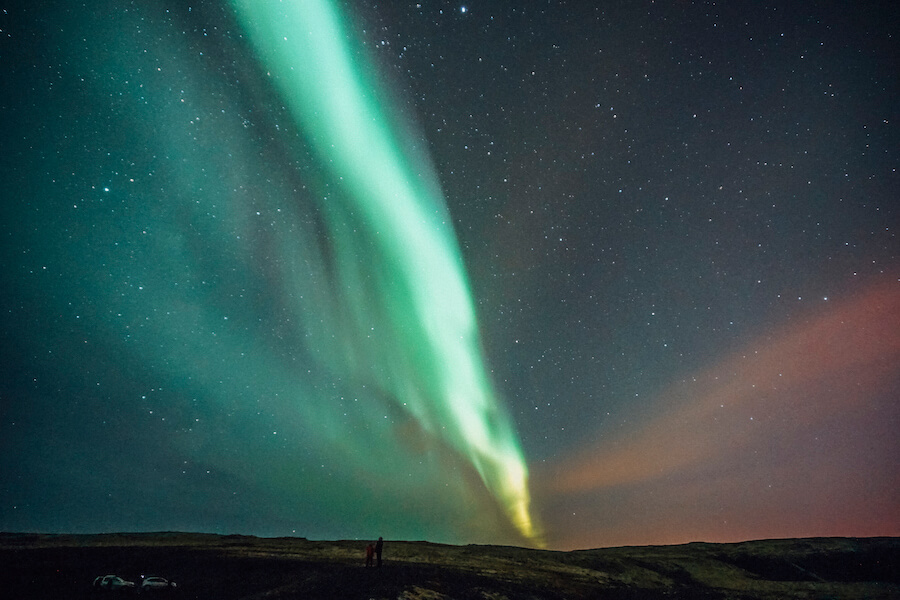 Whether you're looking to see the northern lights in Reykjavík or you're willing to travel a little more off the beaten path, you'll be able to find a viewing spot on this list for you!

Just note: you will need to get OUT of the city, so while these first options I've listed are close to Reykjavík, it's not possible to see the aurora within the city's confines.
Reykjavík Northern Lights: Top 5 Places
Here are three of the best places to see the Northern Lights near Reykjavík!
Grótta Lighthouse
The first viewing spot just outside Reykjavík is The Grótta Lighthouse on the Seltjarnarnes Peninsula. Here, you'll find a relaxed spot where both locals and tourists gather to escape the city lights and get some insta-worthy shots of the aurora. So just remember, while it's an easy, convenient spot not too far from downtown, you won't exactly have the place to yourself!
Bonus points: if you don't have a car, The Grótta lighthouse is accessible by bus. Just take bus 11 from City Hall all the way to Lindargata Road (stop Hofgarðar). From there, it's just a 5-minute walk to the lighthouse! You could also take a quick 10-minute taxi if you don't mind paying a bit more!
Öskjuhlíð Forest near Perlan
If you're up for a little drive, just around the corner from the city is the Öskjuhlíð Forest, right around Perlan. It's a little further out, but hey, that's part of the adventure, right? Plus, getting even further away from the city lights only going to improve your viewing experience. Trust me, it's worth the mini road trip!
Elliðarárdalur
Next, we're heading over to this lovely park, Elliðarárdalur – yeah, try saying that five times fast! 😂
This is a nature lover's paradise: it's a park with beautiful leafy trees, brimming with the sounds of running water. There is such a peaceful vibe to this place, it's like a little oasis tucked right outside the city! It's just far away enough from Reykjavík that you've got a clear sky and ample viewing opportunities.
BONUS: Aurora Museum Reykjavík
While not technically a viewing spot, The Aurora Museum Reykjavík is a great way to take your northern lights knowledge further. This museum is located downtown and it's super impressive – their motto is "Where the Northern Lights are always on display!"
The museum has interesting information about the mythology and science of the northern lights, and of course, the photos are incredible! There's even an amazing widescreen room where you can watch time-lapse video footage of the northern lights captured from all around Iceland.
Side effects of visiting may include an intense desire to hike to remote locations through Iceland in the dark and freezing cold just to become a professional northern lights photographer! 😂
Admission price: 1600 króna.
Further from Reykjavík: More Locations To See Iceland's Aurora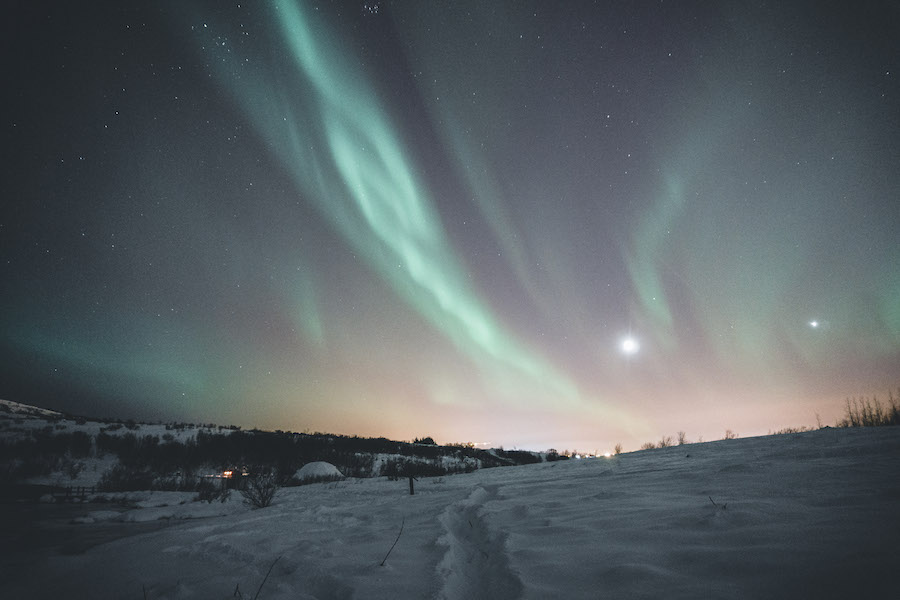 If you have a car and don't mind getting a little further outside the city, I have a few other two solid options for you to catch the northern lights in Iceland!
They're not too far away, so just be sure to plan ahead, look at the northern lights forecast and you'll be able to time it perfectly.
Heiðmörk
This is a stunning 3,000-hector nature conservation area just outside of Reykjavík. Surrounded by volcanic hills, called Rauðhólar, and the beautiful Lake Elliðvatn, this is one of my favorite places to catch the lights!
Reykjanes Peninsula
Another one of the best places to see the northern lights in Iceland is along the Reykjanes Peninsula. Sure, it's a bit of a drive, but trust me, the epic light show you'll witness once you're there is so worth it. Some of my go-to spots are the Gardur Lighthouse and Kleifarvatn Lake. Absolutely jaw-dropping views, my friends, so have your cameras ready! 📸
Þingvellir National Park
And last but certainly not least when it comes to spots to catch the northern lights in Iceland is Þingvellir National Park. This isn't just any park, it's a UNESCO World Heritage Site packed with some pretty incredible geological wonders!
Tucked far away from city light pollution, Þingvellir gives you fantastic viewing abilities when it comes to Iceland's aurora.
Aurora Trackers Iceland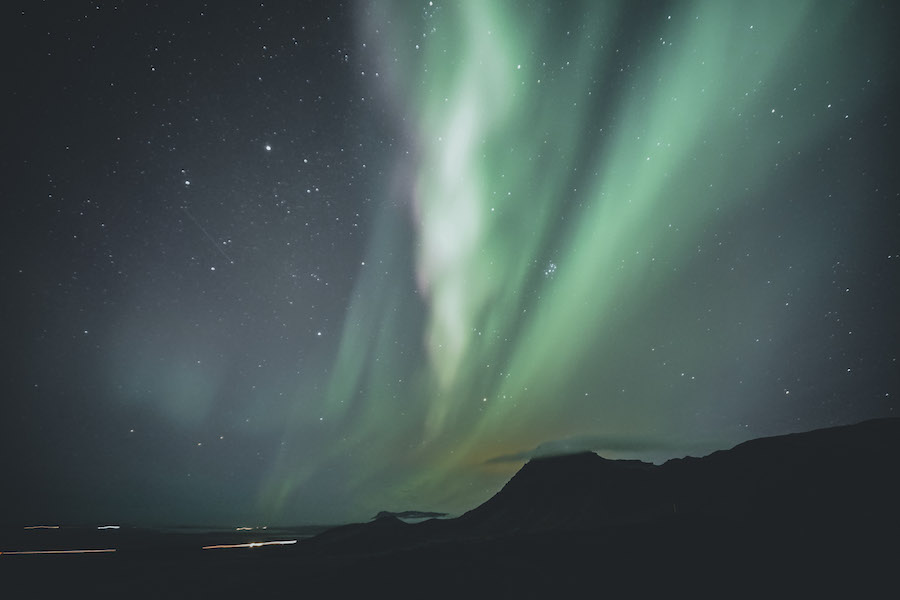 While it's never a *guarantee* that you'll see the northern lights in Iceland, if you visit during the right time of year, and consistently check the aurora forecast in Iceland, your chances of spotting them are highly likely!

Here are my favorite Aurora trackers and forecasting tools!
These sites are going to be your best friend when trying to see the northern lights in Iceland!
How To Photograph Northern Lights
Okay, so now that you know how to see the northern lights in Iceland, you want to be sure to capture a memorable photo! Here are the general rules:
Long exposure time, i.e. 20 seconds

Mid-range ISO. I like to keep it around 800 (this will be different depending on surrounding light pollution).

Aperture between f/2.8 and f/5.6

Keep the camera completely still. A tripod is a must for this. If you have a shutter release that would be extra helpful to minimize any blurring.
Get your camera ready and prepare to be amazed!
Northern Lights Tours In Iceland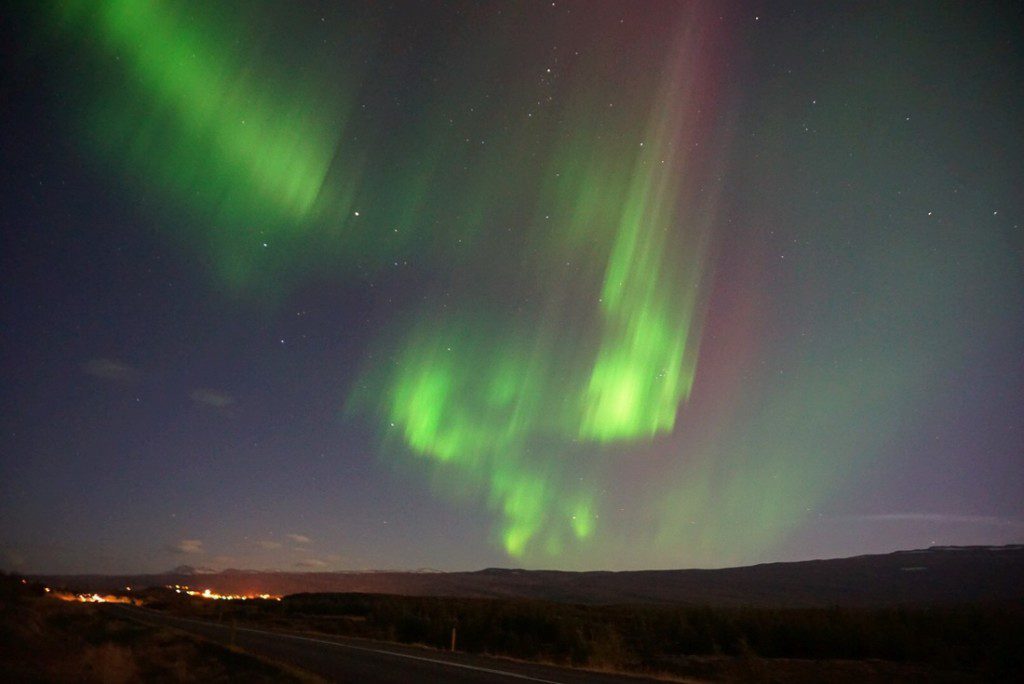 If you're wondering how to see the northern lights in Iceland without chasing them around yourself, there are more guided options available. There are plenty of companies that offer Northern Lights tours, ready to do the heavy lifting for you! 💪
They'll take care of the details – you'll be collected right from where you're staying, or from a pre-arranged meeting point. Then, they'll whisk you away from the hustle and bustle of Reykjavík, steering you directly to the best spots to see the lights.
You don't need to worry about finding the right location, just set yourself up at the spot they take you to and get ready to enjoy the show. These tours will guide you to prime viewing spots of the aurora, making your northern lights experience as easy as pie while you're visiting Reykjavík.

This is your hassle-free pass to one of nature's greatest performances!
I hope this guide has given you everything you need for a successful and memorable northern lights adventure in Iceland!
Happy planning,

Pin it for later!