So you're coming to Iceland and seeing the Northern Lights is HIGH on your bucket list. Am I right?! I hear you my friend, that was my biggest wish as well.
Good news…I am here to help you fulfill your bucket list!
Thankfully, my bucket list wish came true, and with loads of photos to remember them by. It was definitely the highlight of 2014, and perhaps in the top 5 most memorable moments of my life. We have also been lucky to see the lights a few times since we moved here, even from the balcony of our apartment! I can't wait to see what these beauties have in store for the winter!
So if you are planning on visiting Iceland in the near future, you are in luck! Read on for the best tips for viewing the dazzling Northern Lights.
What are the Northern Lights?
First, a little lesson on what makes the Northern lights. Because, science.
It all starts with the sun. The sun releases solar flares which travel towards the Earth in the form of electrons. The earth has a geomagnetic field that acts as a shield to protect the Earth. The flare wraps around the Earth's atmosphere and then separates at the poles. This is why you can only see the lights from the extreme hemispheres. (Fun fact! There is also a Southern Lights known aurora Australis – commonly seen from Antartica, Australia, and New Zealand.)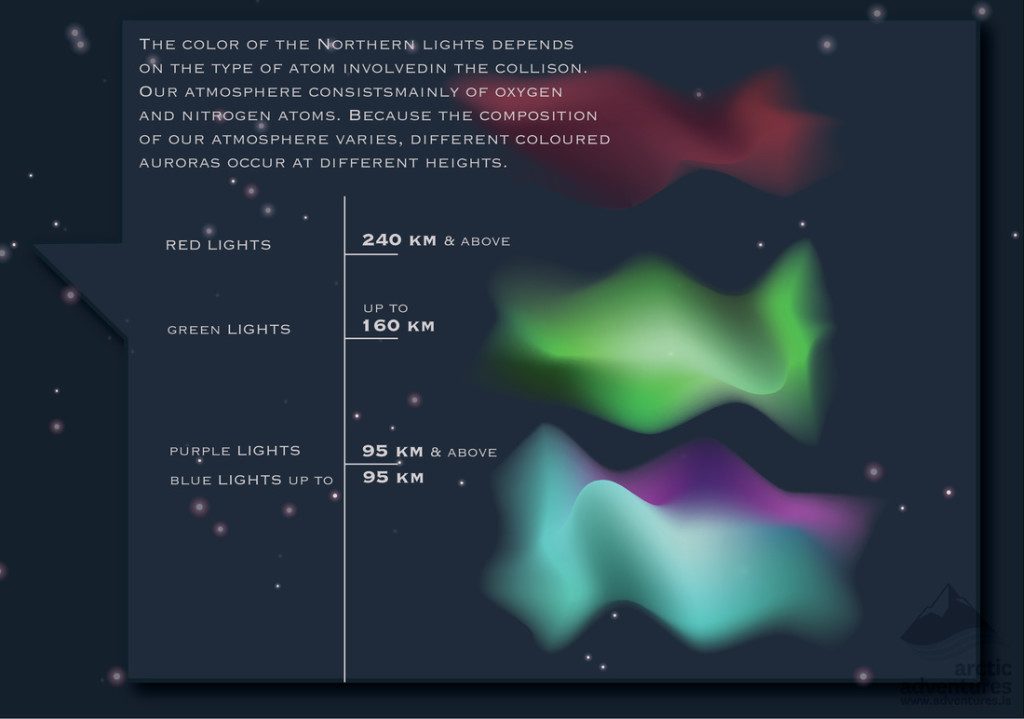 3 rules to view the Northern Lights
Now let's talk about the basic rules to follow to ensure your Northern Light viewing, plus photo tips on how to best capture them!
RULE #1
Avoid as much light pollution as possible. This means getting out of Reykjavik! Or any city you are in. The darker the area around you, the better. If you are in Reykjavik and don't have a car to drive away from the city, grótta lighthouse is a good place to go to minimize light.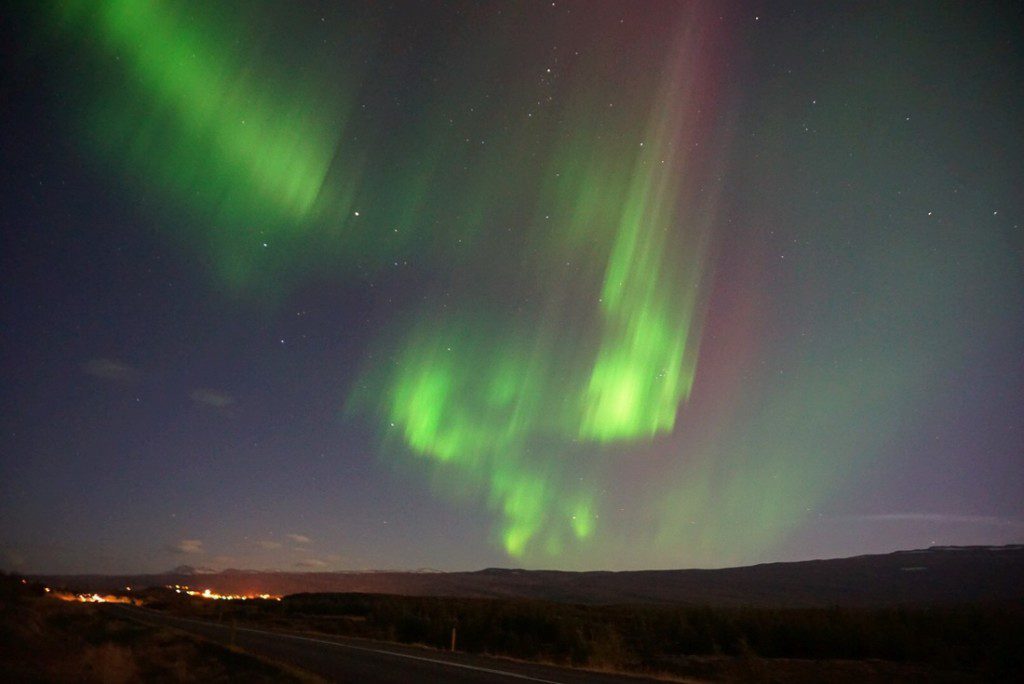 Northern Lights outside of Egilsstadir – 2014
RULE #2
Cloud cover is the most important factor. The sun could be throwing huge flares for days, but if the clouds are heavy in the sky, forget about it. Make sure to check the cloud cover forecast for the evening. (see websites below)
Northern Lights from our apartment balcony – 2015
RULE #3
Best time of the year to see the Northern Lights is between August-April, with the most intense colors in October and April. The tourist season in Iceland runs from May-August, and those are also the months with the most daylight! Therefore, visiting Iceland in winter definitely has its advantages!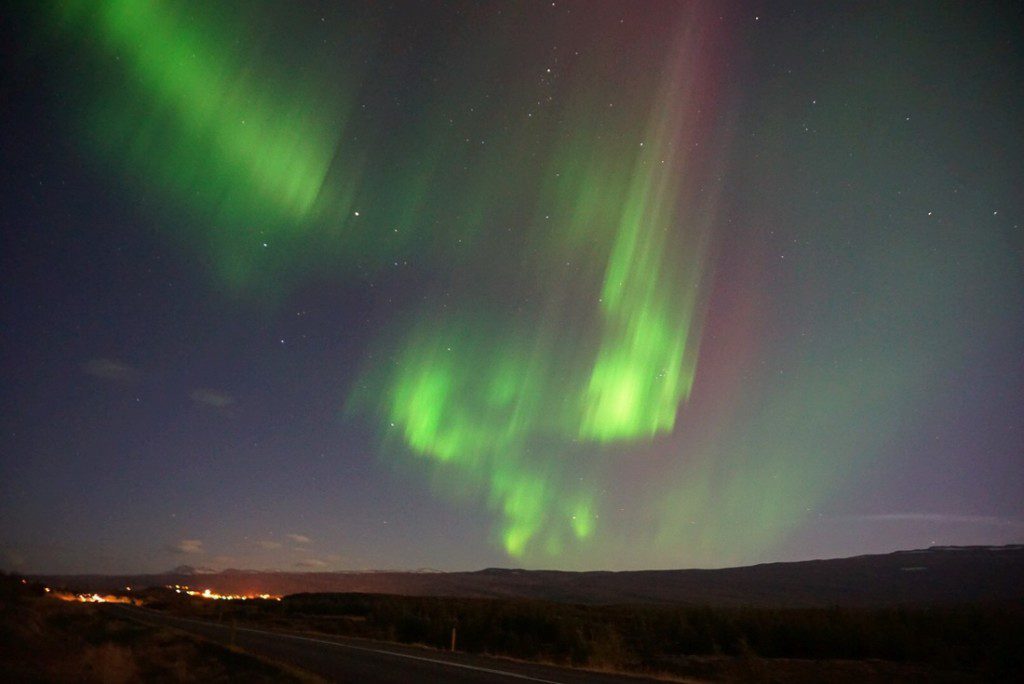 Northern Lights AND big dipper! Stykkisholmur – 2015
How to photograph the Northern Lights
Okay, so now that you know how to find the northern lights, you want to be sure to capture a memorable photo! Here are the general rules:
Long exposure time, i.e. 20 seconds
Mid-range ISO. I like to keep it around 800 (this will be different depending on surrounding light pollution).
Aperture between f/2.8 and f/5.6
Keep the camera completely still. A tripod is a must for this. If you have a shutter release that would be extra helpful to minimize any blurring.
FYI
Tours can be a great way to see the Northern Lights, especially if you are not renting a car. However, obviously, the tour cannot guarantee a Lights sighting. (Like when we were so excited to go on a whale-watching tour and saw the tail flick up once. It happens.) Again, it all depends on the cloud forecast and solar flares, and Iceland weather can be very unpredictable. Be patient!
Aurora Reykjavik Northern Lights Center is located downtown and actually a really impressive museum. Their motto is "where the Northern Lights are always on display!" The museum has interesting information about the mythology and science of the Northern Lights, and of course, the photos are incredible! There is also an amazing widescreen room where you can watch time-lapse video footage of the Northern Lights captured from all around Iceland. It will make you want to hike to all places through Iceland in the dark and freezing cold just to become a professional Northern Lights photographer!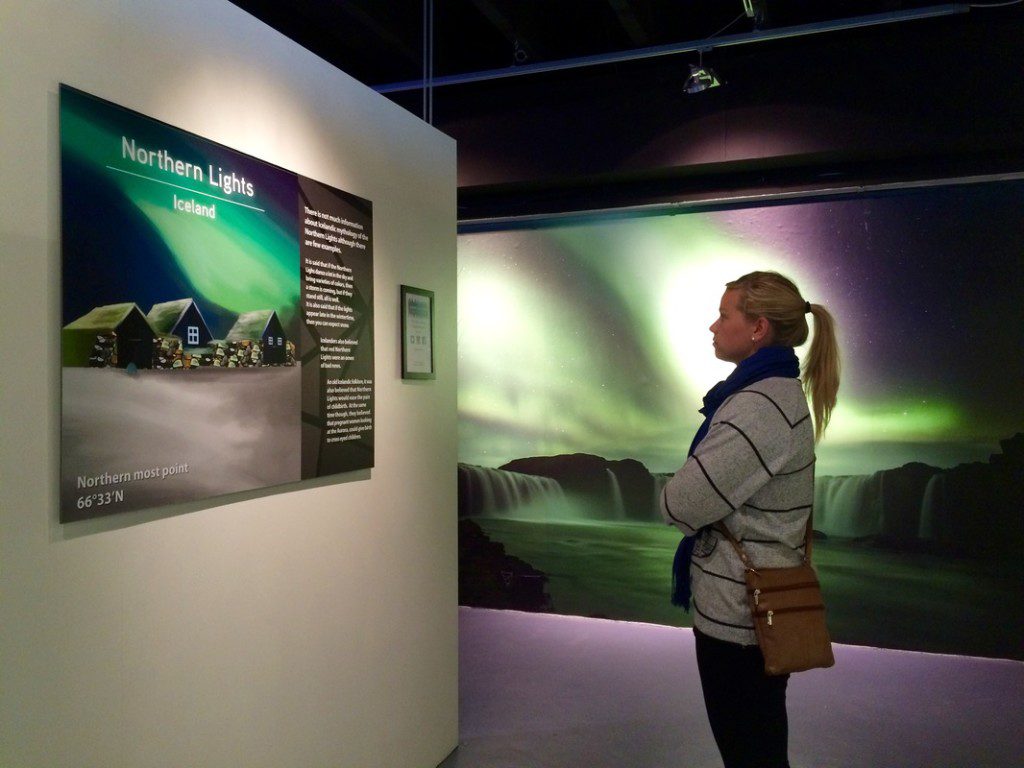 Jennifer learning about the Northern Lights at the Aurora museum
Aurora Checkers
And now you are a Northern Lights pro! I wish you luck on your quest to find the Northern Lights. Iceland is an incredible place to see the Lights because of it's wild and untouched landscapes. I promise they will not leave you disappointed!
If you're interested in how to see the northern lights, where to look for them in Reykjavik, camera settings, etc, you will find it inside my Guidebooks! All in one helpful, downloadable PDF document that you can take with you during your trip to Iceland.

Happy planning,
Pin it for later!