Exploring Iceland in November is like watching a film in your own private movie theater. You can choose the best seats, there's no waiting in line for snacks, and the whole show is just for you!
It's quieter and colder and the contrasting landscapes have a whole new appeal.
While it's still technically autumn, November in Iceland pretty much feels like winter!
If you haven't thought about traveling here in the colder months, this is your sign to reconsider.😉
Let's find out what holidaying in Iceland in November is like.
Table Of Contents
Is November a Good Time to Visit Iceland?
There is something incredibly charming about visiting Iceland in November.
The winter landscapes are already snow-kissed and the black sand beaches provide a beautiful contrast against the white.
November is considered an off-peak season, meaning fewer tourists – so it's a great time to visit while avoiding the Christmas crowds (and higher prices!). For that reason, you'll probably get good deals on accommodation, tours, and rentals.
Winter-specific tours and activities are now in full swing, and popular areas like the Ring Road and Golden Circle are totally open for exploring! However, be aware that certain areas, especially those more prone to severe winter conditions, may be off-limits during this time.
Daylight in Iceland in November
The number one thing to consider when planning your itinerary, especially when gearing up for winter is how many daylight hours you have to work with.
In Iceland, November starts with around eight hours of sunlight, but as the month progresses, daylight dwindles to just about five hours. Yep, only FIVE!
It can feel like you're at an all-you-can-eat buffet of delicious sights but the sun isn't willing to stick around for you to see it all!
So, you'll need to plan your schedule carefully to make the most of your time exploring.
Iceland in November: Northern Lights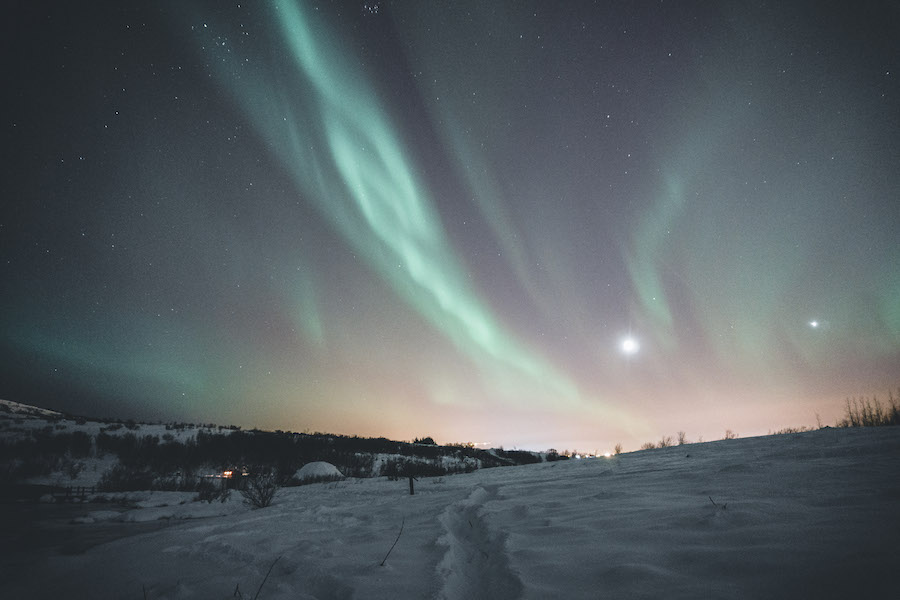 Oh, how the Northern Lights speak to my soul!
If you know me, you'll know that this is one of my favorite 👏 experiences👏 EVER!👏
Iceland in November has longer nights and extended daylight hours, which means this is typically a great time to view the Northern Lights.
I made a whole video about How to See the Northern Lights in Iceland if you're curious!
November Weather in Iceland
If you plan on spending time in the capital, it's good to know that the weather in Reykjavík in November is slightly milder than in the inland and northern parts of Iceland. This is because it's located on the southwestern coast. But let's be real, wherever you roam in Iceland, it's going to be chilly. 😅
In November, It's possible to experience all four seasons in a day, so you never really know what to expect!
However, Iceland's weather in November is marked by snow, rain, and grey skies.
Dressing appropriately and being comfortable is key while you're out exploring – but more on that in a minute.
Temperatures In Iceland In November
Alright, so the temperatures in Iceland in November can dip to 1 and 8 degrees Celsius, that's 33 and 46 degrees Fahrenheit.
It's quite cold, and if you want to avoid the weather-guessing game, layer up!
What To Wear in November
Here's the rule of thumb on what to wear in November in Iceland:
Layers, waterproof, and waterproof layers!
Temperatures are cold, and with the weather in Iceland acting like a moody teen, it isn't always predictable.
It can be dry, rainy, with some snow or none at all, so you have to be prepared for anything and everything when traveling to Iceland during this volatile month.
Focus on staying dry and comfortable. Now is not the time to worry about looking cute! 😅
This means waterproof layers, insulated boots, base layers, and thermal leggings.
Don't forget accessories like hats, scarves and gloves.
👉If you're traveling to Iceland in November and want an in-depth look at what you'll need, check out my free winter packing list below!
Get your FREE Winter/Spring packing list!
Wondering what to pack for your Winter/Spring trip to Iceland? I've got you covered with this detailed packing list!
Pro tip: When you're packing for your November trip you have to pack crampons!
Crampons are traction devices you attach to your footwear to improve your mobility on icy surfaces.
Everything, and I do mean everything in Iceland in November is super icy. From sidewalks to hiking trails, there is a thick layer of ice and it can be really slippery and dangerous.
Crampons are not expensive and if you don't have them, you risk serious injury or you'll miss out on the full experience because your regular hiking boots just won't cut it.
I've linked my favorite pair of crampons here. You can't leave home without them, trust me!
Sightseeing Availability
As November is the low season in Iceland, it's a great time to score deals on tours and accommodation.
Reykjavík, Golden Circle, Ring Road: You'll be able to travel to these areas easily. Just remember that the roads in the East, North, and Snaefellsnes Peninsula can be more slippery and dangerous.
The Ring Road, Golden Circle, and South get a lot more TLC because of tourist traffic. However, the higher North you go, you'll notice it becomes a "road less traveled" scenario, and getting around can be trickier.
Highlands and Westfjords: 🚫Iceland's weather in November is NOT the ideal time to visit these places. They get a lot more snow and it's really difficult to drive, even if the roads are open. I'd give these areas a hard pass for November's itinerary.
Driving in Iceland in November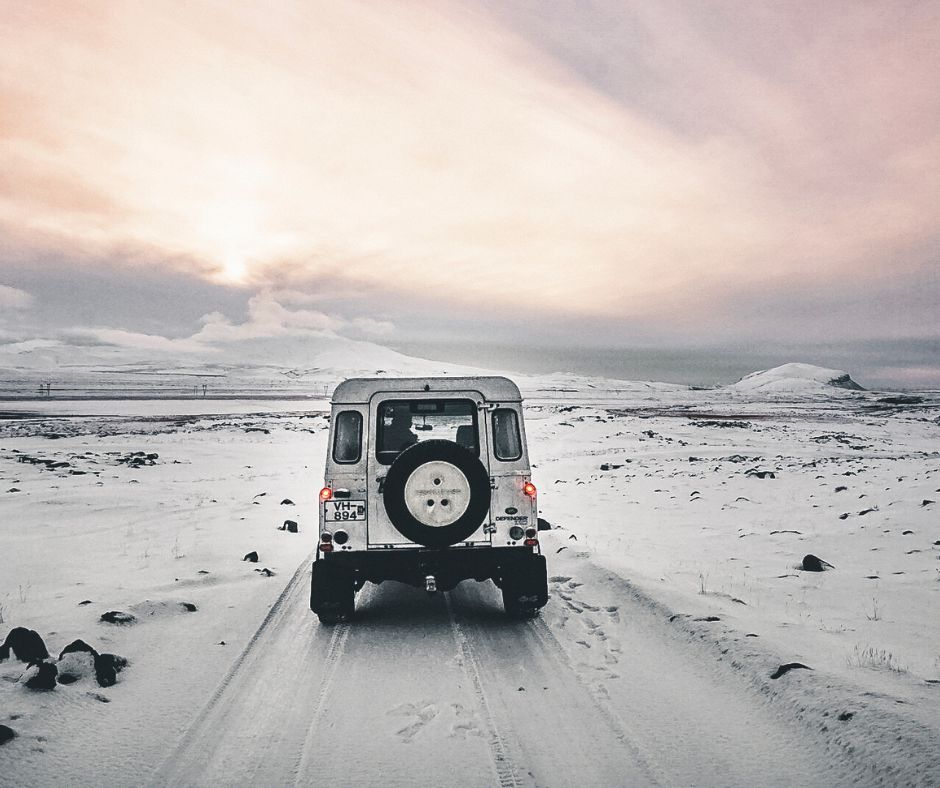 I'm not going to sugarcoat it, driving in Iceland in November is challenging, to say the least.
It's snowy, roads are slippery and there are strong winds, so if you don't have experience driving in these conditions, I would not recommend renting a car.
But if you're confident in your driving skills and up for a challenge, renting a four-wheel drive is absolutely the way to go.
One great resource I recommend checking is road.is. They offer daily updates on all the roads in Iceland so you can check if roads are slippery or if they're closed, especially in November when the snow storms start coming in.
November Festivals + Events
Let's take a look at the events and festivals taking place in Reykjavík in November:
Iceland Airwaves: If you love music festivals, you're going to love this one! This festival takes place in Reykjavík and features renowned music artists.
Some of the concerts are held in big venues that charge a fee but if you happen to be walking around the city and hear music, follow it, my friend! You'll likely come across musicians performing in smaller venues (like 66°North Shop) that you can enjoy for FREE!
Christmas preparations: Icelanders don't celebrate Thanksgiving, but they start prepping for Christmas early. (Seriously, decorations start going up in October already!) It's a fun time of year and you can feel the festive season in the air.
Imagine Peace Tower: You'll still be able to see this tribute to John Lennon by his wife. It's lit on his birthday and remains until the date he died. The tower is still shining in November and it's visible from pretty much everywhere around Reykjavík.
Things To Do In Iceland In November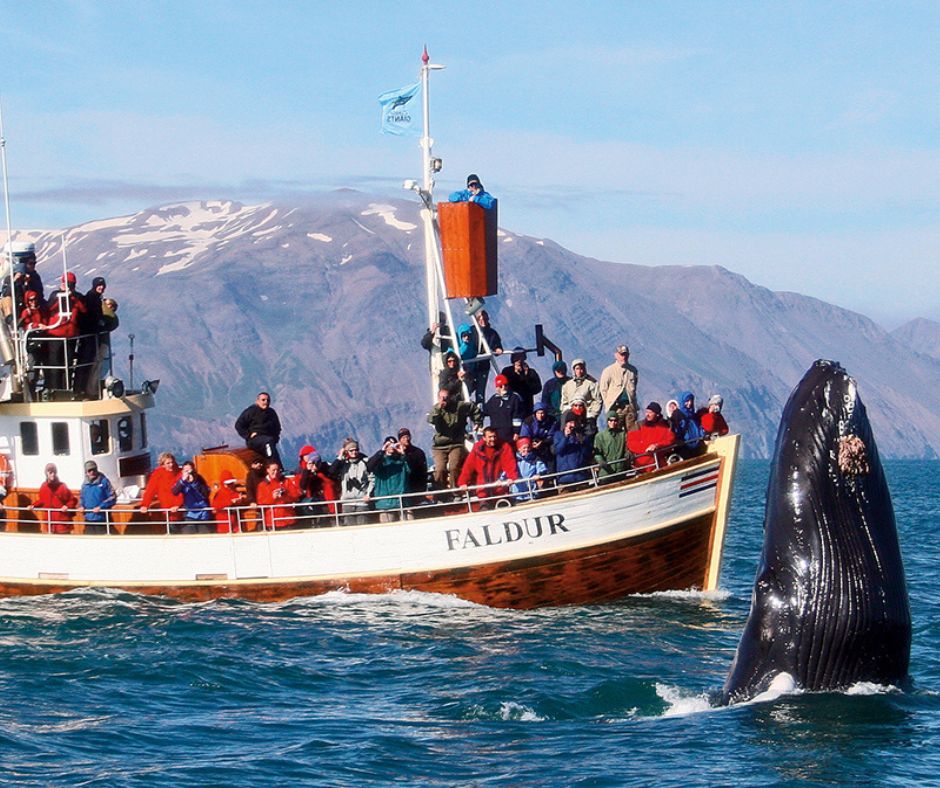 If you're visiting Iceland in November, you'll be happy to know that there are tours available that are unique to this time of year.
Caves and Glaciers: Natural crystal caves formed underneath the glaciers are finally safe to visit. Víðgelmir Cave is one of Iceland's largest lava caves. Sólheimajökull Glacier is accessible from the Ring Road and you can find guided glacier hikes in November as well.
Dog sledding: If you're looking for fun for the whole family, dog sledding tours are also available, but if canine-driven travel isn't your thing, you can also try snowmobiling!
Golden Circle and Ring Road: Visit the hot springs, waterfalls, and national parks. The Golden Circle is a great way to experience Iceland's natural highlights.
Northern Lights: November is a prime month to witness this stunning natural display.
(P.S.If you're interested in taking an organized tour check out the Tours Available in Iceland in November)
Whale watching: This is also the time of year to spot humpback whales and orcas and there are a number of whale watching tours available.
Blue Lagoon Spa: Luckily you can unwind in the geothermal waters of the Blue Lagoon all year round. This is, however, a very popular spot, so you'll want to book in advance!
Taking a trip to Iceland in November has its own set of perks – despite the colder weather and certain areas being less accessible – there are still plenty of things to experience!
You'll find everything you need to plan the perfect trip with my 👉 Iceland Travel Guides & Maps.
It's crammed with information on what to pack, where to eat, and more.

The digital maps have over 500 pinned locations, saving you time searching for gas stations, clinics, and hidden gems that no one tells you about. 🤯
So layer up and fasten those crampons – it's time for your next trip!

Pin it for Later! 👇🏾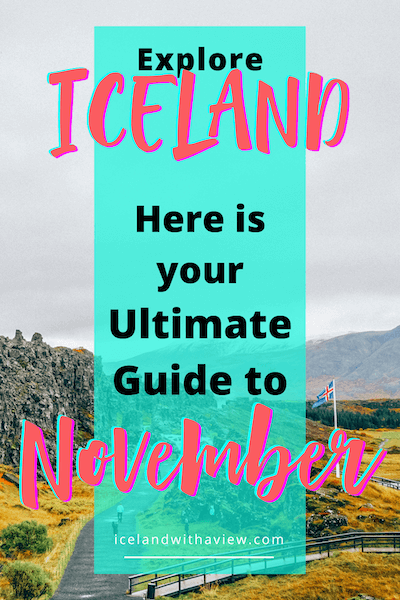 ---
Get your FREE Winter/Spring packing list!
Wondering what to pack for your Winter/Spring trip to Iceland? I've got you covered with this detailed packing list!