I know, I know, everyone wants to come to Iceland for the green grass, flowing waterfalls, and multi-colored mountains of Landmannalaugar.
I can't argue, Iceland on a warm summer day is hard to beat (mind you…"warm" in Iceland is around 14 degrees celsius…it's the arctic remember!) With breathtaking mountainous landscapes, never-ending waterfalls, and black sand beaches, Iceland is an outdoor paradise.
In the past few years, there has been a major increase in tourism in Iceland. Photos on Instagram highlight Iceland's hidden gems in the palm of your hand. More airlines are offering routes to Iceland.  Even Good Morning America has sent reporters to broadcast from a glacier and an active volcano!
When planning a winter getaway, I'm sure Iceland isn't the first place that comes to mind. It's just dark and cold there, right? Well, I'm here to show you why winter in Iceland is definitely worth a trip!
The Icelandic Horse
As if these guys weren't adorable enough already, now they just look awesome against a white background. Bonus, they are super friendly! This one just walked up to me and would have let me pet him all day!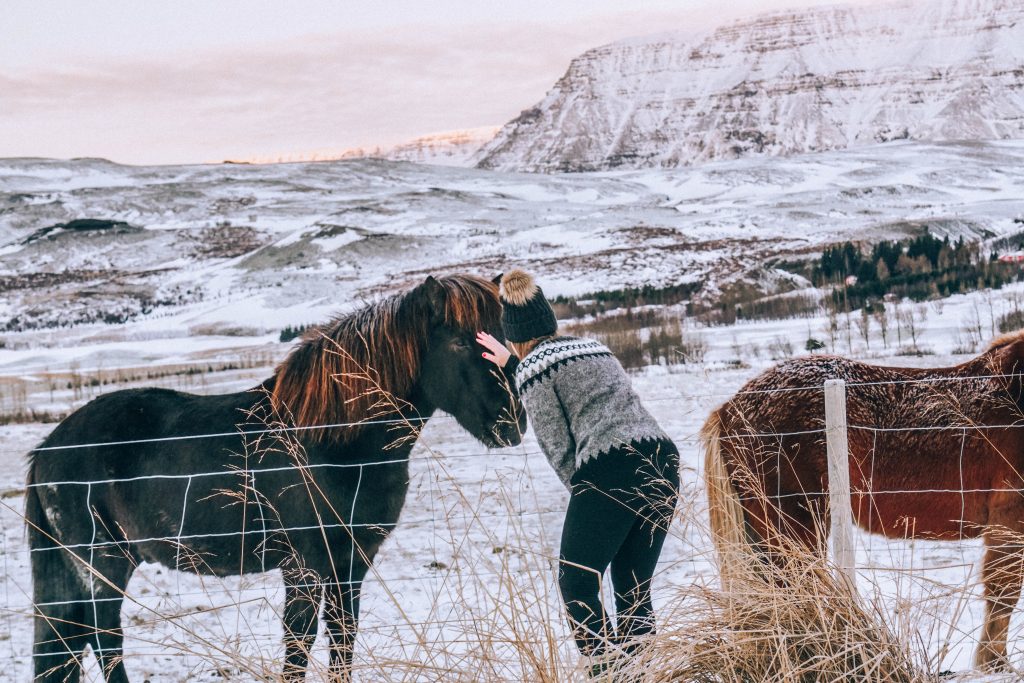 Geothermal Pools
Fact: Icelanders LOVE their pools, and because they are naturally heated from nearby hot springs, it makes the experience magical. Did you know that nearly every town in the country has a pool?! Families spend their weekends soaking in hot water and splashing down the slides. It's a great way to stay warm during the long cold winter days.
Golden Hour Sunsets
Turns out there is a positive side to the long dark hours of winter. During winter, the sun doesn't get very high in the sky, and as a result, the golden hour seems to go on forever. I can't even count how many breathtaking sunsets I have seen so far!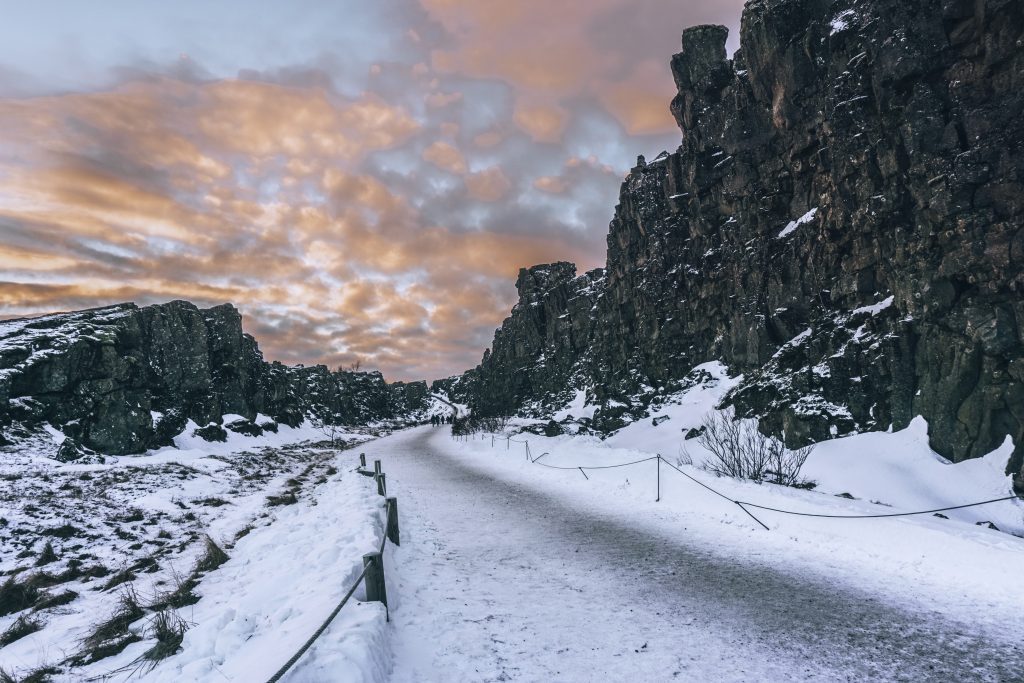 Frozen Waterfalls
The first time I saw Gullfoss I was like "wow, that waterfall is so big and beautiful!" But the second time I saw Gullfoss (in the depths of winter) I was like "OMG that is out of control gorgeous!" The combination of the clear blue water, the ice around the falls, and then the sunset was an amazing sight to see.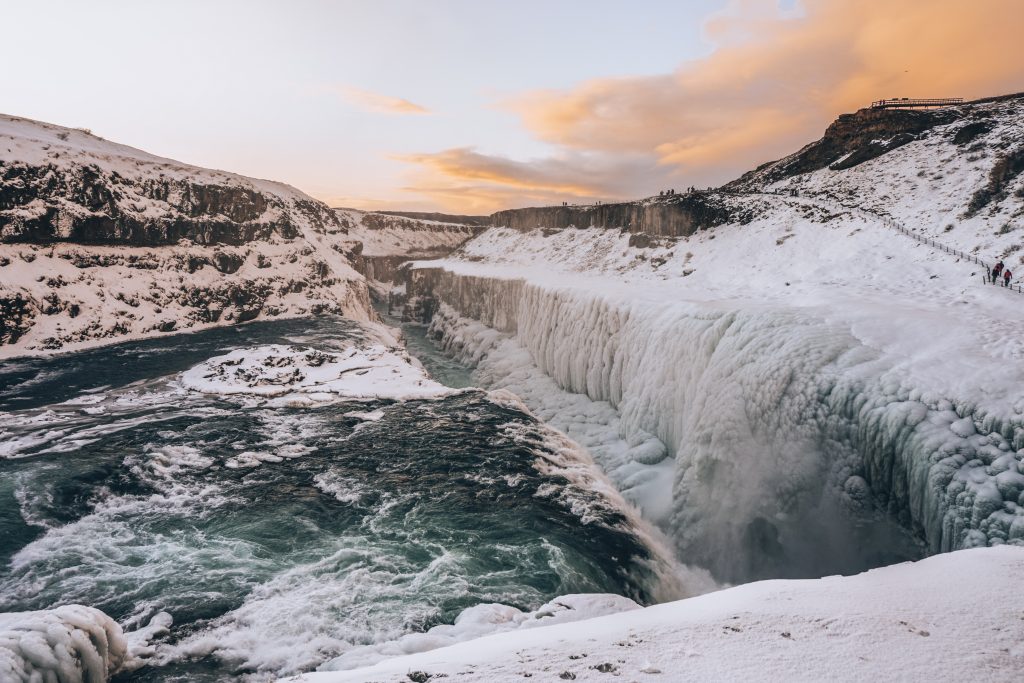 The Northern Lights
Of course one of the BEST parts about visiting Iceland in the winter is the breathtaking Northern Lights. In fact, I think this is a big draw for people to visit in the winter, and with good reason! These wonders of nature were the number one thing on my bucket list for a long time, and Iceland is an incredible place to see them. There are a lot of factors that make for good Aurora viewing, but if you're lucky you will be able to see these green beauties dancing across the sky!
Read more: How to See the Northern Lights in Iceland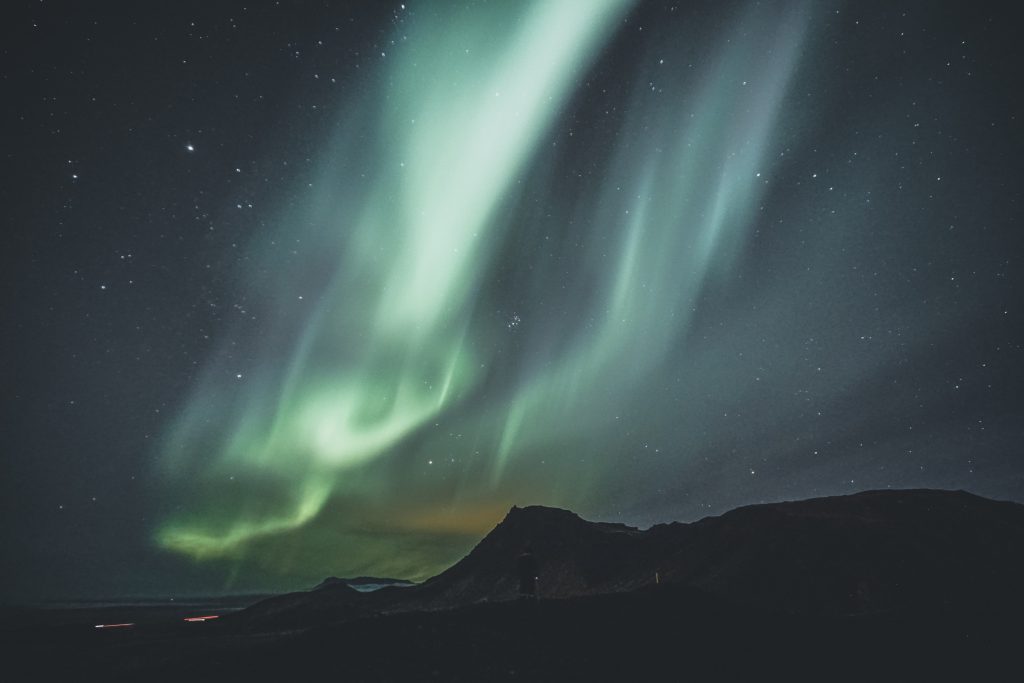 Helpful Tips for the best Iceland Winter Vacation
The best thing about visiting Iceland in off-peak tourist season is there will be fewer people at all of the popular stops. This means you don't have to wait 10 minutes for people to clear the area, and thus your waterfall photos will be prime! Since most attractions in Iceland are smack dab in the middle of nature, everything is still "open" during the winter season. I recommend using extreme caution when approaching these areas. Often times there will be signs telling you where to avoid, listen to them. Waterfalls are particularly dangerous because they form ice along the walkways. Be a smart traveler!

Saving Money
Because they aren't in as high of demand, certain accommodations might be slightly cheaper during the off-peak months. If you're really looking to save money, I recommend a guesthouse or hostel. This also allows you to cook your own meals which will save you a lot of money!
Read more: 19 Easy Ways to Save Money in Iceland
Driving in Winter
Like I said, the weather in Iceland can change very quickly, and this can affect travel around the country. Be extra careful when driving, and always check road conditions.
Read more: Winter Driving + Safety Tips
Winter Weather
Contrary to what you might think, Iceland in the winter is actually not that cold! The jet stream effect means that the coast of the island hovers around -5 to 3 celsius on average. (The interior gets much colder!) However, the weather in Iceland is ALWAYS changing, so be prepared for all conditions! One thing to note: because Iceland has very few trees, the wind is often the biggest and most inconvenient factor during travels. The high winds of Iceland are nothing to take lightly, especially when it comes to drifting snow.

Get your FREE Winter/Spring packing list!
Wondering what to pack for your Winter/Spring trip to Iceland? I've got you covered with this detailed packing list!