Packing for a winter trip is HARD, which is why an Iceland winter packing list is essential if you're planning a trip to the land of fire and ice during this season.
Winter apparel is twice as bulky, taking up precious suitcase real estate, so you need to pack wisely.
If you're not from a cold climate, you may not even know what you need to know in order to figure out what to pack until you do know – you know? 😜
If that sounded confusing, don't fret. I'm here to guide you on what to pack for Iceland in winter and make sure you're completely covered – literally!
You'll get the intel about everything from what to wear to what electronics to bring and everything else in between.
It's also super helpful to know what NOT to bring, and I'll go over that too.

Would you like a PRINTABLE Winter Packing List for Iceland?
Great news! I created one just for you that you can snag for FREE!

Not only will you get an itemized checklist, but my Ultimate Iceland Packing Guide includes weather summaries, layering advice, footwear recommendations, and shopping guides – you'll have everything you need to pack like a pro.
So if you'd rather have this in PDF copy, just download it below. 👇🏼

Table Of Contents
Let's get cracking!
Iceland Winter Weather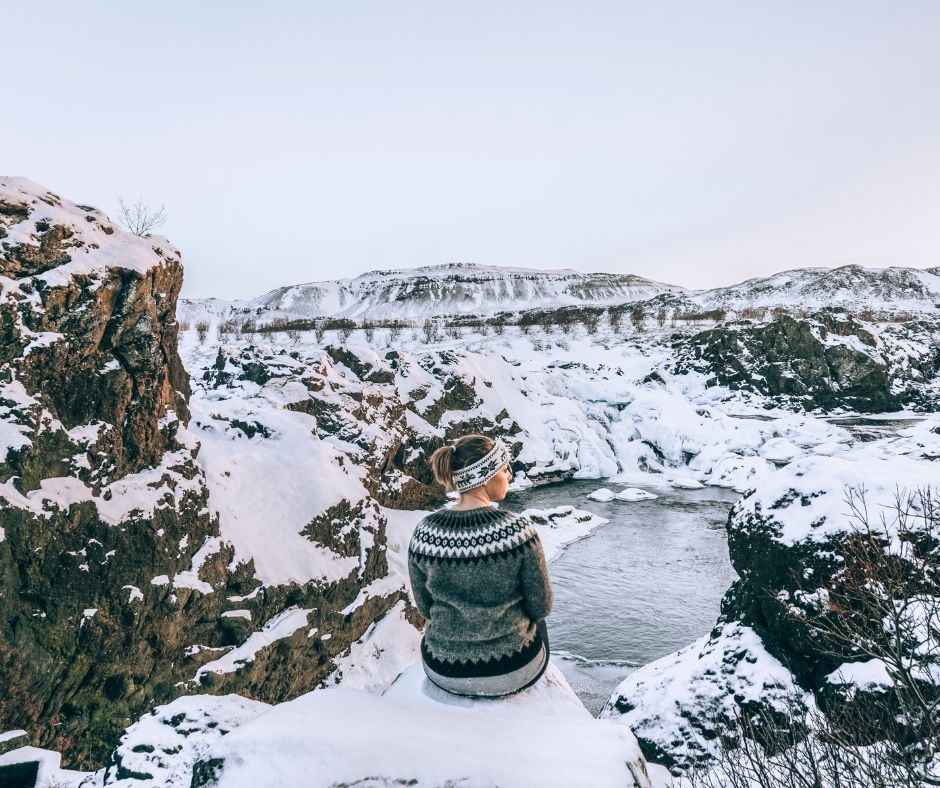 Before you start packing, let's take a look at what kind of weather you can expect in winter.
In case you didn't know: Winter in Iceland is looong!
It generally lasts from November to March, and temperatures fluctuate depending on where you're going.
Brace yourself for snow, wind, and rain.
Temperatures vary from one region to the next and the north of the country is generally colder than the south.
The wind is frigid, making it feel much colder than it really is, and rainfall averages at about 100 mm (4in.)
Average Winter Temperatures in Iceland
If you're wondering how cold Iceland is in winter, it generally ranges from -2 to 4 degrees Celsius, that's 28-40 degrees Fahrenheit.
Not as cold as you'd expect, right?
But, as I mentioned before, the wind chill will make it feel MUCH colder!
The coldest temperature recorded in Iceland in 50 years was December 2023, with Reykjavík reaching -4 degrees Celsius (24.8 degrees Fahrenheit)
So yeah, you want to come prepared for the worst-case scenario!
Make sure to download my Iceland Packing Guide to help you do just that. Not only will you get an Iceland Winter Packing List that covers what to pack for Iceland in November right through to March – you'll also get a shopping guide, expert packing tips, and a layering cheat sheet.
You'll be dressed for success no matter what Mother Nature throws at you!
How to Pack for Iceland
Visitors are oftentimes unsure of what to wear in Iceland in December, January, and February, as these are the coldest months of the year.
All I can say is that it's really important to invest in good quality gear that will keep you dry and warm.
Iceland is spectacular, but you must be properly dressed to enjoy it.
If you're cold, you're just going to want to go back to your car, and that's no way to experience Iceland. My winter packing list will save you tons of time and luggage space!
The weather in Iceland is ever-changing, and sometimes you can experience all four seasons in a day! And because there are so few trees, Iceland has this thing called ´sideways rain.´
It's when the winds are so strong that the rain appears to come at you from the side. Just to be safe, I would suggest a hood on everything. You never know when you'll need an extra layer!
Iceland Winter Packing List Essentials: Outerwear
Personally, I don't care about how I look when I go outside, only about being warm and comfortable. So take it from someone who lives in Iceland and ventures into the wilderness every weekend…pack practical!
You need to remember 3 things when considering what to pack for a trip to Iceland: Water/windproof, layers, and comfort.
1. Wind & Waterproof Parka
This item should top your Icelandic winter packing list!
I remember the first time traveling here in the winter. I packed my gorgeous water-resistant Michael Kors Jacket with a fur hoody. Then, I soon realized the importance of waterproof gear!
I didn't last 5 minutes in the rain before I was soaked through – clearly, I had no idea what to pack for Iceland in winter!
You absolutely need your jacket to be WATERPROOF, warm and with a hood (remember the sideways rain).
Bonus points if it's knee-length like this simple winter Parka because you'll want to keep as much covered as possible!
It's one of the best jackets for Iceland in months like November when there is plenty of snow and rain.
2. Pants
While jeans are okay if you're staying indoors, they'll do nothing to keep you dry when you're out exploring.
If you are wearing leggings or jeans and they get wet, then you're out of luck for the day. Trust me, you want to keep your legs dry and warm.
I have a fleece-lined pair of outdoor snow pants for snowy adventures. I also have a lighter pair for windy/rainy days that I absolutely love! Whether you're wondering what to wear in Iceland in March or December, I'd pack a pair of these bad boys in my suitcase.
3. Down coat
This would be a good alternative on its own as an outer layer if the weather is mild for walking around Reykjavík.
When it's colder, however, think about this coat as a warm base layer. The benefit to Down is that it's packable, ultra-lightweight, and great for insulation.
One of my favorites is this Wantdo jacket. It's filled with duck down that is both responsibly sourced and certified by the Responsible Down Standard (RDS).
4. Hat / Headband
There is rarely a time I don't have a hat on my head, no matter the season. You definitely want to keep your head and ears warm in Iceland!
I use my headband all the time but when it's particularly icy outside I opt for more coverage.
My favorite kind is one with a tight-knit for maximum warmth and these by Love Your Melon are so pretty!
5. Gloves
I prefer gloves over mittens because I'm always using my camera, so I find them more functional.
These Tomily touchscreen gloves touchscreen gloves are also windproof, making them a great option.
Because they have touchscreen pads, you can use your phone without taking your gloves off!
It's such a useful feature that I'd add it to the winter packing list for Iceland.
6. Scarf
Keeping my neck warm is a top priority. I have an awesome wool scarf that really blocks the wind.
However, a scarf can be bulky so I use these merino wool gaiters a lot. I love that they're non-itch and double-layered. I also have a fleece-lined gaiter that is awesome for colder days or for exploring outdoors.
Layers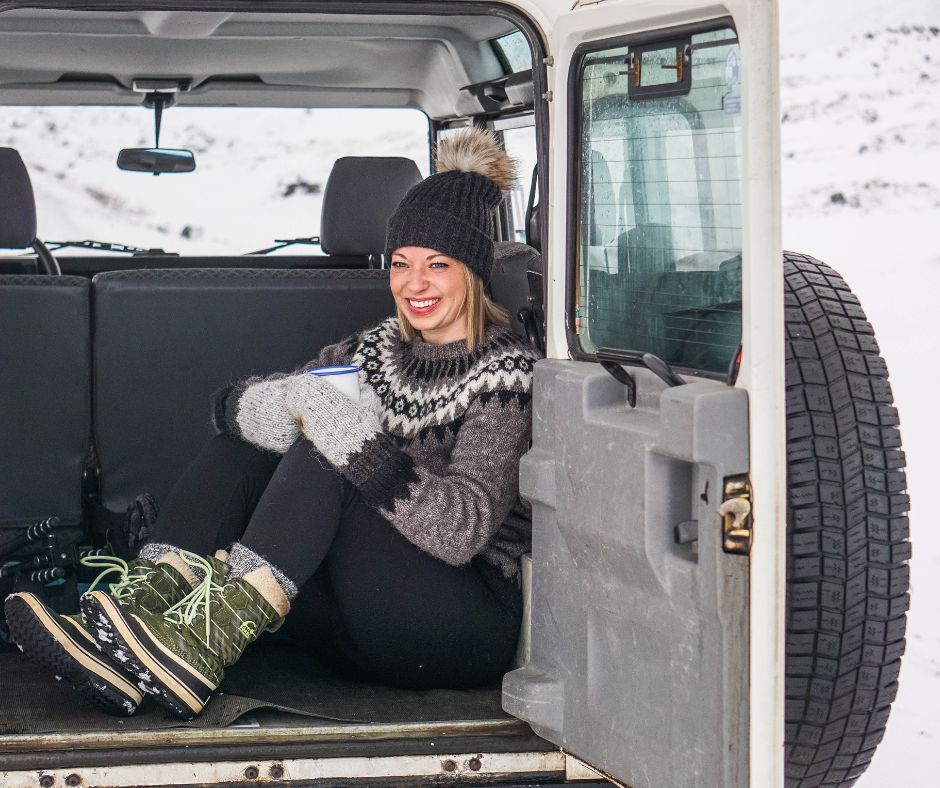 When it comes to dressing for Icelandic winters, the secret to staying warm and comfortable is all about layering up. This way, you can easily adjust your clothing to match the ever-changing weather conditions.
Thermals: Under Armour is my favorite as it traps heat and is quick drying. Don't skimp on quality here, a good base layer can make a big difference in keeping you warm. Bring both a top and a bottom and wear it under everything.
Fleece leggings: Another option is to have fleece leggings by themselves or underneath a pair of hiking pants. Sometimes I can get away with just the fleece leggings without my outdoor pants, but that's not the norm.
Wool sweater: Invest in a wool sweater – just do it! It's a real game-changer. If you prefer, wait until you get here and buy a genuine Icelandic Lopapeysa. They're beautiful and functional with natural water-repellent properties and oh-so-warm. I am not kidding when I tell you that I wear mine every weekend, and it's the warmest thing I own!
Wool socks: You'll want multiple pairs of warm, moisture-wicking socks. I'd pack basic hiking socks and then wool socks for colder days. Can you tell I love wool? Nothing beats it for keeping you warm!
Layering long-sleeves: When it comes to winter layering, think long-sleeve tees, dry-fit zip-ups, cozy cardigans, and that cute chambray button-up. These are versatile pieces that allow you to change your outfit for dinner and ensure that you don't feel stuck wearing the same thing every day!
Jeans: I don't recommend jeans for your outdoor adventures, remember it's all about comfort! But you will want a pair of jeans for going out to eat. In Iceland, it is common to wear skinny jeans.
Remember that it's better to be over-prepared when it comes to winter wear, so prioritize staying dry and warm!
Pack perfectly for your Iceland trip with my Ultimate Iceland Packing Guide. Get packing checklists, weather info, recommendations for everything from hiking boots to winter jackets, and local tips from someone who lives in Iceland year-round.
Footwear
With so many natural attractions to see, you'll be doing a lot of walking. You're going to want to pack shoes that are comfortable and protect against the elements and rugged terrain.
1. Hiking Boots
🎵These boots are made for walking! 🎵
Good-quality hiking boots are a must. These hiking boots are my absolute favorite and, in my opinion, the best shoes for Icelandic winters.
They are completely waterproof, with amazing traction, and are super comfortable and lightweight. Many hiking boot brands are just plain ugly, but these have a great look.
2. Snow boots
Need reliable boots for a blizzard? My go-to is Sorel winter boots. They're warm, waterproof, and built to last. Perfect for deep snow adventures or when my hiking boots just won't cut it. Their herringbone outsole ensures great grip, and they're super comfy too. The only catch? They're a bit on the heavy side, but I think it's worth it. 🤷🏼‍♀️
3. Crampons
This is the NUMBER ONE thing you need to pack for your trip and an absolute must for winter safety in Iceland! I have used mine several times, and they make me feel so safe walking on the ice.
Iceland doesn't do a great job at clearing away ice, and it can get very slippery, especially near waterfalls and even some regular streets.
Yaktrax (for basic protection): These crampons offer basic protection and are ideal for strolling around Reykjavík
Spikes (for extra protection): Perfect for sightseeing and hiking-these are what I use.
What Else to Bring to Iceland in Winter
Along with apparel, my Iceland winter packing list also includes a few other non-negotiable items that you should definitely pack in your bag.
Swimsuit: Icelanders LOVE pools, there is a pool in every town! The thermal hot springs and pools are popular attractions all year round.
Not only that, there are dozens of hot springs you will find around the country. Trust me, there is nothing better than relaxing in a natural hot spring in the middle of the wilderness.
Flip flops: If you're visiting the geothermal pools and hot springs, you'll need to bring along a pair of flip-flops. You'll definitely use them. Any cheap pair will do.
Quick-dry towel: Quick-dry towels are so convenient because they fold up small and dry quickly (obviously). Whether you're planning on Camping in Iceland, staying in a hostel, or swimming in the natural pools, this really comes in handy.
Sunglasses: Yes the sun comes out in the winter and when it does, you'll want some shades. Since the sun only rises partway into the sky during the winter months, the sun can be shining right in your face most of the day, not to mention the glare on the snow.
Day Bag: You want some sort of multi-purpose bag that'll be comfortable and functional when you're exploring. I love this Lowepro backpack because it has plenty of storage for my camera, but I can also bring day trip items like my swimsuit and towel! And it also has a strap for attaching a tripod which is a really nice feature.
Water Bottle: For the love of all that is good, don't buy water in Iceland! You can drink the water out of any faucet or scoop it up from a stream while hiking – it comes straight from the glacier! I like the Yeti Rambler bottle because it's insulated and leakproof.
Camera: This goes without saying! With a picture-perfect scene around every corner, you're going to want to capture these memories. If you want to capture the best photos on your trip to Iceland, see my complete Iceland Camera Essentials post.
Car chargers: A lifesaver for when your camera and/or phone dies when you're on the road. This happens to me all of the time. These devices just don't seem to hold up in cold weather!
Adapter: Make sure you can charge your phone, camera, or computer with the correct plug. Iceland uses the standard European plug with two round prongs. I love my universal adapter because I can take it with me around the world and it has two handy USB ports for extra charging. Each person needs their own adapter!
I get emails daily asking me about plugs, adapters, and converters so I dedicated a whole blog post to the topic. I know you'll find it helpful 👉 The Definitive Guide to Iceland Plugs, Outlets, Adapters & Converters!
Medicines/prescriptions: Please bring your own medicine because some can be super hard to find in Iceland. You can't get things like ibuprofen or cold medication over the counter. Come prepared and bring whatever you think you may need especially prescription medication.
Winter activities: This one is often overlooked, but don't forget to pack for the winter activities you plan on doing as they may need their own special gear.
What NOT to Pack for Iceland in Winter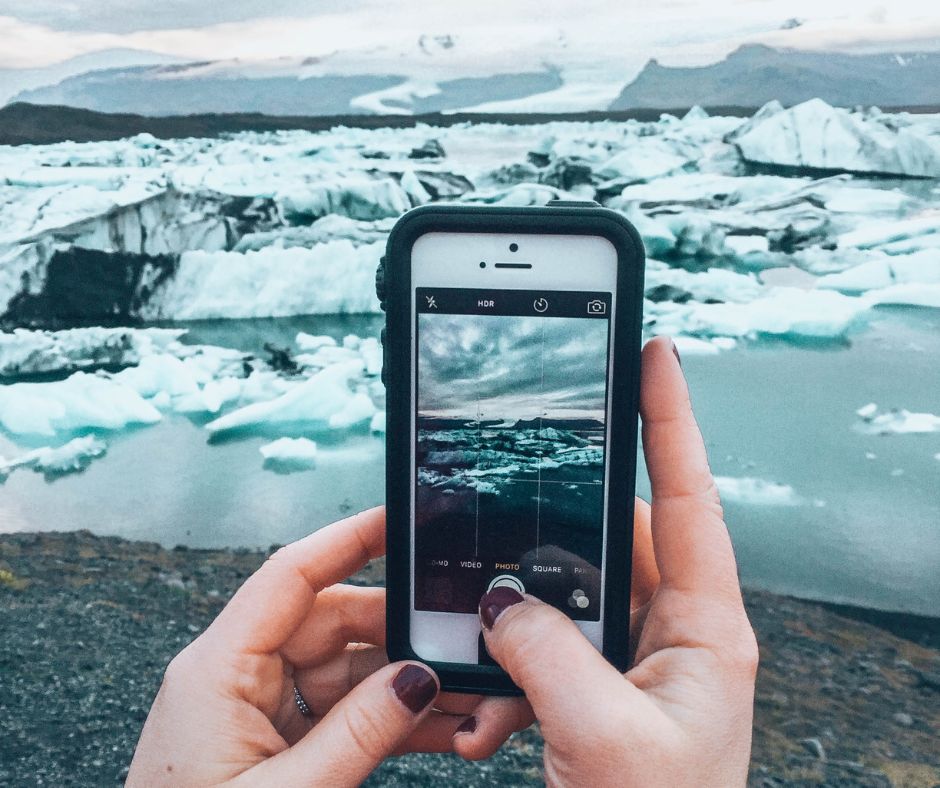 Umbrella: The Icelandic wind is incredibly strong and will break your umbrella on your first day! If you're decked out in proper rain gear from head to toe you'll be just fine.
Cash: There's no need to bring cash. Cards/Apple Pay is accepted and used for almost everything.
Dressy clothes: You can skip this altogether unless you plan on eating out at a high-end restaurant in Reykjavík. Opt for a sweater and leggings/jeans instead.
Horseback riding gear: Fun fact: Did you know that Icelanders do not allow any riding gear from outside of Iceland? This includes used leather riding boots. They do this to protect the horses from outside pathogens.
A camera you don't know how to use: Many people get a fancy new camera for their Iceland trip – but never learn how to use it. Make sure you spend a good amount of time getting to know your camera's settings and practicing before you go to Iceland. Otherwise, your smartphone will do! (Check out this video about cameras vs. smartphones for Iceland.)
✅ If you want all of this information in a super convenient checklist, download my Iceland Packing Guide!
It includes an Iceland winter packing list (as well as one for summer!), info on what electronics and documents to bring along, and more! Packed with weather insights, a shopping guide, and even a layering cheatsheet, you don't want to pack for your Iceland trip without this.
With the complete Iceland winter packing list guide you can spend less time planning and more time daydreaming about all the cool stuff you can do on your trip!

Happy Planning,

Pin it for Later! 👇🏾