Packing for Iceland in the winter might be the hardest season to plan for. Especially if you're not from a cold climate it can be overwhelming thinking about everything you might need. Not to mention winter apparel is twice as bulky so you're talking about precious suitcase space!
The three main things to remember during your Iceland travel: water/windproof, layers, and comfort. The weather in Iceland changes all of the time, and sometimes you can experience all four seasons in one day! And because there are so few trees, Iceland has this thing called sideways rain. It's when there is normal rain but the wind is so high that the rain appears to come at you sideways. I would suggest a hood on everything, you never know when you will need an extra layer!
It's really important to invest in good quality gear that will keep you dry and warm. Iceland will reward you with its astounding beauty but you have to be properly dressed to enjoy it. If you're cold you're just going to want to go back to your car, and that's not a good way to experience Iceland!
Personally, I don't care about how I look when I go outside, I only care about being warm and comfortable! So take it from someone who lives here and adventures into the wilderness every weekend…pack practical!
Outerwear
Parka: This item is your workhorse. You absolutely need it to be waterproof, warm and with a hood. Bonus if it's knee-length, keep as much covered as possible!
Pants: Trust me, you want to keep your legs dry and warm. If you are wearing leggings or jeans and they get wet, then you're out of luck for the day. I have a lighter pair for windy/rainy days, and a fleece-lined pair for snowy adventures that I absolutely love.
Down coat: Think about this coat as a warm base layer. The benefit to down is that it's packable, lightweight, and great for insulation. This would also be a good alternative on its own if the weather is mild or you are walking around the city.
Hat: You definitely want to keep your head warm in Iceland! There is rarely a time I don't have a hat on my head, no matter the season. My tip: consider a functional hat that's not only stylish but WARM! My favorite is a tight-knit for max warmth.
Gloves: I prefer gloves over mittens because I'm always using my camera so they are more functional. Bonus if they have the touch screen pads because then you can use your phone without taking the gloves off!
Scarf: Keeping my neck warm is a top priority. I have an awesome wool scarf that really blocks the wind – again, not a loose knit chunky scarf. However, sometimes a scarf is too bulky so I also use these merino wool gaiters a lot. I have a fleece lined gaiter that is awesome for colder days or walking around exploring.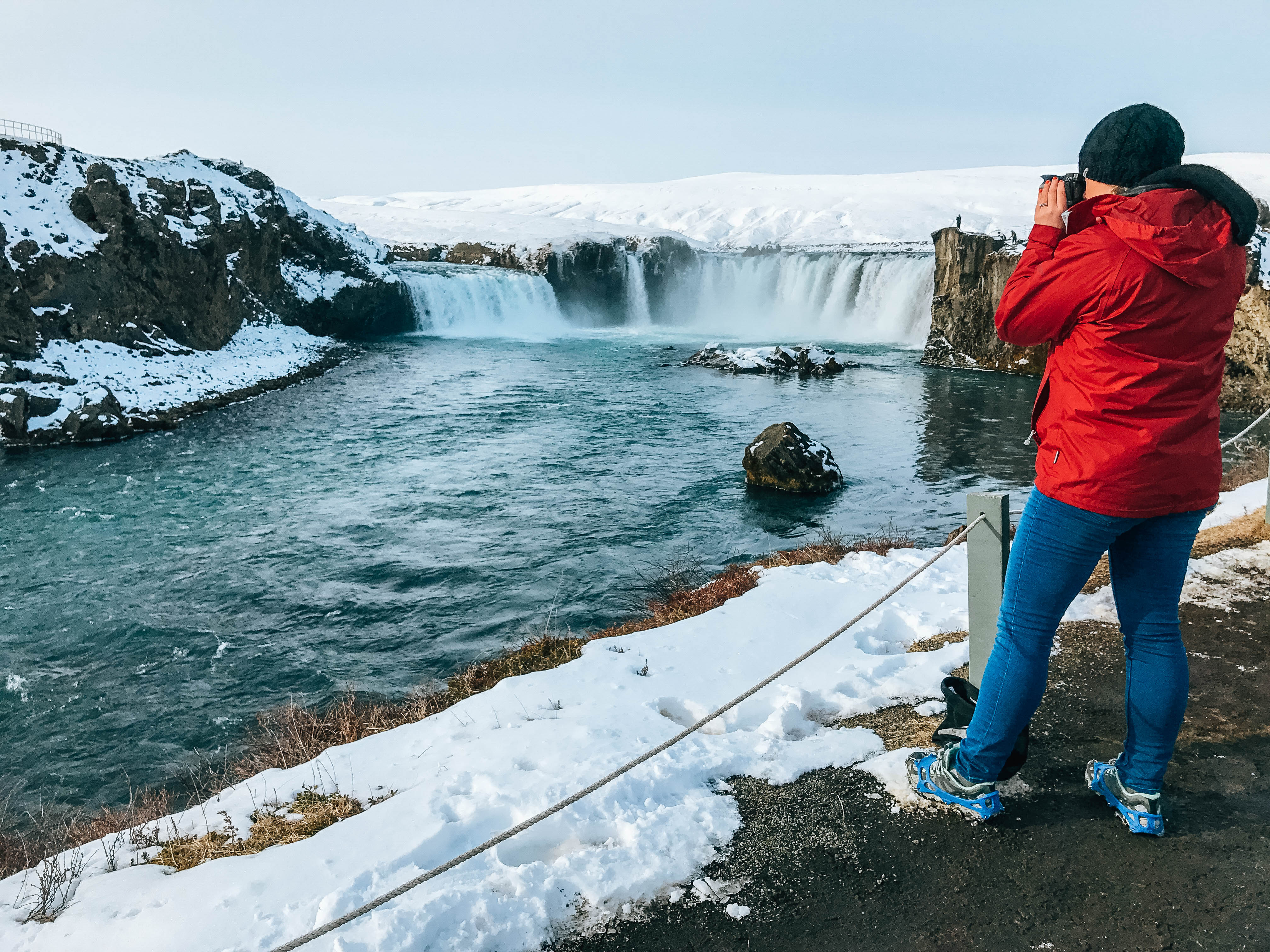 Layers
Thermals: Bring both a top and a bottom, wear under everything, repeat. Again, don't skimp on quality here, a good base layer can make a big difference for keeping you warm.
Fleece leggings: Another option is having fleece leggings by themselves or underneath a pair of hiking pants. Soooometimes I can get away with just the fleece leggings without my outdoor pants, but that's not the norm.
Wool sweater: Invest in an actual wool sweater, it makes a huge difference! Or wait until you get to Iceland and buy a real one. Everyone has them, and they are seriously the best! I am not kidding when I say I wear mine every weekend, it's the warmest thing I own.
Wool socks: Can you tell I love wool? No, but seriously it's the best for warmth. You will want multiple pairs of warm moisture wicking socks.
Layering long sleeves: Think long sleeve tees, dry fit zip ups, cardigans, that cute chambray button up…basically anything that you can change into for dinner and will make you feel like you're not wearing the same thing every day.
Jeans: I don't recommend jeans for your outdoor adventures, remember it's all about comfort! But you will want a pair of jeans for going out to eat. In Iceland, it is common to wear skinny jeans.
Footwear
Walking boots: These hiking boots have saved my life. They are completely waterproof, have amazing traction, and are super comfortable. I highly suggest a good quality pair of hiking boots.
Snow boots: I'm a big fan of my Sorel winter boots. They are warm, waterproof, durable and fashionable! I use these for exploring in deep snow, and when I need more warmth than my hiking boot.
Crampons: NUMBER ONE IMPORTANT THING FOR WINTER!! These are SO important for winter safety! I have used mine several times, and they make me feel so safe walking on the ice. Iceland doesn't do a great job at clearing away ice, and it can get very slippery especially walking around waterfalls and even some normal streets.
Yaktrax (for basic protection)
Spikes (for extra protection/what I use)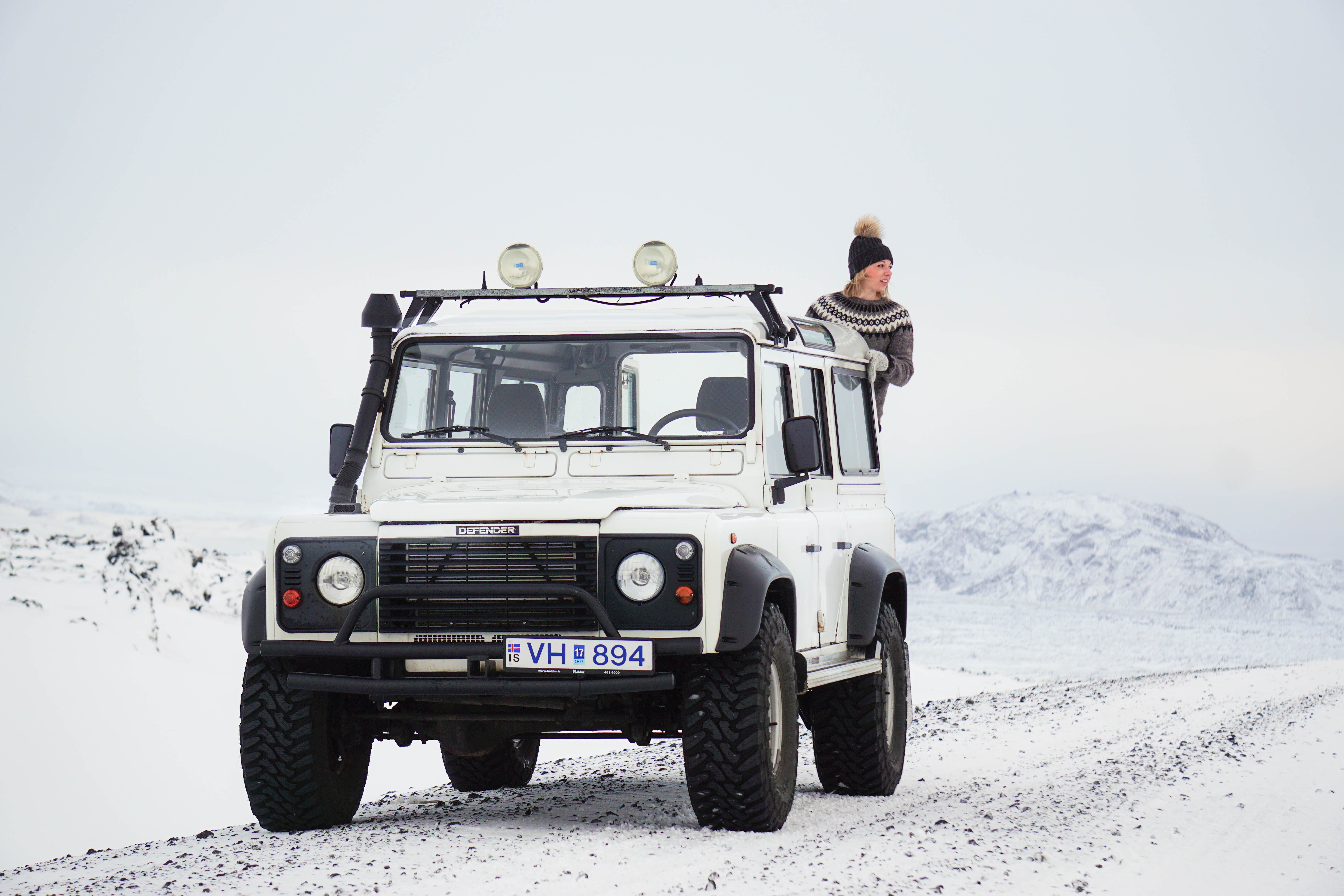 Etc.
Swimsuit: Yes, really. Icelanders LOVE pools, there is a pool in every town! And not only that but there are dozens of hot springs you will find around the country. Trust me, there is nothing better than relaxing in a natural hot spring in the middle of the wilderness.
Quick-dry towel: Quick dry towels are so convenient because they fold up small and obviously dry quickly. Especially if you're planning on camping or staying in a hostel (pay for towels), or swimming in the natural pools, this really comes in handy.
Sunglasses: Yes the sun comes out in the winter and when it does trust me you will want some shades. Since the sun only rises partway into the sky during the winter months, the sun can be shining right in your face most of the day!
Day Bag: You want some sort of multi-purpose bag that will be comfortable on your back when walking around but also functional. I love this one because it has plenty of storage for my camera, but I can also bring day trip items like my swimsuit and towel! And it has a strap for attaching a tripod which is a really nice feature.

Water bottle: Buying water in Iceland is just silly. You can drink the water out of any faucet or even from the stream you are hiking by – it comes straight from the glacier!
Camera: Duh! *See my complete camera essentials + packing list HERE!
Car chargers: For when your camera and/or phone goes dead when you're on the road (mine goes dead all of the time from the cold!)
Adapter: Make sure you can charge your phone, camera, or computer with the correct plug. Iceland uses the standard European plug with two round prongs. I love my universal adapter because I can take it with me around the world and it has to handy USB ports for extra charging. Each person needs their own adapter!
Medicines/prescriptions: In Iceland, you can't get stuff like ibuprofen or cold medication over the counter. Bring whatever you think you will need.
---
Final thoughts: It's better to be over prepared when it comes to winter wear, you want to stay dry and warm! Remember, Iceland will reward you with it's beauty but you have to be properly dressed to enjoy it. Have a great trip!

Pin it for later!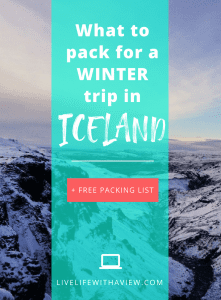 *To help me keep making great videos and posts throughout the year, place your next Amazon order through my
affiliate link
. It's no extra cost to you and a big help for me to show you new ways of planning the best trip ever!
Get your FREE Winter/Spring packing list!
Wondering what to pack for your Winter/Spring trip to Iceland? I've got you covered with this detailed packing list!