If you're looking for an affordable way to enjoy Iceland's natural beauty, consider camping in Iceland. While traveling to Iceland can be pricey, there still ARE are so many ways to travel on a budget – from knowing where to eat on the cheap, what to look for in a vehicle rental, and many other strategies to save money!
And of course, opting to CAMP instead of staying in a pricey hotel will save you some major moolah.
Imagine waking up to breathtaking views of Iceland's stunning fjords or falling asleep beneath the dancing Northern Lights. If this sounds like a dream come true, then camping in Iceland might be the perfect option for you.
As your Iceland tour guide, I'm here to share all my knowledge about camping in Iceland. In this post, we'll cover everything you need to know about camping in Iceland, including the who, what, where, when, why, and how. So, let's dive in and discover the joys of camping in Iceland!
In this extensive guide, you'll learn:
Who Can Camp?
Anyone of all shapes, sizes, and ages…camping is for everyone! If you're a nature lover or if you're just looking for a way to save money, then camping is going to be a perfect fit for you. More specifically, camping can be done in a tent, a camper van, an RV or motorhome, or your vehicle (under very specific regulations, but we're going to get into that in just a minute).
Pros & Cons Of Camping In Iceland
There are so many reasons why you SHOULD consider camping in Iceland…and a couple of reasons why you shouldn't, as well. I'll cover them both here for objectivity!
Pros
Camping in Iceland is an amazing way to experience the country's natural beauty without breaking the bank. It's so much cheaper than traditional accommodations, so you save money by not having to fork out cash on expensive hotel or guest house costs.
What's more, camping gives the opportunity to park in some of Iceland's most beautiful locations. Instead of waking up in a boring hotel room, you can wake up surrounded by stunning natural scenery. You'll be immersed in nature, listening to the calming sounds of birds, wind, and rain while taking in the peaceful surroundings. There's truly no better way to start your morning!
Another perk? Camping in Iceland also offers the flexibility to design your own itinerary. Unlike traditional travel arrangements where you may have to stick to a strict schedule, camping allows you to adjust your plans as needed. If your sightseeing is taking longer than expected, you can easily find a camping spot at the end of the day, or if you have more time than planned, you can camp along the way. This flexibility is such a game-changer when exploring Iceland.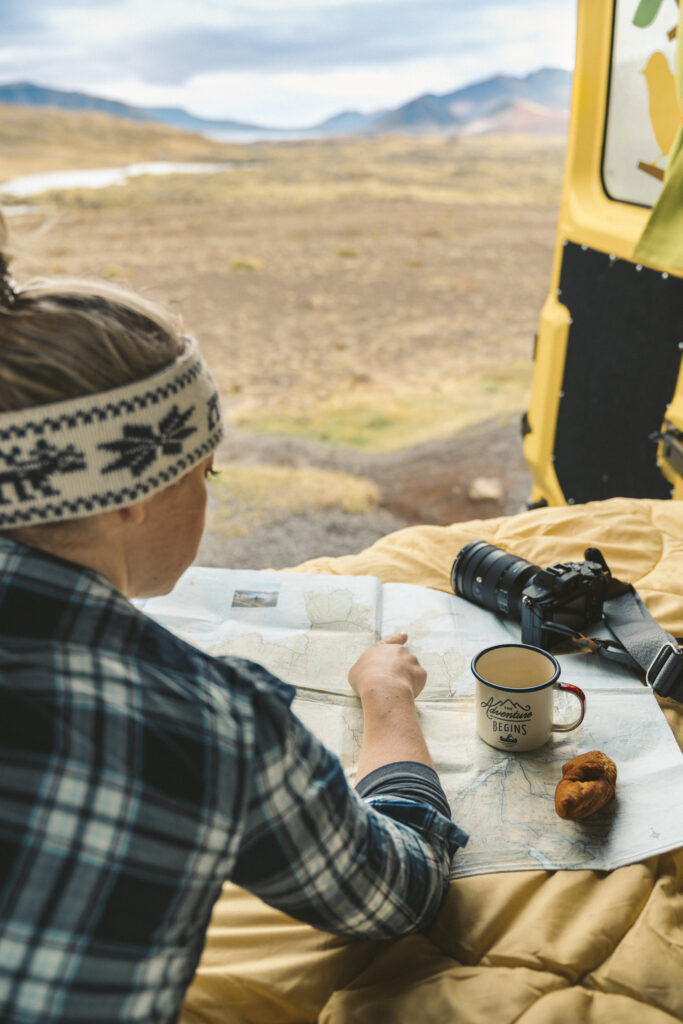 Cons
While camping in Iceland has a ton of benefits, it's also important to take into account some of the drawbacks that might make it less appealing for some travelers.

For one thing, Iceland's weather can be pretty unpredictable, with cold temperatures, rain, and strong winds – even during the summer months.
If you're not prepared to handle these conditions, it might impact your ability to enjoy camping.
Take it from someone who's had more than a few crazy weather experiences while camping in Iceland.
There have been some nights where our tent felt like it might fly away…or where the rain leaked in through the seams. While I'm not trying to steer you away from camping, it IS worth taking the weather into consideration.
Secondly, not all campgrounds in Iceland are created equal. Some have great facilities and clean bathrooms, while others may not be up to par. If you're someone who values a certain level of comfort and cleanliness, you might want to research campgrounds carefully before committing to camping in Iceland.
And finally, if you've never camped before, I have to be honest…
Iceland might not be the best place to start.
Given the unpredictable weather and potentially challenging conditions, it's important to have some experience with setting up tents, cooking your own food, and being self-sufficient. If you're not comfortable with these aspects of camping, it might be better to start with a more straightforward camping trip before taking on Iceland's unpredictable terrain!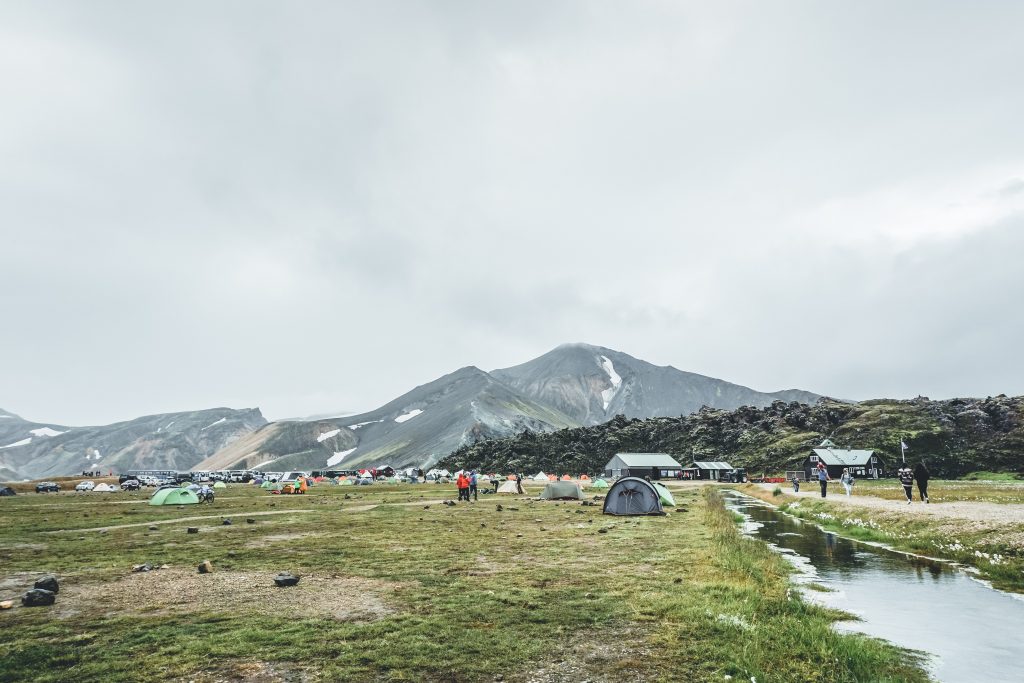 When Is The Best Time to Camp in Iceland?
With over 170 campgrounds spread throughout the country, you can essentially camp year-round, although it's worth noting that some campsites are only open during the summer months. This means that the facilities, such as running water, toilets, and showers, are only available in summer, while in the off-season, these may be closed down.
During peak tourist season in the summer, campsites can fill up quickly, so it's key to check availability in advance. You can find information on campsite availability on websites like tjalda.is, which is a great resource for planning your camping trip in Iceland.
Should You Go Camping In Iceland In The Winter?
If you're considering camping in Iceland during the off-season, such as September or October, be prepared for cold temperatures.
Of course, the cold only intensifies during November, December, January, February, and March.
So be forewarned…camping in Iceland in winter is NOT for the faint of heart!
While camping is still possible during these months, you MUST have the right gear and clothing to stay warm.
If you're not comfortable with the idea of tent camping in cold conditions, consider upgrading to a camper van instead. Additionally, given that there aren't many trees in Iceland, so you can't rely on natural windbreaks.
This means it's even more important to be prepared for potentially windy and rainy weather, during autumn and winter months!
If you're thinking renting a campervan might be the way to go, sign up for my email list to receive a FREE discount code for my all-time favorite campervan company, Happy Campers!

Wild Camping In Iceland – Are You Allowed To Camp Anywhere You Want?
A big question that I hear all the time when it comes to camping is, can you camp anywhere in Iceland?
Let me make myself extremely clear:
It is illegal to camp in a tent, camper van, RV, or vehicle anywhere outside of a designated camping area.
It's against the law, disrespectful, and totally unacceptable, so PLEASE…don't try to attempt it.
The only exception to this rule is if you get written consent from a landowner to wild camp on their property.
Icelanders care deeply about protecting their beautiful country, which is why they have lots of designated camping areas with garbage cans and facilities to accommodate tourists.
Be sure to stick to campgrounds – wild camping is a big no-no in Iceland.
3 Steps To Successfully Camp In Iceland
The first thing that you're going to do is look for a campground on a map. Whether you have a paper map, my digital map in my Travel Guide, or you have a map that's provided to you from your camper van company, you're going to want to locate the campgrounds in Iceland. As I said before, all the villages have some sort of camping area, and a lot of times, as you're driving into the village, you'll see a sign for camping. Just follow the signs and park in that area!

Next, you can just arrive at any time. There's no check-in or check-out time, and you don't need to prebook your reservation for the campsite, you just show up when you get there.

Next, you're going to look for a place to pay, and this could be either at a reception office or by leaving money in a pay box, just depending on, again, the time of year or if the reception is open. If there seems to be an area where there is a reception but it's closed for the day, then just make sure to pay the person in the morning before you head out.
A lot of times the attendants of the campsites will go around quite early in the morning and just knock on your window and make sure that you pay before you leave, so make sure to just do that before you go.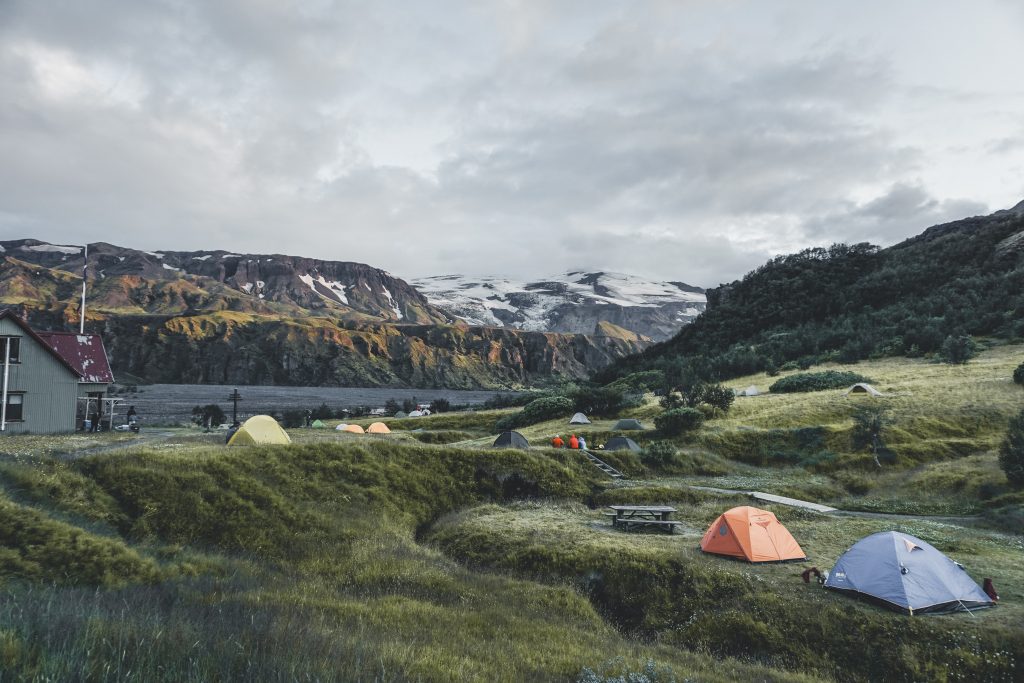 What Are The Campsites In Iceland Like?
Let me tell you, friends, all of the campgrounds in Iceland are drastically different. No two campsites are the same.
In general, you can expect a wide range of facilities, including toilets, showers, laundry facilities, running water, wifi, and charging stations.
But you really can't expect anything.

You just have to either, a) go with the flow!

Or, b) Get access to a camping map that will give you some insight into what to expect from each place.
My go-to recommendation for the best camper van rental in Iceland is always Happy Campers – and they've put together the most BEAUTIFUL campground map that I've ever seen. It details year-round vs. winter vs. summer campgrounds. It also tells you what to expect for amenities, and how much each site costs.
Another thing that some places have is a washing station or big outdoor sink where you can bring your dishes to wash.
I've also stayed in some campgrounds in Iceland that have an indoor kitchen facility. You'll have access to a stove that you can cook at and a nice indoor place to sit with a few tables.
But on the other hand, I've also stayed at some super basic campsites where there are just a few toilets, and nothing else.
Food & Water
Let's talk more specifically about food and water. In terms of food, you have a couple of different options.
Bring your own food.
Going grocery shopping before your camping trip in Iceland is a great way to keep things budget-friendly. You can either bring a lot of dry, prepackaged meals OR cook for yourself if you have the gear to do it!
Eat at restaurants.
If cooking isn't your thing, no need to worry! Most of the campgrounds in Iceland have restaurants nearby, so you can choose to eat out instead.
In terms of water – nearly all campsites have water facilities onsite. You can fill up your water tank there, or you can usually fill up nearby at a fuel station.
Remember, there's tons and tons of free water in Iceland, so there's no need to buy it! Just get your water either at the campsite or fill up at a gas station.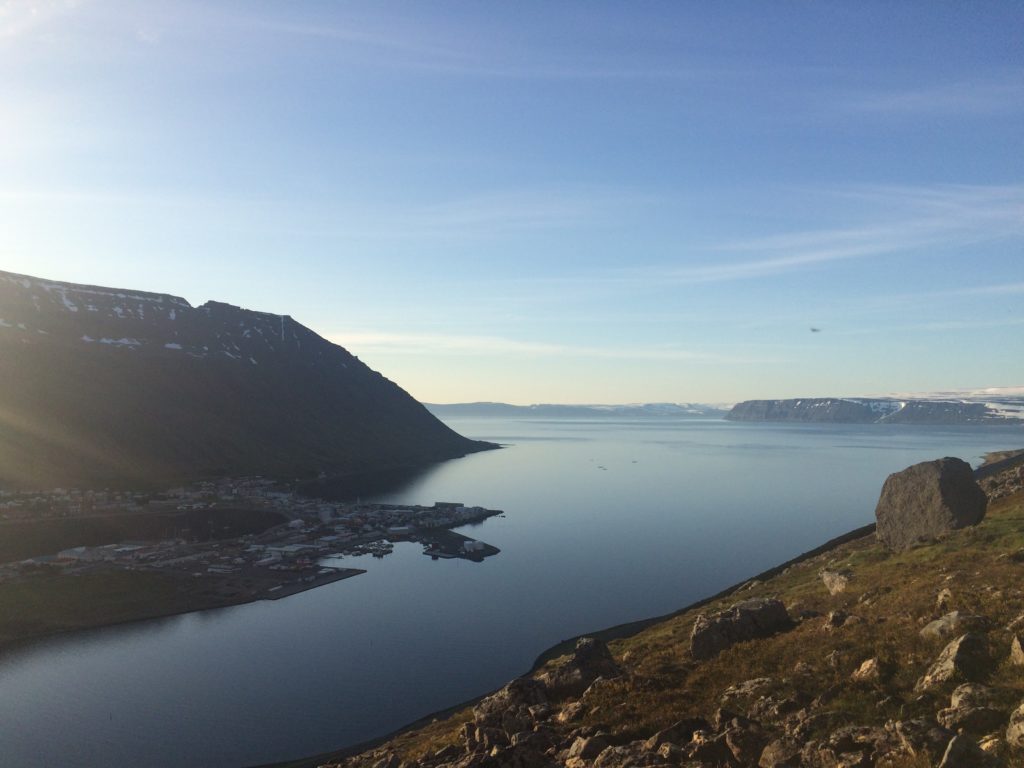 Charging
When you're camping in a tent and relying on your vehicle for power, make sure to charge up your gadgets while you're driving. Some campsites have electricity, but you might have to pay extra for it. If there's a kitchen around, you could try using some of the outlets in there too.
Showers & Toilets
Toilets are a given at campsites and are usually free to use.
However, the shower situation can vary. Some campsites have awesome shower facilities with a changing area and hot water, at no extra charge. But, at other places, you might need to pay for the hot water through a coin-operated machine. So, make sure you bring some local currency and coins if you want a warm shower during your Iceland camping trip!
Iceland Campsite Costs
The good news is that camping in Iceland is an affordable option! Prices are typically quoted per person and range from 1,000 to 2,000 Icelandic krona (equivalent to $8-$18 USD) and include access to bathroom facilities. The more expensive campsites also offer showers, saunas, and geothermal pools as part of the cost. Cheaper campsites may charge an additional fee of around 500 krona ($4) for showers.
Campsites are able to take either cash or card. Obviously, the cash would be in local currency, the Icelandic Krona!
Camping In Iceland vs. Camping In The U.S. – What's The Difference?
If you are familiar with camping in the United States, camping in Iceland is pretty similar but there are some major differences.
It Isn't Secluded

There aren't a lot of trees in Iceland. Most campsites are just a big, open field where everyone pitches their tent (or parks their camper) wherever they want. If it's busy, this may mean you are super close to other people without anything in between you. Also, sometimes campsites are on the outskirts of town, sometimes they are right in the town center, but rarely are they in the middle of nowhere.

You Can't Build a Fire

There are a couple of things working against you on this one:
1) Lack of firewood (see tree comment above)
2) Fragile ecosystem
Some campsites have metal grills set up, but most just have picnic tables where you can use a camp stove

Running Water

Camping in the US usually means pit toilets and (maybe) running water, sometimes a shower, and the facilities are often dirty. In Iceland, almost all campsites have flush toilets, running water, and most have showers. Also, the facilities are clean! And, an added bonus, you don't have to negotiate with a giant spider for use of the toilet 😉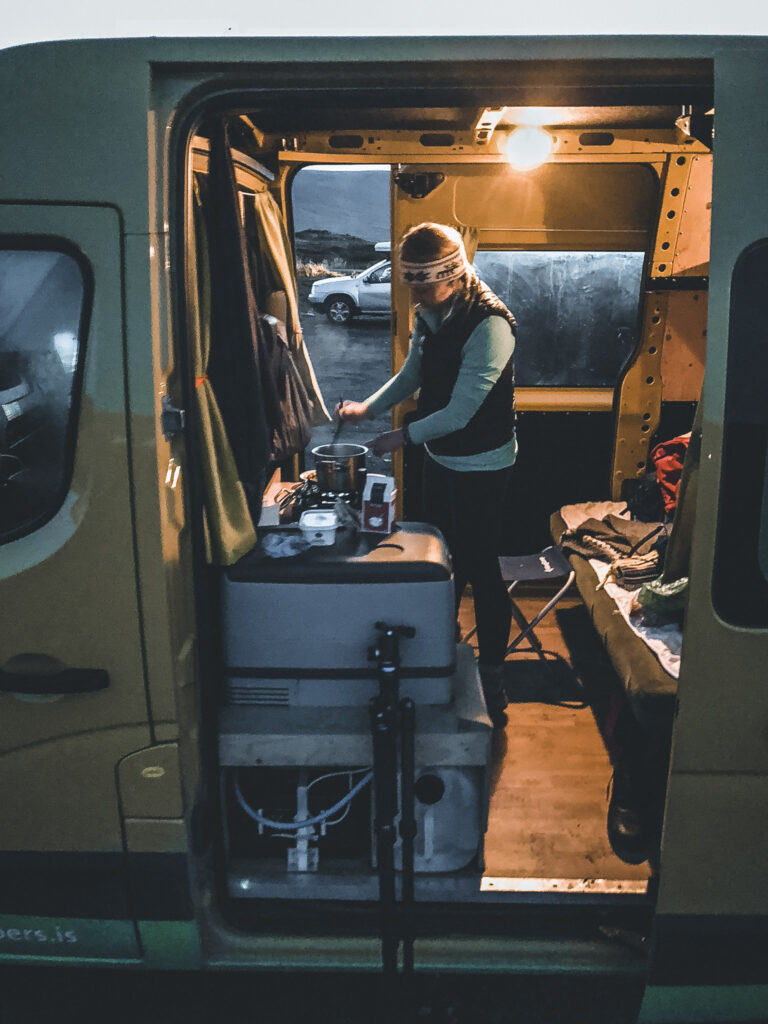 Iceland Camping Packing List
If you are wondering what to bring on your camping trip, I've got you covered with this Iceland camping packing list:
Tent – most people have one where the rain cover completely covers the tent because of high wind
Sleeping bag – I'd recommend one that is rated for cold weather as it still gets pretty cold at night during the summer
Sleeping pad – the ground is actually pretty soft, and I felt really good with just my Thermarest
Camp Stove – I recommend a small backpacking stove
Cookware – this depends a lot on what you plan on doing for food. I did mostly freeze-dried backpacking meals so I brought 1 pot, 1 spork
Eye Mask – if you are camping during the summer, it never gets dark. Like, not even close. If you plan on sleeping, you need to cover your eyes
Ear Plugs – it never gets dark, so the birds never shut up.
Headlamp – for cave exploring! That's the only place it'll be dark enough for one in the summer
Food – this is up to you. If you plan on cooking using fresh ingredients, I'd buy them in Iceland. If you plan on going the backpacking food route, it's much cheaper to buy in the US and then bring with you (you can bring in up to 3kg of food excluding raw meat, eggs, and some other things)
Things you'll need to rent in Iceland
Pro Tips For Your Iceland Camping Trip
Here are a few more need-to-knows and insider tips to make your camping trip to Iceland the best it can possibly be!
Get A Camping Card In Iceland
If you are camping for at least seven nights around Iceland, then I would suggest getting an Iceland camping card. This can be found at utilegukortid.is and allows you to stay at over 40 different campsites around the country without paying on the spot or pre-booking. I highly recommend purchasing a camping card for your Iceland camping trip if you are staying for seven nights or more!
Don't Litter
Do not ever, under any circumstances, leave behind food waste or be careless with dumping your water. Make sure to find a trash bin or a designated area for dumping this water if you're staying in an RV. Let's try and keep Iceland as beautiful and preserved as possible, folks!
Bring A Sleep Mask For Summer Camping Trips
If you are camping in the summer (May-August) do not forget to bring a sleep mask with you. There is SO much daylight, and you're not going to be able to sleep if you're camping in summer. It's going to feel like it's the middle of the day!
You Can Rent Gear If You Need To
If you want to camp in Iceland but you don't have all the gear, it is possible to rent gear for camping in Iceland. All you have to do is head to iceland-camping-equipment.com, and they can totally take care of you and get you everything you need to set up shop.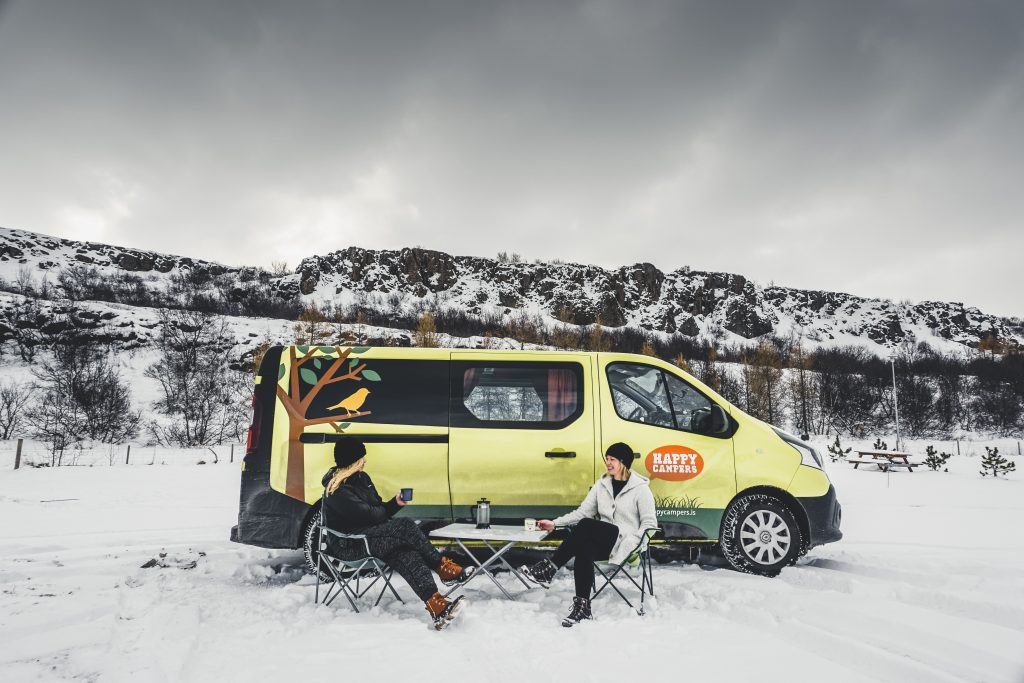 Should You Rent A Campervan In Iceland?
If you're planning a camping trip in Iceland, I highly recommend renting a campervan. Not only are they economical, but they also provide you with a vehicle, accommodation, and even meals all in one package. Plus, let's face it, tent camping in Iceland can be pretty intense (pun intended). So why not make things easier and more comfortable with a campervan?
My #1 Campervan Rental Choice – Happy Campers!
If you're wondering what Iceland camping company to choose, my go-to is always Happy Campers.
They were the very first campervan company in Iceland, and even though more have popped up over the years, none of the compare to the original. 😉
They're a family-run business and they know camping in Iceland like no other! They offer you a super-detailed Iceland camping map that gives you the full lowdown on all of the campsites and what they offer.
If you want to learn more about their vans, check out my FULL Happy Campers Van tour video!
And if you want to get an exclusive 10% discount on your Iceland campervan rental, be sure to sign up for my email list for a special code!
Happy planning,

Pin it for later!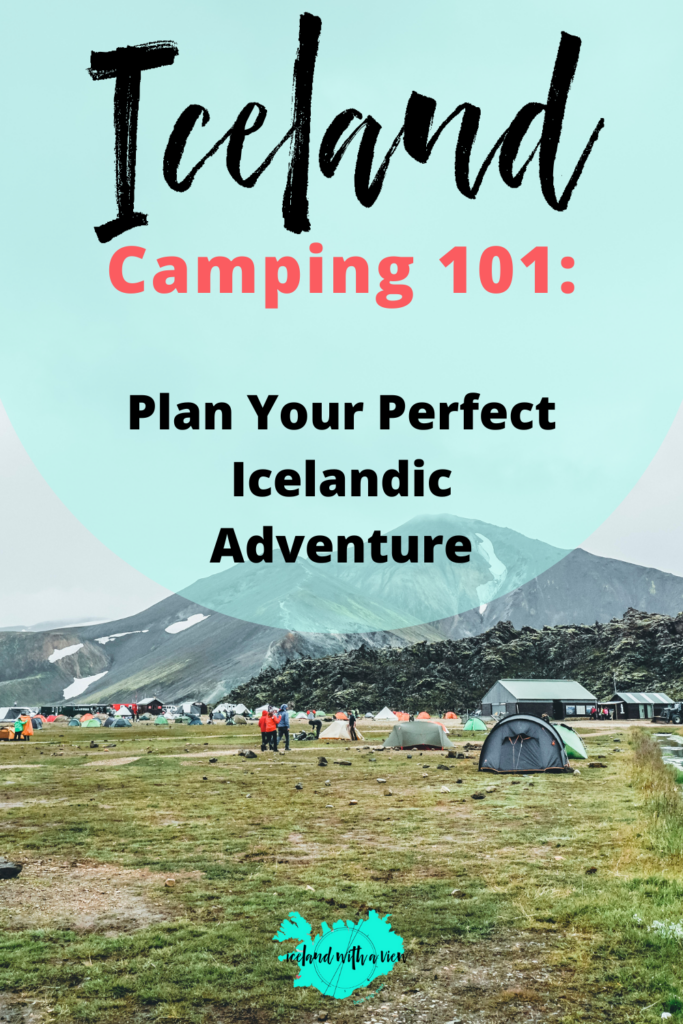 Get your FREE Summer/Autumn packing list!
Wondering what to pack for your Summer/Autumn trip in Iceland? Don't worry - I got you covered so you don't forget a thing!