Every year, thousands of tourists flock to visit Iceland's Blue Lagoon. If you've been daydreaming about dipping your toes into those milky blue waters, I wrote this blog post for you!

If you're considering hitting up this Iceland hotspot, you might be wondering…does it live up to the hype? Is it too crowded? Does it mess up your hair or ruin your bathing suit? What can I eat while I'm there?

Well, let me tell you, I've got the inside scoop, the down-low, the 411, and I'm here to share it all with you.
Ready to dive into an unforgettable experience? 🏊‍♂️

Here's everything you need to know about visiting the Blue Lagoon in Iceland!
TABLE OF CONTENTS
What's So Special About The Blue Lagoon?
However, in my opinion, I don't really believe that it's a fair comparison.
The Blue Lagoon is located in a lava field in Grindavík, on the Reykjanes Peninsula in southwestern Iceland. It's a geothermal pool filled with seawater that comes from 2,000 meters below the earth's surface. Talk about a dreamy scene, am I right?
Its milky turquoise blue waters come up through the lava, which means they're filled with minerals like algae, silica, and sulfur. All of these minerals contain a whole host of benefits for our skin!
💡Did you know: The Blue Lagoon even operates a research facility to develop skincare products using these beneficial minerals!

However, unlike other natural geothermal spas located in Iceland, the Blue Lagoon is actually man-made! Its water comes from the geothermal power plant Svartsengi located nearby.
Is The Blue Lagoon Worth It?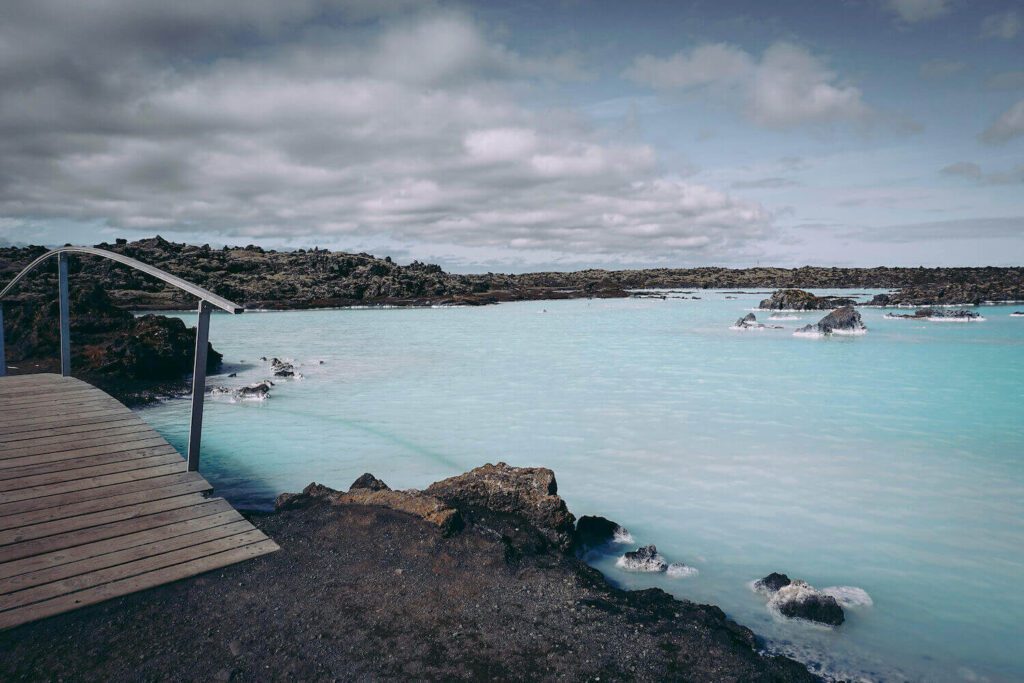 Whether you think the Blue Lagoon is worth it all comes down to personal preference, but in my opinion, it totally is!
And I would bet most people agree.
In fact, I did a poll on my Facebook group, and I asked, "For those of you that have already been to Iceland and went to the Blue Lagoon, is it worth it? Would you go again?" And 87% of people said yes.
However, to help you objectively decide whether or not the Blue Lagoon is worth it, here are a few pros and cons to consider.
Cons
Price: The Blue Lagoon is one of Iceland's most famous attractions, and because of this, it's on the pricier side. If budget is a big concern, you might want to skip this!
Crowds: If you hate crowds and would prefer to visit destinations where you revel in Iceland's untouched beauty without lots of other people around, The Blue Lagoon might not be for you.
Touristy: It's no shocker that the Blue Lagoon draws in thousands of tourists each year. Over the years, it's become more and more of a tourist attraction rather than a simple pool or spa. They're constantly adding extra packages that you can upgrade to, as well as bars, restaurants, and cafes. They're making it more and more touristy every day!
Some people believe that a con of the Blue Lagoon is that there are far better, more affordable, and unique pools across Iceland, like the Secret Lagoon, Reykjadalur, or Seljavallalaug.
You can check out these Blue Lagoon alternatives in this post.
While sure, the more local pools and spas are also amazing to experience, the Blue Lagoon is a category on its own. I don't think it's fair to compare the two, because they're so wildly different!
Now, onto the pros…👇
Pros
Unique Experience: There's really nowhere else like the Blue Lagoon. I mean, you're bathing in a milky blue-watered pool in the middle of a moss-covered lava field. Talk about an unparalleled, out-of-this-world experience!
Perfect Wind-down: After a hectic trip filled with sightseeing and exploring, the Blue Lagoon is the perfect way to wind down. It's easy to pack a lot into your Iceland trip, and so visiting the Blue Lagoon is a great way to slow down the pace and experience Iceland's natural beauty in a relaxing way.
Revitalizing Effect: Not only is The Blue Lagoon a unique, relaxing experience…but you also feel AMAZING after you go. I always feel so refreshed after soaking in the mineral-rich waters. This is also why I sometimes recommend going right after you arrive. If traveling to Iceland has left you feeling haggard, a Blue Lagoon visit will freshen you right up so you're feeling renewed for the rest of your trip!
Oh, and let's not forget about all of the incredible benefits for your skin. You'll be positively glowing as you get some Insta-worthy pics! (Trust me…The Blue Lagoon is the most gorgeous backdrop for photos).
Iceland's Blue Lagoon: The Basics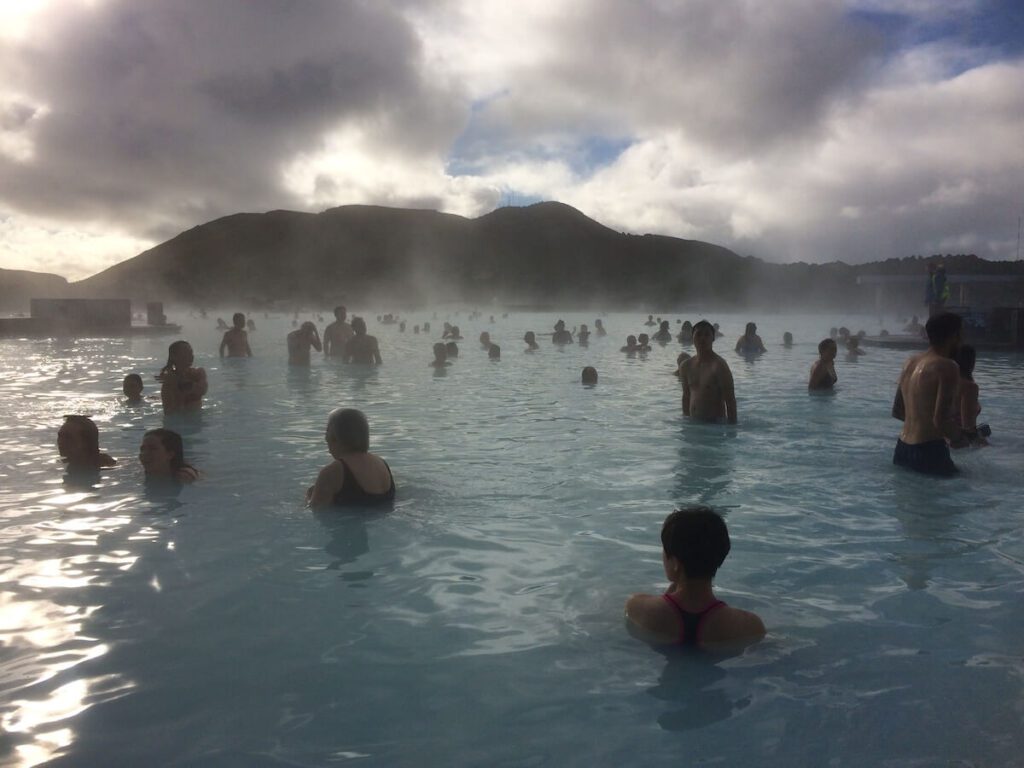 Now that you've hopefully made a decision on whether or not The Blue Lagoon is right for you, let's go over some of the most important need-to-knows!
Blue Lagoon Hours Of Operation
From January to May, the Blue Lagoon in Iceland is open from 08:00 to 21:00.
In the summer season, specifically from June 1st to August 20th, its operating hours are extended from 07:00 to midnight.
From August 21st until the end of January, the Blue Lagoon welcomes visitors from 08:00 to 22:00. (Note: You'll have to leave at least 30 minutes before closing though, to leave room for them to close the facilities.)
Best Time To Visit The Blue Lagoon
There is honestly no bad time to visit Iceland's Blue Lagoon!
It's a fabulous attraction to visit all year long.

But if you're trying to beat the crowds, wintertime might be your best bet.
While the Blue Lagoon is a busy attraction at any time of year, winter allows for a more tranquil experience compared to the busy summer season.

Plus, there's nothing more satisfying than stepping into hot, milky-blue water after a freezing day of exploring! ❄️

If you decide to go in peak season (from May to September) be sure to book your tickets to the Blue Lagoon well in advance.
Reykjavík To Blue Lagoon: How Far Is The Blue Lagoon From Reykjavík And Transportation Details
The Blue Lagoon is 48 km from Reykavík – the journey takes about 45 minutes depending on the traffic conditions. It's also just a 20-minute drive from the Keflavík Airport.
Because of its convenient location, I always recommend visiting the Blue Lagoon after a long day of travel – there's no better way to start your Iceland trip off feeling refreshed and ready to go!
When it comes to transportation details, there are a couple of different options for getting there.

The first option is the Blue Lagoon's very own shuttle service, Destination Blue Lagoon. Their signature buses can either pick you up at the airport or from your hotel in Reykjavík.
The second option is to rent a car.

Bonus points: if you opt for an electric car, The Blue Lagoon has plenty of charging stations on-site!

If you're looking for a trusted Iceland car rental company, click the banner below to save 5% with my recommended partner – Blue Car Rental.

How Long To Spend At The Blue Lagoon
Most people probably spend around 2-3 hours exploring the Blue Lagoon, and that should be enough time to get the full experience!
However, if you want to lounge longer, there's plenty to keep you busy for hours on end.
From all of the different treatments you can enjoy, to cafes, bars, and restaurants you can dine at, you can make your Blue Lagoon visit last all day!
And hey – if you're feeling you don't ever want to leave – you can even stay overnight at one of their hotels, The Blue Lagoon Retreat or Silica Hotel.
Bonus points: They even have a service that gives you a northern lights wake-up call if the lights are in the forecast! 💫
Blue Lagoon Iceland Price And What It Includes
The Blue Lagoon offers two main packages to choose from – Comfort and Premium.
The Comfort Package is $67 USD and includes entrance to the Blue Lagoon, a rejuvenating silica mud mask, towel rental, and a refreshing first drink of your choice.
If you're looking to take the luxury up a notch, The Premium Package, priced at $86 USD might be for you. It includes all the features of the Comfort package, with the addition of two more masks of your choice, the comfort of a bathrobe, and a glass of sparkling wine if you choose to dine at the elegant Lava restaurant.
If you're just popping into the Blue Lagoon for a couple of hours, the comfort package should probably suffice.
But if you're wanting to make your Blue Lagoon visit a whole-day affair, the Premium Package offers those 'little extras' for a truly indulgent day at the spa. 💆🏻‍♀️
Blue Lagoon Restaurants
The Blue Lagoon offers a TON of mouth-watering dining choices to suit every palate. From unique experiences with breathtaking views at Lava Restaurant to a Michelin-recommended menu at Moss Restaurant, there's something for every foodie out there. 😋
Lava Restaurant Iceland
First up, we've got the Lava Restaurant, where you can enjoy a unique dining experience – built into an 800-year-old lava rock wall! It also offers you breathtaking views of the lagoon.
It's relaxed fine dining, so I'd suggest making a reservation to secure your spot!
When it comes to Lava's dress code, most people will be wearing street clothes here, although you should be able to enter in your swimwear as long as you have a robe over your suit!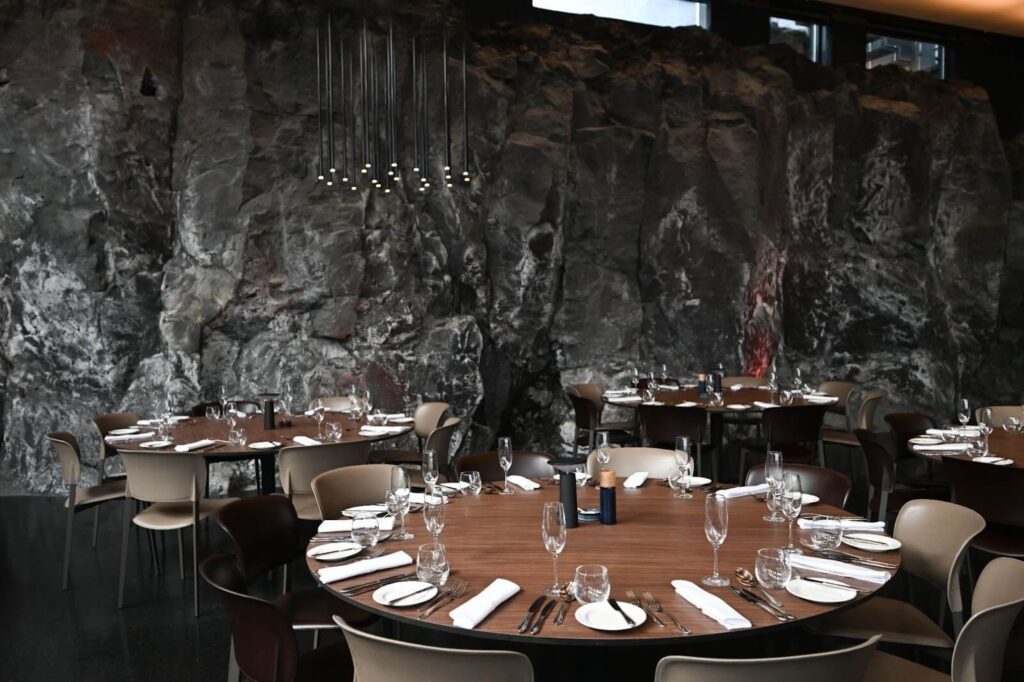 Moss Restaurant Blue Lagoon
Are you a foodie who loves trying Michelin-star restaurants?

If so, you're in luck, because The Blue Lagoon has one right on-site!

Try their delicious tasting menu from the highest point of The Blue Lagoon that overlooks the entire property – it's a site to behold! Make sure you make a reservation if you don't want to miss out on this delectable experience.

Bonus: They also have a vegan-tasting menu for the vegetarians in the group!
Spa Restaurant
Looking for something a little more casual, where you can grab a bite in your robe between baths?
The Spa Restaurant is one of the more relaxed Blue Lagoon restaurants.
Don't fret about making a reservation at The Spa Restaurant…but pop in whenever is convenient, sit back, order a glass of wine (or two!), and take in the gorgeous view!
The Blue Lagoon Cafe
Just looking for a snack or a light refreshment? Swing by the Blue Lagoon's cafe!
This is also the perfect option if your flight gets in early and you're planning on heading to The Blue Lagoon before checking into your hotel.
Skip the airport food and grab some brekkie and coffee at the cafe instead!
Blue Lagoon Need-To-Knows & FAQs
Still have some unanswered questions about the Blue Lagoon? I've got you covered! 👇
What are the Blue Lagoon showers like?
Wondering what the shower situation at The Blue Lagoon in Iceland is like?

The showers are modern, clean, and pristine, but if you're wondering about the whole nudity thing…
Yep. You do have to get naked. 😅
But unlike some other pools in Iceland, you do have private stalls you can shower in.
So, for all the shy folks out there – not to worry!

And yes…the "Iceland shower police" are real. There's someone who will be checking to make sure everyone has showered before entering the lagoon.

What can I say, the Icelanders take cleanliness seriously! 🧼
Blue lagoon hair – is it a thing?
Ah, the infamous Blue Lagoon hair question!

If you've been wondering, will the Blue Lagoon really ruin my hair?!

Here's the deal – the mineral-rich waters may make your hair feel a tad stiff while you're soaking in the lagoon.
While the water isn't harmful to your hair, the mineral buildup can make your hair texture feel a bit funky.
But not to fret – just give your hair a good condition, and don't rinse it out before entering the water.

And if you're still worried, you can pack a clarifying shampoo and give your hair a good scrub immediately upon coming out!
What is the temperature of the water at the Blue Lagoon in Iceland?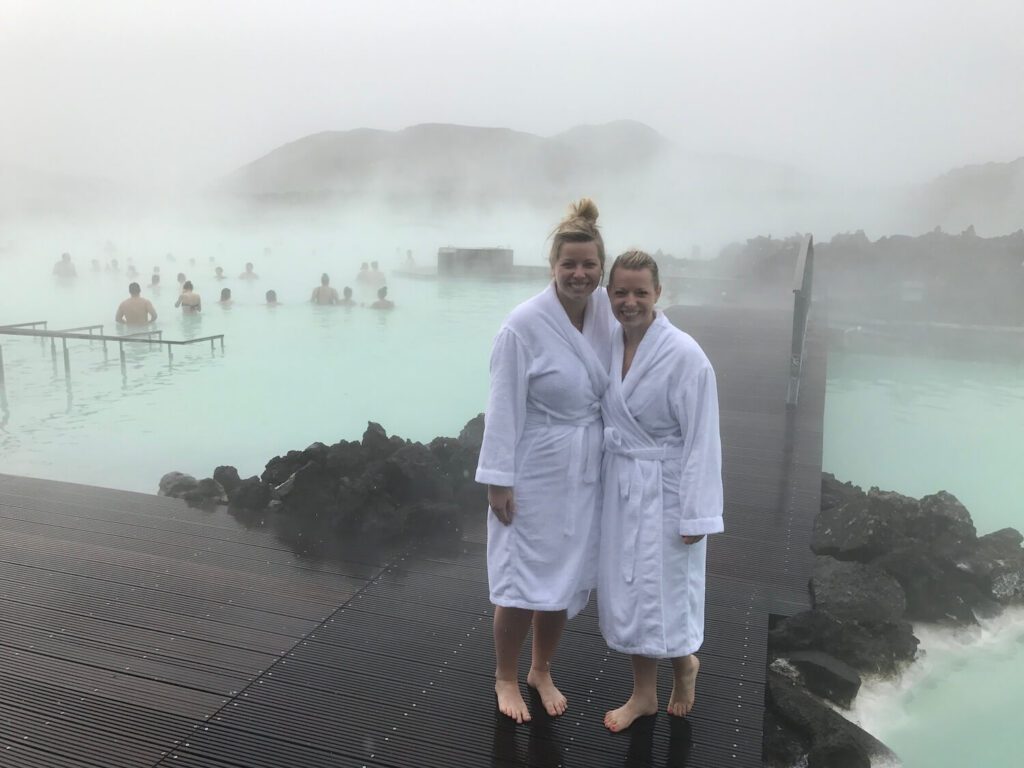 The water temperature at the Blue Lagoon hovers around a soothing 37-39°C (98-102°F). Perfect for melting away any stress and easing your muscles after your Icelandic adventures.
Do you need to pre-book the Blue Lagoon?
The last thing you want to do is just show up to the Blue Lagoon and hope for the best.

This is one of Iceland's BUSIEST attractions, so booking in advance is highly recommended.

That way, you can make sure your Blue Lagoon visit lines up perfectly with your itinerary. You can book in advance on their official website.
Can you visit the Blue Lagoon at night?
Yes, you can absolutely visit the Blue Lagoon at night – and let me tell you, it's an incredible experience.
Picture yourself surrounded by the ethereal glow of the milky-blue waters under a star-studded Icelandic sky – it's pure magic! ✨

And if you happen to visit during the summer months, get ready for a real treat – the midnight sun.

There's something truly enchanting about frolicking in the Blue Lagoon at 11 pm while the sun still graces the horizon.

No matter what season you visit, the Blue Lagoon at night is a must-see!

Just note: if you're dead-set on getting pictures at the Blue Lagoon, nighttime might be tricky!
Can you see the northern lights at the Blue Lagoon in Iceland?
If you happen to see the northern lights while you're visiting the Blue Lagoon, you're incredibly lucky!

While technically not impossible, keep in mind that most northern lights sightings happen during the late evening, with most sightings happening when the sky is the darkest (between 11 pm and 2 am).

However, in the winter, the Blue Lagoon is open until 10 p.m. – so if you book the night slot, you could have a chance of seeing them after 9 p.m.!
Just don't go into your Blue Lagoon experience banking on this though…think of it as more of a sweet bonus if they do make an appearance.
Remember: If you visit the Blue Lagoon in the summer months, you won't be able to see the northern lights.

➡️ READ MORE: How To See The Northern Lights In Iceland: Best Viewing Spots, When To Go, And MORE
What are the rules at the Blue Lagoon I need to follow?

Wondering what the rules you need to abide by at The Blue Lagoon are?

Keep these in mind for a safe and respectful visit:
Remove your shoes before entering pools and changing room

Always shower (naked) before entering the lagoon

Be respectful of others and mindful of their space

Always wear a bathing suit in the pool

And remember, the lagoon is not for diving or swimming laps – it's all about that leisurely soak!
So there you have it! Everything you need to know about visiting the Blue Lagoon in Iceland.
And remember, the Blue Lagoon is just the tip of the iceberg.
If you're ready to truly dive into pool culture in Iceland, there are dozens of other pools and spas across the country just waiting to be explored.
Ready to explore these local charms like a pro?

Grab one of my Iceland Guidebooks & Maps, where I've marked all of Iceland's hidden gems and highlights on one convenient digital map for on-the-go ease.
You'll also get a 176-page travel guide filled to the brim with everything you need to know for successful Iceland travel – from daylight hours to itinerary planning, packing checklists, and so much more.

Happy Planning!

Pin it for Later! 👇🏾