Are you thinking about traveling to Iceland in September?

I might be biased, but I truly think September is one of Iceland's most beautiful months.
This month also holds a special place in my heart – it's when my husband and I first traveled to Iceland for our honeymoon, fell in love, and decided to start our new life in Iceland. 🇮🇸
September in Iceland represents the transition from summer to fall.
The weather's getting cooler, the sky is getting darker, and the leaves are starting to turn. But, it's still a time when a lot is open, you've got ample daylight and the weather hasn't gotten TOO chilly yet!

It's the perfect time to indulge in a beverage at one of Reykavík's cool cafes, hit up a hot spring and enjoy the toasty warm water and the cool breeze, or admire the gorgeous fall foliage that's starting to take over the country.
There's simply so much to love about Iceland in September!

Consider this blog your ultimate guide.
Let's get into it!
Iceland Daylight Hours In September
The most important thing to consider when planning your Iceland trip, no matter the month, is the number of daylight hours.
The good news is that there's still quite a bit of daylight in Iceland in September.
At the beginning of September, there's about 15 hours of daylight, and towards the end, it's down to 13.
This is the time of the year when the daylight is starting to decrease. We're now far, far away from the summer solstice and heading towards the dark days of winter.
However, this is by no means a dark time of the year. You're still getting plenty of daylight hours to explore, and it actually feels like a normal day to anyone else.
But trust me, the locals are rejoicing – because we can finally start getting restful sleep! 😂
Northern Lights in Iceland in September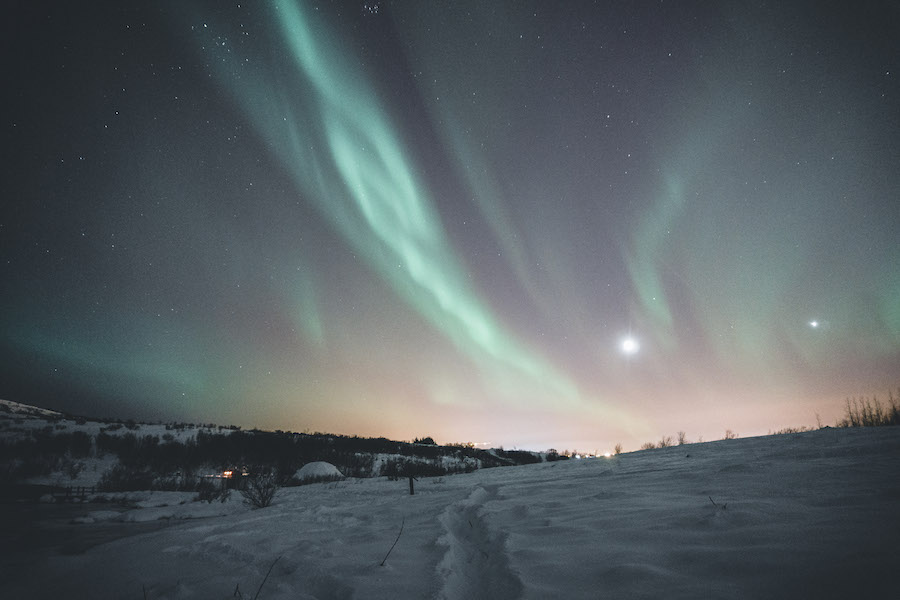 Speaking of darkness, my all-time favorite thing about September is that it is full-force Northern Lights season!
September and October, in my opinion, are the best months to see the northern lights in Iceland!
They put on BIG, beautiful shows during this time. There's not too much cloud cover and the nights are getting longer – which means more chances to see the aurora!
Get excited if you're coming to Iceland in September because you have the potential to see some of the best Northern Lights.
WATCH: How to see the Northern Lights in Iceland
September Weather in Iceland
The weather in Iceland in September is a bit of a mixed bag. It's one of the most unpredictable months of the year!
You might even have days where you experience all four seasons in one day.
Follow the golden rule when it comes to Icelandic weather and come prepared for anything.

You might experience high winds, rain, sun, and even snow, just depending on where you are and how the year is going!
Temperatures In Iceland In September
Average September temperatures can range from 6-11 degrees Celsius or 42-59 degrees Fahrenheit.
At the beginning, you might get a chance to witness those beautiful, lush, green summer colors. And then towards the end of the month, we're starting to lose some of that bold green color and things are turning more of a yellow-brown.
Weather Pro Tip: It's a tricky time of year to plan a visit if you're wanting to catch the beautiful fall colors. The leaves change and fall off the trees in Iceland really fast, thanks to the strong winds! Catching this transition can be tough as it comes and goes in a flash ⚡️
What To Wear In Iceland In September
Because September weather can be so unpredictable, you want to make sure you pack for all kinds of weather.
Be sure to bring lots of layers! Layering is key to staying warm when it gets chilly in Iceland.And make sure you have rain gear literally from head to toe. September is notoriously rainy and I don't want you to get caught in the rain and not be able to have the best adventure.
For a full packing list, get my Iceland autumn packing list.
Sightseeing Availability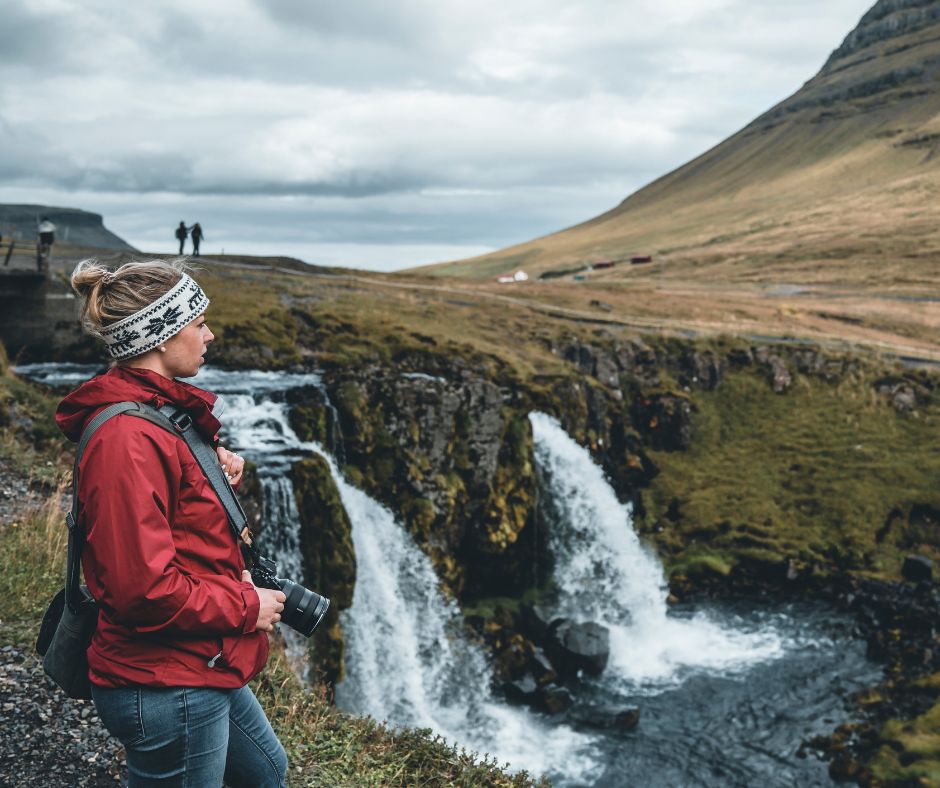 September offers LOTS of opportunities for exploration as you can travel almost anywhere in Iceland.
However, there's one important factor to consider: the Highland roads typically begin closing at some point during September. The exact timing depends on temperature, road conditions, and when the snowfall begins.
If you visit early in the month, you should have unrestricted access to all roads. But, it's always a good idea to check with the Icelandic Road Administration to make sure! Apart from the Highlands, you're free to visit other hotspots in Iceland, such as the Ring Road, Snæfellsnes, Golden Circle, and the Westfjords.
If you're a wildlife lover hoping to spot some of Iceland's most famous animals, it's worth noting September is a tricky time to spot many of these creatures. Some animals, like puffins, may have migrated to the sea, and whales could have already departed. This means the tour availability might be less frequent. Keep this in mind when booking your excursions!
On the bright side, September is considered shoulder season – and brings a significant drop in tourist numbers. You'll experience fewer crowds at major attractions, and as a result, accommodations are likely to be less expensive and not as busy!
Driving in September
Driving in September is usually a breeze, as long as you don't encounter any unexpected snowstorms (which are quite rare!). Unless you're heading into the Highlands, a regular 2WD vehicle should do the trick. Just make sure to double-check if the Highland roads are open before you go.
One more thing to keep in mind is that if you're planning trips to Landmannalaugar, Thorsmork, or other Highland areas, be aware of the road conditions. During this time, relying on tour companies might not be an option, but you can still drive yourself, as long as you pay attention to the road conditions along the way!

Iceland Festivals + Events
There is so much to see and do in Iceland in September, including a couple of pretty cool cultural events!
Reykjavik International Film Festival. This is one of my favorite things to do in Reykjavik in September! This is Iceland's most famous movie festival where they show over 100 movies from 40 different countries. It takes place in late September and you can find showings happening in different venues all throughout Reykjavik! Fun Fact: The first-place winner is awarded with the coveted Golden Puffin Award. Could this festival be any cuter?!
Réttir. In September, there's a fascinating event called "réttir," which is the annual sheep roundup. During this time, farmers gather and guide their sheep back to the farms. If you're visiting Iceland in September, it's fairly likely that you'll come across one of these roundups. Just be careful while driving, as you might come across a large herd of sheep crossing the road, followed by the farmers. This is such a fun community affair where friends and family all come together to help the farms herd the sheep back into the sorting pens!
Looking for more activities to do on your September trip? I've got you covered! 👇
Things To Do In Iceland In September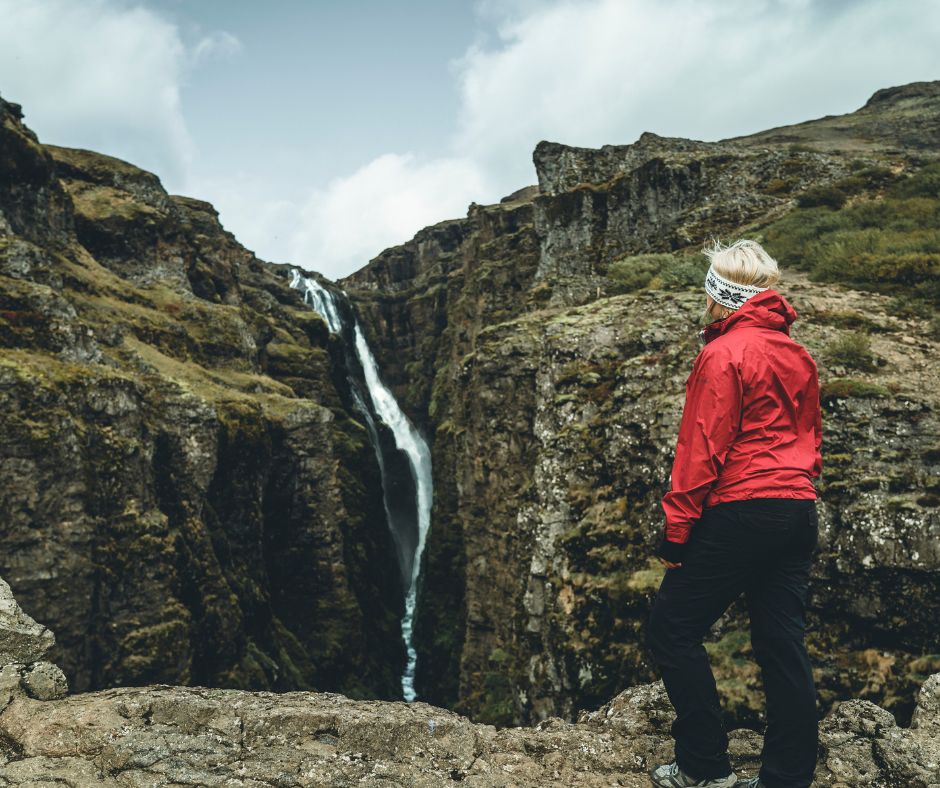 Here are some of my go-to recommendations for making the most of your September holiday in Iceland.
Þórsmörk: Þórsmörk translates to "Thor's Valley" and is known for its rugged nature and unlimited hiking. Located between three glaciers, this protected nature reserve is teeming with jagged green mountains, deep ravines, and braided glacier rivers ideal for outdoor enthusiasts and photographers alike. This area is only open from June – September, so it's a great opportunity to witness the area's remote beauty before it closes!
Westfjords: Explore the hidden gem of the Westfjords, where you'll witness jaw-dropping fjords, dramatic cliffs, charming fishing villages, and untouched wilderness. Get off the beaten path and discover Iceland's wild side! Bonus points: because September is shoulder season, and the Westfjords are relatively out of the way, you'll have this remote paradise all to yourself.

See The Northern Lights: September marks the beginning of the Northern Lights season in Iceland, offering a chance to witness the mesmerizing dance of colorful lights in the night sky! You have a good chance of seeing the aurora, as there's relatively low cloud cover in September.

Visit Waterfalls: Get your camera ready and prepare to be amazed by Iceland's stunning waterfalls. In September, you get a chance to see the falls against a backdrop of autumn hues! For a fun fall hike, you could try hiking to the Glymur Waterfall (about 4 hours round-trip).
Remember, if you loved this information, you can get this and so much more inside my Travel Guides & Maps! This 176-page PDF guide and handy digital map (with over 500 pinned locations) will help you navigate the country with ease, and give you access to highlights, hidden gems, practical info like fuel stations, restrooms, weather and packing info, plus so much more!

Happy planning,

Pin it for Later! 👇🏾