Have you been wondering how to get around Iceland?

In this post, I'll share ten Iceland transportation options for you to navigate this beautiful country!
Is There Uber In Iceland?
The other day, someone asked me if there's Uber in Iceland.
No. There's no Uber in Iceland. Iceland doesn't have Lyft either.

It doesn't matter if you're trying to use Uber in Reykjavík or a small village. Uber is pretty useless in the land of fire and ice!
In fact, there are no other rideshare companies in Iceland.
What About Taxis?
You can get taxi rides in Reykjavík, but beware that they're pretty pricey. Fares start at $5 with an additional $2.50 per kilometer.
Taxis might be okay for a short ride within the city, you're definitely not going to want to pay for a taxi anywhere outside of Reykjavík. And yes – that includes the airport.
Instead, you're going to want to take the bus from Reykjavík airport to the city center, FlyBus.
Tours In Iceland
Obviously, taking a tour in Iceland is a popular option for many tourists.
If you choose this transportation option, you'll have a plethora of companies to choose from! There are a lot of different tour companies in Iceland.
You can choose a tour by geographical location: for example, finding a tour company that travels around the Golden Circle, South Iceland, or Snaefellsnes.
Or you can also choose an activity-based tour, such as a tour that centers around whale watching, the northern lights, or even volcanos!
These tours can last anywhere from a few hours up to a few days – it all depends on what you're looking for.
The only downside to tours is that you don't have much flexibility. If you're someone that loves to discover hidden gems or stop for some great local fare in between destinations, tours might not be your best option.
Domestic Flights In Iceland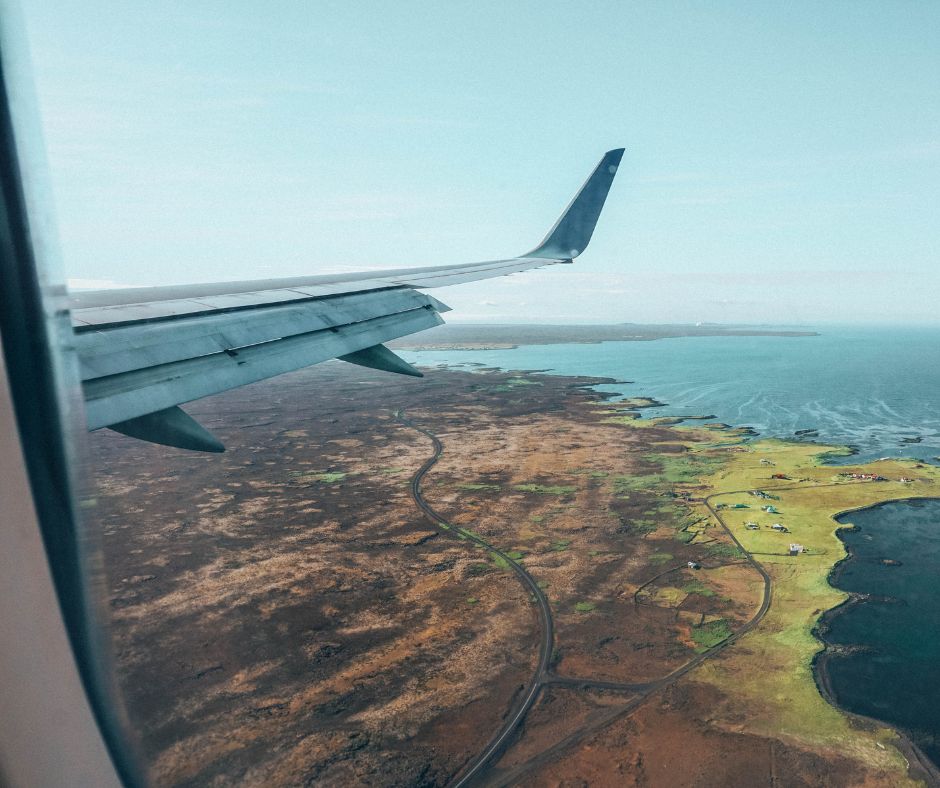 Icelandair flies year-round from the domestic airport in Reykjavík to Akureyri (North), Egilsstaðir (East), the Westman Islands (South), and Ísafjörður (Westfjords).
The biggest benefit of taking a domestic flight within Iceland is the time you'll save. So if you've got a short itinerary where you're trying to squeeze a lot in – these may be a good option.
Of course, this option also comes with a couple of cons. The most obvious one being cost. The convenience of flying to remote destinations comes with a hefty price tag.
Another challenge is flying within Iceland forces you to pack light. These planes are on the smaller side, so there's not a ton of room for luggage!
And I can't mention flying without warning you about wild Icelandic weather. You never know when a storm may cause a cancellation, so consider having a backup plan!
Buses In Iceland
If you're wondering how to get around Iceland on a bit of a smaller budget, buses might be a good option!
There are a few main companies that operate bus tours around the whole country. These three companies (Reykjavík Excursions, Sterna, and Stræto) actively operate routes throughout the Ring Road, the Westfjords, and even venture into the Highlands during the summer months.

And if you're looking for ultimate flexibility when it comes to Icelandic transportation, you could even take advantage of their hop-on, hop-off bus.
If you love the idea of being ON the road, without actually having to rent a car and do the driving yourself, buses in Iceland might be perfect for you!
Renting A Car In Iceland
Now, I might be biased…but renting a car and driving yourself around Iceland is one of my all-time favorite ways to see the country!
There's truly nothing like an Icelandic road trip. 🚘
Choose from small cars to SUVs, 4x4s, or 2WDs – you can customize the vehicle based on the kind of trip you're taking.
The biggest pro of renting a car in Iceland is flexibility. You're able to see the country at your own pace, get off the beaten path, and even take a detour to see one of Iceland's hidden gems.
Rather than having an itinerary that's fixed firmly in place, you're able to move on if you're not vibing with a place – or extend your stay somewhere if you're totally loving it!

When you rent your own vehicle, all of Iceland is truly your oyster!
If you're looking to learn more about this option, be sure to check out my ultimate guide to renting a car in Iceland!
Want to SAVE MONEY on your car rental? Exclusive offer for IWAV readers, Blue Car Rental is offering 5% off your total rental price! The discount will automatically be applied at checkout when you use my VIP link – no code needed!

Taking The Iceland Car Ferry
Now, depending on where you're coming from, this option might not apply to you. But if you're coming from Europe, you can actually bring your OWN car via the ferry that comes from Denmark.
It's called the Smyril Line, and you actually land right in Seydisfjordur in East Iceland. This town is SO so gorgeous!
There's nothing like setting sail toward Iceland for your own do-it-yourself kind of road trip!
Iceland Campervan Rental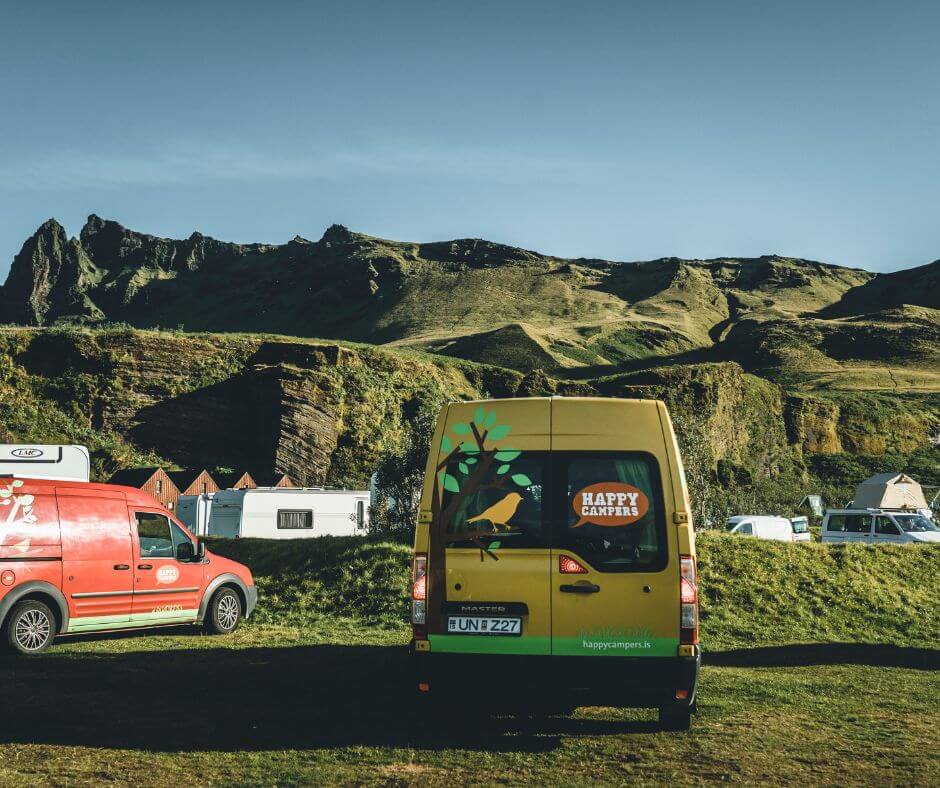 One of my favorite ways to get around is via campervan – it's your transportation and accommodation in one.
Another bonus?

You're able to cook your own meals rather than spend money at expensive restaurants is a huge bonus, which can work out to some pretty hefty savings!

I have personally used and highly recommend Happy Campers. They're the FIRST campervan company in Iceland, so trust me – they know what they're doing. And their friendly service is second to none!

If you're thinking about camping in Iceland, be sure to join my email community for an exclusive 10% discount!
Cycling In Iceland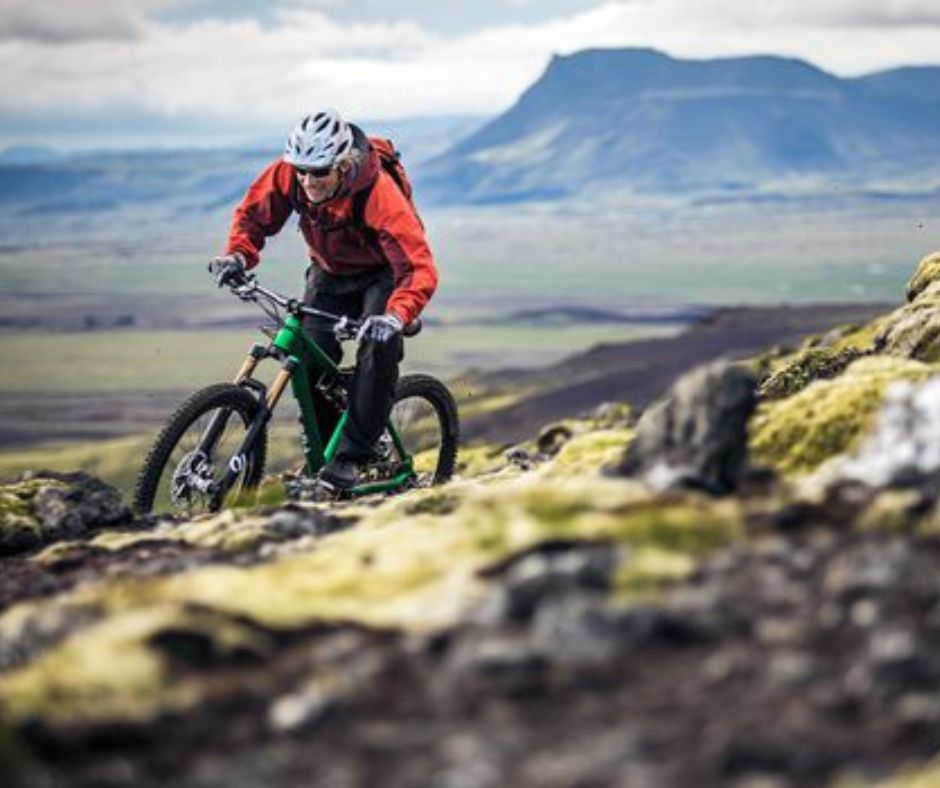 Looking for an adventurous way to explore Iceland? Have you ever thought about cycling? Yes, you heard it right, hopping on a bicycle and pedaling your way around this extraordinary country.
Cycling through Iceland's dramatic landscapes is truly a unique way to become one with nature.
Just picture yourself cruising along, Walter Mitty style, surrounded by all the breathtaking beauty Iceland has to offer.
However, remember that our weather can be quite temperamental, which can definitely impact your experience. So, get ready to embrace whatever Mother Nature throws at you – be it rain, snow, wind, hail, or even all at once. But trust me, many travelers have taken this challenge head-on, and they've loved every bit of it.
Be prepared to come across all types of terrain on your Icelandic cycling adventure. From gravel roads to steep hills, every route has its own unique challenge. Make sure that your bike has thick tires and carry a repair kit – when you're out in the wilderness, you are your own best help!
You can easily rent these bicycles in Reykjavík for around 4,000 ISK per day (approximately $40 USD) or bring your own.
Please note: this Iceland transportation option may not be for the faint of heart, but it IS for those with a thirst for adventure and adrenaline!
Private Driver Tours
If you don't want to take on the task of driving in Iceland, some companies offer private driving tours.
Please note: these options will definitely be on the pricier side!
What About Public Transport in Iceland?
You might be thinking to yourself, "I didn't see public transport on the list!"

And that's because public transport in Iceland is very limited. Unlike other countries in Europe, there's no train system. There are no metros or street cars. There are some buses, but overall, it's just not a great way to get around Iceland.
If you're wondering which one of these options comes out on top, my answer is always going to be renting a car!
While options like tours, buses, and flights have their benefits, the freedom and flexibility you get by renting a car is unparalleled.
With a car rental, you can explore Iceland at your own pace, discover hidden gems off the beaten path, and take spontaneous detours to truly soak in Iceland's breathtaking landscapes.
Ready to start planning your Icelandic road trip?

Start your journey by clicking the link below to secure your 5% discount on your car rental with my all-time favorite car company – Blue Car Rental!

Happy planning,

Pin it for later! 👇🏾