Iceland is a magical, beautiful, amazing, breathtaking country to visit.
BUT it is also dangerous, cruel, and unforgiving.
The number of stories about visitors getting lost, injured, or dying in Iceland increases every year, and then these stories end up in the news and it's absolutely HEARTBREAKING.
So I want to make sure that all my readers are traveling to Iceland with an awareness of the beautiful nature and yet how dangerous it can be.
Can I be honest with you?
I personally think Instagram has started a terrible trend.
What you see: the person in a bright raincoat standing at the edge of some breathtaking cliff
What you think: "I want that photo too!"
So they flag it in their saved folder and try to recreate it the moment they get to Iceland.
Am I right? Did you do this?!
Trust me, I can understand where you're coming from because I was a tourist myself (well I mean, I still AM a tourist…but you know what I mean). However, NOW I can also see it from the perspective of a local!
So let me make this clear, the two MOST important things to keep in mind when traveling through Iceland are:
Safety for the traveler (that's you!)
Respect for nature
Let's get into the dos and dont's of safety in Iceland!
What NOT to do in Iceland
DO NOT
get close to the surf at Reynisfjara
There have been several incidences of death at this beach, and yet everyone STILL tries to get close to the water for photos! I'm telling you…like every tenth wave will come up higher and stronger than the others!
PLEEEEASE remember: the current at this beach is one of the strongest in the WORLD. If you get caught in the waves, it could be a fatal mistake.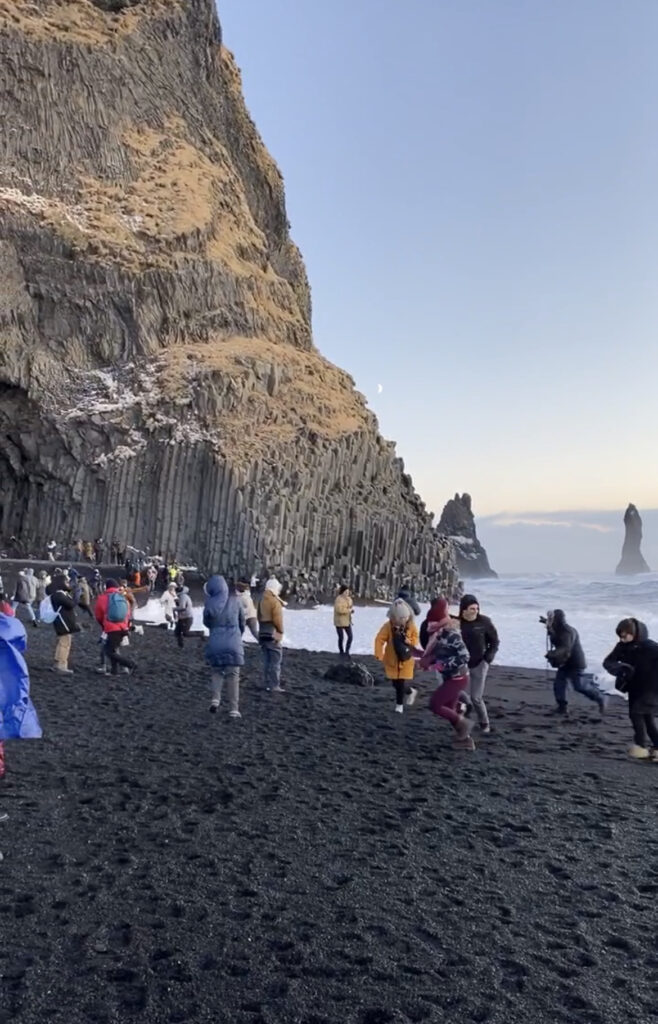 DO NOT
go on the glaciers
To be a licensed glacier guide you have to go through a lot of safety and training. I don't know about you but I'm not trying to mess with one of the biggest forces of nature!
Glaciers are extremely unstable, they are melting and moving with deep crevasses.
A few years ago a tourist fell through a crevasse and was swept under a glacier and died of drowning. Even if you have personal experience with glaciers, wouldn't you just feel better knowing someone is there in case of an emergency?!
Along with this is DO NOT climb onto icebergs at Jökulsárlón.
Not only is the water freezing cold but there's also an undercurrent that washes the icebergs out to the ocean. This has danger written all over it! Yet, we see this story in the news.
DO NOT
get close to the edges of cliffs of waterfalls
Iceland has chosen to keep a lot of places as natural as possible. This means minimal infrastructure around sights, which leads people to think that they can walk as close to the edges as possible. Cliff edges could give out unexpectedly, or there could be ice and one slip could be fatal.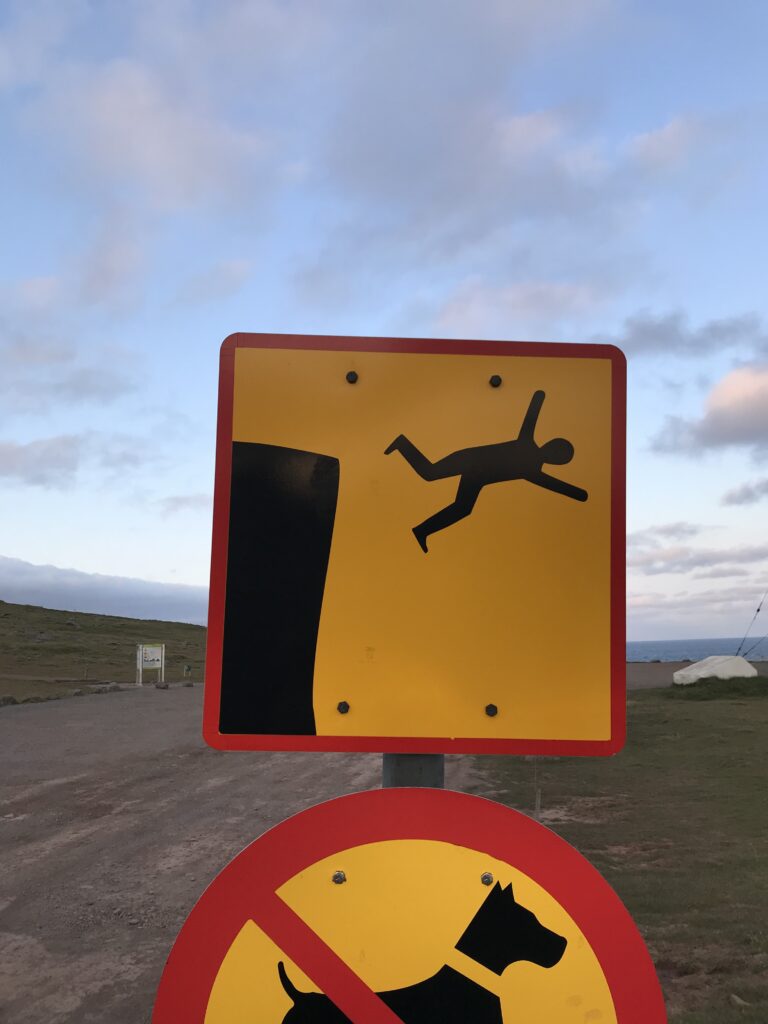 DO NOT walk on the moss
Iceland is classified as a tundra which means the ecosystem is incredibly delicate! If the moss is damaged it can take HUNDREDS of years to grow back to its original state. So I BEG YOU. Do not walk on this beautiful pillowy goodness.
DO NOT
ignore chained/roped-off areas
I mean they're put there for a reason RIGHT?! I think the video says it all. Putting your INFANT'S life in danger to get closer to a slippery waterfall?! Whyyyyyy.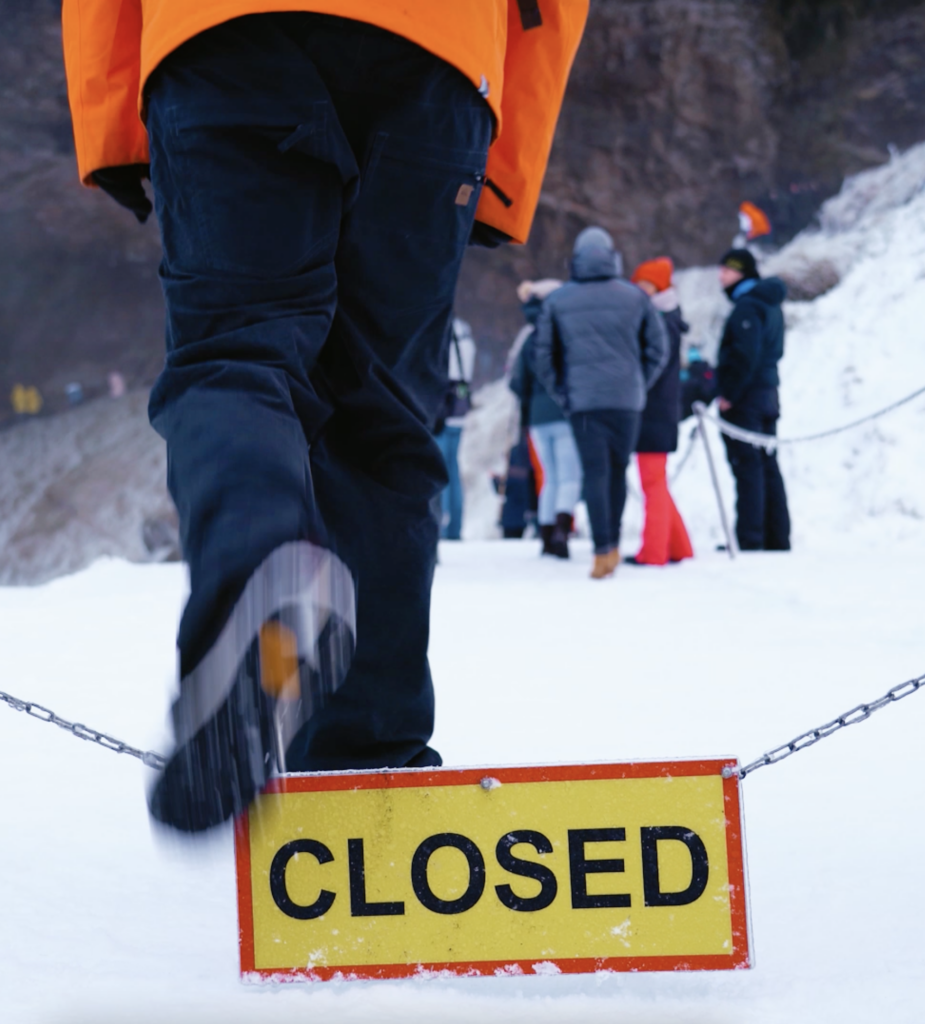 How to stay safe in Iceland
Check the local weather report
Vedur.is has the local radar and has a great hourly forecast. Storms can roll in and cause road closures, flooding, or avalanches, so it's important to plan your day accordingly.
Check road conditions EVERY morning before you travel
Road.is is where you can check the road conditions and closures for the area you are traveling to. Just remember, often times if there's a big snowstorm, the trucks will focus their early efforts in highly populated areas before moving out. This could mean Reykjavik roads get cleared before, say example, the Snaefellsnes peninsula.
You can read my blog post about the most terrifying driving experience of my life if you need an example!
Read the signs
If there is a rope closing something off, respect it, don't climb over it. This is for your safety! Don't be like the people at Seljandsfoss. Don't.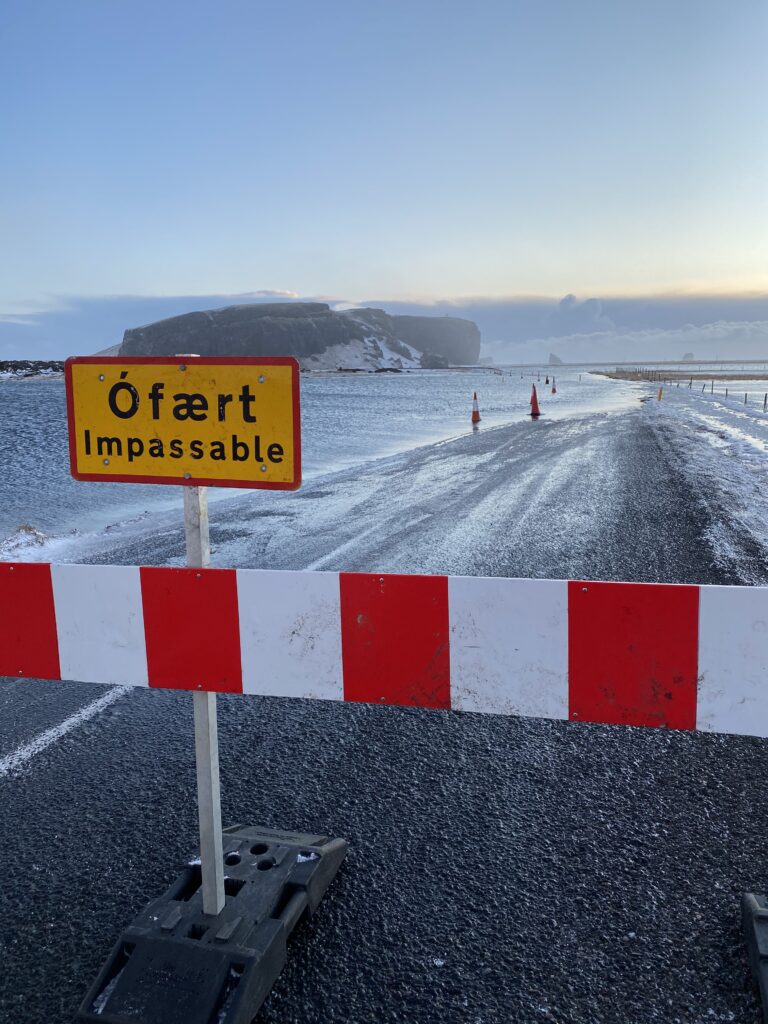 Hire a guide
I speak with plenty of travelers that still feel uneasy tackling Iceland on their own. I get it, it can be scary! If you have any hesitation, that's what private guides are for. Not only will they keep you safe, but they will teach you some fun facts along the way!
Let people know where you're going
Leave your itinerary with someone back home. Mom, sister, friend…anyone who knows what you're doing. This is especially important for those traveling into the highlands or the winter. Upload your itinerary to safetravel.is so that if anyone reports you missing, Iceland's search and rescue teams know where to start looking for you.
Call 112 – the local emergency number
In case of emergency, don't hesitate to call 112 (this is Iceland's equivalent of 911) .
Have a plan!
Having a plan is SUPER helpful to get the most out of your Iceland trip. That's where I come in! Did you know I've helped hundreds of people create the perfect Iceland itinerary?! (yup, it's a dream come true!) Check out my custom planning service, I'd LOVE to help you to have the best.trip.ever!
Happy planning,

Pin It!