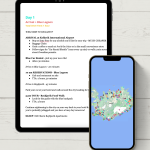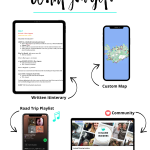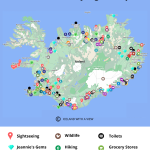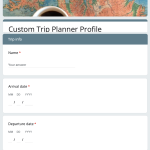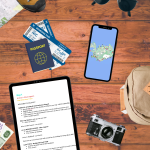 Custom Itinerary
$550.00 – $1,195.00
**LIMITED SPACES AVAILABLE**
Note:  Due to the amount of time required to plan a custom trip, I am only able to accommodate a small number of custom planning clients at one time.  Select your number of travel days below to check availability.  If the product says "Out of stock"; you may sign up for the waiting list.  Those on the waitlist will be directly notified of any available openings.  Openings typically occur 1-3 times per month.
Experience Iceland like a local! A completely personalized vacation – visiting not only the main attractions but also my favorite hidden gems! 
I understand the importance of having a seamless vacation. More importantly, one that fits your personality.
I offer customized trips for all ages and group sizes. That means I don't just copy and paste itineraries – no cookie-cutter vacations here! I get to know you and your travel style, and then I create your dream vacation.
Jeannie's Iceland trip planning service was smooth, professional, and worth every penny (or Krona) spent. I now have an amazing and detailed itinerary with a handy customized Google Map and didn't have to stress about it one bit. – Michael
Think of me as an expert at finding you the perfect spots based on my extensive knowledge from living in Iceland, combined with your desires and travel preferences!
You get a stress free trip tailored to your personality. It's that simple!
Personalized trips – from a local! What could be better?
Description
THIS PACKAGE IS FOR YOU IF:
You're overwhelmed with the number of options available in Iceland.
You want to enjoy an amazing vacation without having to worry about the stress of researching.
You know there's so much to see, but don't know how to fit it in with the time you have.
You're looking for a personalized vacation – not just another cookie-cutter tour.
You like getting inside tips from a local about hidden gems and the best places to eat.
You're overbooked, tired, and downright busy! (Read: working mom, planning a wedding, running a business…I get it – you don't need another thing to do!)
You want a simple itinerary to follow.
Jeannie made sure our time was maximized and our experiences were geared to our preferences. Jeannie's attention to details… the food options, the maps, the descriptions…. made our trip perfect! – Betty
HOW IT WORKS:
Choose the number of days you will be traveling in Iceland.
Upon purchase, you will immediately receive an email with a detailed questionnaire about your travel style.
Once that is completed, I get right to work on planning your best.trip.ever!
After the planning is completed

(allow 6-8 weeks for processing)

, I will send you your custom itinerary, personalized map, and any other helpful documents you would need to make your vacation seamless!
Questions about your trip and/or reasonable changes to your itinerary are allowed up to one week prior to your arrival in Iceland.
Included in this package:
Complete daily itinerary for the duration of your trip.
Customized Google map with exact locations for each stop, restaurant, and hidden gems.
Email support during the planning phase.
Special Features:
Personalized plan for your Iceland vacation.
Tips from a local – best places to see, what can be skipped.
Secret locations – spots that many tourists never see.
Step-by-step directions to get to each destination easily and safely.
Accommodation recommendations, restaurant suggestions, and information on guided tours.
Easy to use – print it out or download it to your phone or tablet to use on your trip!
---
LIMITED AVAILABILITY!
Because each trip is personalized, I will only be able to actively work on a few trips at a time. If you are considering this option, reserve your spot now!
---
The Google maps and little tips that she drops in the itinerary are so valuable. If you're on the fence about whether you need this, I hope you take the step! – Lauren
REQUIREMENTS:
Arrival and departure days and times are confirmed.
Email: your daily itinerary and documents will be delivered to your email in PDF format. From there you will be able to print it or download it to your computer, tablet, or phone to take it with you on the go!
You must have a Google account + download the Google Maps app to be able to access the interactive map. Instructions for accessing the map will be included in your deliverables.
---
NOTES:
The optimal amount of time for ordering this service is when your trip is 4-6 months out. Planning this far in advance allows for a good number of options and availability for accommodation, tours/excursions, restaurant reservations, etc. Any trip less than 8 weeks away will not be accepted.
NO partial planning – this is an all-in or all-out service. Regardless of arrival and departure times, if you'll be in Iceland – include the ENTIRE day in your planning service. In addition, I will not plan around days that you want excluded from the trip.

I do not book airfare, rental cars, accommodations, or tours for you

.

 

If you already have your accommodations booked, I will create your itinerary around those places.
If you need accommodation recommendations, I will provide a list of places based on your preferences.
If you need tour suggestions, I would be happy to help.

The information and images in this package may not be copied or shared in whole or in part. All photos included are my own, and all suggestions have been personally tested and loved!
I am experiencing an increasing amount of requests for custom itineraries. If I can't get to your request in time for your trip I sincerely apologize. Here are some other great options for your planning:
Guidebooks + Maps – great for DIY planners who are planning to self-drive around Iceland. Included is a very comprehensive Google map with all the pins you would need for the Ring Road, Golden Circle, Snæfellsnes Peninsula, Reykjavík, and Westfjords.
Prewritten Itineraries – Don't have time to research and just want an itinerary handed to you? Here's your answer. Created for when you need more than just a guidebook and my custom itinerary is on waiting list! Your trip, planned.
Itinerary Review – You do all the hard work researching and creating an Iceland itinerary, but just have a few questions to finalize the perfect trip.
Thank you SO MUCH for your support!
Questions? I'm here to help!
Error: Contact form not found.
Additional information
| | |
| --- | --- |
| Length of trip | 1-5 days, 6 days, 7 days, 8 days, 9 days, 10 days, 11 days, 12 days, 13 days, 14 days, 15 days, 16 days, 17 days, 18 days, 19 days |