Well friends, New Year's Eve is coming up soon!
I mean I don't want to rush the Christmas season and TRUST me, I have some fun Christmas stuff coming up!
A lot of people head to Iceland for this major holiday because Reykjavik is consistently ranked one of the best places in the WORLD to watch the fireworks on New Year's Eve! Reykjavik is such a festive place to be for the holiday, so if you are headed this way then you are in for a treat!
Read on everything you need to know about the scheduled events in Reykjavik.
Dinner
Time: 6pm-8pm
New Year's Eve starts out at home with the family and big dinner with lots of delicious food.
I know a lot of Americans are used to going out for dinner on New Year's Eve. Since NYE is traditionally a family holiday, restaurants and bars used to be closed on this day. However, with the tourism boom, more places are staying open.
If you are coming to Reykjavik and planning on dining out I HIGHLY recommend making a reservation NOW. A lot of places book up well in advance, so make sure to plan ahead!
Check out this list of restaurants and open times!
Bonfires
TIME: 8:30-10:30
After dinner, it's time to bundle up and head outside for the bonfires! This is a longstanding tradition in Iceland where people gather together to celebrate the end of the year. It's said that these bonfires are to burn away the old year to make room for the new year.
These are not your average bonfires folks. These are HUUUUGE fires with SO many people gathered around singing, and dancing, and drinking hot cocoa and having a great time. HOW FUN RIGHT?!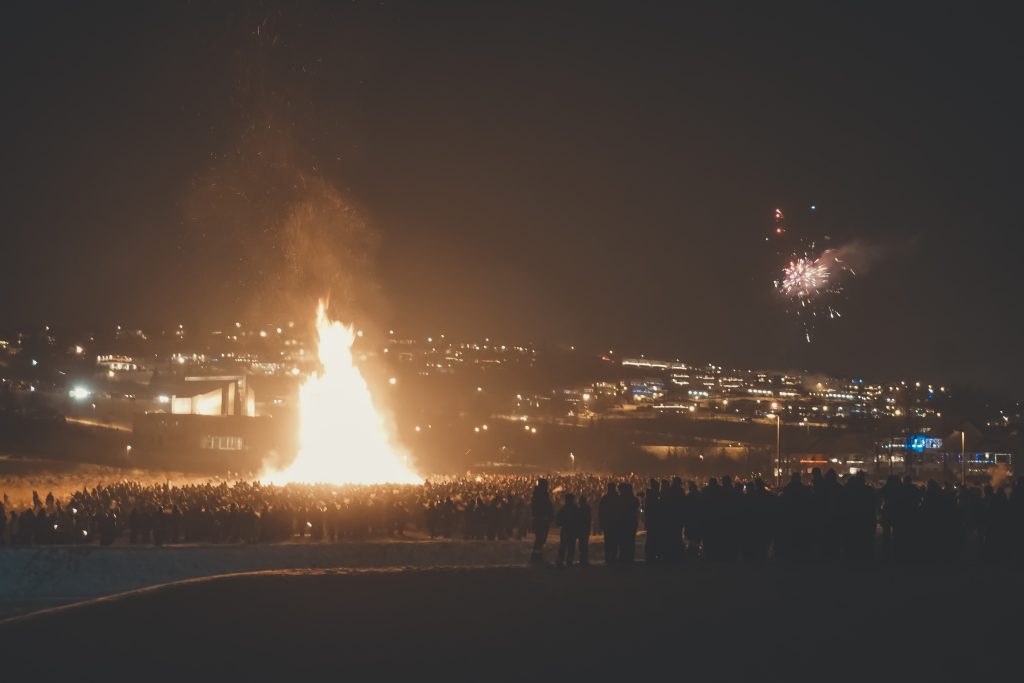 Everyone is welcome to join in on the bonfire, not need to be invited. Just walk up and make friends with the locals!
I've created a map of where the bonfires are held around the city. The bonfires usually go from 8:30 PM until 10:30 PM unless stated otherwise (I included start times on each location in the map).
NOTE: If you are planning on drinking, please do not drink and drive! This is a serious offense in Iceland.
Television Hour
TIME: 10:30-11:30 PM
The next order of business is the annual comedy show called Áramótaskaup. This is an hour-long television show where comedians make fun of the year's events in politics, pop culture, news, etc. So basically like a huge SNL skit!
You will notice that promptly at 10:30 PM all Icelanders will leave the bonfires and go home to watch this show – this is a highly anticipated each year!
Fireworks
TIME: 8:00-10:30 and 11:30-whenever!
Thennnn we get to the good stuff.
News flash: Reykjavik is in the top 10 places in the world to watch the fireworks on New Year's Eve. So if you are celebrating in this nation's capital, you're in for a treat!
Reykjavik.goes.CRAZY!!!!
Fireworks will be lit off from every corner of the city due to relaxed restrictions. So the city of Reykjavik doesn't shoot off the fireworks, people buy them and light them off everywhere and anywhere!
It's total madness.
Aka be careful if you're wandering the streets!
Party
TIME: 12:00-?
Time to get your party shoes on because now it's time to head downtown and continue the festivities.
Iceland is definitely known for its nightlife, and NYE is no exception to that! Some bars will be open until 5 PM. Remember the sun doesn't rise until almost noon the next day, so you have plenty of time to sleep it off!
New Years Day
If you are awake and about the next day, congratulations to you!
Get a little breakfast in you and carpe the most of this four-hour diem!
If you are feeling suuuuper adventurous, join the locals in Iceland's own POLAR PLUNGE!
This event takes place at Nautholsvik beach. Icelanders and jump into the Atlantic ocean! But don't worry, afterward, there is a warm geothermal pool to soak in. Sounds lovely, right?! Entrance is 600 ISK or ~$5 USD.
For the less adventurous, perhaps my list of 10 free things to do in Reykjavik interests you more?
Reykjavik is an absolutely amazing place to be for New Year's Eve. There is so much magic in the air, you are sure to have a wonderful time!
---

Pin it for later!