Are you ready to discover the small-town charm of Vík, Iceland?
Explore iconic landmarks, black sand beaches, and the cozy atmosphere of this quaint little town, where the scenery looks like something out of a storybook!
However, you might not be aware of the specific details in and around Vík that can help you make the most of your trip.
So, guess what? I've done all the groundwork for you!
You'll find out about the main sites, best dining spots, and accommodations – tried and tested by yours truly!
Oh, and stay tuned for some of Jeannie's gems – aka insider information you don't want to miss.
Open up your travel notebook – the one with coffee stains, and frayed edges, packed with brochures, and notes about your trip.
Then, add "Vík, South Iceland" right between "Northern Lights" and "Golden Circle" in the section labeled "must-see."
Go on. Pack up your gear and hop in the car, we're taking a road trip! 🚙💨
Table of Contents
Visiting the Town of Vík, Iceland
As far as enchanting little towns go, Vík, Iceland takes home the prize.
With a population of only 750 people, it's located on the South Coast around 187 km (116 miles) from Reykjavík. Without a doubt, it's one of the most beautiful areas of Iceland.
Hands up if you thought Vík stood for Viking 👋 – just me? Well, what I know now is that it means "bay" in Icelandic.
Accessible year-round, you may have heard of it because it's one of the most common places to stop and stay overnight while exploring South Iceland.
The road trip from Vík, Iceland to Reykjavík comes with a few incredible sights along the way, including Skógafoss and Seljalandsfoss waterfalls.
You could opt to travel from Reykjavík to Vík by bus or you could rent a car.
I must say, nothing quite beats the freedom of exploring the local sites on your own time.
So, if you're looking to rent a car in Iceland, I highly recommend Blue Car Rental. They're a local business that understands Iceland's roads, AND they've got excellent customer service.
➡️Make sure you snag my VIP discount for extra savings!

Vík, Iceland Weather
In the winter, the weather can be described as cold, windy, and cloudy.
Vík doesn't usually experience heavy snowfall during the winter months. Summers tend to be cool and rainy.
The weather here is generally wet, with the rainiest month being in September, averaging about 260mm (10.2 inches) of rain.
Don't let this deter you though. As they say, there's no such thing as bad weather in Iceland, just bad clothes. So pack smart!
Average Temperatures in Vík
The average temperature in the winter is 1.9°C (35°F) and in the summer around July, it averages about 11°C (52°F).
Main Sites
As with any place you're visiting, the first thing you need to know about are the main sites, which of course, also offer some amazing photo opportunities!
Reynisfjara Black Sand Beach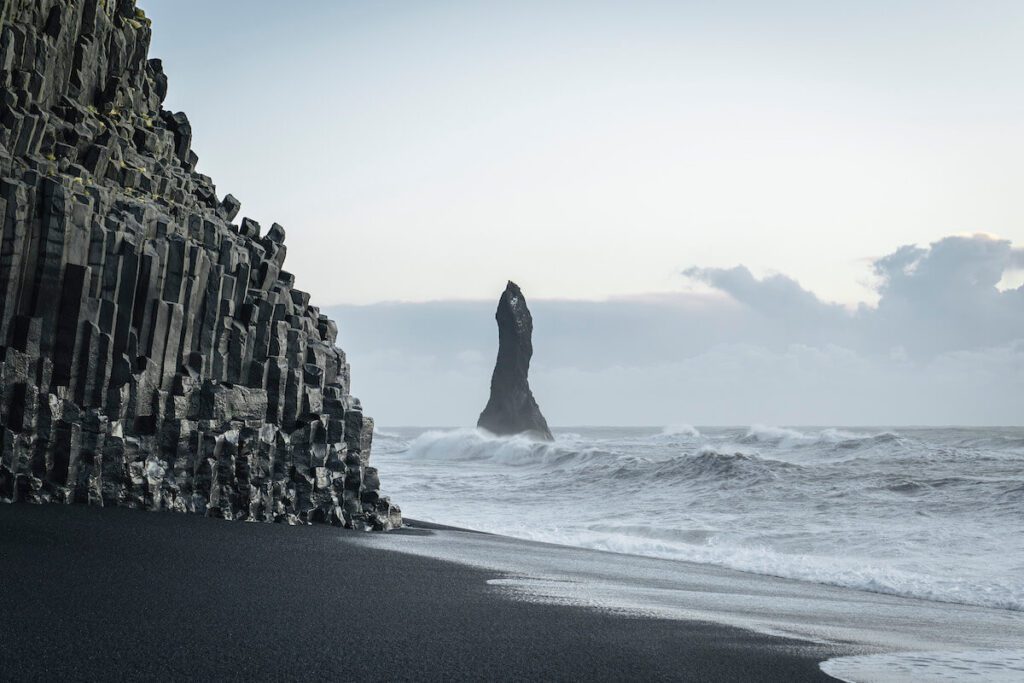 Probably every tourist wants to visit this location in Vík, Iceland, because the black sand beach is so beautiful and unique.
The beach is called Reynisfjara, and the black basalt columns are known as Reynisdrangar.
Did you know that the beach was also a filming location for Game of Thrones? Pretty cool!
It's also a great spot to view the Northern Lights – but please adhere to the safety rules!
Swimming here is strictly prohibited because the currents are incredibly strong. The waves can be extremely dangerous, so as a tip, never turn your back to the ocean. Sneaker waves come up higher than the others and can drag you right out to sea, so be very careful!
Dyrhólaey
The name "Dyrhólaey" translates to "the hill island with the door hole". It's a famous rock arch that extends into the ocean showing off some spectacular views!
Lighthouse: You'll see the big beautiful Dyrhólaey Lighthouse right there! It's easily accessible from the parking area and once there, you get a view down either side of the black sand beach. Visitors aren't allowed to enter the lighthouse, but it still makes for great photos!
Beautiful views: From Dyrhólaey, you're actually looking towards Reynisfjara on the one side and a beautiful coastline on the other. From the upper area, you can gaze out and see Mýrdalsjökull glacier and the lava rock formations of Reynisdrangar.
The quaint little village of Vík is just a 15-minute drive down the road from these sites.
The Village of Vík
As you drive into the village, the iconic Vík í Mýrdal church with its distinctive red roof comes into view, perched at the top of the hill.
You've probably seen that classic panorama featuring the church, black sand beach, basalt columns and beautiful little houses.
To capture this picturesque scene, all you have to do is drive up the hill for the perfect vantage point for that beautiful photo.
If you're interested in a guided tour of South Iceland that includes all these major sites and more, take a look at this South Coast Tour.
Things To Do in and Around Vík, Iceland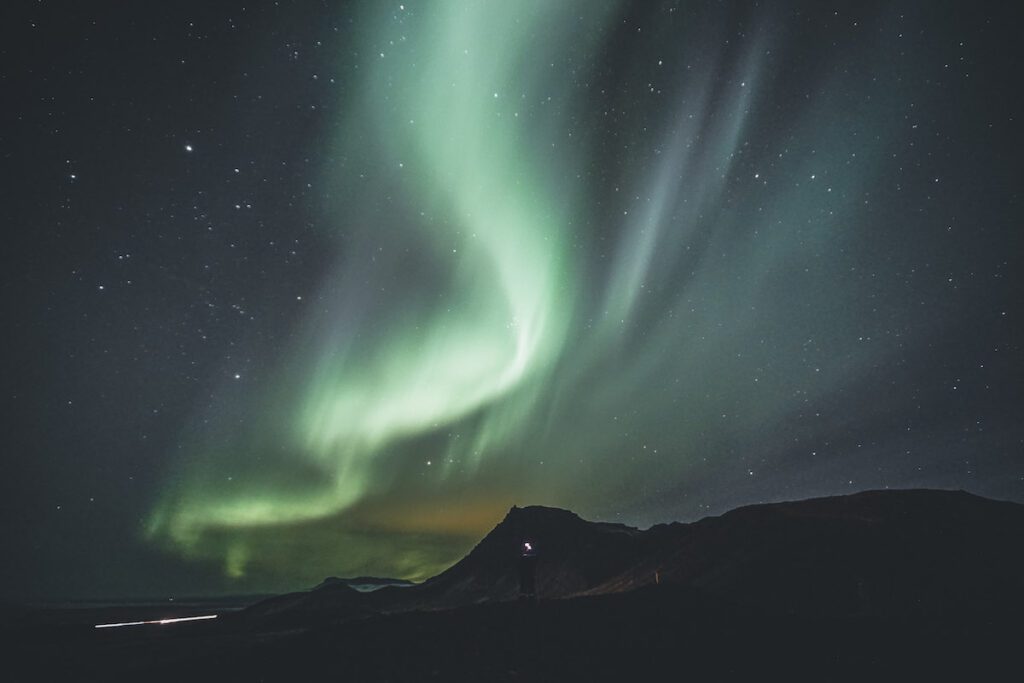 Don't think for a moment that your adventure is limited to the main attractions. I've sprinkled in a few of Jeannie's gems that are well worth exploring, to ensure your journey to Vík, Iceland is one to remember.
Katla Museum: This museum provides information about the nearby volcano called Katla. Inside you'll find a small photo exhibition about the volcano, and there's an adorable gift shop attached.
The best part? It's free! And, it's a great opportunity to learn more about Iceland, while spending about 30 minutes to an hour exploring the exhibits.
Lava Show: This show is so much fun for the whole family! Real lava that solidified from Katla's 1918 eruption is re-melted and poured out. All the while, the narrator gives a vivid account of the eruption.
Take A Tour: Private South Coast Day Tour with Icelandic Lava Show and Glacier View
Hidden black sand beach: There's a second, lesser-known black sand beach on the other side of the basalt column. Not a lot of people go there (hence the "hidden" 😉) So, if you want the beach all to yourself, this is the place to go for a more secluded experience.
Exploring the town: Vík offers a range of shopping options, from Ice Wear Apparel to cute little souvenir shops in the downtown area. My suggestion? Take it easy – do some window shopping, stretch your legs, and soak in the scenery. It's a perfect excuse to enjoy the town's charm!
Northern Lights: Because there is minimal light pollution, Reynisfjara is a great spot to view the Northern Lights. Just bear in mind that weather conditions can affect the visibility of the aurora.
Ice cave tours: If you're traveling to Iceland in the winter, the ice caves are finally safe to enter. Katla is the second most active volcano in Iceland. It's an incredible experience to be in the cave, surrounded by all that ice! And when you exit, the skies are orange and pink – the beauty of it literally left me speechless.
You can book your Katla Ice Cave tour ➡️ HERE
I vlogged about my experience on that tour below if you want to take a look 👇
Hot spring: If you're looking for a pool or hot spring near Vík, Iceland, then Seljavallalaug Pool is a 42.4km or 36-minute drive from Vík. The natural hot spring is roughly a 5-minute walk from the pool.
Dining Options: Vík Restaurants
After a day of exploring, you're going to be hungry! Let's take a look at the dining options in Vík.
Suður-Vík: Now, there aren't a whole lot of dining options available but I must tell you, one of the best restaurants in Vík, and my absolute favorite is Suður-Vík.
It's a delightful restaurant located in an old home, with antique furniture, creaking floors, cozy atmosphere AND great food. They have our favorite classic Icelandic meal – cheese pizza with jam.
I know it sounds weird, but don't knock it until you try it!
We honestly don't travel through Vík without stopping here for a bite.
The Soup Company: If all you want is a comforting bowl of warm soup to warm your soul, then this is the place to go! They serve soups like Icelandic Lamb Soup or their best seller: the Red Hot Lava Soup packed with spicy beef, lentils, red wine, and other yummy ingredients. Plus it's served in a black bread bowl. There are also vegan options on the menu.
Not in the mood for soup? Then they also serve salads or indulgent homemade cakes – which you absolutely need to for an energy-boost – honestly, it's just science. 😜
Halldorskaffi: Serves burgers, pizza, and Icelandic favorites like lamb and fish. There are also delicious vegetarian options available. Halldorskaffi also received the Tripadvisors 2023 Traveller's Choice Award! A great option for eating out when visiting Vík.
Hotels: Vík, Iceland Accommodation
Vík is the perfect day trip because of its proximity to Reykjavík, but if you're planning to stay overnight, I've got a few awesome suggestions for hotels in Vík that will make your experience even more enjoyable.
Hotel Kría: This is a newer hotel on the main road with a beautiful view of the ocean and mountains. What I love about it is, they've got everything you need.
Their staff is warm and welcoming, and there's an awesome bar with happy hour deals, cozy seating, a beautiful restaurant, and an excellent breakfast.
They'll even wake you up with a Northern Lights call if they see the aurora outside!
I highly recommend staying here.
➡️ Find out more: Hotel Kría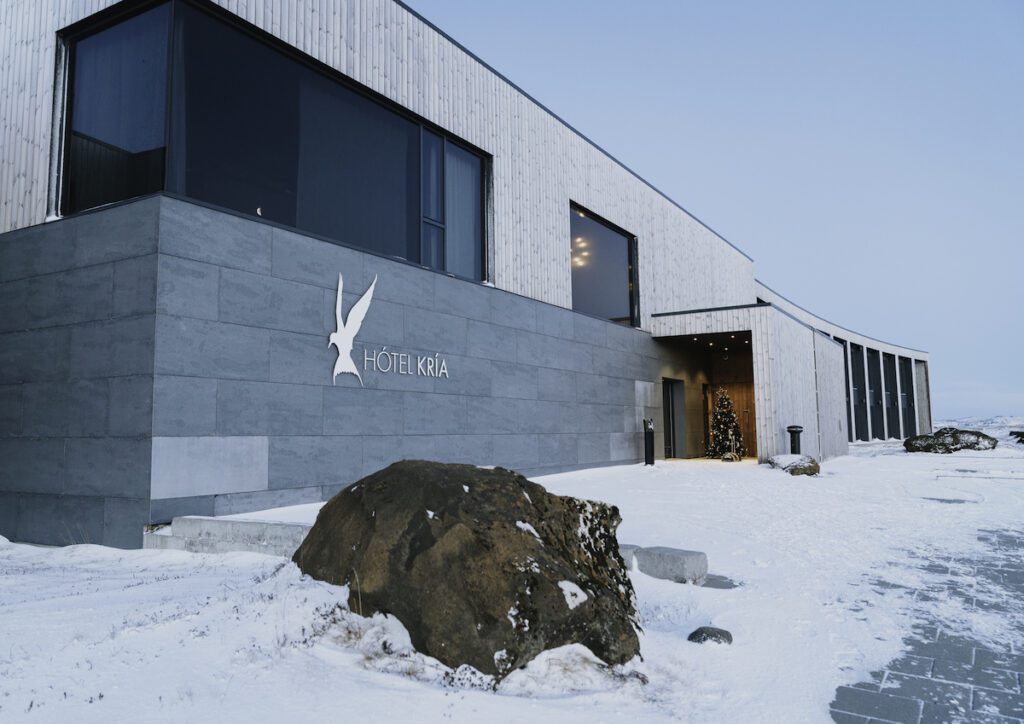 Volcano Hotel: This hotel is located a mere 10-minute drive from Vík and is a family-run hotel located in the Southernmost part of Iceland. The rooms are beautiful and breakfast is included in the price. Plus, tea and coffee are always available, without charge!
➡️ Find out more: Volcano Hotel
Farmhouse Lodge Vík: Located between Reykjavík and the Jökulsárlón Glacier Lagoon, the rooms are modern and very spacious. You can also choose their "Glamping" accommodation option, where you get the benefits of camping outdoors, with the comforts of a hotel room.
That's what I'm talking about!
You'll also have access to facilities like toilets and showers. No digging holes out in nature. Not today, my friend. Not today!
➡️ Find out more: Farmhouse Lodge
Hotel Dyrhólaey Vík: This is a family-run hotel with spectacular views of the Mýrdalur valley, beach and Dyrhólaey peninsula. The hotel also has a restaurant with delicious dishes, a bar, and a gym where you can work off all those extra calories!
If you've found this information helpful, you're going to love my Iceland Travel Guides + Maps!
It's filled with guides, and practical insider information that only the locals know. 😉
And here's the exciting part – each of my digital maps includes over 500 pinned locations, ranging from popular attractions and essential places like rest areas, grocery stores, gas stations, campsites, and a lot more!
➡️ Access My Iceland Travel Guides + Maps HERE
Vík, Iceland may be small, but as you can see, there are a lot of awesome things to check out and something for everyone to enjoy!
Happy planning!

Pin it for later! 👇🏼