In Iceland, the naked shower ritual is very much a real thing!
I remember the first time I heard that I had to get buck-naked, bare all, and shower in front of strangers to be allowed into the geothermal pools.
Say what now?!?
Where's Ashton Kutcher? Am I being punked, or is this the Icelandic version of the show Naked and Afraid? 🤣
Now eight years later, I'm happy to say it doesn't make me panic anymore.
This is a very interesting topic, and I'm so excited to dive in because it makes people so fantastically nervous.
I'm sure you've got a lot of questions, and thankfully I've got answers!
I'll be looking at Icelandic pool culture, and answering the oh-so-common question of 'why oh why do you need to get naked?', as well as what you can expect when you visit one of these pools so you're not left with any surprises.
So bare with me, I'll be keeping it clean. Promise. 😉
Table of Contents
Pool Culture in Iceland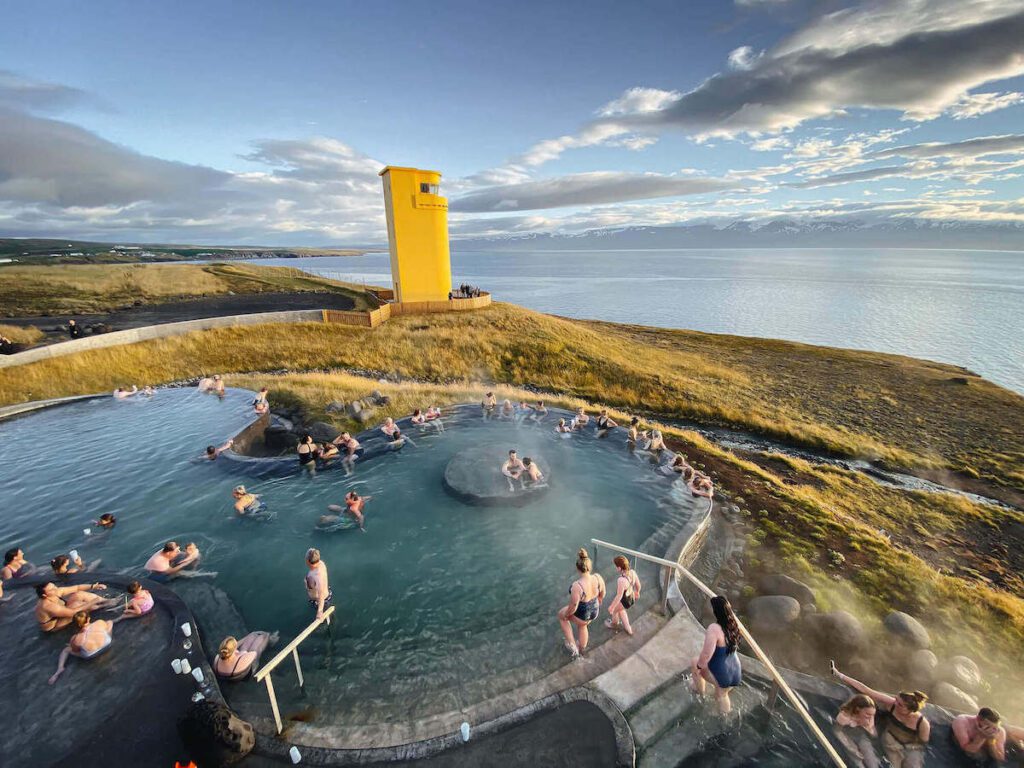 Let me start by saying that the pool culture in Iceland is huge.
The Fins have their saunas, and the Icelanders have their pools; it's part of their cultural identity.
Did you know that every single town in Iceland has one? That's how much they love it.
Usually, families flock there on the weekend, and the kids have a blast.
Meanwhile, the adults sit in the different hot spots. They use this time to relax and socialize with their friends and family.
And don't think the weather will stop them. Regardless of the temperatures or season, they're there, soaking up the warmth of the therapeutic waters.
Embracing Pool Culture: Nudity in Iceland
Do you have to get naked in Iceland at the pools? Yes.
You absolutely, unequivocally have to get naked before you go into the pools!
GULP!
I can see you trying to keep your cool.
Like a duck, calm on the surface but paddling frantically below to escape through the nearest exit.
Before we continue, it's important to note that in Iceland, nudity is not even an issue.
Icelanders are so, so casual about it.
It's a cultural thing.
Americans are a lot more nervous about all things nudity-related. The idea of getting naked around complete strangers sends a shiver up most people's spine!
But in Iceland's public showers. they don't care if you, your friend, or everyone around them is baring it all.
There are all sorts of shapes, sizes, ages, and levels of perkiness – all kinds.
So don't worry. No one cares and no one's looking at you.
Well, um, except for the shower police.
Which brings me to my next point…
Iceland Showers: Blue Lagoon Shower Police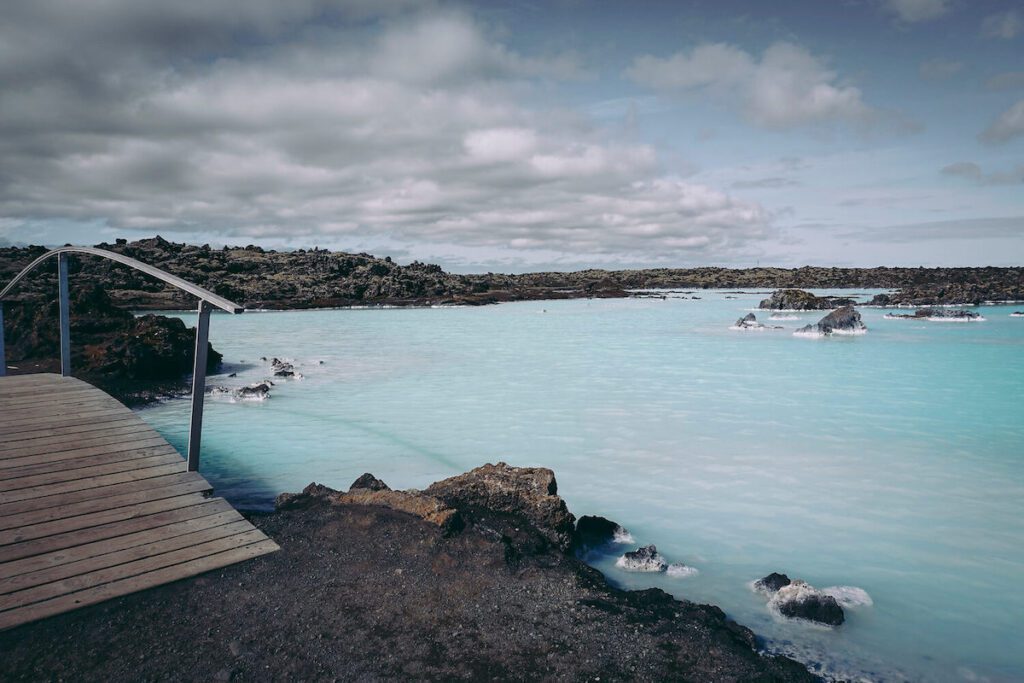 In Iceland, they have what I refer to as the pool showering police.
No doubt an interesting career path, but it's a thing 😅
These people sit in a booth facing the showers, and they're watching to make sure that no one is showering with a bathing suit.
For real. The Icelanders take this stuff seriously!
Be prepared to shower at Iceland's Blue Lagoon nude. It's just part of the Blue Lagoon shower policy.
Oh and if the idea of the Blue Lagoon shower police staring you down is giving you the heebie jeebies, don't worry – there are private shower stalls you can use.

Just trust me, it's really not as intimidating as it sounds.
Oh and FYI: The changing rooms are separated by gender at The Blue Lagoon, as well as the more built-up spas and pools across the country.

➡️READ MORE: Is The Blue Lagoon Worth It? Everything You Need To Know About Iceland's #1 Attraction
Where Must You Shower Nude in Iceland?
Now, while Iceland is renowned for its breathtaking landscapes and unique showering rituals, you won't find an "Iceland nude beach" on the tourist maps.
The places that'll require you to shower at the pools in Iceland naked are the built-up pools such as the Blue Lagoon and Laugarvatn Fontana.
This is especially true of the local pools in different towns.
There'll be a sign posted requiring you to completely take off your clothes and scrub those areas clean with soap.
No hiding behind a swimsuit.
Oh, to be nude in Iceland!
It can be a bit pricey to visit popular lagoons, so I did a post on the Top 10 Blue Lagoon Alternatives that are just as magical! ✨
Why Must You Shower Nude in Iceland?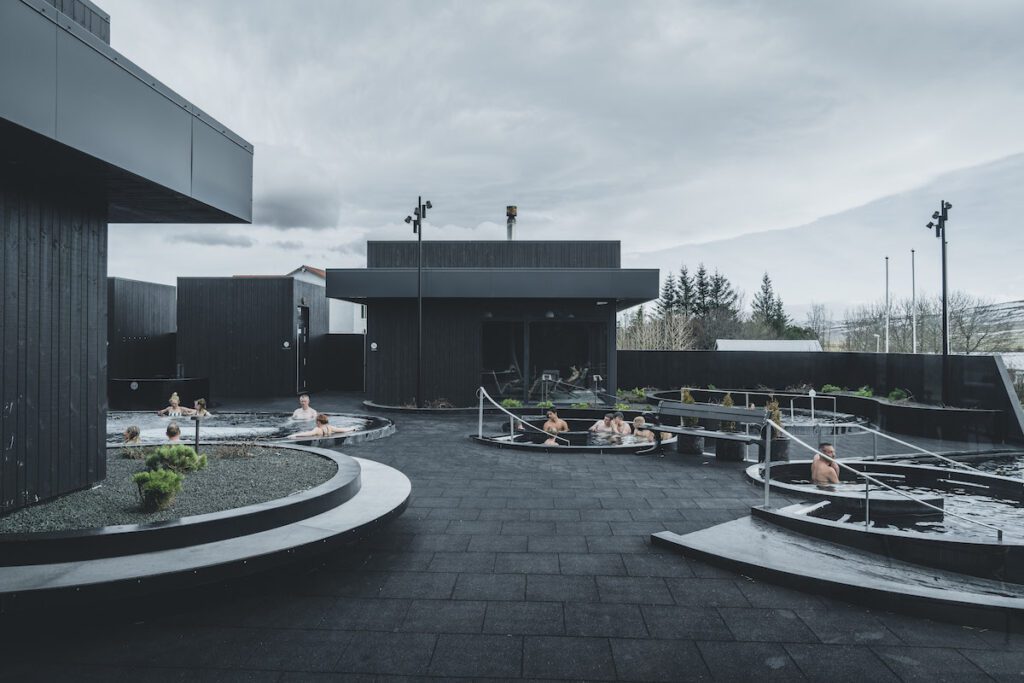 Why oh why must you shower at these pools in Iceland naked?
Believe it or not, there is a very good reason behind this.
You need to get naked and completely clean yourself before you go into the pools because the pools are not chlorinated or treated with harsh chemicals.
It's a vital step in maintaining the purity of the water.
Therefore, to ensure that the natural geothermal water doesn't get contaminated, visitors need to be as clean as possible.
Makes perfect sense!
So, go ahead and embrace the cultural experiences and Iceland's nude traditions. 😉
Pool Etiquette: The Icelandic Naked Shower
Okay, now that we know the why. Let's get into the how – the schematics of Iceland's naked showers.
The whole atmosphere is surprisingly relaxed and the process is a really respectful one.
Being in your birthday suit acts as a great equalizer. No one cares if you're a big-shot executive or just an average Joe – we're all just people. Vulnerable and slightly awkward.
You'll arrive at the changing rooms where you drop off your clothes but always leave your shoes outside.
There are signs telling you exactly which areas you need to pay close attention to during your scrub down.
You'll proceed to the shower area, all the while repeating to yourself that in Iceland, nudity is no biggie. 🙈
But please DON'T STARE, you don't want to be that person!
Many of the popular lagoons like the Sky Lagoon or Blue Lagoon showers have dividers in the stalls that offer varying degrees of privacy. However, if you choose to venture out to the quieter ones like the Secret Lagoon, there's only a communal showering area.
So scrub well, and once you're squeaky clean, you can put your swimsuit on, and go have a great time in the pool.
👉If you're looking for a day hike and hot spring close to Reykjavík, check this out: Reykjadalur Hot Springs
Where Do I NOT Need To Get Naked in Iceland?
If you're eager to dip into those geothermal waters but the thought of going nude in Iceland – in front of others – feels a bit daunting, no worries! There are a few spots where you won't have to bare it all.
You won't need to shower at natural pools, like Seljavallalaug, and other Icelandic hot springs nude.
If they're out in nature, there are no showering facilities – or shower police.
Feel free to get in with your dirty old body and enjoy it with everyone else!
👉 Looking for more insider tips for your trip to Iceland? Check out my Iceland Guidebooks + Maps.
If you want to know where the locals hang out, find hidden hiking trails, locate fuel stations or restrooms, I've got you covered. The digital map comes in super handy with over 500 pinned locations, and it includes all the hot springs, spas, pools and much more!
Once you overcome the initial shock of having to shower at the pools in Iceland naked, it's actually quite liberating.
Don't let it scare you; not only is it an amazing experience, but you also gain a better understanding of the local culture.
I'm not a member of any Iceland naturist community, I swear, but I do think it's pretty cool!
When in Rome, right?
From yours truly, embracing the freedom of showering in Iceland nude and loving it!

Pin it for later! 👇🏼