First of all, disclaimer: I haven't (yet) been everywhere in Iceland, but of the places I have been so far, the Westfjords are hands down my favorite.
If you are planning a trip to Iceland and even considering adding the Westfjords to your itinerary, do not think twice, do not pass go or collect $200, just drive your rental car to the Westfjords. You will NOT be disappointed.
A few weekends ago, our amazing friends were here visiting us from the States. We decided we wanted to bring them somewhere we hadn't been to yet, and since the Westfjords were on my 2016 travel list, it was the perfect weekend destination.
Second note: one weekend is NOT enough time in the Westfjords. We left at 2pm on Friday and with the 6-hour drive to Ísafjörður, we really only had Saturday and half of Sunday to explore before we had to drive 6 hours back. If you really want to make the most of a trip, don't be a crazy person like us and make it a long weekend at the very least.
Lastly: I loved our Westfjord trip with my whole heart, but we went at a tough time of year. One of the roads we wanted to take was still closed due to snow, and many of the restaurants we heard about are only open seasonally. Check below for the best times to visit.
The adorable town of Ísafjörður
OMG this place. An old fishing village located on a peninsula in the ocean wedged between two huge mountains in a fjord with bright multi-colored houses, I mean seriously.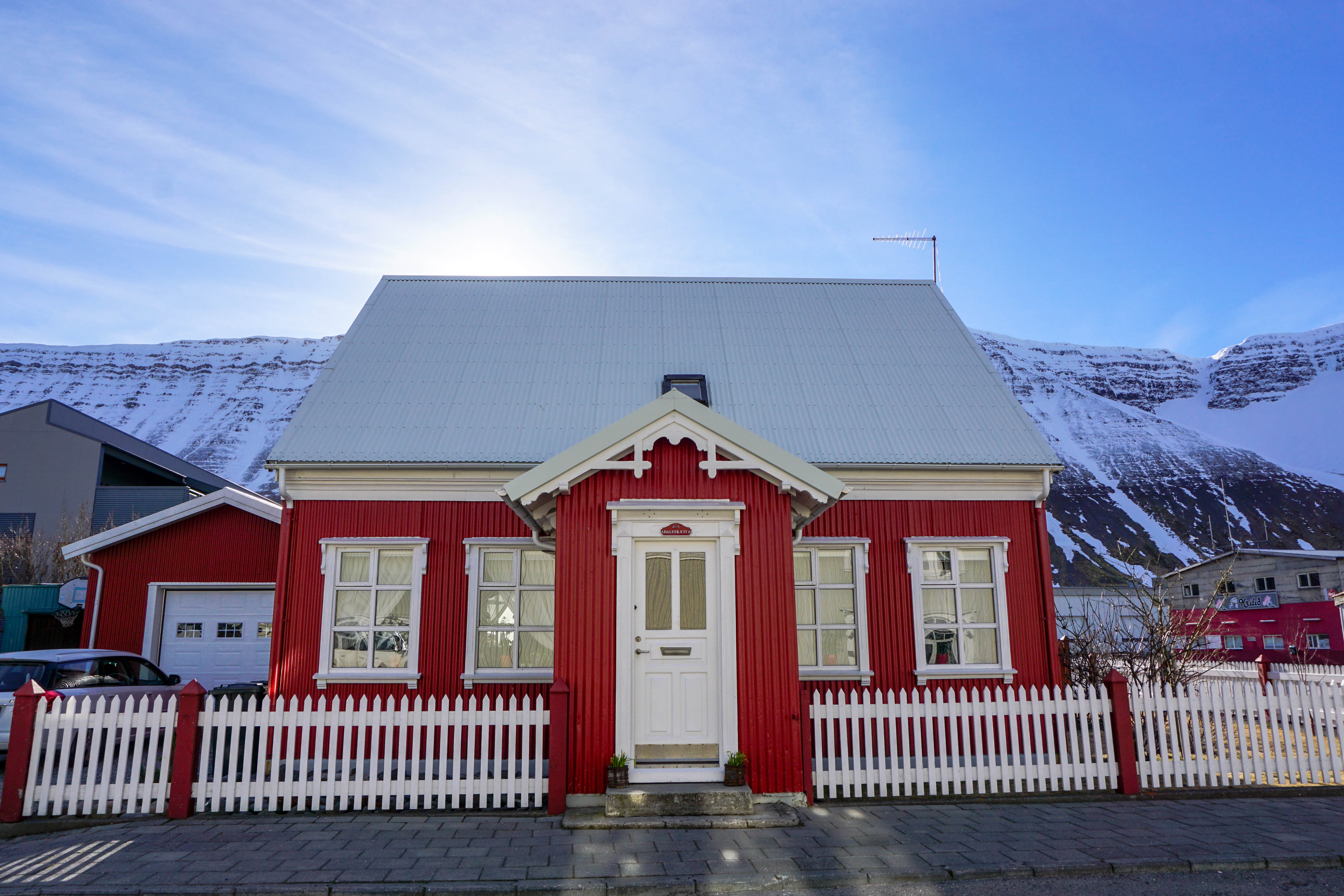 Dynjandi
This is literally the waterfall of all waterfalls. This waterfall is so massive that you can see it from miles away on the drive in. If it seems big in the picture, it's way bigger in real life. The closer you get to the falls, the more amazing it becomes. It was everything I wanted it to be and more!
Hellulaug
This was the best hot spring experience I've ever had in Iceland. This naturally heated pool is hidden from the road, tucked away in a secluded little spot by the sea. We were the only ones there, the water temperature was perfect, and the scenery was unbelievable. I know there are a lot of hot pots in the Westfjords, but I can highly recommend this one.
GPS points: N65° 34′ 36.661″ W23° 9′ 48.289″
Picnic
If you have ever driven around Iceland you will notice there are SO many place to stop for a picnic! The Westfjords are no exception, and in my opinion, obviously have the best scenery for said picnic. Food + friends + laughter + scenery = the perfect day.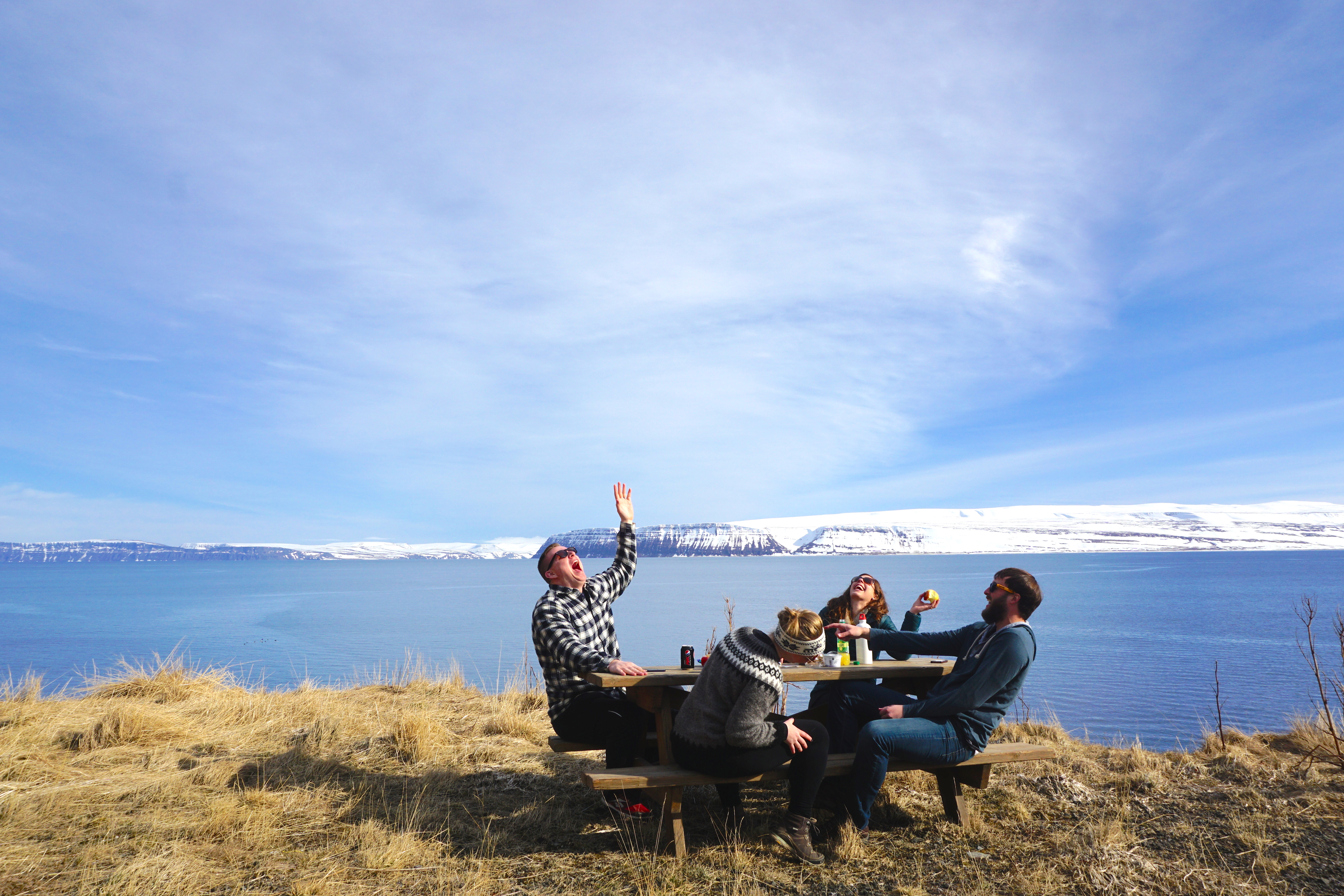 Driving
Even though there was a LOT of driving involved on this trip I didn't mind it one bit because the scenery was out of this world. Know that if you are planning to travel around in the Westfjords, be prepared for a lot of windshield time. Also, always keep your camera handy because you WILL want to stop for a lot of photo ops!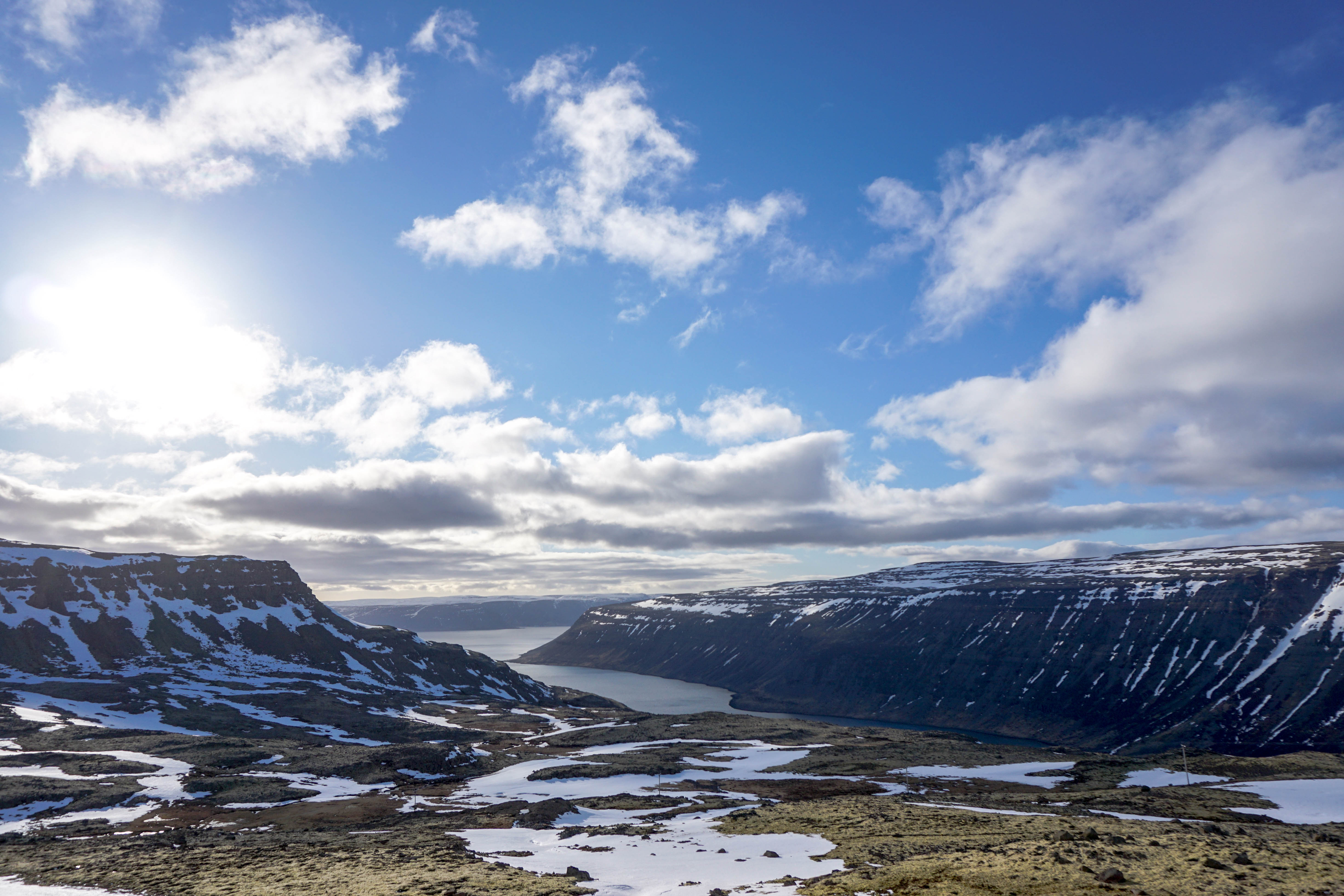 Spending time with this girl
Let me tell you, a) having visitors in your new country is the BEST and b) my friends are the best. Kelley and I were insta-friends when we met in Chiropractic school. We have so many memories together and as a fellow midwesterner who also loves the outdoors, we have a lot in common. It was amazing to travel around Iceland together – I don't think I ever stopped laughing.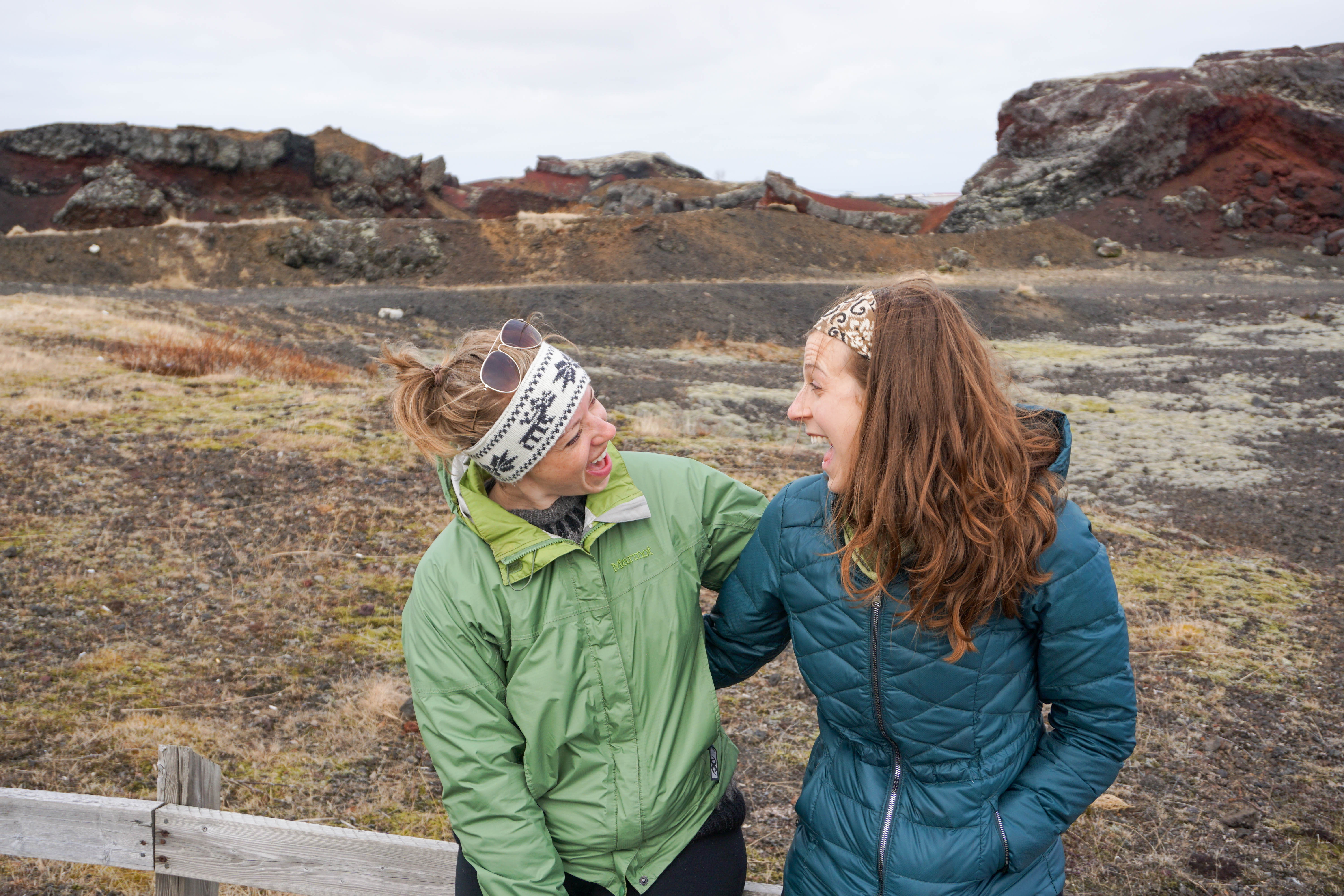 Sunset
I've seen some amazing sunsets in Iceland but this one has a special place in my heart. As we were driving back to Ísafjörður after a long day of exploring, the sunset was lighting up the sky and the mountains were big and beautiful. When we saw this small beach on the fjord we couldn't pass it up. I think we all just stood there in awe of the amazing sight.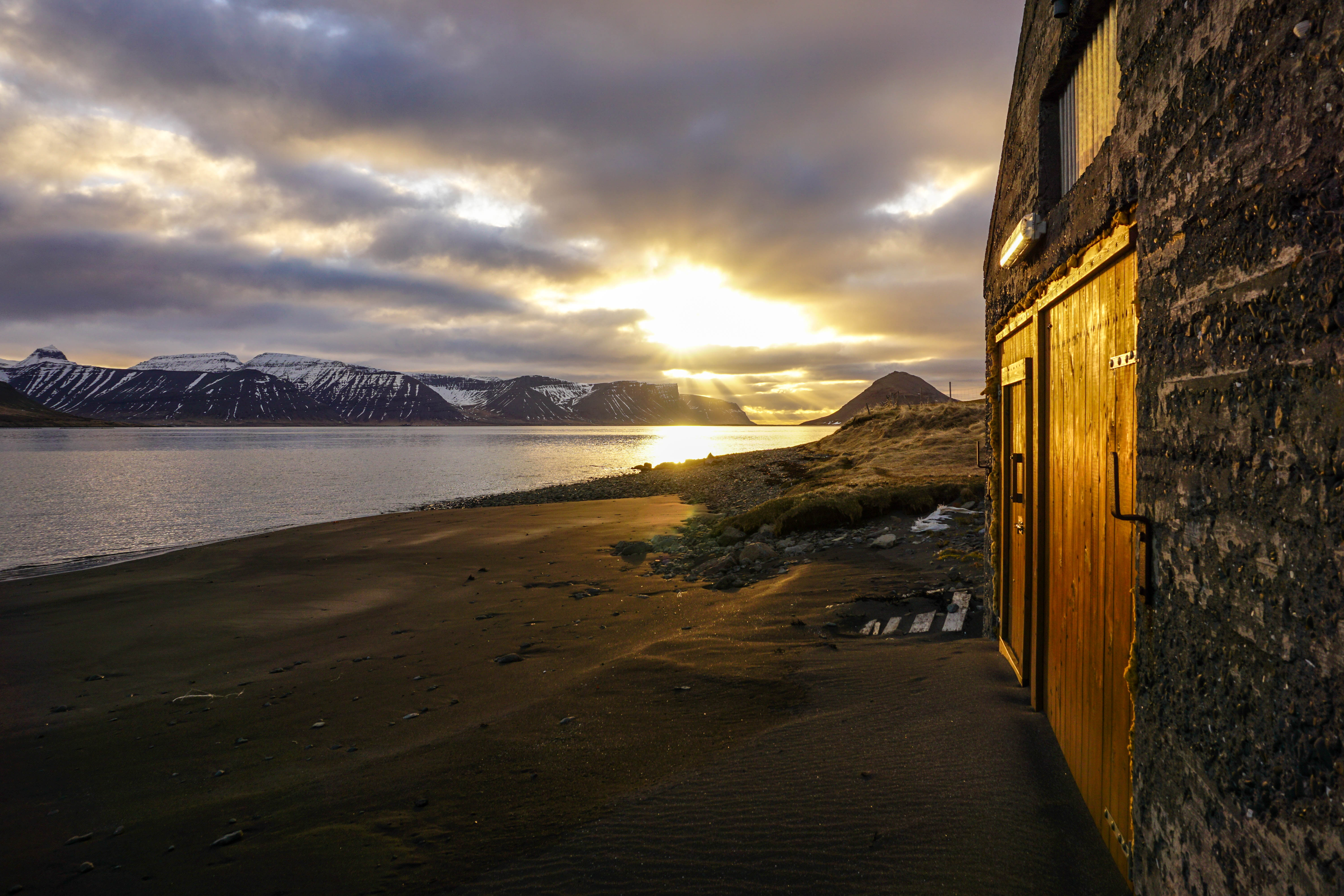 Watching my husband swim in the Arctic ocean

The whole weekend Bobby kept talking about how he wanted to swim in the ocean and we all kept saying, "uh-huh, you're crazy." But on the drive back to Reykjavik, there was a small sandy beach that was the perfect swimming spot, so he and Derek jumped in! It was so funny to watch, I was cold sitting there wearing my down jacket!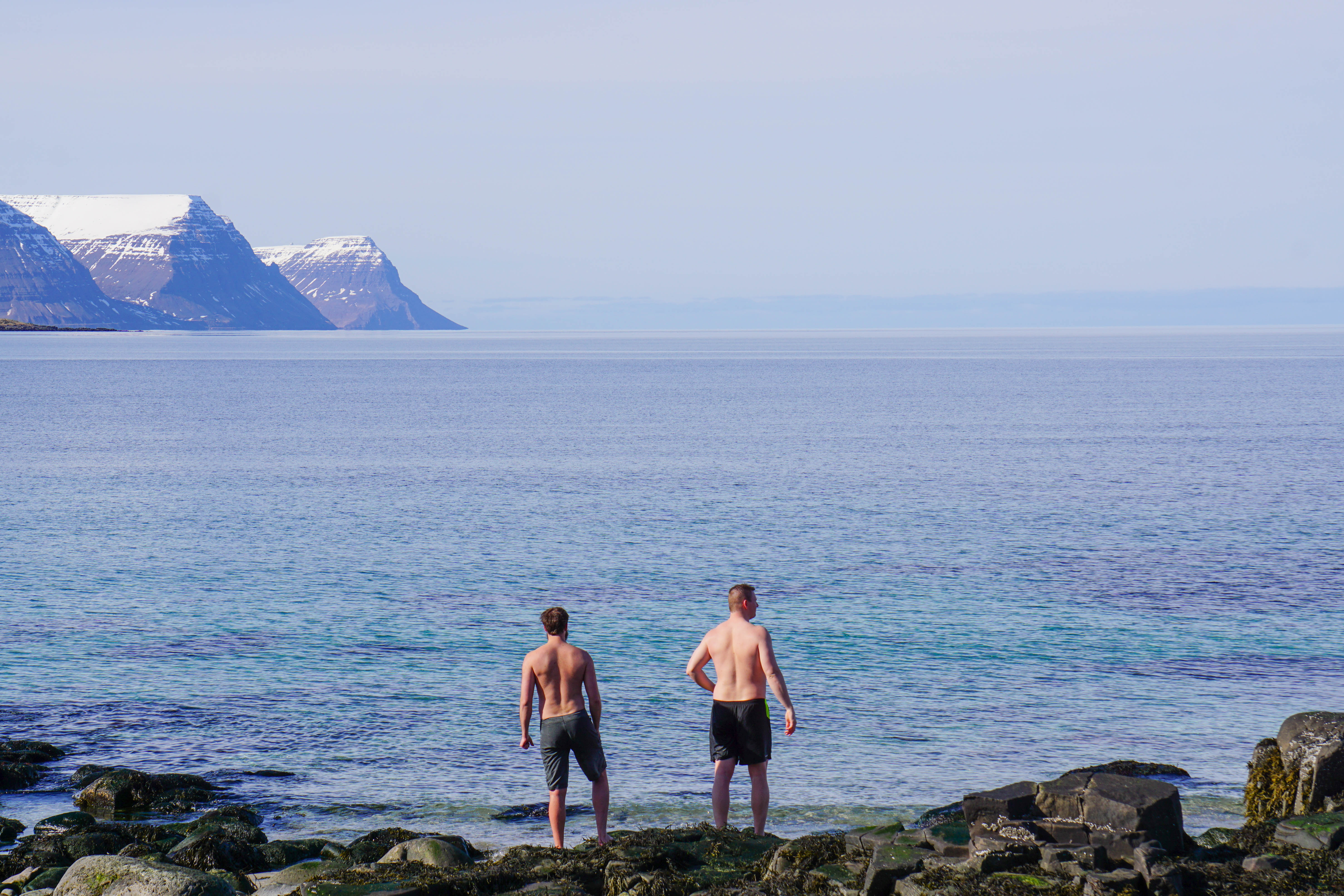 Dinner at Edinborg Bistro
Since the one restaurant that everyone told us to try was closed for the season, we were happy to have this place as an alternative. I ordered the catch of the day which was presented in a cast iron skillet and was the most delicious tender flaky fish I've ever tasted.
Bungalow accommodations
We found the most adorable place to stay that was perfect for the four of us. Located in the picturesque old town, this was a perfect base for the weekend. Comfortable sleeping, full kitchen where we cooked breakfast in the morning, and a great views of the mountains! I highly recommend this place!
Here is the map of our journey. If I would have been smart we could have stayed in Ísafjörður for just the first night, and then further south the second night. But I wasn't smart, and we drove all the way back to Ísafjörður for the second night. Be smarter than me. It takes foreverrr to drive short distances in the Westfjords because you have to cross mountain roads that are crazy steep and winding.
Best time of year to go:
July and August

This could be quite debatable – I would be willing to go there any time of the year because it is so incredibly beautiful! But if you want to take full advantage of everything being open and roads not being closed due to snowfall, I recommend mid-summer.
Type of vehicle required
I wouldn't say that a 4wd is necessary, but it was so nice to have. There are some mountain passes that are craaaazy narrow and steep – and a lot of them are closed until April, depending on the amount of snowfall. I was never worried about our safety on the roads or getting stuck with our vehicle, and we drove through ALL kinds of conditions – wind, rain, sleet and snow.
We saw camper vans driving the same roads and I've heard of small cars making the trip, so I know it's possible, but pleeease be smart and drive very carefully!
Restaurants to try:
Tjöruhúsið -Ísafjörður // well known as the best fish restaurant in Iceland – only open on Easter and 12-2pm & 6.30-10pm June-September (really disappointed we were there on the offseason.)
Gamla Bakaríið -Ísafjörður // supposed to be an amazing bakery, closed on Sundays – the one day we tried to go
Simbahollin cafe – Þingeyri // famous for their Belgian waffles with rhubarb jam, we were REALLY sad this was closed for the season (Open May 20 – Jun. 10: 12pm to 6pm, Jun. 11 – Aug. 31: 10am to 10pm, Sept. 1 – Sept. 10: 12pm to 6pm)
More places to add to your itinerary
Bolafjall lookout – Bolungarvík // on a clear day you can see Greenland from the top! the road was closed because of snow. We talked to a local that told us the road is only open in July and August – you caaaan hike up to the top in the offseason, but plan on multiple hours trudging through snow and make sure you have the proper cold weather gear.
Ósvör museum – Bolungarvík // really awesome replica of an old fishing outpost. We went to the town, but were too distraught that the lookout was closed, so we forgot all about it and left.
Rauðisandur – red sand beach on the most southern part of the fjords.
Patreksfjordur – Oldest steel ship in Iceland
Látrabjarg – big rocky cliffs and a common place to see puffins.
One thing is for sure: we WILL be making a return trip. There is much more to see and do, and a short weekend trip just wasn't enough!
---
Question: Will you be traveling to the Westfjords?
Happy planning,

Pin it for later!