About the eruption
On March 19, 2021, after a three week period of ongoing seismic activity, a fissure opened on the Reykjanes Peninsula. What started as lava flowing from a 200 meter fissure quickly grew to  500 meters in length. Over the next weeks, several vents opened and increasing lava flow continued to fill up Geldingadalur valley and spilled over into neighboring valleys. Less than two months after the onset, one massive crater took over, spraying magma up to 300 meters into the air like a geyser. This unique phenomenon could be seen from various points including from the Reykjavik skyline.
Today the activity is on and off and as you will see in the video was completely inactive the day I did the hike. If seeing hot flowing lava is important to you, make sure to follow the information in this post to get the most out of your time!
How to get to the volcano parking lot
The parking lot for the volcano hike is along Road 427 about 10 miles east of Grindavik. There are two separate parking lots depending on which trail you are taking. It's about an hour drive to get to the parking lot from Reykjavik. For the GPS route to get to either parking lot click here.
What to pack
It's ESSENTIAL to have the proper attire and outerwear for the hike. The weather could be nice and sunny in Reykjavik but windy and cold when you're at the top of the lookout. Wind and waterproof outer layers and warm layers are key. Sturdy hiking boots are a must as the terrain is rough along the trail.
Hat/headband
Headlamp (especially for October-February as the daylight hours decrease and if you're planning to hike at night)
Food and water
Planning your hike
Make SURE to check these two websites before you head out! And don't plan too far in advance because the weather could change in an hour.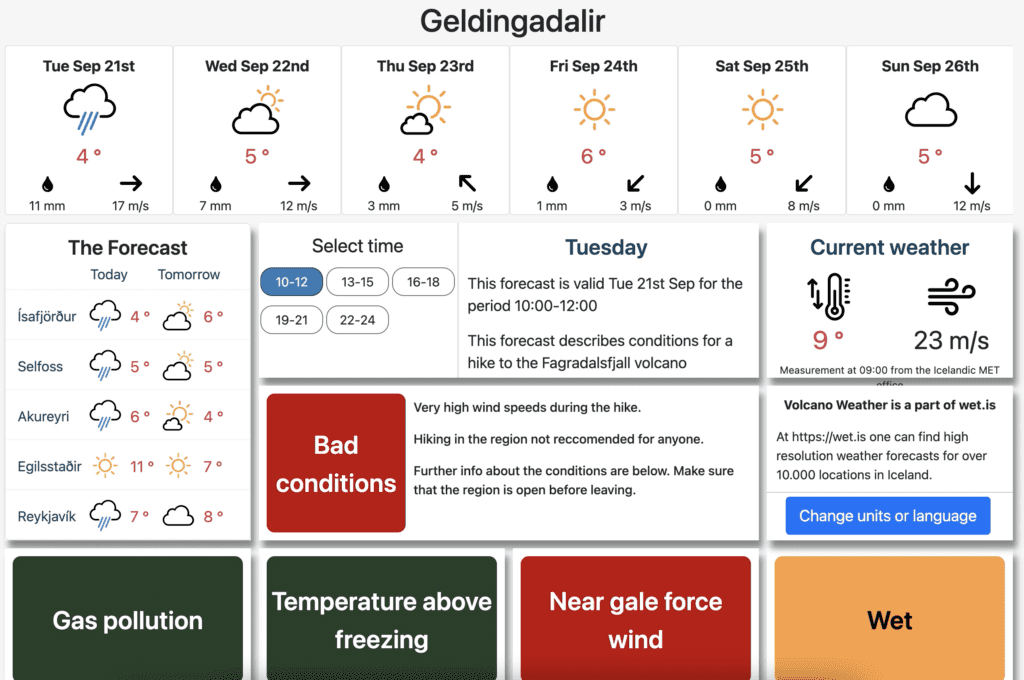 Be smart
DO NOT WALK ON THE LAVA. Even if it looks like it's hard, lava could be flowing underneath making it unstable. If you fall through the volunteer rescue team will not attempt to save you.
The Rescue squad is on-site from noon to midnight every day so if you have any questions about safety or the trails you can ask for assistance.