Now, I know that you guys love a good hot pot for your trip to Iceland. So get really excited, because today I'm talking about one that you might not even have heard of.
So the hot pot culture in Iceland is huge. We've talked about this before. Icelanders love hot water, and the good news is, there's a ton of hot water in Iceland, because of the volcanoes, there's natural hot water everywhere. So if you're wanting to experience this hot spring culture when you're in Iceland, listen up, my friends, because I have one of the best spots in the country!
Relaxing in West Iceland
So Krauma is a geothermal spa that opened in late 2017. It is located in West Iceland at Deildartunguhver. It is only an hour and a half drive from Reykjavik. So when you arrive at Krauma, you're greeted by the staff, you're given a towel and a bathrobe, and you're led to the changing rooms. Remember, it's very important to shower before you enter the pools in Iceland, as we've discussed in other videos. Once you get changed, put on your bathrobe and head outside. There are five different hot pools that you can choose from of varying temperature, so I recommend starting with the least hot one and working your way up, just taking your time relaxing, and kind of just enjoying the scenery around you. Hot pools are such a big part of the Icelandic culture, and because of its location and its uniqueness, it's likely that you'll see locals relaxing around here. It's not uncommon to spend a Saturday or Sunday just lounging at the pools, but of course, it's getting quite popular with the tourists as well.
In addition to the hot pools, you have a cold pool as well, and I don't know if you guys have ever done the hot pool, cold pool experience. It's really, really good for our lymphatic drainage, which is good for your body, and your health, and your heart rate, and all of that stuff, but it is always so cold, so you still got to talk yourself into it, but just know, it is good to get some blood pumping and you can always just go back right in the hot water afterwards.
West Iceland has beautiful mountains, and with the steam coming from the nearby area, the scenery out here is beautiful. I also love how Krauma is all black, so everything is really minimalist, and it blends in really, really nice with the landscape. It looks so Icelandic and so cozy, and it's such a beautiful experience.
You get the full experience!
At Krauma, it doesn't just stop with the hot pools. They have a steam room and sauna that you can also go into, and spend as much time in as you want. So seriously, this is already such an amazing spa experience, and if that wasn't enough, there is a relaxation room. This is probably the definition of relaxation, by the way. There's a fireplace, there's comfy chairs, there's candles, and you just sit there and relax in your bathrobe, listening to music, for as long as you want. This place is a dream, I'm telling you. At this point, you are feeling so relaxed. You had the pool, you had the shock of the cold water, maybe you had a little sauna. I mean, your body is feeling amazing. You're pampered, you just de-stressed, any kind of tension in your body is literally melted away.
Lastly, there is a restaurant and bar inside, and we definitely took advantage of this with a delicious meal and a local beer. Two things that you can't go wrong with on the menu are their lamb and their fish. I always highly recommend that, Krauma was no exception. The food that we had was really, really well prepared, and so delicious. So this is a perfect way to end your relaxing day.
Pro-Tips!
Now, my best tips to enjoy your time at Krauma include: the spa is open to any age, so they do have different prices for adults, teenagers, and children. And I do recommend checking the open hours on their website, because the hours will change based on the seasons. Make sure to bring a swimsuit with you obviously, but if you don't have one, you can rent one there, as well as a towel and a bathrobe, if you don't have it. I would say you could allow one to two hours to spend at Krauma alone, and then if you want to spend extra time at the restaurant or anything like that, that would easily be possible. We were there for several hours, really just taking our time to enjoy.
And lastly, this is the perfect stop at the beginning or end of your road trip. So Krauma is located just East of Borgarnes. So as you're driving, for example, along the Ring Road, counter-clockwise or clockwise, you're going to pass by Borgarnes. If you drive just a bit out of your way, you could stop there, so it would be the perfect thing to do. And then also a nice combination is if you are planning on visiting Hraunfossar in West Iceland, then that's also literally just on your way, you're going to drive right by it. So there's lots of ways you can easily stop by Krauma and enjoy.
With gratitude!
I want to say thank you to Krauma for hosting us at your spot. It was such a beautiful experience, and the perfect way to warm up in the cold, Icelandic weather. Thank you guys so much for watching this video! I hope you loved it, and I hope that you are able to enjoy your experience at Krauma during your trip to Iceland. See you guys next week for another video, until then, happy planning.
Outtakes!
Okay. This is going to take me a few times because Deildartunga, Deildartunguhver, Deildartunguhver, Deildartunguhver. I don't know if you guys have ever done the hot pot/cold… The hot-
Happy planning!

DISCLOSURE: Thank you for trusting me with my opinion on any future purchase you may make. I always disclose affiliate or sponsored information when applicable. As a part of Team Iceland, you allow me to earn a small commission if you make a purchase through my affiliate/referral links. This doesn't cost extra for you, but helps me to continue this channel. Thank you for your support!
Pin it for later!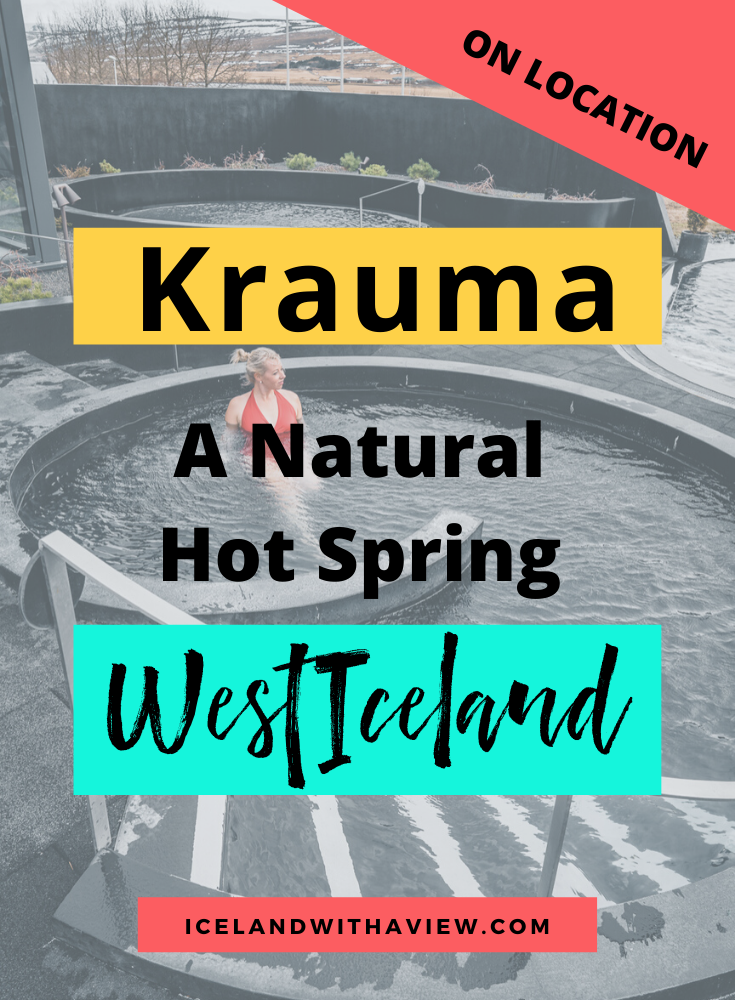 SUBSCRIBE for new Iceland tips every week!