In the time it takes to drive around Iceland, you could drive from New York to Alabama and never see any of the striking beauty and immersion into nature that you will get when you explore Iceland. Iceland is one of the world's travel destination gems and absolutely should be experienced. Driving around Iceland is, in a word, magical.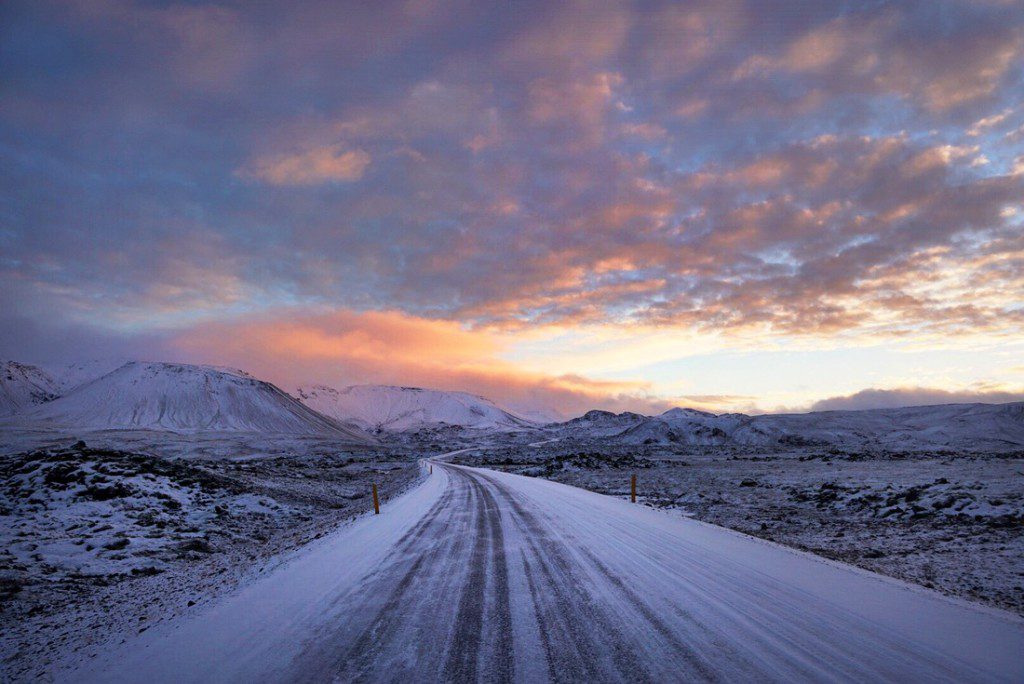 So, how long does it take to drive around Iceland? Well, if you are simply driving The Ring Road, you can drive around Iceland in about 17 hours, weather permitting. The speed limit in Iceland is 55km/hour in populated areas and up to 90km/hour when traveling on paved roads outside of the city. But there is so much to see, I definitely recommend taking in some key sites along the way.
How big is Iceland?
Iceland is 103,000 km² or just about 40,000 square miles from coast to coast, with only 20% of the country inhabitable. At only 305 miles wide, east to west, and 185 miles long, north to south, Iceland has the perfect landscape for wide-open and phenomenal exploration.
Are you looking for a road trip or route around Iceland? Iceland can be traveled in short day trips or longer epic road trip excursions, including traveling The Ring Road in 7 days in a campervan!
I am often asked how long it will take to drive around Iceland or how many hours you can travel in a day. Travel time between cities can vary and the weather in Iceland changes All. Of. The. Time. For example, one minute, it will be sunny, and no need for a coat outside, and the next minute, could be near blizzard conditions with limited visibility on the road. Sometimes it's pouring down rain, and the next thing you know, it's clear. You can't control the weather, but you certainly must be prepared for it!
What is The Ring Road?
The Ring Road, or Route 1, is 828 miles long and encircles the entire country. Many of the most popular tourist attractions are on or near the road, making it easy to see what you want to see and spend as much time as you would like at each stop. There are several ways to travel The Ring Road.
Self-Drive
You can rent pretty much everything from small economical cars to motorhomes to 4WD vehicles. You can even bring your vehicle by ferry from Denmark! One of my favorite ways to drive across the country is via campervan – it's your transportation and accommodation all in one! If you've been following me you know I absolutely love and highly recommend Happy Campers for exploring Iceland in a campervan, we've been working together for several years and their vehicles (and customer service) are top notch!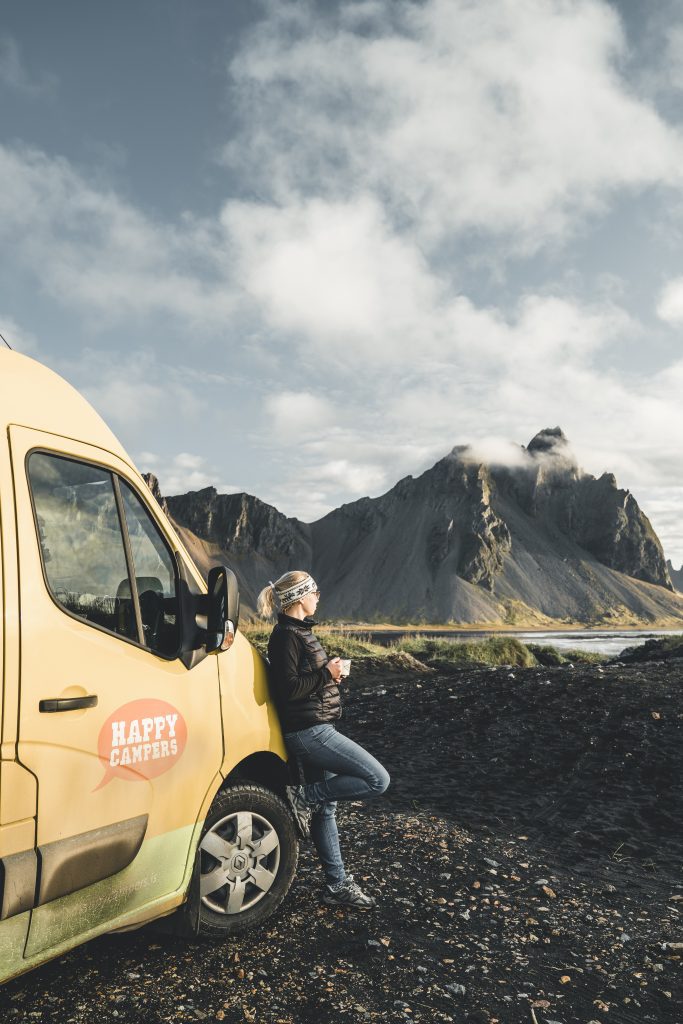 Fly
The domestic airline is Flugfélag Íslands, which flies year-round from the Reykjavík regional airport to Akureyri, Egilsstaðir, the Westman Islands, and Ísafjörður. Note: bad weather can cause cancellations.
Taxi
Expensive and not recommended for anything more than short distances within Reykjavík. Fares start at $5 with an additional $2.50 per kilometer. You can pay with cash or any major credit card. NOTE: there is NO Uber in Iceland!
Cycle
Yes really! I've seen many cyclists taking on the adventurous task of exploring Iceland on two wheels. If you have the right gear, this would be an incredible way to see the country close-up! Make sure you have experience and come well-prepared with your own gear.
How long does it take to bike around Iceland? Experienced cyclists can complete the journey in 10-14 days. You must take into consideration the weather and the season. Daylight hours must also be considered when mapping out a timetable to travel by bicycle.
Hitchhiking
Even though Iceland is plenty safe, I recommend this if you have a lot of time and patience. The weather in Iceland doesn't make for the most enjoyable experience while waiting for someone to pick you up!
Bus
Reykjavík Excursions, Sterna, and Strætó all offer routes around the country.

How to get around Iceland
Getting around Iceland without a car will be a challenge. Hands down, the best way to get around in Iceland is by renting a car and driving through the country on your own. Renting a car allows you to drive around Iceland and enjoy the country's gorgeous landscapes. Not only that, you're on your own schedule, so you can control every minute of every day, where you go, how long you stay, just a few of the things you can't do when you join an organized tour.
Next and also very important is that Iceland's public transportation system is basically non-existent. Compared to other countries, especially in Europe, there are no trains. The bus system is very, very limited. It's just not a great way to get around, so public transportation will not be helpful for you in Iceland.
When traveling by car, you literally must be ready for anything when driving in Iceland. Depending on where you are, there will be changes in temperature, conditions, and weather from place to place. Winter driving in Iceland is unlike winter driving anywhere else! 4WD is a must in winter. These cars are heavier and have the necessary features to escape winter situations. As you may also know, Blue Car is my go-to car rental option in Iceland, hands down. They are an Icelandic company, so they understand the need for cars equipped to handle the winters in Iceland. Their cars are all new and will include studded tires, an ice scraper, warm-up vehicle/defrost features, and emergency assistance 24/7! You also need to have Wi-Fi while you are in Iceland! Blue Car offers this for all of their rental cars! I've been working with Blue Car for years and they always take great care of their cars and their customers. I highly recommend them.
Driving around Iceland in the summer is especially picturesque. The roads are generally clear, and the Ring Road will not present any difficult weather challenges.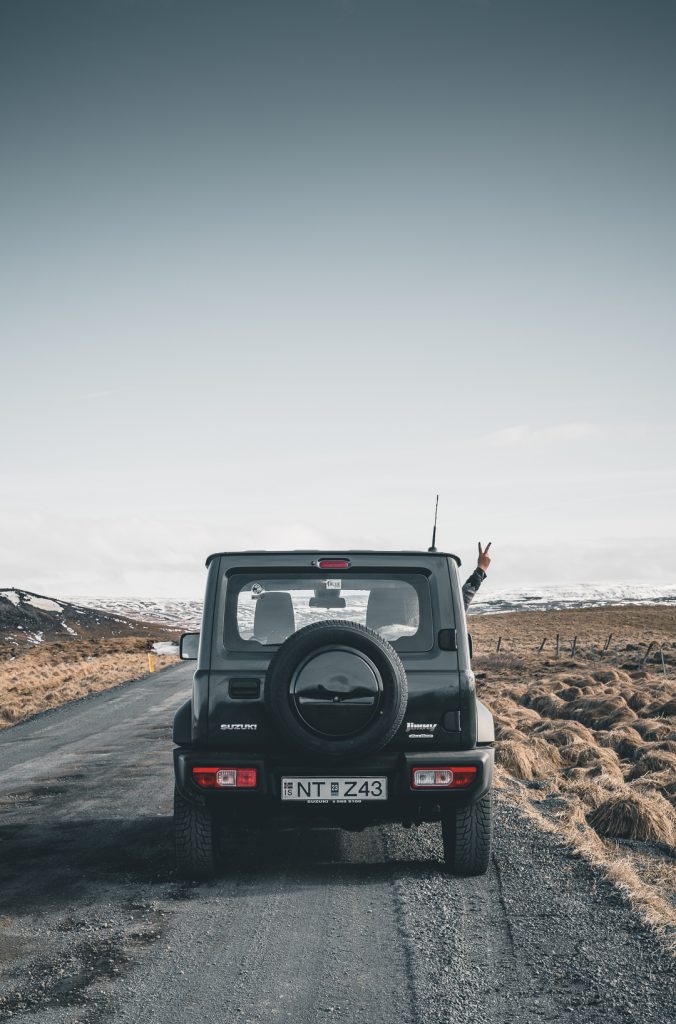 Fun Facts about Driving through Iceland
There are so many things I could share with you about driving and traveling through Iceland. Here are some fun facts about Iceland, enjoy!
As an interesting sidebar, sheep are EVERYWHERE. Fact: sheep outnumber humans in Iceland!
Please take note of the incredibly unique and vibrant moss growing on top of the lava. How crazy looking is that? And it's REALLY thick and squishy! I felt like we were on another planet. DO NOT walk on the moss; it can take years to regrow if it is damaged!
The National Emergency number in Iceland is 112.
Many roads are narrow and often one lane. Be mindful of oncoming traffic, and remember to be polite.
Road signs are different in Iceland. Learn the road signs you need to know before driving in Iceland.
Do not drive off-road. If there is not already a road to get somewhere, never drive off the road, not even in the sand, but definitely not in the moss.
Headlights and seatbelts are a must – it is the law. Some weather conditions can make it challenging for oncoming vehicles to see you, so for safety, always have the headlights on while driving.
Speed cameras are everywhere! Even if there's not a policeman patrolling, that speed camera takes a photo of your license plate, and they will send that bill to your car rental company, so you're not going to get away with not paying the ticket. Fines can be up to $1,000 U.S. dollars depending on how far over the speed limit you go, so don't speed.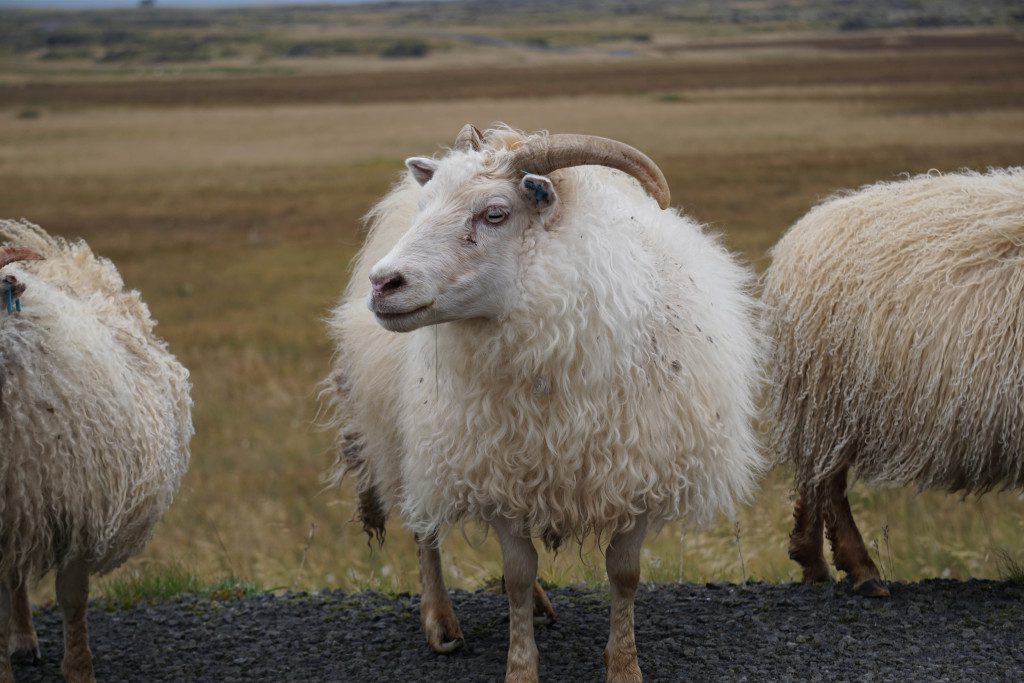 Exploring is fun and exciting in Iceland but take note; you are a visitor in another country, and Iceland may present some challenges that can be easily overcome with the right information. Inexperienced drivers can quickly lose control of the car on unpaved roads, the maximum speed is 80 km/h, but often that speed is too high. The roads are narrow, and it's easy to lose control of the car. Even if the speed limit is 80 or 90 km/h, the road may not safely allow such speeds. Therefore, what is the most critical advice I can give you for your drive around Iceland? Always check road conditions at road.is.
It is not difficult to drive around Iceland.
Is it safe to drive around Iceland? YES! You must remember to be prepared and pay attention. Don't be discouraged or overwhelmed. I have a multitude of resources and tools to help your stay be the best vacation ever. Always follow the rules of the road, be polite and kind, and you'll enjoy an amazing experience in Iceland!
Iceland is waiting for you,