Hello, my fellow Iceland animal lovers! Are you ready for some serious cuteness overload?
While Iceland might be famous for its jaw-dropping landscapes, it's also home to a whole host of adorable animals!
From the fluffy Arctic fox to the majestic reindeer, there are so many fascinating creatures for you to discover in Iceland!
In this guide, I'll show you the best places to witness these amazing species – as well as the ideal times to visit to get a chance at spotting them.
Ready to dive into the world of Iceland wildlife together?
Let's go!
Icelandic Horse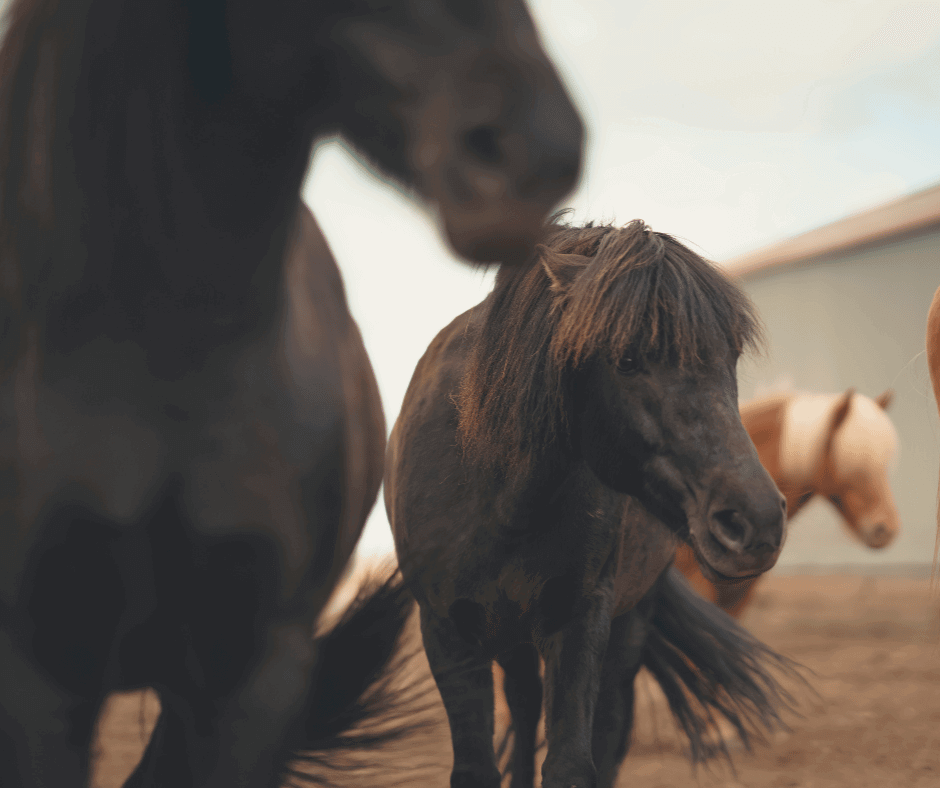 When you visit Iceland, you simply can't miss out on the Icelandic horse – it's one of the country's most treasured animals. These stunning creatures are used for farm work, horse shows, and leisurely rides, and you'll come across them all over Iceland.
It's important to keep in mind that there aren't any wild horses in Iceland, and every horse you see belongs to someone. So, as you travel, be mindful of their owners and don't approach them without asking for permission first.
Want to get up close and personal with these magnificent creatures? A tour is the way to go! You can pet and feed them, snap photos, and even take a ride on an Icelandic horse!
Horseback Riding Iceland
Horseback riding in Iceland is such a unique way to explore Iceland's rugged countryside.
There are plenty of horseback riding tours in Iceland that cater to all levels of experience, so you can gallop through Iceland's stunning landscapes no matter your skill level.
Another bonus? The Icelandic horse's gentle nature if perfect for beginners looking to give horse-back riding a go!
You can search for a horseback riding tour by visiting my Tours page!
Iceland Puffins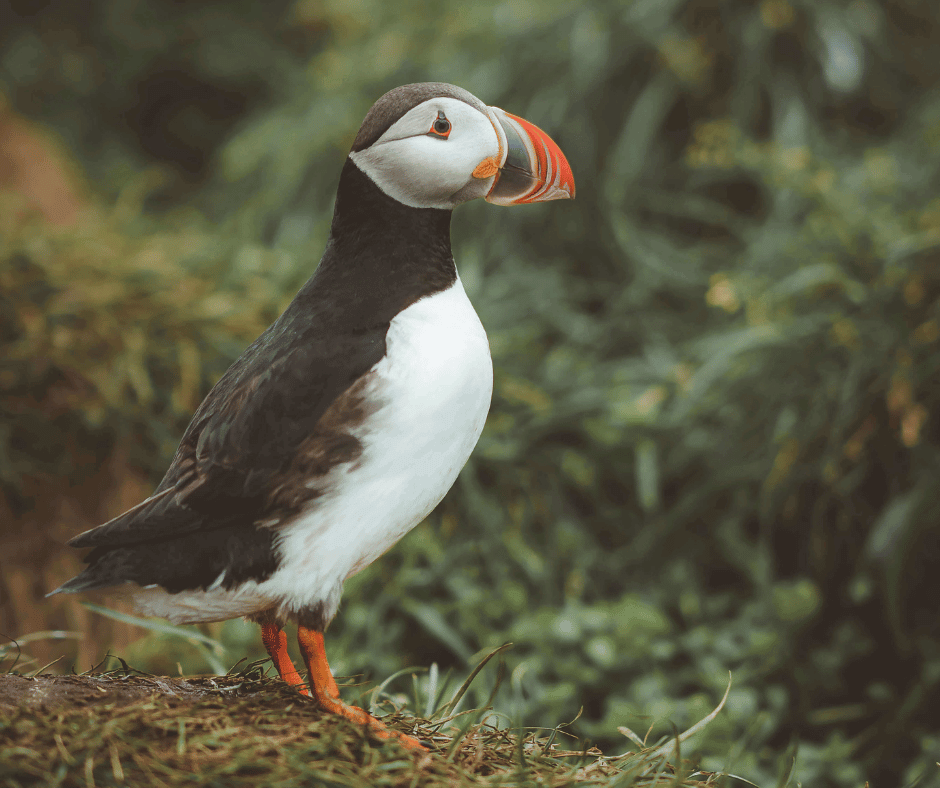 Ready to meet the cutest birds in Iceland? You'll LOVE spotting the puffins! These adorable animals are native to Iceland and are a must-see for wildlife lovers, and it's easy to see why.
Fun fact: Puffins are monogamous! How sweet is it that they choose to love one bird for the rest of their lives? 😍
Where To See Puffins In Iceland
Some of the most concentrated areas for Puffin-watching include Vestmannaeyjar, Borgarfjörður Eystri, and Látrabjarg cliffs in the Westfjords. So keep your eyes peeled for these beautiful birds on your Icelandic adventure!
Iceland Puffin Season
You can spot Puffins along the cliff sides of Iceland from April through August, with the best viewing opportunities between June and August.
Whales In Iceland
Whales are one of the most beloved animals in Iceland! You won't want to miss whale-watching if you have a soft spot for these gentle creatures. The most common whales you'll spot that are native to Iceland are the minke whale and the humpback whale.
Best Time To See Whales In Iceland
Whale-watching season in Iceland runs from April to October, with the peak prime time happening between June and August.
While technically it's possible that you MIGHT spot whales from the shore, I highly recommend booking a whale-watching tour.
Getting up close and personal with these magnificent creatures is a truly magical encounter. It's a MUST-DO Iceland wildlife experience!
Húsavík Whale Watching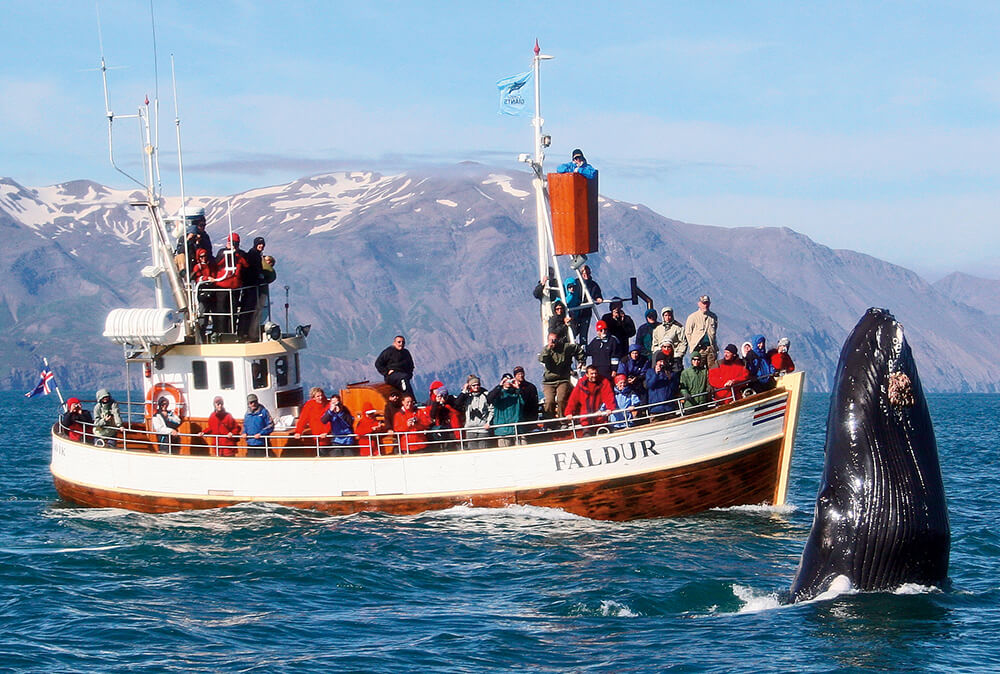 If you're looking for the best whale-watching in Iceland, Húsavík is the place to be! Known as Iceland's whale-watching capital, this town is not too far off the main road and boasts some of the country's finest whale-watching tours. But even if you're not planning on visiting Húsavík, don't fret! You can still find whale-watching tours in Reykjavík, Dalvik, and Akureyri.
My go-to Húsavík whale watching tour company is Gentle Giants. I love them so much that I've even partnered with them to give Iceland with a View readers a 10% discount code.
All you need to do is apply the coupon WHALESWITHAVIEW at checkout and your discount will be applied!
Book your whale-watching tour here!
Iceland's Arctic Fox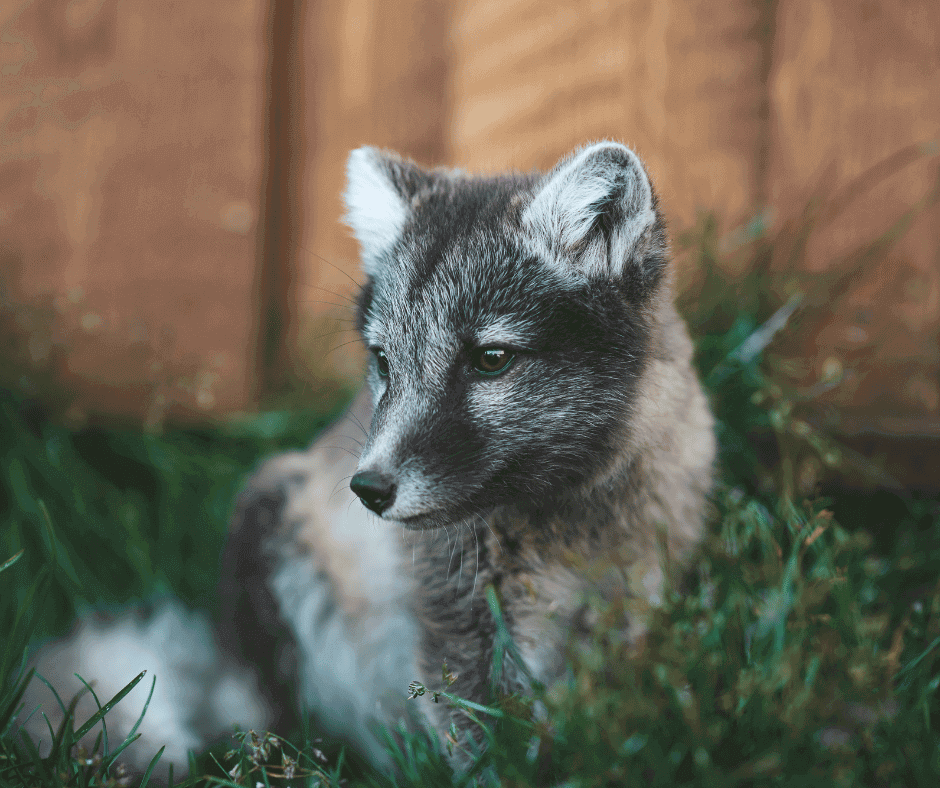 Here's a fun wildlife fact for my nature geeks!
The Arctic fox is the only native mammal in Iceland.
It's incredible when you DO get to spot one of these white, fluffy creatures, but they're quite shy around humans.
While it can be difficult to find them, you might just get lucky and catch one if you're in the right location. Some easier spots to see them are the Hornstrandir Nature Reserve in the West Fjords and Þórsmörk. I've spotted quite a few of them running around near the volcano huts.
Icelandic Seal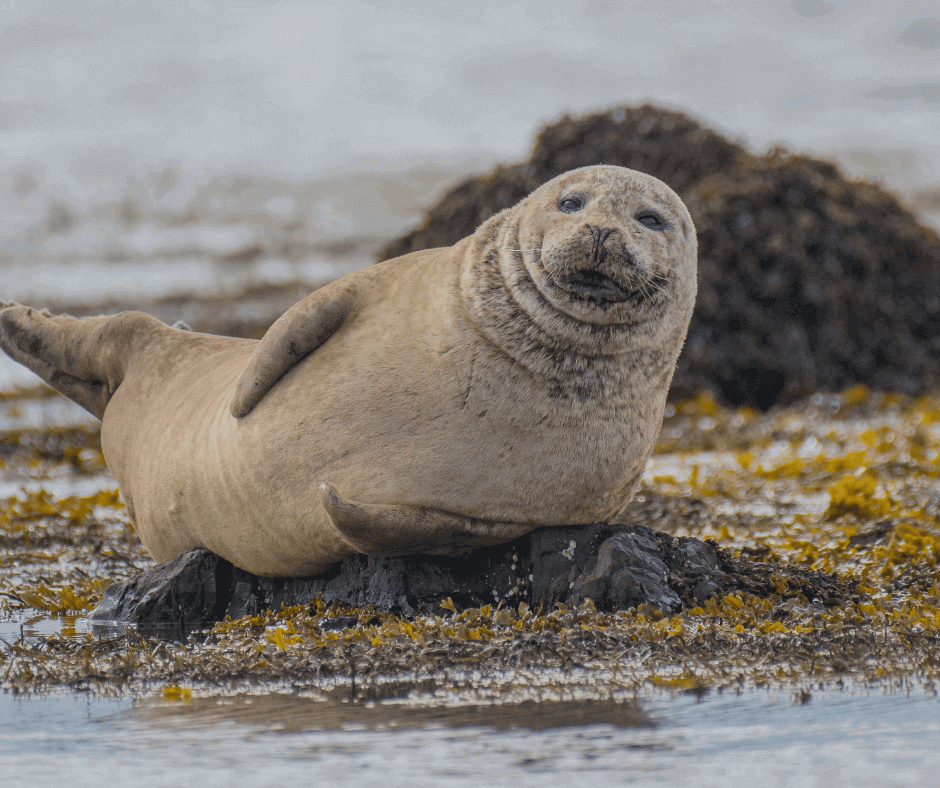 Icelandic seals are another sight to behold for wildlife lovers. They can be found year-round, but some of the most common places to see them include Jökulsárlón, the Vatnsnes Peninsula, and the Hvammstangi area – which even has a popular seal museum where you can learn all about these adorable Iceland animals.
So make sure to add a seal-spotting excursion to your Iceland itinerary – it's an unforgettable experience!
Reindeer In Iceland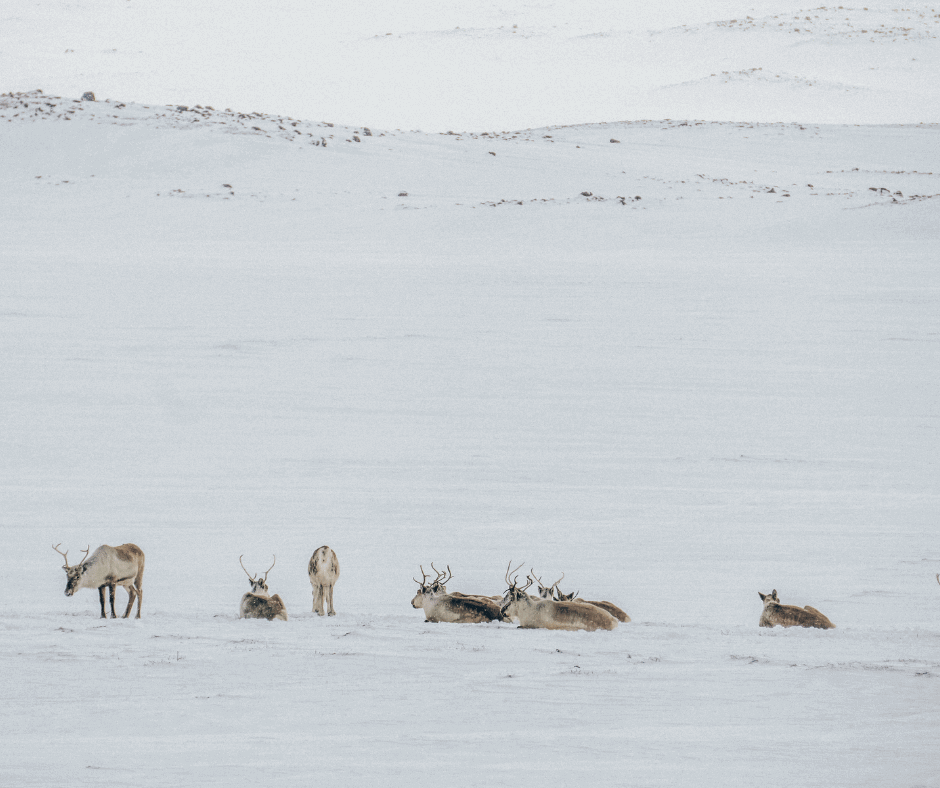 Have you ever seen a reindeer up close? They're like a regular deer, but super-sized – and it's SO cool when you actually see one out in the wild!
Reindeer aren't technically a native animal to Iceland. They were actually imported from Norway in the 1900s and can now be seen in different parts of the country.
However, spotting reindeer isn't easy. Some of the areas where Reindeer are most concentrated include East Iceland and parts of Northeast Iceland, so keep your eyes peeled around these parts!
Icelandic Sheep
If you're traveling to Iceland between May and September, get ready to see sheep – lots and lots of sheep! These fluffy animals are a common sight in Iceland, and you can see them all over the country – grazing in fields, hiking up cliffs, and even crossing the roads.
They're an important part of Icelandic culture, spending their days in the mountains, drinking fresh water, and getting all the vitamins and sunshine they need to thrive!
But come September, it's time for the farmers to round them up and bring them back to the farms to be used for meat and wool. In the meantime, enjoy looking at these adorable creatures – just be careful when driving as they can go for a stroll and unexpectedly cross the roads!
Frequently Asked Questions About Iceland Wildlife
If you're curious about Iceland's wildlife, I've got you covered! Here are some frequently asked questions about animals in Iceland that you might find helpful.
Are There Snakes in Iceland?
Nope, you won't find any snakes in Iceland. The country's harsh climate and remote location have kept snakes away. So if you've got a snake phobia, Iceland will be your idea of heaven.
Are There Penguins In Iceland?
While you might expect to find penguins in a land famous for ice, penguins aren't actually native to Iceland. Penguins can be found in the southern hemisphere and the Antarctic region.
Are There Polar Bears In Iceland?
Polar bears are not native to Iceland, but they can sometimes be spotted on the country's northern coast, coming over from Greenland on Icebergs. However, they are extremely rare visitors to Iceland and sightings are very uncommon. If you do happen to spot a polar bear while in Iceland, be sure to keep a safe distance as they are potentially dangerous predators.
Are There Sharks Around Iceland?
Yes, there are sharks in Iceland, but not Great Whites like you might be thinking of!
The most commonly spotted shark around Iceland is the Greenland shark, which can reach up to 7 meters (23 feet) in length. Despite their impressive size, these sharks aren't usually dangerous to humans and won't attack unless provoked.
Are There Dangerous Animals In Iceland?
Iceland has some pretty amazing wildlife, but luckily none of it poses a big threat to humans! Thanks to the country's isolation and harsh climate, predators have been kept at bay. Of course, while it's always a good idea to be careful when exploring Iceland's wilderness, you can relax knowing that you're not in the presence of any seriously dangerous animals.
Whether you're a birdwatcher looking to spot some puffins, a whale enthusiast eager to catch a glimpse of these magnificent creatures, or a nature lover hoping to explore Iceland's rugged countryside, there's something for everyone in Iceland.
And let's not forget about the sheep, the country's beloved and endearing fluffy residents, who roam freely during the warmer months and provide a delightful backdrop to any Icelandic adventure.
Remember to be respectful of the animals and their habitats, and always seek permission before approaching any domestic animals you find on your adventures.
Want to know the Icelandic animals and incredible wildlife you can see on YOUR specific route?
Take your planning up a notch with my Iceland Itineraries.
My itineraries help you remove stress from planning and MAXIMIZE your adventure!
In each itinerary, you'll get:
Detailed itinerary to make the most of each day (without feeling rushed)

Accommodation recommendations, restaurant suggestions, and information on guided tours

Thorough route information for navigating your trip — so you don't end up driving by that must-see attraction

Easy to download to your phone or tablet to use on your trip!

Check out all of my Iceland Itineraries HERE!

Pin it for Later!