Does the idea of having your vehicle and accommodation combined into one sound good to you? During your road trip, do you want to park at the end of the day and wake up right in the Icelandic wilderness? Then Camper Vans are for you!
Happy Campers is a family-run company renting camper vans in Iceland. Their campers are the perfect budget-friendly way to explore Iceland! These campers are not your typical motorhomes, but simple and efficient mini campers that have everything you would need to make the most of your time in Iceland. It's simple, easy, & fun!
I'm so excited to announce my partnership with Happy Campers! My mission has always been to help you get the most out of your Iceland experience, and I believe a camper van can help you do that!
Here are my top five reasons you should rent a camper van in Iceland:
Convenience
When you rent a camper van you have your accommodation and transportation in one!
Did you know that a lot of accommodation in Iceland books up during peak tourist season? I've already spoken with travelers that can't find hotels in July! Obviously, with a camper van you don't have to worry about this problem. No stress.
Less time spent searching through all the hotel options, more time spent planning your awesome itinerary!
Flexibility
By far the most common question I get asked is how to schedule out an itinerary. How much to fit in one day? Where to book the hotel? Do I need to book in advance? When you have a camper van, you can drive as little or as much as you want! If you really love a certain area that you are traveling, stay another night!
Views
The landscape in Iceland is absolutely breathtaking. Around every corner, you will find something different and equally as beautiful. Camper vans allow you to WAKE UP to that incredible nature! The campgrounds in Iceland are built right into the towns, so you get to experience the beauty of Iceland right from your sleeping vehicle 🙂
Kitchen
Another great way to save money is buying food from the grocery store and cooking on your own. With a camper van, you have this convenience built right in! Look for Krónan or Bónus, the cheapest grocery stores.
Watch: Grocery Store Prices in Iceland
Wi-fi
This year Happy Campers equipped their vans with wifi capability. Now you can have unlimited internet access for up to five devices – now you can easily Snapchat your way through Iceland!
FYI
F-roads | Camper vans are not allowed on F-roads, aka the unpaved road in the highlands of Iceland. When visiting the main sights in Iceland (South, West, Ring Road) this is not an issue at all.
Parking | It is NOT okay to park a vehicle anywhere overnight. A new law was put into effect in July 2016 that prohibits camping outside of a campground, designated area, or without the permission of a landowner.
Find every campsite around Iceland listed by region here:
Bathroom | To be space efficient, the camper vans are not equipped with a toilet or shower. However, there are plenty of options in gas stations, small shops, and restaurants around Iceland.
Use this map of gas stations to guide you:
Map of Gas Stations in Iceland by TripCreator
Looking for more information? You can read answers to frequently asked questions about the Happy Campers.
---
Question: Are you considering a camper van rental for your trip to Iceland?

Pin it for later!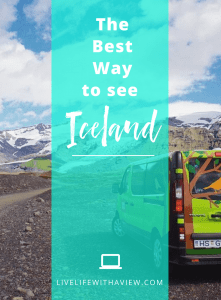 This post contains affiliate links which means no extra cost to you.
Any commission I earn from it helps keep the site running. Thanks so much for your support!