It's hard to believe that exactly one year ago today, we were IN Iceland on our honeymoon – and now we LIVE here. I'm still pinching myself. On the regular I say out loud in joyous exclamation, "I LOVE OUR LIFE HERE!" any time of the day the mood strikes me. It could be as I'm drinking coffee in the morning or as we are driving home from work…nothing special, just enjoying the day-to-day. I don't think that will ever get old 🙂
When we decided on Iceland as our honeymoon destination, we got a lot of the same reactions from people, "Iceland?! How did you pick THAT?!" (Identical responses when we decided to move here, but I will save that for another post.) You see, we are not beach people. We met on an outdoor adventure trip! So naturally we are drawn to anything that involves being outside and active. Originally we had our sights set on Scandinavia. Since I have Norwegian ancestry, I have always wanted to visit the beautiful fjörds and see where my great-great-grandparents roamed. While Norway is still very high on my bucket list, when we started looking at pictures of Iceland, I couldn't believe my eyes. How does one country have so many diverse landscapes?! And the adventure tours they offer are unbelievable! AND you can do a self guided tour at your own pace around the entire country?! Count me in.
Thats right. The Ring Road, or Route 1, is the road the encircles the entire country. Many of the most popular tourist attractions are on or near the road, making it easy to see what you want to see and spend as much time as you would like at each stop. Most of the guided tours of the ring road are 10 days, so I was worried that we wouldn't be able to fit everything in in the seven days we had available. When we started mapping out the places we wanted to stop, we realized we could do it, but we wouldn't be able to spend a lot of time at each place.  Thanks to advice on forums such as Trip Advisor and Lonely Planet, we determined we would rather see more of the country than spend more time in each place.
Let me go ahead and break the suspense and tell you that IT. WAS. SO. WORTH. IT.
While there were things we didn't get to see, we both agreed that the self guided road trip was a great fit for us.
Here's a full recap of our 7 days on the Ring Road in Iceland – for our honeymoon!
Day 1
IcelandAir flights land at 6am and since you lose 6 hours of sleep from the time zone change, this calls for a big cup of coffee. I'm talking I need a triple-shot-venti-style if I'm going to get through this day that we have packed full of adventure. When I stopped at the one and only coffee stand in the airport, I said, "I'll have the biggest coffee you have" and to my dismay, was handed the smallest cup I had ever seen a coffee shop serve. It would maybe compare to a tall at Starbucks. Wondering what this tiny cup could ever do for my jet lag. I quickly realized that Icelanders don't mess around with watered down humongous coffees, they get right down to business. This tiny cup of awesomeness turned out to be a double strength java that totally changed the way I think about drinking coffee. (I later learned that coffee drinking is a savored activity in Iceland, and most people don't order their coffee to go, but rather take time to sit down and enjoy their cup of Joe.)
Thankfully the Keflavík International Airport is one of the smallest and fastest airports to get through. A stop at duty free is a must, since alcohol in Iceland is regulated by the government and is very expensive to buy elsewhere. We head to the rental car pick-up which is by far the most popular spot in the whole airport. Wanting to live out the Walter Mitty dream, I hope our car is either "a blue one or a red one" (honestly you would not believe how many little red cars are driving around Iceland! Each time we saw one we said "Walter Mitty dream!") We ended up with a Kia Ceed, which we became quite fond of.
As we are standing in the long rental car line, trying to keep our eyes open while calculating in our head what time it was back home, we decide to change plans and treat ourselves to the wonderful mineral rich geothermal spa waters of the  Blue Lagoon. Yeah, yeah, touristy I know…but this is our honeymoon! Tourists aside, it felt AMAZING after a long overnight flight.
After we were silica-masked up and rejuvenated, we headed into Reykjavik to explore. Laugavegur is the main street in the city, and is filled with many cute shops and restaurants. We stayed at the Backpackers hostel which was really nice and convenient to walk much of the city. First stop, ice cream. Naturally before we left I researched the best place to get ice cream in Reykjavik, and Valdís definitely held up to its hype.  We wandered around the harbor and marveled at the charming city.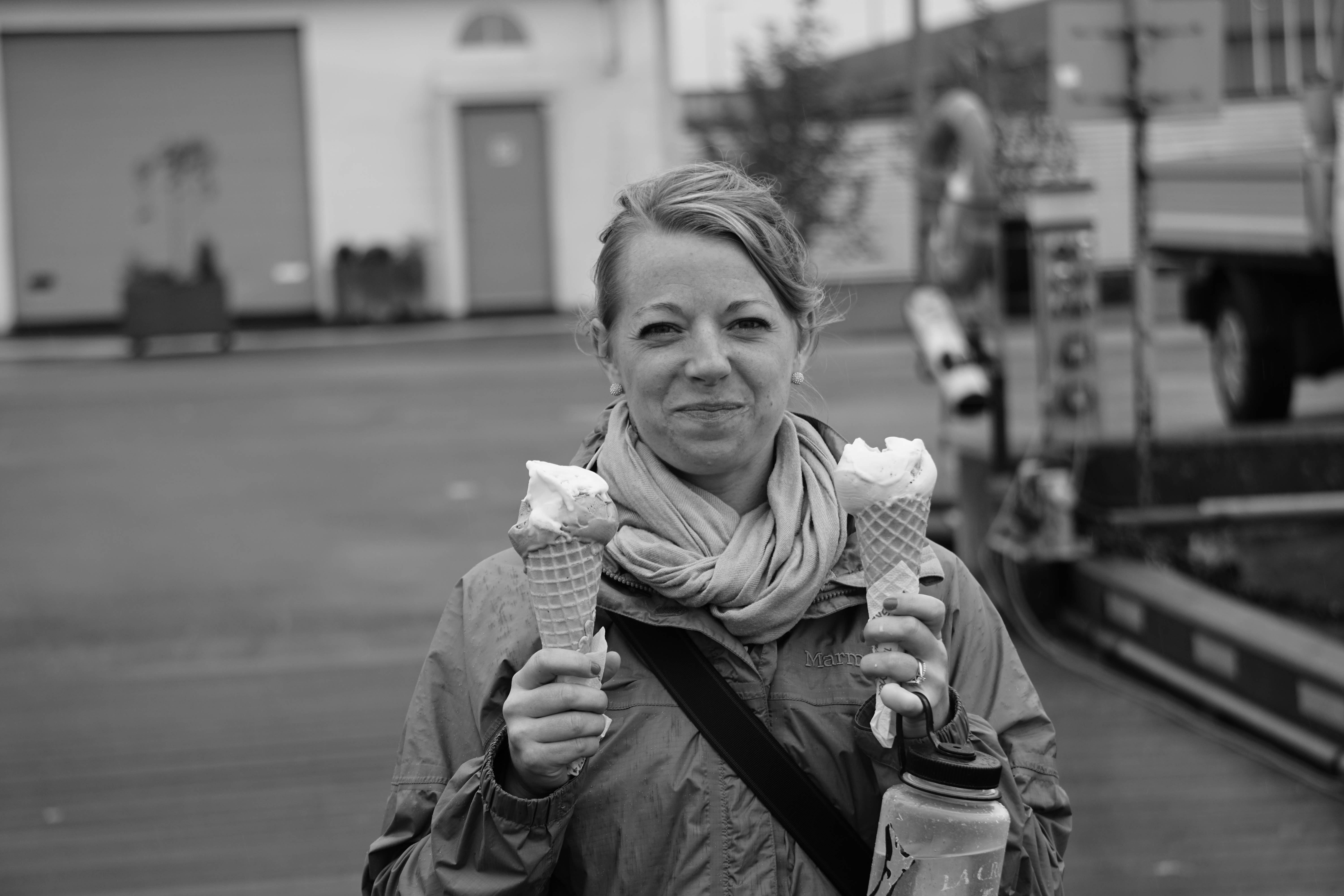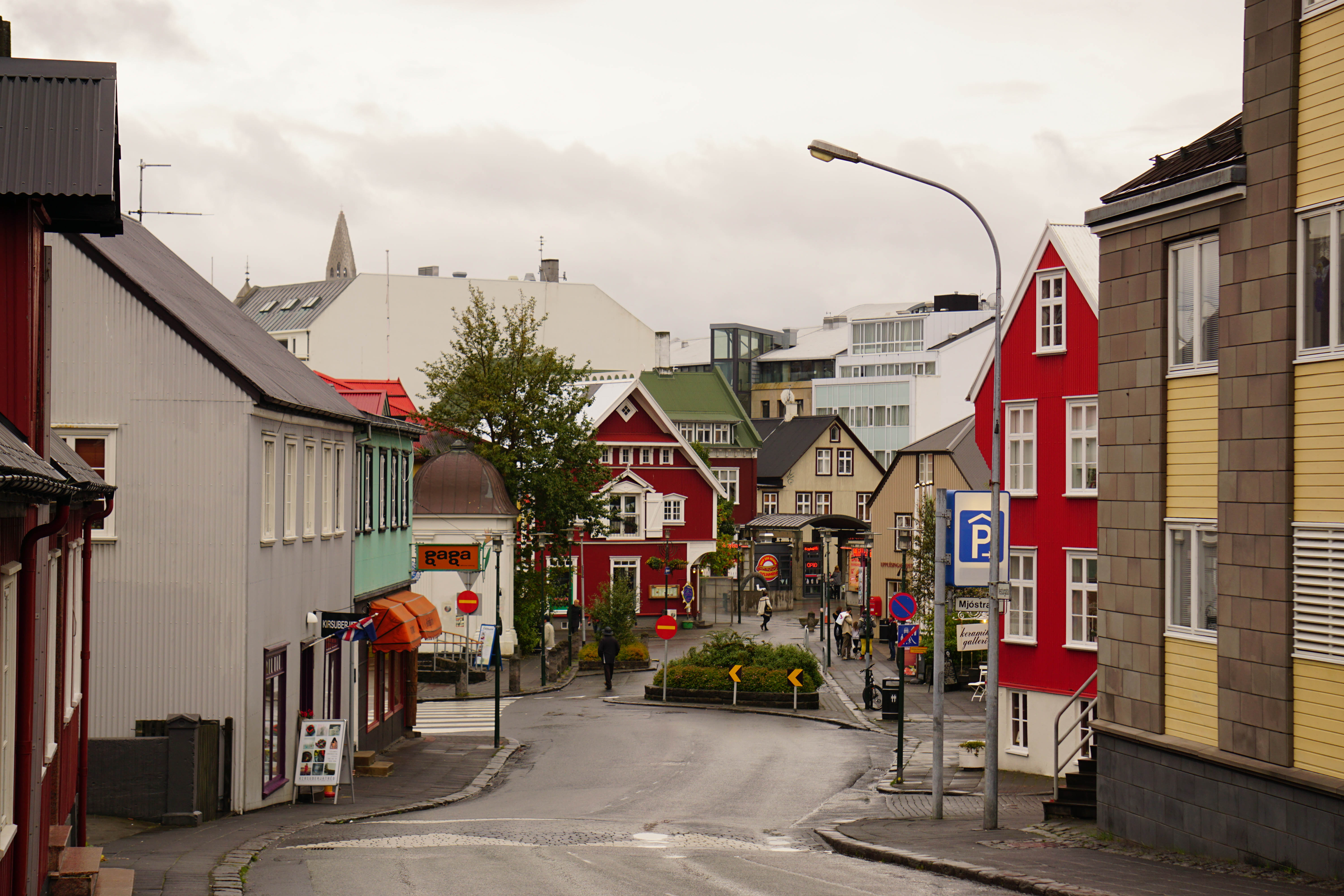 How adorable are those streets?!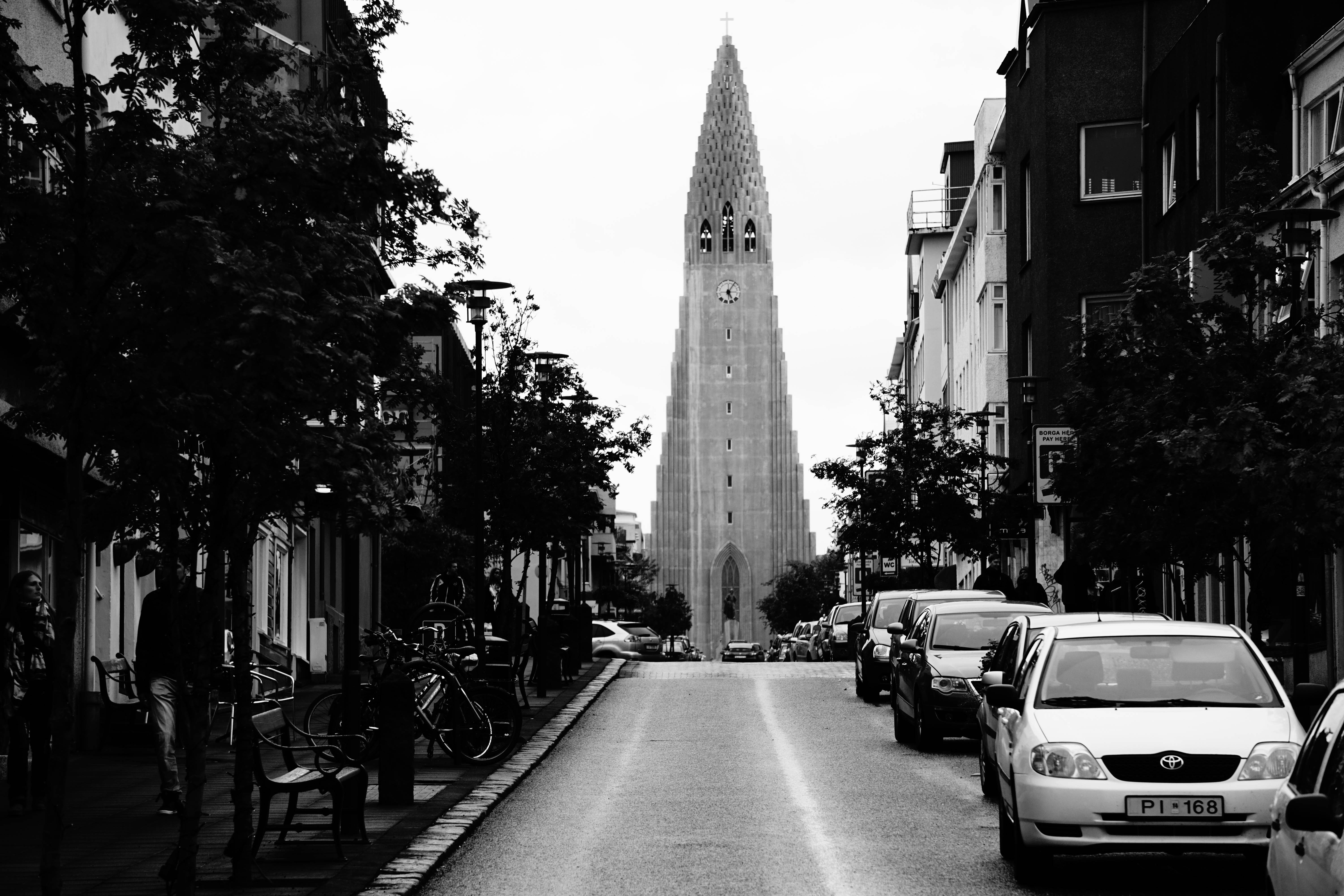 For our anniversary dinner, we had reservations at the Fish Market. This. place. was. amazing. If you are in Reykjavik looking for delicious cuisine, I highly recommend it. For an appetizer our server suggested raw whale, which was like pure heaven in my mouth. (Don't get all PETA up in arms, whaling is a big part of Icelandic culture and industry!) For our entrees, Bobby had the famous Icelandic lamb, and I had salted cod which were both deliciously prepared. Also because our server was so awesome and knew we were celebrating our honeymoon, he brought out a huge dessert sampler platter – I swear we were treated like royalty!
Day 2
I knew we had a big day of exploring ahead of us, so we woke up early to get some breakfast before we got on the road. Like other things in Iceland, it is not common for places to be open much before 10am. And to get a hot breakfast early in the morning? No chance. Thankfully wedrove past this cafe in the harbor that had meat croissants and coffee.  Small coffee, always a small coffee.
We started off with the traditional Golden Circle route. The drive through the GC and Thingvellir is supposed to be beautiful, but unfortunately we had rainy and foggy weather, so we just headed for our first stop: Gullfoss. In Icelandic this translates into "golden falls" and was a stunning sight. It is a massive amount of water and falls into an impressive gorge. Geysir is another popular stop that is along the golden circle, which I didn't get too excited about. It was neat to see, but I could have lived without it.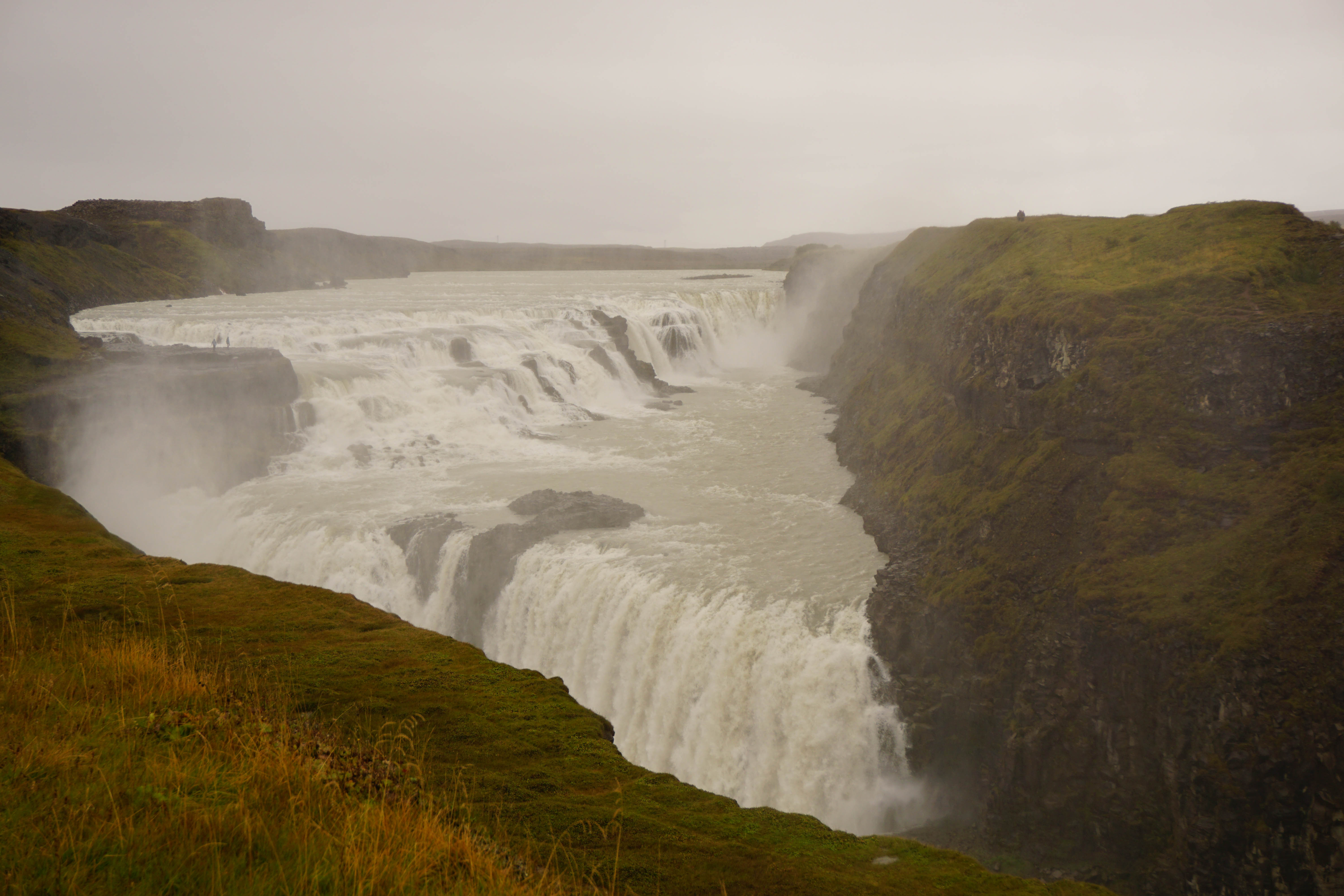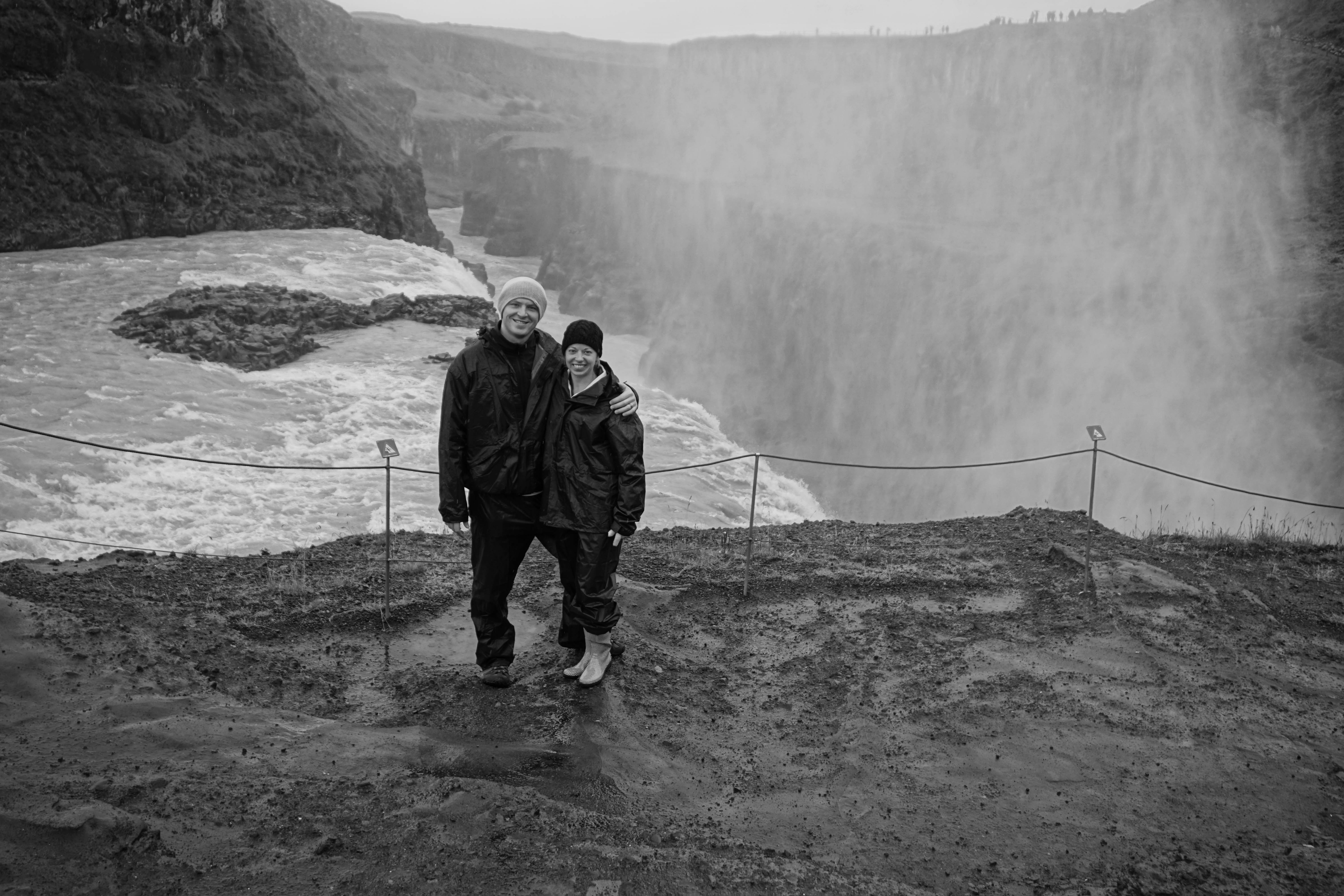 Seljalandsfoss was our next stop so by now I'm really excited because A) we are finally on the ring road and B) I love waterfalls! It was so funny because we are driving the Southern coast of Iceland and already in awe of its beauty when we see this big waterfall in the distance. Now there are a lot of waterfalls on this drive, but this one is bigger! So I'm telling Bobby to look at it and tourist-crazy that I am, I start taking pictures OF the waterfall, FROM the car! Then I realize that waterfall is our next stop (blonde moment).
"Iceland is amazing like that. You don't have to drive out of your way or pay some fee to get into the attraction…the landscape IS the attraction. "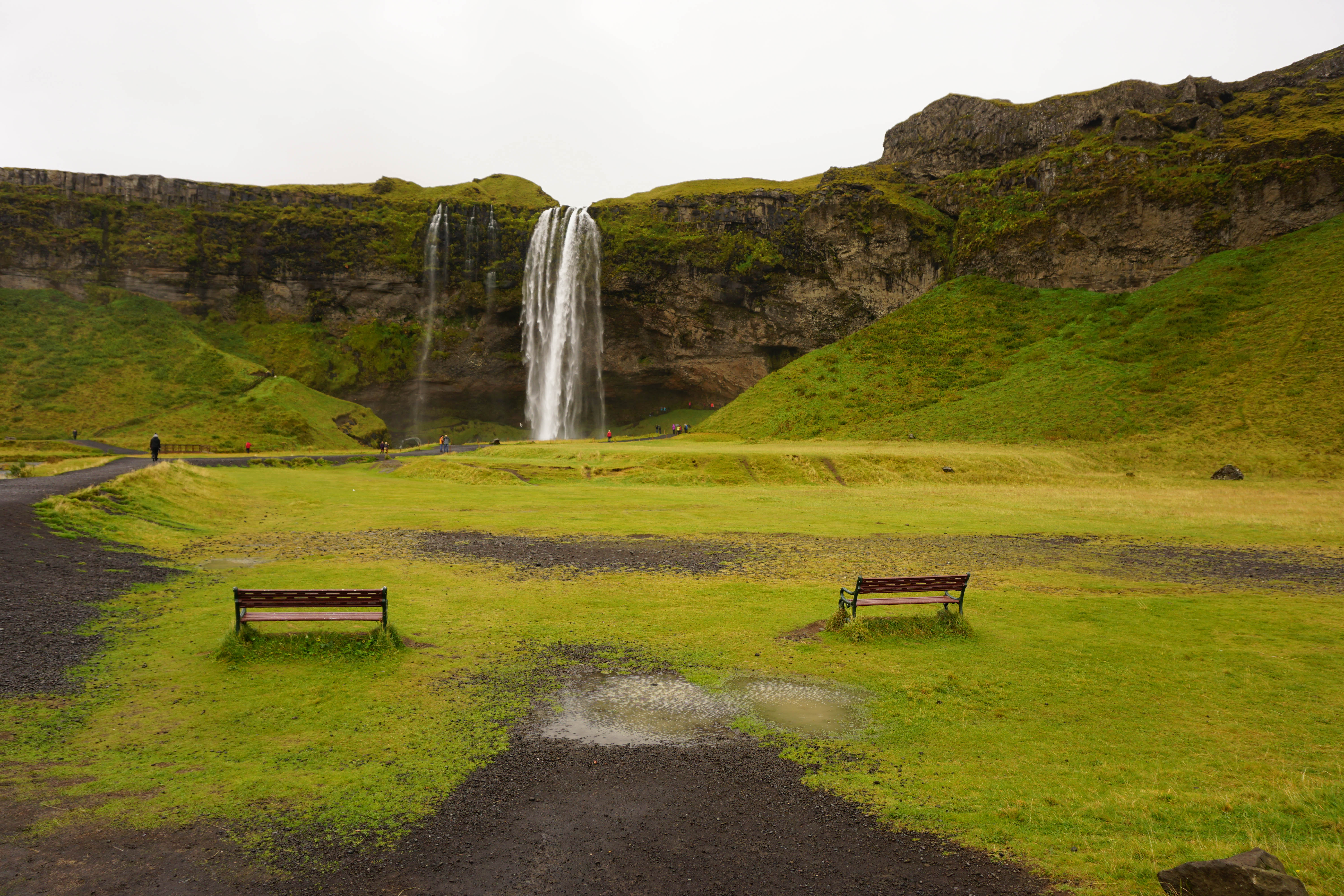 The unique thing about this waterfall is you can walk behind it! Just make sure you have your rain gear on and bring a wide angle lens for your camera because it's way bigger than it looks when you walk behind it.
This was the emotion on my face during most of our trip. Pure awe.
After lots of photo taking, we drove down the road for the next stop: a pool at the base of a glacier naturally filled with hot spring water. What. Is this country real life?!
The pool is slightly hidden – over a stream and in a valley – which requires a short 30 minute walk to get to. It was still raining and the wind had picked up, so a swim in this warm water in the middle of the mountains was welcomed and surreal. This pool is a little off the beaten path, so we were literally the only ones there for most of the time!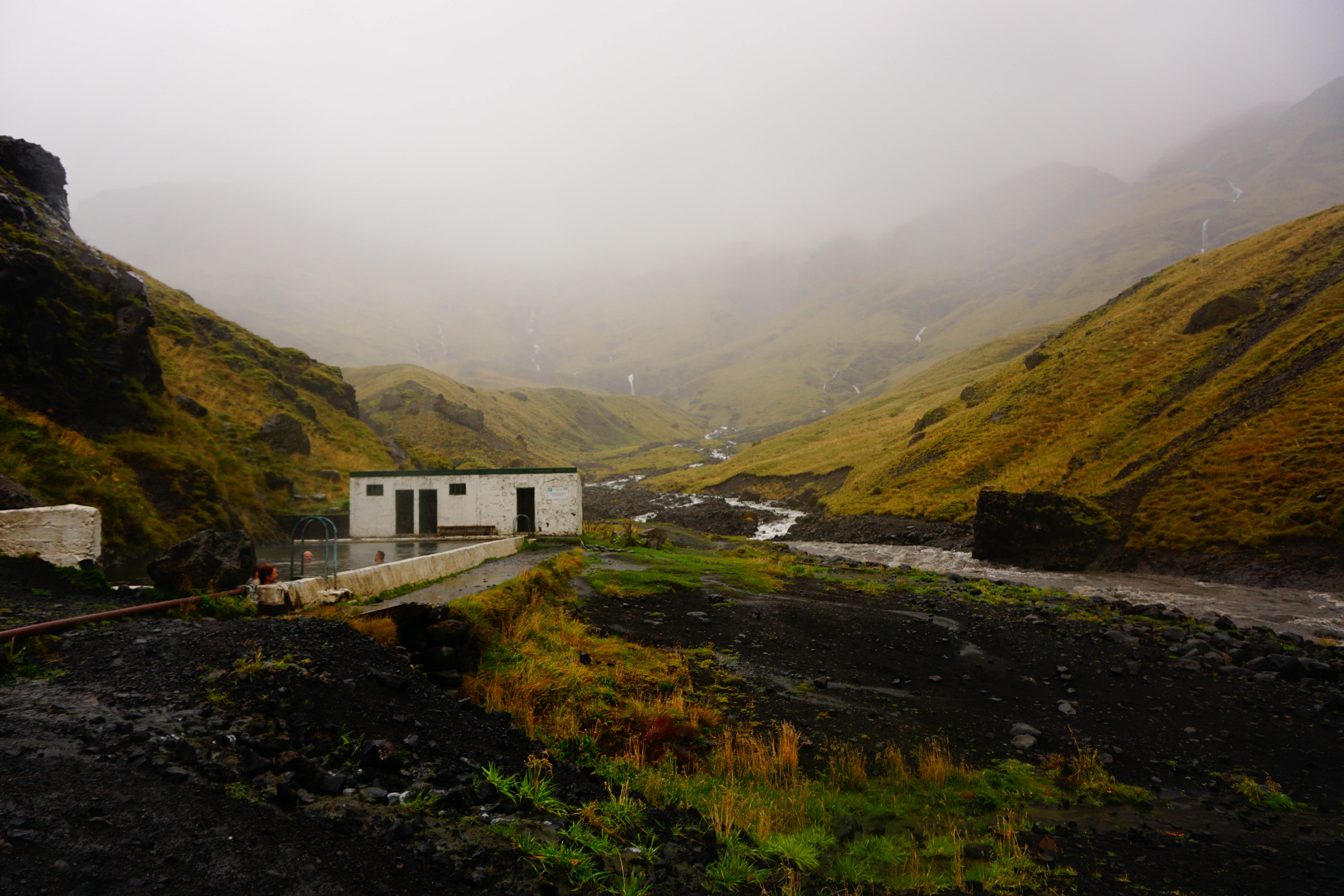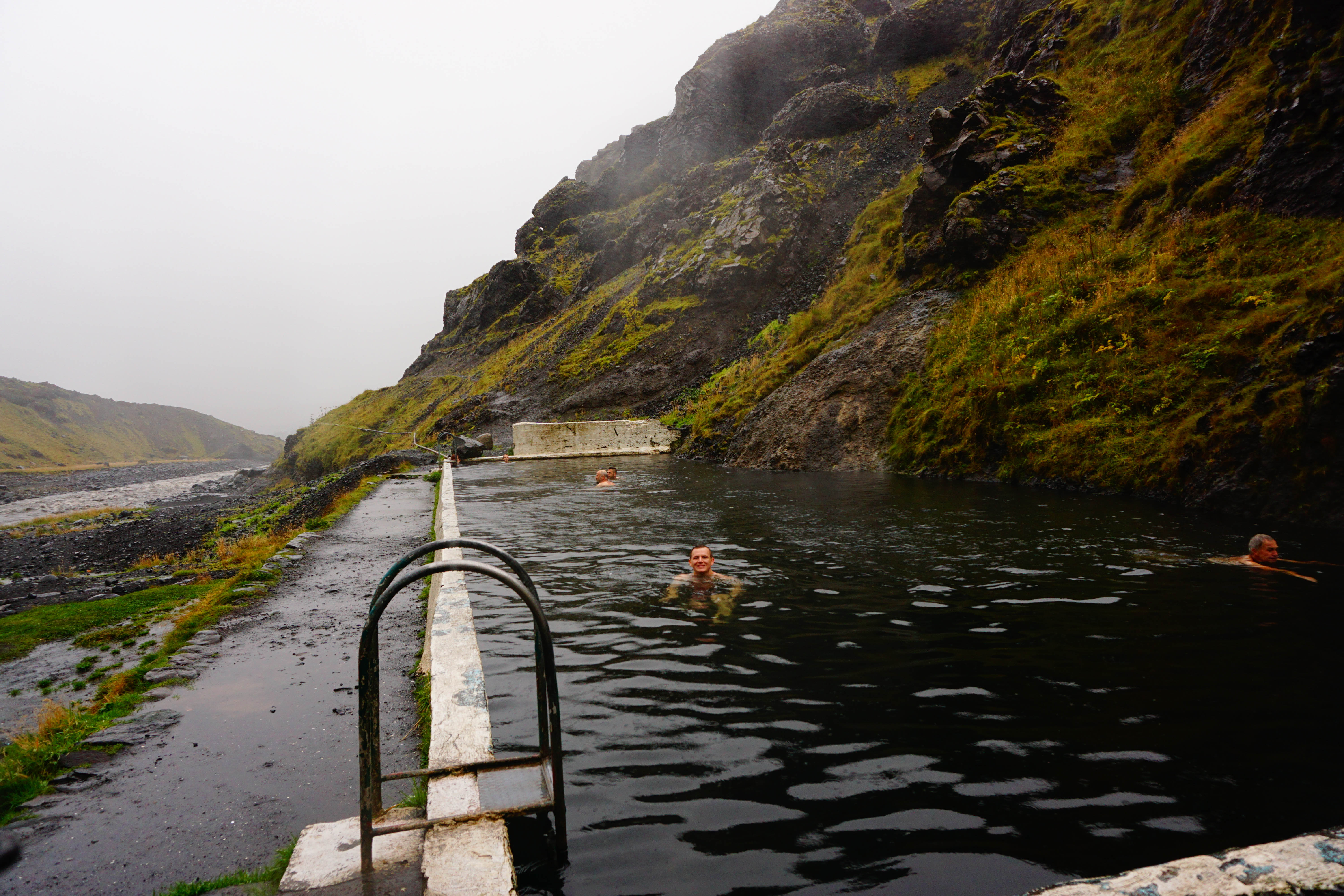 Day 3
We headed to the breakfast room at Hotel Skogafoss to enjoy our newfound love of a traditional Icelandic breakfast. The hotel has a direct view of the gorgeous Skogafoss waterfall. I know it seems like this trip has been all about waterfalls so far (which is ok with me!) but each waterfall is very different. Skogafoss is one of the biggest waterfalls in Iceland and is simply stunning to see.  There is also an easy walking path to get to the top which is another great view of the falls and out to the ocean.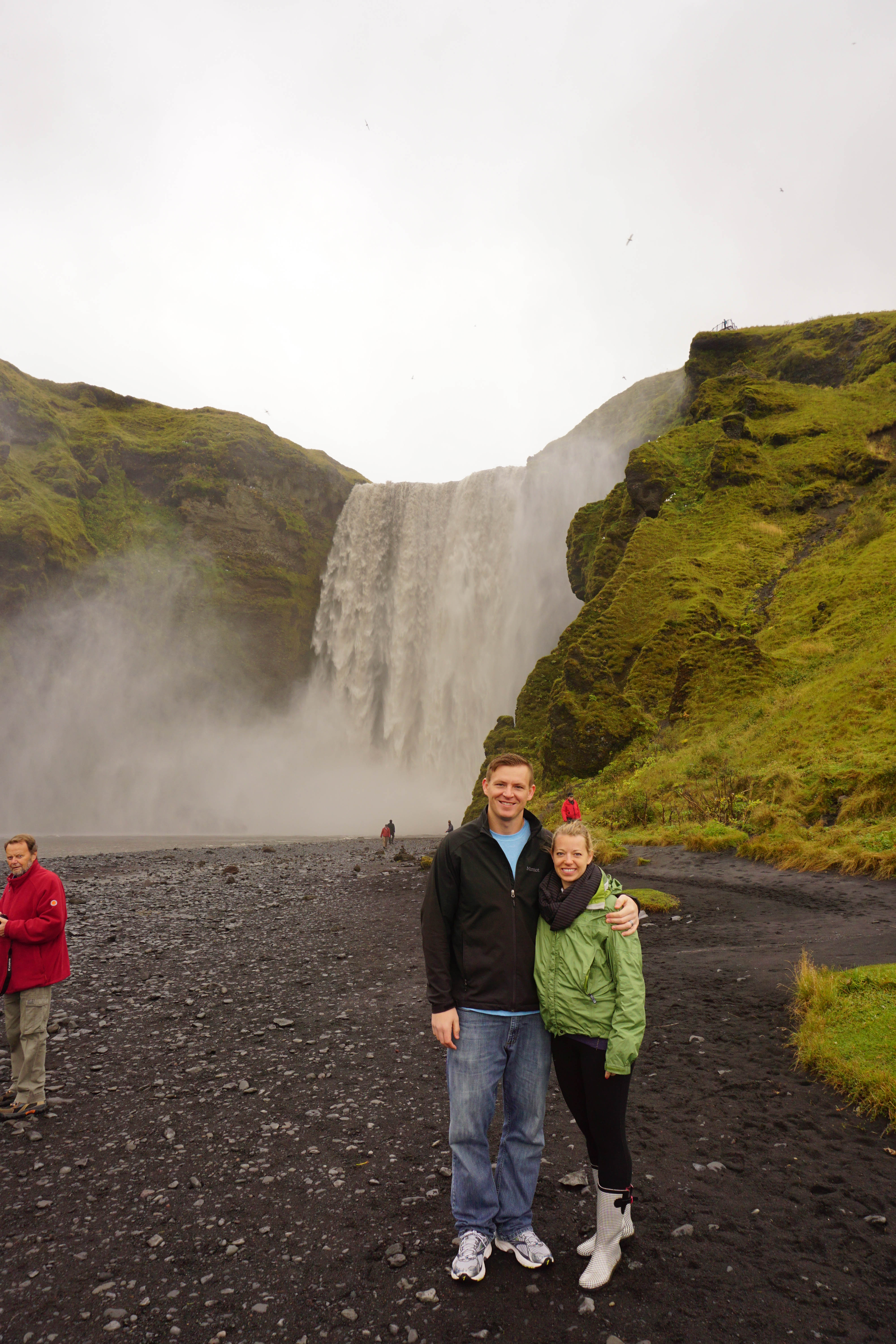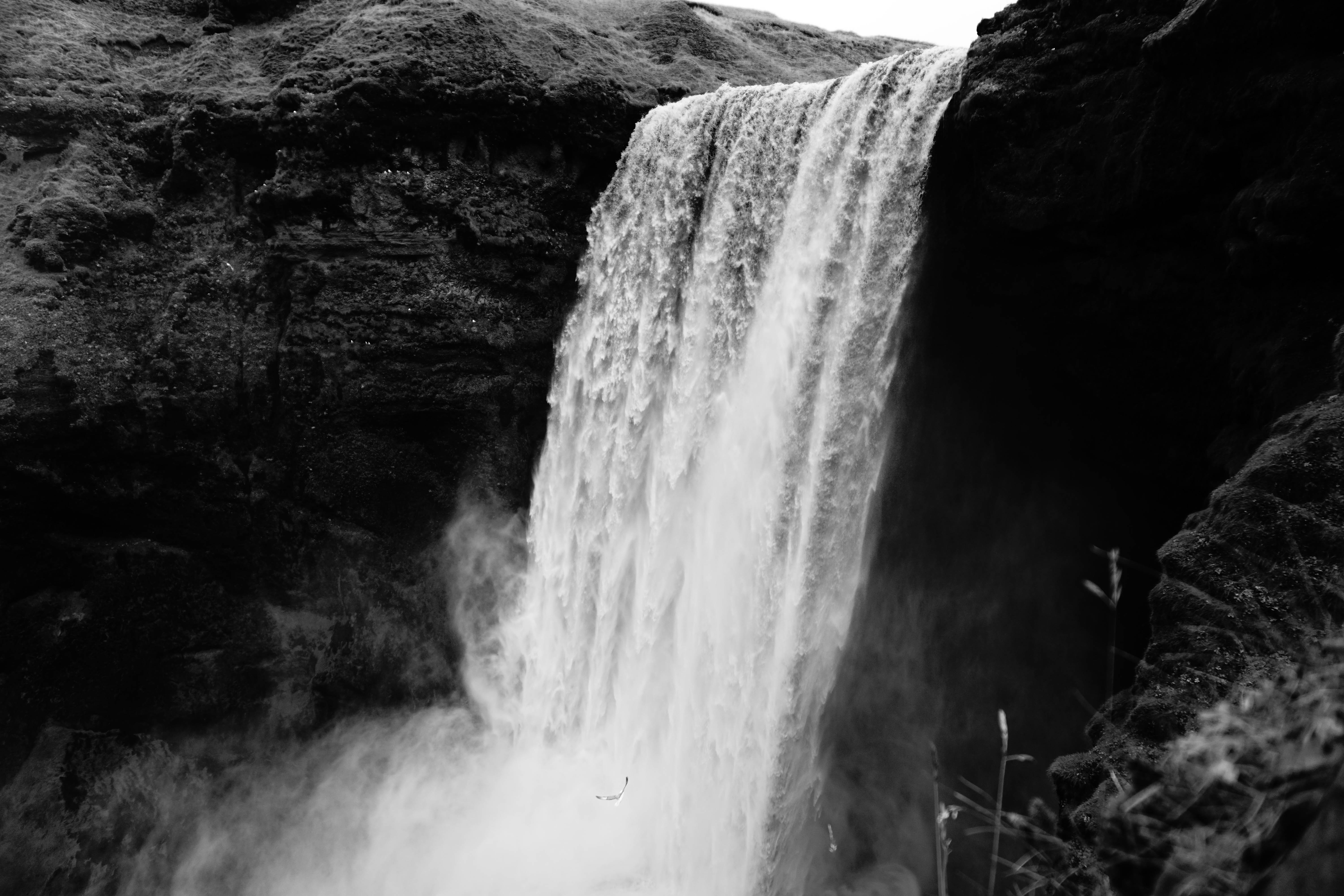 Our next stop was Reynisdrangar which is a black sand beach with big rock formations coming out of the ocean. We were also hoping to see some puffins (which are the cutest birds you've ever seen!) but they had already left for the season. Dyrholaey is a close walk from the black sand beach, and is one of my favorite parts of the trip. It is a massive rock formation that juts out into the ocean with an open arch underneath. It literally translates to "hill-island with a door hole." We walked out to the end where the view is amazing. Black sand beach and columns on one side, ocean ahead, a glacier behind, and you can see up the coastline for miles.
After the breathtaking views, we get in the car and continue East to Skaftafell National Park. One good thing about driving the ring road is being able to see SO many incredible views around the country. I swear every turn was more beautiful than the last! There are a lot of stand alone houses in the middle of nowhere – usually at the base of a waterfall and they probably eat what they grow. Awesome.
Another thing we have noticed by now is that there are sheep EVERYWHERE. Fact: sheep outnumber humans in Iceland!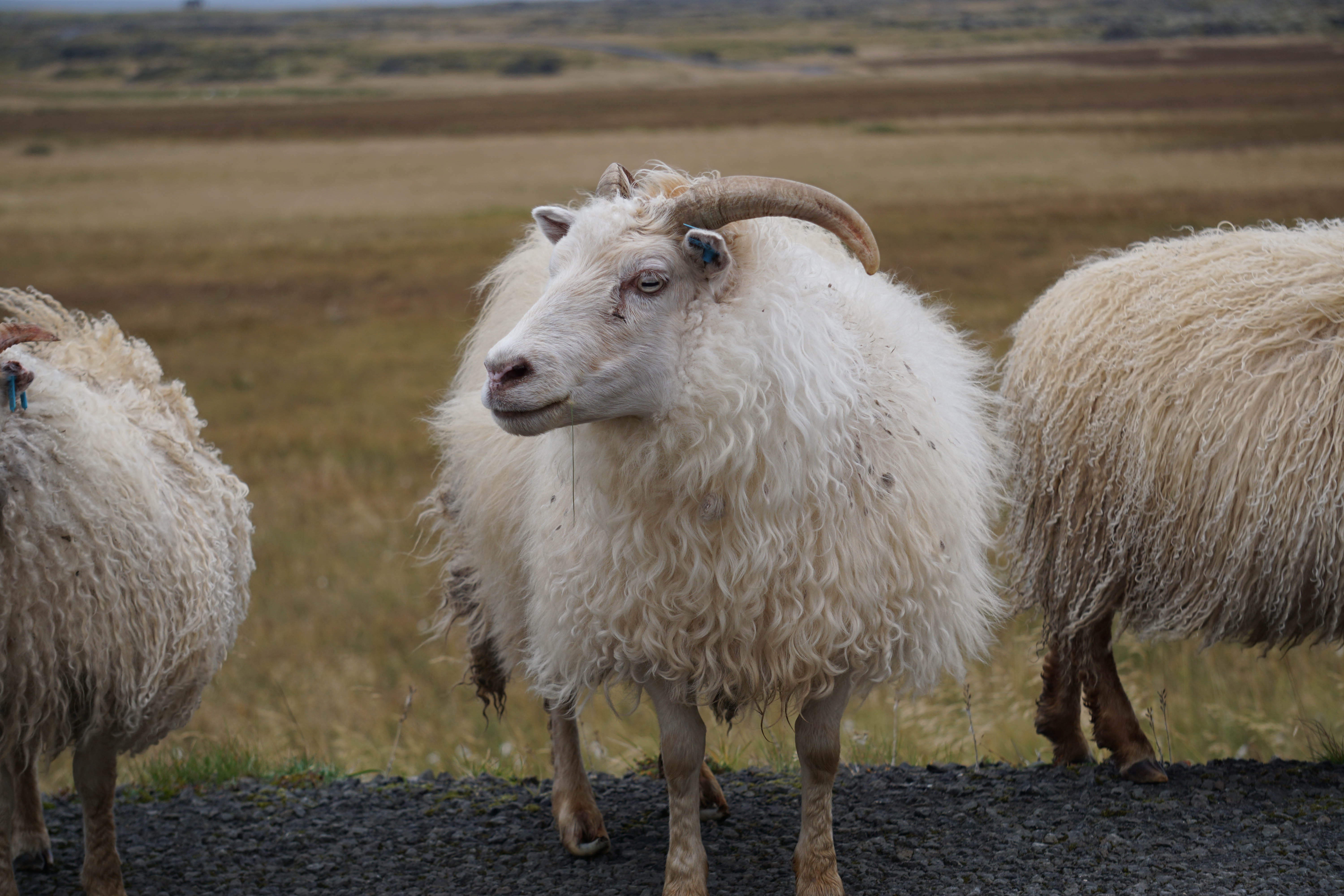 Note to travelers: Critical on this road trip is a carefully crafted playlist to accompany the exquisite views. Of Monsters and Men is now the soundtrack to our Iceland honeymoon…which is quite fitting since they are from here!
We also noticed that along the drive is the incredibly unique and vibrant moss growing on top of lava. How crazy looking is that?! And it's REALLY thick and squishy! I felt like we were on another planet.
*DO NOT walk on the moss, it can take years to regrow if it is damaged!*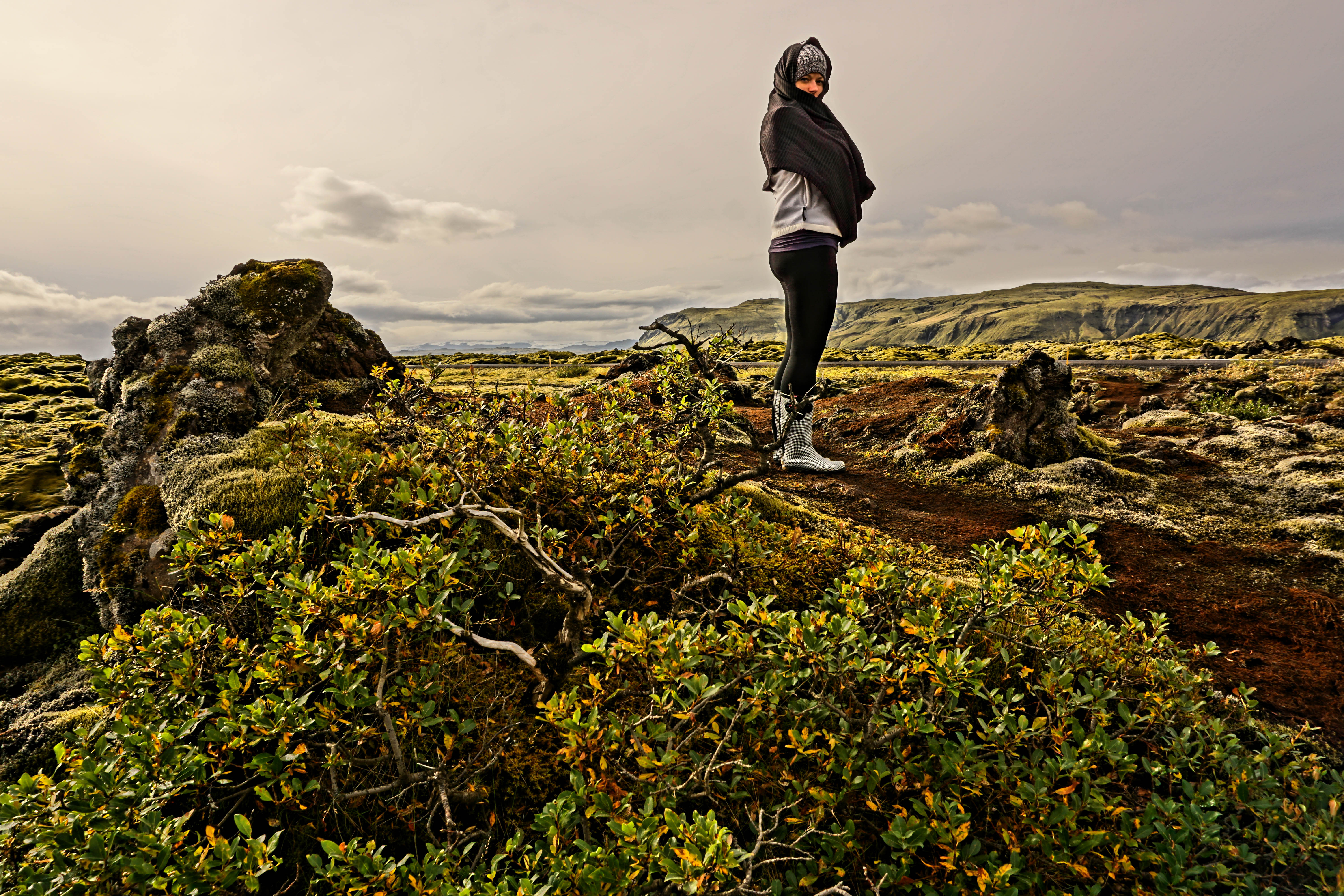 Before Kirkjubaejarklaustur and a little off the beaten path is a beautiful gorge called Fjadrargljufur. I'm not making these words up! Not only are their words twice as long as normal words, but they have more consonants than vowels, and include symbols I've never seen before! Anyway, its worth the stop, as you can see.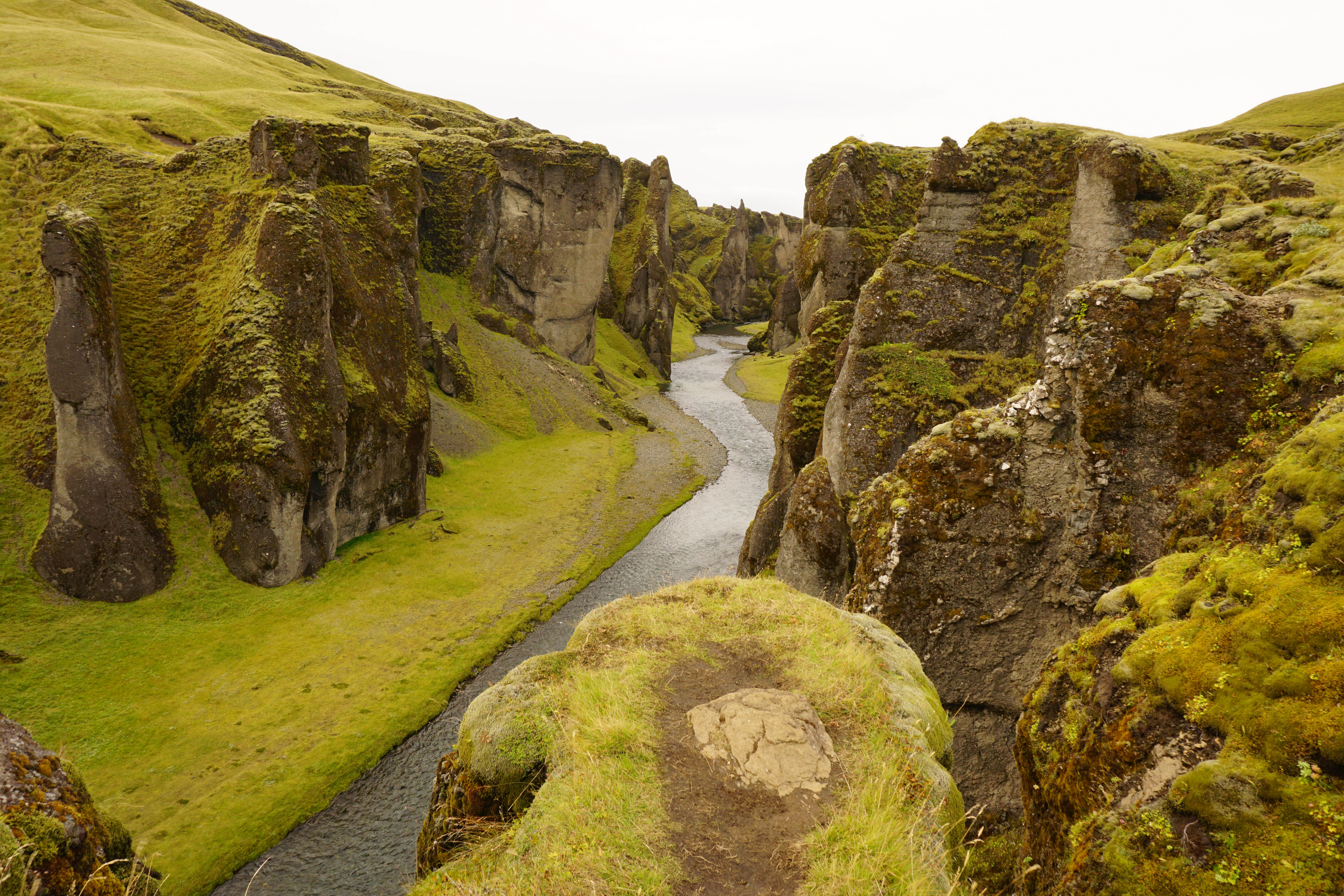 Just up the road, and keeping with the waterfall theme, we start our hike in search of Svartifoss.  Skaftafell National Park is nestled at the base of the biggest glacier in Europe – Vatnajokull – and the hike in overlooks the ocean for more incredible views. One of the most iconic waterfalls in Iceland, Svartifoss or the black waterfall, is unique because it is framed by black lava columns. Fun fact: the black columns were inspiration for Hallgrimskirkja! (the church in Reykjavik, pictured above.)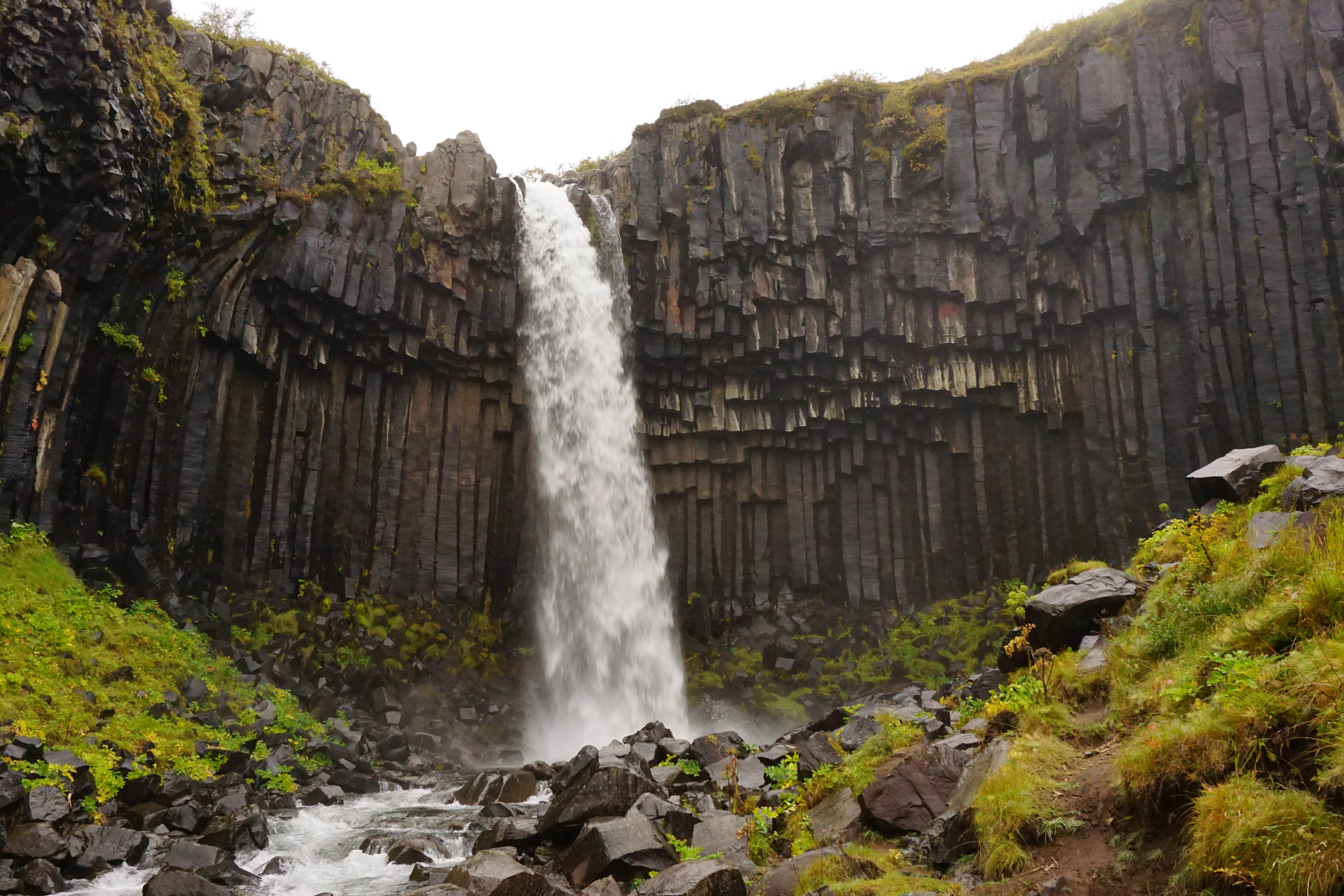 Day 4
As if the trip hadn't been awesome enough already, day 4 was hands down my favorite day. Although it was VERY windy and cold, the sky was sunny and clear for the first time, so we were excited! Our day started at Jokulsarlon – the glacier lagoon. So I've been to New Zealand and seen glaciers and done a boat tour through the water, but THIS. PLACE. Words definitely can't describe, and a picture looks great but still doesn't even capture its magnificence. There's a reason we put it on a 40″ canvas above our couch as soon as we got home.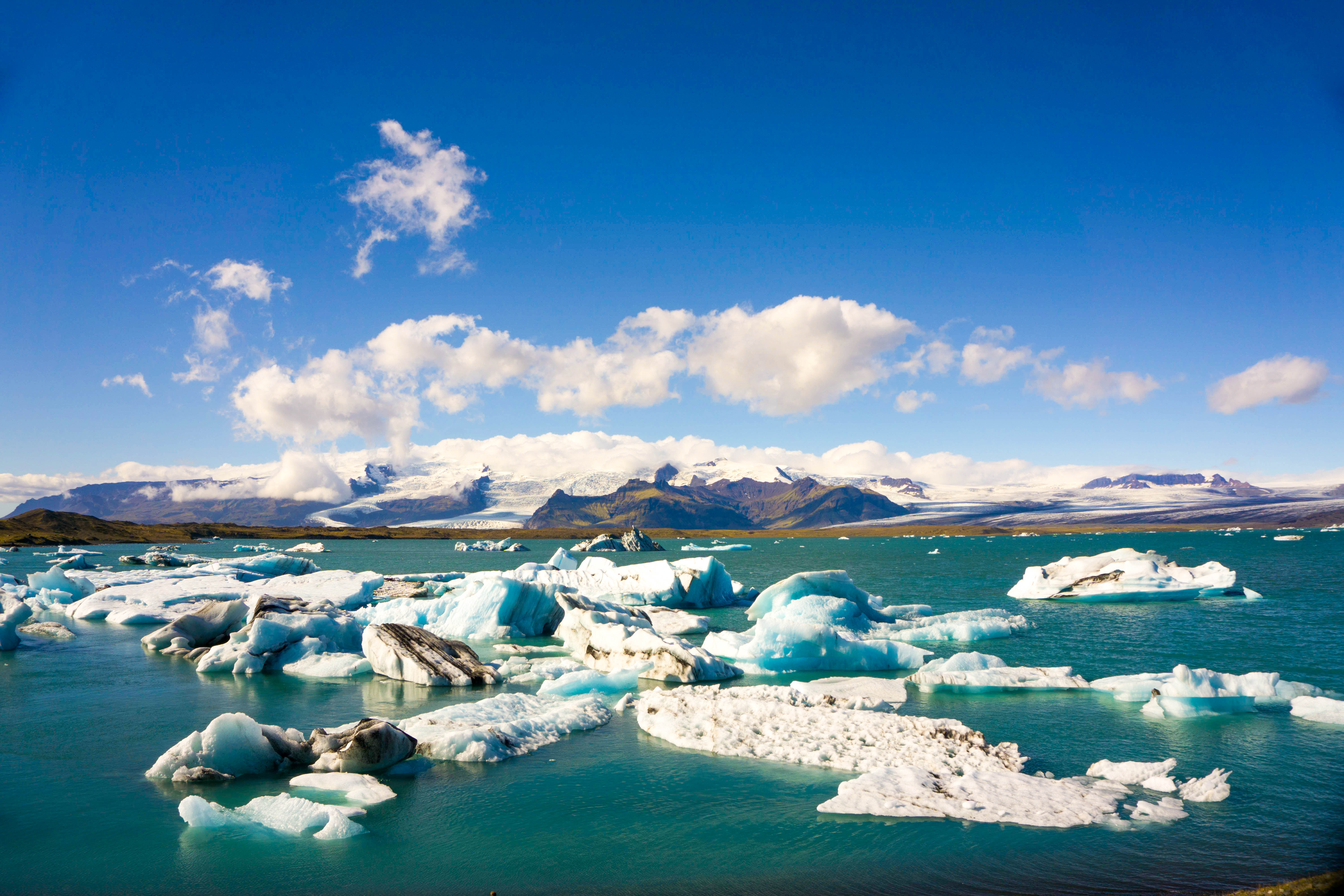 Although we did take the Amphibian lagoon tour, it wasn't necessary – our favorite photos were captured on land. Another must-see is the walk down to the ocean across from the lagoon. As the icebergs break off the main glacier, they float around in the lagoon and eventually down the river and out to sea.  Some of the pieces stay ashore on the beach, and make for great photos.
Remember when I was saying that driving the country is a good idea and every turn is something different? Well I felt like I hadn't seen anything yet when we got to the East coast drive. The Eastern ring road travels right along the ocean and weaves in and out of fjords. There were many times when the narrow two lane road seemed pretty small between a gigantic mountain face and the steep cliff into the ocean. This is another time where pictures honestly can't do it justice.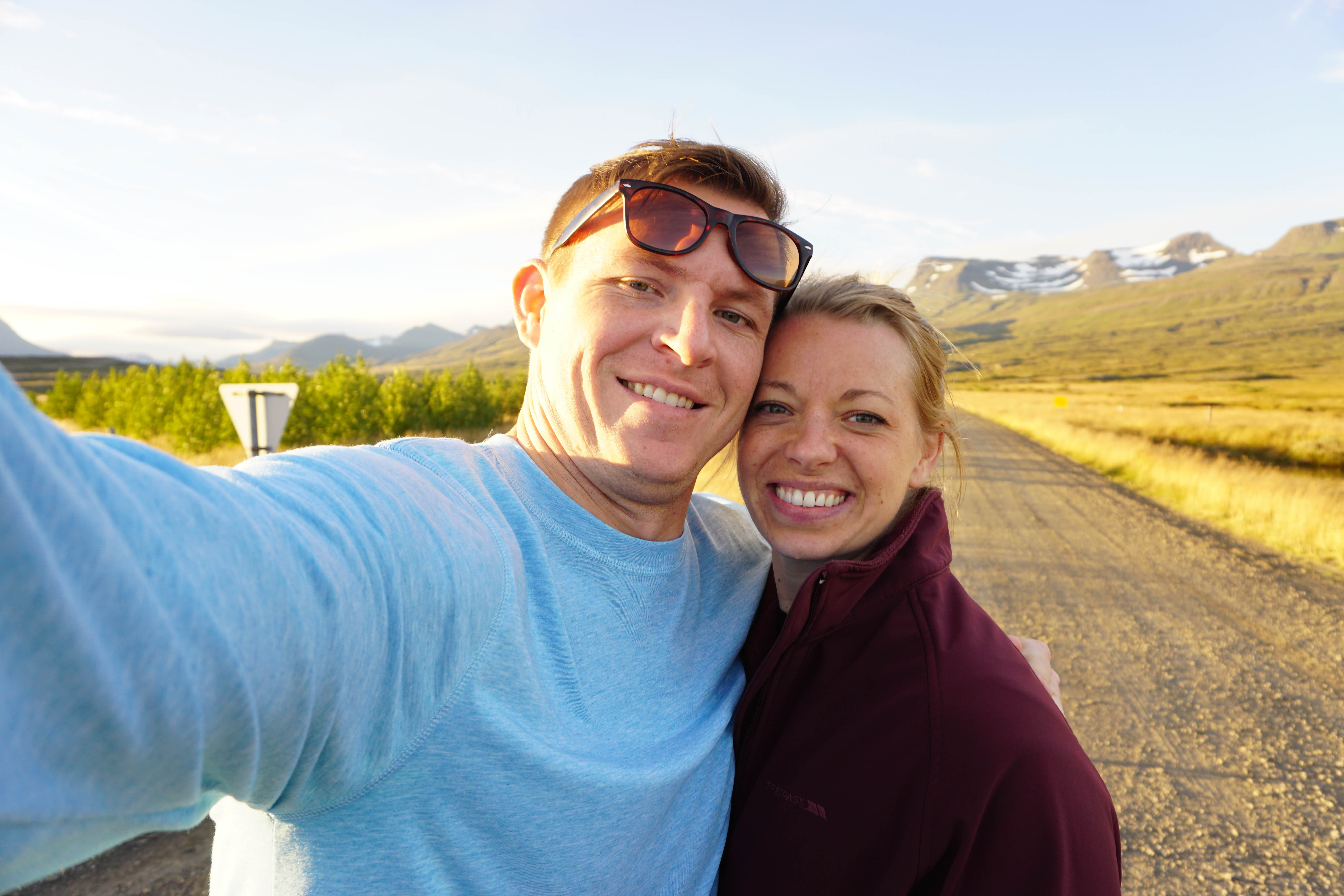 Obviously we had to stop for a honeymoon selfie…and I had to express my love for this glorious country by doing star jumps!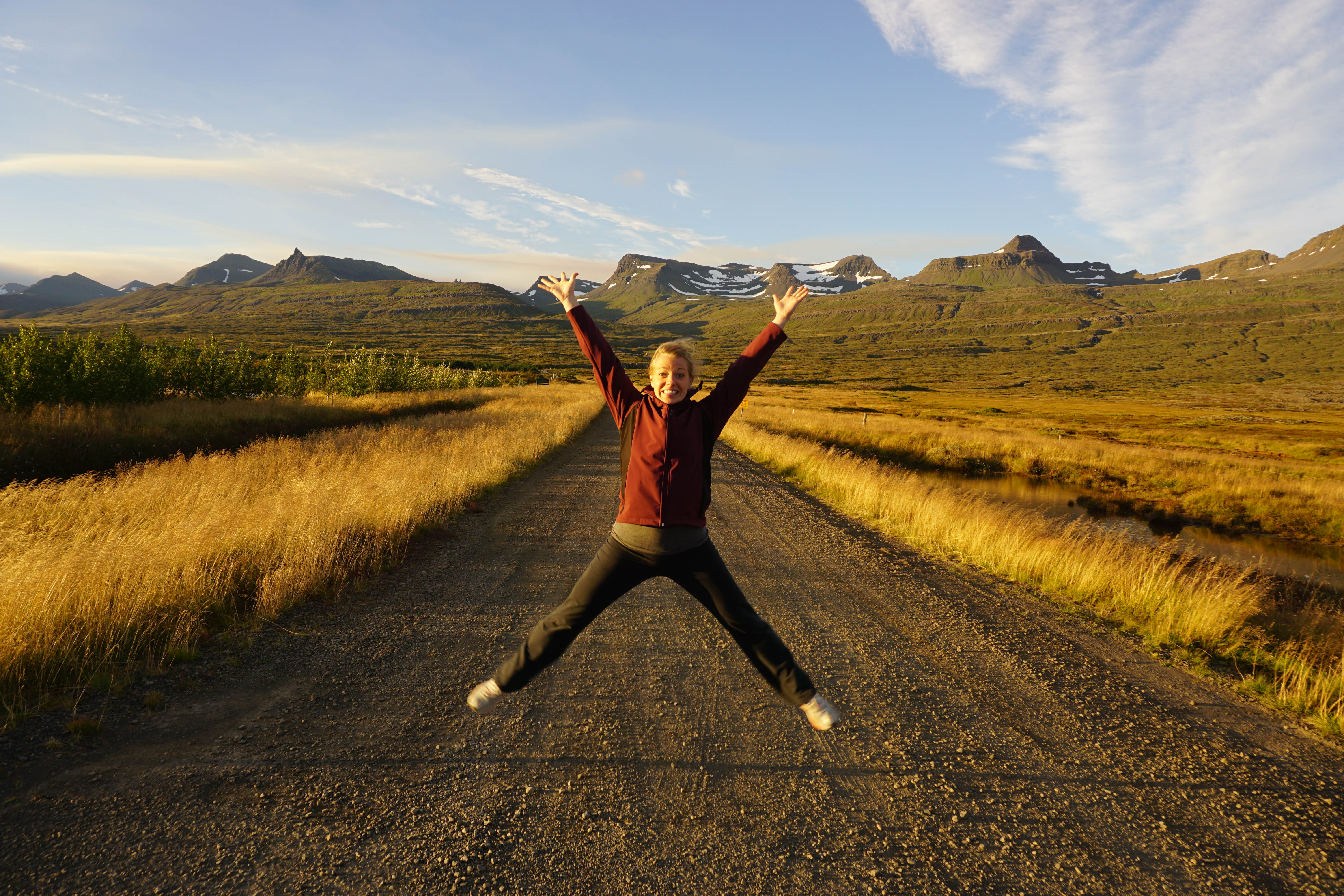 That night we stayed in an adorable little
guest house
in Egilsstadir, which is another one of Iceland's charming little towns. We walked down the street for
dinner
and I tried reindeer for the first time and it.was.so.delicious. Reindeer can only be found in the East of Iceland, so if you see Reindeer on the menu, I HIGHLY recommend it!Just as we are heading home we notice how clear the night sky is and decide to look into the
northern lights forecast
. When the site said "in the next 24 minutes the aurora will be STORM LEVEL" we immediately got in our car and drove to the middle of nowhere.
You guys. The first time I saw the northern lights I thought my heart was going to burst open. It was the most excited I had ever been in my life. We were all alone in the middle of nowhere, it was pitch dark, and these green lights were just POURING down on us and dancing around the whole sky. I was literally running around in the middle of the road, screaming and doing star jumps. It was the most breathtaking and memorable experience I had ever had.
Thankfully Bobby was patient and diligent enough to take some pictures – I couldn't stop celebrating a lifetime of getting to experience the top of my bucket list!
Day 5
We had a couple hour drive to Husavik but made a stop at Lake Myvatn along the way. This is where the infamous ice cream picture comes from. We stopped at a gas station and I ordered a chocolate dipped cone and it was the creamiest most delicious ice cream cone I had ever had (that or maybe I was still experiencing euphoria from the night before?!) We drove around Lake Myvatn and also hiked up this inactive volcano dust bowl thing, and honestly I could have left this whole party off the itinerary. (We chose this over Dettifoss which I would recommend instead.) The Myvatn baths are also close, which is a good less touristy alternative to the Blue Lagoon.
When we drove into Husavik I thought I had been transported onto a movie set. This was the most adorable town I had ever seen! On top of that, it was the most beautiful weather day we'd had yet…at one point I was in a tank top! We explored around the harbor, walked through the whale museum, and had enjoyed another Icelandic classic, lamb.
I loved this town with my whole heart. And remember, this is when we decided we could move here 😉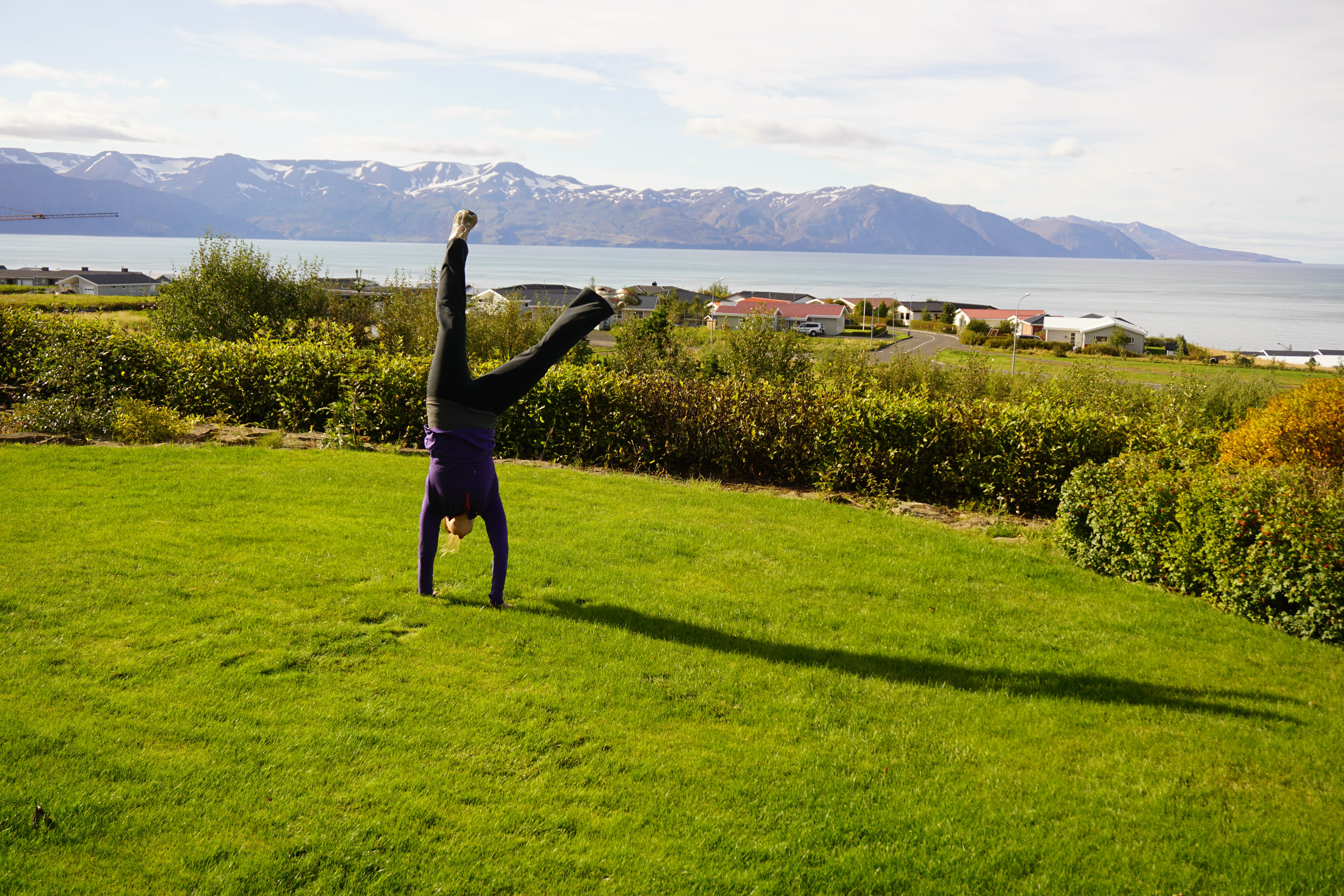 Handstands in Husavik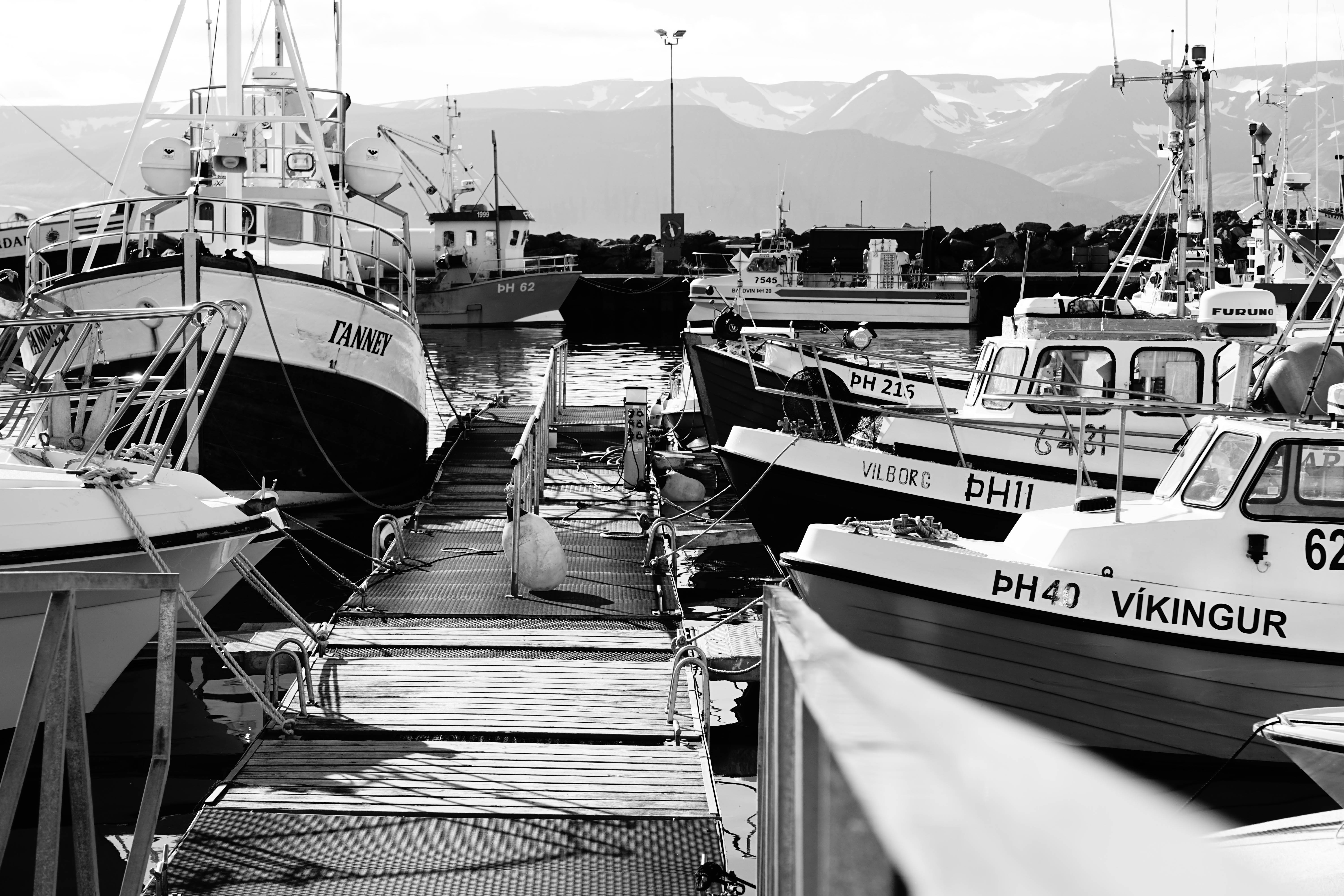 Husavik harbor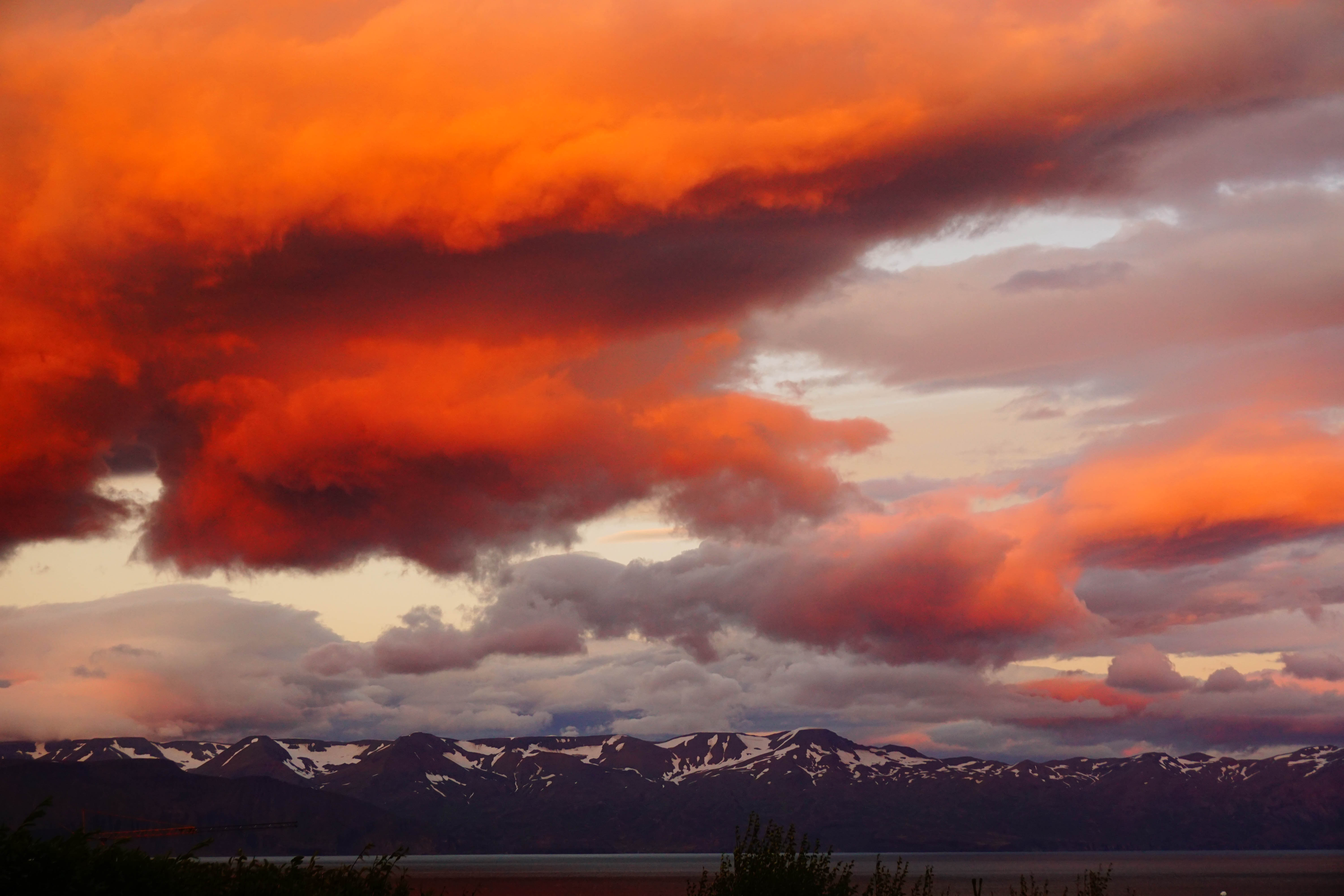 Husavik at sunset
Day 6
We had a whale watching tour scheduled that I was pretty excited for. Unfortunately the whales didn't cooperate so we only got to see the tail of one whale the whole two hours we were out. Either way, it was a fun experience and I would highly recommend the tour if you are in Husavik.
Back on the ring road, we stop for one more waterfall: Goðafoss.  This waterfall is definitely worth a stop, especially since it's right off the ring road.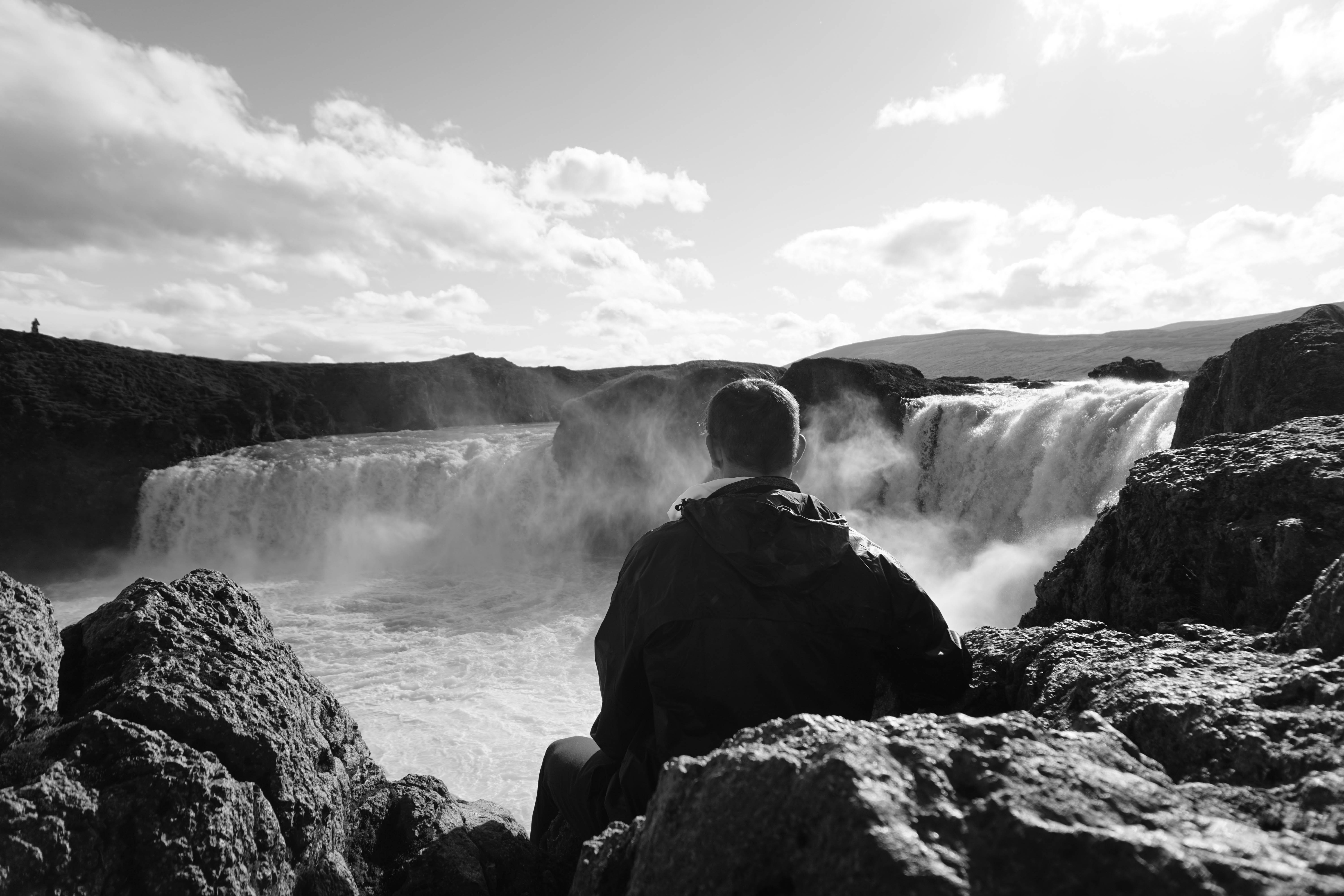 Bobby enjoying the view over Godafoss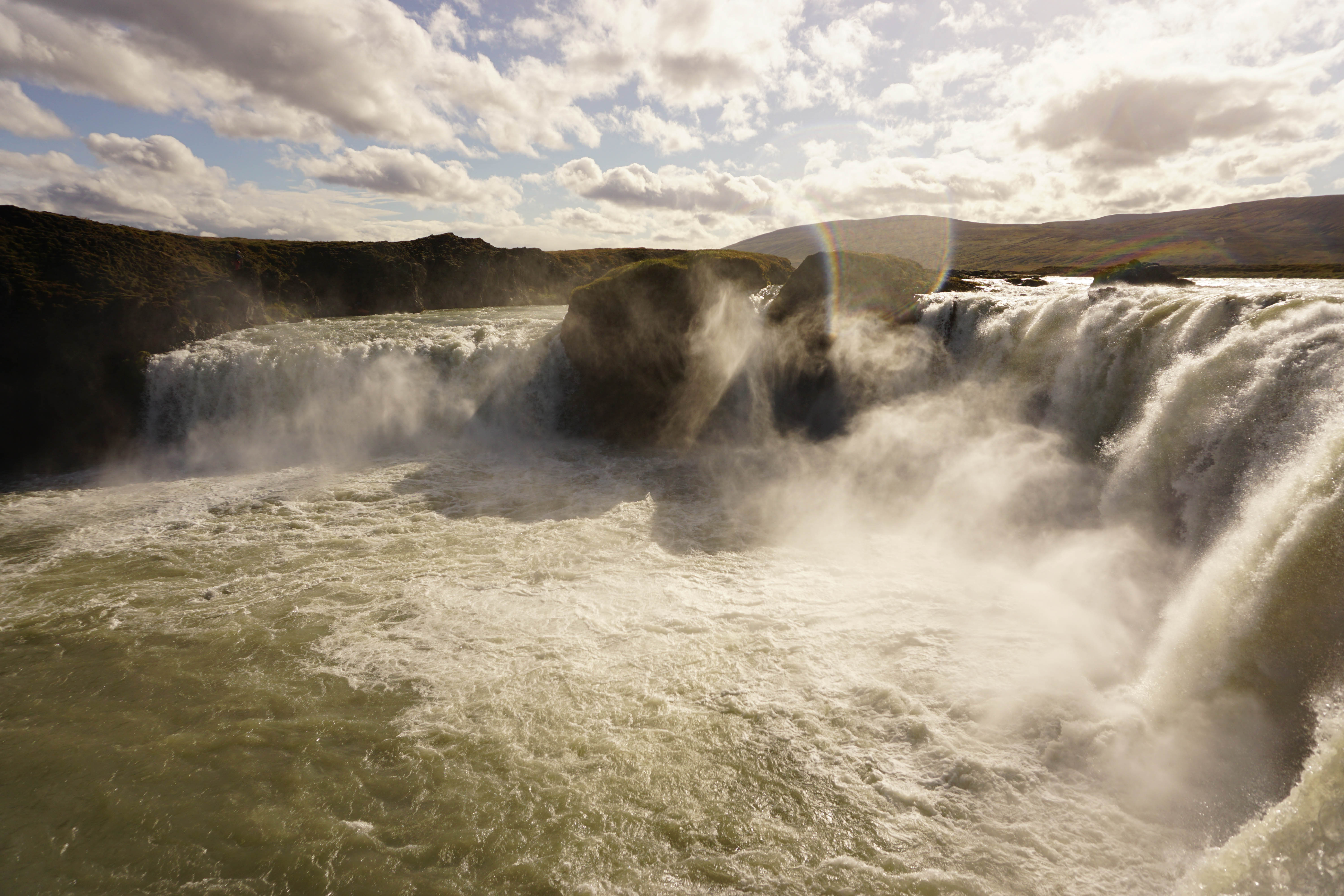 Next we headed to Akureyri, the second largest city in Iceland. We wandered around the streets and got the best souvenir – an authentic wool blanket! After dinner as we were walking back to our hotel, we happened to look up to see the northern lights again! Of course we drove out of the city to get a better look. I don't think I would ever get tired of seeing them.
Day 7
Today was our longest drive, but per our research, a must see in Iceland. Snæfellsnes is a peninsula in West Iceland that is known for the stunning coastal drive and iconic sights along the way. I really wish we would have had more time to stop at each place, but we did get to see some very beautiful things.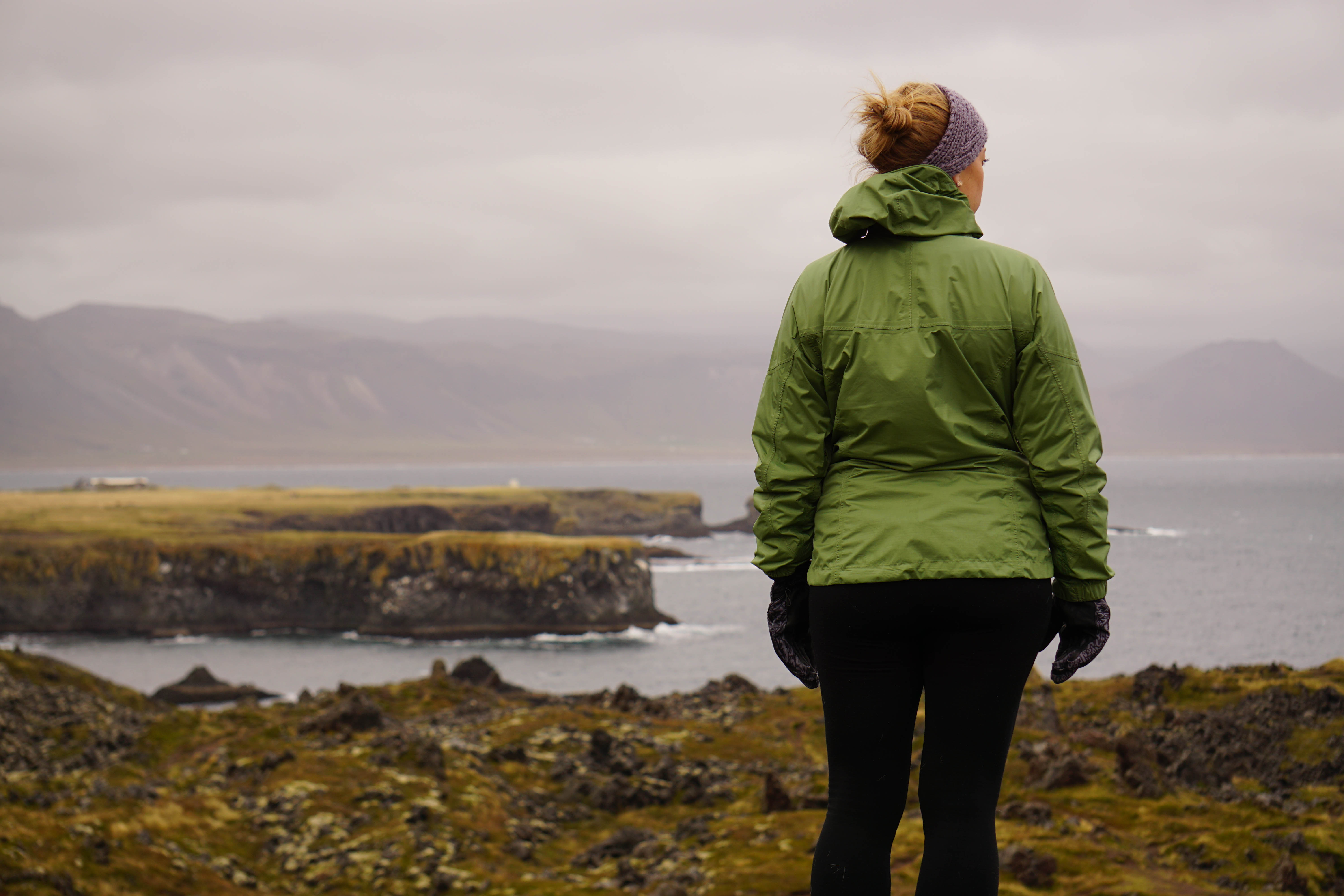 Coastal walk between Hellnar and Arnarstapi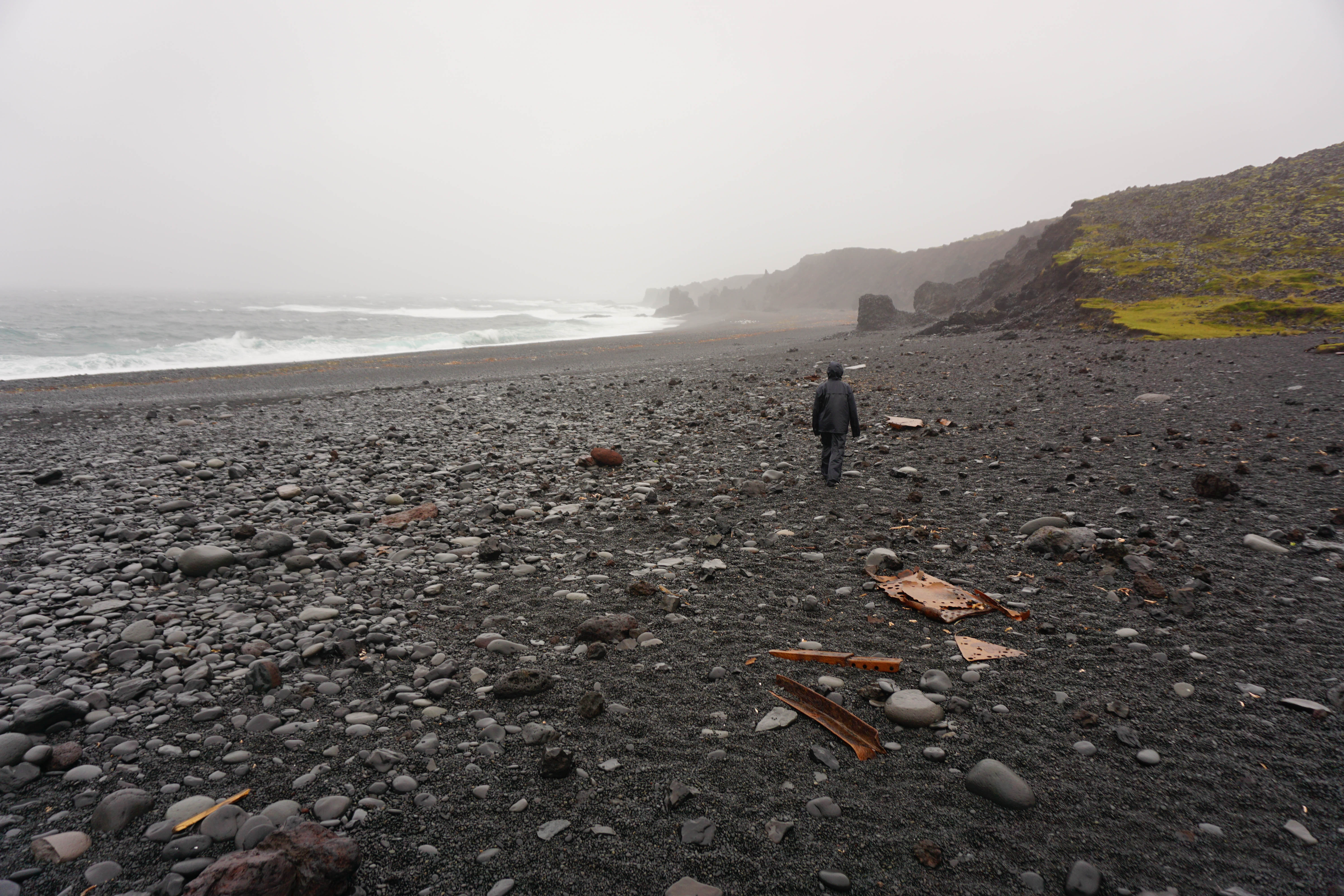 Djupulonsandur
Londrangar
One of Bobby's favorite places is the cutest cafe that makes a mean latte and homemade waffle. Fjoruhusid is a tiny cafe that is literally built into the ground in Hellnar and is definitely a place to stop.
We also had a wonderful horseback ride along the south coast of the peninsula through a lava field with Lysuholl, which I would highly recommend!
On the Snaefellsnes peninsula is yet ANOTHER adorable town – Stykkisholmur. Since we were obsessed with The Secret Life of Walter Mitty, I knew this was a must see town (if you haven't seen it yet – watch it! It will definitely make you want to travel to Iceland). There is something that I love about lighthouses…especially when they are framed by a rainbow?! I know what you're thinking, this places just keeps getting better!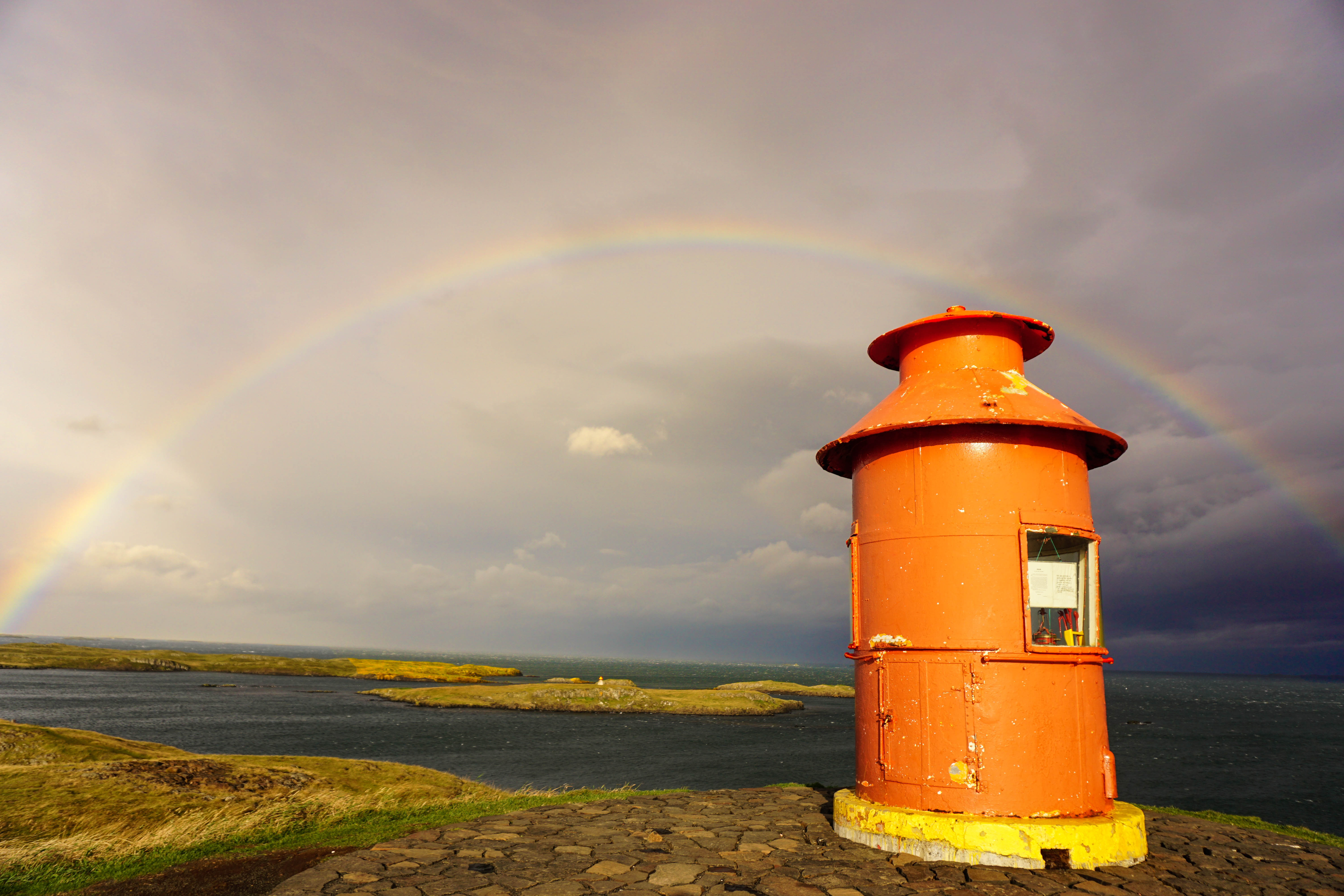 Sadly, we started heading back to Reykjavik so fulfilled from our amazing week, yet wanting more. We honestly were already talking about what we wanted to do on our next trip to Iceland. Considering we both have done quite a bit of traveling with an insatiable wanderlust, this is a bold statement. Iceland is the first place that we both wanted to go back to before we went somewhere else. I felt a deep connection with this country that is hard to put into words. Maybe it's the perseverance of the viking heritage. Maybe it's the dedication to sustainable energy. Maybe it's the purely stunning and untouched nature. Maybe its the genuinely happy Icelanders. Maybe its just a perfect combination of it all.
To me, Iceland was always meant to be. Everything that happened up to this point in my life has lead me here.
And people wonder why we moved to Iceland. Next time someone asks me why, I'll simply direct them to this post.
---
Question: Is there a place you loved so much you considered moving to?

To see the rest of our Iceland honeymoon photo faves, click here!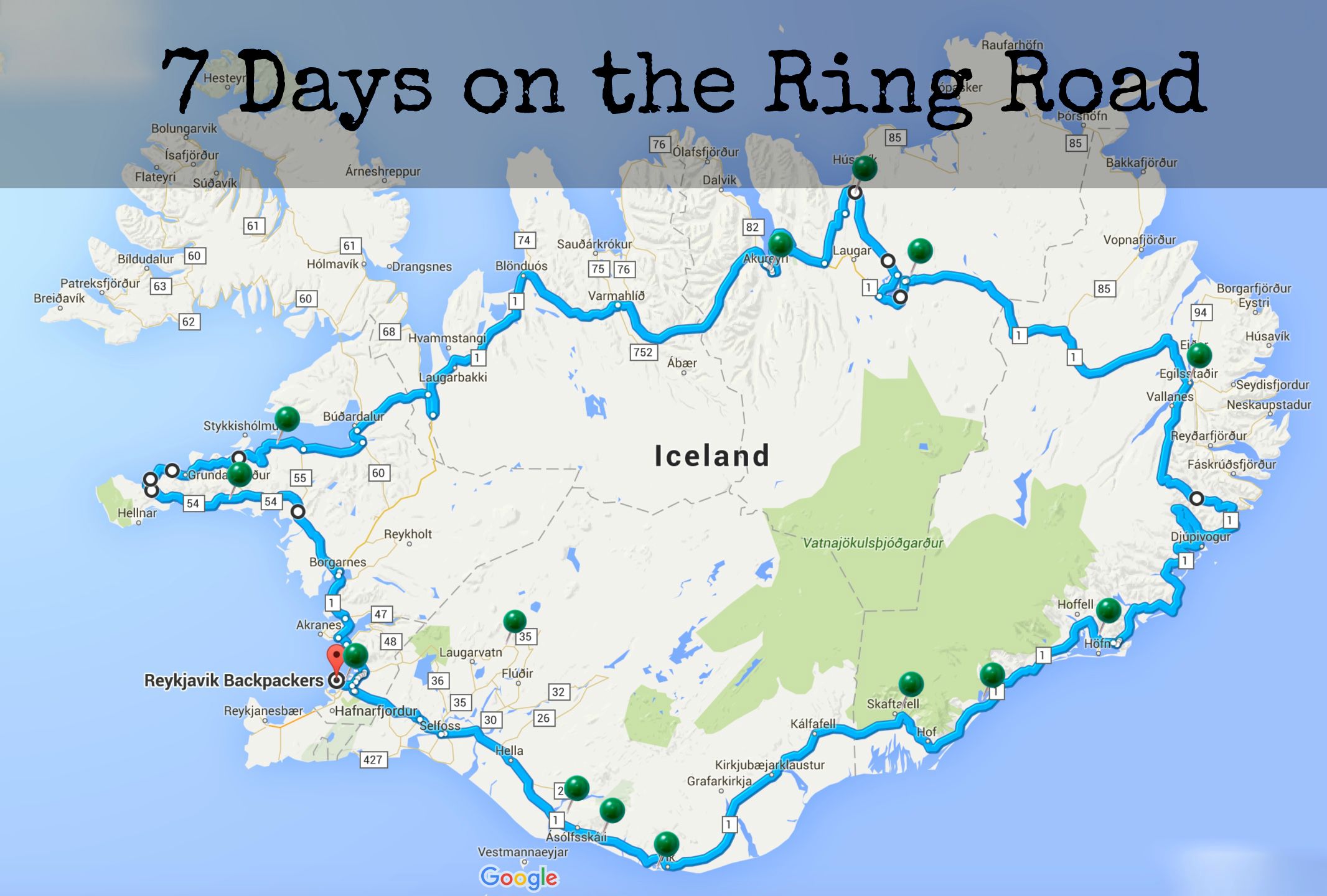 Pin it for later!