If you are as obsessed with Game of Thrones as I am, then you are eagerly and patiently awaiting the final season of this amazing show. It's gonna be amazing, like seriously. Can we get to the bottom of what's gonna happen finally?
As you know, Game of Thrones is a wildly popular show, and people are obsessed with it, and people are obsessed with finding the filming location. If you don't know what Game of Thrones is, then this is probably not the video for you, but for those Game of Thrones fans the final season begins on April 14th. So, y'all know what we're doing that day. While this show is filmed all around the world, there are a lot of scenes that are filmed in Iceland. I'm so excited about this video because I love Game of Thrones and I love Iceland, so hello. Putting them together is a no-brainer. So, I thought, what better way to celebrate the premiere than with a video about the filming locations?
Hello, Team Iceland. Welcome back to my channel. My name is Jeannie, and I am here to help you plan the best Game of Thrones themed trip that you've ever had. Before we get started, I wanted to give a shout out to one of my followers. Her name is Marcia, and she has posted some beautiful photos from her trip in Iceland using our community hashtag, #IcelandWithAView.
Inspiration for Your Iceland Trip
First of all, if you want any inspiration for your upcoming trip, you're going to want to go check out this hashtag because there's over 10,000 posts of beautiful photos from around the country. Also, you guys, make sure to tag me in your Instagram stories when you're on your trip, so that I can follow along live and see all the beautiful things that you're seeing. You never know. I might put you on my story or in one of my videos.
Without further ado, friends, let's get into the Iceland filming locations for the Game of Thrones.
First up is Grjotagja. This is a hot spring inside of a cave, which is found in the Myvatn area in North Iceland. It shows up in season three with the ever-so-famous love scene from Jon Snow and Ygritte. Also, near Myvatn in North Iceland is Dimmuborgir, which is a lava field filled with unique shapes of lava. This is the site of the Wildling Camp in season three.
A lot of snowy, icy scenes are filmed in Iceland because 11% of the country is covered in glaciers. And so, scenes from the north of the wall and White Walker scenes are filmed on Svinafellsjokull, Mýrdalsjökull, and Vatnajökull. Thingvellir National Park on the golden circle also shows up a few times throughout the seasons with the most famous showcasing the ridge between the continents season four, as the narrow path leading to the bloody gate. So, we've seen both Sansa and Arya walk this trail at different points in the show.
Also, close to Thingvellir is the waterfall scene from season four when Daenerys' dragon eats the goat and sets fire to the rest of the flock. This takes place at Thorufoss, which by the way can also be found in my South+West eBook. Probably the most famous location is Mount Kirkjufell, which is found on the Snaefellsnes Peninsula. It's featured in season seven when the men head north of the wall and spot Arrowhead Mountain.
Another iconic Iceland location is Reynisfjara and Dyrholaey. These are the locations for Eastwatch-by-the-sea where the men in the Knights Watch are guarding the wall in season seven. Last but definitely not least is the turf house, which shows up in season four. This particular turf house is located in Thjorsardalur Valley and is featured in the scene where all the inhabitants were killed by the Wildlings when they climbed the wall.
All righty, my friends. Those are your filming locations for Game of Thrones. I know a lot of you will take this and make a whole tour out of your trip in Iceland, which I think is amazing. All of these locations are so beautiful, and if you want a free map that I've made to grab all of these filming locations because I already mapped them out for you, check it out below!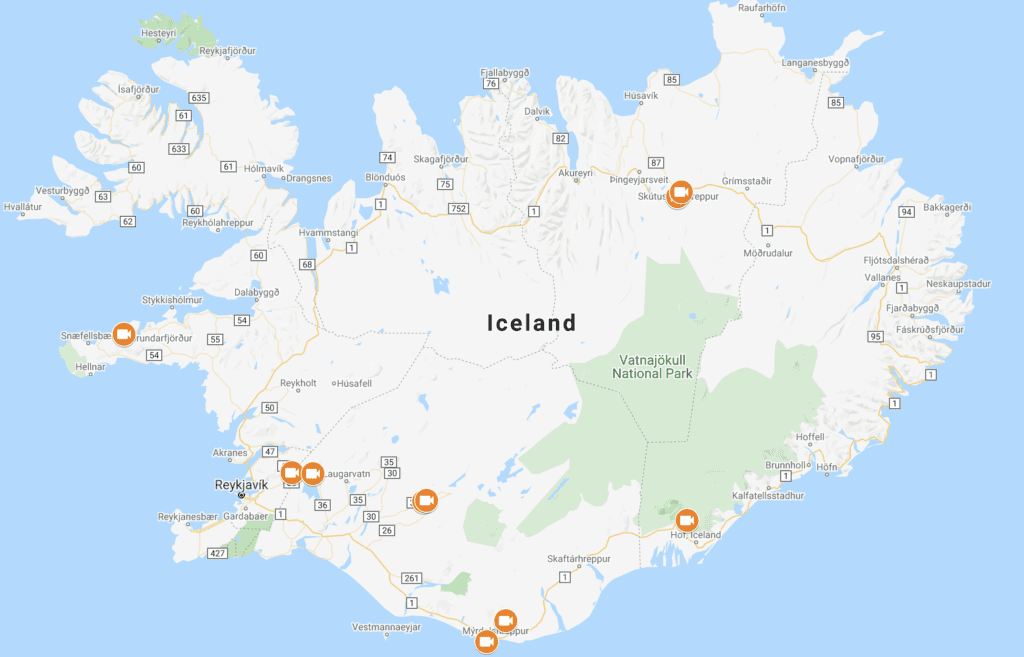 I hope you guys are so excited for the final season, and don't forget to tune in April 14th for the premiere of the final season. I'll be watching with you. It's going to be so amazing. All right, my friends, I'll see you next week for another Iceland video. Until then, Team Stark all the way. Happy planning, friends.

SUBSCRIBE for new Iceland tips every week!
Pin it for later!