Driving in Iceland and soaking up the stunning scenery is one of the BEST ways to see this beautiful country!
If you're ready to hit the road and explore Iceland's breathtaking landscape by car, I couldn't be more excited for you.
But when it comes to planning an Icelandic road trip, preparation is key.
I want you to be enjoying your trip to the fullest – not stressing about Iceland driving rules or wishing you'd done more research beforehand!

So in this post, I'm giving you a roundup of the biggest do's and don'ts when it comes to driving in Iceland.
Regardless of whether you're a veteran road-tripper or a first-time adventurer to Iceland, these tips will help you navigate the country's roads with ease.
Let's hit the road!
But first things first…
Is It Easy To Drive In Iceland?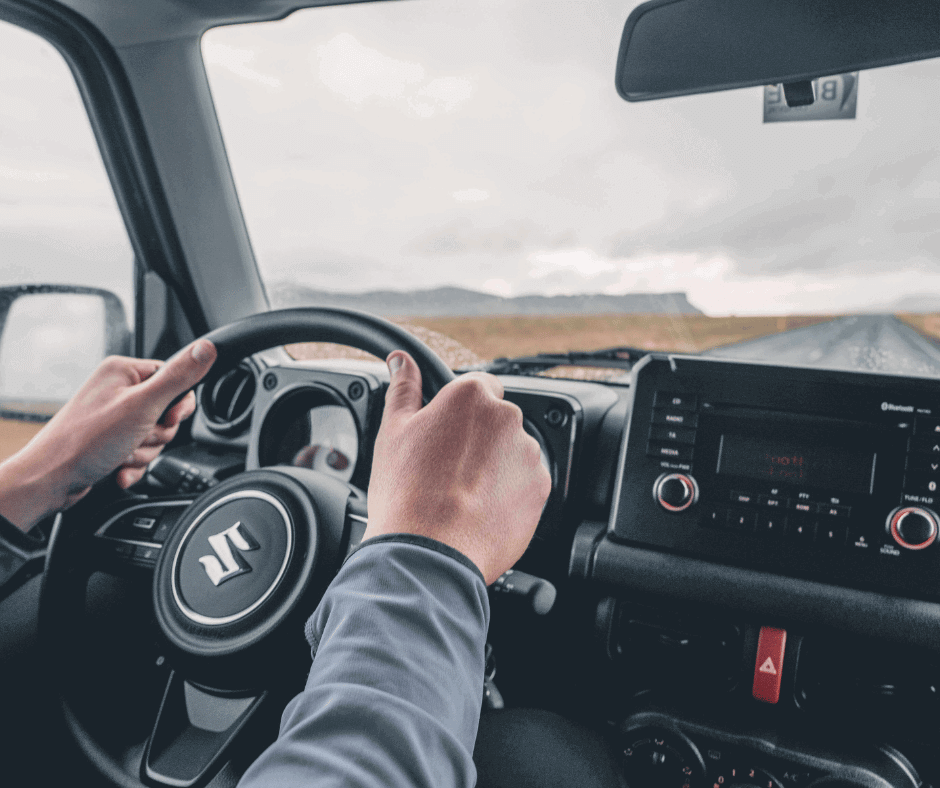 The answer is…it depends.
If you're mostly staying around Reykjavík and the Ring Road, driving in Iceland is SUPER easy! Especially if you're traveling during the summer months.
However, driving in the Highlands and on F-roads can often be challenging, especially if you're not used to rough terrain or mountainous climbs.
Driving also becomes more unpredictable in the winter months, when road conditions in Iceland can change rapidly.
If you're driving in the wintertime, be sure to rent a 4×4, bookmark this blog filled with Iceland's driving rules, and you'll be smooth sailing.
Now, let's get into the 8 most important do's and don'ts when it comes to driving in Iceland!
Do Not Stop On The Side Of The Road
Let's kick this post off with the MOST important Iceland driving rule.
DO NOT, under any circumstances, stop on the side of the road. If you take ANYTHING from this blog post, let it be this!
If you're unfamiliar with Icelandic roads, let me paint a picture for you…
There are two tiny lanes, with zero shoulder and NO room for forgiveness.
If you stop on the side of the road, not only are you endangering yourself, but everyone else on the road too.
It doesn't matter if you see the most breathtaking landscape that you want to photograph or a beautiful Icelandic horse you want to get close to.
There's NO good reason for pulling over on the non-existent shoulder in Iceland.
Tourists have died this way so it's simply never worth the risk. Period.
If you need to pull over, make sure you find a small driveway or area where it will be safe to do so.
DO NOT Drive Off-road In Iceland
Want to help preserve Iceland's beautiful nature?
Then please, do not drive off-road!
It doesn't matter if it's sand, moss, or snow – off-roading in Iceland is always a bad idea. Not to mention, it's also illegal. Get caught driving off-road and you'll end up with some pretty steep fines.
Often, the tracks that get left behind by offroaders cause permanent damage to Iceland's delicate ecosystem.
So stick to the designated roads, and you'll be doing your part to protect Iceland's natural beauty for generations to come.
DO Always Wear Seatbelts And Have Headlights On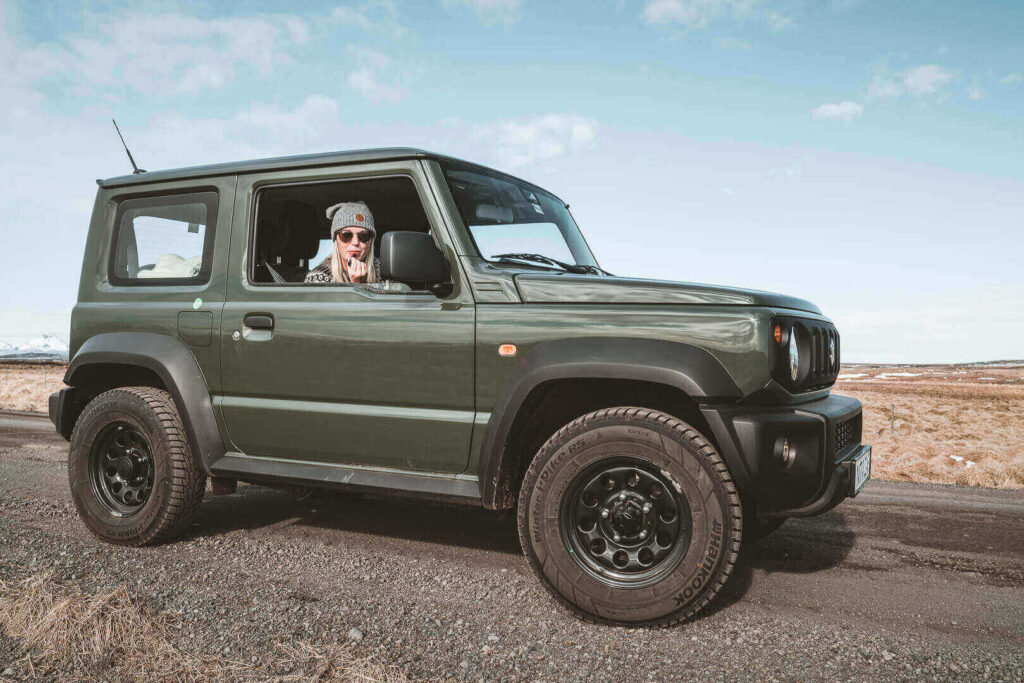 Make sure to keep your headlights on and your seatbelt fastened at all times while driving on Iceland's roads!
It's the law.
Not only will this keep you safe, but it'll also make sure that other drivers on the road can see you. Weather conditions in Iceland can change quickly, even during the day, so keep your headlights on to stay visible to other cars on the road.
Taking these simple steps can help reduce the risk of accidents and make sure you have a safe, enjoyable road trip in Iceland!
DO Watch Out For Hazards
The number one hazard when driving in Iceland might surprise you…
And that's SHEEP!
The adorable, fluffy creatures that roam Iceland's countryside often wander onto the roads, creating quite the roadblock for drivers.
While it could be one sheep that crosses your path, it could also be a whole herd!

And as sheep are blissfully unaware, it's up to you to keep your eyes peeled for them.
It's also a good idea to check the weather forecast before hitting the road, so you can be prepared for any unexpected conditions.
Whether it's sheep, sand, or even hail, you never know what Iceland will throw your way…so drive slow, and be on the lookout for any and all unpredictable hazards!
DO Respect Iceland's Speed Limits
Another important thing to keep in mind is to always follow the speed limits in Iceland.
The speed limit on the main ring road or most of the main roads in Iceland is 90 kilometers per hour (about 55 miles per hour), which may feel slow at times, but it's crucial to stick to this limit.
There are speed cameras all over Iceland, and if you get caught speeding, you'll receive a hefty fine.
Even if there isn't a police officer around to catch you, these cameras will snap a photo of your license plate, and the bill will be sent to your car rental company. Depending on how fast you were going, fines can be as high as $1,000 USD, so it's just not worth the risk.
Remember to take it slow, enjoy the scenery, and get to your destination safely!
DO Research Iceland Gas Stations & Fill Up Whenever Possible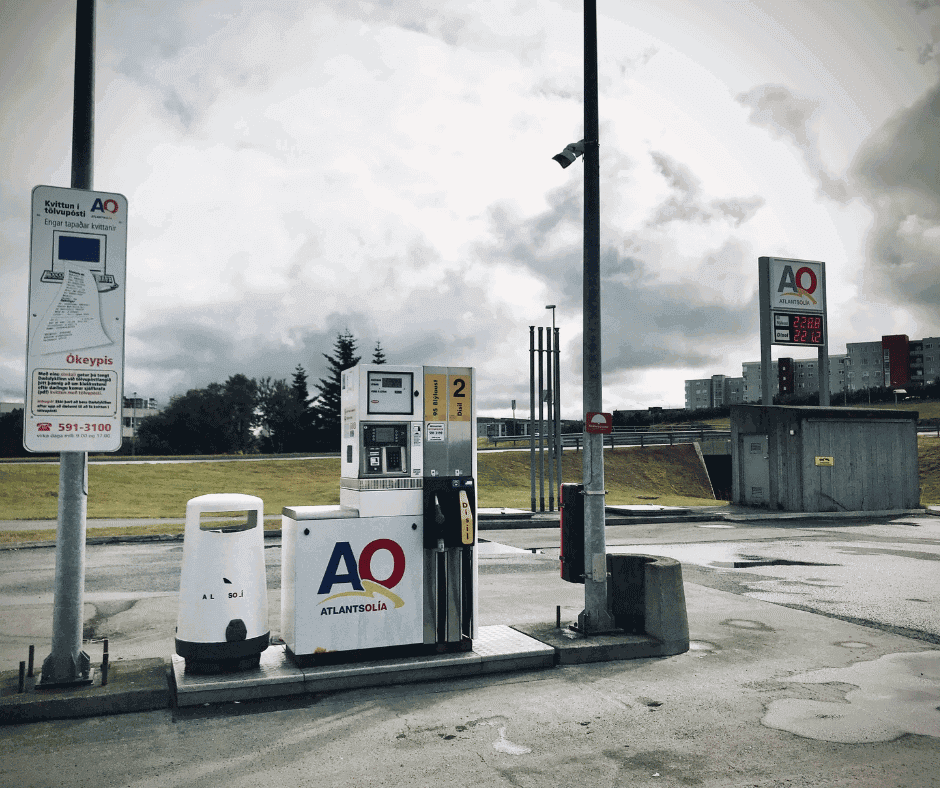 Fuel stations can be few and far between in Iceland, so it's essential to fuel up at every chance possible. Even the main Ring Road can have long stretches without fuel stations, so keep your tank full and plan your stops accordingly. You don't want to get stranded in the middle of Iceland with an empty tank!

Be mindful of where the gas stations in Iceland are located, and plan your route strategically.
Pssst. My Travel Guides and maps have every detail needed for your Iceland road trip – from where the fuel stations are, to where you can find bathrooms, stunning sights and hidden gems along the way and MORE. Check out my Iceland Travel Guides and maps here.

DO Obey The Road Signs In Iceland
When driving in Iceland, it's crucial to read and obey the road signs. These signs indicate whether a road is closed, impassable, or an F-Road – a road that requires a specific type of vehicle.
Ignoring these signs could lead to serious consequences, including trouble with your rental car company or even the law. Remember that the road signs in Iceland are in place for your safety, so it's crucial to follow them.
If you see a sign that says "closed" or "impassable," take it seriously and find another route. Play it safe and follow the signs to ensure a smooth and safe driving experience in Iceland!
DO Check The Road Conditions In Iceland Daily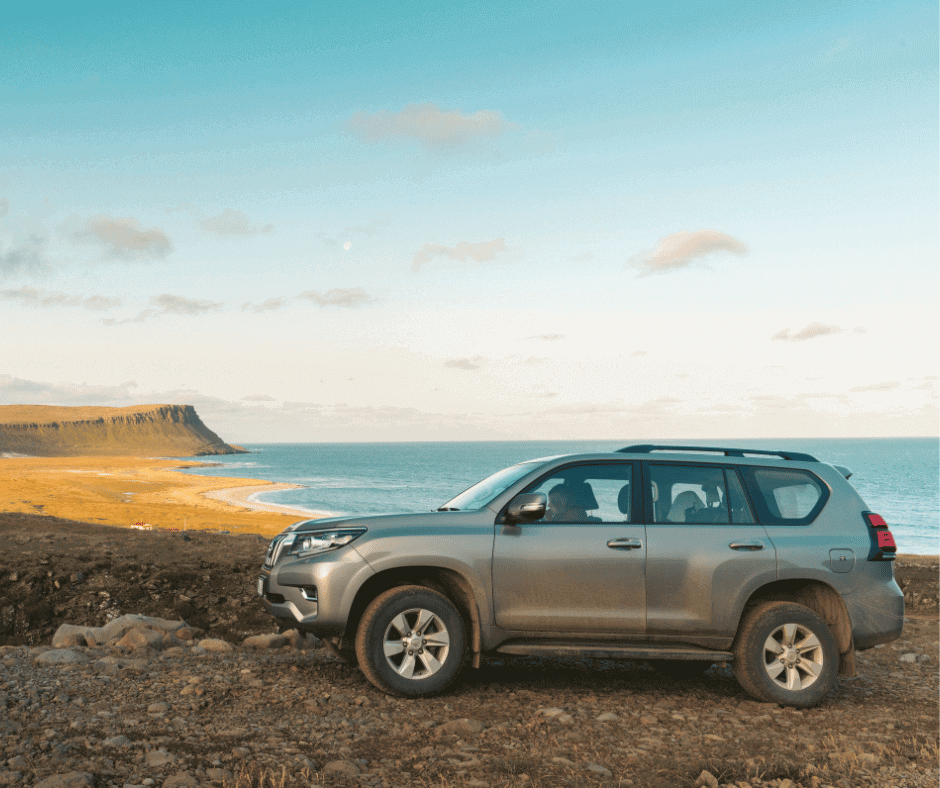 Want to know an amazing resource for staying safe while driving in Iceland?

I recommend checking out road.is for all the latest about Iceland's road conditions!
Whether the road you're wanting to take is slippery, impassable, closed or anything else – you'll be able to find out on this site.
They also have cameras so you can see some of the most recent activity on that road.
I recommend checking this site daily before you head out for your road trip, just to be extra careful. The road conditions in Iceland can change very quickly, so it's better to be safe than sorry!
After reading this post, I hope you feel more confident about driving in Iceland and are excited to explore all of Iceland's stunning scenery. Remember, attentiveness is key when driving in Iceland, and following these important Iceland driving rules will make sure you have a SAFE and successful trip!
If you're planning a road trip in Iceland, consider renting a car from Blue Car. With their reliable vehicles and excellent customer service, you can explore Iceland with peace of mind!

Plus, as a special offer for my readers, use get 5% at checkout for a discount on your rental when you book with my special Blue Car link!
*Discount will automatically be applied when you check out. Happy road-tripping! 🚘

Pin it for later!