Háifoss is one of those waterfalls that you just have to see to believe. This thing is absolutely stunning. Háifoss is a waterfall in South Iceland in the þórárdalur valley. Situated on the edge of the highlands, the drive to the falls makes you think you might have landed on the moon!
Just behind Glymur, Háifoss is the second highest waterfall in Iceland, falling 122 meters. And guess what?! It has an identical twin named Granni that is equally impressive. Granni means "neighbor" in Icelandic, and this is so adorable to me since the two waterfalls sit side by side. This is the ultimate two for one deal you guys!
Háifoss was one of the places that was on my radar when we first moved here.
Funny story actually… The first time we drove out to Háifoss, a huge fog rolled into the valley so we only saw the falls for about three minutes. Not being completely satisfied with my Háifoss experience, we went back the next weekend after a huge snowfall. This was a completely different trip in all aspects. The drive was more challenging as we had to plow through huge snow drifts, and it was one of the coldest and windiest days I have ever seen. Good thing we had clear blue skies which made for some gorgeous photos!
I couldn´t believe how big this gorge was. Háifoss and Granni are obviously and impressive and worth the trip to the middle of nowhere. Now it´s just up to you to decide if you think it is more beautiful with or without snow!
Háifoss without snow: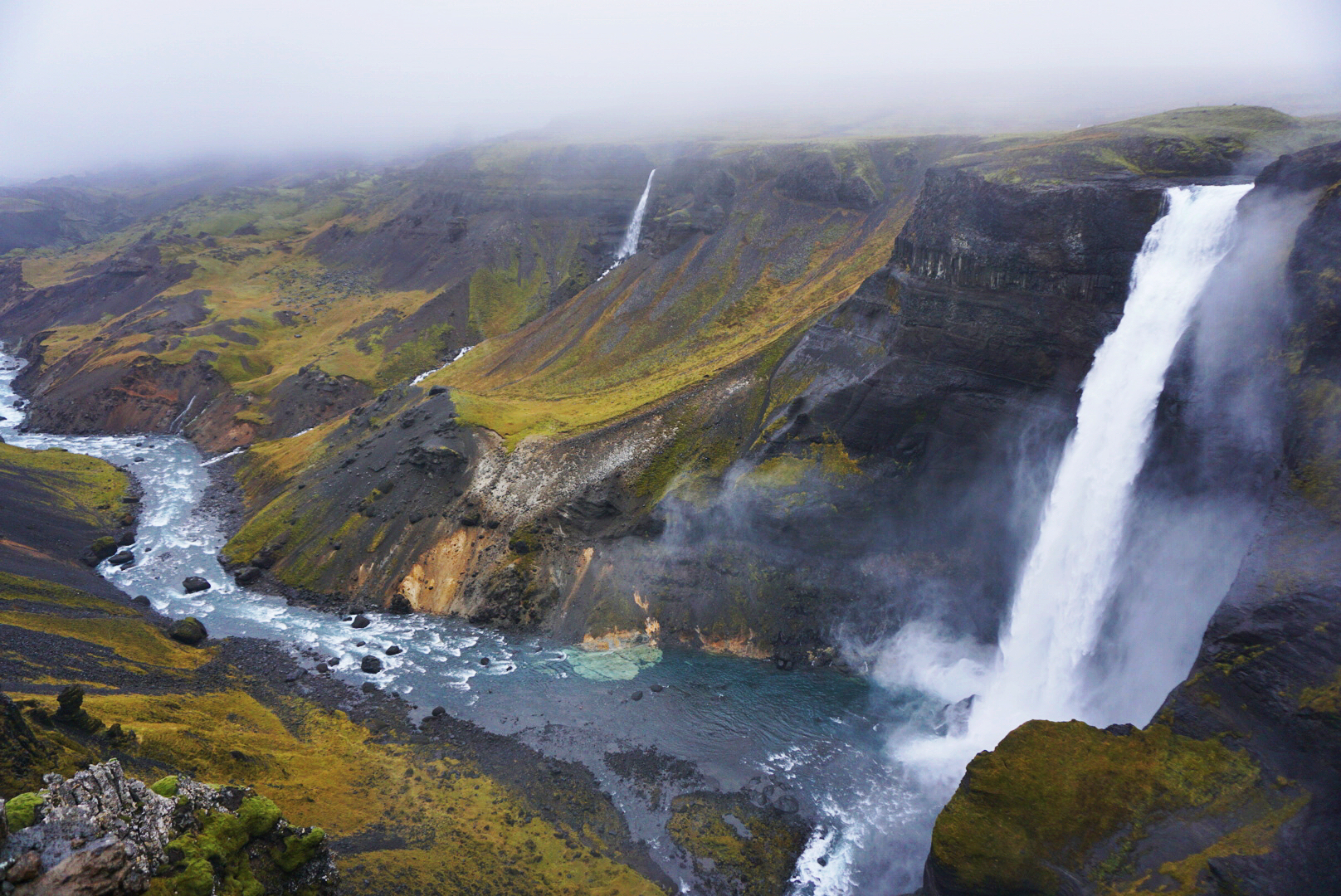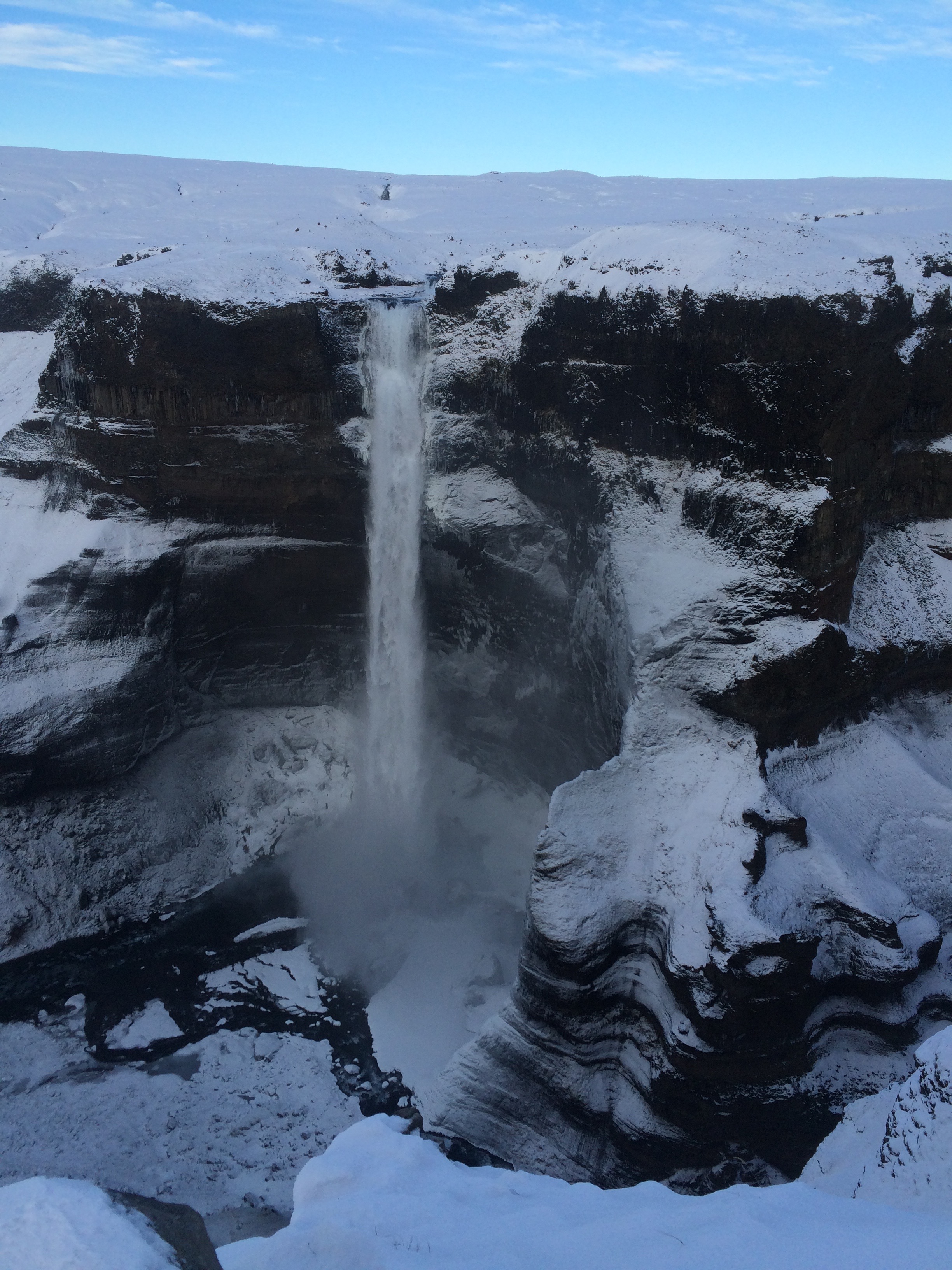 Directions to Háifoss:
From Reykjavik, head South on Route 1/the Ring Road. You will drive through the adorable towns of Hveragerdi and Selfoss (stop in for a bite to eat or delicious ice cream!). About 15km after Selfoss, you will see a sign for Route 30 towards Flúðir, turn left. Drive for 18km and turn right onto Route 32. Drive 40km and enjoy the unbelievably beautiful scenery! Just as you feel like you are in the middle of nowhere, you will see a gravel road on your left with a small sign for Háifoss and Stöng, turn here. The gravel road leading back to the waterfall is further than you think – keep driving and you will eventually end up at a parking lot. From here you will need to walk a short distance to the falls. No hiking or climbing required.
Do I need a 4wd?
I have heard of people getting to Háifoss with their own personal car, but I have to say I highly recommend a 4WD. The first time we went there was standing water across the gravel path that we had to cross. Had it not been for our SUV, we would not have been able to pass. If you are traveling in a small car, I would not advise the route from the main road to Háifoss. Rental companies have strict regulations on where you are allowed to go with your rental vehicle. It is best to respect their advice rather than forcing the route and risking additional fines. You want to be on the safe side as this is pretty far out there. If you break down or get stuck it will be a while until help can arrive. Maybe hitch hike if you only have a 2WD and really want to see it?!
When should I visit Háifoss?
Although the falls were beautiful to see with snow, I would highly recommend visiting in the summer months (June – September). Because of the location in the valley, the winds were so high that it wasn't as enjoyable of a trip. Not only that but the drive back is difficult enough in the summer, adding in snow and possible drifts makes it quite risky especially if you don´t have a huge 4×4. If you want to enjoy the falls in all of their beauty and spend as much time as you would like, make it a summer trip! Bonus: if you are on your way to Landmannalaugar it is right on your way!
---

Question: Which one do you like better, Háifoss with snow or without snow?

Pin it for later!