Volcanoes are such an incredibly interesting force of nature. They can be very different in appearance, but all are windows to how Iceland came to be. In Iceland visitors can take in unprecedented, breathtaking views, awe-inspiring hikes and yes, even drive to a few of these volcanoes. My comprehensive guidebooks and itineraries offer a variety of opportunities to explore Iceland's most popular volcanoes – safely. Volcanoes also generate geothermal energy and this is often used as a source of electricity and power as well as hot springs throughout Iceland! As mentioned before, the hot springs culture is BIG in Iceland but that's a topic for another day.
How many volcanoes are there in Iceland?
Iceland is home to over 130 volcanoes with eruptions occurring, on average, every 5-10 years. In fact, thirteen systems have erupted since the country's settlement, and most were from fissures or shield volcanoes that produce basaltic lava – have you seen the Basalt Columns?
According to learnz.org, Many people visit Iceland to see volcanoes, especially after the challenge to pronounce Eyjafjallajökull grabbed the world's attention in 2010 by spewing ash into the atmosphere — and bringing European air travel to a halt.
Iceland is among the most volcanically active places in the world, with roughly one eruption every five years, not including submarine eruptions. Volcanic activity is a fact of life in Iceland, where people have learned to live with both its drawbacks and considerable advantages, such as geothermal energy and dramatic natural beauty. Since the Middle Ages, a third of all lava that has covered the earth's surface has erupted in Iceland.
Of the roughly 130 volcanoes in Iceland, the most common type is the stratovolcano — the classic cone-shaped peak with explosive eruptions that form a crater at the very top (such as Hekla and Katla on the South Coast). There are also a few dormant shield volcanoes — with low-profile, wide-spreading lava flows. Eruptions from fissure vents — long cracks in the earth's crust — are also common in Iceland.
Active Volcanoes in Iceland
Iceland is often referred to as the "Land of Fire and Ice" because it is situated over a hot spot and the Mid-Atlantic Ridge (where the Eurasion and North American tectonic plates are actually moving away from each other). This typically results in multiple volcano sites (some visible, and some are even under the glaciers!) as well as recurrent volcanic activity. Volcanoes define the land, and their eruptions create gorgeous landscapes filled with everything from lava fields, to black sand beaches, to peaks and craters.
Icelandic eruptions occur more frequently than one might think and are a direct result of how Iceland was formed. Iceland emerged around 20 million years ago dating it as one of the youngest countries in the world. As the plate boundaries of the Mid-Atlantic ridge spread apart, magma was released from the center of the earth (remember that hot spot?), creating what we now call Iceland. Some of the oldest parts of the country are the mountains of the Westfjords and Eastfjords. (You really have to see it to appreciate it and you will not be disappointed!)

To be fair, Iceland is still a masterpiece in the making with new eruptions and lava flow creating new earth added to the glaciers moving and melting – carving out new canyons. It really is the land of fire and ice!
The island has about 30 active volcanic systems, and on March 19, 2021, a fissure opened on the Reykjanes Peninsula after three weeks of ongoing seismic activity. What started as lava flowing from a 200-meter fissure quickly grew to 500 meters in length. Over the following weeks, several vents opened, and increasing lava flow continued to fill up Geldingadalur valley and spilled over into neighboring valleys. Less than two months after the onset, one massive crater took over, spraying magma up to 300 meters into the air like a geyser. This unique phenomenon could be seen from various points, including the Reykjavik skyline.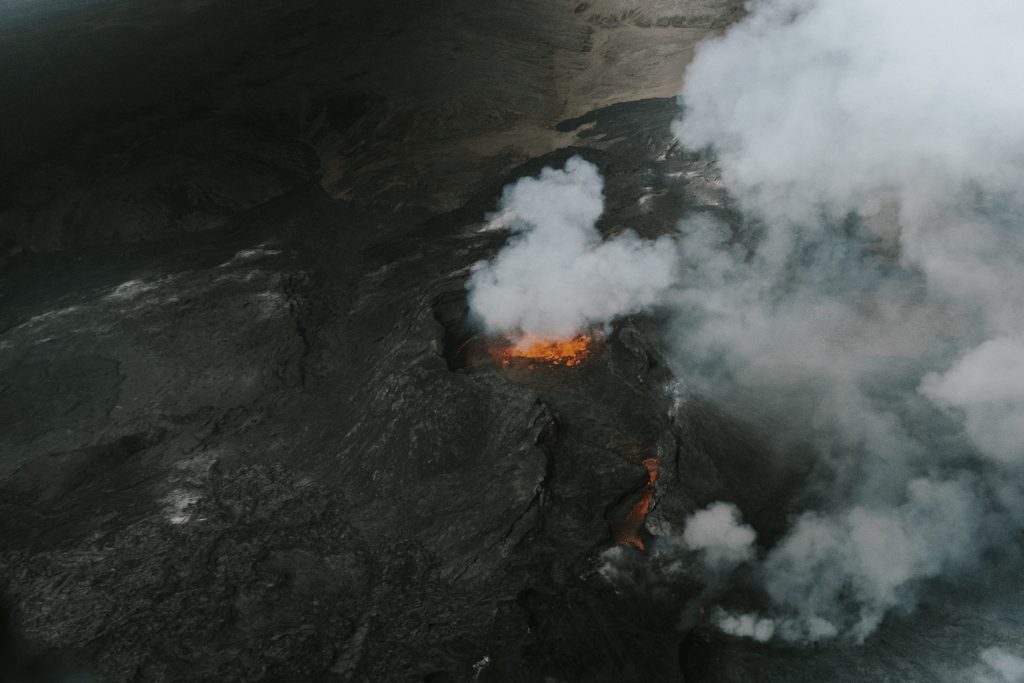 Thrihnukagigur (Þríhnúkagígur) the now dormant volcano is about a half-hour drive from Reykjavik. Translated, it means three peaks crater and while it is a smaller than the average volcano, you could actually fit the Statue of Liberty in the magma chamber! It is one of the only volcanoes you can actually go down into and stand on the very ground where lava once retreated back into the earth.
Hekla is a stratovolcano and is the most famous volcano in Iceland but is also one of the most famous in world. It resembles an overturned boat with it's keel resting on a series of craters and is situated in the south of Iceland. The area surrounding Hekla was once forested but with the many eruptions and deposits of tephra onto the landscape, it's been difficult for anything to grow and the landscape is susceptible to erosion. Hekla has erupted 20 times since Iceland was settled, with the last time in the year 2000.
Recent volcanic eruptions that have occurred since the mid-1970s:
Eldfell Heimaey, the inhabited island of the Vestmannaeyjar archipelago, erupted without warning in January 1973. Residents had to evacuate on fishing boats, and the lava flow caused massive destruction in the town.
Eyjafjallajökull Located under the glacier in South Iceland and perhaps one of the most famous volcanoes, the ash from the eruption disrupted airspace for days affecting millions of travelers in April 2010. Eyjafjallajökull, sometimes referred to by the numeronym E15, is one of the smaller ice caps of Iceland, north of Skógar and west of Mýrdalsjökull. The ice cap covers the caldera of a volcano with a summit elevation of 1,651 meters (approx. 5,416 ft).
Grímsvötn Located under the Vatnajökull glacier in the central highlands, is Iceland's most active volcano erupted in May 2011 and sent a massive ash cloud into the sky. Grímsvötn is a subglacial volcano and it's fissure system is host to a dense geothermal area. With every eruption in Grímsvötn there follows a glacier burst that comes out in the rivers that lie out from the glacier to the south coast of Iceland and can sometimes cause localized flooding.
Bárðarbunga The largest eruption in over 200 years lasted from August 2014 to February 2015. Out of an abundance of caution and due to concern about the Sulphur dioxide gas pollution and glacial flooding the area was closed to the public for quite some time. Once it was determined the area was safe to visit, it was reopened later that spring.
Fagradalsfjall A Tuya volcano (flat top and steep sided) most recently erupted again in the fall of 2022 and is believed to still be erupting though there are no visible signs of lava. Before that, an ongoing eruption started in March 2021 after three weeks of earthquakes and drew visitors because of the abundant displays of lava flow. This volcano is located on the Reykjanes Peninsula near the village of Grindavík, so it's more easily accessible than some other volcanoes.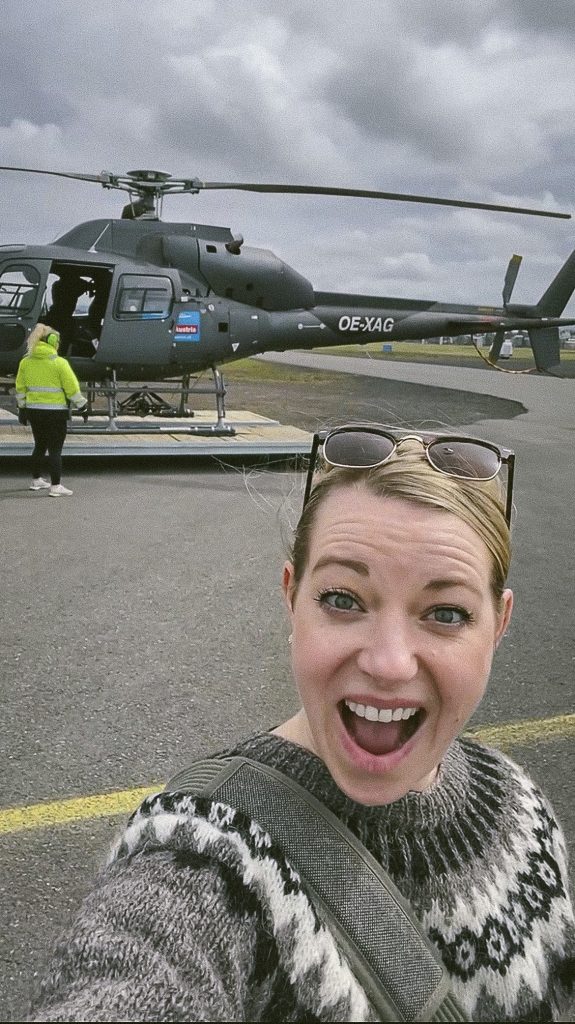 Volcano tours in Iceland
While Iceland does have an extensive monitoring system for them, volcano eruptions can happen at any time and are often preceded by an earthquake or a series of earthquakes – so travelers should always be aware. Of course, you can always plan a hike to a volcano on your own, but tours are probably the best and safest way to see and experience a volcano. Tour companies in Iceland always keep safety at the forefront of the experience so you can be assured that when you go you are in great hands. I've said this hundreds of times before – safety always comes first. There are so many variables (hot lava flow, toxic gases, ash, wind speed, flooding) to consider when planning a trip to a volcano, especially an active site, but with an expertly led tour, you won't have to worry about any of that.
There are so many ways to see a volcano, from descending into the magma chamber, to taking a Super Jeep across lava fields, to flying over and peering into the mouth and everything in between – if you really want to see a volcano, make sure you do so safely.
Iceland with a view!
Iceland has such a diverse and spectacular landscape and its volcanoes really showcase the fire and ice beauty. Come and experience the best volcano tours. What are you waiting for? Iceland is waiting for you.

Resources: Water & Fire, Wikipedia, Iceland Volcanoes, Lonely Planet: Experience Iceland, Inside The Volcano