From lamb and fermented shark to skyr and ice cream, it's no secret that Iceland looooves animal products. So what is a vegan to do?! Don't worry friends, I'm here to help!
Disclaimer: I am NOT a vegan or a vegetarian, so I am NOT an expert on this topic. However, like any good travel blogger, I've researched the following information to bring it to you! With that being said, don't know the lingo. I'm also combining vegan and vegetarian in this video – you'll hear why.
I know how important it is to eat the way you want, even when on vacation. I'm a traveler myself and even though I'm not a vegan, I like to make sure to have healthy options when I travel. So I hope this video empowers you to have the best Iceland trip ever, even when it comes to eating!
Bring your own food to Iceland
According to Icelandic customs, you are allowed to bring up to 3 kilograms or 6.5 pounds of food into Iceland. This excludes raw products such as eggs, raw meat, or dairy.
Grocery shopping
Kronan has a good selection of some new vegan products and obviously the usual fruits and vegetables just be prepared to pay more than you're used to.
Bonus is the cheapest grocery store in Iceland and has my faaaavorite vegan veggie wrap.
Many gas stations will also have Subway, smoothie bar, or small cafe with vegetarian options.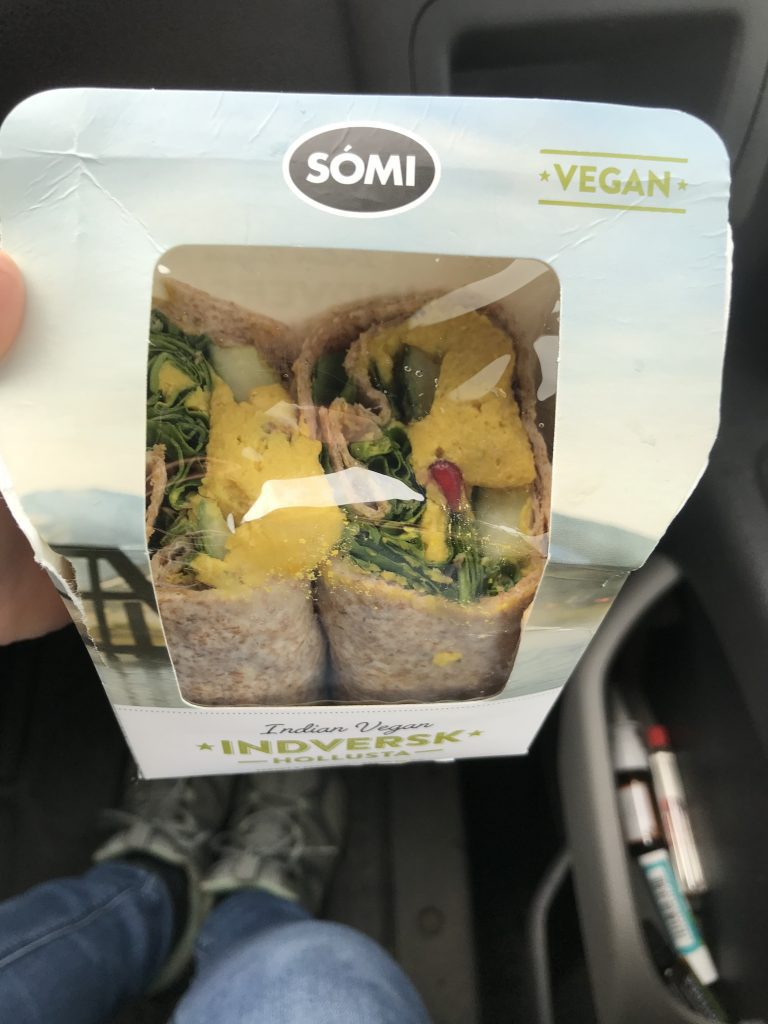 Vegan or Vegetarian restaurants
Obviously, there are more options for specific restaurants in Reykjavik, and more difficult to find good options outside of the city.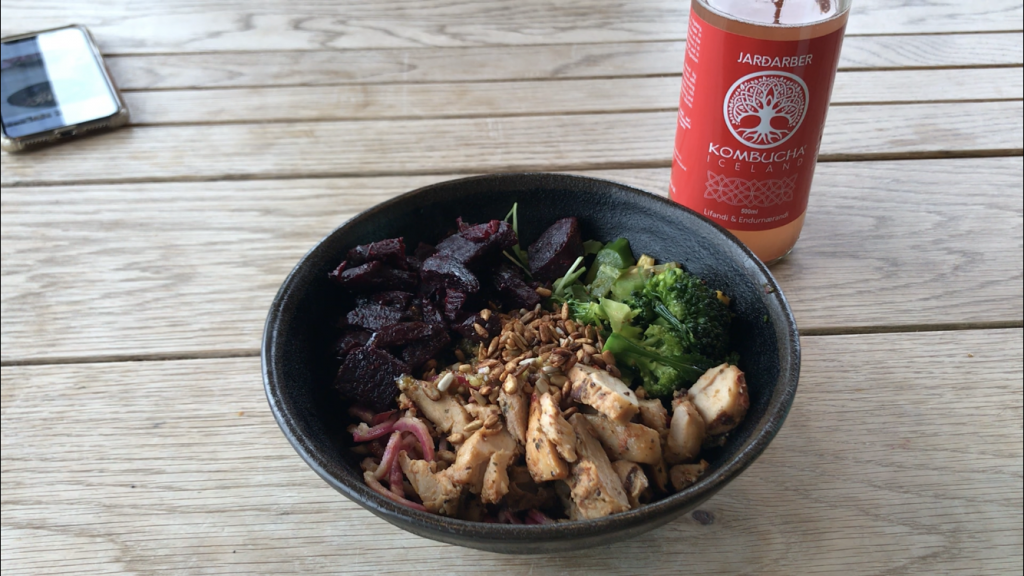 Places I have tried and love:
Eldsmiðjan
My personal favorite pizza place in Reykjavik, and they have vegan pizza! WIN.
Location: Laugavegur 81, 101 Reykjavík, Iceland
Heilsuhúsið
Lots of options for vegan treats plus a delicious juice bar.
Location: Laugavegur 20
Eldur + Ís
This cute cafe is located at the intersection of Laugavegur and Skólavörðastígur so you can't miss it when you're heading up to Hallgrímskirkja. They make delicious crepes with vegan filling options. Yum!
Location: Skólavörðustígur 2, 101 Reykjavík, Iceland
Hraðlestin
Indian street food so if you're looking for a full flavor spicy meal, this is the place to go. Helloooo hummus!
Location: 8, Lækjargata, 101 Reykjavík, Iceland
Noodle Station
This place has simplicity and deliciousness down to a science. The Thai-inspired vegetarian soup with rice noodles in a deliciously flavored broth. You don't want to miss this place, the heaping bowl of goodness will warm your belly and your soul.
Location: Laugavegur 103, 101 Reykjavík, Iceland
Cafe Babalú
Adorable cafe serving coffee, vegetarian chili, and a vegan carrot cake.
Location: 22, Skólavörðustígur, 101 Reykjavík, Iceland
Joylato
You didn't think I was going to make a list of places to eat and not include an ice cream place, right?! Joylato is awesome – not only do they have an adorable shop with friendly service, but they have delicious vegan ice cream!
Location: Njálsgata 1, 101 Reykjavík, Iceland
Glo
Glo is my go-to place if I'm eating out. Everything from the menu to the decor is exactly what I look for in my food choices. Their food is all organic and prepared using minimal ingredients. The menu is simple with options for gluten-free, vegetarian, vegan, and raw.
Location: The easiest location is on Laugavegur, but they also have a spot in Skeifan which is connected to a huge health food store. If you can make it over there, you will be able to find some real vegan/vegetarian gems!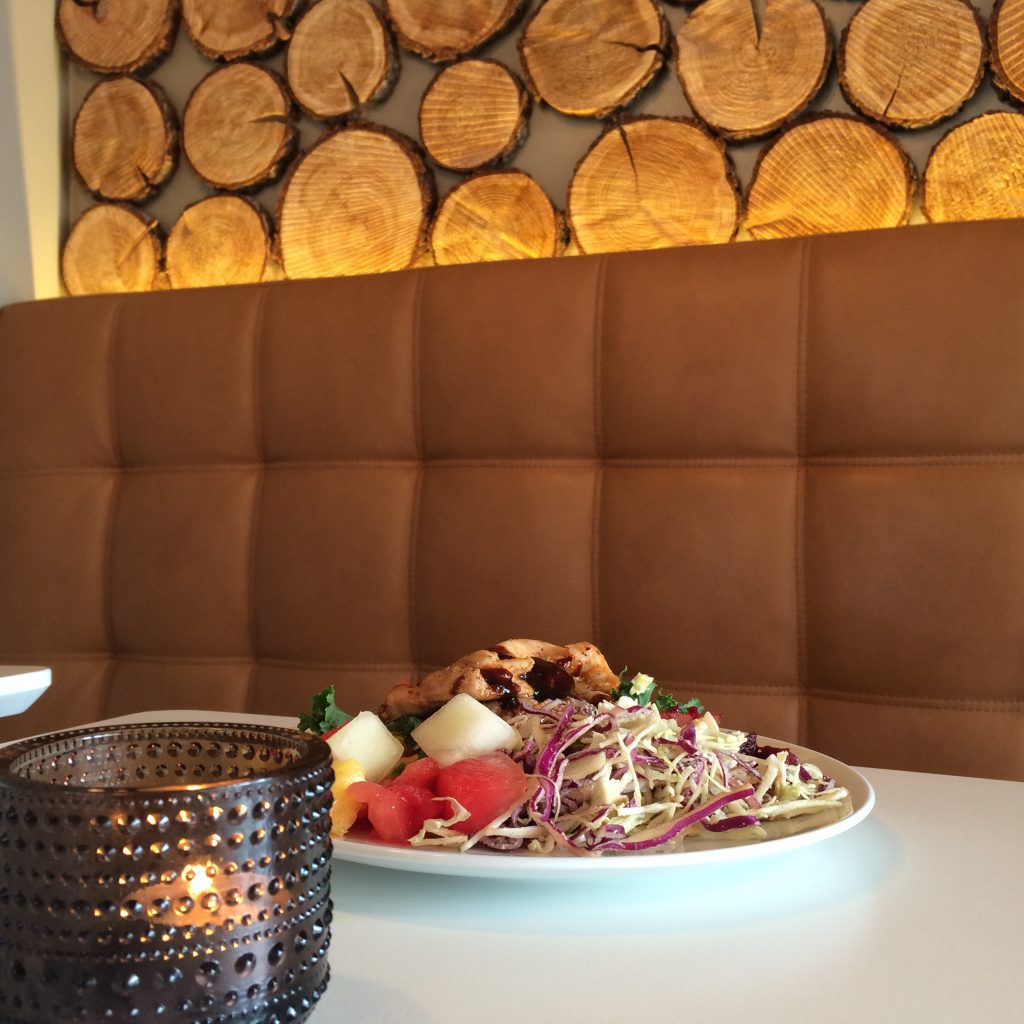 Other options in Reykjavik:
Kaffi vinyl
They have a full vegan menu with great vibes, plus choose from oat, soy, almond, or coconut milk for your coffee.
Location: Hverfisgata 76, 101 Reykjavík, Iceland
Nat
Salads, smoothies, and fresh-pressed juices…this is the ultimate healthy stop!
Location: Laugavegur 85, 101 Reykjavík, Iceland
Bergsson Mathús
A well-known restaurant in the city, offers a vegan breakfast plate.
Location: Templarasund 3, 101 Reykjavík, Iceland
Other Resources
Videos:
Things to Do & Vegan Food in Iceland! by Vegan Travel
VEGAN FOOD IN ICELAND | ICELAND VLOG by Simply Plant Food
Blogs:
My friends at Arctic Adventures wrote a huuuuuge blog post with a great list of vegan restaurants in Iceland – read it here!
---
Happy planning,