There's a sigh in the air as the crowds subside, the seasons change and the beauty of the northern lights take over the night sky. Let me tell you, Iceland in October is seriously underrated!
But all the epic experiences happen in summer, right?
Nuh-uh! Iceland's charm doesn't take seasonal breaks.
It's time to put on your layers and waterproof gear and come with me as I show you what Iceland in October has in store for you.
Table Of Contents
Is October a Good Time to Visit Iceland?
Despite the cooler weather, you still have A LOT of great things to look forward to.
Let's check out a few reasons why October IS a good time to visit Iceland.
Fewer crowds: Most of the summer visitors have left and the scenic landscapes are all yours to enjoy. Now you can finally get that Instagram-worthy shot without the crazy crowds!
Budget-friendly: If you plan your trip to Iceland in October, you may find awesome discounts on flights, accommodations, rentals, and tours. High season coming to an end = better deals at your fingertips! ✨
Accessibility: Luckily for you, most roads and hot spots are still accessible in October, with the exception of the F-roads (highland roads) that close in mid-September.
Aurora season: If you've been waiting for a chance to witness the magical phenomena of the northern lights, October is an INCREDIBLE time to plan a trip to Iceland. Trust me, catching the aurora will definitely be one of the highlights of your trip!
This autumn month is a total show-stopper! 🙌
Daylight in Iceland in October
The most important thing you need to know when planning your trip is the number of daylight hours Iceland has in October.
At the start of the month, you can enjoy up to 12 hours of daylight. It usually tapers down to about 8 hours by the end of the month as the weather gets colder.
Get the most out of your experiences with plenty of time to explore by planning your sightseeing hours based on how much daylight you have.
Iceland in October: Northern Lights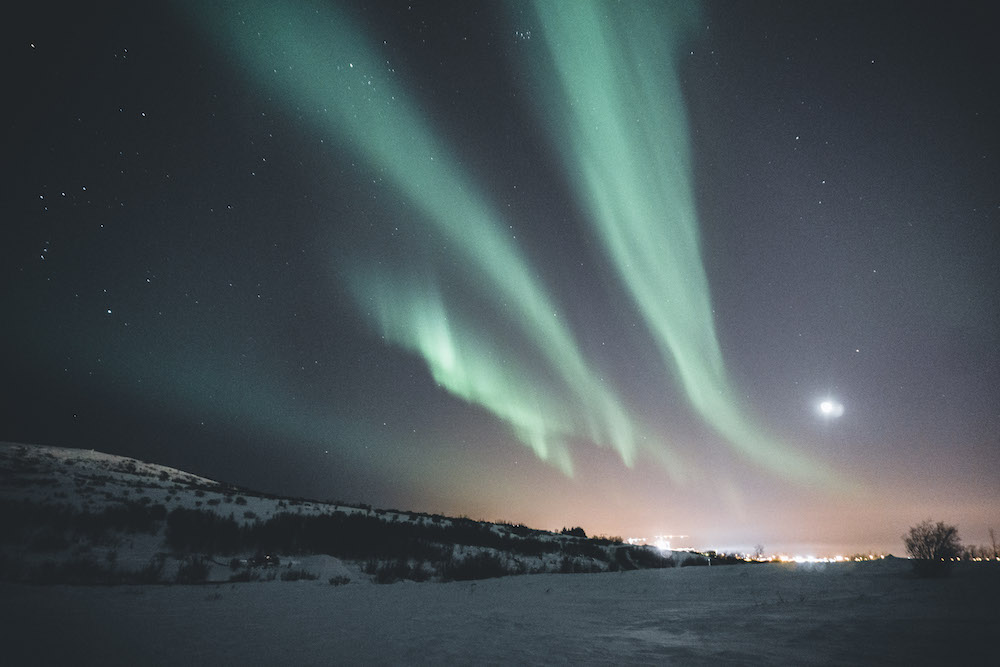 Can you see the northern lights in Iceland in October? You certainly can – and let me tell you, witnessing these lights is worth ALL the hype.
October is a fantastic month to see the Aurora flares. Fewer daylight hours means the sky is finally getting dark enough for the lights to be visible.
Fun fact: Did you know that Reykjavik is the only capital city on the planet where you can see the Northern lights? There are, however, factors that affect visibility like cloud cover, full moon, etc!
October Weather in Iceland
In some places, autumn is ushered in with a whisper – a slow and steady transition of weather conditions.
But, in Iceland, autumn in October starts with a bang!
You'll likely experience all four seasons in a day…and may even witness snow!
October is the rainiest month – with an extra serving of strong wind for good measure. 🙂
Seriously though, I've experienced such strong winds that it felt like I was in the middle of a hurricane!
I suppose you can't really expect a place known as the land of fire and ice to be subtle, and the weather in Iceland in October is no exception.
Temperatures In Iceland In October
The average temperature in Iceland in October can range from 0-10 degrees Celsius or 32-50 degrees Fahrenheit.
Fall in Iceland can get pretty chilly!

And you're probably wondering…
Does it really snow in Iceland in October?
Yep, it definitely can. The north of Iceland and the west sphere are colder, therefore these areas get snow first. While it's not an everyday show like the winter months from November to March, October sometimes likes to get the party started early and send the first flurries down!
What To Wear in October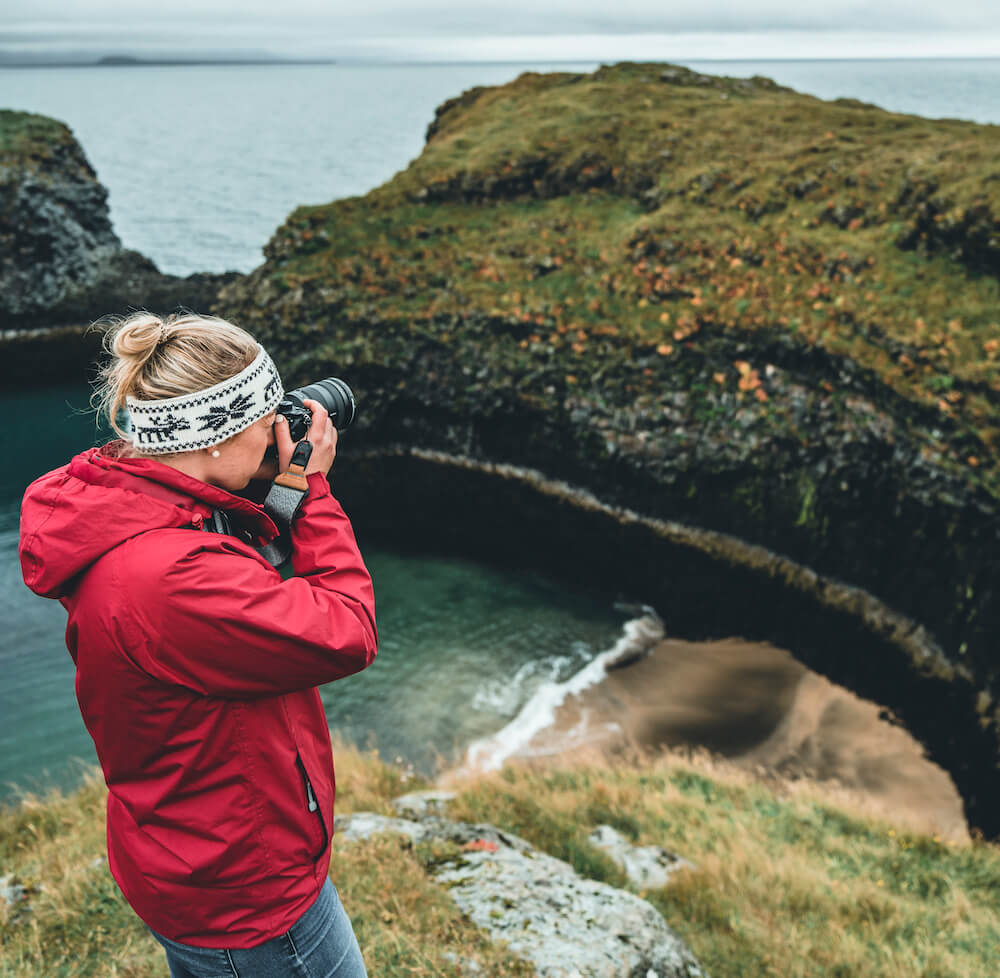 Weather changes can be intense, but don't let that dampen your plans.
Pack wisely and make sure that you're well-prepared for the elements and all the activities you want to do.
Here are a few things to consider when choosing what to wear:
Outerwear: Outerwear: Think: waterproof. Trust me, you wouldn't wanna be caught in a downpour rocking denim. It's a soggy situation you wanna avoid at all costs. 😂
Layers: Start with warm thermals that you can add to or remove depending on the weather that day.
Footwear: You're probably going to be walking A LOT. Now is not the time to bust out those Jimmy Choos. Invest in some good hiking boots, it's worth the investment.
Travel must-haves: Don't forget to bring your camera and chargers (you'll be taking lots of pictures, so be prepared). Also, pack a water bottle and backpack rain cover – you're definitely going to need them!
If you're not too sure of what else to bring or what to wear in Iceland in October, I've put together an autumn packing list of what you may need.
Sightseeing Availability
Most areas of Iceland are still accessible during October. So, you'll still be able to visit popular spots like Reykjavik, Golden Circle, and Ring Road.
It's also highly likely that you'd be able to head into the Westfjörds.
When it comes to the Highlands of Iceland, this could be trickier. This region usually gets snow early in the season, so the highland roads usually shut down by mid-to-late September. So I wouldn't recommend including the Highlands in your October itinerary. But, you can always check to see if trips are possible once you're here, just in case!
As Iceland's temperatures dip in October, the landscapes start feeling different. There's a lot less animal activity as they migrate to warmer places.
As a result, you won't see puffins in Iceland in October. They usually come here to breed in the summer months and typically leave by late August or early September. If you were hoping to get a glimpse of them, it's best to plan your trip from early April to early August.
Important note: There are few things as beautiful as the leaves in their autumn colors. But, the wind in October is so strong that there's usually a very short window to view this transition. The timing isn't easy to predict, but when you happen to catch the fall colors, let me tell you – they're absolutely gorgeous!
Driving in October
Driving in Iceland is still relatively easy in October – if you take the main routes.
During the end of September and the beginning of October, some of the highland roads start closing down because of strong winds and sometimes even snowfall. Therefore, make sure you're checking Road.is every day before heading out.

October Festivals + Events
If you're keen on checking out the fun events and Festivals taking place in October, here's the rundown:
Reykjavik International Film Festival: The festival runs from the end of September through the first week of October with showings happening all around Reykjavik. It's a must-see for all movie buffs! 🎥

Halloween: Interestingly, Halloween isn't such a big deal in Iceland, but it is becoming more popular. You may be able to find a few events going on around Reykjavik.

Imagine Peace Tower: This memorial to John Lennon from Yoko Ono is located on Videy Island near Reykjavik. The cool thing is that it's visible from all parts of the city. The tower of light is illuminated into the air starting on October 9th, Lennon's birthday, and continues until December 8th, the date he was shot.
Things To Do In Iceland In October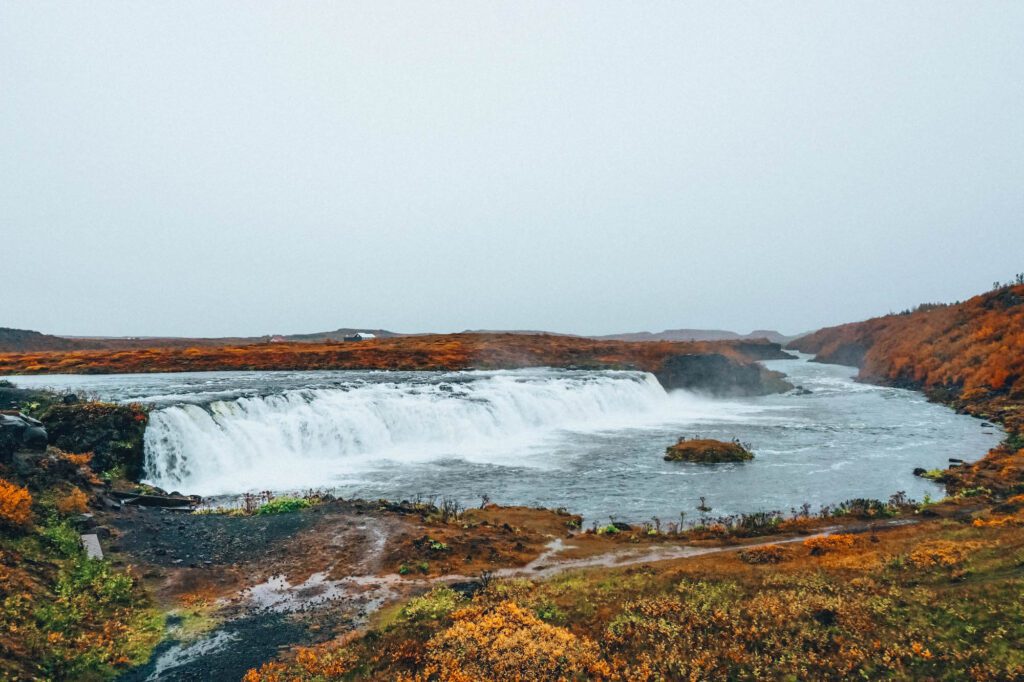 October is such a fun month and 🎵these are a few of my favorite things! 🎵
See the Northern Lights: If you're visiting Iceland in October, it's LITERALLY one of the best months to view this spectacular natural light show. Let's check it off your bucket list, shall we?!
Do a glacier hike: Popular destinations for glacier hikes include Sólheimajökull, Svínafellsjökull, and Vatnajökull. These hikes are an incredible way to see ice caves and ice formations and you can choose the difficulty level that's best for you.
Enjoy Reykjavik's bars and cafes: The city has a vibrant weekend nightlife, but if you're anything like me and prefer to keep it low-key, then the local cafes offer a cozy fall atmosphere to sip on a delicious latte or hot cocoa! ☕️
So as you can see, there are lots of things to do in Iceland in October.
If you found this helpful, make sure to check out my Travel Guides & Maps. It's a goldmine of insider tips, packing guides, and practical info that only the locals know. 😉
And guess what? All of my digital maps come with over 500 pinned locations – from highlights and hotspots to useful must-know places like rest areas, gas stations, campsites, and health clinics!

➡️ Get Your Hands On My Maps & Travel Guides HERE
Have I convinced you of the awesomeness that is Iceland in autumn?
Well then, let's make some memories!

Pin it for later! 👇🏾