Are you considering a trip to Iceland in June? If so, you're in luck! I've put together an extensive guide to help you plan the perfect June trip to Iceland.
In this post, we'll go over everything you need to know about traveling to Iceland in June, including the best things to do, weather conditions, and events and festivals. I'll also cover accessibility and what areas are open during this month.
So, whether you're looking to experience Iceland's incredible natural wonders or immerse yourself in its vibrant culture, keep reading to learn all about planning a June trip to Iceland.
Let's dive in!
Weather in Iceland in June
You can't talk about a trip to Iceland without covering the weather! Knowing what to expect weather-wise is one of the most important planning considerations, so let's get into what to prepare for when traveling in June.
Average June Temperatures
You can anticipate temperatures from three to 16 degrees Celsius or 37 to 62 degrees Fahrenheit, with an average temperature of nine degrees Celsius, or 48 degrees Fahrenheit.
Yes, just 9 degrees!
So while yes – Iceland warms up a lot compared to freezing months like January and February…you probably won't be busting out your bikini most days!

Unless, of course, you're visiting an Icelandic hot spring 😉
June brings a mix of it all when it comes to weather – sun, cloudy days, wind, and some rain, so pack accordingly.
Want to know *exactly* what to pack for your June Iceland trip?
Check out my FREE Iceland Summer Packing List!
Daylight Hours In June
One of the most important things to consider when planning your trip to Iceland is the number of daylight hours.
June is the peak of summer and therefore has the longest daylight hours of the year.

I'm talking 24 hours of sunlight a day!

You'll experience the peak of the midnight sun, a crazy natural phenomenon where the sun never sets.
June 20th, also known as the summer solstice, marks the longest day of the year, with the weeks before and after featuring the brightest and longest days.
My #1 pro tip to survive Iceland's daylight hours?

Bring a sleep mask to cover your eyes, so you can get some shut-eye!!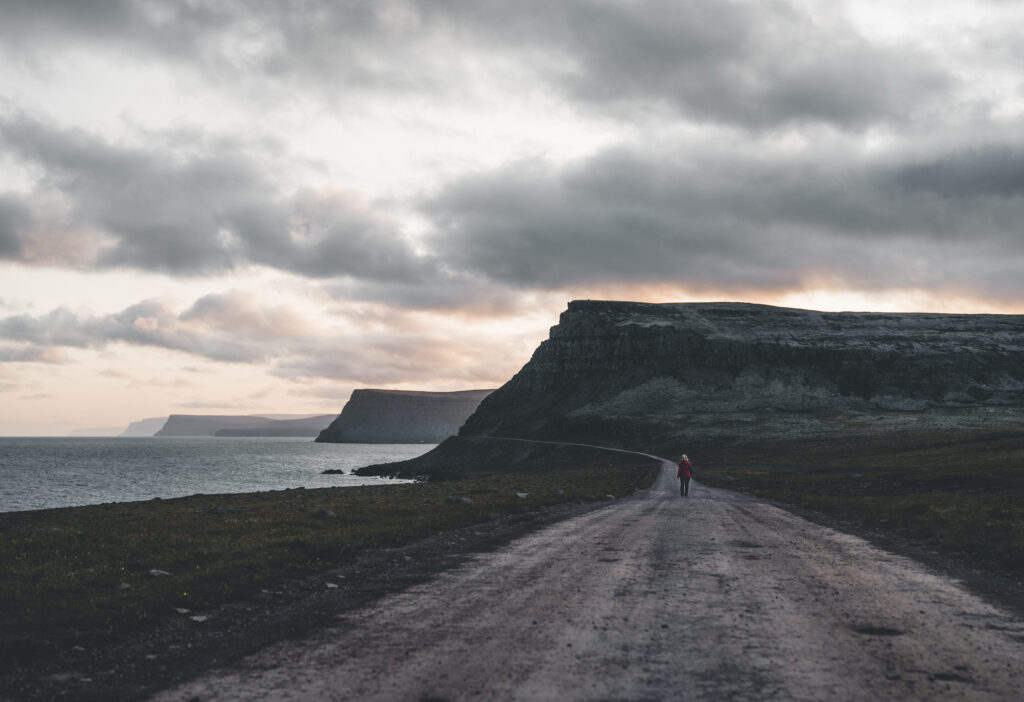 Chance Of Northern Lights In Iceland In June
While June in Iceland is known for its 24-hour daylight, it's unfortunately not the best time to see the Northern Lights. The sky never gets dark enough to see them. If you're determined to see the Aurora Borealis during your trip to Iceland, your best bet would be to plan your visit in the fall, winter, or early spring months. Check out this post to learn about the different seasons.
What to Pack for Your June Iceland Trip
If you're planning a June trip to Iceland, it's important to pack appropriately for the country's unpredictable weather. While it's *technically* summer, temperatures can still be chilly – and rain is always a possibility.

Here's what you bring in your suitcase to wear in Iceland in June…
A weatherproof shell, rain jacket, and pants are essential, as are a packable down jacket or vest, hiking pants, and thermal base layers. You'll also want to pack a hat, gloves, and a buff for additional warmth. For footwear, bring hiking boots and walking shoes, as well as flip flops for the hot springs.
Other items to consider include a swimsuit, quick-dry towel, sunscreen, head net, sleep mask, water bottle, camera, and electrical adapters.
Want a FULL packing cheat sheet for your summer trip to Iceland?

What Can You Expect When Visiting Iceland In June?
Almost everything is available for sightseeing in June, with access to the Highlands starting around mid-June when the Highland roads or F-roads begin to open.
This means you can start visiting Landmannalaugar, Þórsmörk, and other areas that were previously inaccessible!
And of course, all of Iceland's main attractions are easily accessible, such as Ring Road, Golden Circle, Snæfellsnes, Westfjords, and more. There are a TON of options for exploring Iceland this month!
Another bonus?

It's easy to drive in Iceland in June, and a two-wheel drive is perfectly fine for most summer travelers. However, keep in mind you *will* need a four-wheel drive for the Highlands!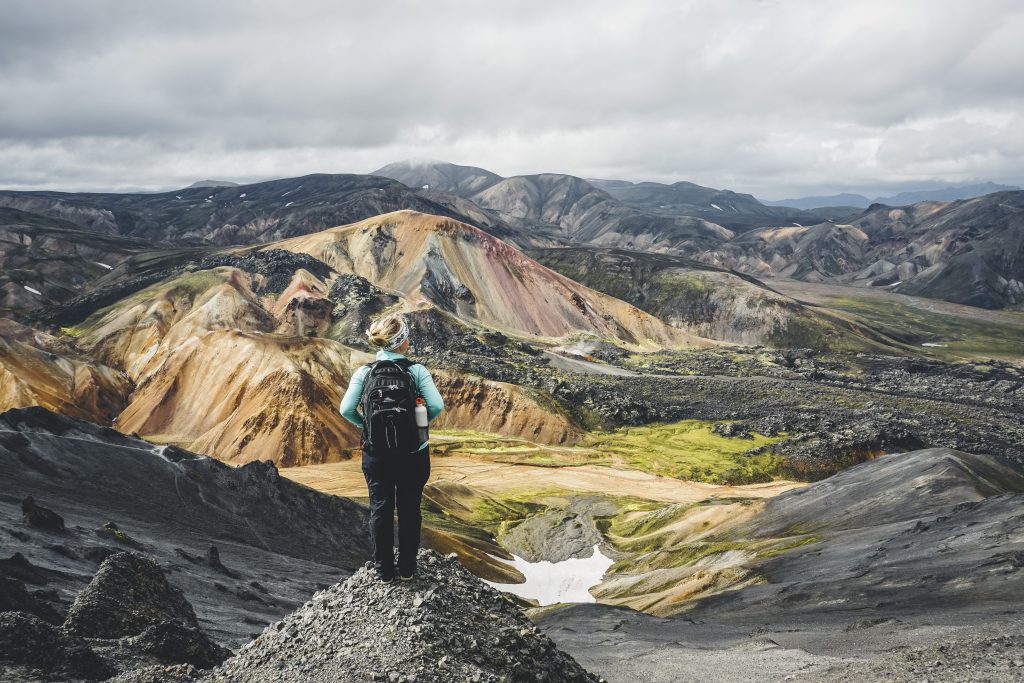 Things to Do in Iceland in June
June is a fantastic time to visit Iceland as there are SO many activities and attractions to enjoy. From hiking through stunning landscapes and visiting natural wonders to attending lively festivals and cultural events, there's something for everyone to experience and enjoy in this beautiful country during this time of year!
Happenings And Events In Iceland In June
Let's get into wealth of festivals and exciting events taking place in June. Brace yourself, as there is an extensive lineup of activities happening this month.
Reykjavík Arts Festival
Happening in early June is the Reykjavík Arts Festival. During this festival, artists from all over the world come to perform contemporary and classical works in unconventional places throughout Reykjavík. This is such a fun time for art and music lovers!
Whitsunday (Or Hvítasunnu)
Whitsunday, referred to as Hvítasunnu in Iceland, takes place on the seventh Sunday after Easter.

People have the Sunday and Monday off work, and Icelanders take any Easter-related holiday pretty seriously. So if you're traveling to Iceland in June, you can expect limited hours during this national holiday.
Note: Hvítasunnu changes every year, so be sure to look up when it takes place before your June trip to Iceland.
Iceland Independence Day
June 17th is an incredibly significant day in Iceland, as it marks the country's independence day. On this day, Iceland gained its freedom from Denmark, and it is celebrated in a big way throughout the nation. You can compare it to the American 4th of July. Think fireworks, celebration, and national pride all around!

Consider yourself lucky if your Iceland trip coincides with Independence Day!
Secret Solstice Festival
One of the biggest musical events of the entire year takes place in June, and this is the Secret Solstice Festival.

During this festival, local and international musicians are invited to play on a huge stage in the middle of Reykjavík over the weekend.
And you guessed it – it takes place during the longest day of the year, so the summer solstice.
It's an outdoor festival that Icelanders absolutely LOVE. I highly recommend that you check it out if you're planning on being here in June. It's seriously much fun!!
Top Attractions To Visit In Iceland In June
Apart from the myriad of festivals and happenings, there are SO many attractions and natural wonders to visit in the month of June.
During June, the world (or Iceland I should say!) is your oyster – you have the freedom to do anything you want or to go anywhere you choose. Roads that were previously closed off or inaccessible are open to the public, and you'll have zero worries about dangerous driving conditions due to weather.
This makes it a perfect time for taking an Icelandic road trip or even doing a camping trip in Iceland!
Here are a few more of my all-time favorite summer activities if you're looking for more things to do in Iceland in June!
The beautiful, remote peninsula of Northwestern Iceland is only open in the summer months. Mid-to-late June onwards is the perfect opportunity to explore this nearly- untouched region.
Do a horseback riding tour in Northern Iceland
The Icelandic horse is one of the most lovely, gentle creatures I've ever seen, and there's nothing like exploring wild, rugged landscapes by horse. Many of these trails are closed during the winter, so summer is the best time to see these beauties!

Go see puffins!
The puffins come out to play in May, so by June they're super easy to spot! A great place to see them is The Westman Islands, home to the world's largest puffin colony. June is a great time to take the ferry and explore these gorgeous remote Islands, as you don't have to worry about the weather!

Hike to a hot spring
Did you know you don't actually need to pay to visit hot springs in Iceland? Sure, there's the famous Blue lagoon or sky lagoon, but there's actually a ton of free hot springs in Iceland in more remote areas.

Many of these areas are not open during the winter months and only open from June to September (for example, the hot springs in The Westfjords, or the one in Landmannalaugar). So take advantage of these areas being accessible!

Trust me, there's nothing better than soaking in an Icelandic hot spring after a long day of hiking.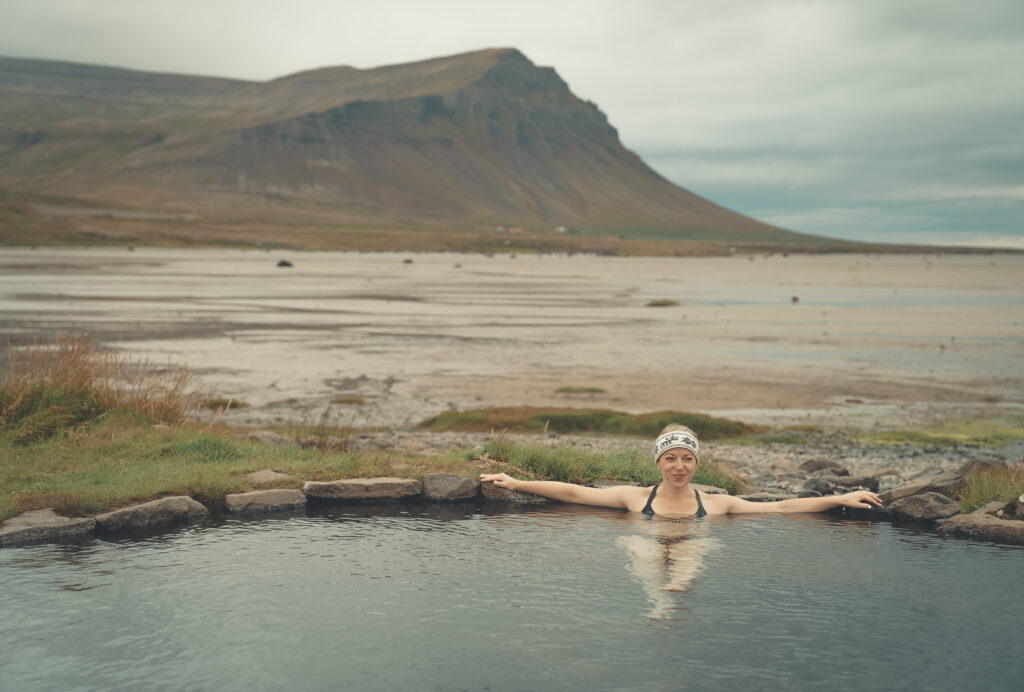 If you're thinking about visiting Iceland in June, you're in for a treat!
There's plenty to see and do during this time of year, from enjoying the never-ending daylight hours to attending festivals and exploring natural wonders.
And although the weather can be a bit unpredictable (as it always is in Iceland!) it's a great time to visit because many areas that are closed off during other times of the year are now finally accessible.
You can go hiking, horseback riding, or even visit a remote hot spring. Just be sure to pack appropriately, and plan ahead to make the most of your Iceland adventure in June!
Want to know *exactly* what you need to bring for a successful summer trip to Iceland?
Download my FREE Iceland Summer Packing List and make sure you have everything you need to experience the best of this magical country!
Happy planning,

Pin it for later!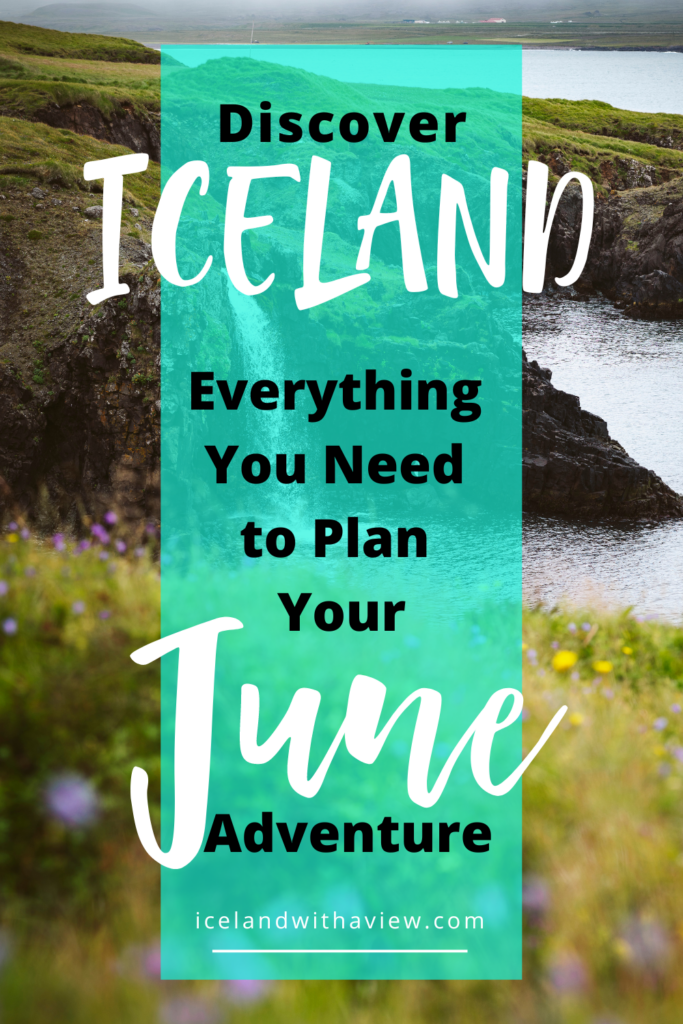 Get your FREE Summer/Autumn packing list!
Wondering what to pack for your Summer/Autumn trip in Iceland? Don't worry - I got you covered so you don't forget a thing!